Edible glitter to be considered fully edible needs to be made from ingredients that are considered food by the FDA
This edible glitter recipe is sparkly, easily customizable and made from 100% edible ingredients.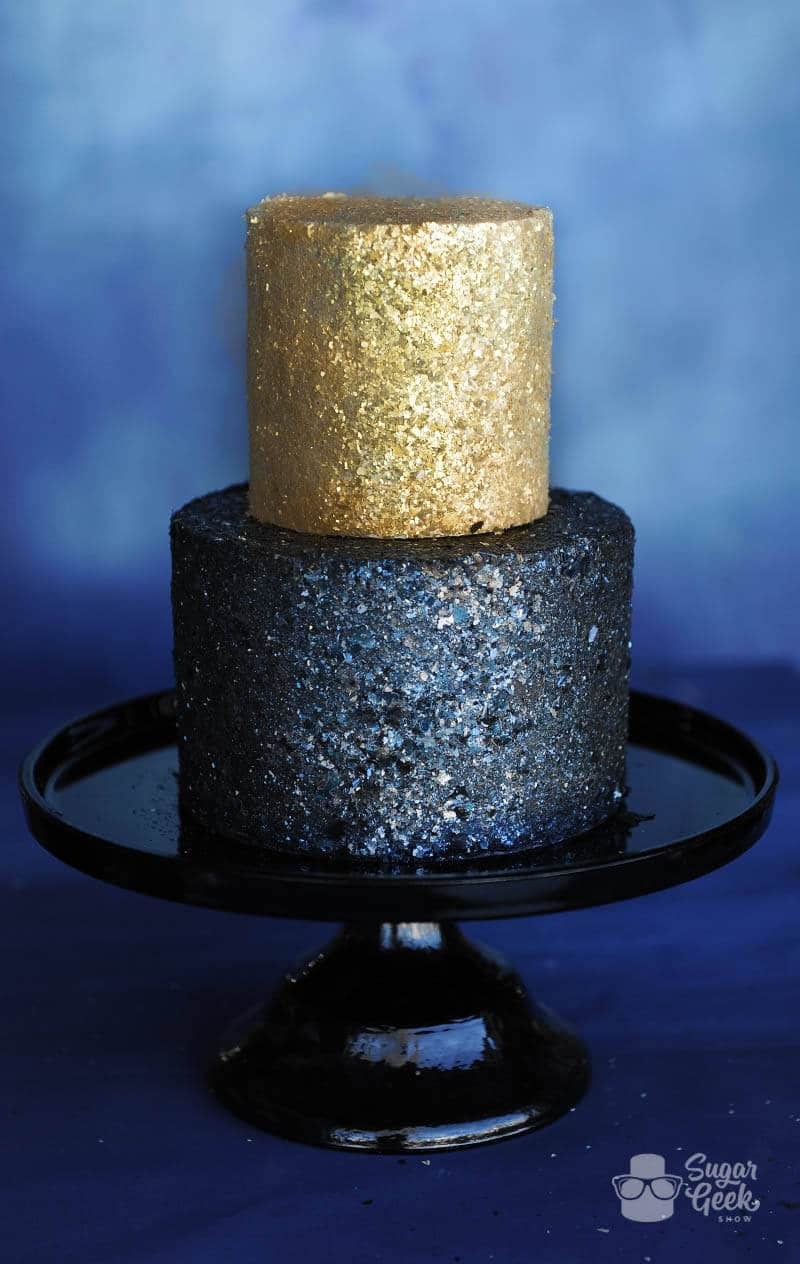 So what's considered edible? Well if you gain nutrients from eating the product and it is FDA approved as food, then it's considered edible.
If the product is labeled non-toxic, then it's not edible and should be placed on food in a way that would make it easy to remove before consuming (like painted-on fondant that you can peel off or on toppers that can be easily removed)
Is it safe to eat edible glitter?
There are a lot of products out there that claim to be edible but are just non-toxic. What does non-toxic means? Well imagine you ate a crayon.
Can you eat it? Yes
Will it kill you? No.
Will it taste good? Probably not.
Is it edible? Technically not.
See, when something is considered non-toxic, it just means it will pass through your body without harming you but you also do not get any nutrients from it so therefore, it is not a food.
Make sense?
Ok let's move on.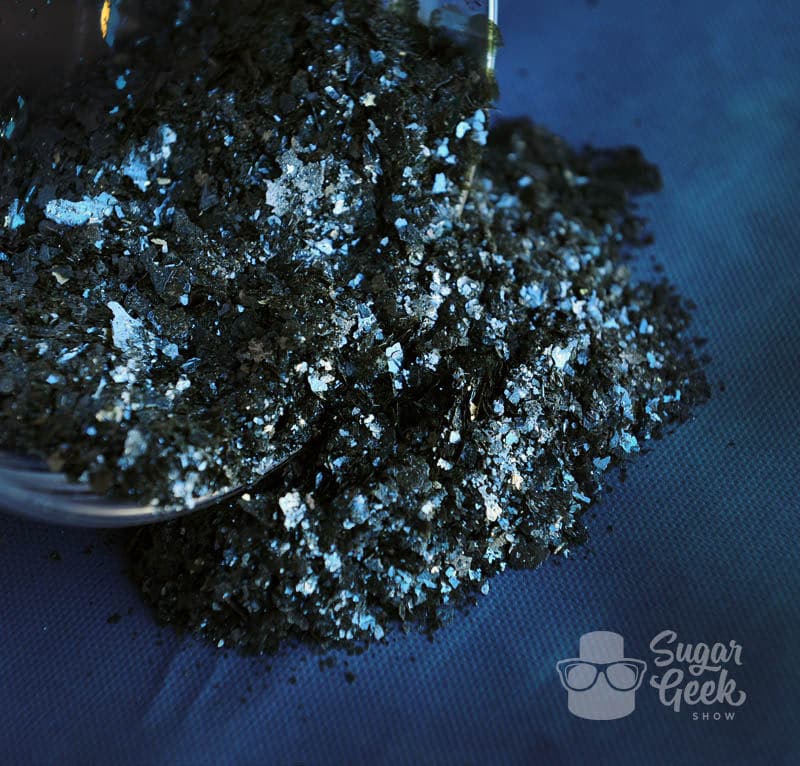 Is disco dust edible?
Disco dust commonly refers to a product that is considered to be non-toxic but not edible. You know what else is non-toxic? Actual real glitter. The plastic stuff you buy at the craft store literally is the same thing as disco dust. Do you really want to eat plastic? I didn't think so.
Just say no to disco dust unless you're putting it on a part of the cake that can be easily removed and is very clearly not meant to be eaten.
Edible glitter ingredients
The great thing about making edible glitter is that it's pretty dang easy. You probably already have all the ingredients you need for it in your shop (if you're a cake decorator). You can also switch up your colors and dusts depending on what you have on hand, but I prefer to use TruColor metallics.
Why?
Because they are 100% natural mica-based pearlescent pigmented metallics with tons of shine. They also come in a variety of beautiful colors! They are made with real minerals that are safe to consume and I think that's what gives them their extra shine power.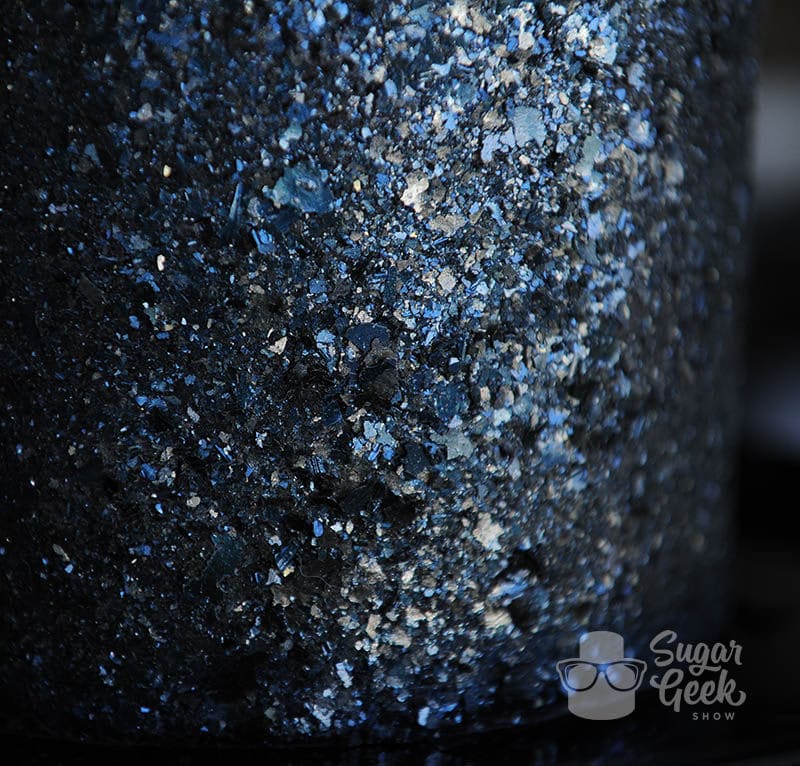 How do you make edible glitter?
For this tutorial, I am using the deep blue shine dust. My favorite color! It was actually an Elite gift for December because I wanted everyone to love it as much as I do, haha. So if you're an Elite member, you're in luck because you probably already have this dust!
If you don't have it, you can order it from Amazon
The basics of this recipe comes from my sheet gelatin recipe which is basically turning powdered gelatin into a sheet that kind of resembles plastic.
Measure out ¼ cup cold water into a shallow container
Sprinkle in 5 teaspoons of knox gelatin powder
Let gelatin absorb into the water for 5 minutes
Heat for 30 seconds, stir and and another 15 seconds until fully melted. Don't overheat it.
Skim off the white foam with a spoon and discard
Just mix your melted gelatin with whatever metallics you would like. Don't have any trucolor? I have also made this glitter by combining a touch of food color and some super pearl dusts from the sugar art
Pour the gelatin over the plastic wrap and let dry out overnight
Break it up, put it in a food processor until it's finely ground and voila! Edible metallic glitter
This dark blue edible glitter is perfect on our black textures wedding cake tutorial and adds that pop of sparkle that makes the sprinkles look extra moody and gorgeous!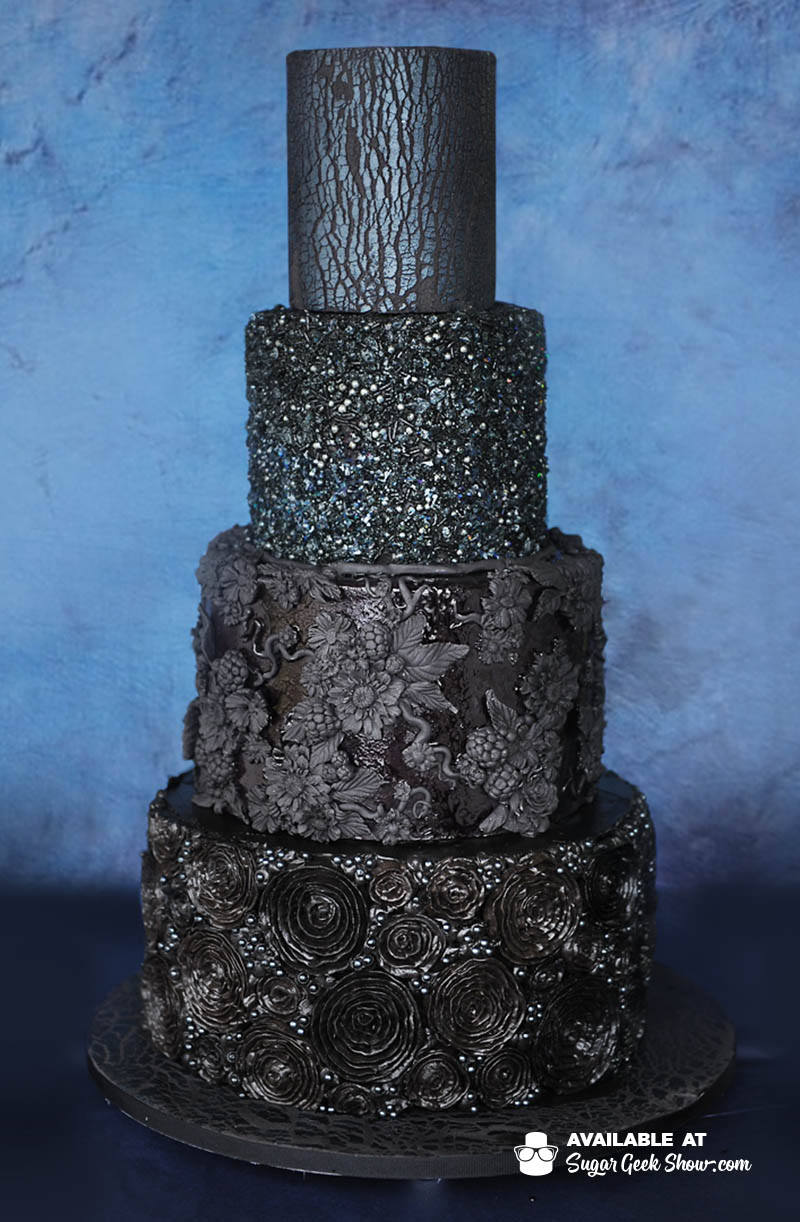 Gold edible glitter
Truly gold sparkly edible glitter is hard to come by. I've experimented with many different recipes and I think I have come up with the best solution while still keeping things edible.
Follow the same base recipe for making edible glitter
Mix 2 teaspoon of gold shine with 2 teaspoon of water and let hydrate
Add the gold mixture to your gelatin and spread onto your plastic wrap
Add 3 squares of real metallic gold leaf to the surface of the gelatin and let dry overnight
The addition of the gold leaf will add a little bit more shine and sparkle when the mixture is ground up. This DOES add some added expense. Remember, making something with real quality ingredients will also increase the cost.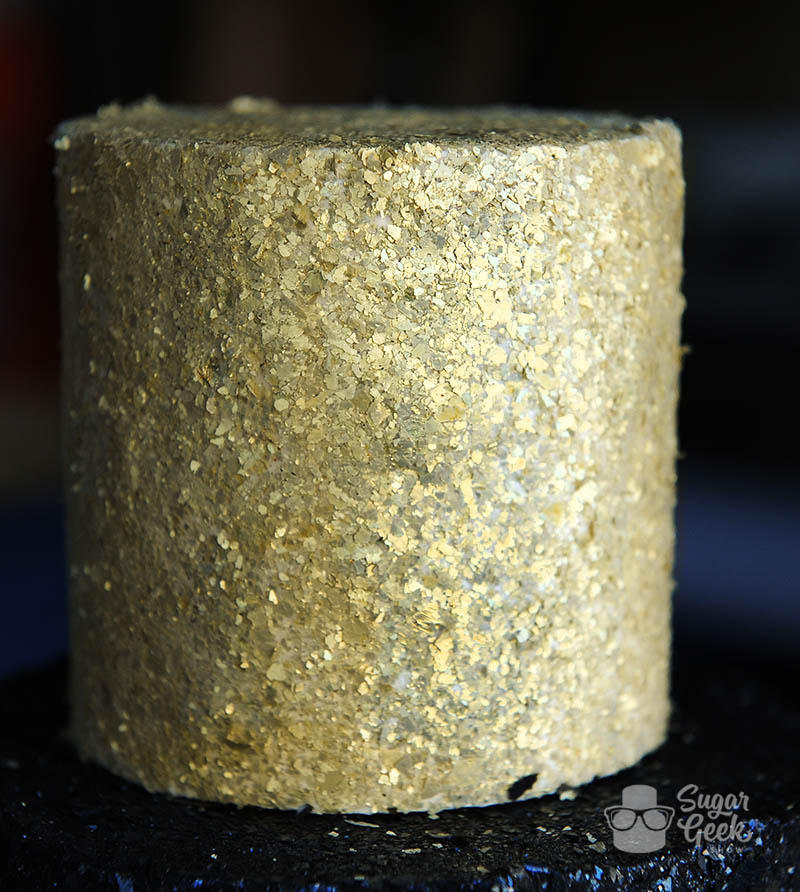 How to make edible glitter without gum arabic
Some recipes for edible glitter can get pretty complicated and call for ingredients that are hard to find. I totally understand this and feel your pain. That's why I have tried to make a recipe that is fairy easy to make and have included alternatives in case you can't find exactly what I used.
Gelatin powder is carried in pretty much every grocery store all over the world in the baking section.
If you can't use gelatin for health or religious reasons, you might try experiments with agar agar which is made from seaweed.
What is sparkling sugar?
In this day and age pinterest can be super helpful but you know what else it has? Tons of mis-information and crappy tutorials that basically lie to you. For years now, there has been this image of straight up non-edible glitter on this website boasting an easy edible glitter recipe. You know what it is? Granulated sugar with food color in it. This is sometimes referred to as sparkling sugar or sugar crystals and MAY have a bit of a shine but is far, far from glitter. Don't fall for this edible glitter tutorial fail.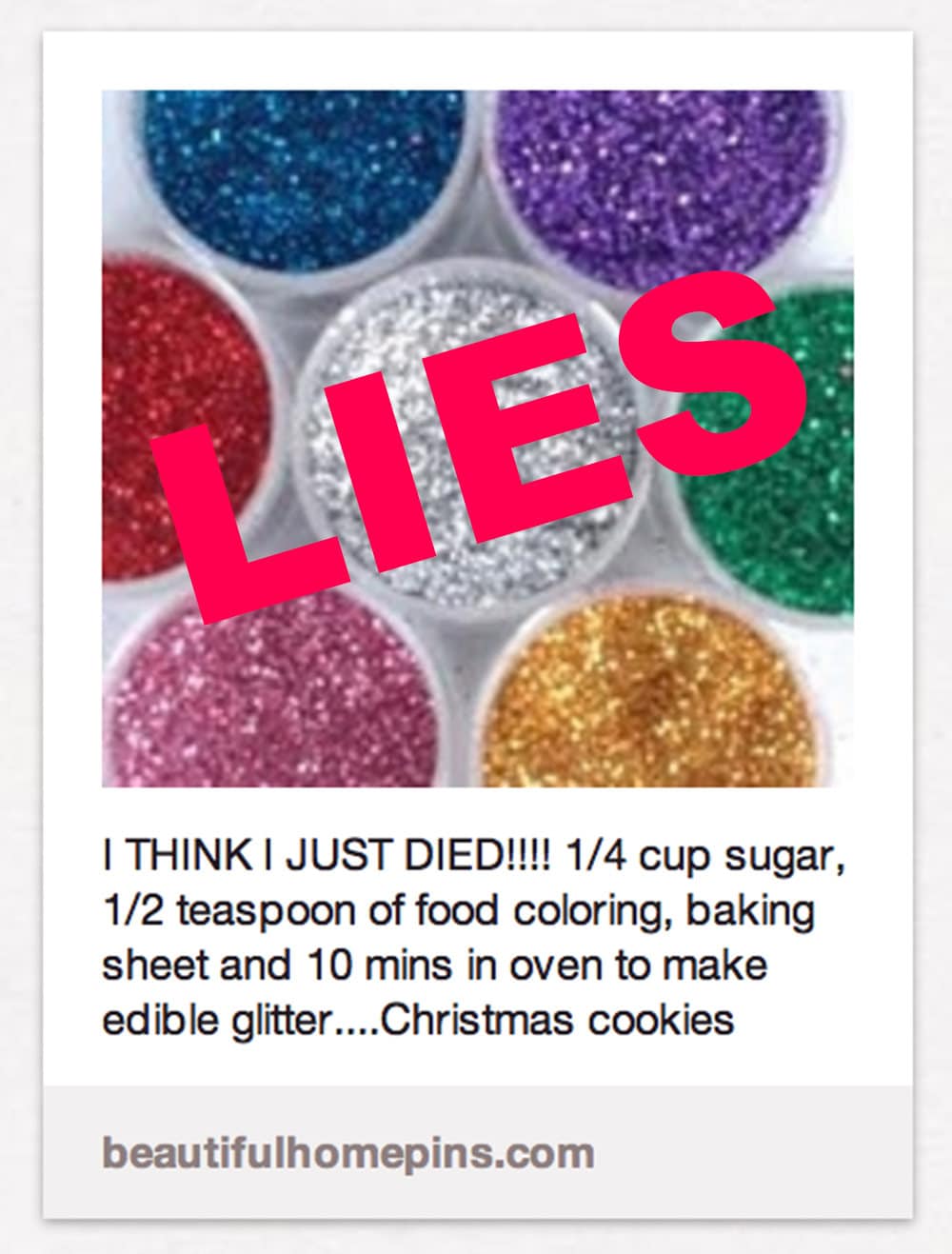 Where to buy edible glitter?
So maybe you're like me and sometimes you just do not want to make one more thing, you just wanna know where to buy it and be done with it!
Well you're in luck, there are a few FDA-approved, edible glitters out there. A quick google will bring up some searches but here are some links for your benefit.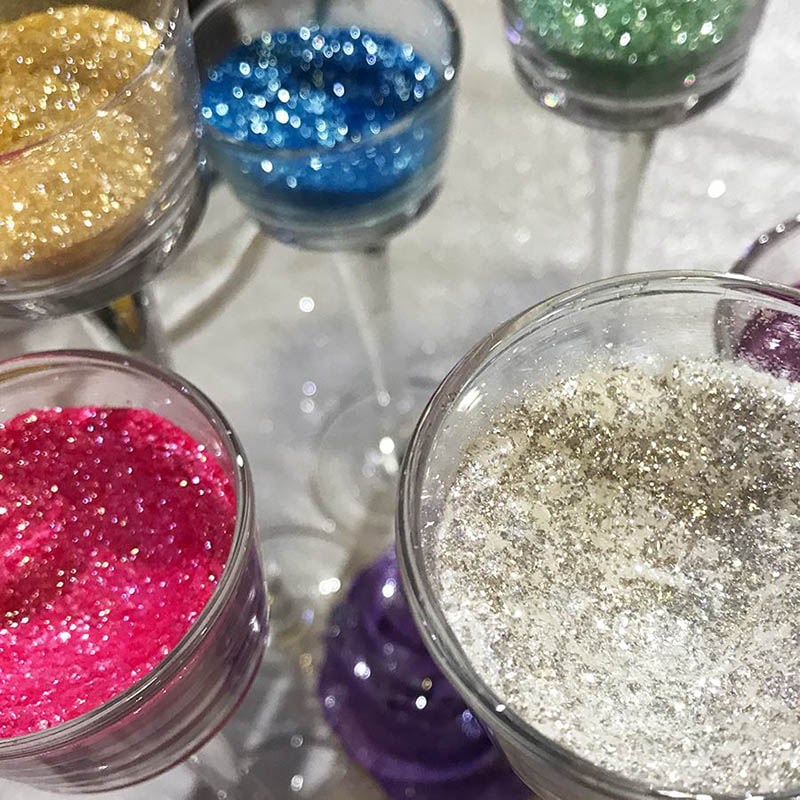 This Flash Dust from Never Forgotten Designs is by far the most popular and sparkly edible glitter that is FDA-approved that is on the market right now. I've used it on many different things and the benefit is not only that it's super sparkly but it's a very very fine powder so you can't taste it in your mouth and a little bit goes a long way! Read more about this very unique edible glitter on the NFD blog
Watch my video on how to make edible glitter. Sub out the colors and metallics to customize them to anything you like!

Kitchen tools to make the edible glitter recipe
Spice Grinder This is pretty much a must for getting that superfine glitter texture. You can use a blender or a food processor but it's almost impossible to get the really small pieces.
Metallic or pearl dust from Michaels, TruColor or thesugarart
Recipe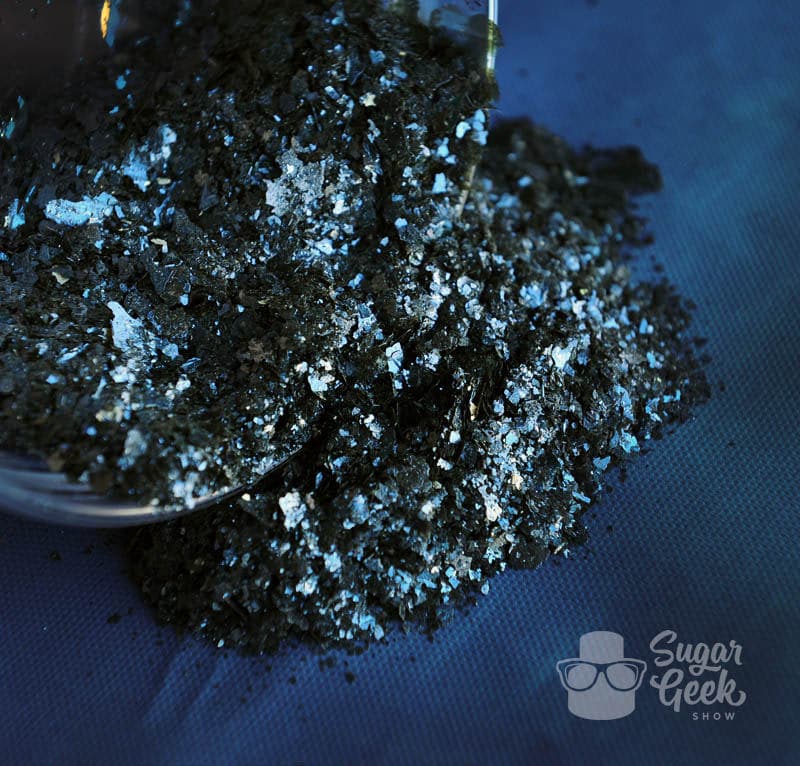 Ingredients
Edible Glitter Ingredients
2

oz

cool water

15

grams

knox powdered gelatin

1

teaspoon

metallic dust

(such as pearl dust from michaels or www.thesugarart.com)
Instructions
Edible Glitter Instructions
Pour water into a shallow dish. sprinkle gelatin evenly over the water and let it absorb for 5 minutes

Microwave for 30 seconds, then stir and microwave for another 5 seconds if needed to melt fully. You can tell it's melted when you can't see any grains of gelatin anymore.

Let sit for 5 minutes and bubbles will rise to the surface and create a white foam. Skim this foam off the surface with a spoon and discard

Add metallic dust to the melted gelatin and stir

Pour gelatin onto a large sheet of plastic wrap and use a pastry brush to smooth it out and holes that develop. As the gelatin cools it will be easier to smooth. Don't worry if it's not perfect, we're going to grind it up anyway

Let the gelatin dry overnight. It might start peeling up on it's own or you may have to peel it up from the plastic to release it.

Break it up or cut it into pieces.

Place into a spice grinder or coffee grinder or even a food processor until it is very fine.

Can use on anything edible!
Nutrition
Calories:
33
kcal
|
Protein:
8
g
|
Sodium:
21
mg
|
Calcium:
6
mg
|
Iron:
0.1
mg