The best soft pretzel recipe is super easy and is ready in only 60 minutes
I love making this soft pretzel recipe. It's the same dough I use for my easy bagel recipe. These soft pretzels are soft & chewy with a touch of tang from the baking soda bath and lots of chunky salt on top!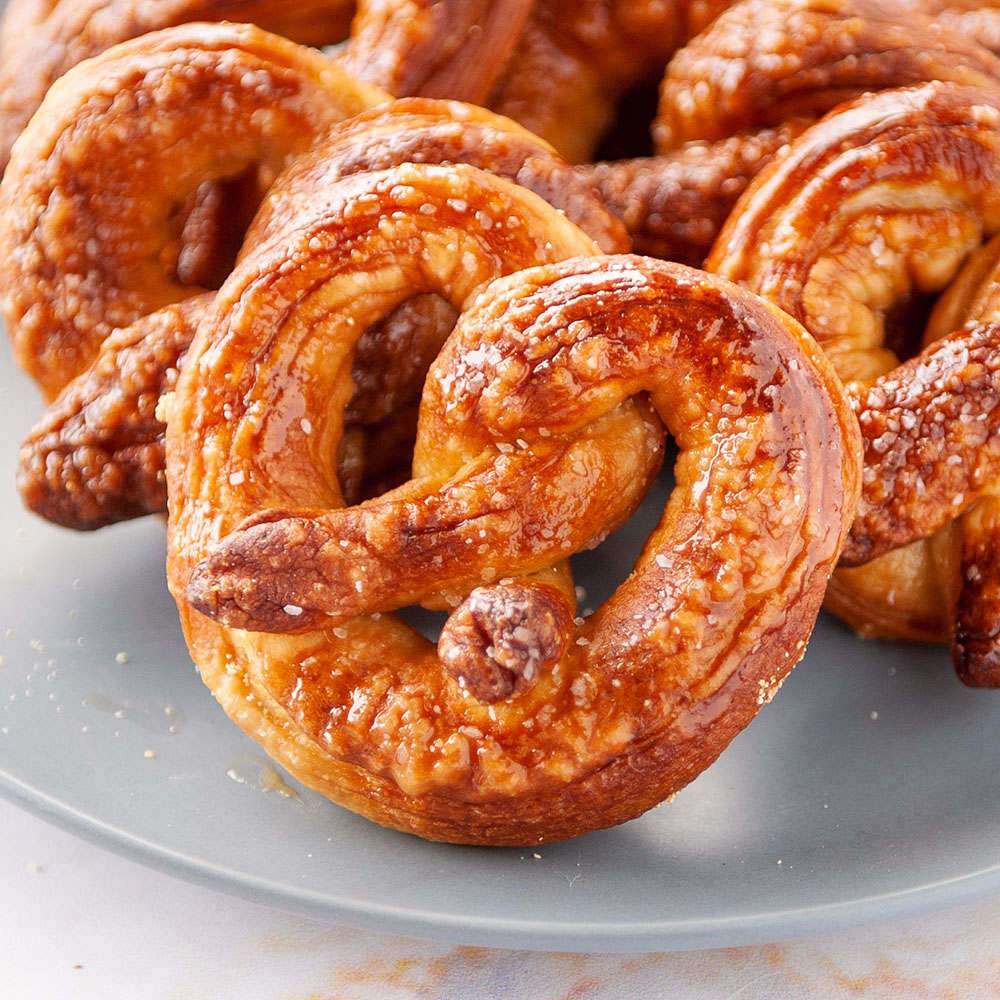 Soft Pretzel Ingredients
Soft pretzels, like most bread, has very few ingredients. But each ingredient has a specific job to do to make the perfect soft pretzel recipe.
Flour - The main ingredient in soft pretzels. Bread flour is preferred because of its high levels of protein which produce more gluten and therefore, chewier bread. You can also use All-purpose flour or plain flour. Replace half the flour with whole wheat flour for whole wheat soft pretzels.
Sugar - You can leave out this small amount of sugar but it does provide a little flavor to the soft pretzels, keeps them soft and is also food for the yeast.
Melted butter - A little bit of melted butter or oil also keeps your soft pretzels nice and soft as well as providing flavor.
Instant Yeast - You can't have soft pretzels without yeast! I am using Instant Yeast which is very fast-acting. You can also use regular active dry yeast but you will need to proof (let rise) your soft pretzels longer. Please read the notes at the bottom of the recipe.
Warm Water - Adding warm water (110º-115ºF) activates the yeast and provides a warm environment for it to begin growing. Water also hydrates the flour and activates the gluten in the dough.
Salt - Very important to the final flavor of your soft pretzels. If you forget the salt, you will have very bland tasting bread. I am also using kosher salt to top my pretzels but you can also use chunky sea salt or flakey salt if that's all you have.
Baking Soda - Just a quick 20-second boil in a baking soda and water bath is the secret to getting that deep brown soft pretzel color. The original soft pretzel recipe used lye but that can be very dangerous so we're going to stick with baking soda.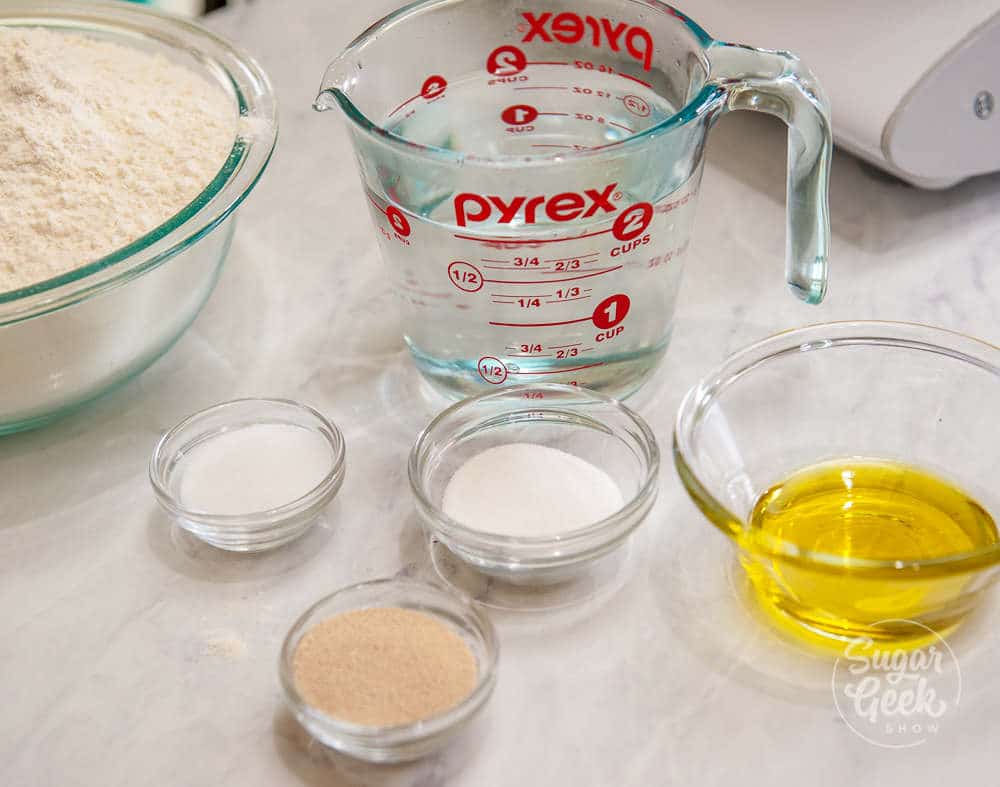 How to make soft pretzel dough
Making soft pretzel dough is just like making any kind of yeast dough. There are three things to accomplish.
Combining Ingredients - Combine flour, sugar, and yeast and whisk to distribute the yeast evenly. Then add in the warm water/butter to activate the yeast and the gluten in the flour. Then add in the salt. We add the salt at the end because adding salt too early can stop the yeast from growing.
Kneading - Developing the gluten in the dough is key. I mix my dough on medium-high speed for 5-6 minutes but each batch is different and each mixer is different. Always use a dough hook or knead by hand until you can stretch a small piece of dough between your fingers and make a semi-transparent window. If your dough is too dry, add a little water. If it's too wet, add a little flour. Making bread is more flexible than making a cake but kneading very important. It is very hard to over-knead dough but very common to under-knead. The under-mixed dough will not rise very well.
Proofing - Letting your dough rise until it has doubled is key for developing flavor and texture in your pretzel recipe. If you're using instant yeast, this will happen very quickly (in about 30 minutes). If you're using active dry yeast, this might take 60-90 minutes.
How to shape soft pretzels easily
Shaping soft pretzels might seem intimidating but it's so simple. Even my daughter can do this. So let's break it down into steps.
Divide your pretzel dough into 12 equal pieces (about 4oz each) and begin rolling into a long skinny snake. When you handle the dough, the gluten activates and starts to shrink back. After your snake can't be rolled any further, let it rest for 5 minutes while you work on the next piece of dough. Continue in this way of resting and rolling until you can get each piece of dough rolled. out to about 22" long.
Place the first snake in front of you like a big "U"
Now cross the ends over each other like this.
Then twist them together one more time so it looks like this.
Now bring the ends down towards the bottom of the "U" and you have a pretzel shape! I glued my ends down with a dab of water and a paintbrush.
Let your pretzels rest so they get nice and puffy (about 10 minutes for instant yeast, 20 minutes for active dry yeast)
How to boil soft pretzels in baking soda
While your soft pretzels are resting, bring your water and baking soda to a simmer.
Now drop your pretzels into the simmering water and let them cook for 10-15 seconds per side. Don't go any longer or they will get really chewy and bitter when you bake them. I actually set a stopwatch timer on my phone for 20 seconds then flip at 10 seconds so I could be really accurate.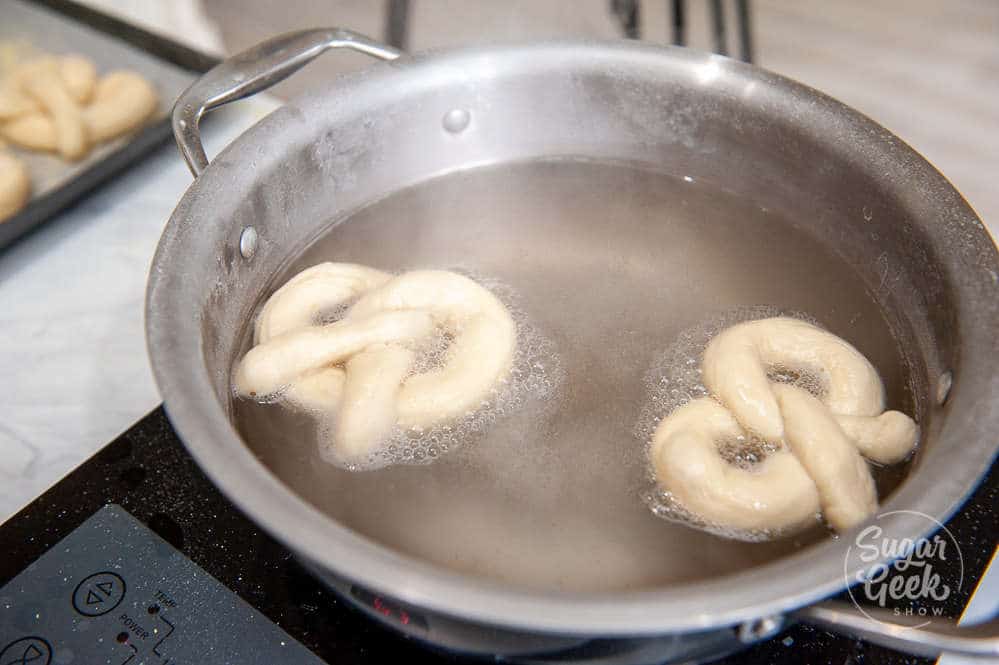 After 20 seconds, scoop out your soft pretzels and place them onto a baking sheet with parchment paper and a generous amount of cornflour sprinkled on top to prevent sticking. Or you can use a silicone baking mat.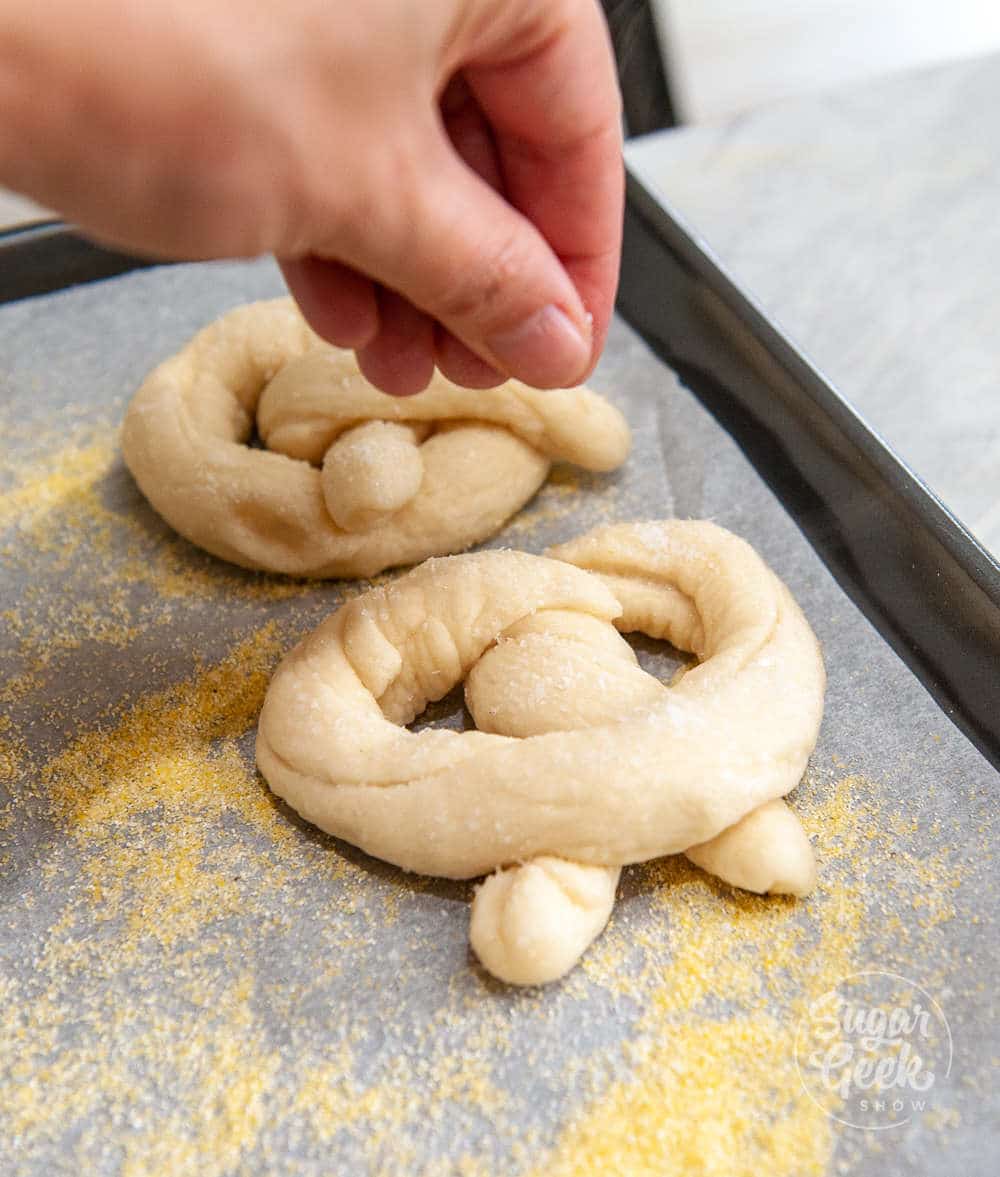 Sprinkle some of your chunky salt on top and bake!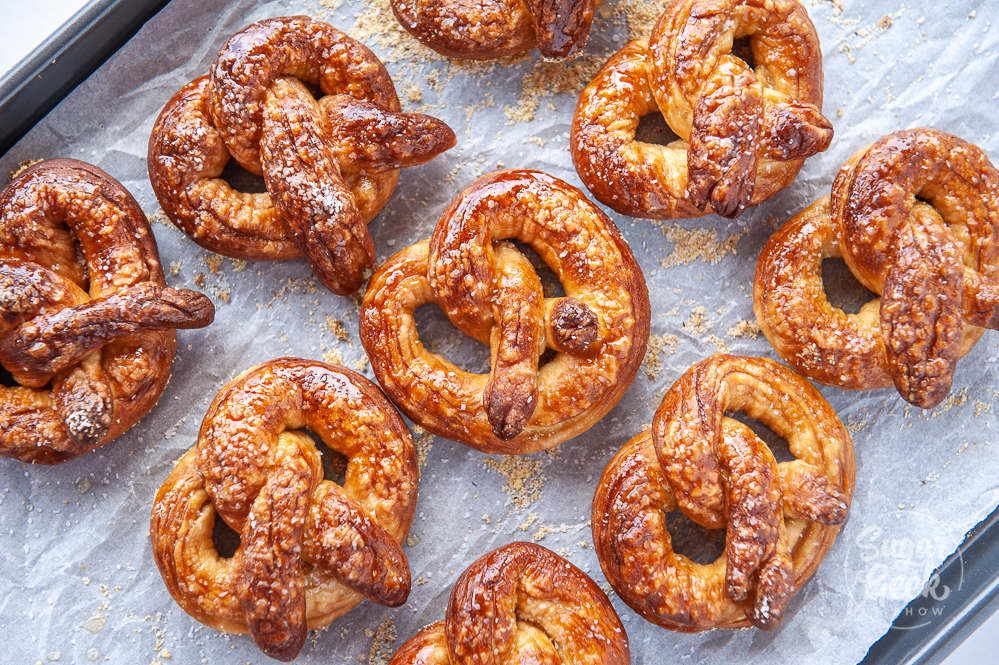 You can see a few bumps on the surface of my pretzels because I made a BIG mistake! I was trying to hide these from the husband to take photos later. So I set them aside and covered the sheet pan of freshly baked soft pretzels with plastic wrap before they were totally cool and it dissolved the salt causing that bump.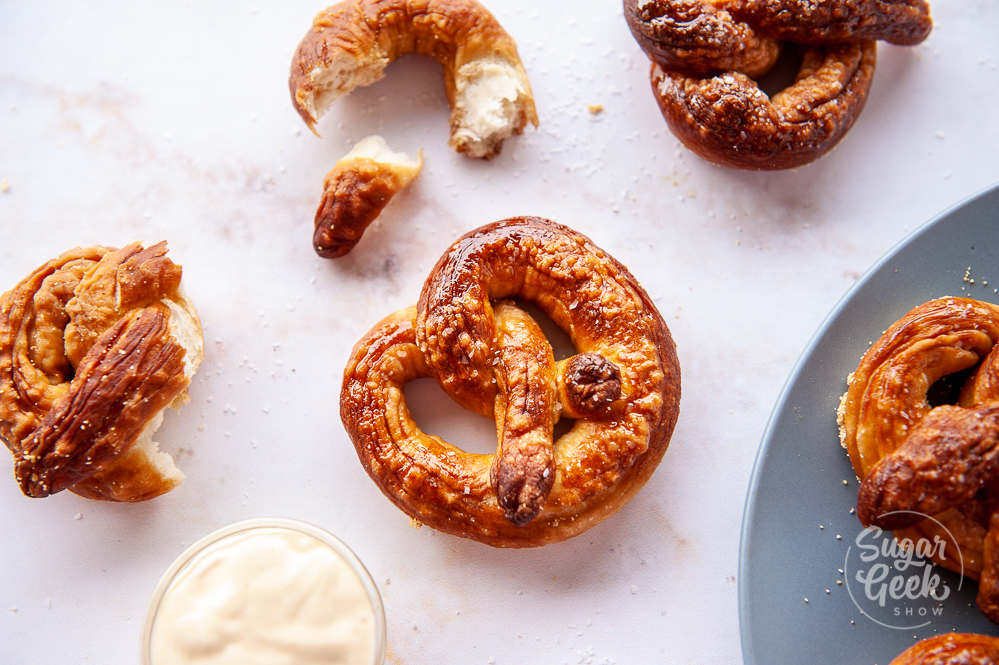 They still tasted yummy though! We actually dipped our soft pretzels in a yummy mustard sauce but you can also go with nacho cheese dip!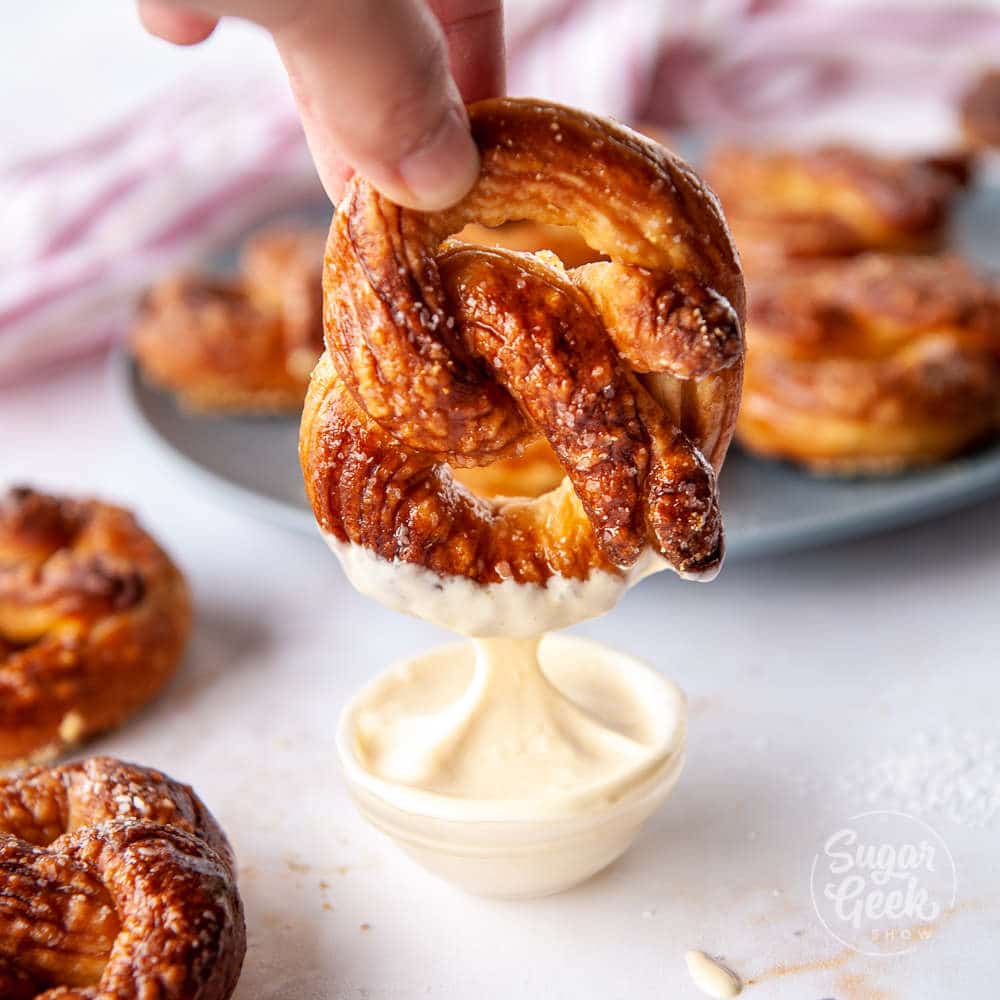 Soft pretzels are best enjoyed the day you make them so don't feel bad for eating them all in one sitting 😀
Want more bread recipes? Check these out!
Easy bagel recipe
Fast Bread recipe
Homemade dinner rolls
Recipe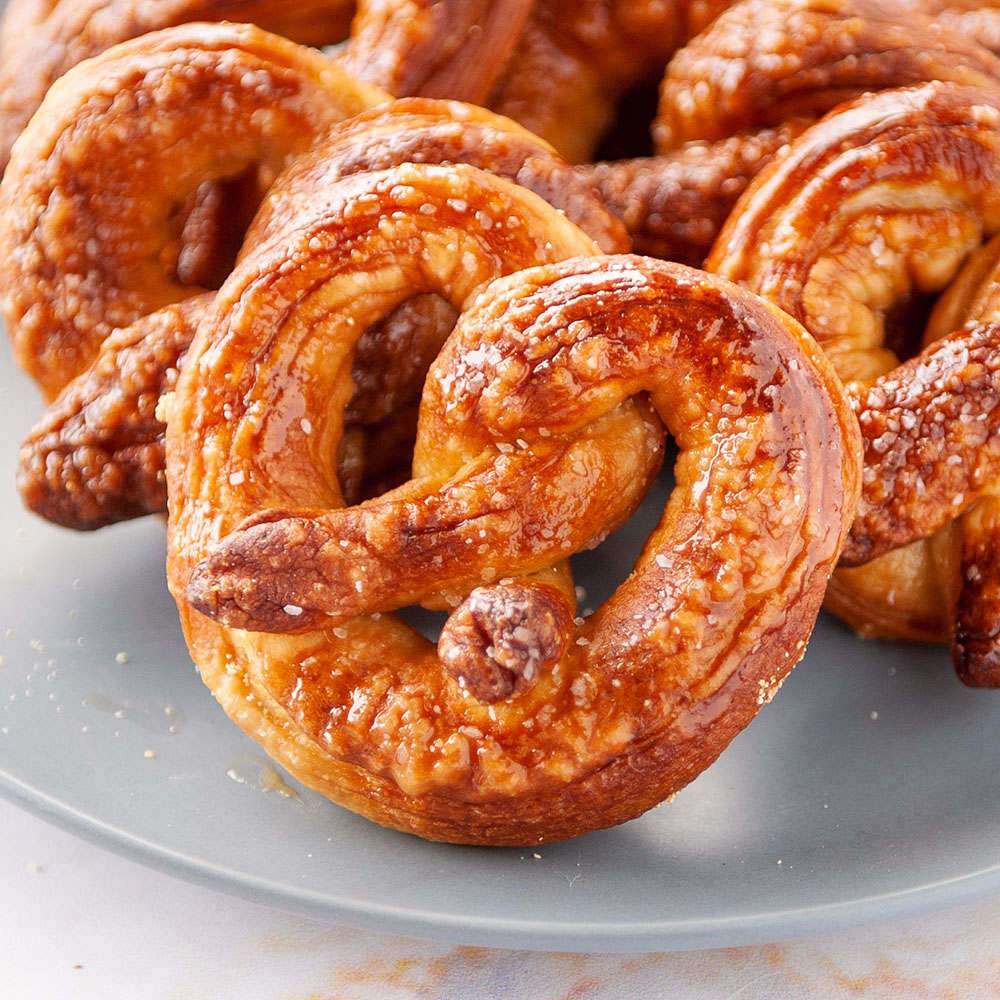 Servings:
12
soft pretzels
Equipment
Stand mixer with dough hook
Ingredients
30

ounces

bread flour

or all-purpose flour

1

Tablespoon

sugar

2

Tablespoons

melted unsalted butter

(or olive oil)

14

grams

instant yeast

or active dry (see notes below recipe)

16

ounces

warm water (110ºF)

2

teaspooons

salt
Baking Soda Bath
64

ounces

water

(8 cups)

2

ounces

baking soda

(¼ cup)
Mustard Sauce
4

oz

mayonnaise

4

oz

Dijon mustard

2

oz

honey

1

Tablespoon

yellow mustard
Instructions
Heat your water to 110º-115ºF. Combine the water with the sugar and melted butter and set aside

Place your flour and yeast into the bowl of your stand mixer with the dough hook attached. Mix for 5 seconds to distribute the yeast.

Pour in your hot water mixture while mixing on low, just until everything is moistened.

Increase the speed to medium-high (speed 4 on a kitchenaid, speed 2 on the bosch) and mix for 6 minutes. If your dough is too dry, add a tablespoon or two of water until the dough sticks to the sides of the bowl. If it's too wet, sprinkle in a little flour.

Poke the dough, does it bounce back? The dough is ready to proof. You can also do the window test (see blog post). If the dough isn't ready, mix for another two minutes.

Form the dough into a ball and place it into an oiled bowl. Cover and let the dough proof for 30 minutes or until it has doubled in size. (proof 90 minutes if you're using active dry yeast).

Divide your dough into 12 equal sized pieces (or use a scale to make 4 oz pieces).

Begin rolling your dough out into a long skinny snake. When it becomes too stretchy, move to the next piece of dough and let the previous piece rest. Continue in this way until all 12 pieces are 22" long.

Shape your snake into a big "U". Twist the ends together twice then fold down onto the bottom of the "U". Glue the ends in place with a dab of water.

Set aside to rest for 10 minutes (for instant yeast, 20 minutes for active dry yeast)

Bring 8 cups of water to a simmer with ¼ cup of baking soda

Prepare two sheet pans with parchment paper. Sprinkle a good amount of corn flour (semolina) on top. This prevents the soft pretzels from sticking.

Preheat your oven to 425ºF

Place your soft pretzel into the boiling water and cook for 20 seconds (10 seconds. per side) then drain with a slotted spoon before placing onto the parchment paper.

Sprinkle some of your chunky salt on top of the pretzels and bake

Bake at 425 for 15-20 minutes or until golden brown
Mustard Sauce
Mix together mayonnaise, Dijon, honey and yellow mustard until smooth and serve in a small bowl with fresh soft pretzels
Notes
To proof bread, I turn my oven on to 170ºF and open the door then place my dough on the door near the opening of the oven to proof, not INSIDE the oven. 
If you don't have instant yeast your can use regular active yeast but it will take longer to proof. You don't need to change the amount of yeast.
1. Let your dough proof for 90 minutes or until it doubles in size
2. Divide the dough, shape, let rest for 20 minutes before baking.
You can replace half the white flour with wheat flour for whole wheat bagels
You can use oil instead of melted butter 
Do not boil for more than 15  seconds per side or your pretzels will get bitter tasting
Nutrition
Serving:
1
soft pretzel
|
Calories:
280
kcal
|
Carbohydrates:
53
g
|
Protein:
9
g
|
Fat:
3
g
|
Saturated Fat:
1
g
|
Cholesterol:
5
mg
|
Sodium:
1384
mg
|
Potassium:
82
mg
|
Fiber:
2
g
|
Sugar:
1
g
|
Vitamin A:
58
IU
|
Calcium:
15
mg
|
Iron:
1
mg