Berry Filling Recipe That Can Be Used For Cakes, Pies or Baked Goodies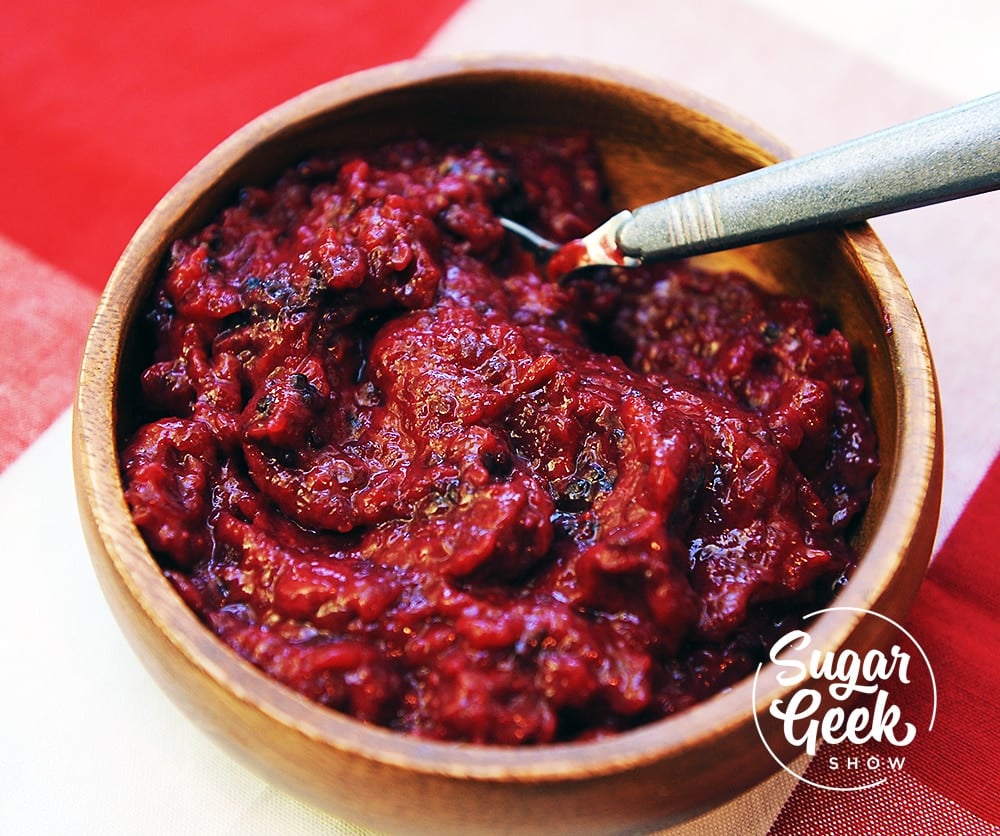 Making a good, stable berry filling is easier than you think. Just choose your berries and go! I've made this recipe using strawberries, blackberries, blue berries and even marion berries (It's an Oregon thing) and even thrown in some chopped peaches because I love how they taste with berries. You can combine your berries too if you like. Adjust the sugar for the amount of sweetness that you desire.
This filling works great with my easy pie crust recipe.
How To Prepare Your Berries To Make A Filling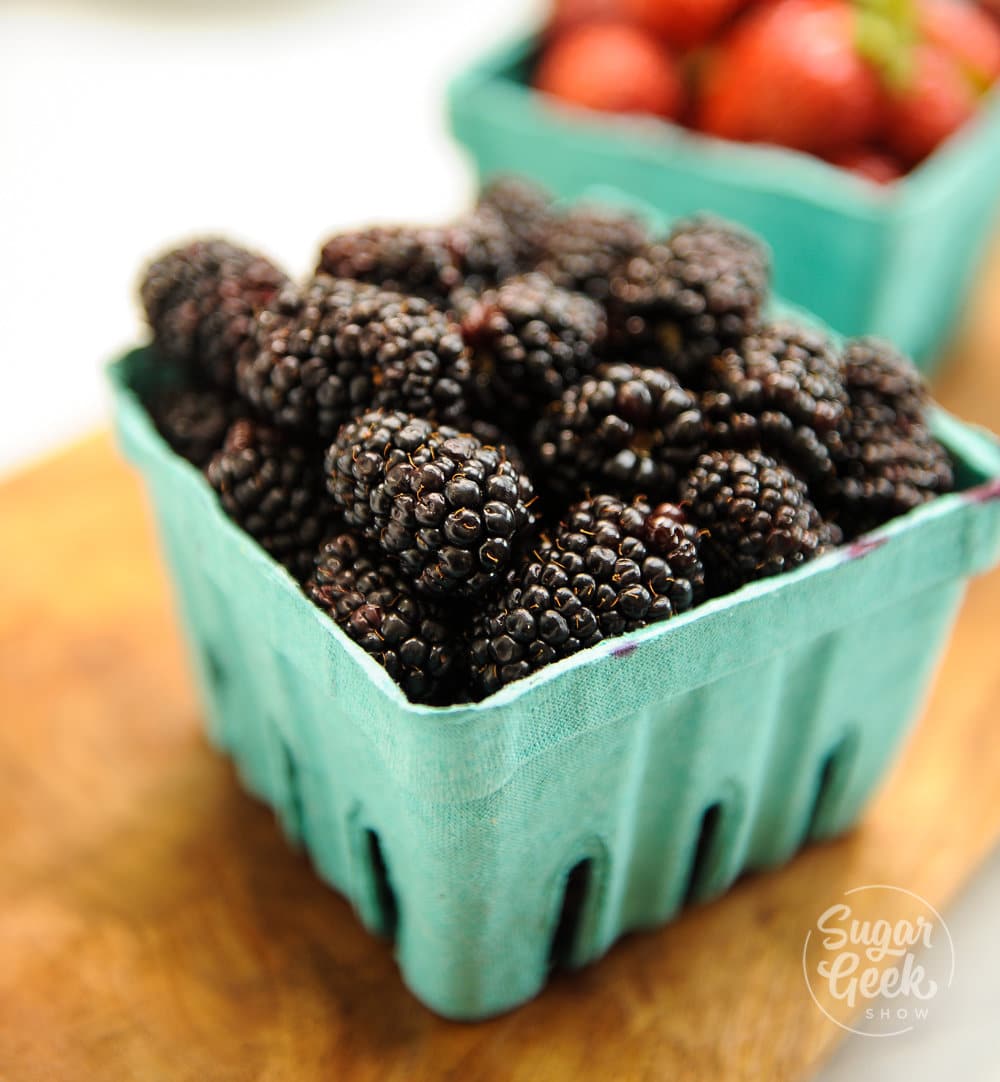 Depending on the season, you might have a ton of fresh fruit on hand that you want to make into a filling and then freeze for later use. Or it might be the dead of winter and your bride just HAS to have strawberry fruit filling so frozen is your only option. This process works for either situation.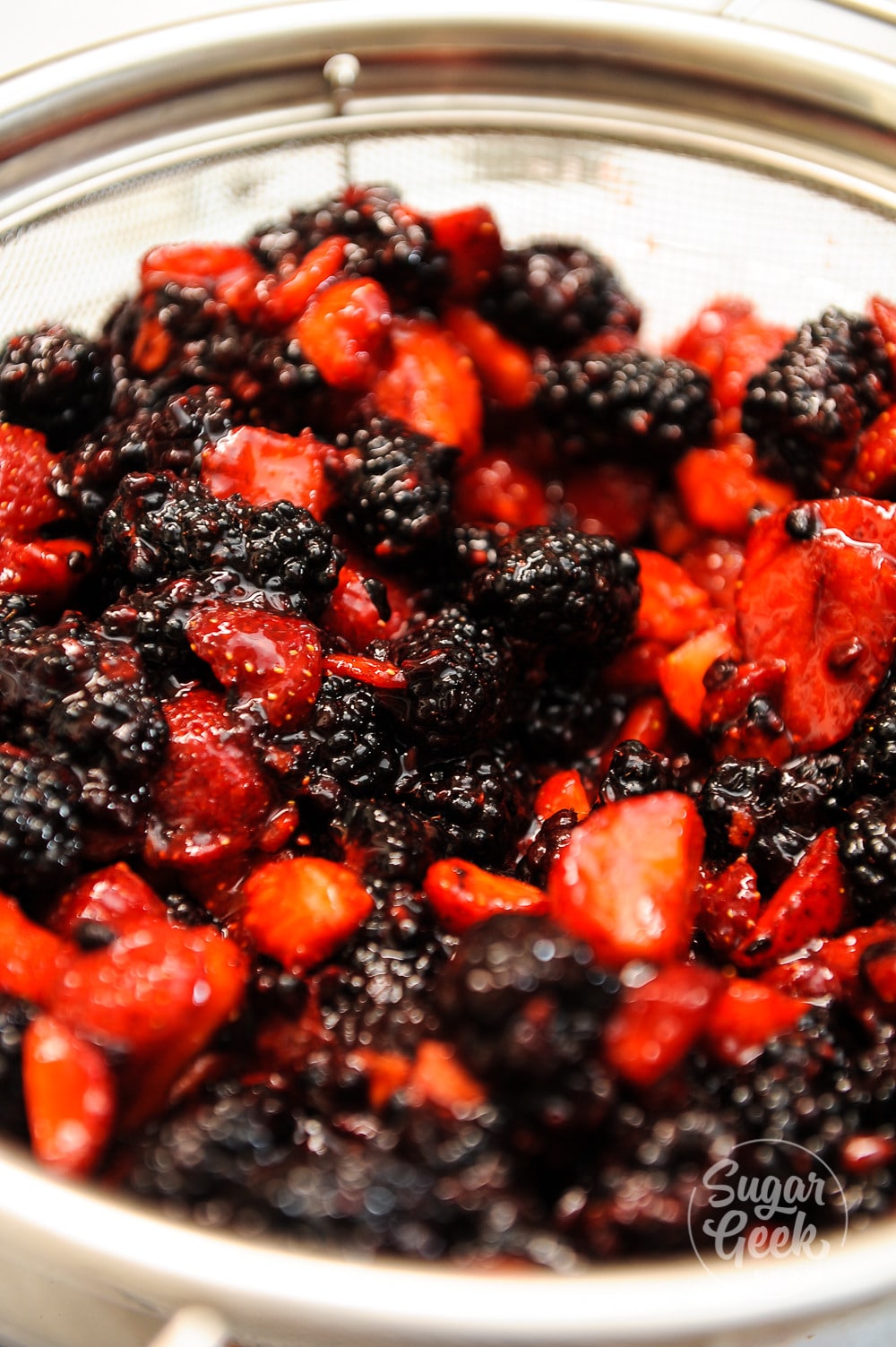 First of all prepare your fruit. If it's fresh you'll want to slice your berries so they cook more evenly (strawberries, peaches and large marion berries) but if you're using frozen you probably won't need to slice them. Just defrost them. When berries are frozen, they release their juices. I like to strain this juice from the berries and collect separately into a bowl. Combine this juice with some water until you get 6 oz.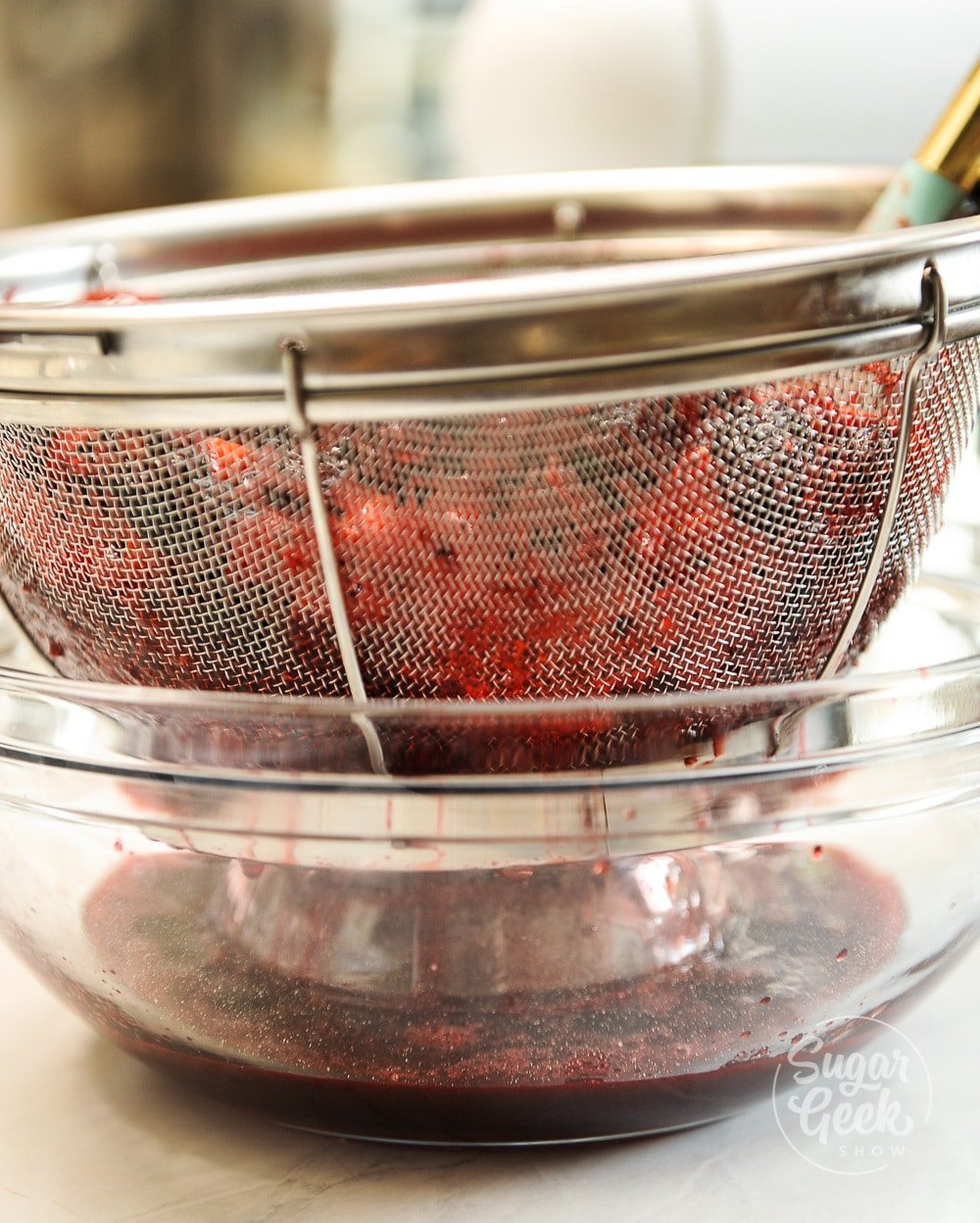 You can use any type of berry for this including strawberries, blackberries, blueberries, raspberries, marion berries or any combo you like!
How To Make Berry Filling
Place your berries in a medium pot with sugar, salt and 3 oz of your juice/water mixture. Bring to a boil and cook for 5-6 minutes. Combine your remaining 3 oz of water/juice and your 2 oz of corn starch together in a bowl to make a slurry. Pour this mixture into your hot berry mixture. Mix with a spatula constantly so it doesn't burn and the mixture begins to thicken and goes from cloudy to clear.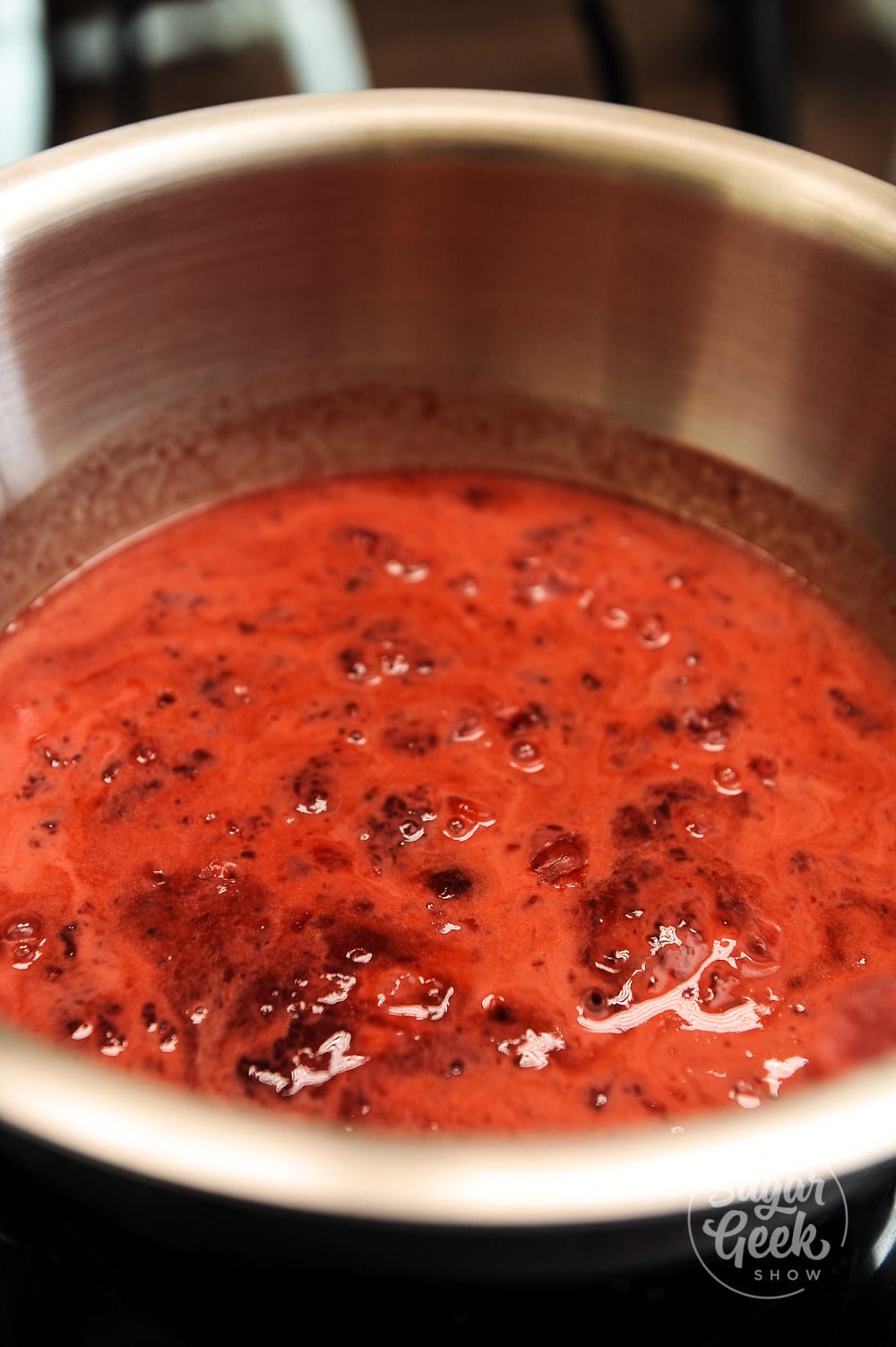 Remove the mixture from the pan and add in your lemon juice and zest.
If your mixture seems really loose and watery, you can also add more corn starch. Dissolve 1 Tablespoon of cornstarch into 2 teaspoon of water and add into the mixture and cook until clear while stirring constantly.
The mixture when hot should appear thick but it will still be runny. Once it cools it should be pretty stable and not runny.
How To Use Berry Filling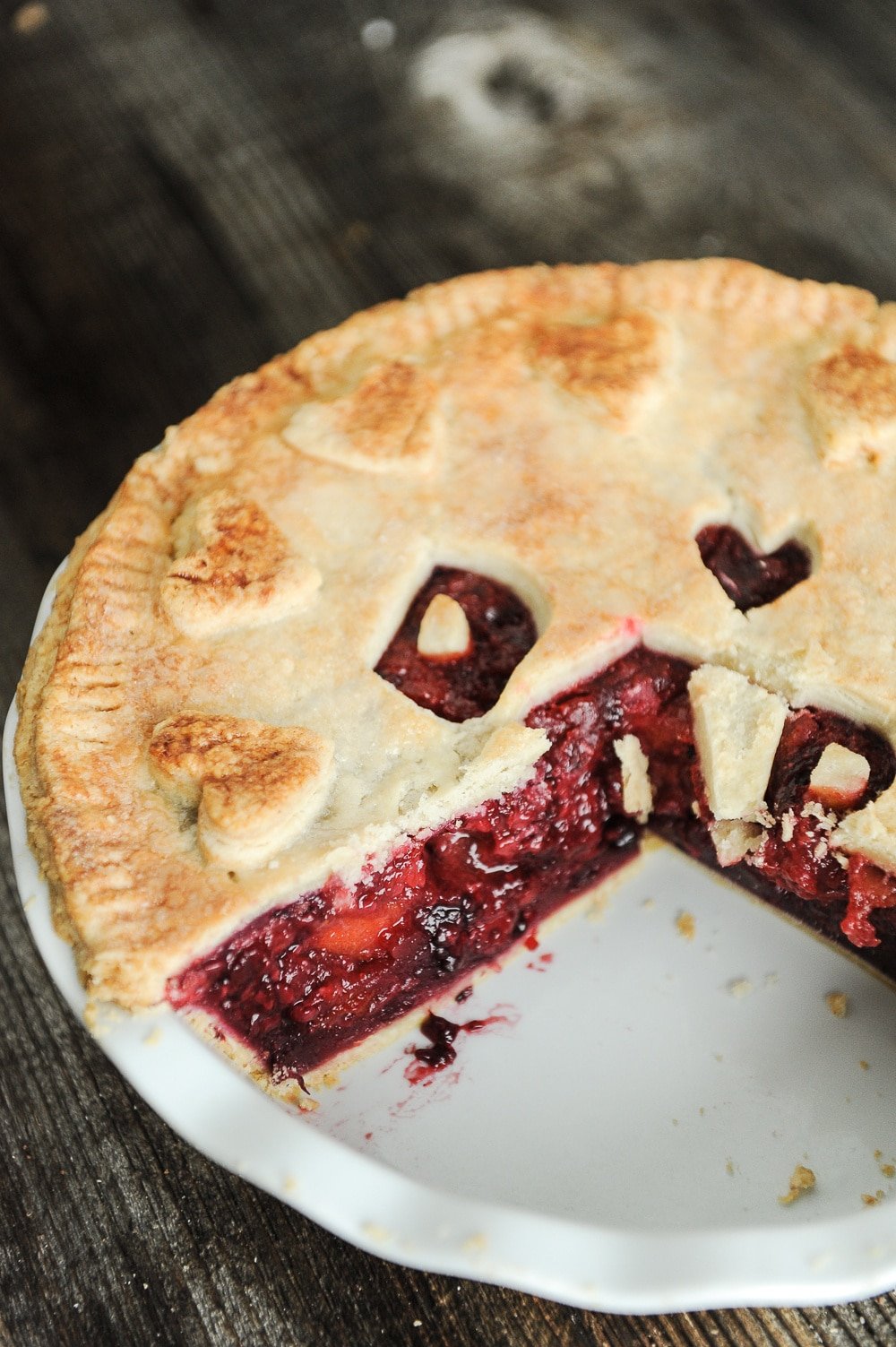 You can use berry filling in cakes or pies. Make sure you cool your filling first. I pour mine into a sheet pan and stick it in the fridge so it cools faster. You can pour it into a pie crust for berry pie or you can use it as a cake filling.
Make sure you pipe a dam around the outside of your cake with some buttercream before putting in your fruit filling so it doesn't ooze out the edges. Check out how pretty this vanilla cake looks with some berry filling and berry buttercream!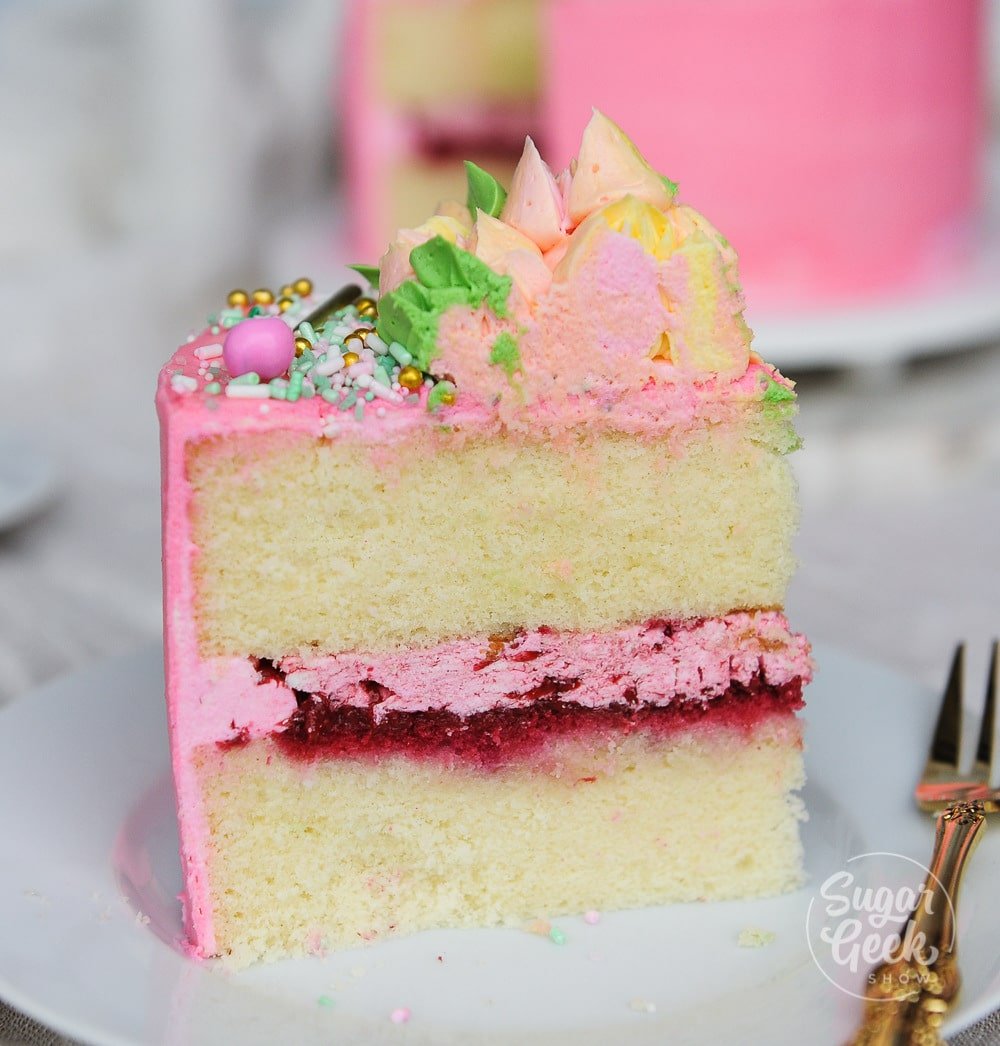 You can also combine your berry filling with buttercream to make a berry buttercream. So yummy. If you don't like visible seeds in your buttercream, use an immersion blender to blend up your fruit filling first to make it nice and smooth before adding it to your buttercream. Start with ¼ cup of cooled filling and add it to your room temperature buttercream. Whisk together on high until smooth and creamy.
You always want to keep fruit filling refrigerated until delivery to keep the fruit from going bad. Once it's delivered though it should be fine at room temperature for 6 hours.
How To Store Berry Filling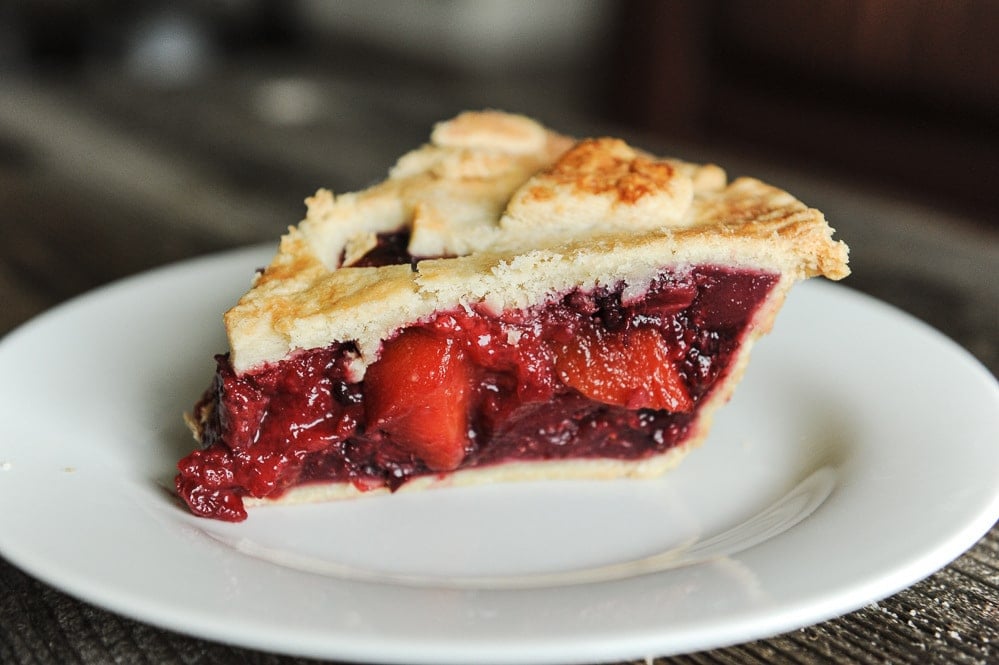 I store my filling in the fridge until I need it (for up to three days) and if I'm not going to use it right away or if I have leftovers I will divide it up and store it in the freezer. Once unfrozen it can't be frozen again so I divide mine up into 1 cup batches so I can take out as much as I need. Store frozen for up to 6 months. Name and label your bags so you know what they are.
Recipe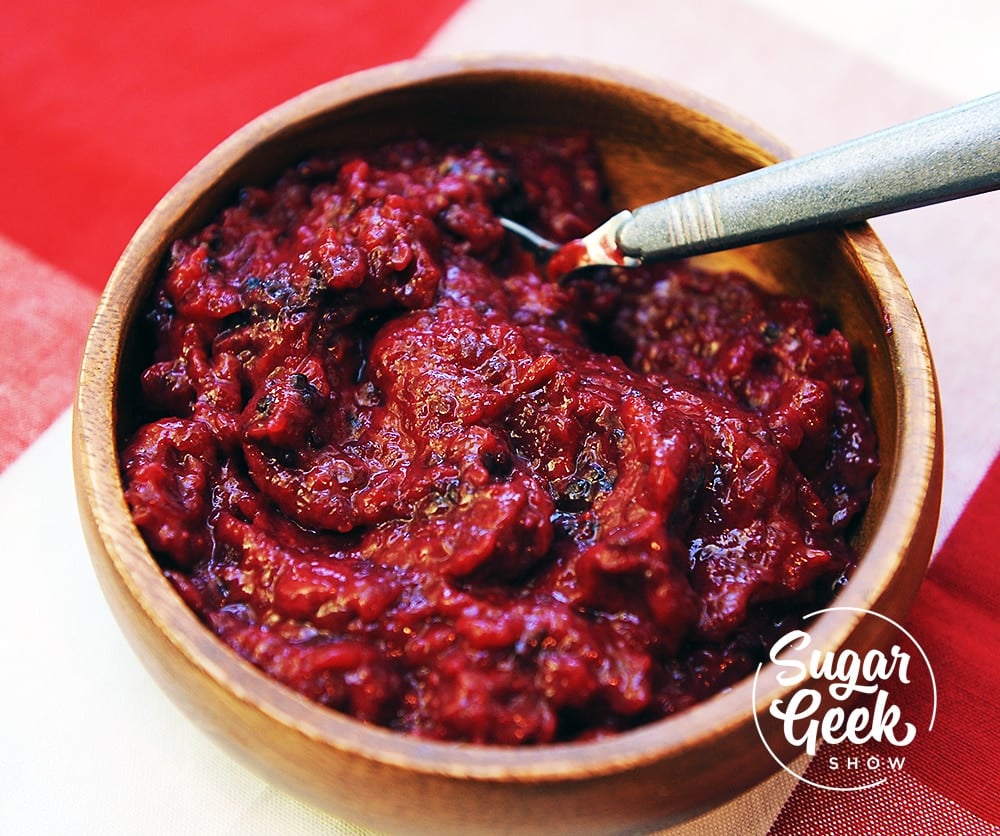 Ingredients
28

oz

frozen or fresh berries

6

oz

Juice from berries plus water if you need more, divide in half

5

oz

sugar

2

oz

cornstarch

½

teaspoon

salt

1

lemon

zest

1

tablespoon

lemon juice
Instructions
Defrost or slice berries and strain off excess juice into a bowl. Combine the juice with enough water to make 6 oz total.

Place berries, sugar, salt and ½ of juice/water mixture into a medium sauce pan. Bring to a boil, stirring constantly and cook 5-6 minutes

Combine corn starch with second measure of juice/water mixture and make a slurry. Pour mixture into the hot berries and stir constantly until mixture goes from cloudy to clear and is thick. Mixture should be slightly thick when hot. If too loose and watery, add more cornstarch (1 tablespoon dissolved in 2 teaspoon water) as needed.

Remove mixture from heat and stir in lemon juice and zest.

Cool mixture fully before using. Store excess in the fridge or freeze for up to 6 months.
Nutrition
Calories:
313
kcal
|
Carbohydrates:
77
g
|
Fat:
1
g
|
Sodium:
296
mg
|
Potassium:
150
mg
|
Fiber:
5
g
|
Sugar:
56
g
|
Vitamin A:
90
IU
|
Vitamin C:
7.8
mg
|
Calcium:
19
mg
|
Iron:
0.5
mg