This speckled Easter cake looks beautiful but is incredibly easy to make
Moist layers of fresh coconut cake filled with coconut cream and decorated with a speckled pink buttercream frosting! This creative cake could not be easier to make but looks so beautiful as a centerpiece for your Easter dessert table.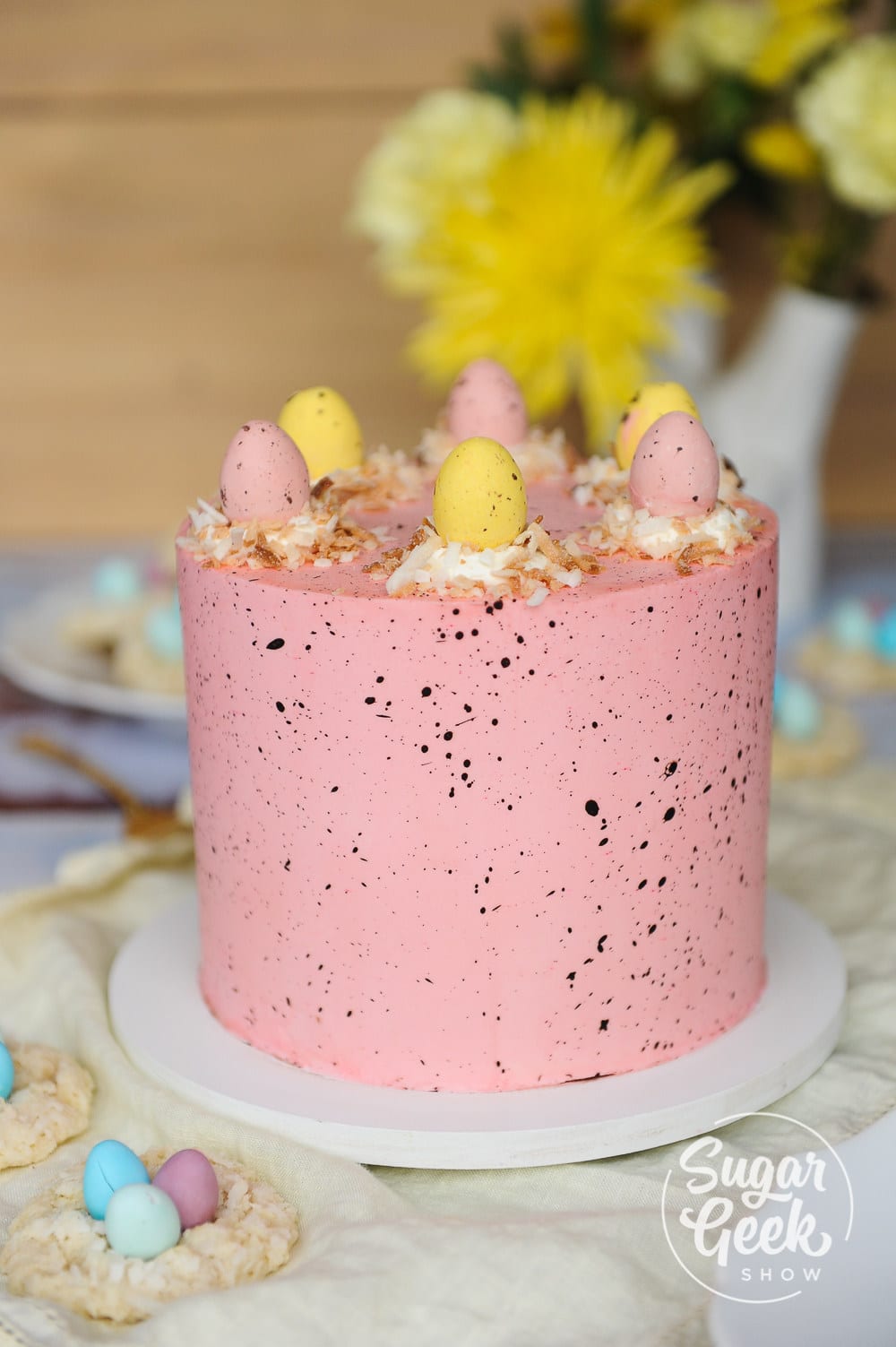 A pretty Easter cake is one of the few holiday cakes I never get tired of making. It might be because I have so many special memories of Easter when I was a kid. My dad is originally from New Zealand, he met my mother in Hawaii so you might say they kind of loved the beach.
Every Easter we would go to the coast and set up a tent (yes a real-life tent and sleeping bags and the whole bit).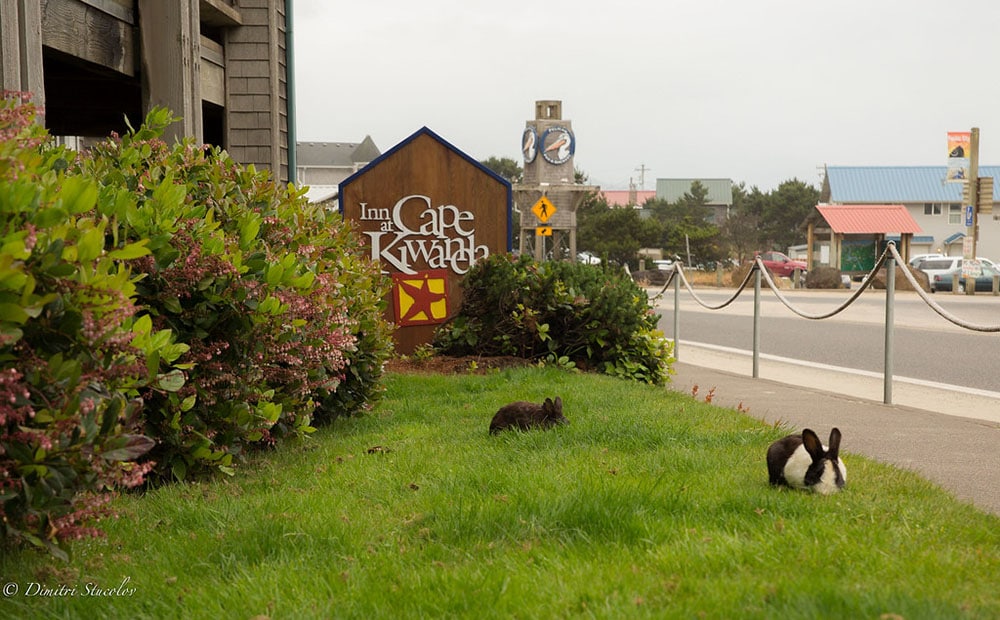 The most magical part? This particular campground is naturally overrun with tons and tons of local rabbits! Everywhere you look, little bunnies hop around. Most are very tame too from years of campers feeding them special treats.
When we would wake up the next morning, the Easter bunny had always arrived and hidden easter eggs all over the campground! In the crooks of the beachy pines, under the corner of the tent, even under the picnic table. My favorite treat was always the little speckled eggs with chocolate on the inside.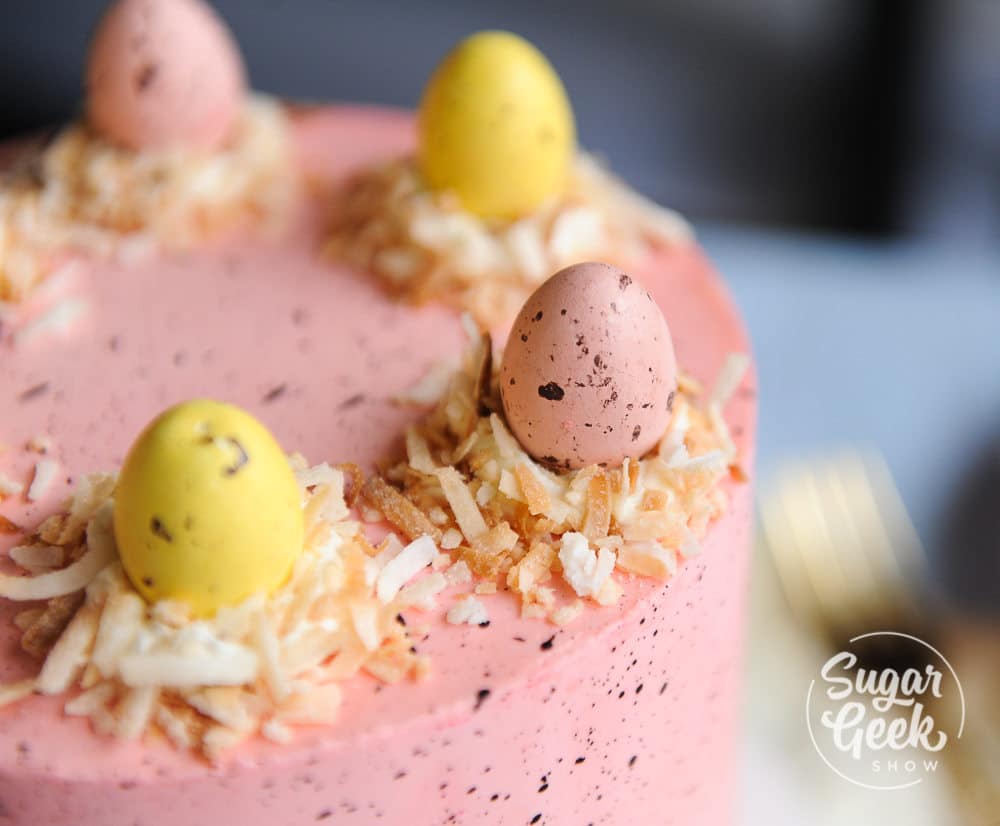 So basically to me... the Easter bunny is real and he lives at Cape Kiwanda.
Making An Easy Easter Cake
This cake is made with my toasted coconut cake recipe. It's a little different than typical cake recipes because you whip up the egg whites and then fold them into the batter, resulting in a very light cake texture. You don't have to toast the coconut if you want a whiter inside but I love the taste of toasted coconut too much to pass up!
After I bake my cakes, I let them cool for ten minutes on a baking rack then wrap them in plastic wrap while warm to seal in moisture. I will then chill them overnight to let the butter firm up before filling and frosting or you can freeze them for an hour if you're in a hurry.
Chilling makes the cakes easier to handle but makes sure you let the cakes come to room temperature before you bite in. No one likes to eat cold butter.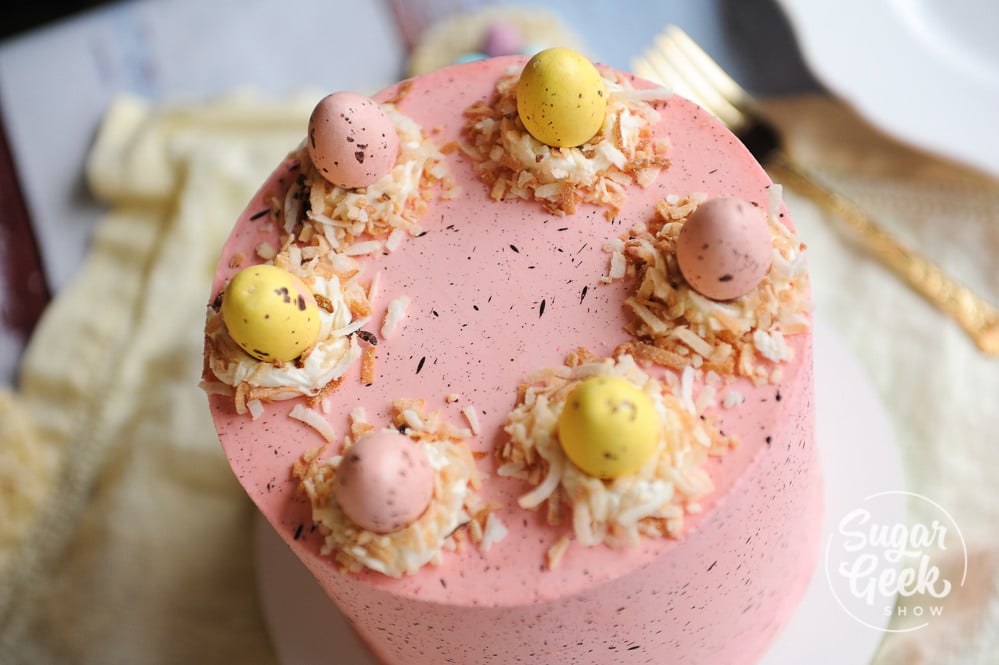 To fill my cakes, I decided to go with a coconut custard filling. This is fairly easy to make but if you're in a pinch, you could always purchase a box of coconut pudding from your grocery store and that would work just as well. Whip up some heavy whipping cream and fold it into the pudding and you've got yourself some yummy filling for your coconut cake!
Other tasty fillings that would work just as well would be freshly whipped coconut milk sweetened with some powdered sugar. Whipped cream, lemon curd, berry curds or even pineapple filling (pina colada cake anyone?)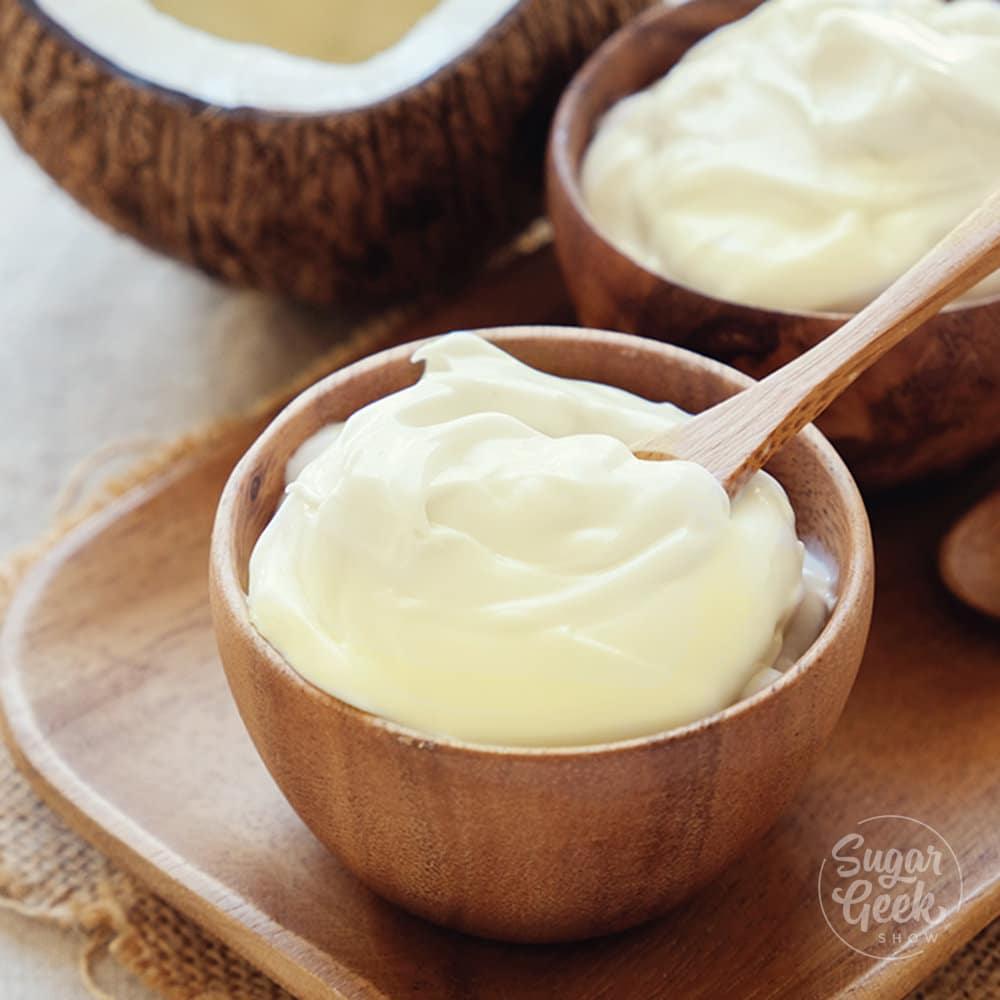 To fill my cake, I make a damn with my easy buttercream so that the soft custard doesn't leak out. I make my custard filling about ¼" thick.
Once filled, I do a quick crumb coat in the fridge to firm things up for about 30 minutes then get ready for the fun part, decorating!
Decorating the Easter Cake
For the frosting, I went with a simple easy buttercream. I colored my buttercream with a few drops of electric pink and two drops of ivory to get a nice natural strawberry pink color. I layered on the buttercream and smoothed it out with a bench scraper and an offset spatula. A turntable also makes this part a lot easier.
You don't need many cake decorating tools when you first start out but a scale, bench scraper, offset spatula and a blow torch (ok maybe you don't NEED that but's nice to have) are key.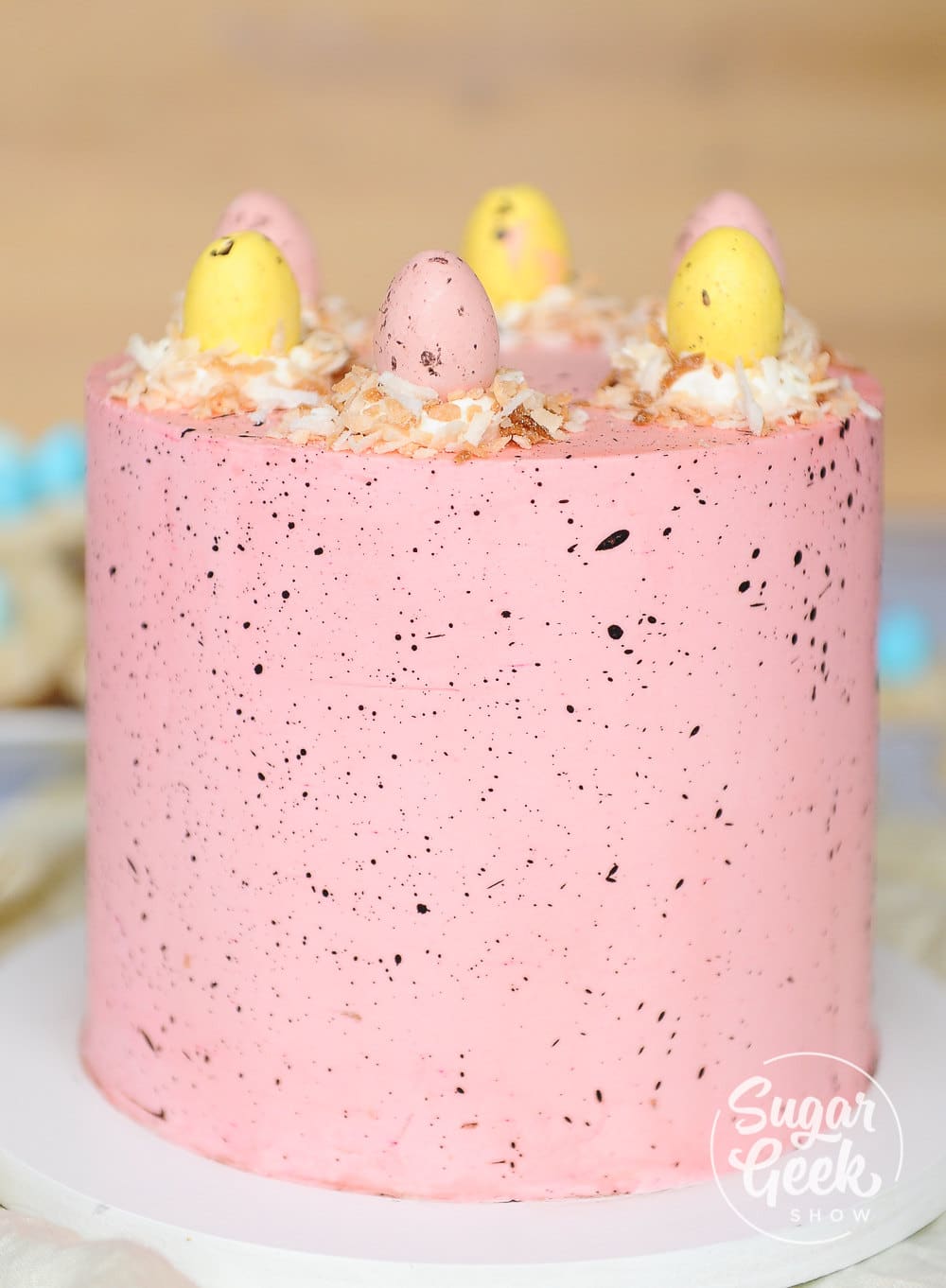 Next comes the fun part! Mix a one teaspoon of cocoa powder into one tablespoon of vanilla extract. Dip a stiff brush into the mixture, pull back on the bristles and SPLATTER that stuff all over the sides of the cake! So fun! I was a little hesitant at first but soon I was having a blast making the speckled pattern all over the pink surface.
A note: I did place my cake onto a cake board from cake boards avare which is pre-covered and easy to wipe off the surface. Make sure whatever cake board you put your cake onto you can easily clean up the splatters later. A nice white plate would even do.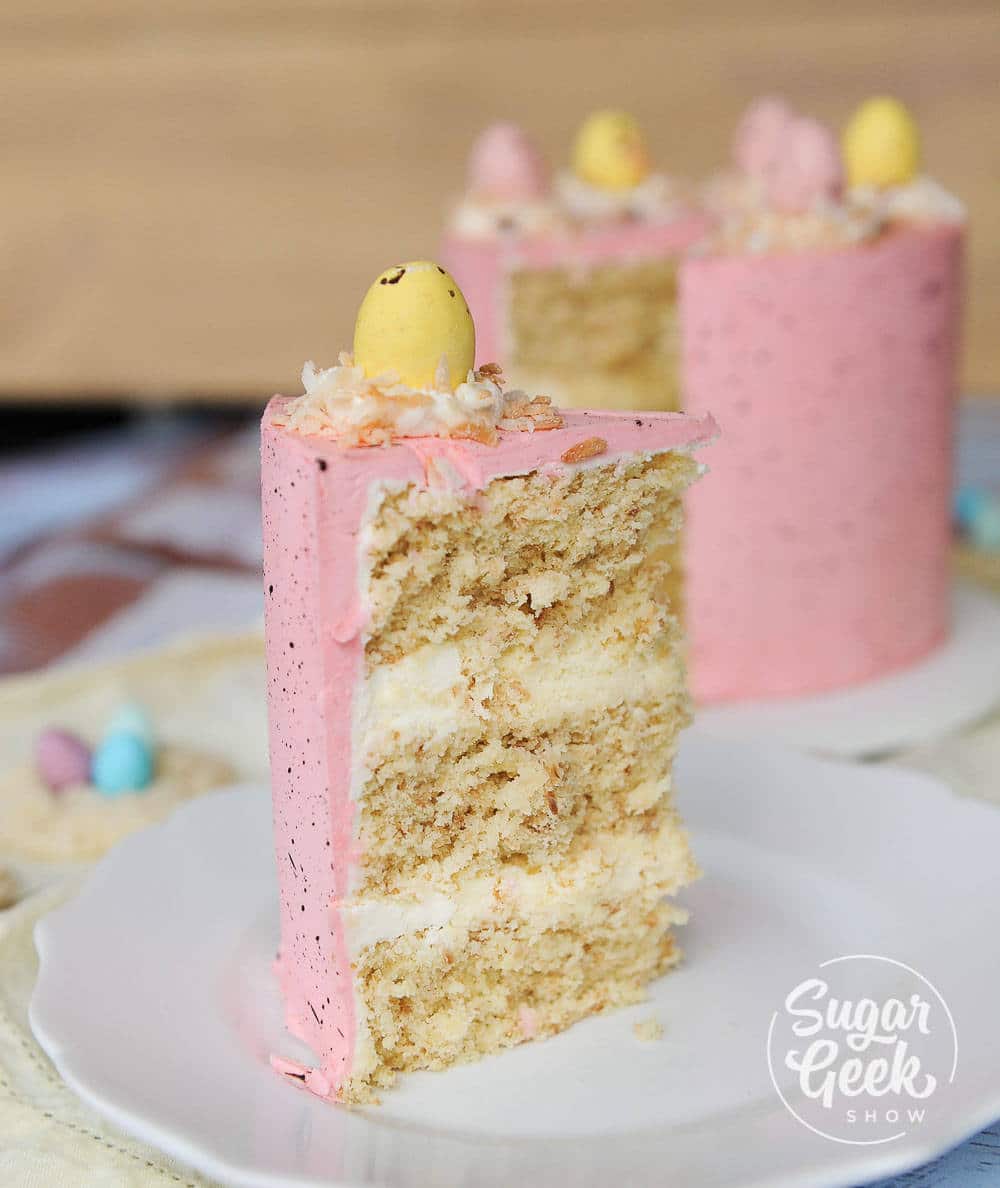 To top off my cake, I went with some dollops of buttercream and covered them with some more toasted coconut to make little "nests".
I then used some candy eggs to press into the buttercream. So simple and fun!
Need some extra goodies to go along with the cake? I made some coconut caramel easter egg nests from Self Proclaimed Foodie
Want more info on how to frost and fill a cake? Watch my tutorial on how to decorate your first cake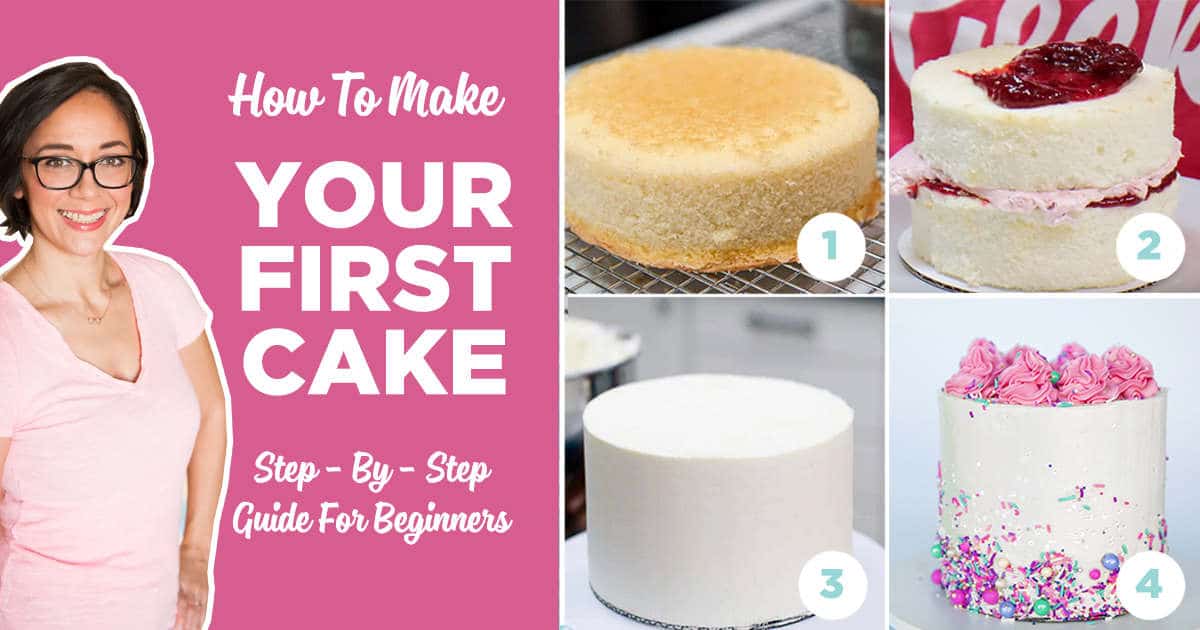 Cake Batter and Frosting Calculator
Select an option below to calculate how much batter or frosting you need. Adjust the servings slider on the recipe card to change the amounts the recipe makes.
Choose a pan type
Choose a cake pan size
(based on 2" tall cake pan)
Choose a cake pan size
(based on 2" tall cake pan)
Choose a cake pan size
(based on 2" tall cake pan)
Cups of Batter Needed
8 cups
Cups of Frosting Needed
5 cups
Recipe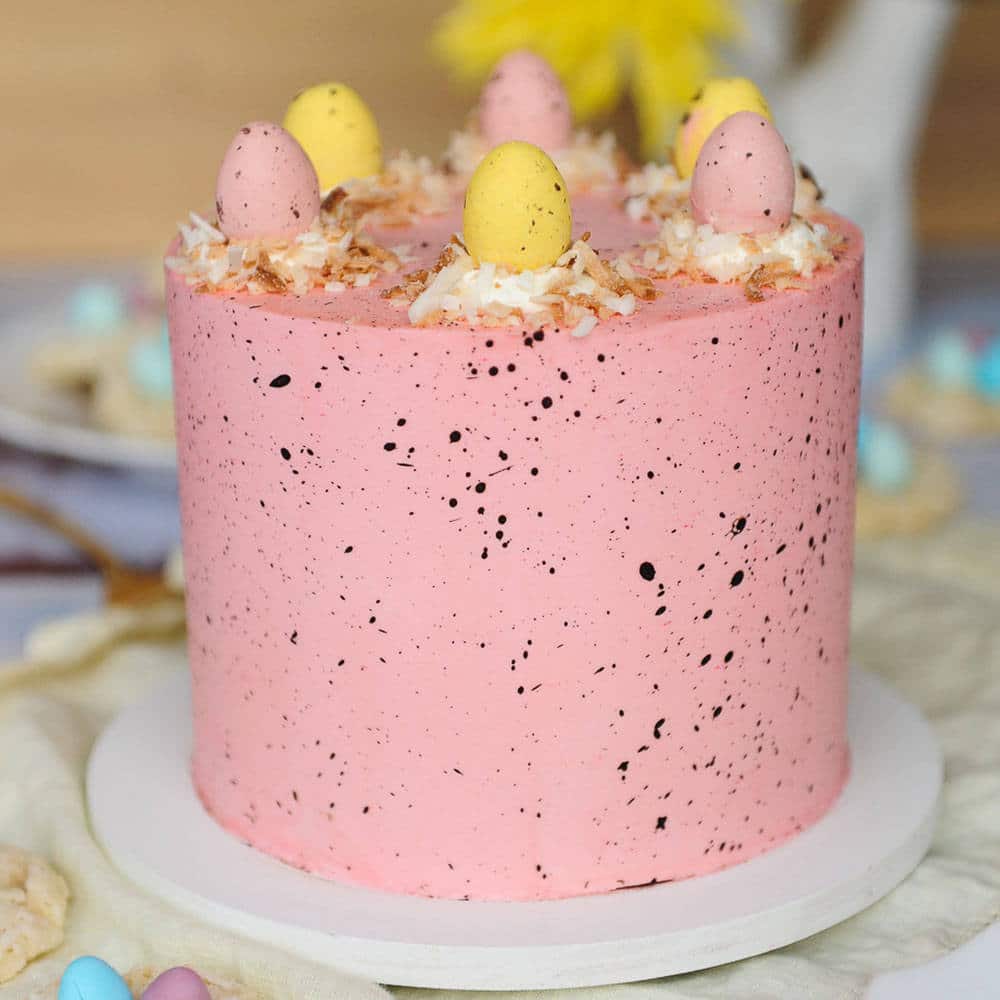 Servings: 24 servings
Calories: 545kcal
Equipment
Stand mixer with whisk and paddle attachment
Ingredients
Coconut Cake Ingredients
11 oz AP flour (all purpose)
1 teaspoon baking powder
½ teaspoon baking soda
½ teaspoon salt
4 oz unsalted butter room temperature
14 oz granulated sugar
4 oz vegetable oil
5 large egg yolks room temperature
5 large egg whites room temperature
¼ tsp cream of tartar
1 teaspoon vanilla extract
2 teaspoon coconut extract
8 oz buttermilk room temperature
6 oz sweetened flaked coconut toasted until lightly browned
1 oz sweetened flaked coconut toasted (for garnish)
Coconut custard filling
13.5 ounces unsweetened coconut milk one can
2 ounces milk
1 teaspoon vanilla extract
2 teaspoons coconut extract
5 large egg yolks
3 ounces sugar
3 Tablespoons cornstarch
4 ounces heavy whipping cream to fold in later
Easy Buttercream Frosting
16 ounces unsalted butter softened
16 ounces powdered sugar sifted
1 teaspoon vanilla extract
4 ounces pasteurized egg whites
2 teaspoons vanilla extract
2-3 drops electric pink food coloring
1 drop ivory food coloring
2 teaspoons vanilla extract for the speckle
½ teaspoon cocoa powder for the speckle
6 candy easter eggs for decoration
Instructions
Coconut Cake Instructions
NOTE: It is SUPER IMPORTANT that all the room temperature ingredients listed above are room temperature and not cold so that the ingredients mix and incorporate correctly.

Adjust an oven rack to the middle position and preheat to 350ºF/176ºC. Prepare three 6"x2" round cake pans (or you can use two 8"x2" cake pans) with cake goop or another preferred pan release.

Spread your coconut flakes evenly onto a cookie sheet pan and bake for 2-3 minutes or until they JUST start to turn brown around the edges. Stir the coconut and bake for 1-2 minutes more until lightly golden. Watch closely or it could burn. Remove from the oven and let cool.

Whisk together the flour, baking powder, baking soda and salt in a medium bowl. Set aside.

Add the oil, coconut extract and vanilla extracts to your buttermilk

Place egg whites in a mixing bowl with the whip attachment. Whip on med-high. Add in cream of tartar. Whip until firm but moist peaks form. Set aside

Add butter to stand mixer with the paddle attachment and beat at medium-high speed until smooth and shiny, about 30 seconds. Gradually sprinkle in the sugar, beat until mixture is fluffy and almost white, about 3-5 minutes.

Add egg yolks, one at a time to the mixture, beating well after each until combined.

With the mixer at the lowest speed, add about a third of the dry ingredients to the batter, followed immediately by about a third of the milk, mix until ingredients are almost incorporated into the batter. Repeat the process 2 more times. When the batter appears blended, stop the mixer and scrape the sides of the bowl with a rubber spatula.

Fold in your whipped egg whites and toasted coconut gently.

Divide the batter evenly between the prepared pans. Smooth the tops with a rubber spatula. Bake cakes until they feel firm in the center and a toothpick comes out clean or with just a few crumbs on it, about 25-30 minutes.

Transfer pans to a wire rack and let cool for 10 minutes. Invert cakes onto the rack and pop cakes out of pans. Cool completely before frosting.
Coconut custard filling
Pour coconut milk into a saucepan and bring to a simmer over medium-high heat, whisking constantly so it doesn't burn.

Whisk together the yolks, sugar, milk and cornstarch in a large bowl and set aside.

Add ⅓ of your hot milk to the egg mixture and whisk to combine. Don't add all the milk or you could curdle the eggs.

Slowly whisk the rest of the warm milk into the egg mixture then return the mixture to the pot over medium heat and bring to a simmer, whisking constantly, until thickened.

Scrape the mixture into a bowl and whisk in coconut and vanilla extract. Whisk to combine. Cover with plastic wrap and refrigerate until cold, at least 2 hours.

Whip your heavy whipping cream until thick and then fold into your cooled custard before filling your your cake
Easy buttercream frosting
Place egg whites and powdered sugar in a stand mixer bowl. Attach the whisk and combine ingredients on low and then whip on high for 5 minutes 

Add in your butter in chunks and whip with the whisk attachment to combine. It will look curdled at first. This is normal. It will also look pretty yellow. Keep whipping. 

Let whip on high for 8-10 minutes until it's very white, light and shiny. 

Add in your food coloring

Switch to a paddle attachment and mix on low for 15-20 minutes to make the buttercream very smooth and remove air bubbles. This isn't required but if you want really creamy frosting, you don't want to skip it. 

Video
Notes
Watch this video on how to make the yummiest toasted coconut cake ever!
Nutrition
Serving: 1serving | Calories: 545kcal | Carbohydrates: 56g | Protein: 5g | Fat: 34g | Saturated Fat: 24g | Cholesterol: 135mg | Sodium: 138mg | Potassium: 151mg | Fiber: 2g | Sugar: 43g | Vitamin A: 822IU | Vitamin C: 1mg | Calcium: 44mg | Iron: 1mg