Rosé wine fault line cake made with Rosé wine gummy and champagne cake!
The Rosé wine fault line cake is so fun! I love experimenting with different designs and ideas. Today I made a Rosé fault line cake with two layers of pink champagne cake and one layer of rosé wine gummy! So fun!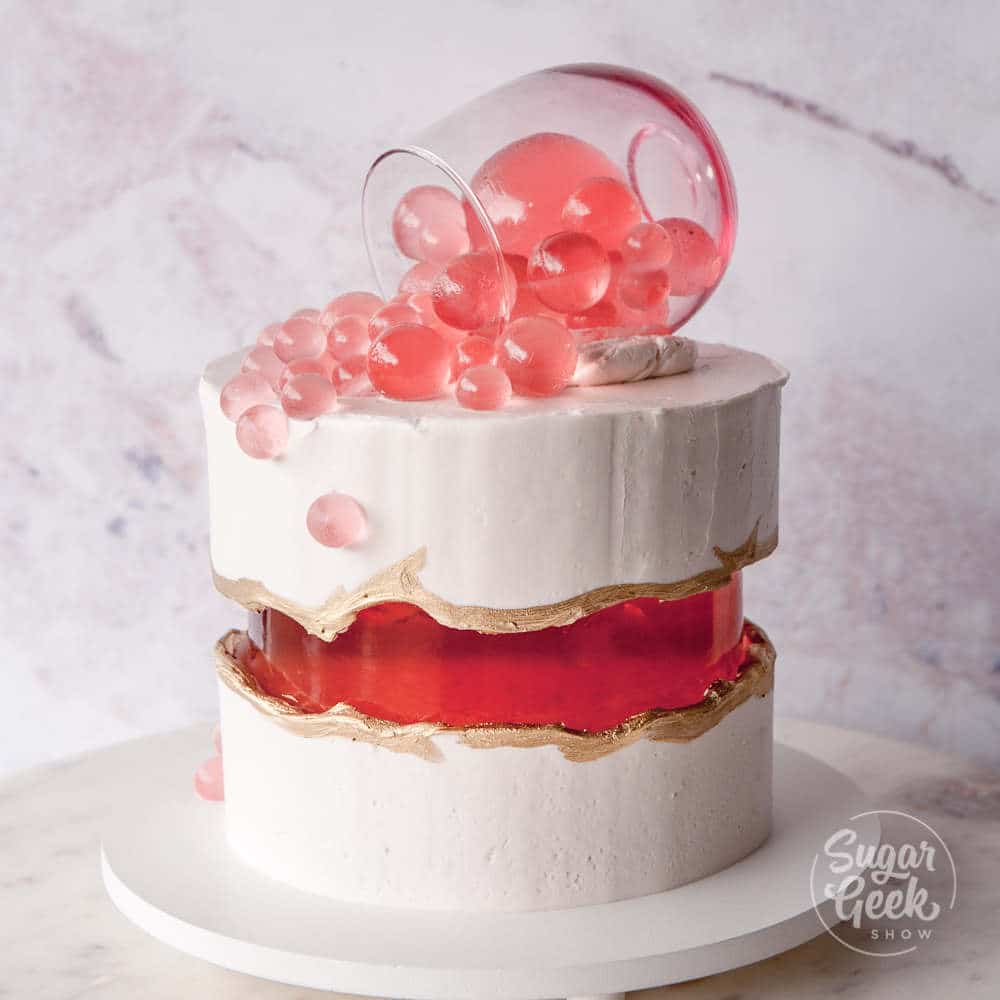 I know I know, you must be thinking wow Liz, what were you thinking on this one!
I get it, this one is a bit crazy but once I had the idea in my mind I couldn't get it out! I had to see if making a Rosé wine fault line cake was possible!
Fun little tip, you can put gummy next to buttercream and it won't weep or melt. But putting gummy next to fondant doesn't work so well. The water in the gummy makes the fondant melt.
How to make a Rosé wine fault line cake
To make your Rosé wine fault line cake, start by making your wine gummy recipe. Pour the gummy mixture into a 6" cake pan. I made mine about 3" tall so that you can really see the gummy layer. Let the gummy mixture chill overnight.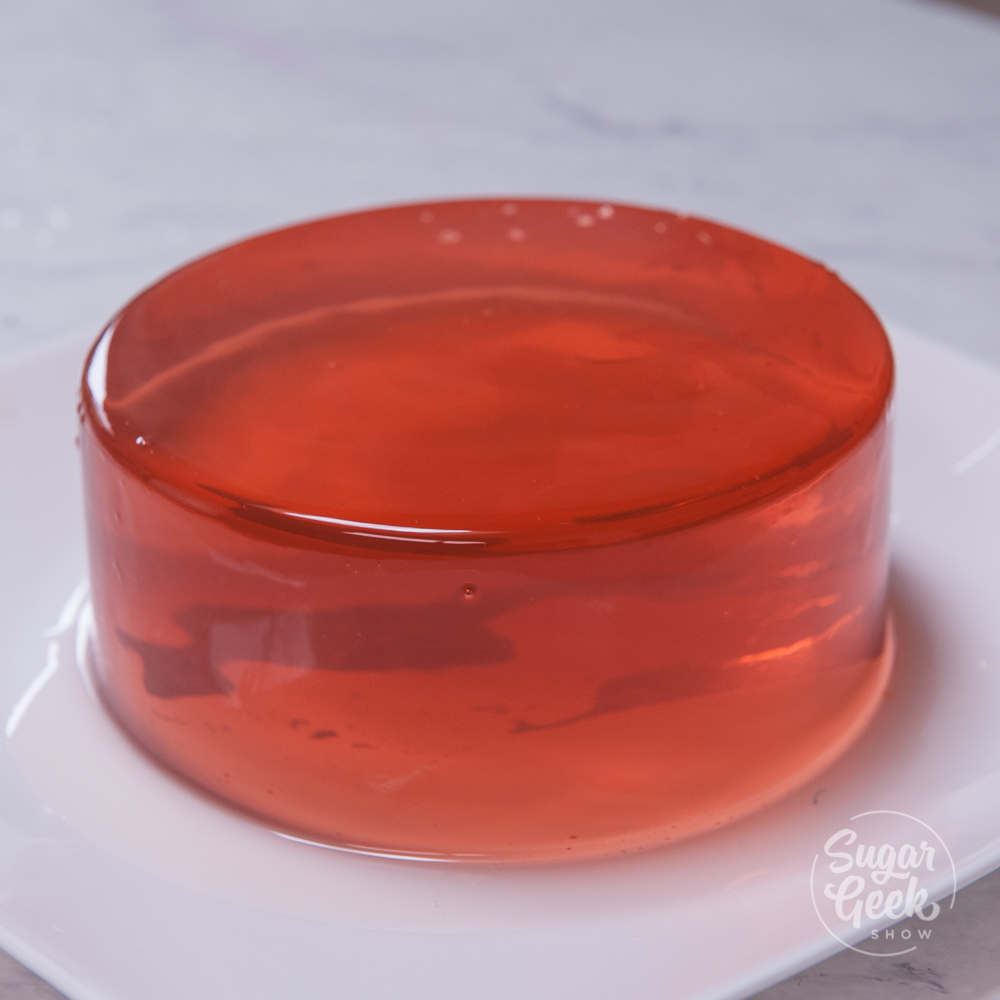 Once your wine gummy layer is chilled, you can put the pan in a bowl of warm water for about 1 minute. Then turn the pan over onto a plate to release the wine gummy layer from the cake pan mold.
Optional, make some extra wine gummies to put on top of the cake. I used a cheap wine glass as part of the decoration.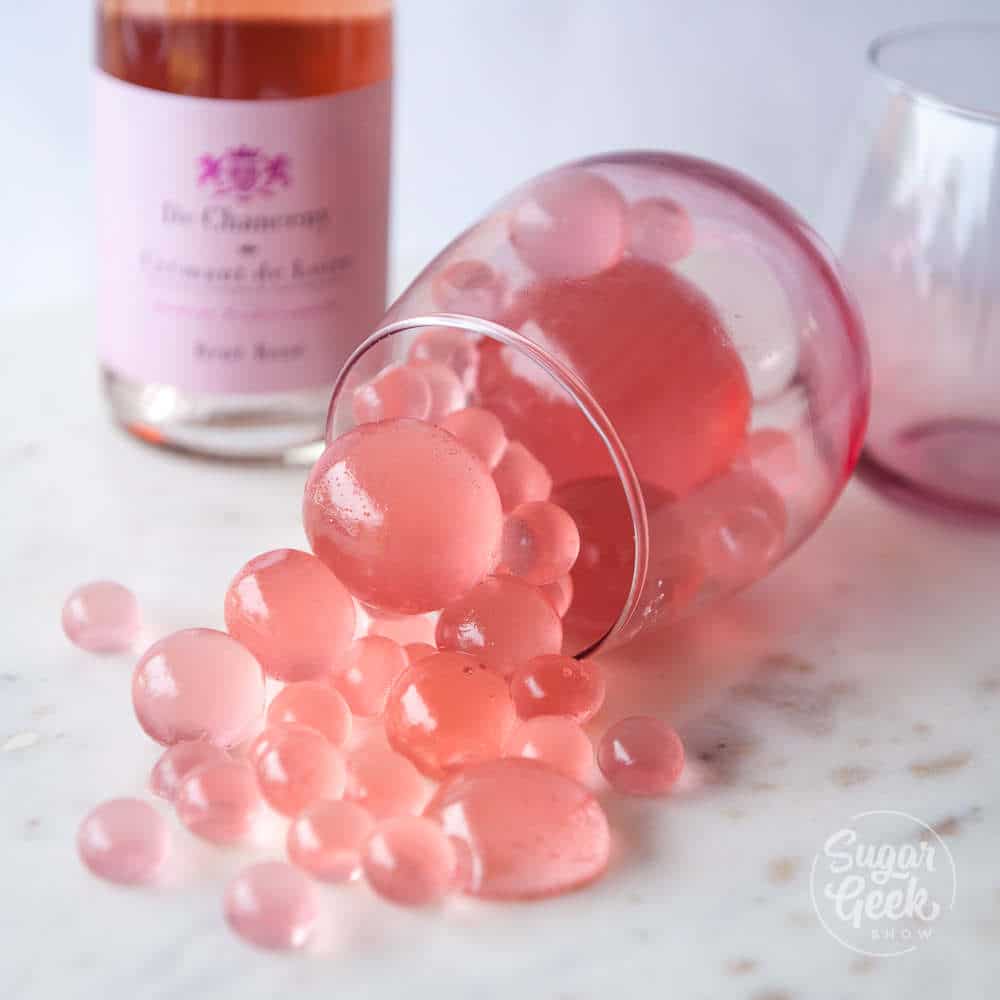 Next, bake two 7" layers of pink champagne cake and one batch of easy buttercream frosting. I put my cake layers in the freezer for about an hour to chill them quickly.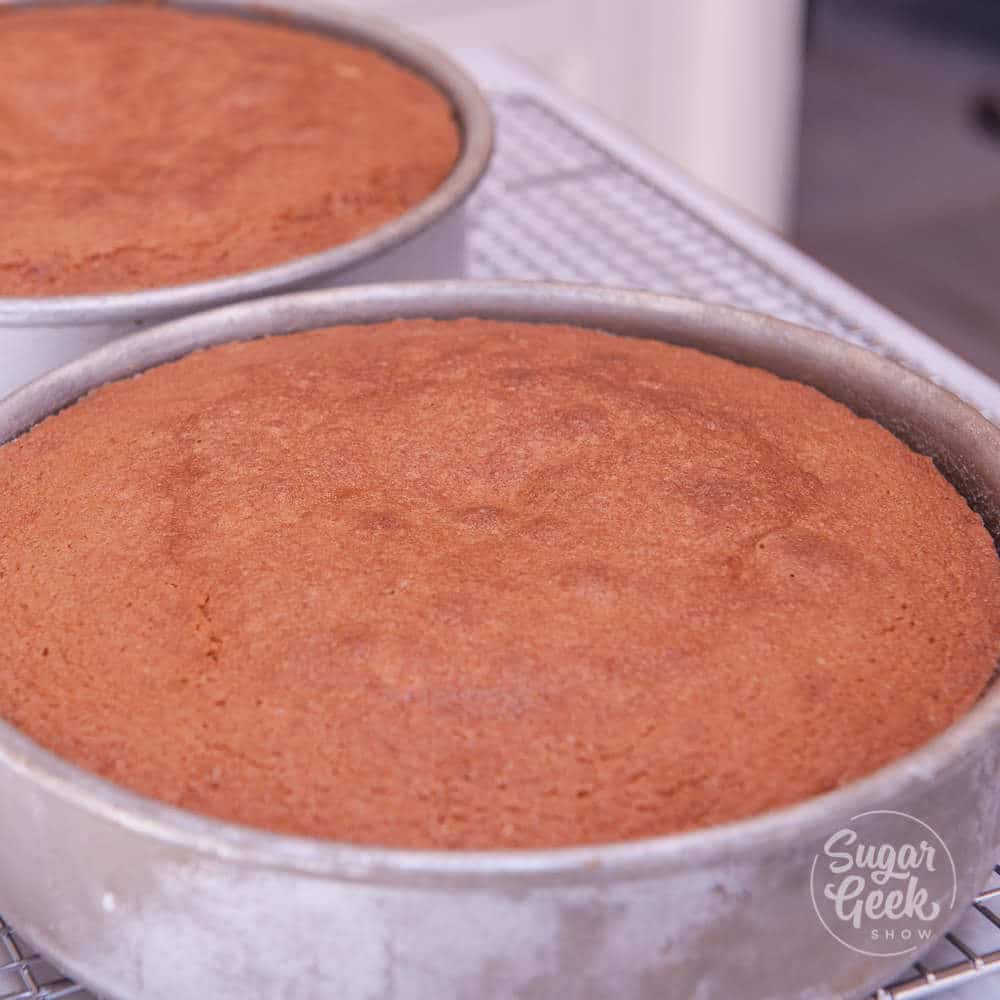 Now comes the weird part. I wasn't sure how stable stacking cake onto gummy would be so I started by putting a layer of frosting down onto the gummy layer then putting my cake on top. Then I put my cake board on top. Then I chilled it for 15 minutes.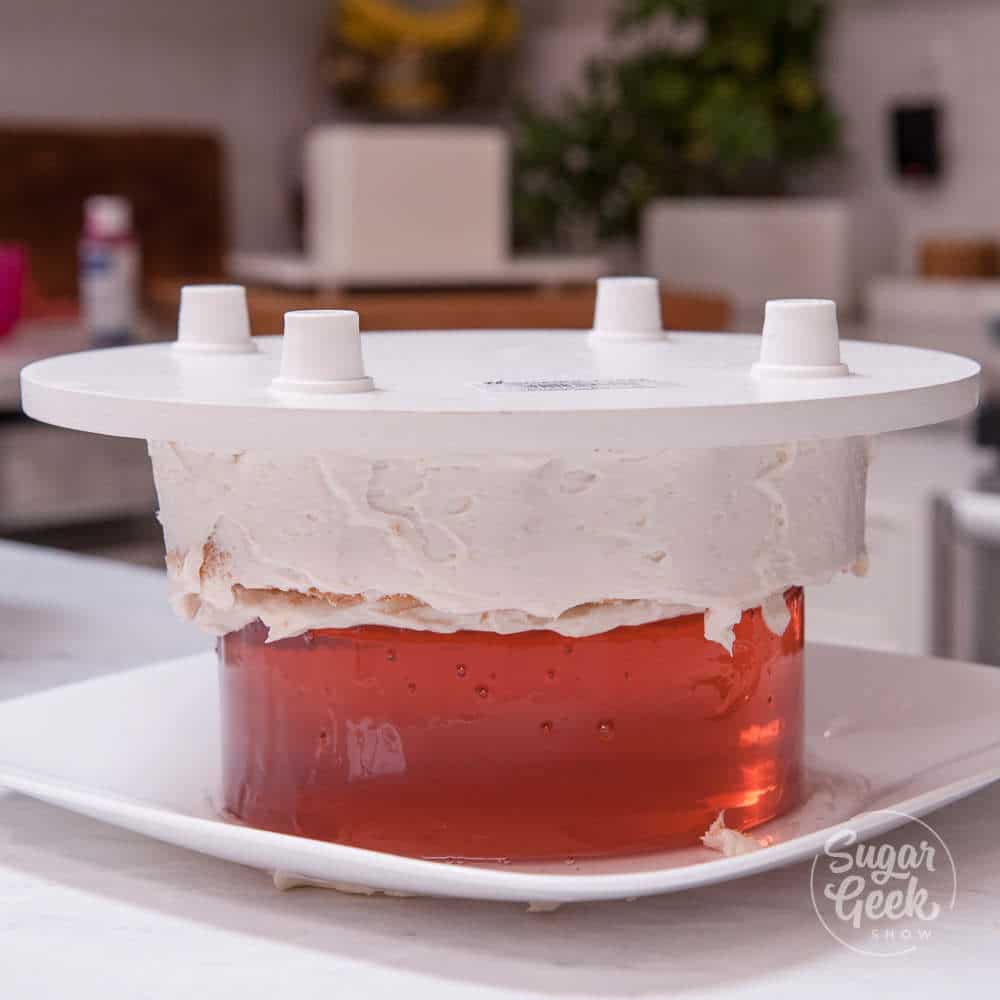 Once my cake was chilled, I flipped the whole thing over and carefully separated the plate from the gummy layer. Then I added more buttercream and my second layer of champagne cake.
Finishing the wine fault line cake
Once everything was stacked, the cake was easy to finish. I just smoothed out the outer layer of buttercream with my bench scraper and made the top of the cake flat with an offset spatula.
I placed the wine gummies in a wine glass and arranged them on top of the cake. I anchored the wine glass to the cake with a bit of piped buttercream.
The main reason I made this cake was that I wanted to see what it looked like with the sun shining from behind!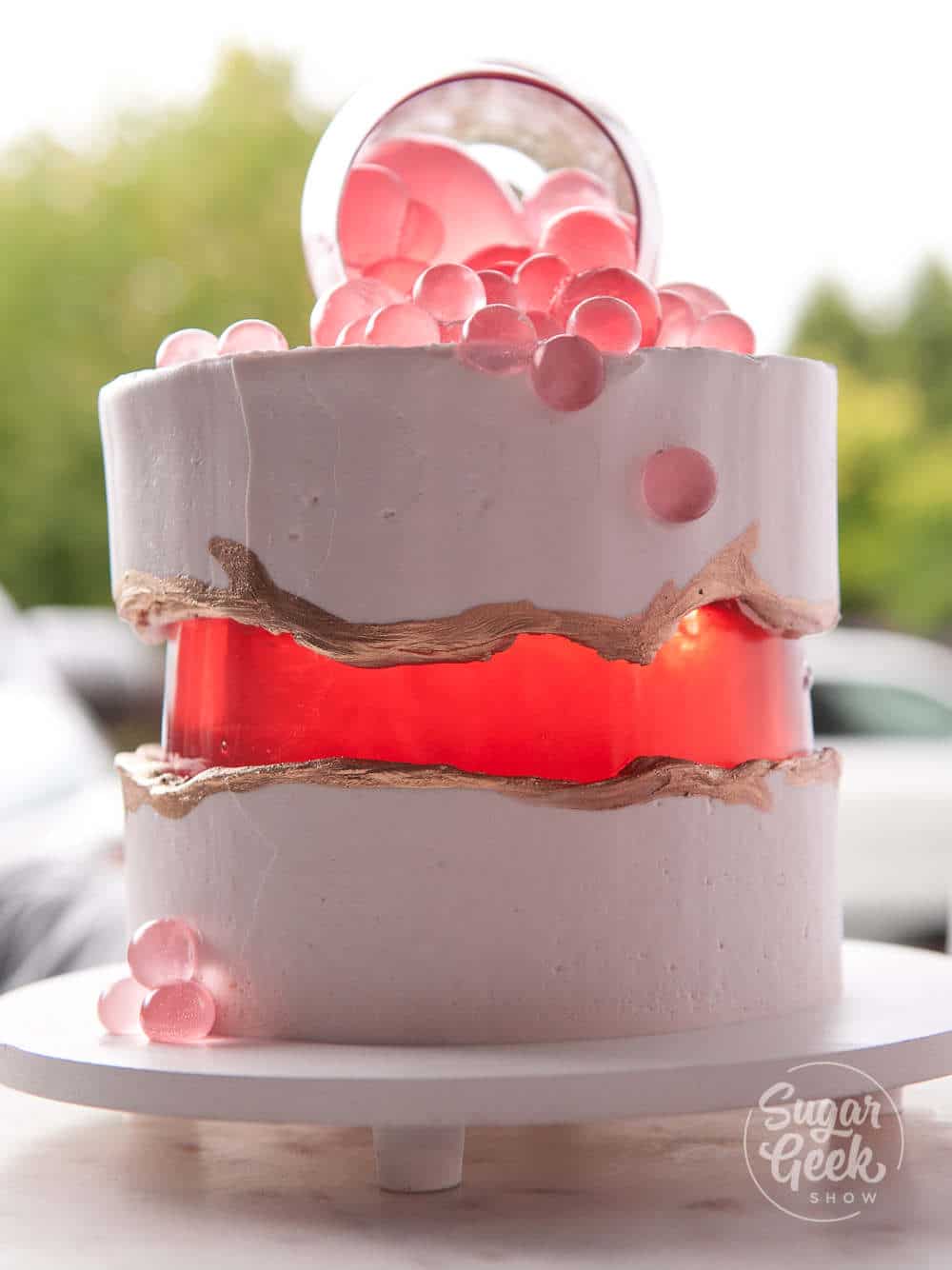 This was a really fun fault line cake to make! I admit, slicing it was a bit of a challenge but it was fun to see on the plate! The wine gummy actually did taste really good. This wine fault line cake would make a really fun bridal shower, bachelorette, or 21st birthday cake!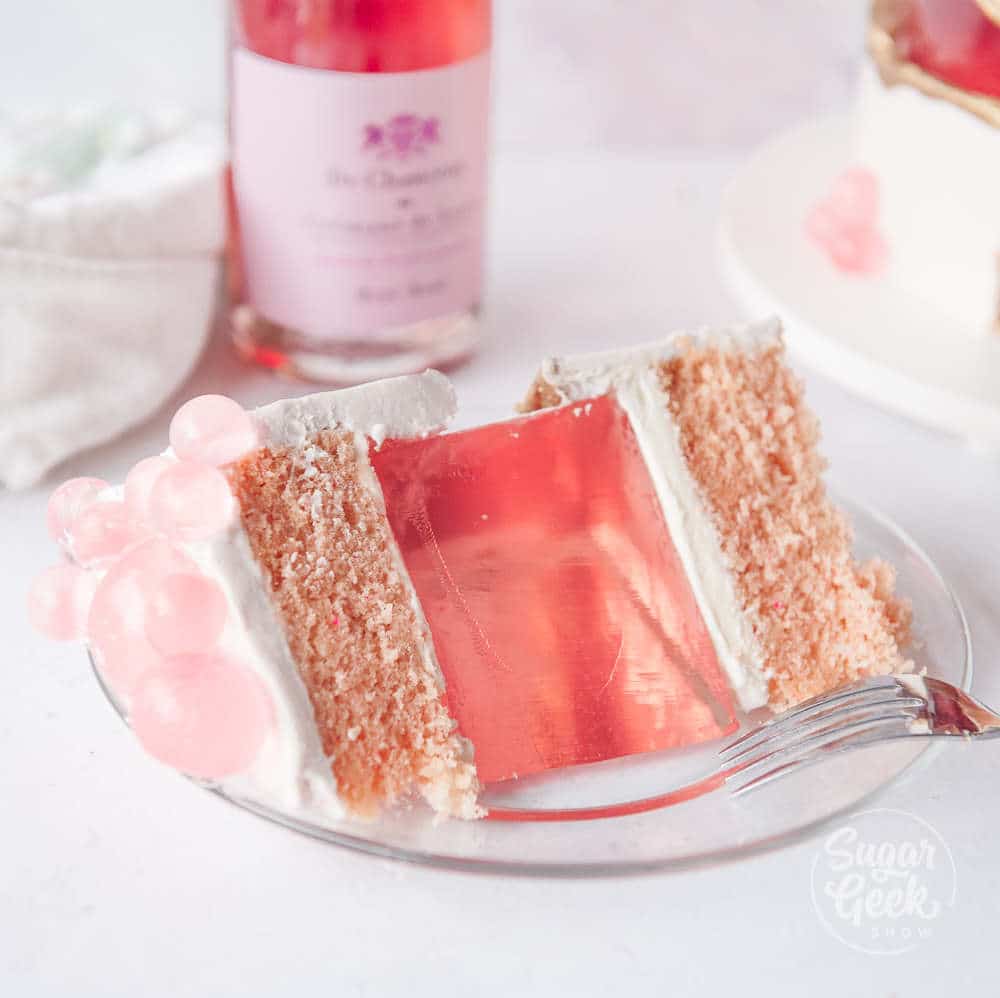 Be sure to watch my full video tutorial on how to make a wine fault line cake! Let me know what you think of this cake in the comments. Would you eat this cake?
Recipe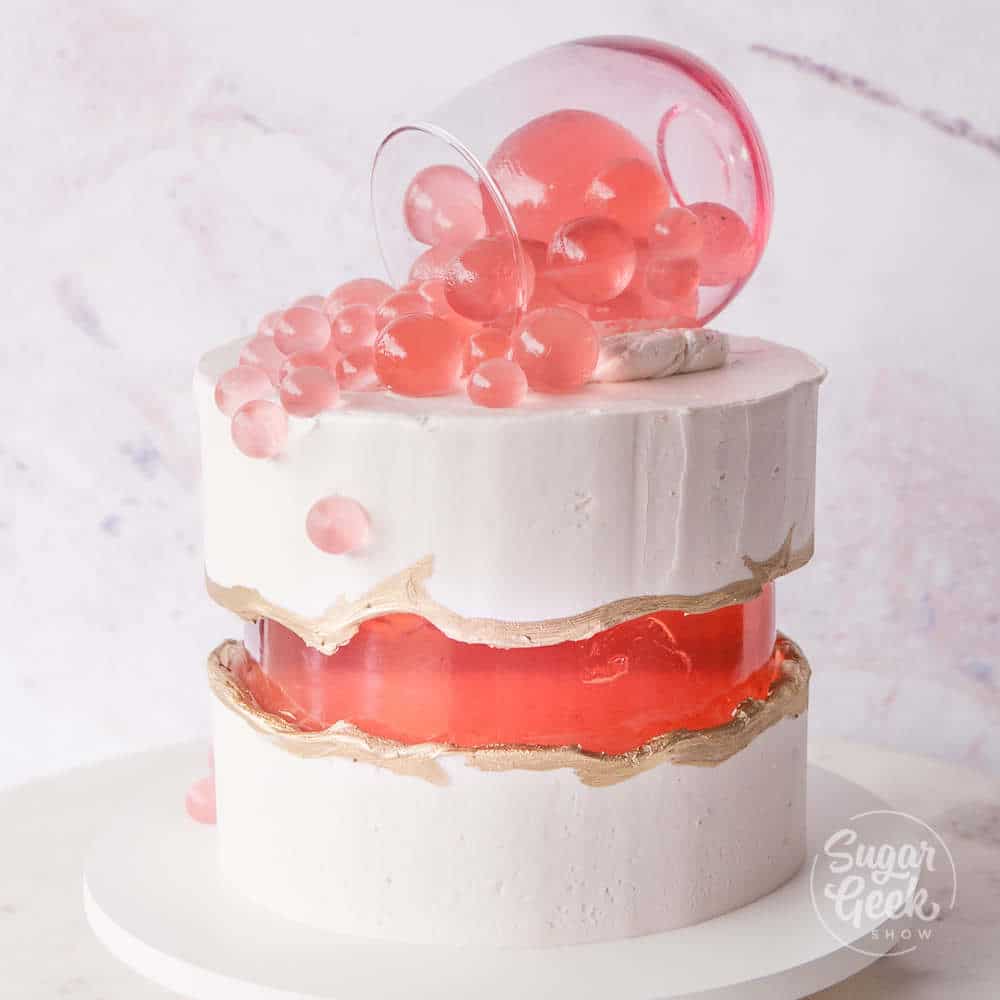 Ingredients
Pink Champagne Cake
12

oz

AP Flour

10

oz

sugar

8

oz

unsalted butter

2

teaspoon

baking powder

¼

teaspoon

baking soda

½

teaspoon

salt

1

teaspoon

vanilla extract

1

teaspoon

sparkling wine candy flavor (optional)

affiliate link: https://a.co/74ZOSgf

4

large eggs

room temp

6

oz

champagne

room temp

2

oz

vegetable oil

1-2

drops

electric pink food color
Easy Buttercream Frosting
8

oz

Pasteurized Egg Whites

32

oz

Unsalted Butter

32

oz

Powdered Sugar

½

teaspoon

salt

1

teaspoon

vanilla
Rosé Gummy (enough for the gummy layer plus some for molds)
45

oz

Rosé Wine

Or any other type of wine

105

grams

knox gelatin

15 packets

15

oz

sugar

or honey

15

oz

corn syrup

1

teaspoon

citric acid

optional - gives the gummies "bite"
Instructions
Champagne Cake Instructions
Preheat oven to 350F. Make sure all of your ingredients (champagne, eggs, butter) are at room temperature

Place butter in a stand mixer with the paddle attachment and mix on low until smooth and creamy. Sprinkle in sugar and turn up to medium and let mix until very light in color and fluffy (about 8-10 mins)

Combine your flour, salt, baking powder and sift. Set aside

Combine your champagne, oil, food color and flavorings. Whisk to combine and set aside

Once your sugar is ready, add in your eggs ONE AT A TIME. Letting mixture mix for one full minute after each egg is added before adding the next egg.

Add in ⅓ of your flour to your butter/egg mixture and once combined, add in ½ of your liquid, then flour, then liquid, then flour. Let mix just until everything is combined.

Divide into two 8" round pans. Bake for 25-30 mins until a toothpick comes out clean. 

Let cakes cool in the pan for 15 minutes then flip out onto a cooling rack to cool another 15 minutes or so. Wrap in cling wrap and chill overnight before frosting or place in the freezer for about 1 hour before frosting and decorating your cake
Easy Buttercream Instructions
Place egg whites and powdered sugar in the bowl of your stand mixer with the whisk attachment attached and whip on high for 5 minutes

Start adding in your butter (softened) in chunks while it's whipping until all the butter is added. Add in your salt and vanilla

Continue whipping until buttercream does not appear curdled and is fluffy and white

(OPTIONAL) switch to the paddle attachment and mix on low for 10-15 minutes to remove bubbles from the frosting. Frosting will be soft and this is normal.
Wine Gummy Instructions
Mix together your wine and sugar in a large measuring cup. Slowly sprinkle in your gelatin 1 teaspoon at a time, mixing in between additions. Don't just dump it all in. Let it bloom for 5 minutes.

Melt the gelatin in your microwave for 30 seconds and stir with a spoon (not a whisk). Then 15 second increments until the gelatin is dissolved and isn't grainy anymore.

Let the mixture sit for 5 minutes and allow the foam to rise to the surface. Scoop the gelatin off the surface with a spoon.

Add in your corn syrup and stir. Add a tiny drop of electric pink to ¼ teaspoon of water and add to the gelatin mixture if the gelatin looks too orange like mine did.

Pour the gelatin mixture into a 6"x4" cake pan until it's 3" deep. Use the leftover gelatin to make sphere gummies on top of the cake. Let chill overnight before unmolding.
Nutrition
Calories:
1482
kcal
|
Carbohydrates:
184
g
|
Protein:
8
g
|
Fat:
83
g
|
Saturated Fat:
53
g
|
Cholesterol:
258
mg
|
Sodium:
315
mg
|
Potassium:
163
mg
|
Fiber:
1
g
|
Sugar:
160
g
|
Vitamin A:
2605
IU
|
Vitamin C:
0.1
mg
|
Calcium:
77
mg
|
Iron:
2.1
mg