Cute Fox Cake Tutorial Teaches The Basics Of Simple Structures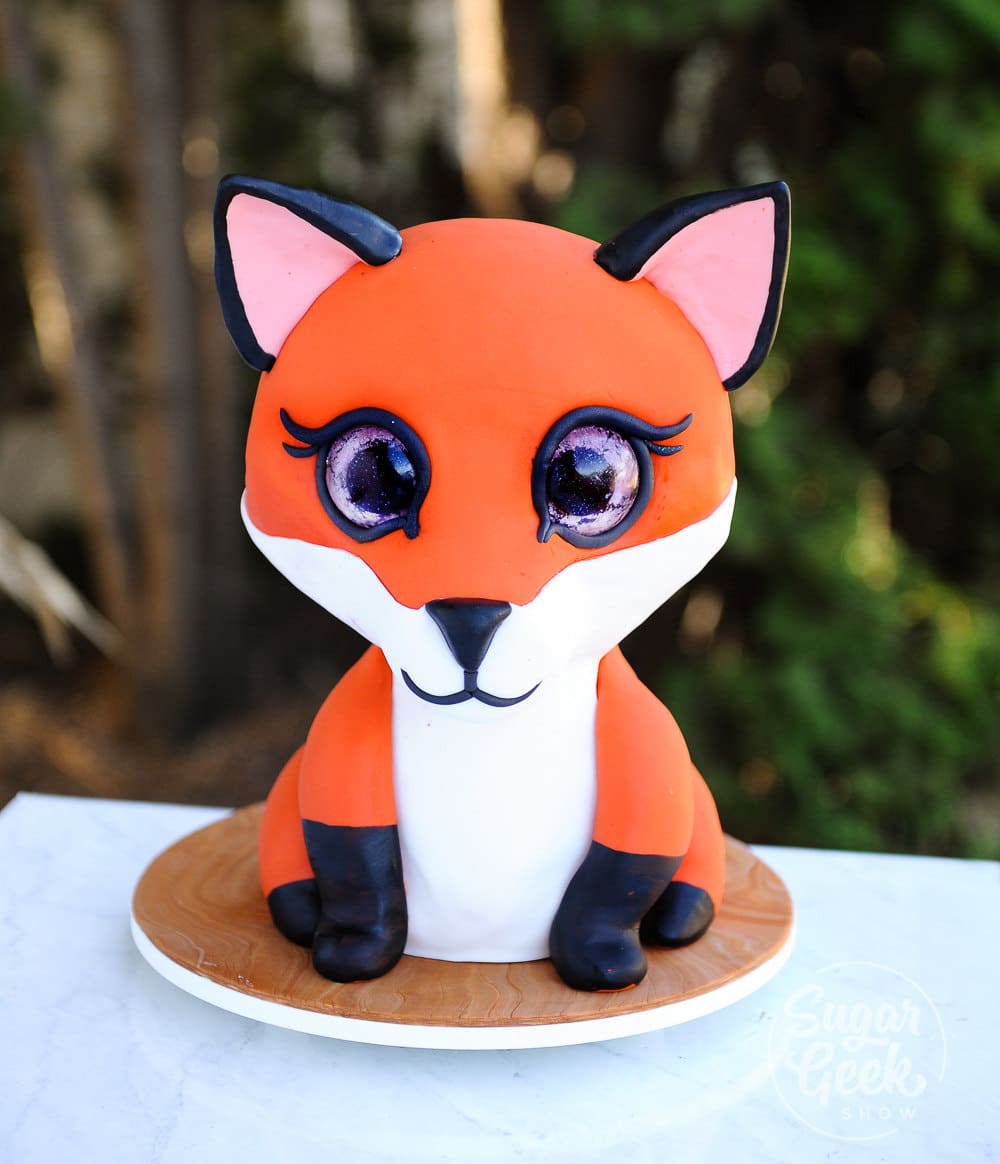 This cute little fox cake is the 5th installment in my beanie boo series is the perfect tutorial for you if you're wanting to learn how to do a basic sitting animal cake like a dog or a cat or even a stuffed teddy bear. In this tutorial you learn how to do very simple sculpting, how to support the large cake head and how to cover the cake in fondant.
Of course I'm still using my beloved glitter eyes which you can learn how to make below.
black food coloring
silicone cups for melting isomalt
edible glitter (or non-toxic is fine)
creme brulee torch
nitrile gloves for hand protection
silmat for protecting your work surface
microwave for melting isomalt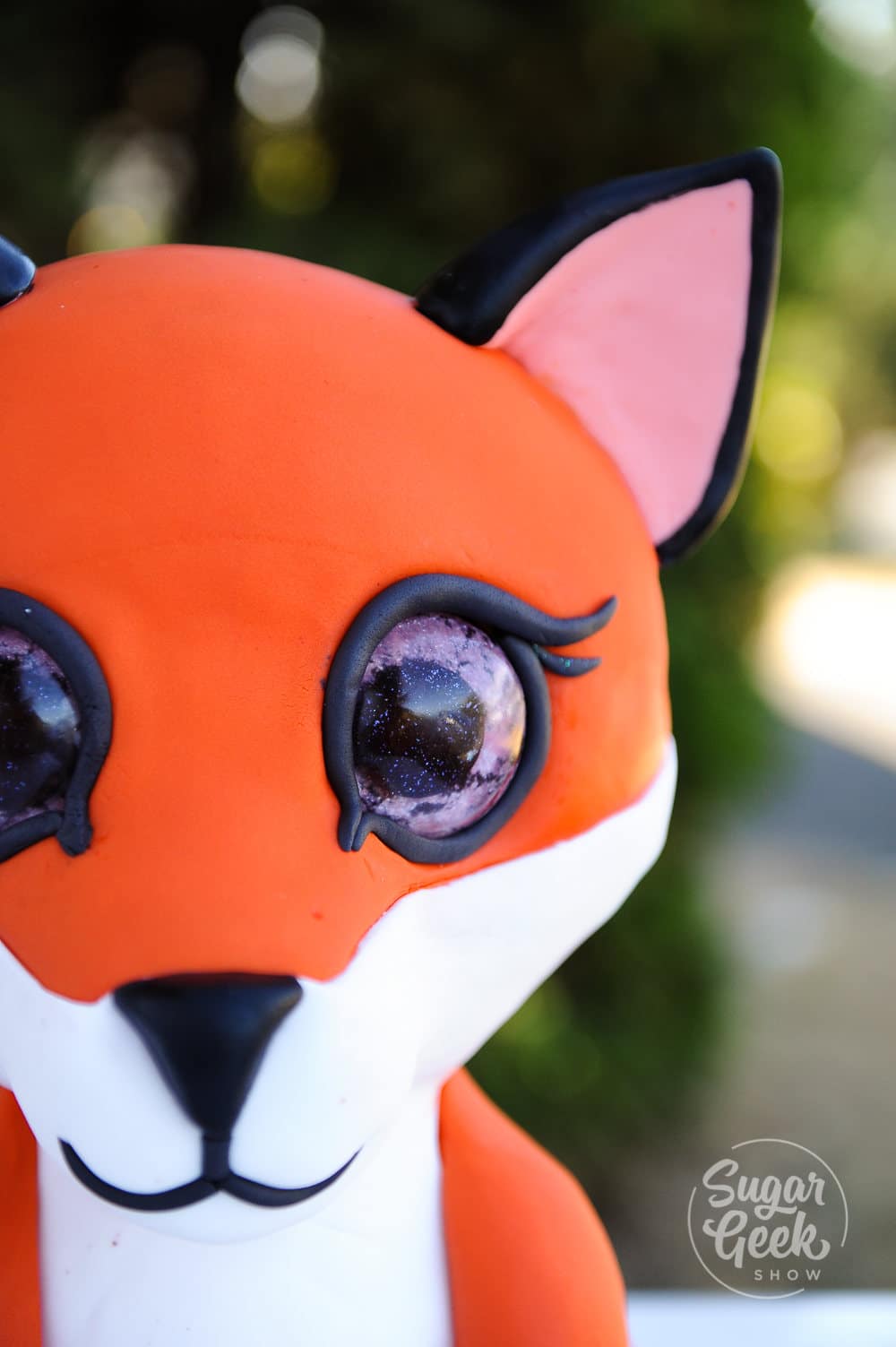 Fox Cake Materials List
Structure
12" Cake board

Aluminum foil tape

½ " Metal Flange

½" PVC pipe

½" Male Adapter

4- ⅝" Screw

2- Skewers

2- 6" cardboard cake rounds

Milkshake straws
Edible Materials
2- 8"dome cake
1- Doll Pan Cake
White Fondant
Brown Fondant
Yellow Fondant
Ivory Fondant
Orange/Red Fondant
Black Fondant
Modeling Chocolate
How To Make A Fox Cake
The first thing I did was bake my board. I combined three different shades of brown fondant and swirled them together to make a nice wood grain. Baking the board just makes the fondant nice and firm so when you add your cake you don't mess it up.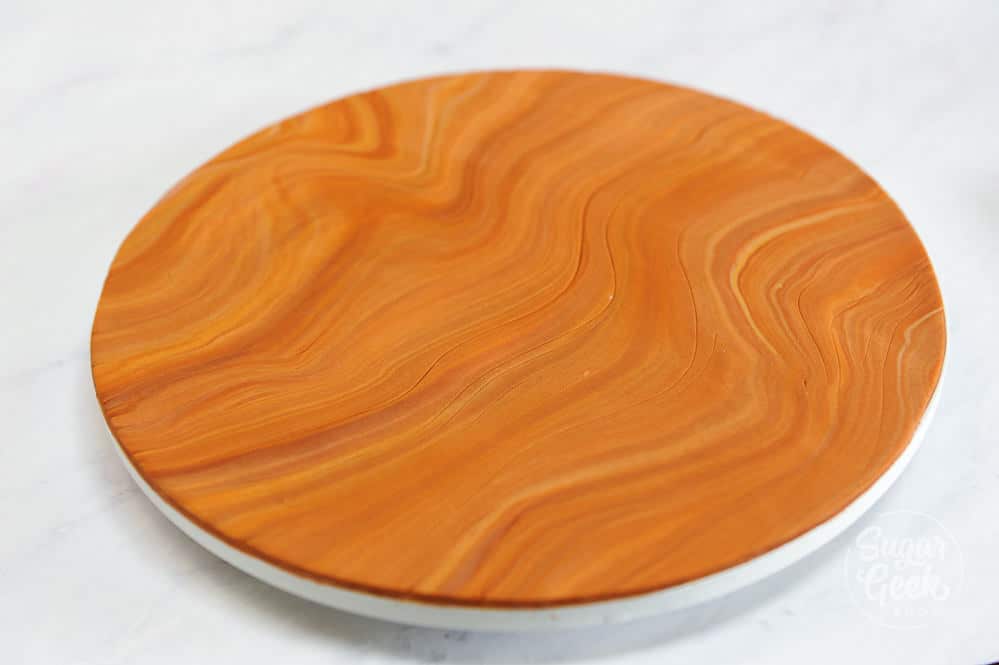 You can also just make your board ahead of time and let it dry naturally if you don't want to bake it but why not? It's so fast and easy!
So for this cake I ended up using the doll cake pan from fat daddios for the body because I saw koalipops use it for a super cute hedgehog cake BUT I don't think it was really the best idea for the fox body in hindsight. The body was a little too short and stout and I had to thin her out quite a bit.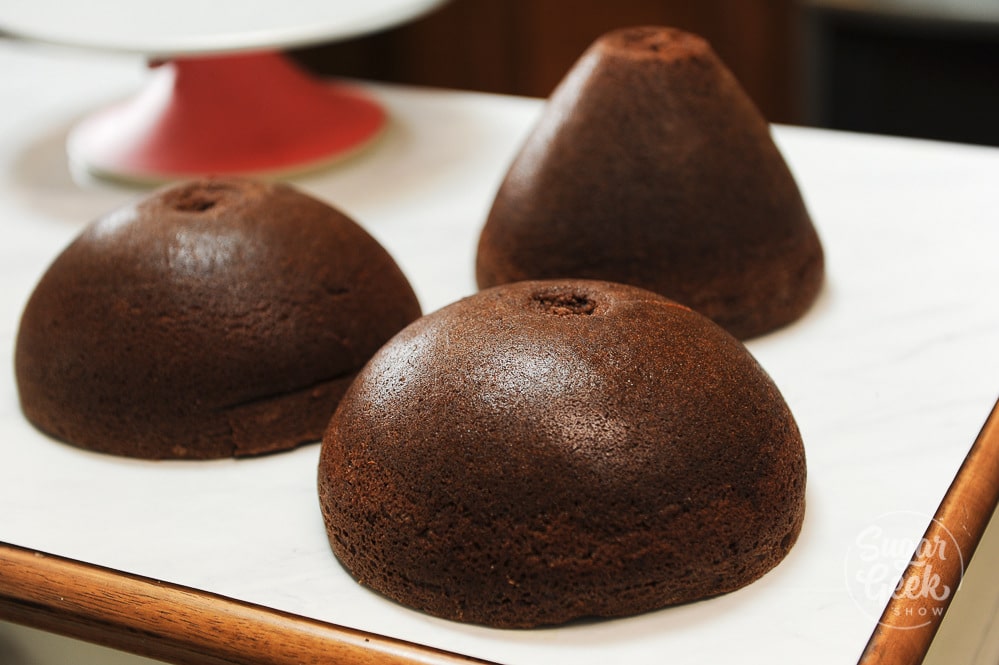 Fox's are naturally thin so if I did this again, I would definitely just stack two six inch rounds on top of each other for the body, carve it into an egg shape and do modeling chocolate for the neck so it was thinner but hey, it's a learning experience right?
I carved the shape of the body an the head and crumb coated them. Then I put the cakes in the fridge to chill and once the buttercream was hard, I did a final cot of buttercream and made sure they where nice and smooth.
Then I put together the structure using my pvc pipe and flange. I cut a hole out of the fondant using my flange as a template so that it fit snugly in the hole. I slid the body of the fox over the pvc pipe and onto the board. Then I placed my straws and cardboard round on top of the body so that the weight of the head is supported. If you didn't have this structure in place, the weight of the fox head would crush the body.
To form the nose, I took a small amount of modeling chocolate and formed it into a small snout and flatted out the back. I pressed that onto the front of the cake and the buttercream holds it in place.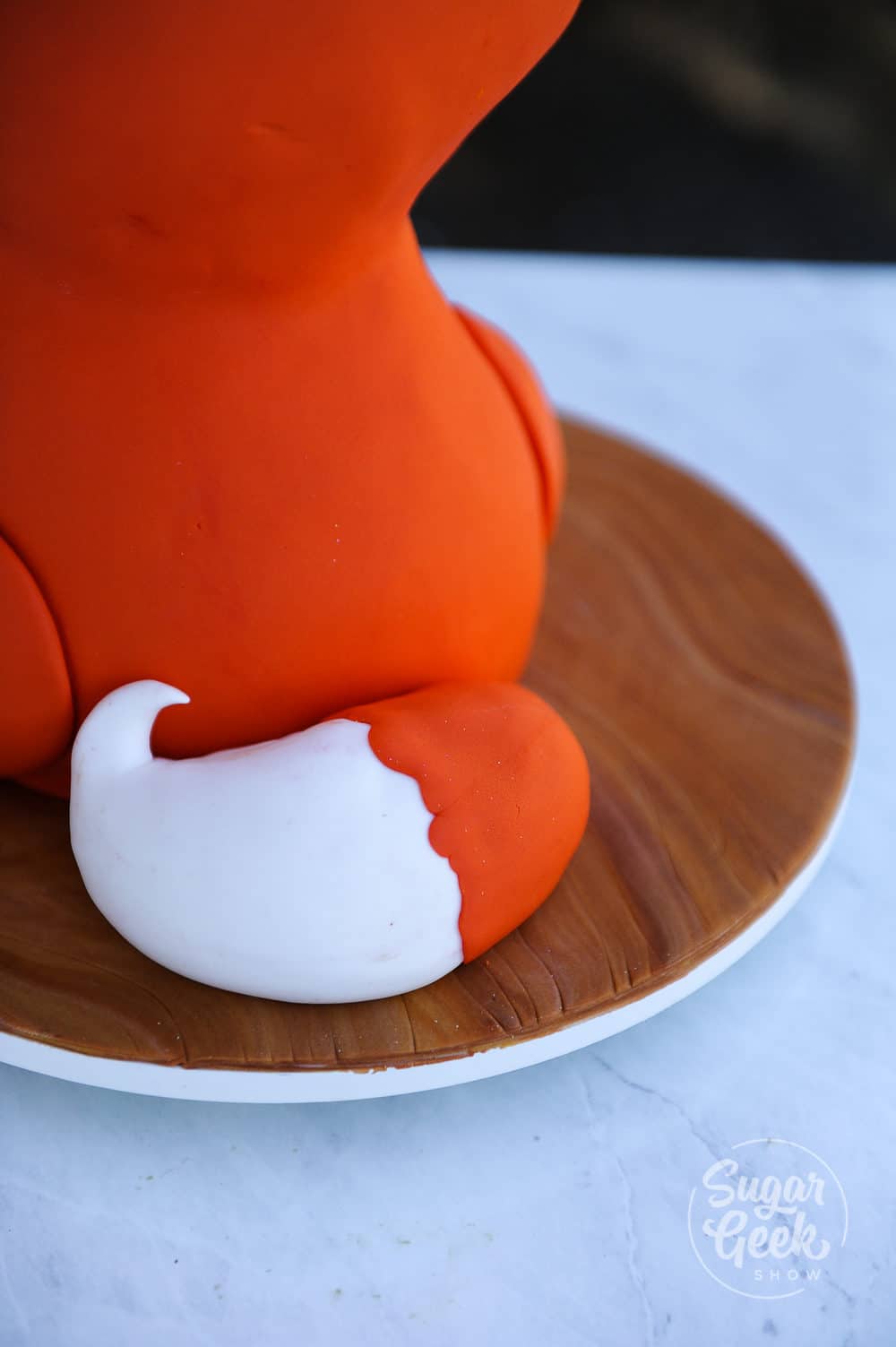 Lastly, I covered the cake in fondant in two pieces (front and back) using the paneling technique. Then I added on my legs, eyes, ears, and tail. I painted the legs and the ears with some edible artist decorative paints black for that nice opaque coverage.
My niece and my daughter really enjoyed digging into this cake and for some reason my niece really really wanted to eat one of the eyes (kids right?)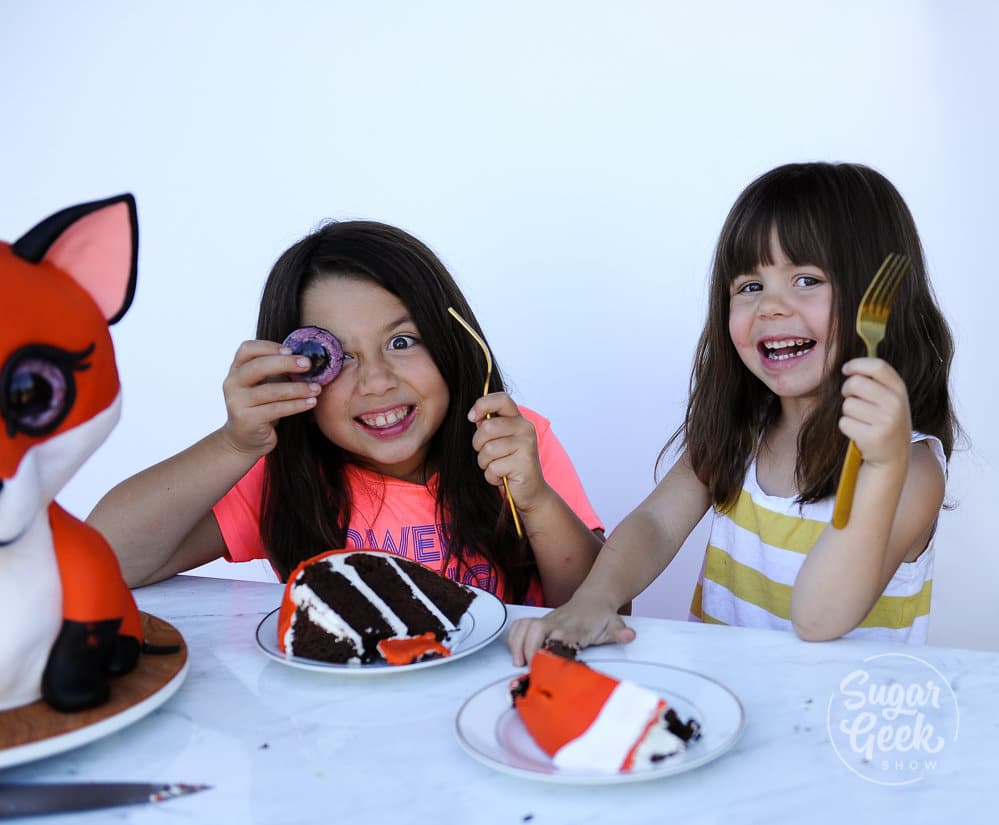 I hope you enjoyed this tutorial! Don't forget to watch the video below for some visuals of how it all came together. I didn't include sound this time because I've had some feedback that people just enjoy watching and don't need all the talking so let me know if that works better for you!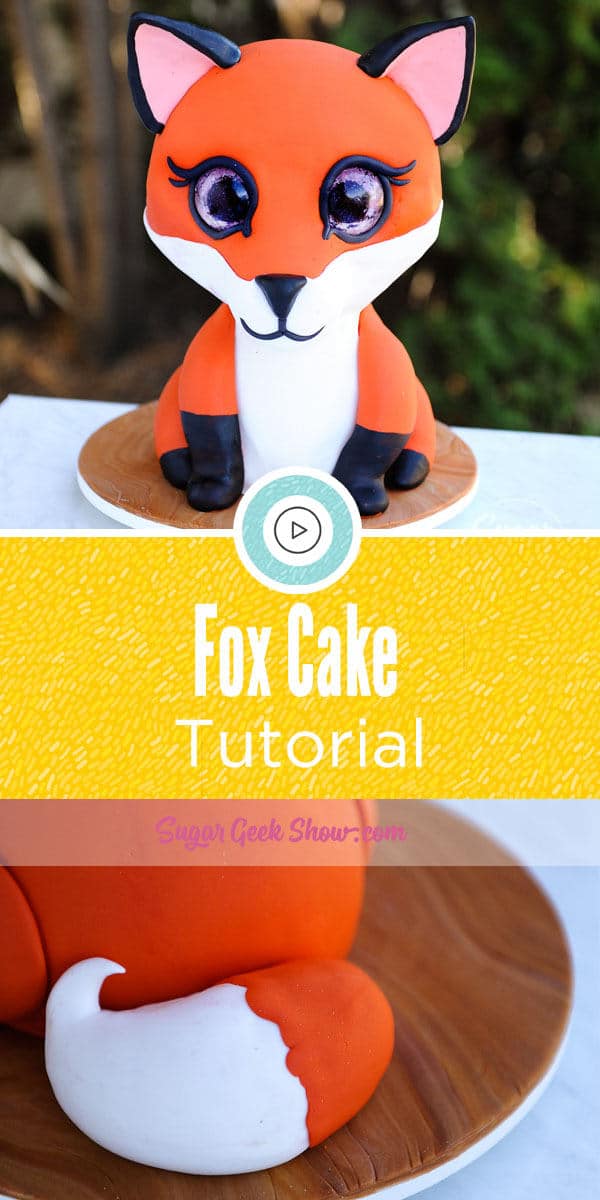 August 9, 2019