For this year's party, we went all out! The theme was "what if cats had a fancy tea party". What would they wear, what would they eat, drink and what games would they play? I can't wait to show you all the Purrrrr-fect details.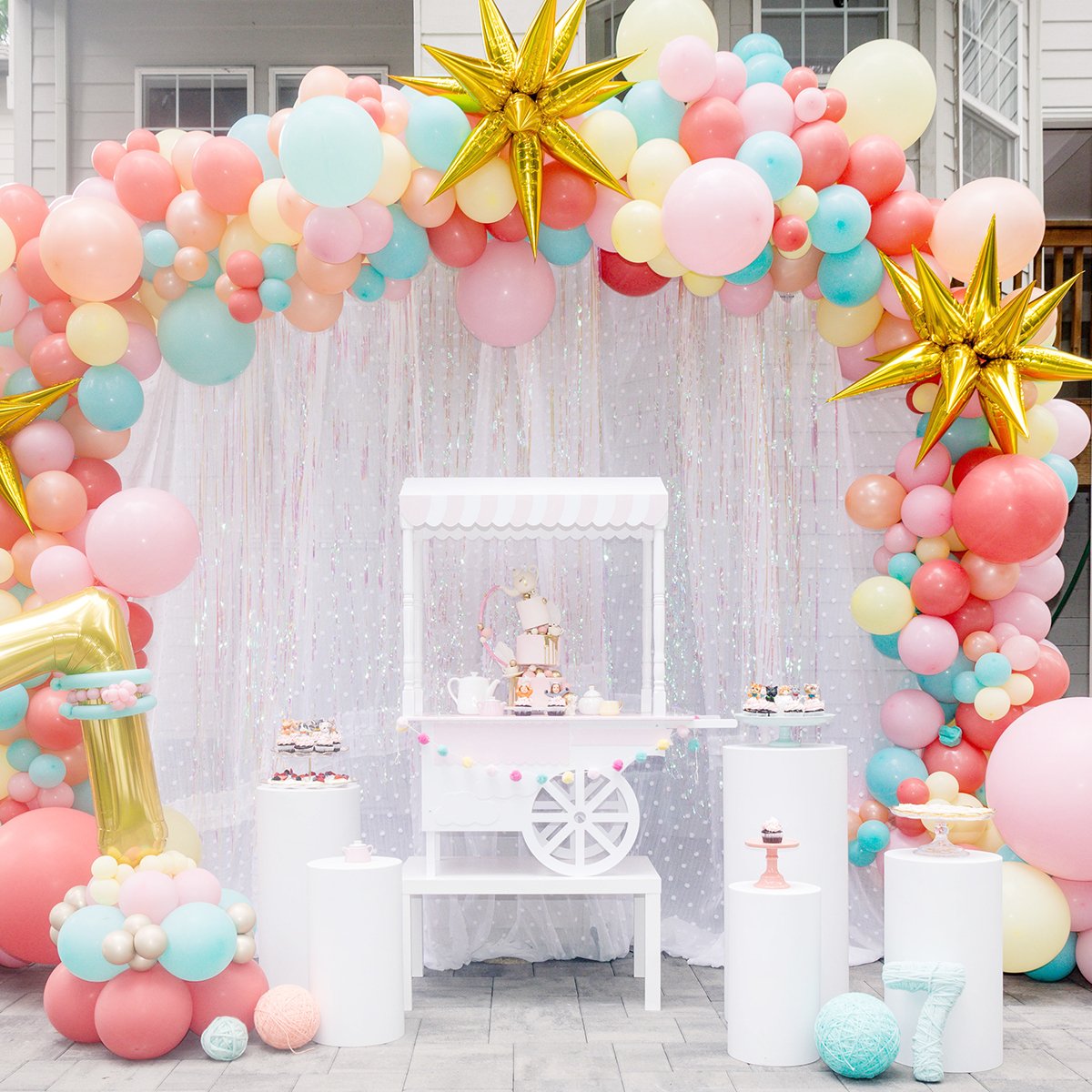 Invitation & Signage
Even though we sent out kit-Tea party invitations digitally, we still have one designed by our lovely friend at Alvalumos! I just love her hand-drawn invitations and stickers! The other signs, stickers, and printables were designed by my lovely friend Kelsey!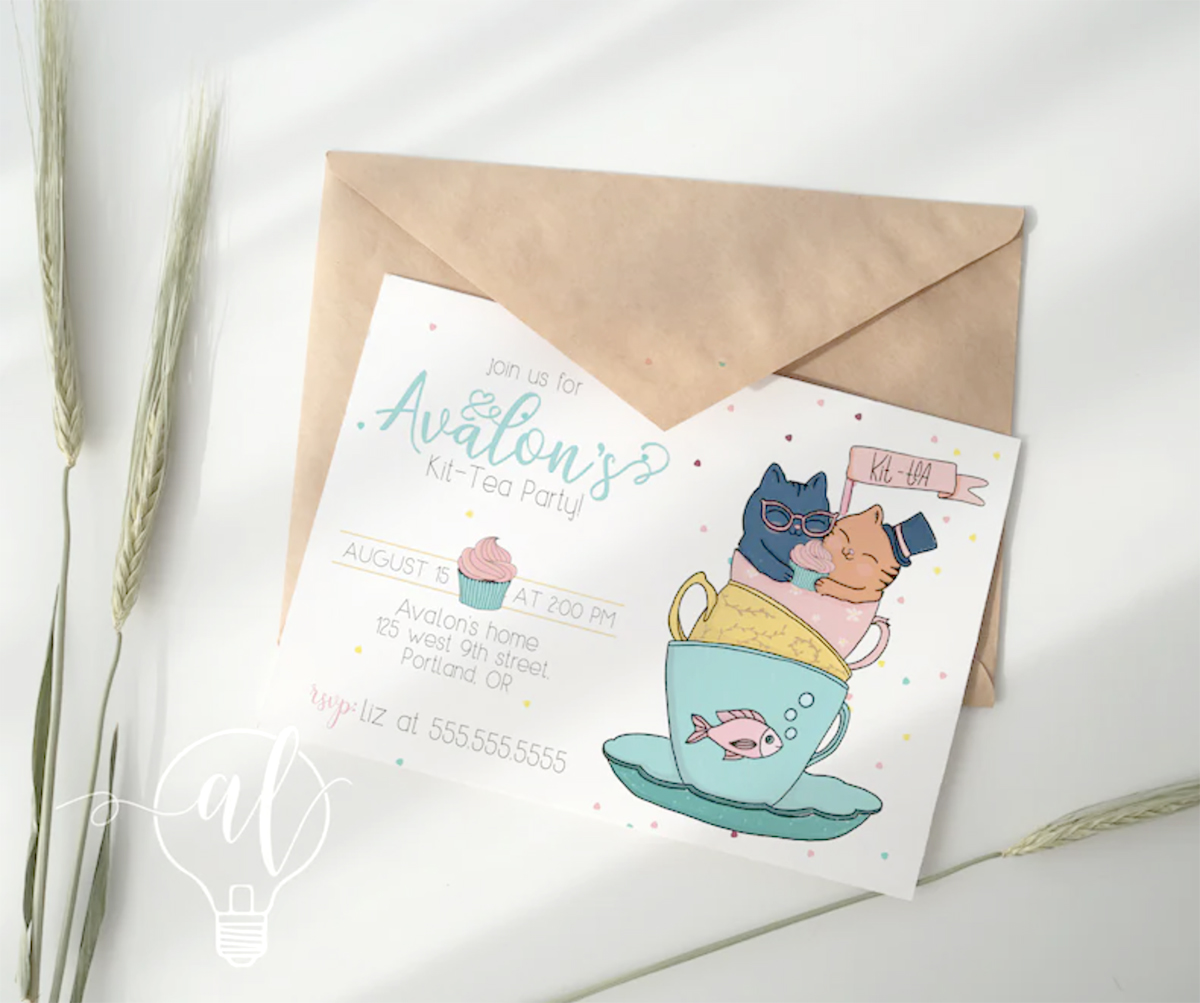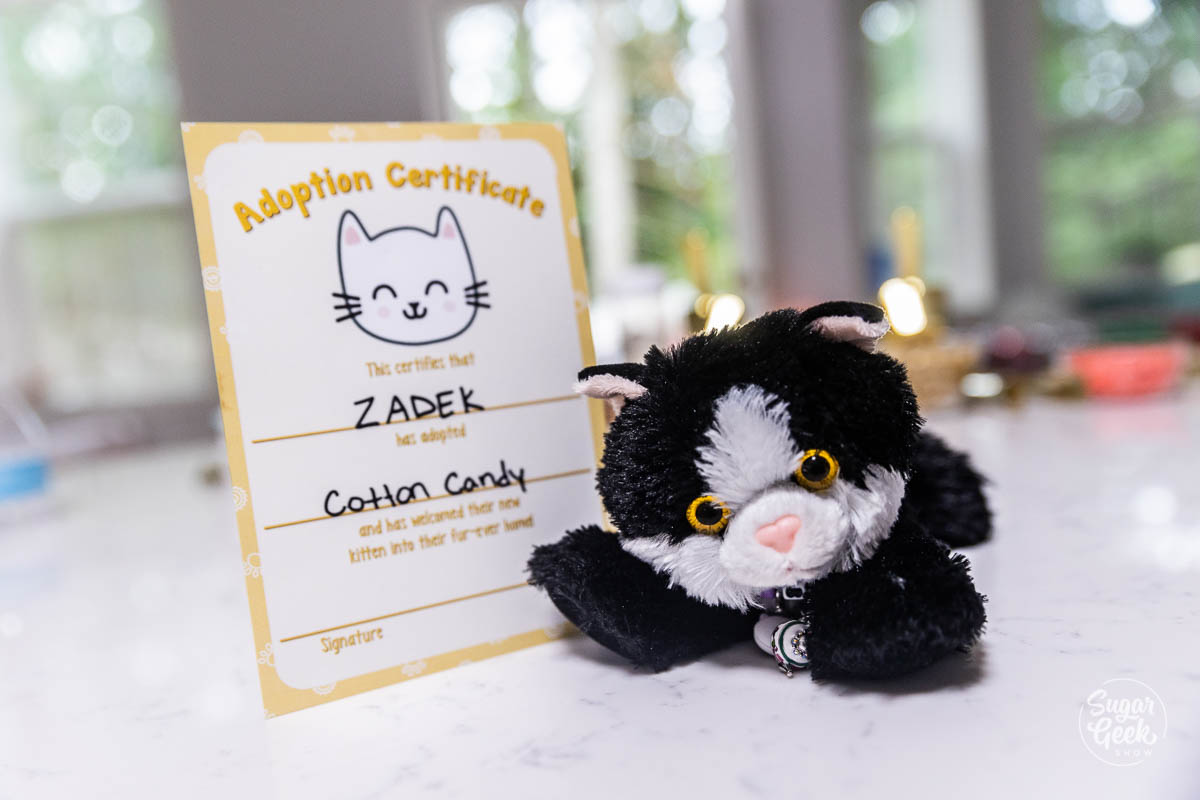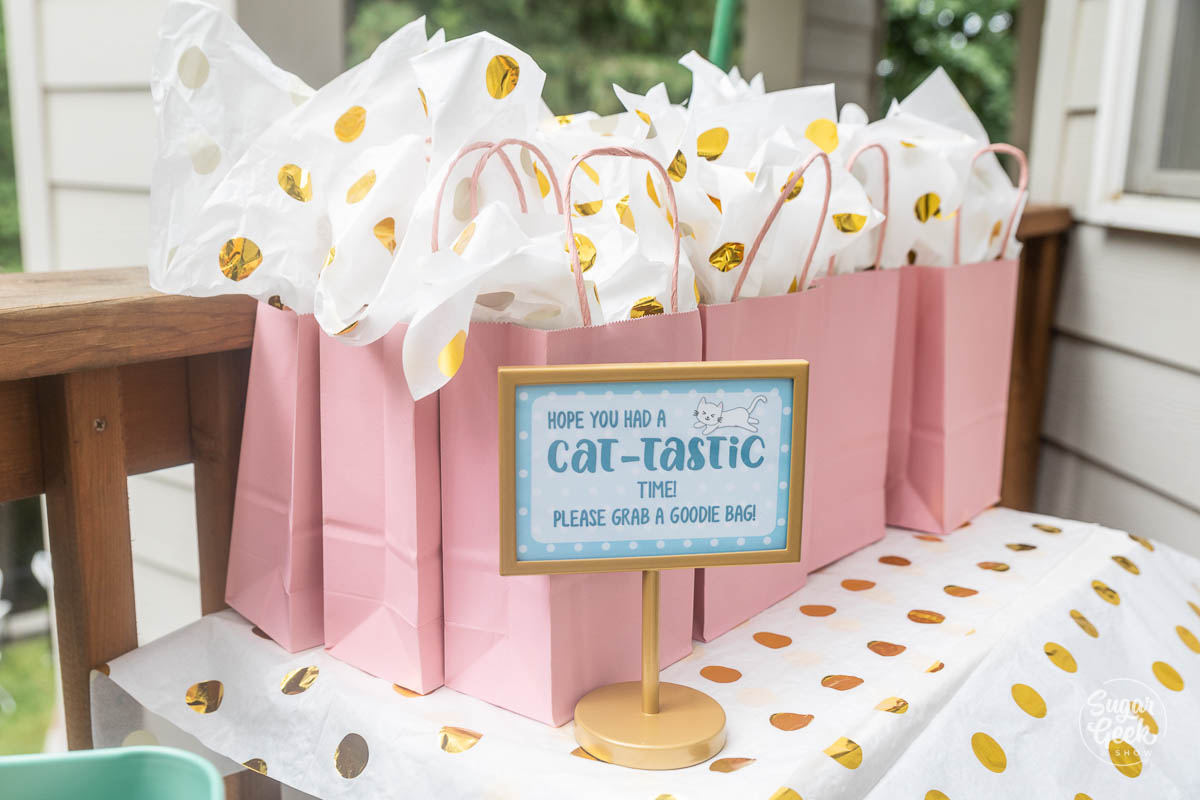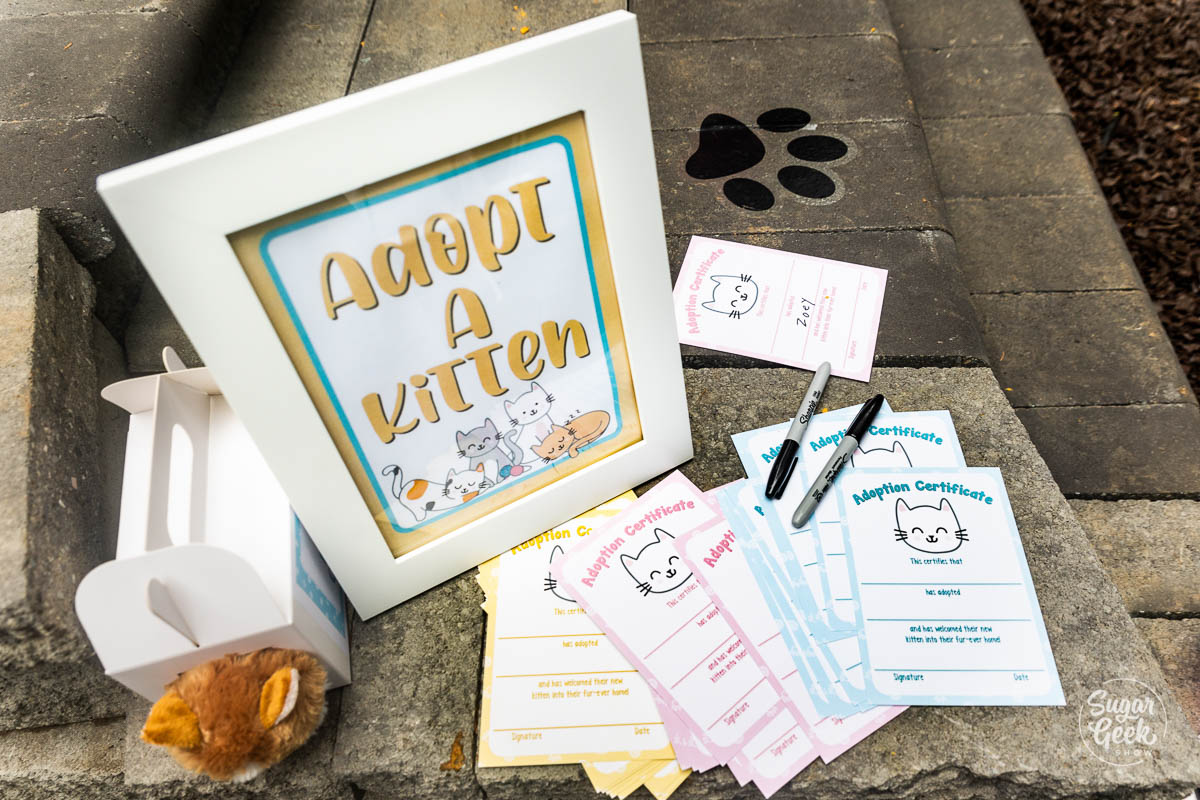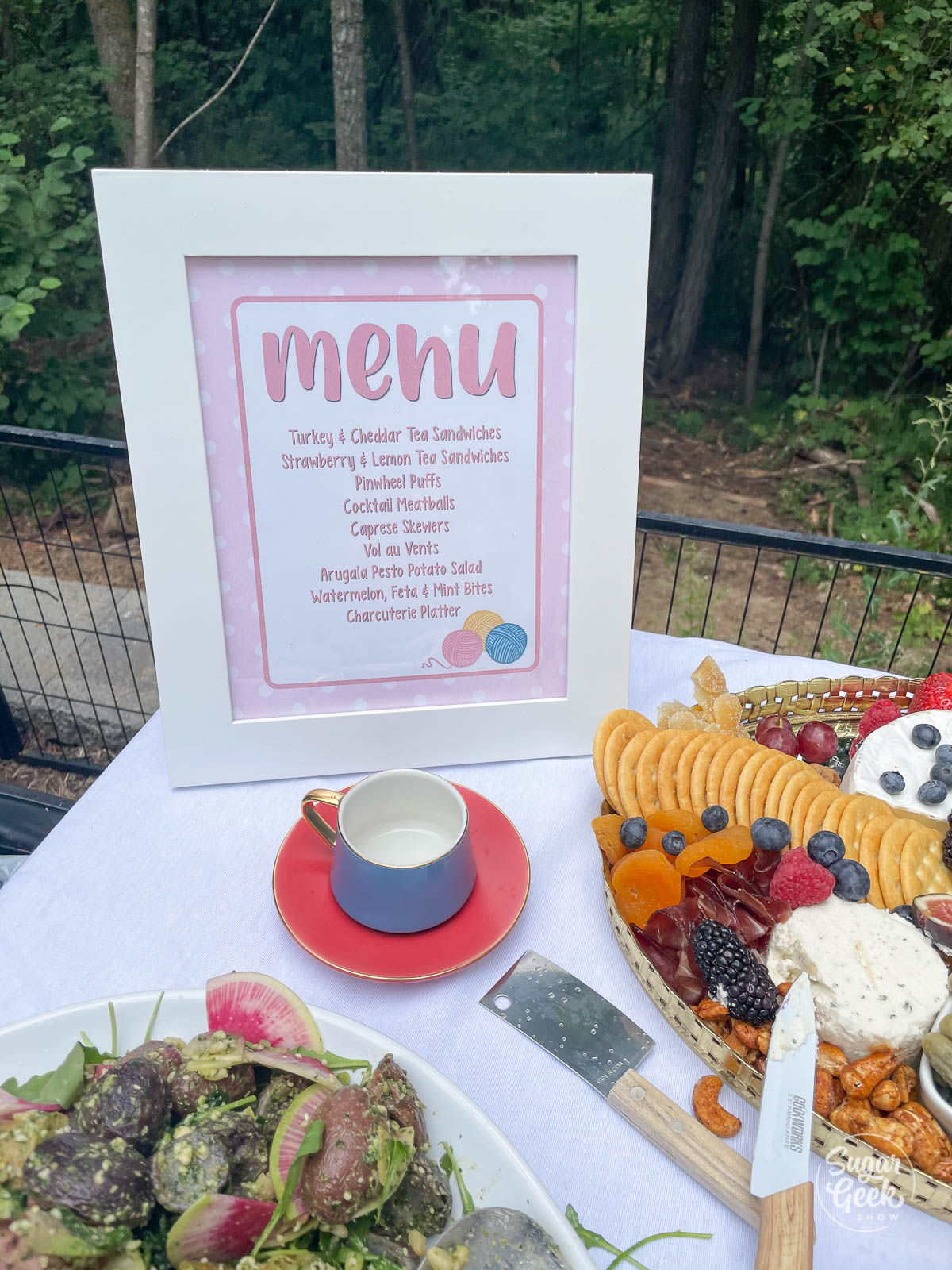 Setup & Decor
Guests were greeted by a larger-than-life balloon arch that led them to the main tea party area. More balloons in the shape of teapots, cats, and centerpieces covered the entire back yard which was recently renovated JUST to have this party. Now THAT is over the top!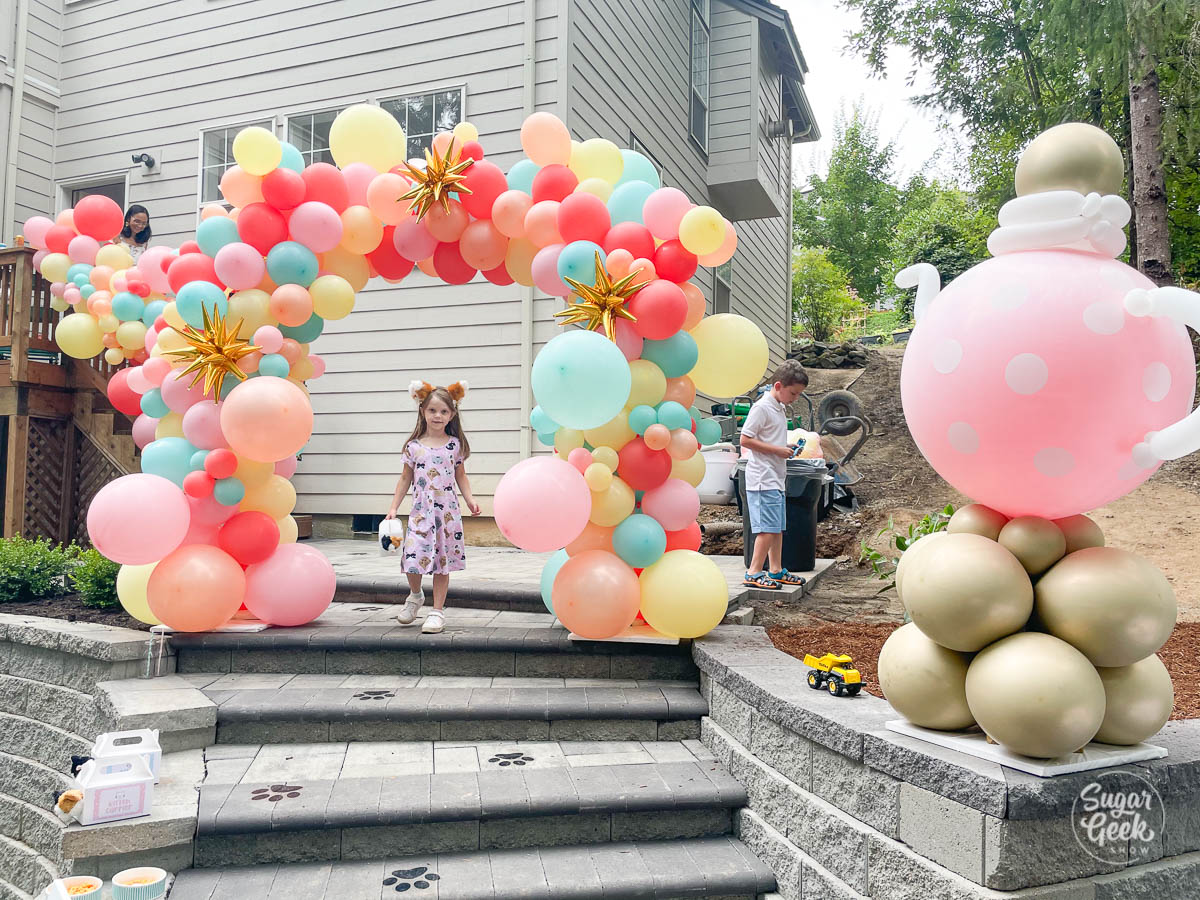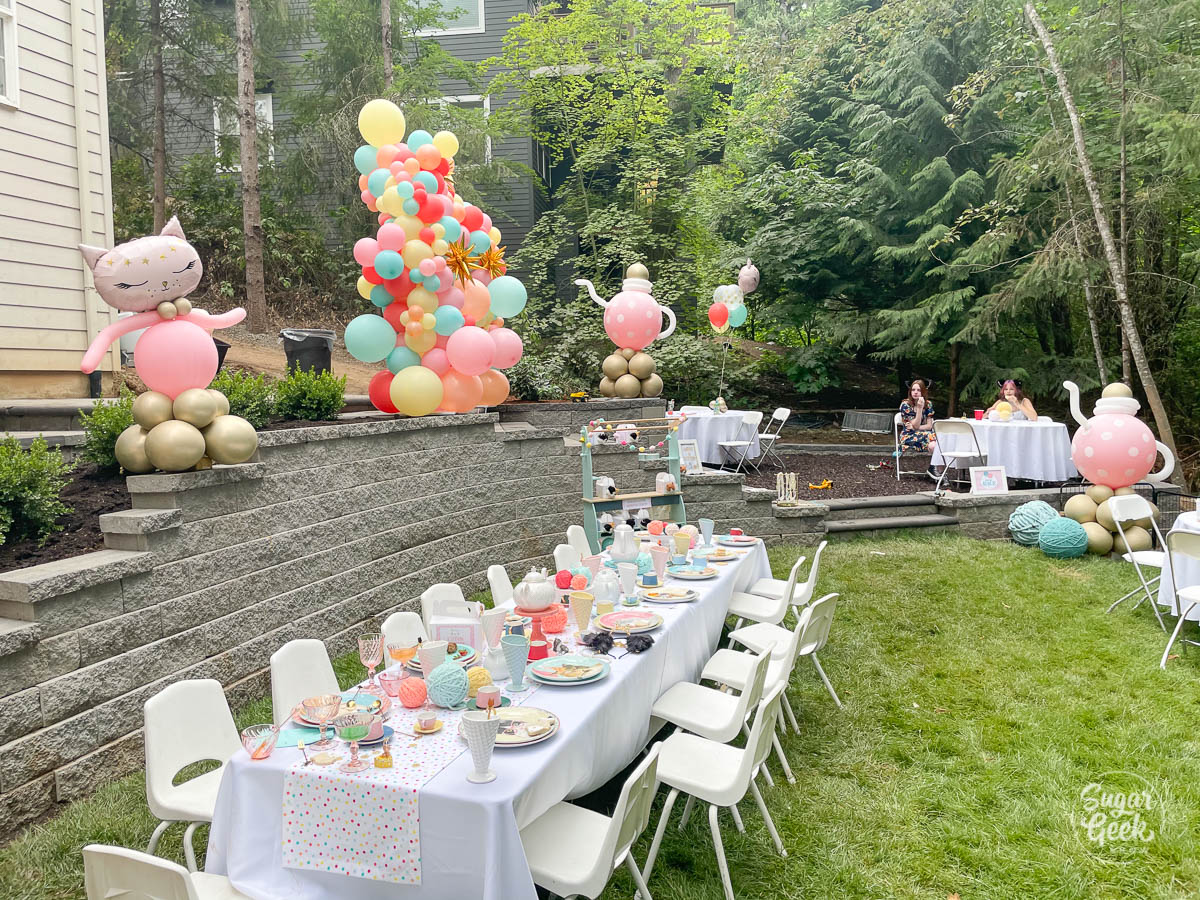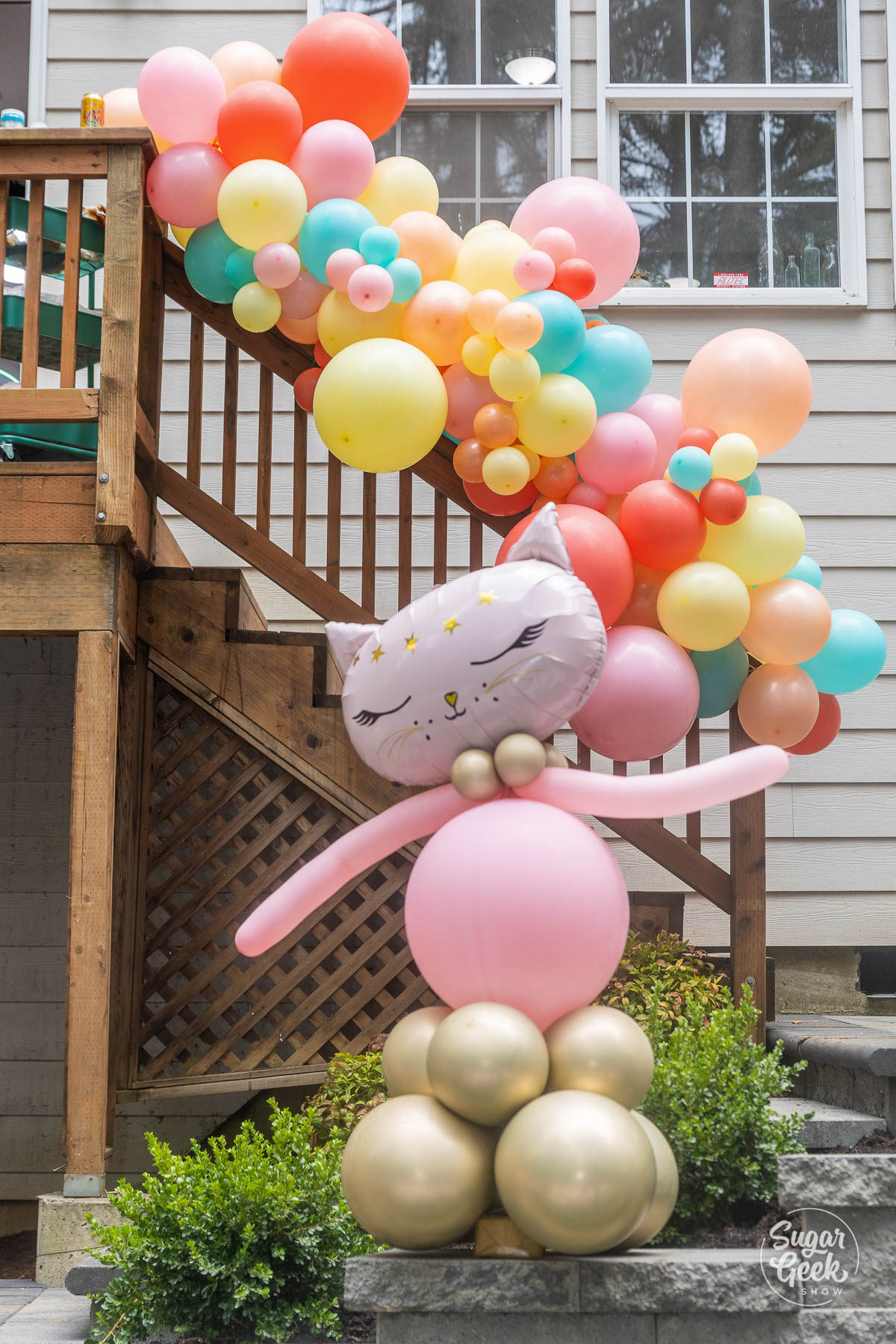 Cats and Kittens (that's ladies and gents to you) were invited to put on a pair of ears to get into the spirit of the party before taking a seat at the most epic tea party table you've ever seen! The table was overflowing with balls of yarn, bowls for ice cream, and the cutest cat plates ever!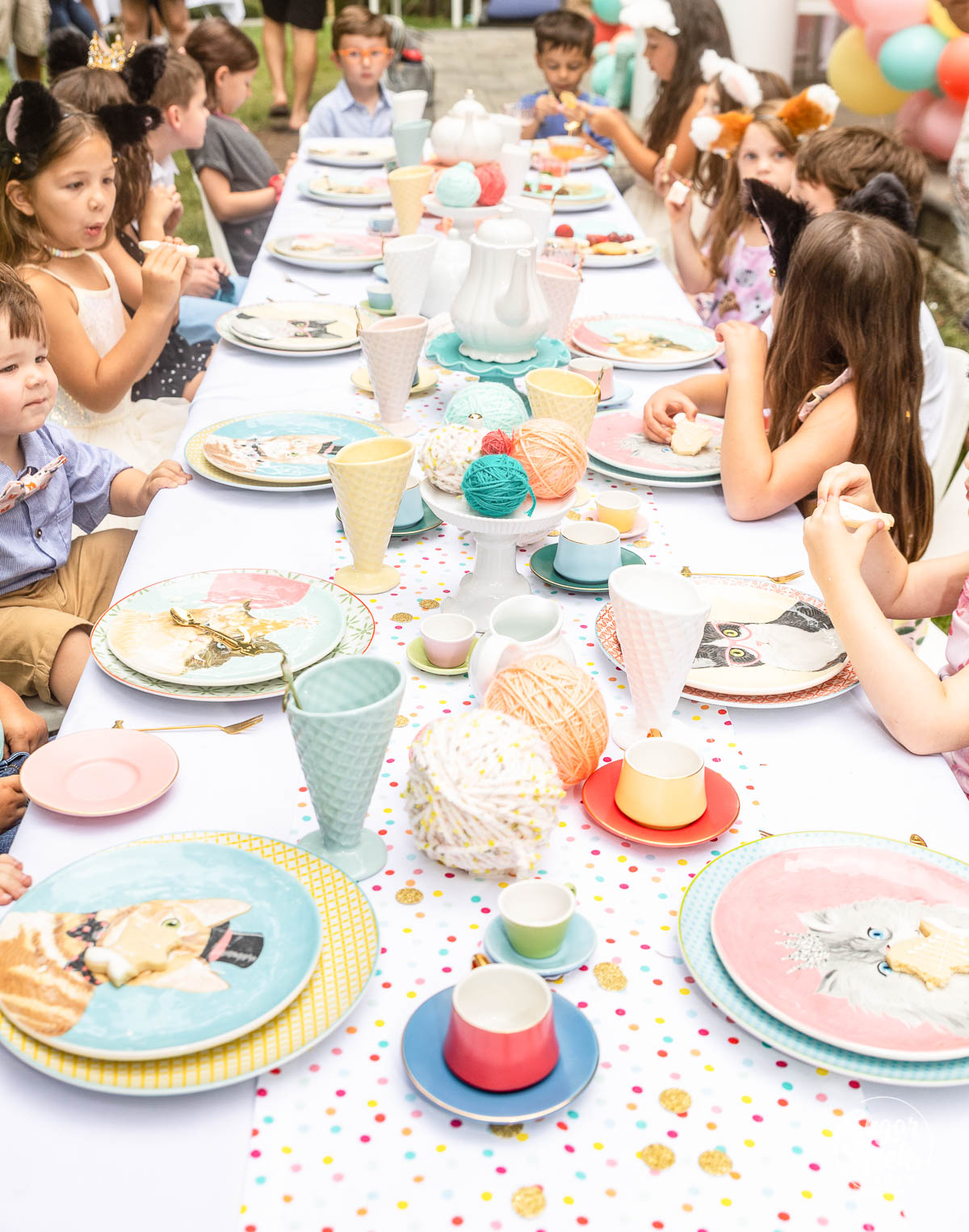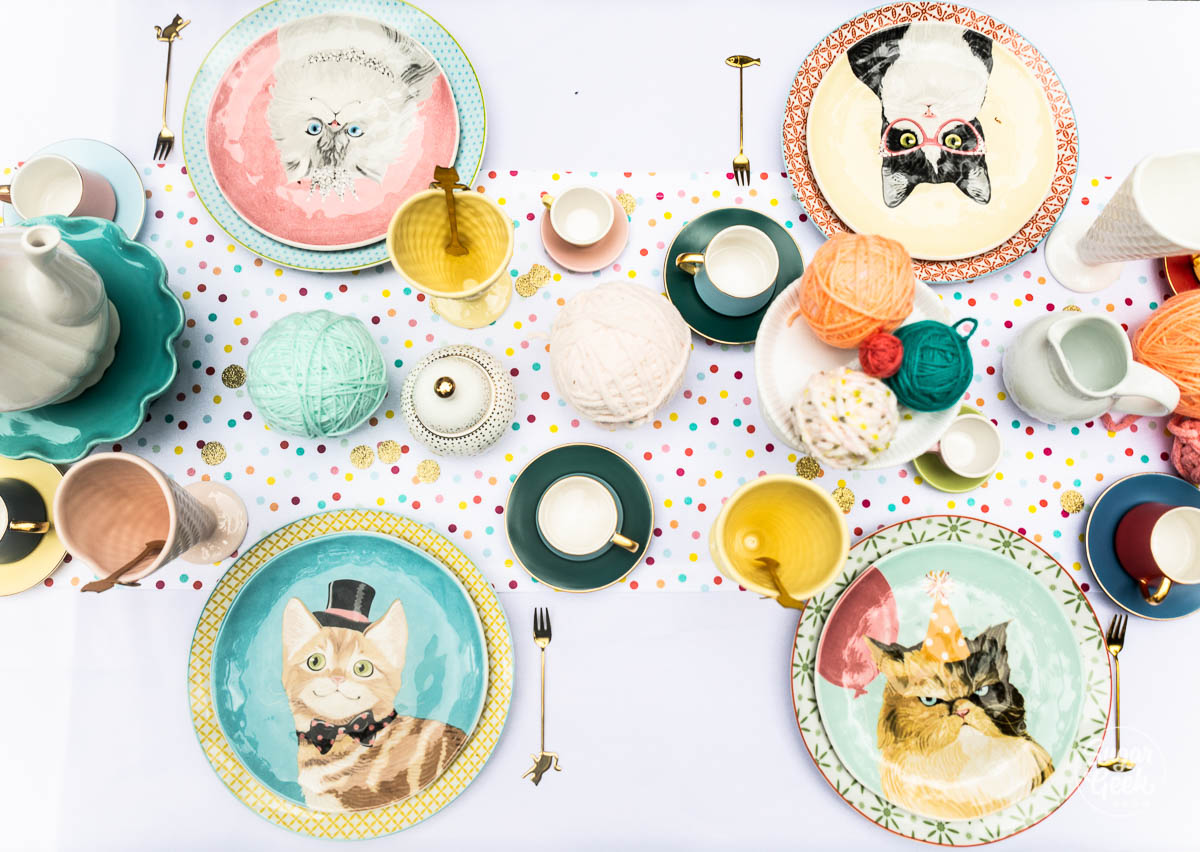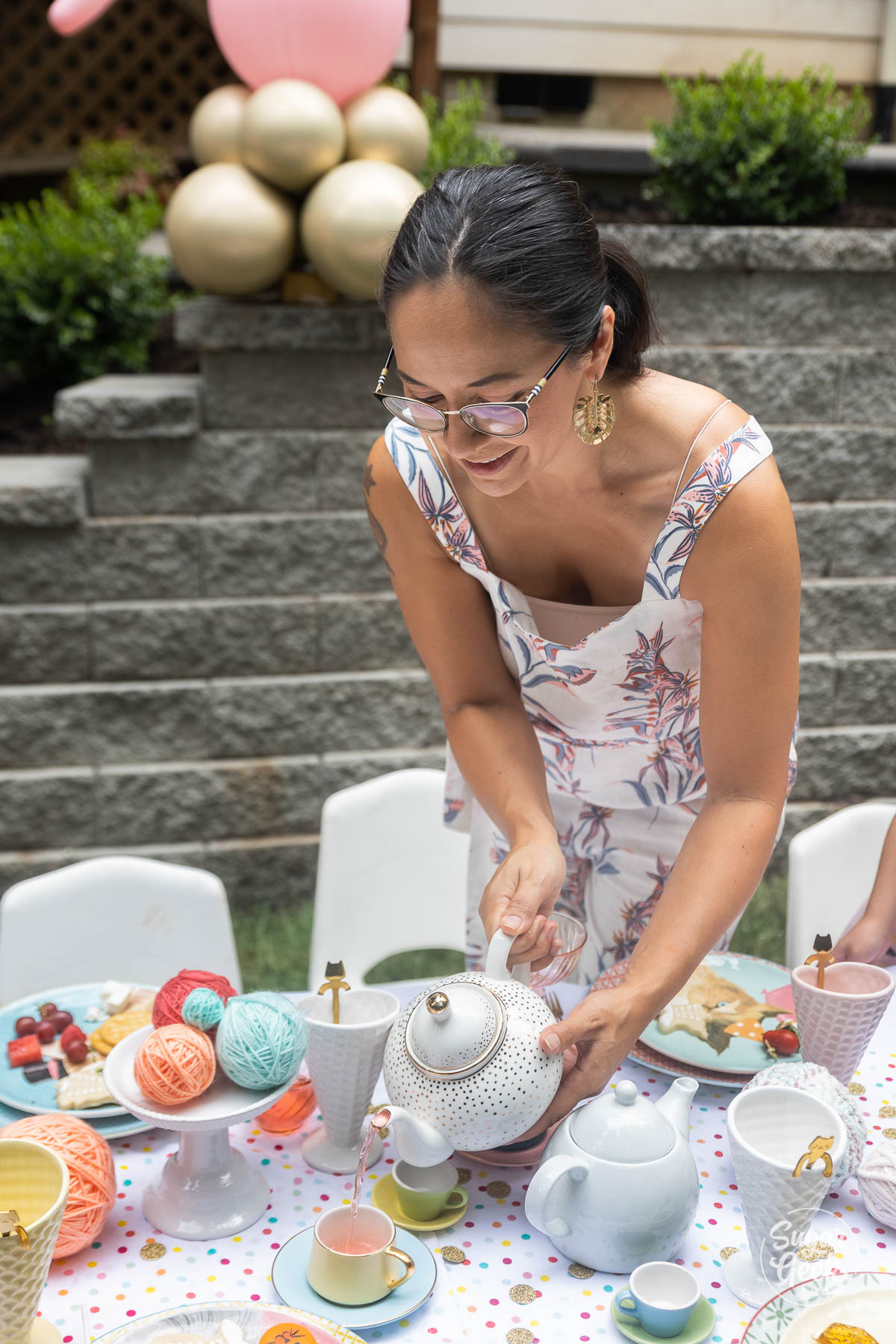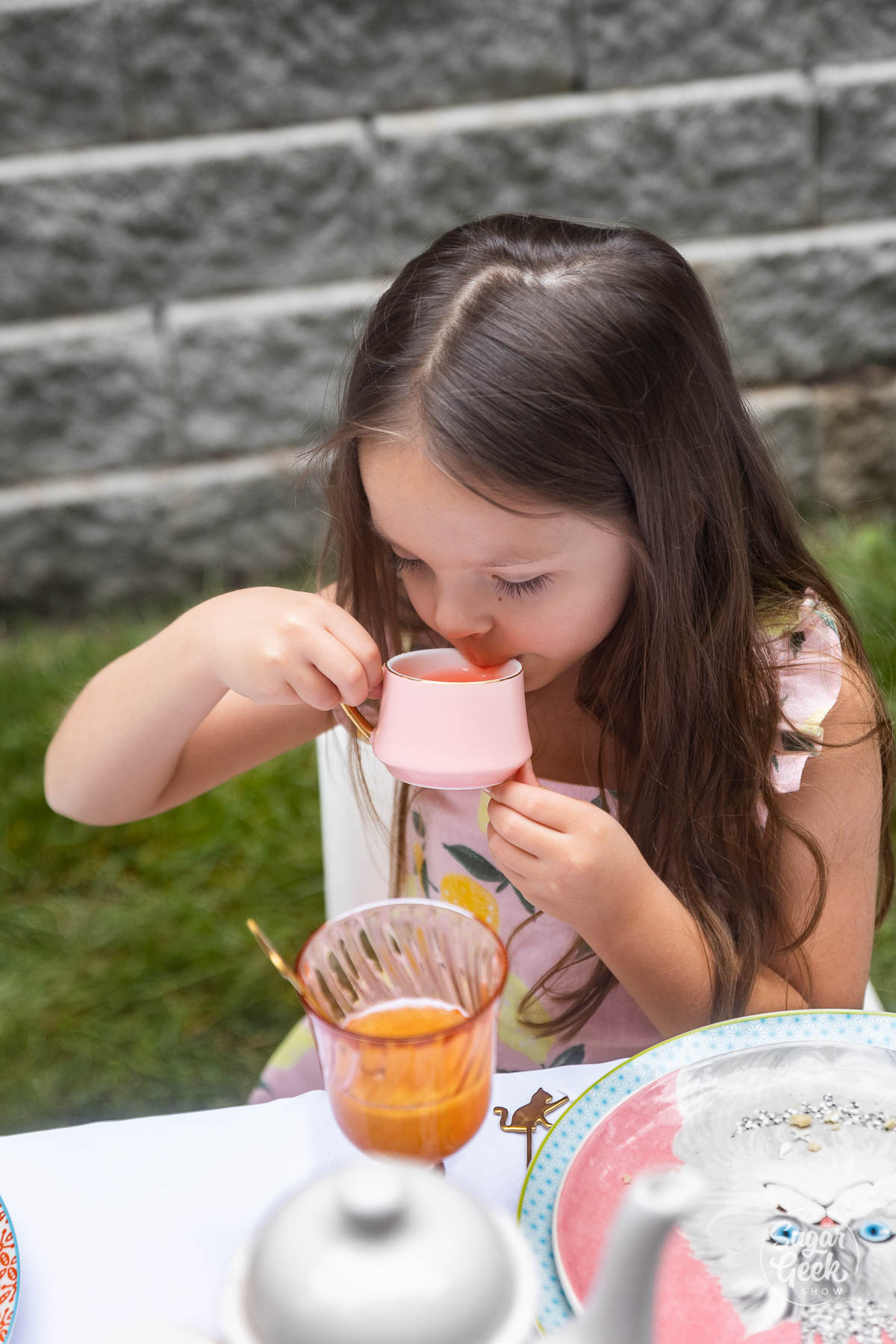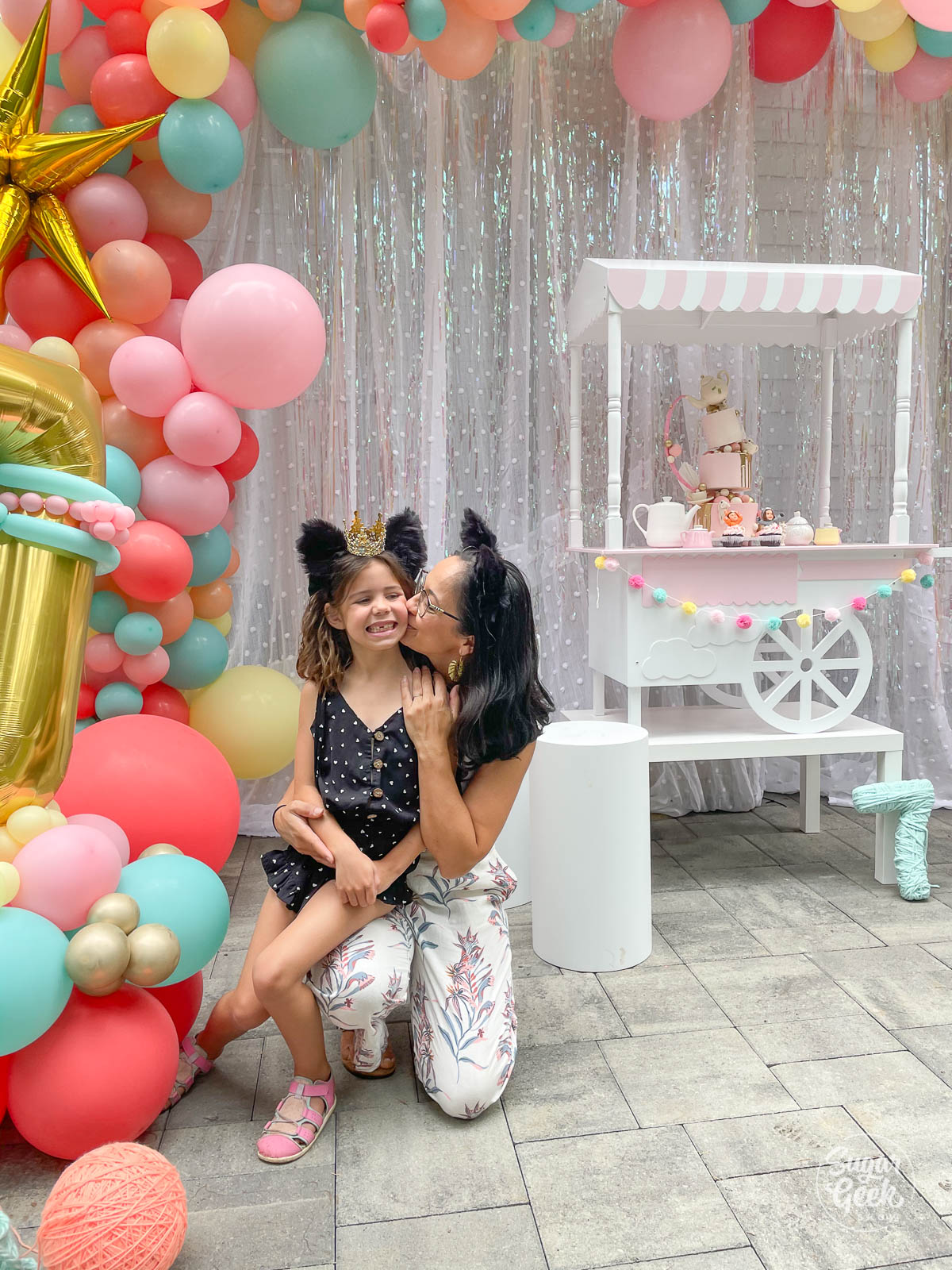 Cake & Cupcake Display
Of course, the kit-TEA party cake had to have an epic display. The cake backdrop was made with some pieces of PVC pipe, some old curtains, and lots and lots of balloons! The cake display was actually a cart made for a nursery but it made the perfect table for the cake.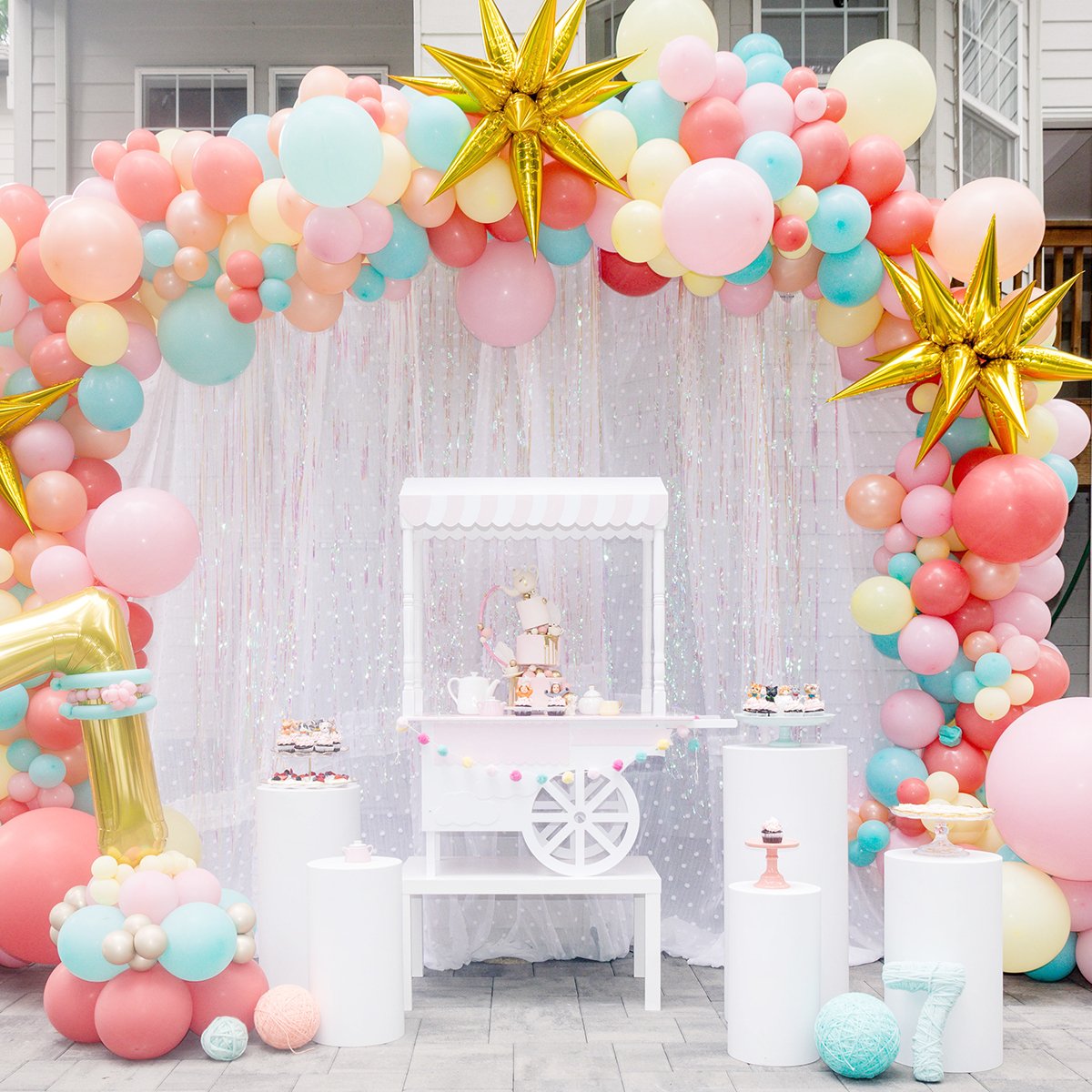 Avalon had a lot to say about how her tea party birthday cake looked like this year! She did NOT want any cats on her cake because the party was all about what cats would eat and drink at a tea party, and cats do not eat cats lol. Makes sense to me! So we went with a topsy turvy teapot cake with lots of chocolate spheres and cute little mice.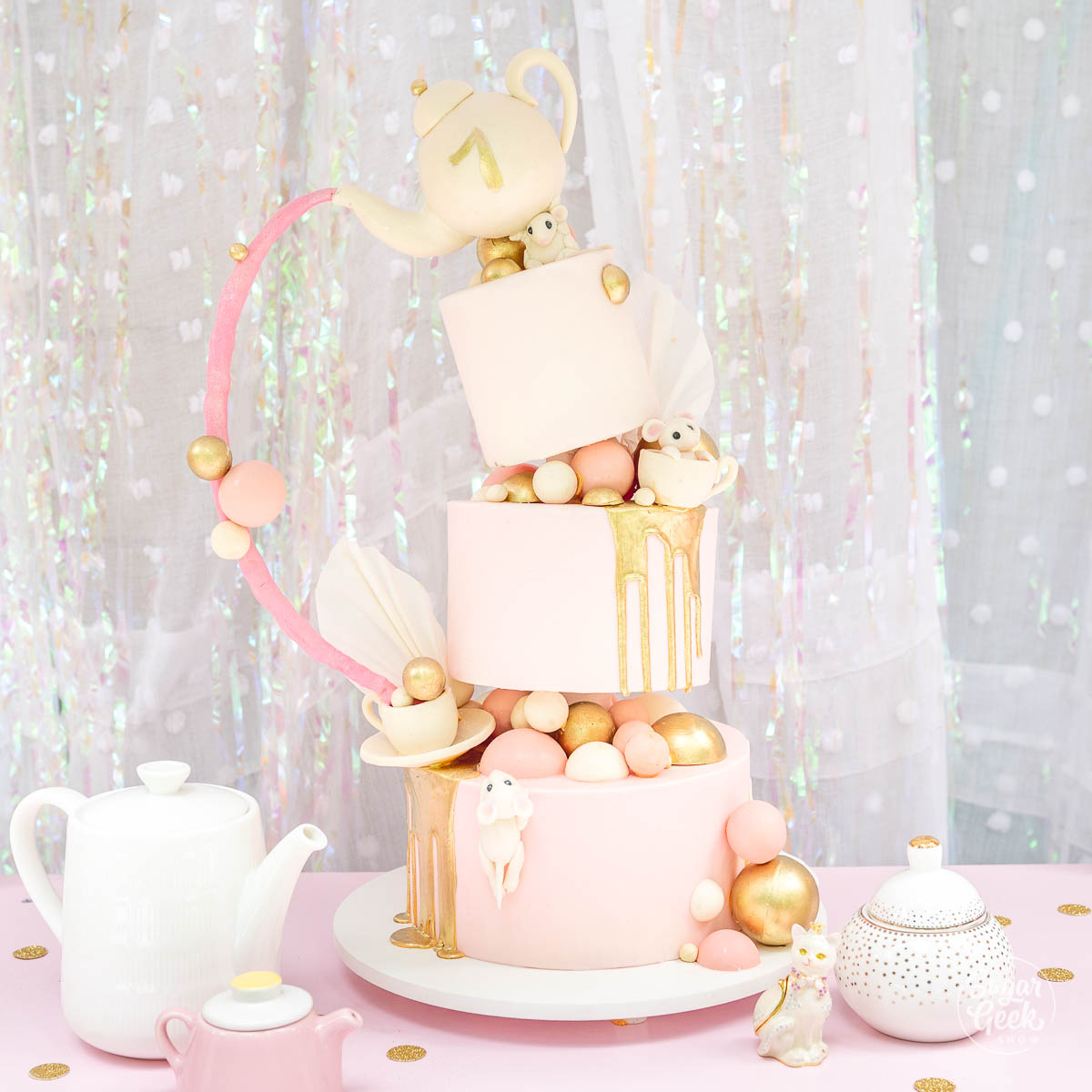 The ADORABLE cat toppers were made by our favorite fondant artist, Mimicafe Union. She even made two customs toppers to look like Avalon and her brother Ezra.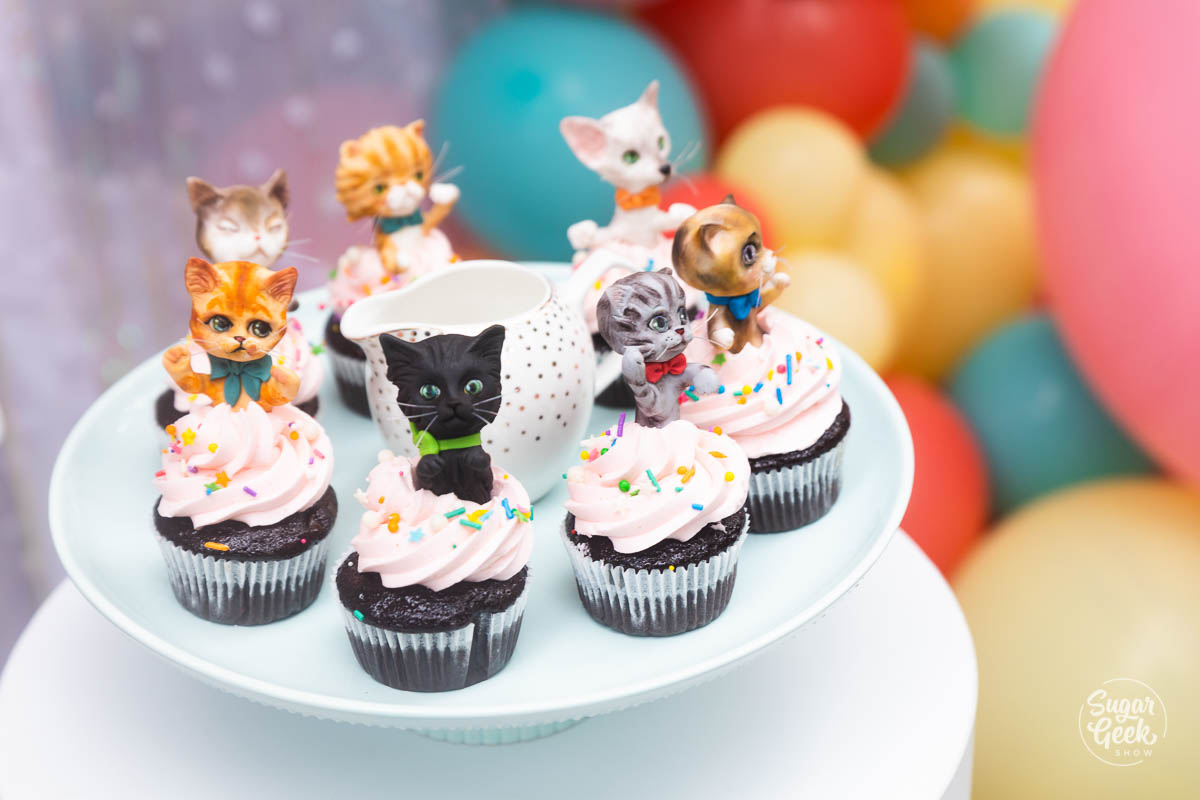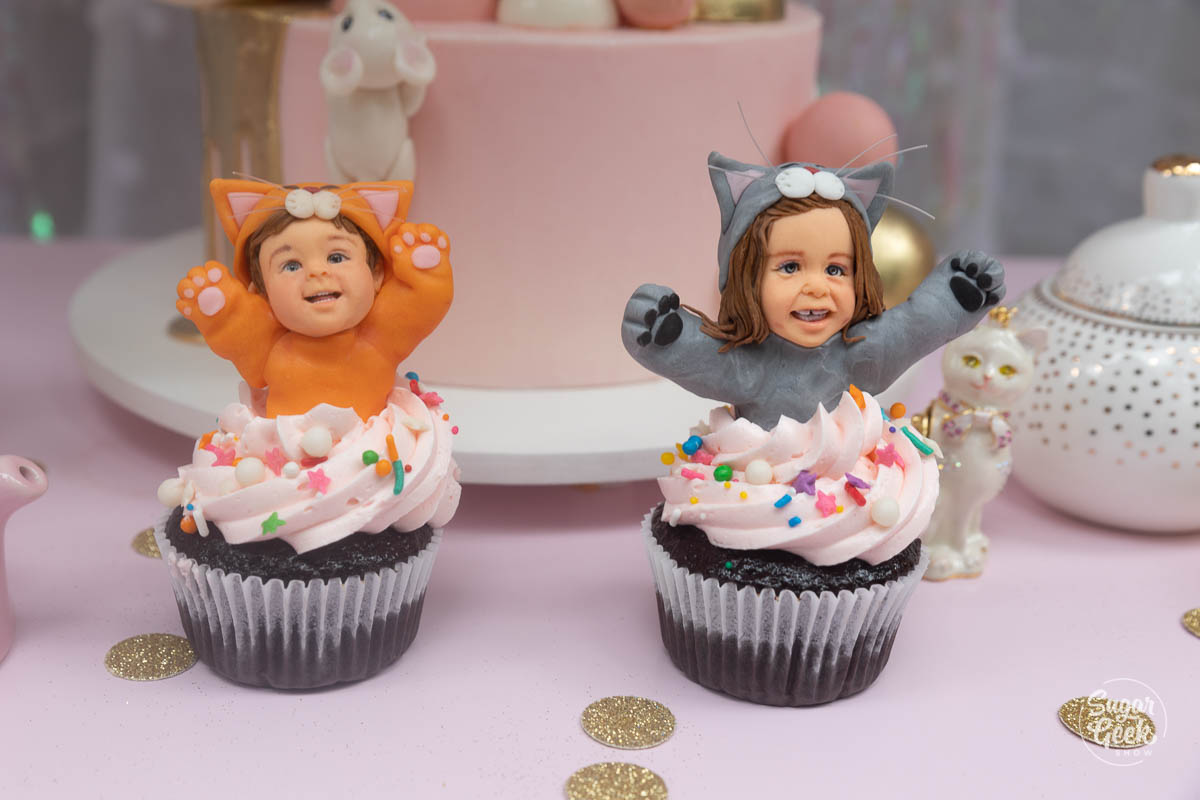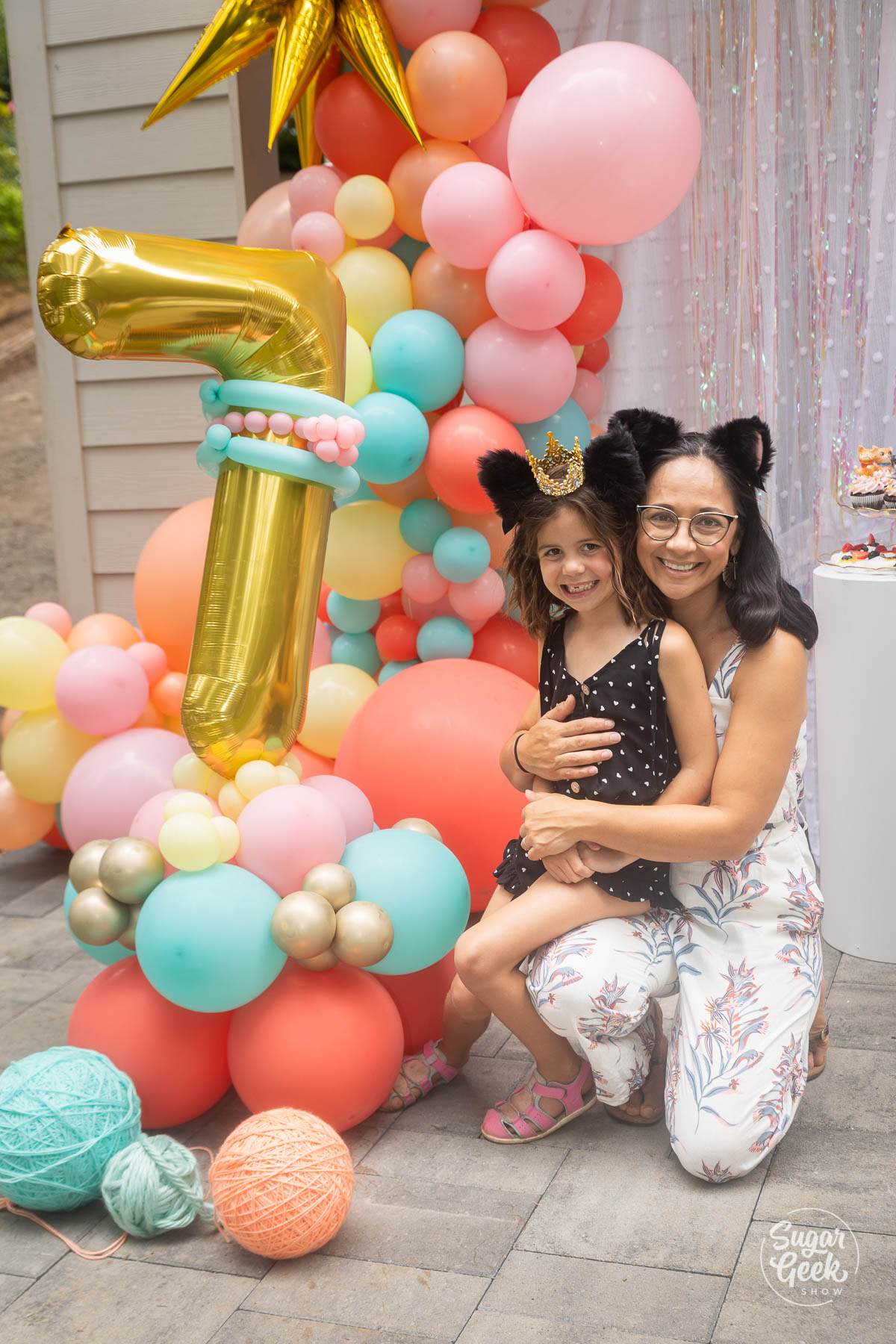 Kit -TEA Party Food & Desserts
What's a party without food? Our kit-tea party was catered by Just A Dash Kitchen who makes the MOST amazing food and appetizers! Everyone was raving about how good everything was, even the kids! The menu was a lot of fun and had everything from simple ham and cheese fish-shaped tea sandwiches to elaborate pinwheel pizza puffs and Caprese skewers! Perfect for a tea party for cats and kittens.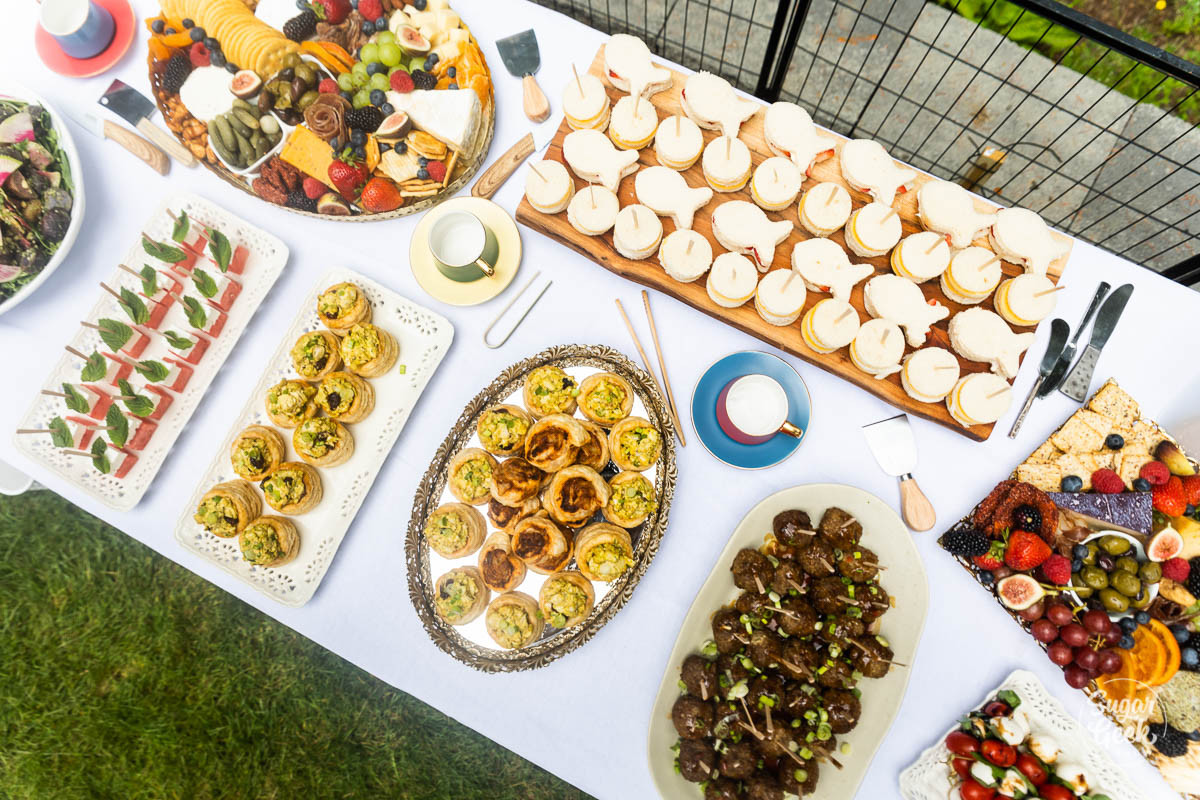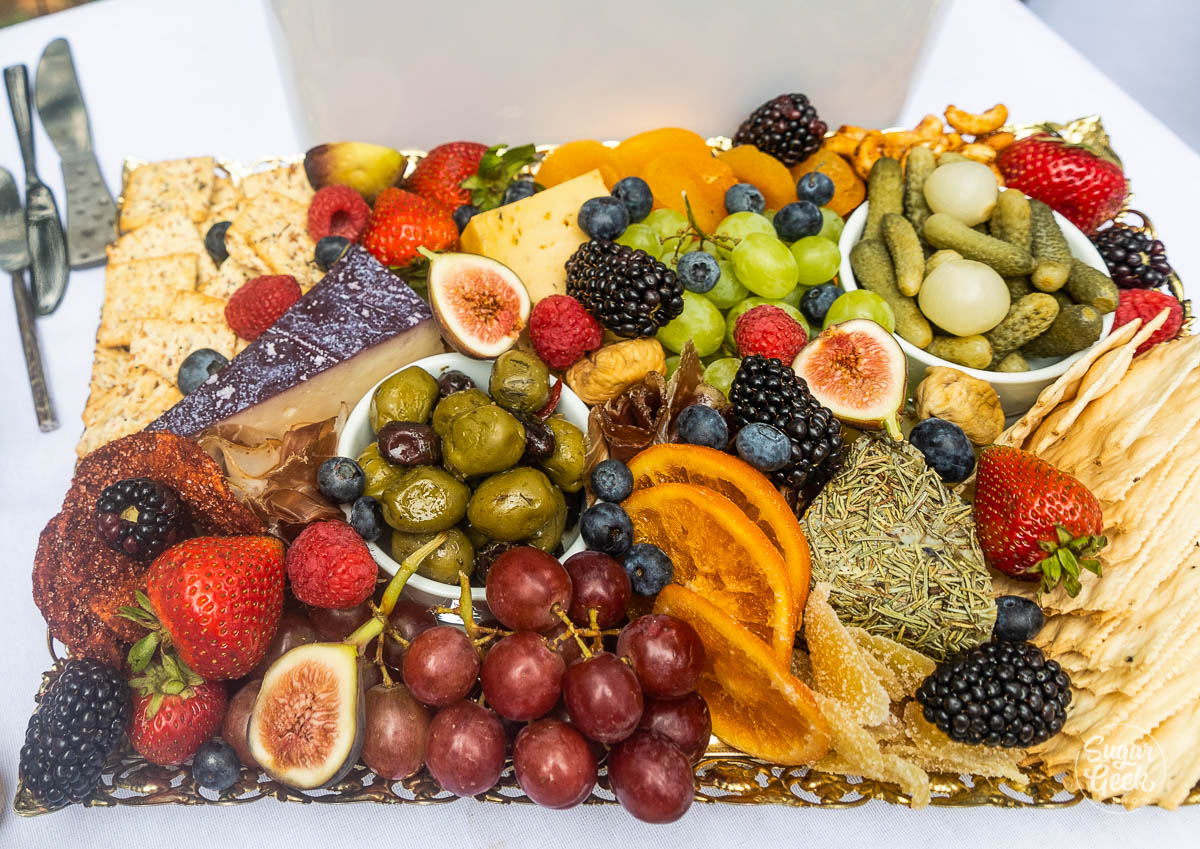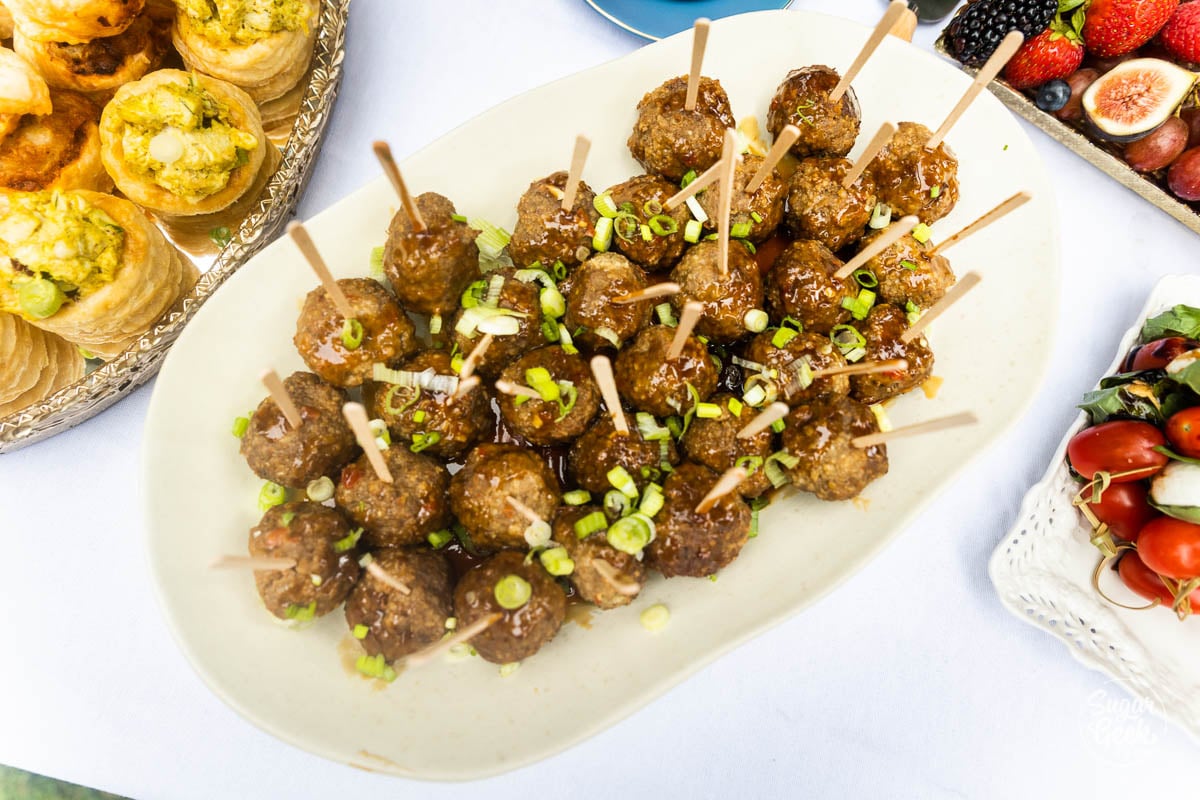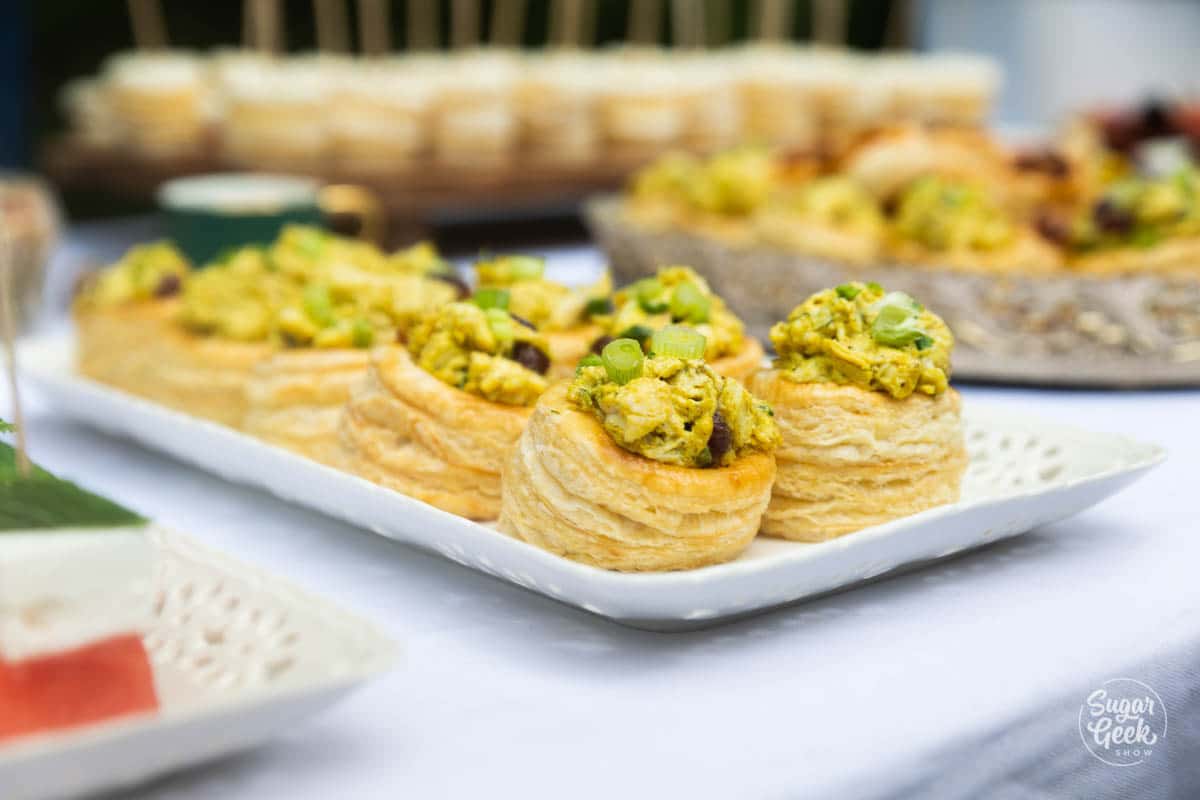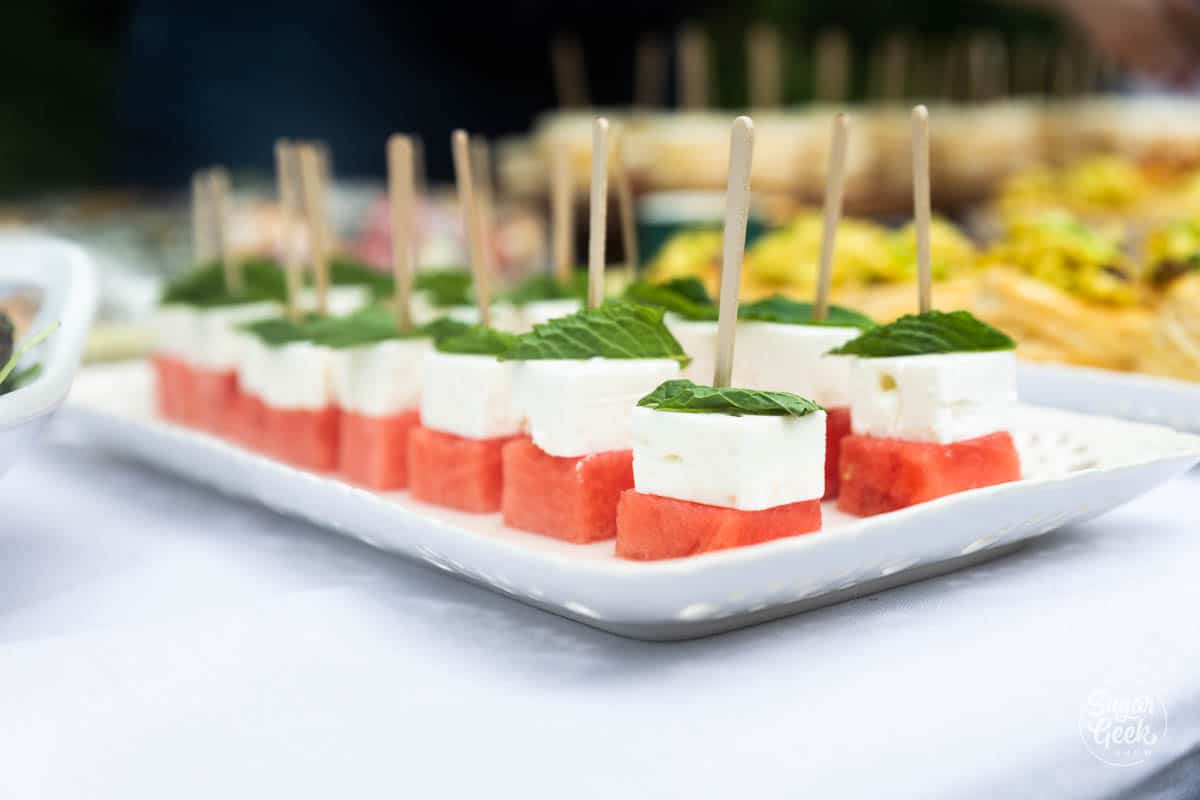 You will probably not be surprised to learn I went way over the top for the desserts! Aside from making the cake and cupcakes, I also made some delicious lemon bars (Avalons favorite flavor other than chocolate is lemon!), sushi-themed petit fours, and bite-sized pavlova! They were a big hit!
I have a lot of talented baker friends and I definitely took advantage of their skills to make some adorable yarn cake pops, cat-themed macarons, cat-themed sugar cookies, and fish skeleton cookies.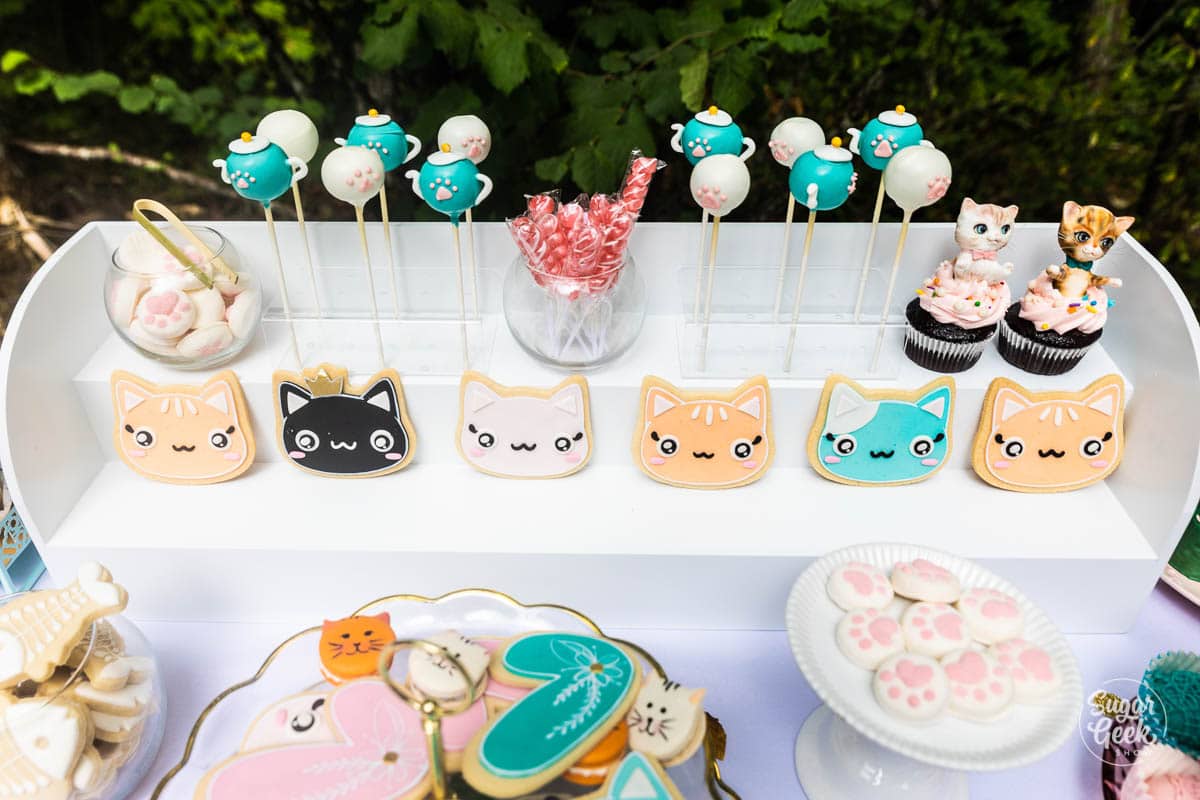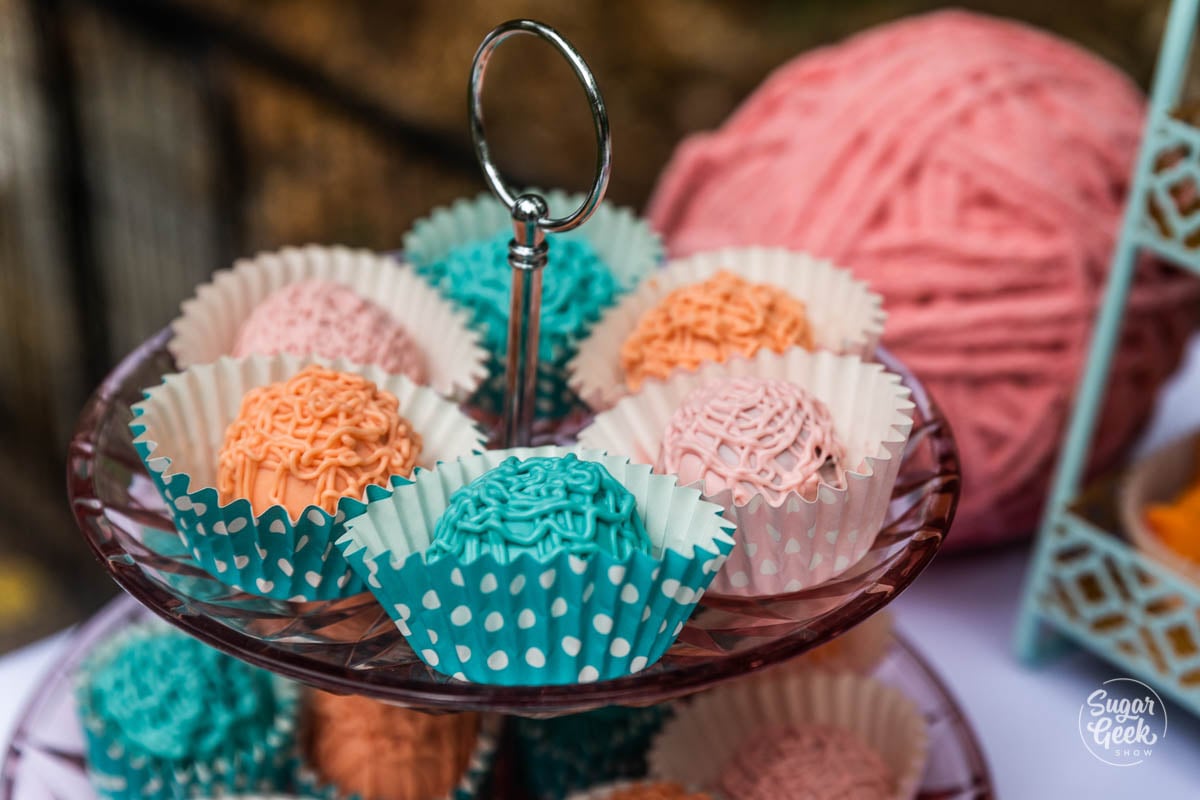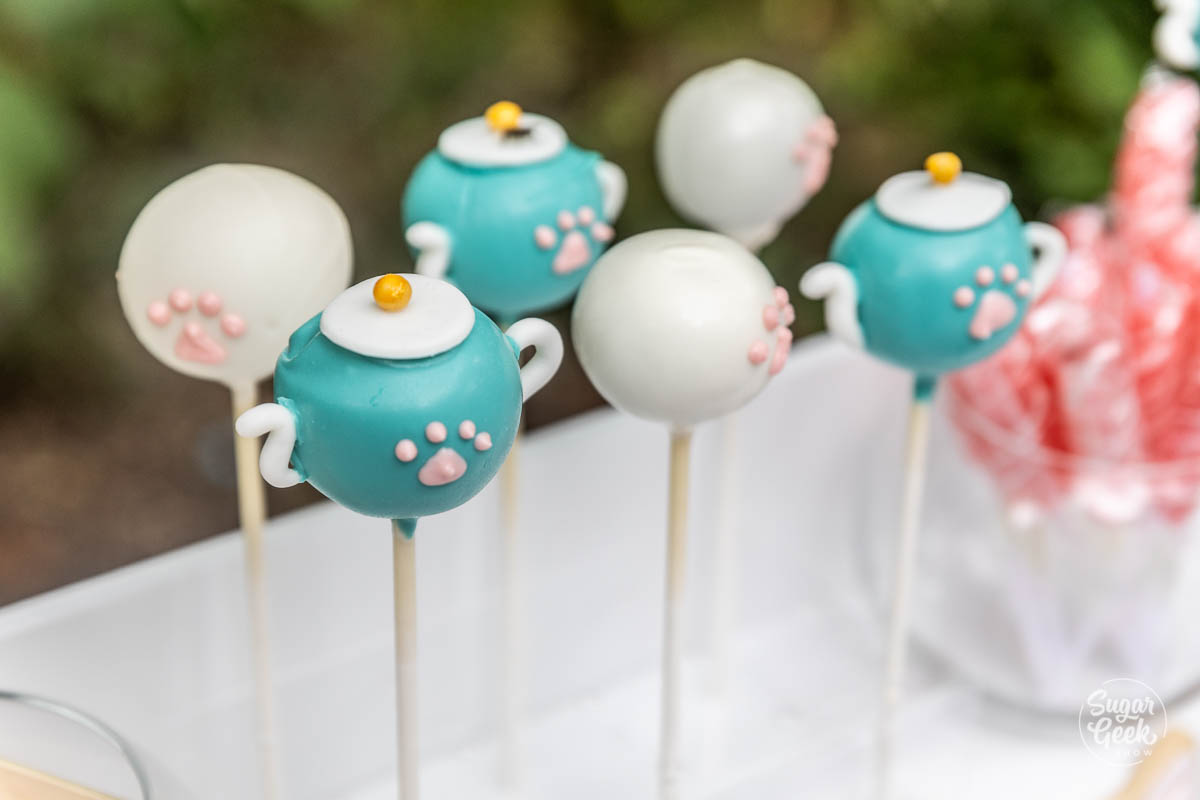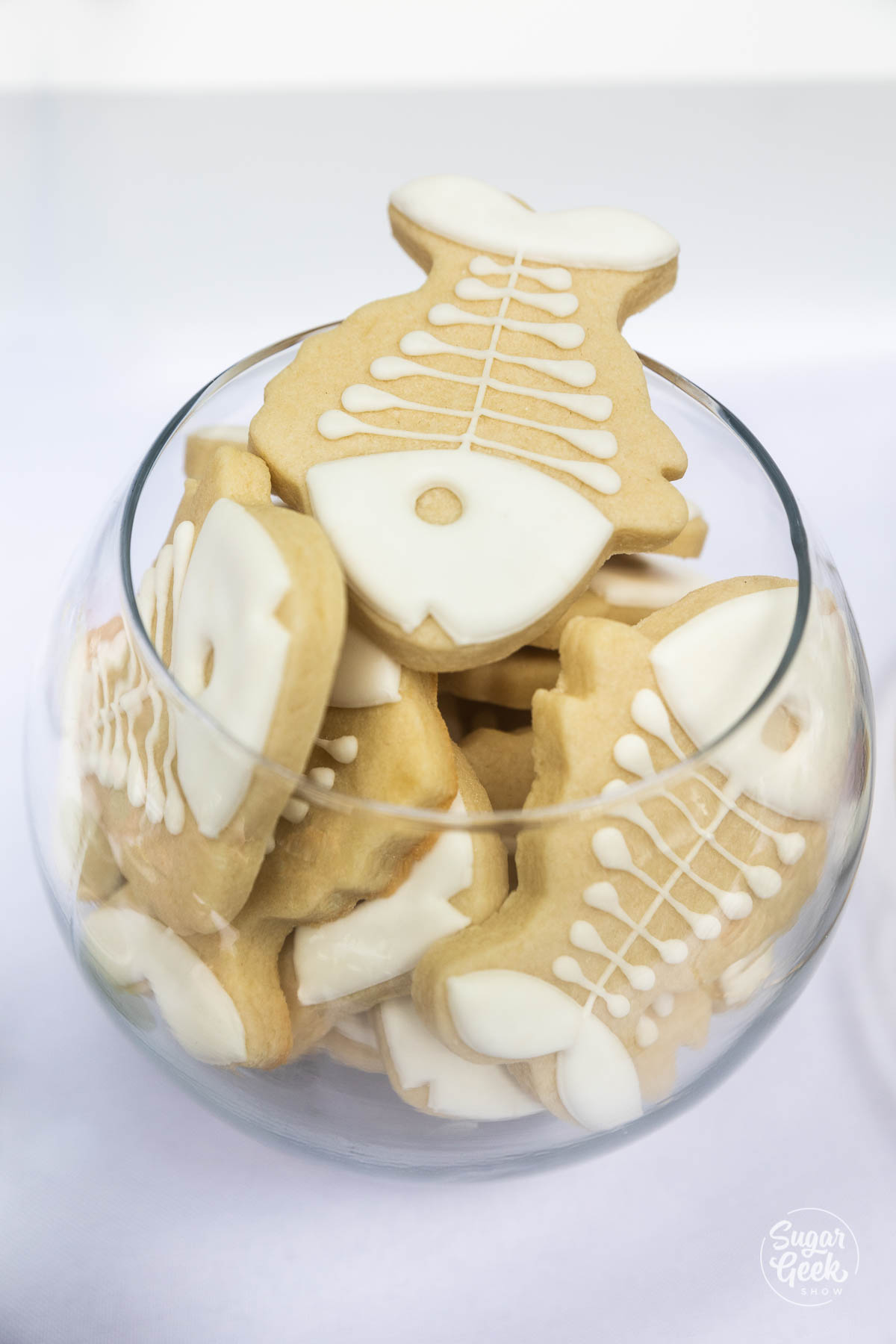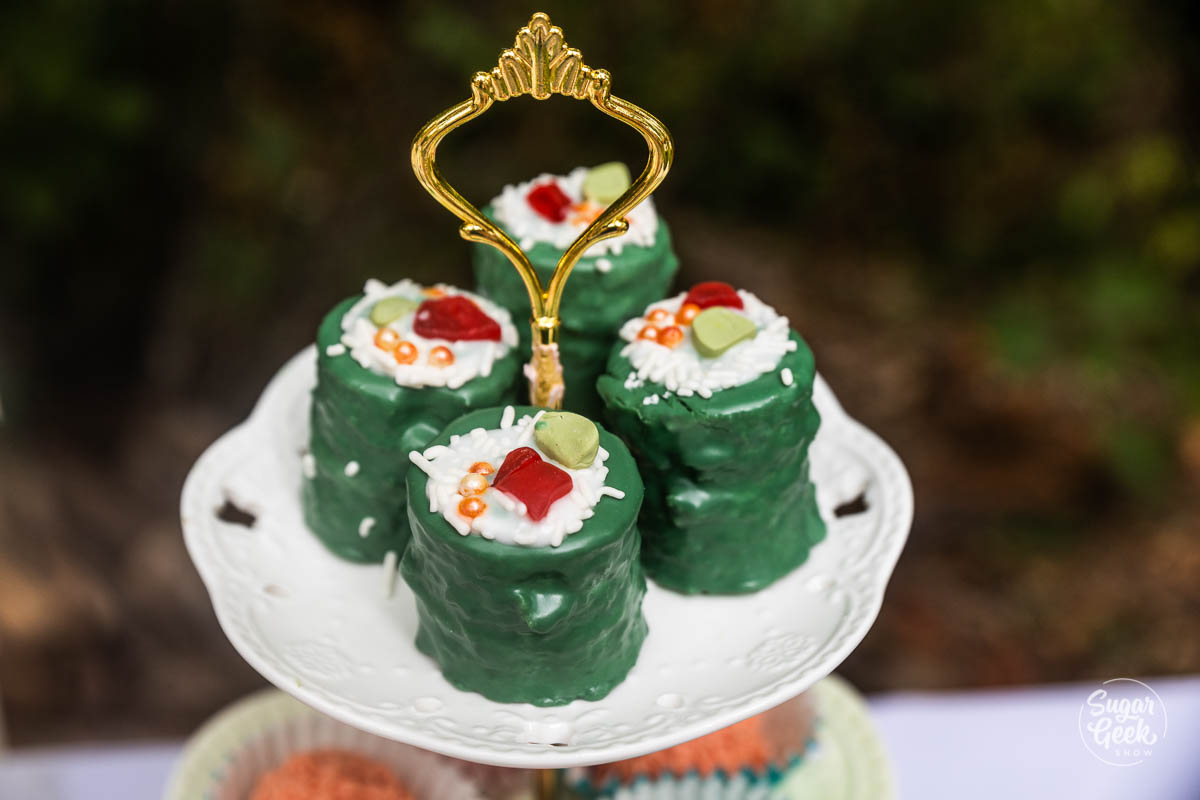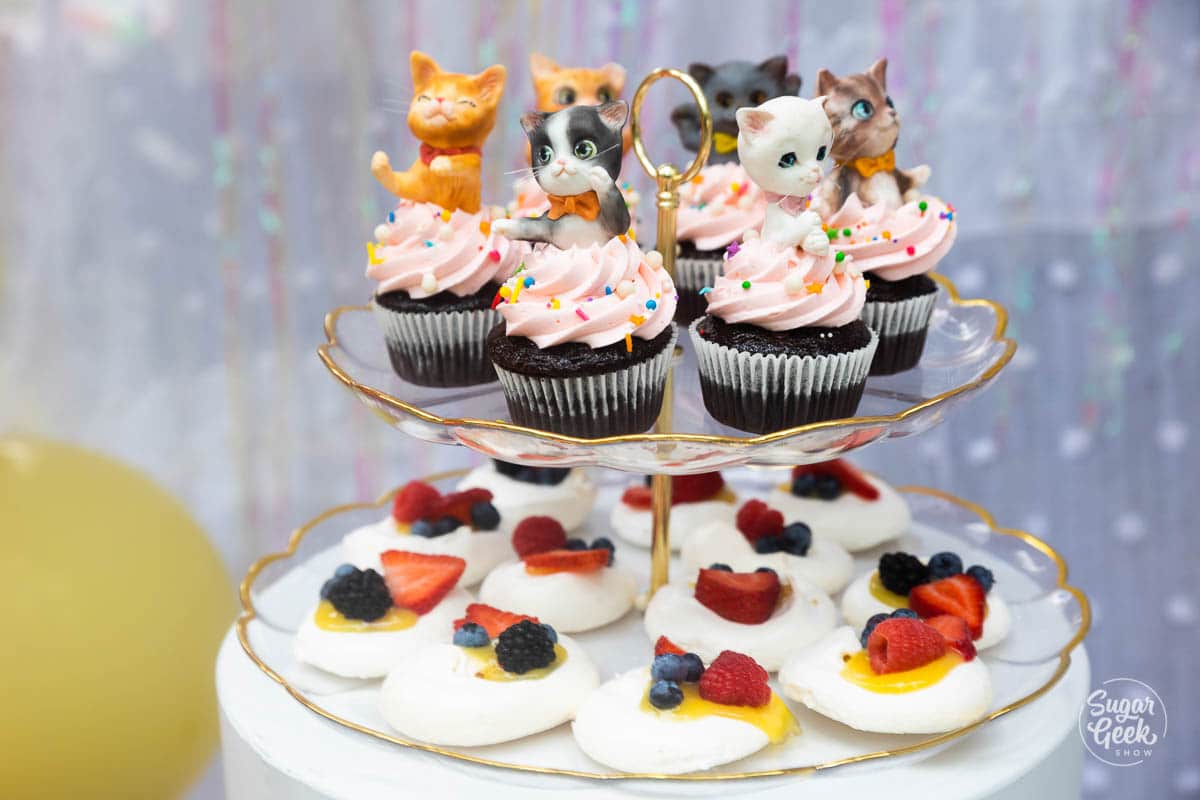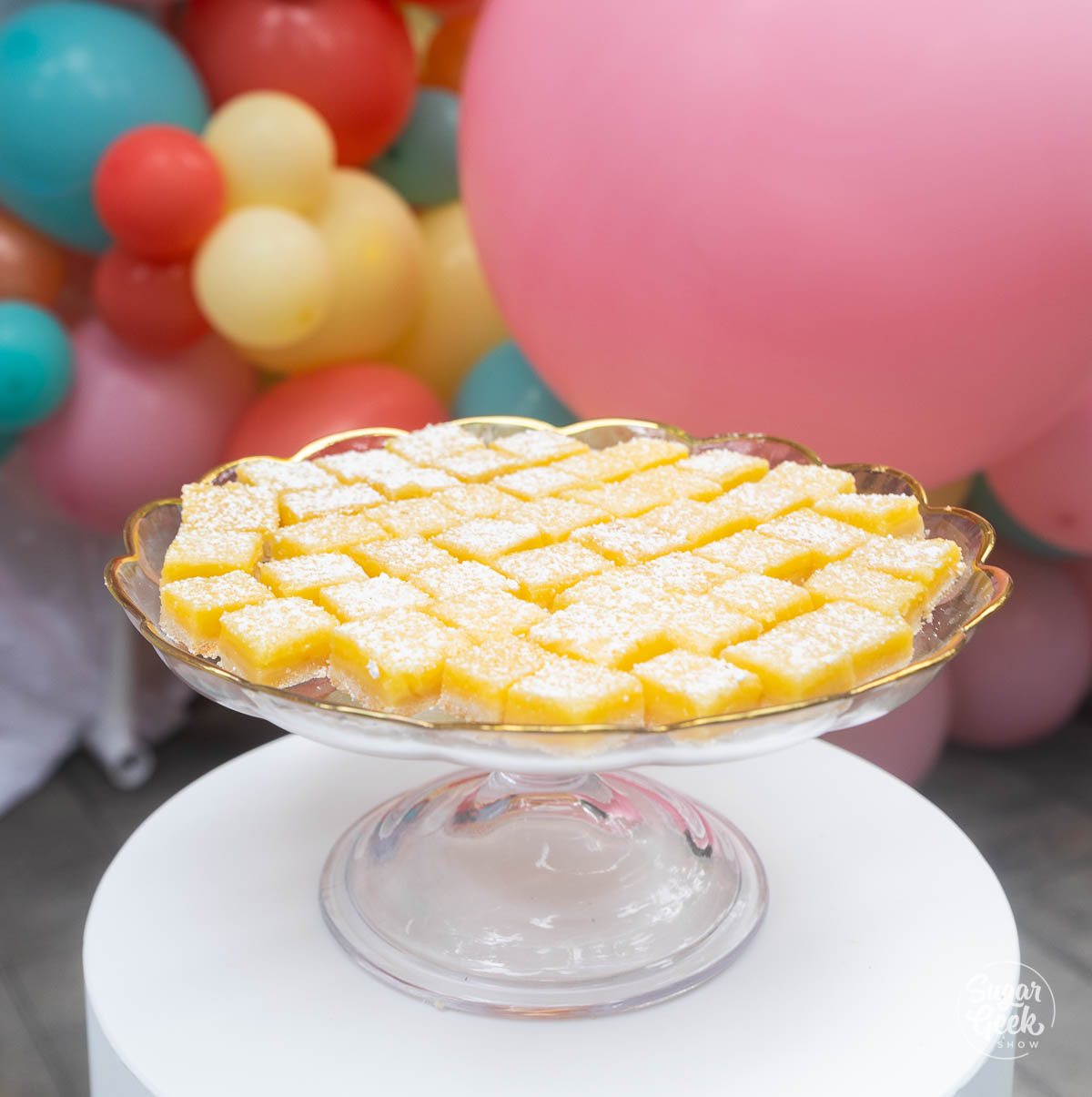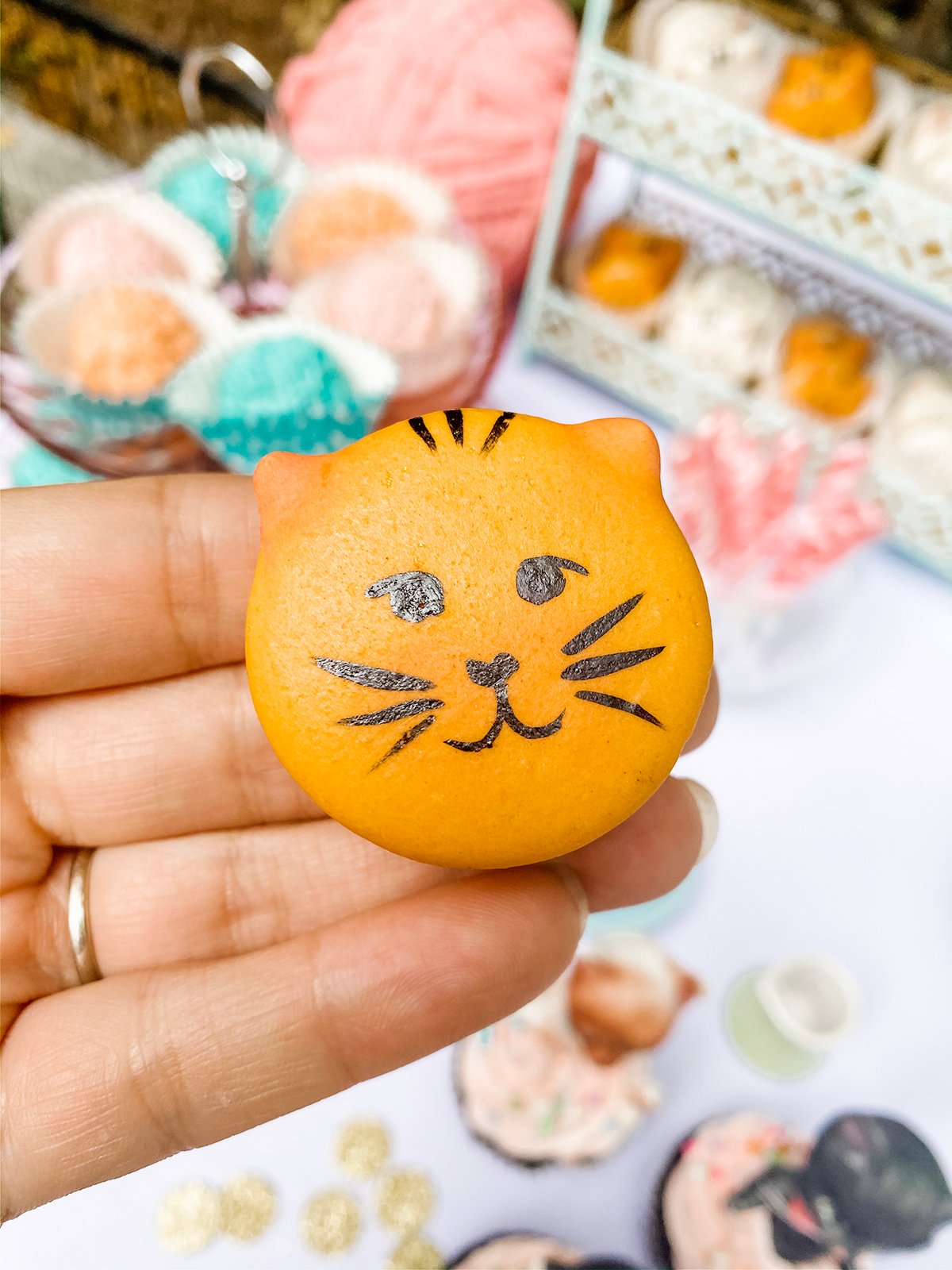 If that wasn't enough, we also had an ice cream bar! I told you I went way overboard ok? I just had to because what else was I going to put in these adorable ceramic ice cream cones.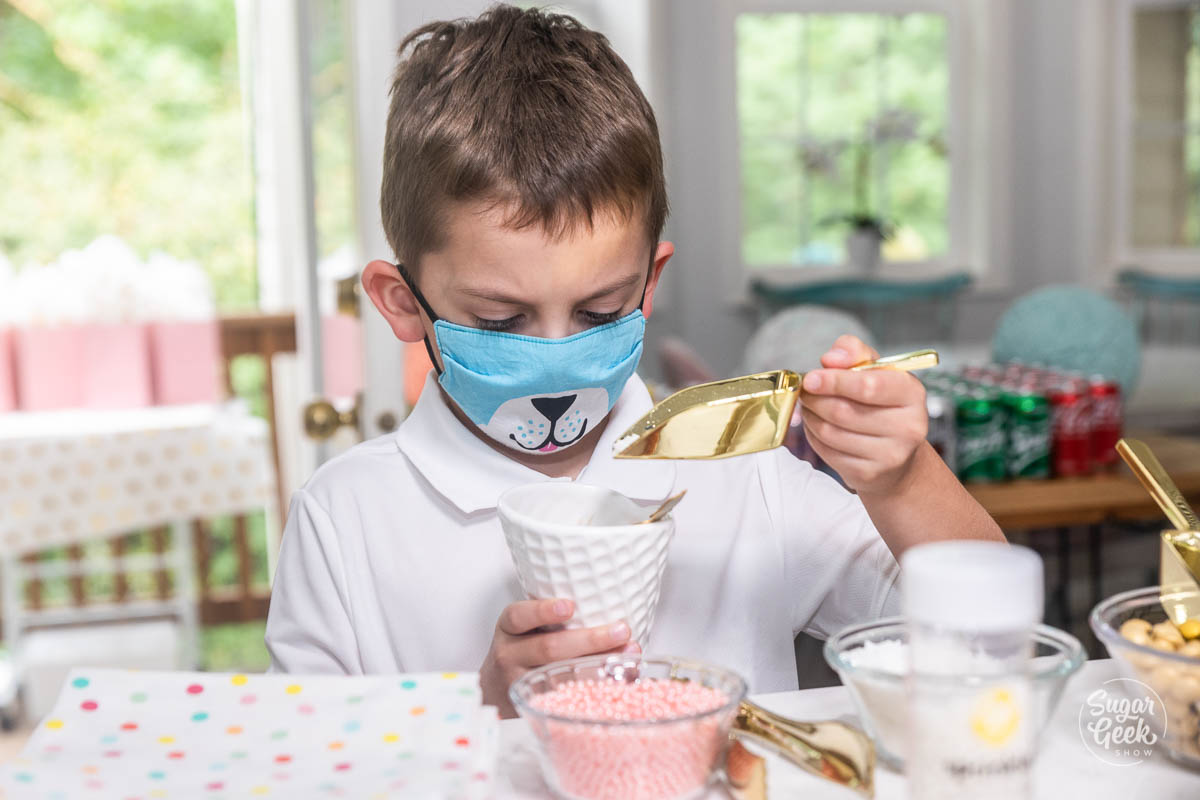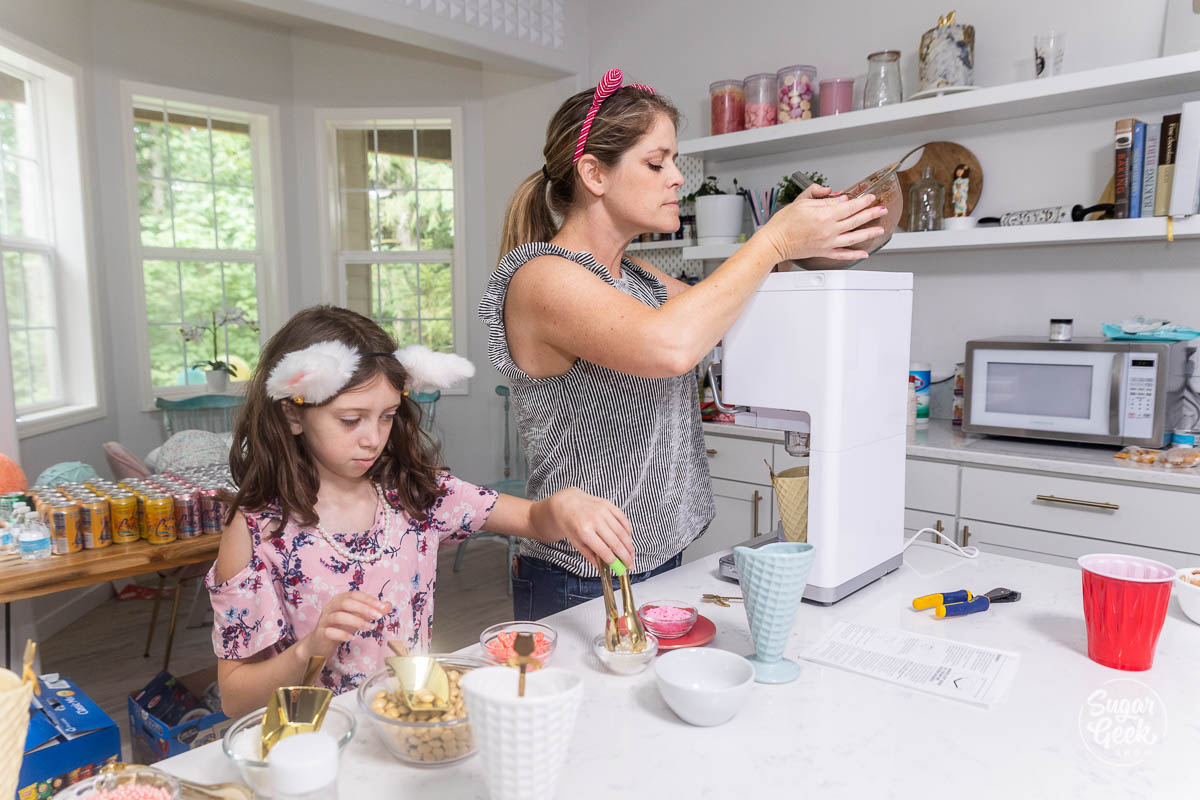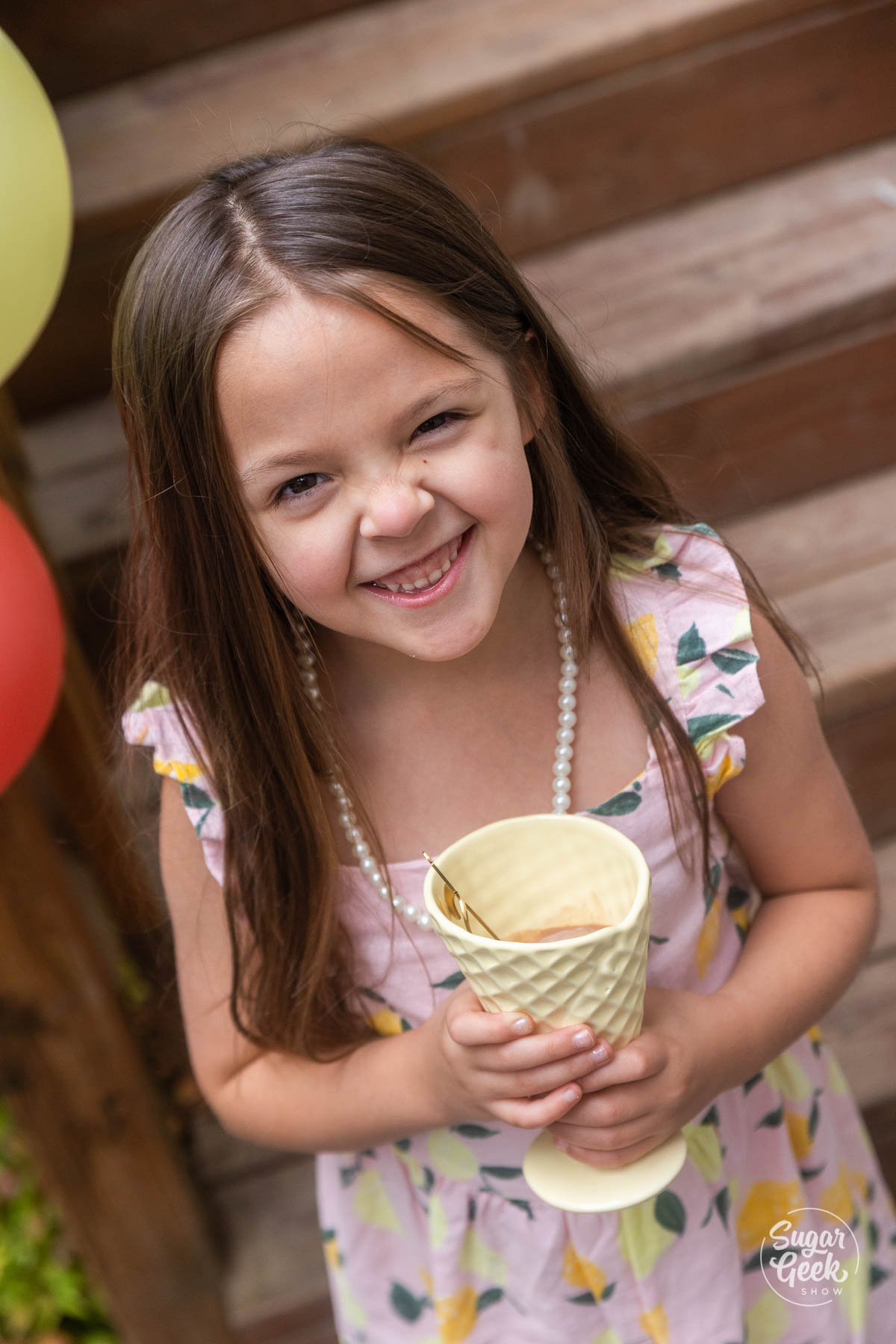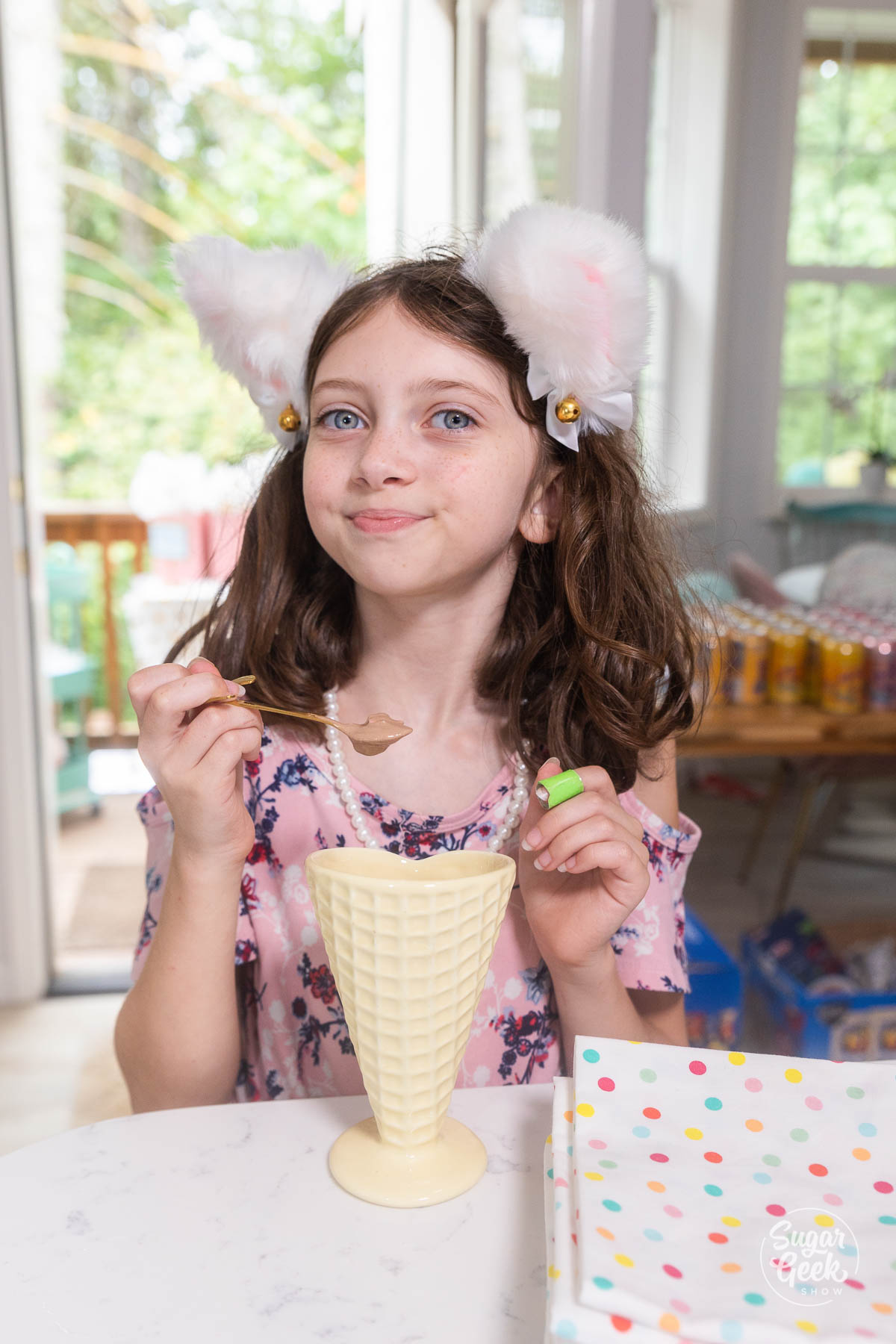 Tea & Beverages
The beverage station was one of my favorite setups, to be honest! We did three kinds of ice tea (because it was really hot outside!) including peach tea, virgin Moscow mule, and virgin sangria. Each tea cup came with a little honey stick for mixing. We also had two huge containers of lemon cucumber water and lemonade for the kiddos.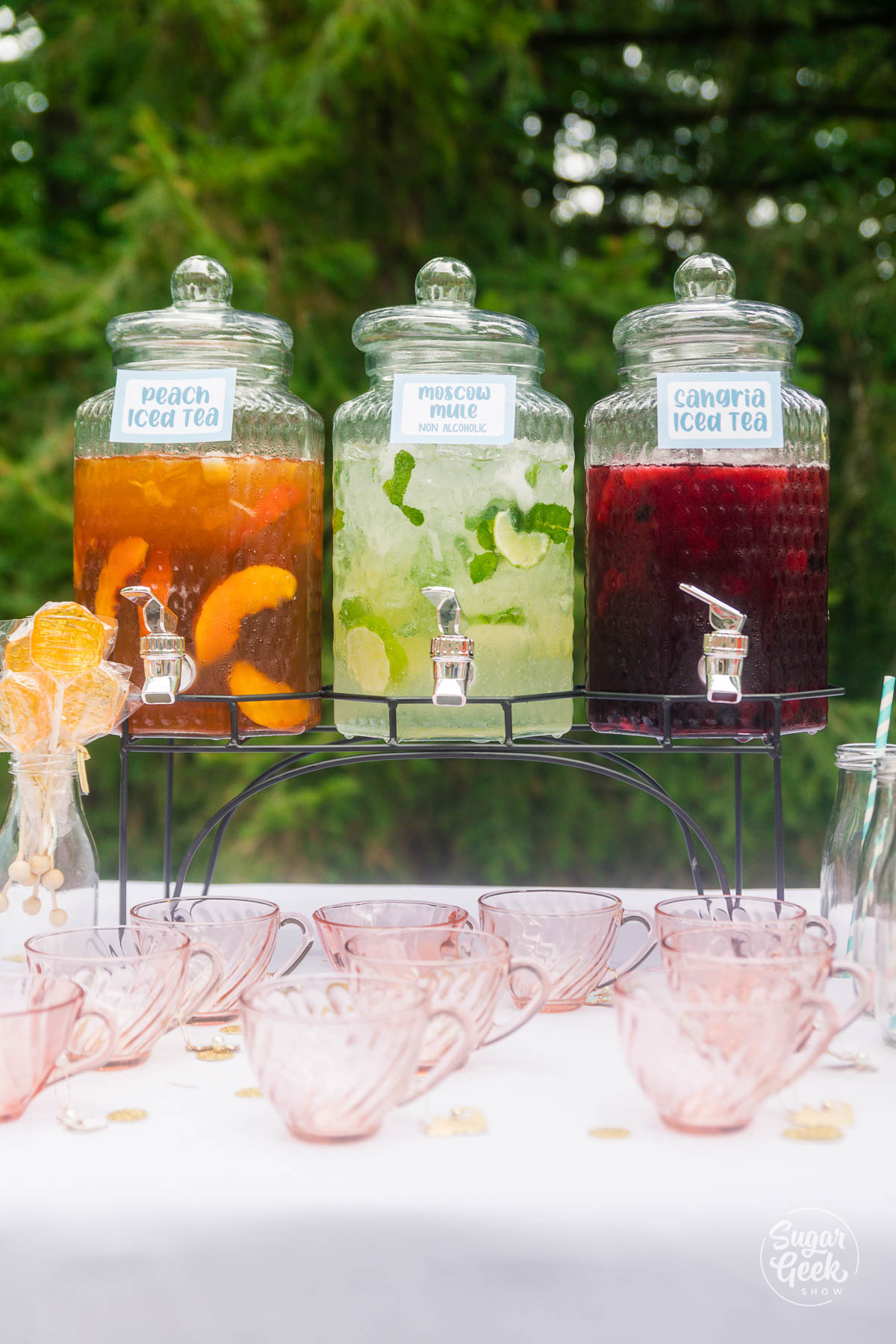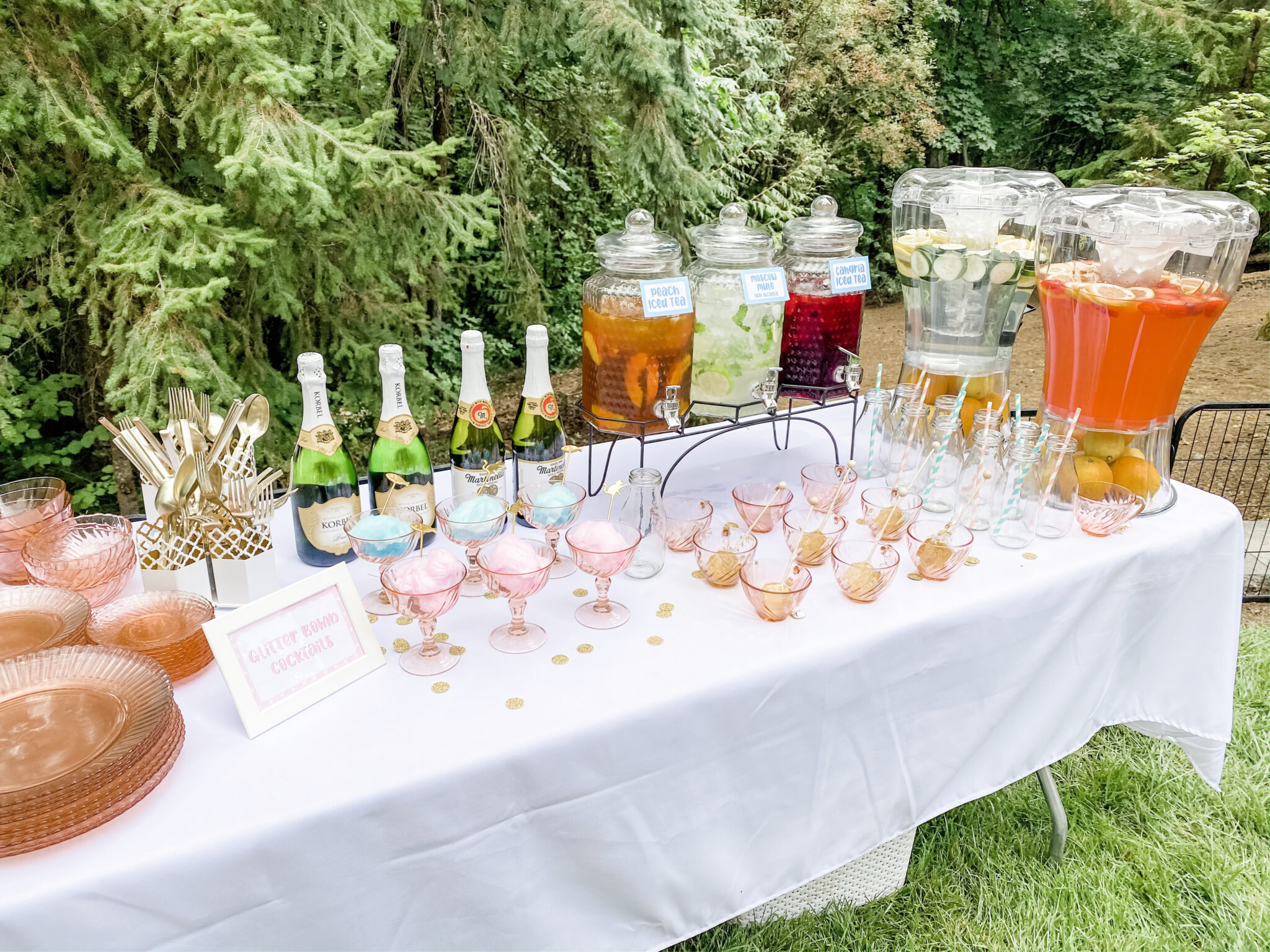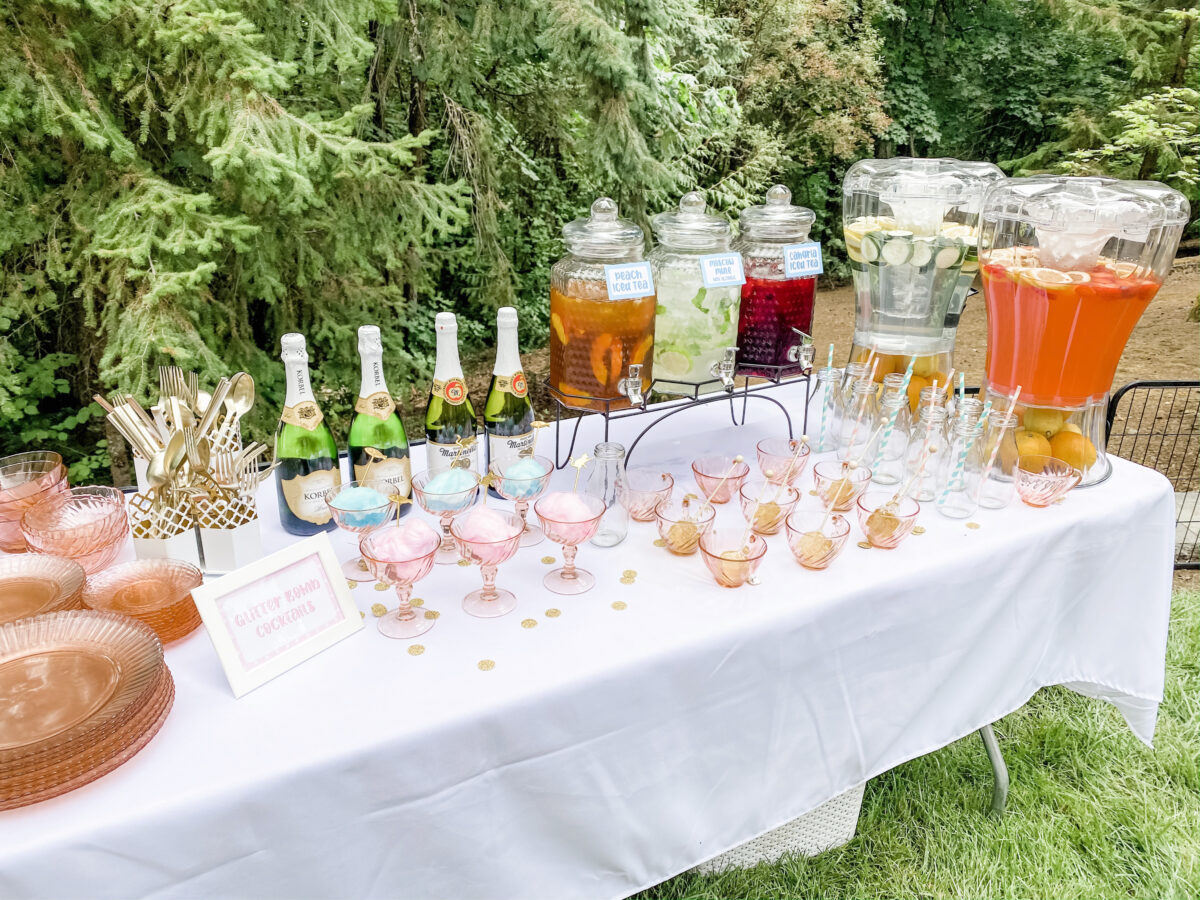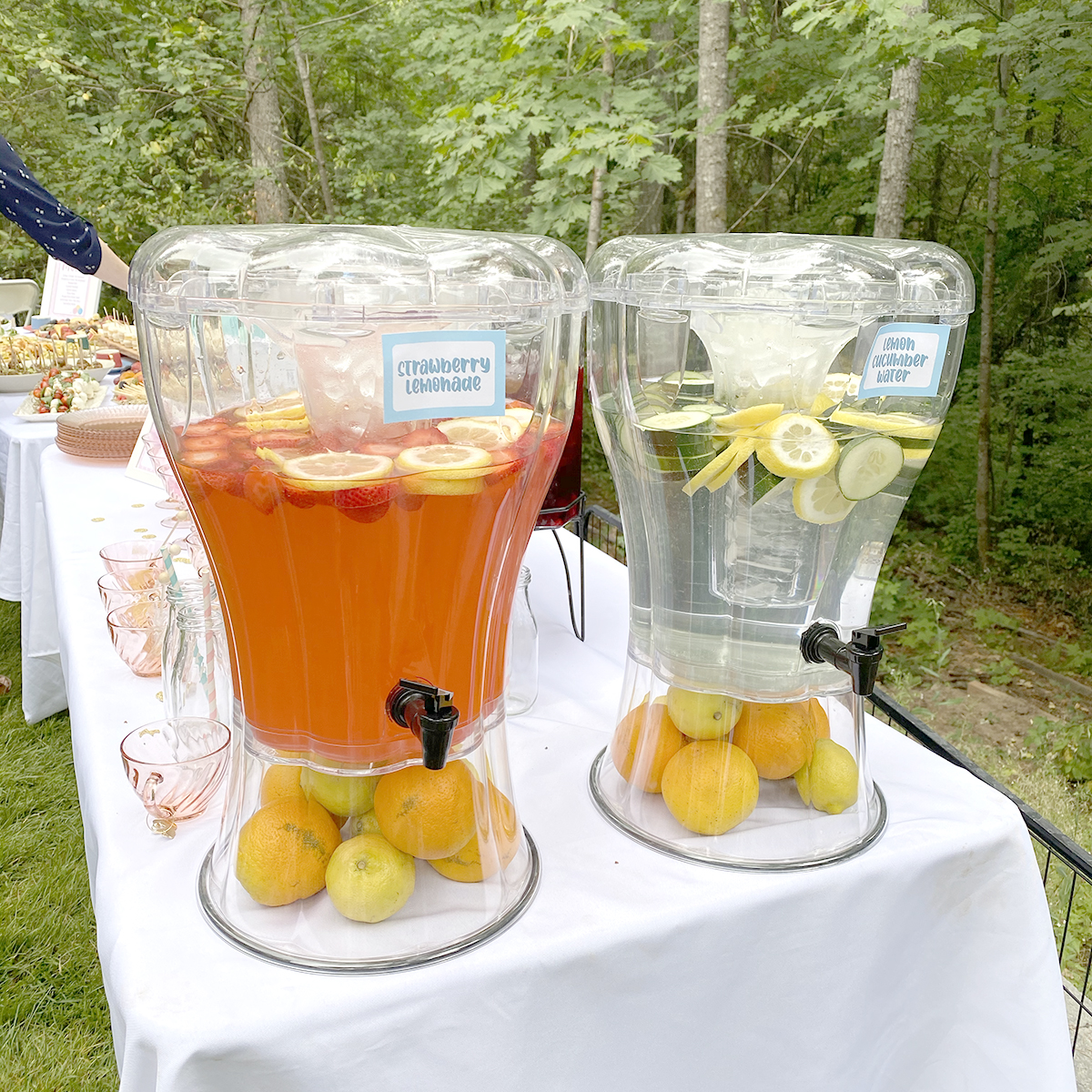 My favorite part of the beverage station was the glitter bomb cocktails though! We had champagne or apple cider options for adults and kids. Big puffy clouds of cotton candy dissolve immediately when champagne or cider is poured on top leaving behind a gorgeous cocktail of glitter (edible) and bubbles! These were SUCH a hit!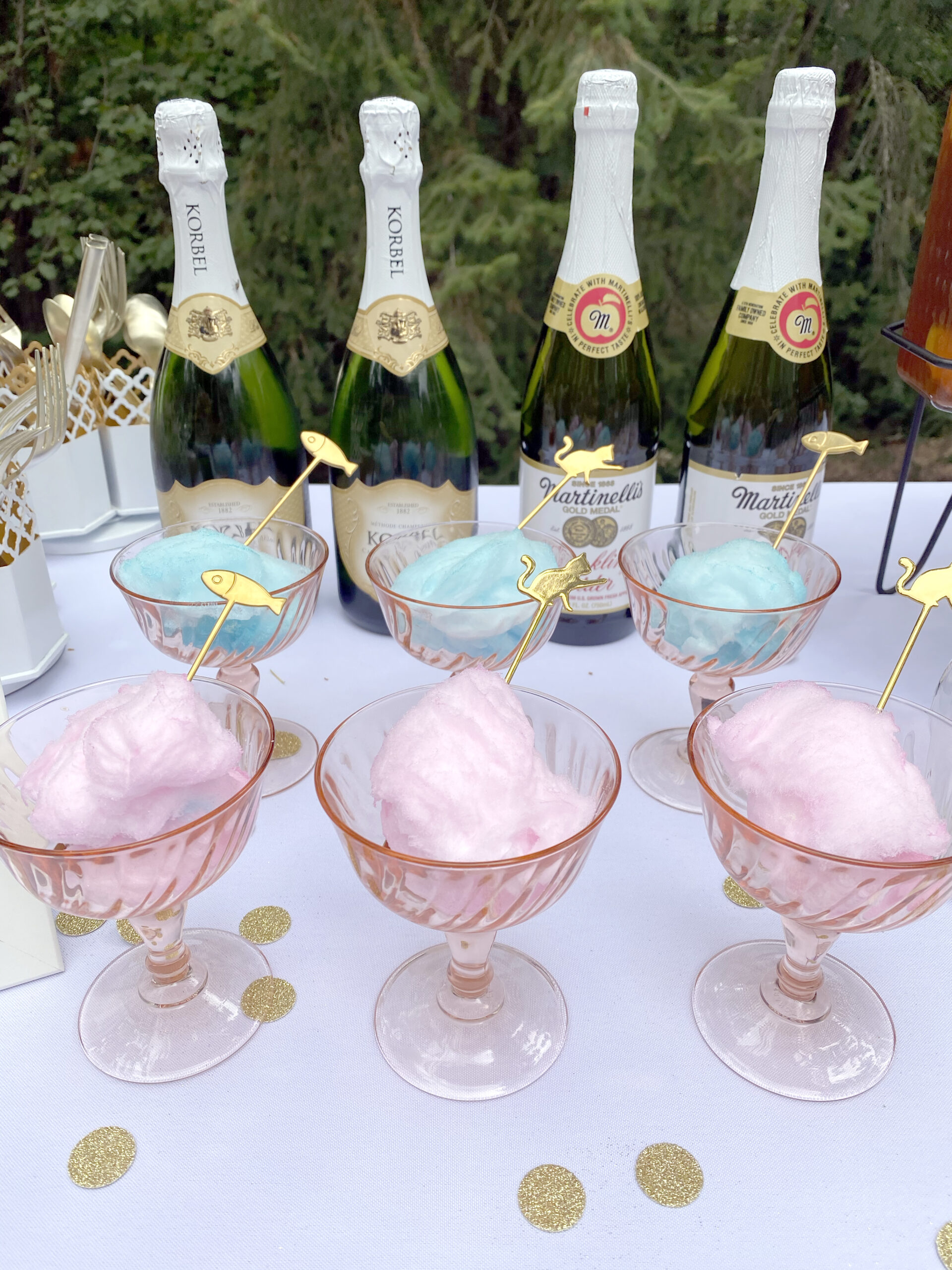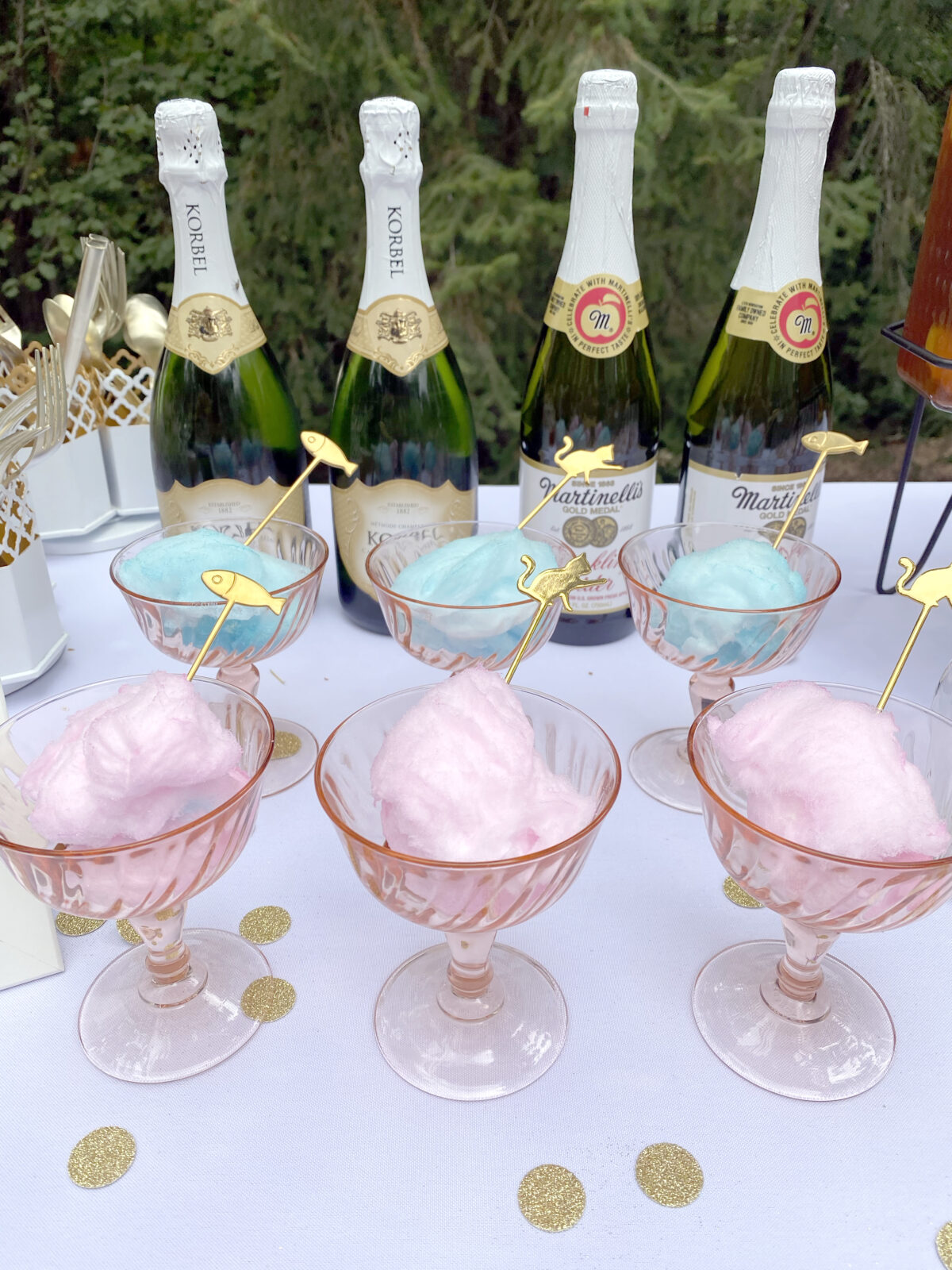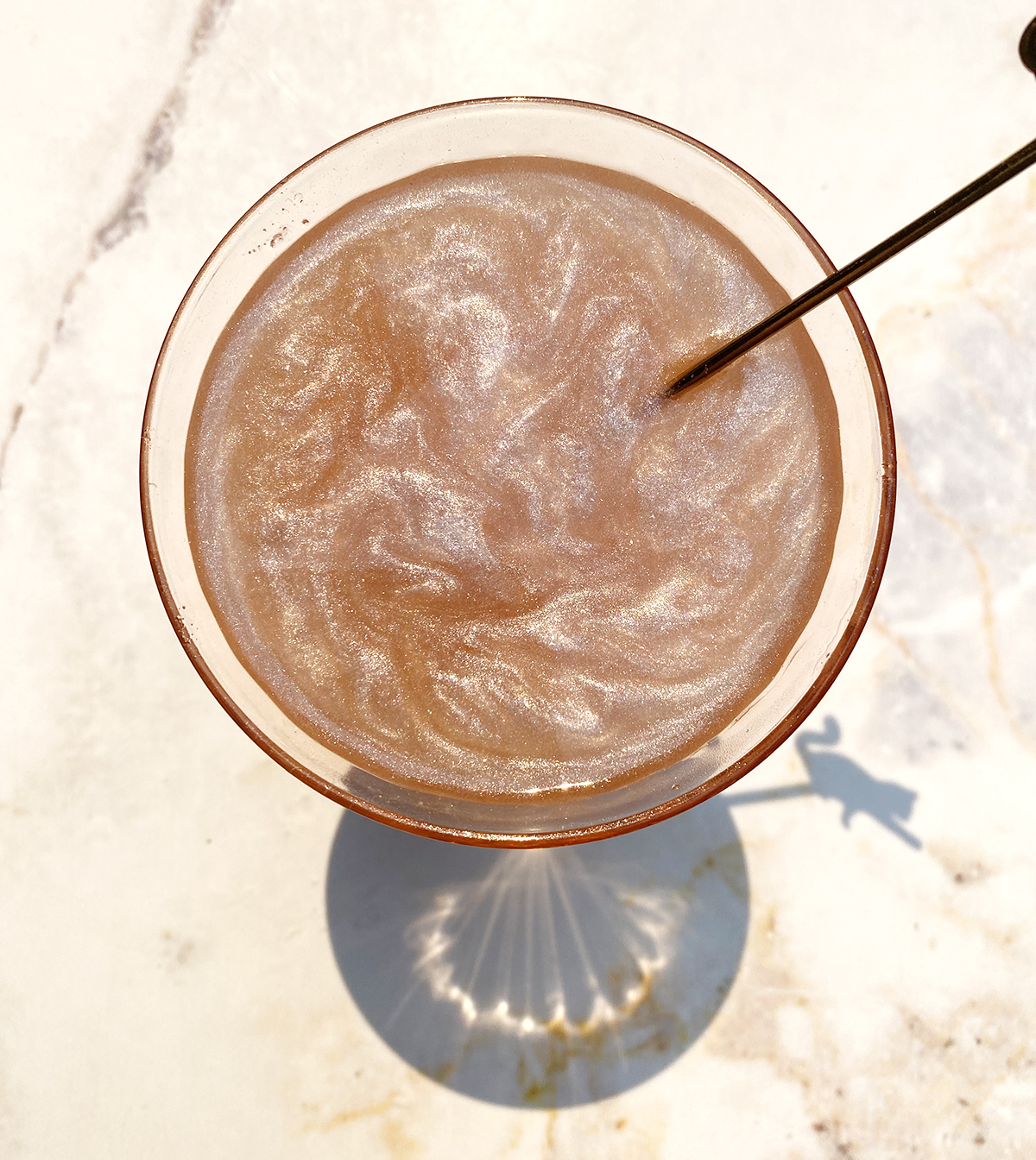 Party Favors & Games
What's a tea party without some fun and games? After guests arrived, they were invited to put on a pair of adorable cat ears then head on over to the cat adoption center where you could pick out your very own kitten and give it a name. Then it's time to make your new kitten a collar at the collar station!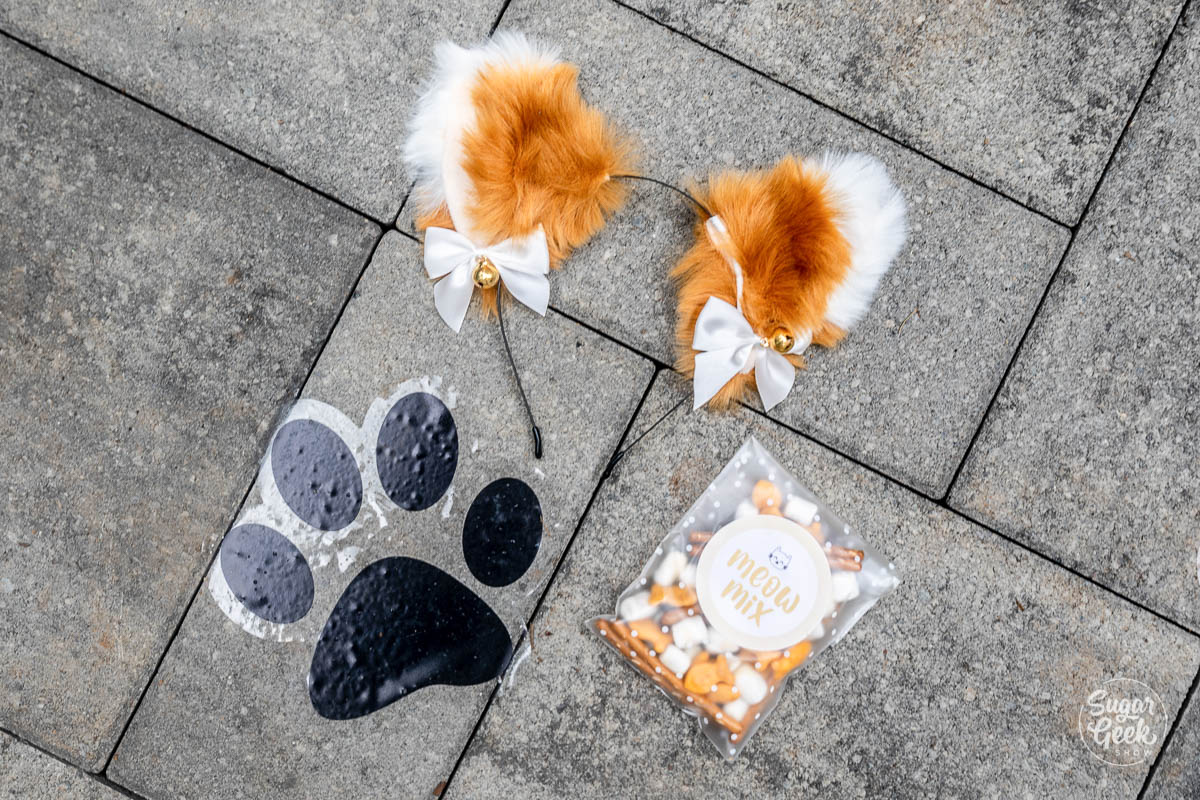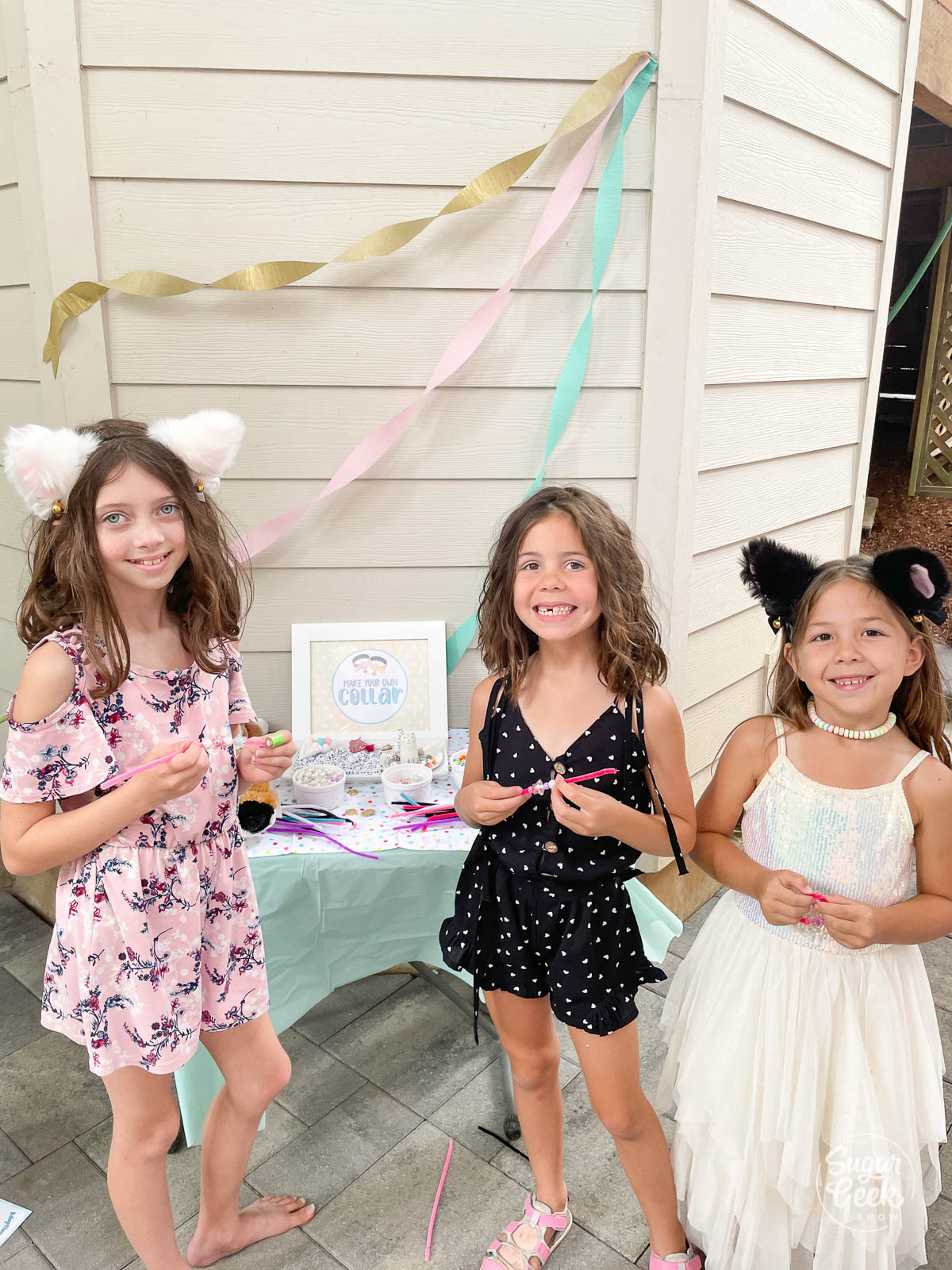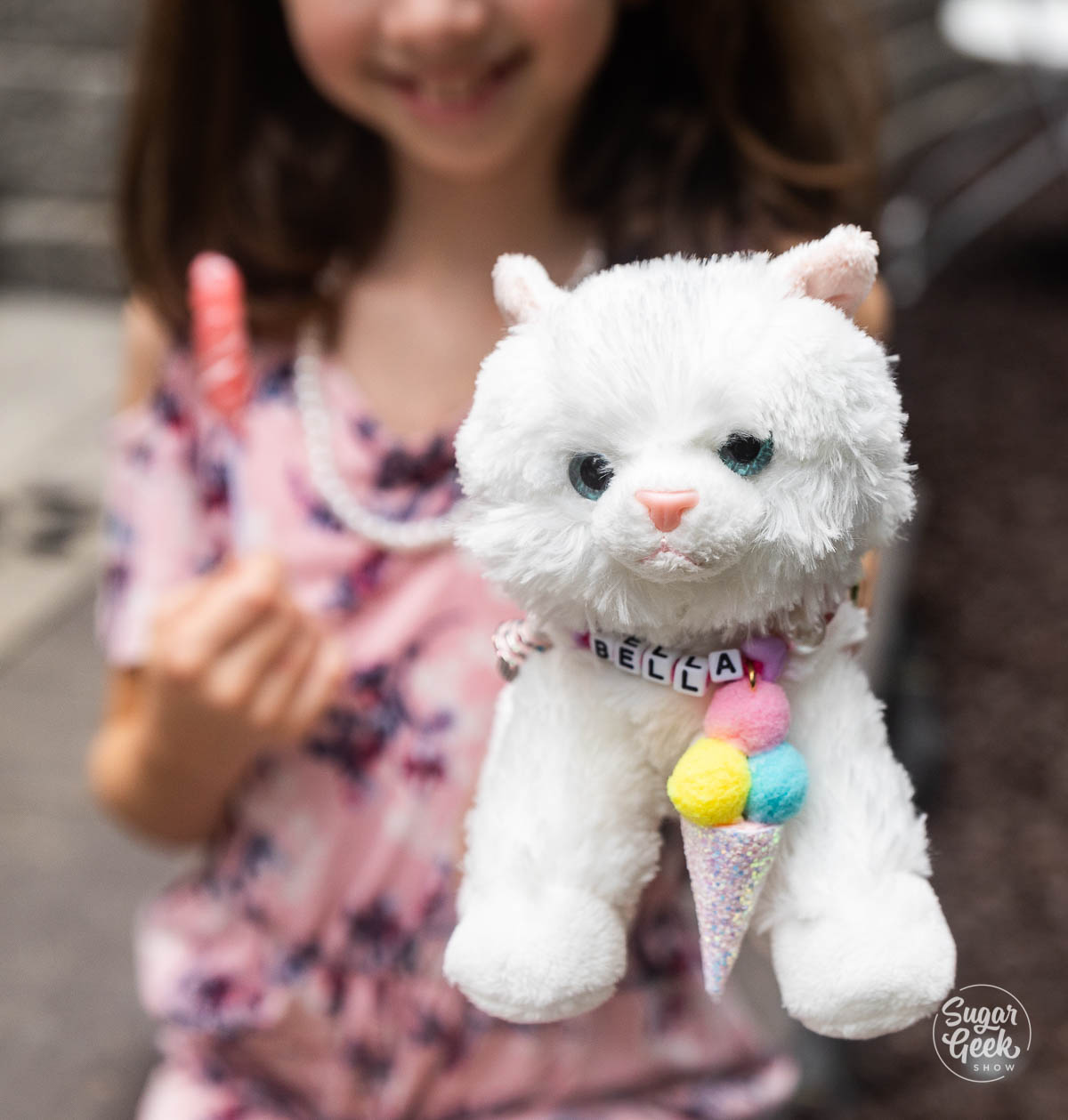 We also had a giant yarn ball race. I am not going to even tell you how long it took to wrap all these dang rubber balls in yarn. But the kids had a blast so it was worth it.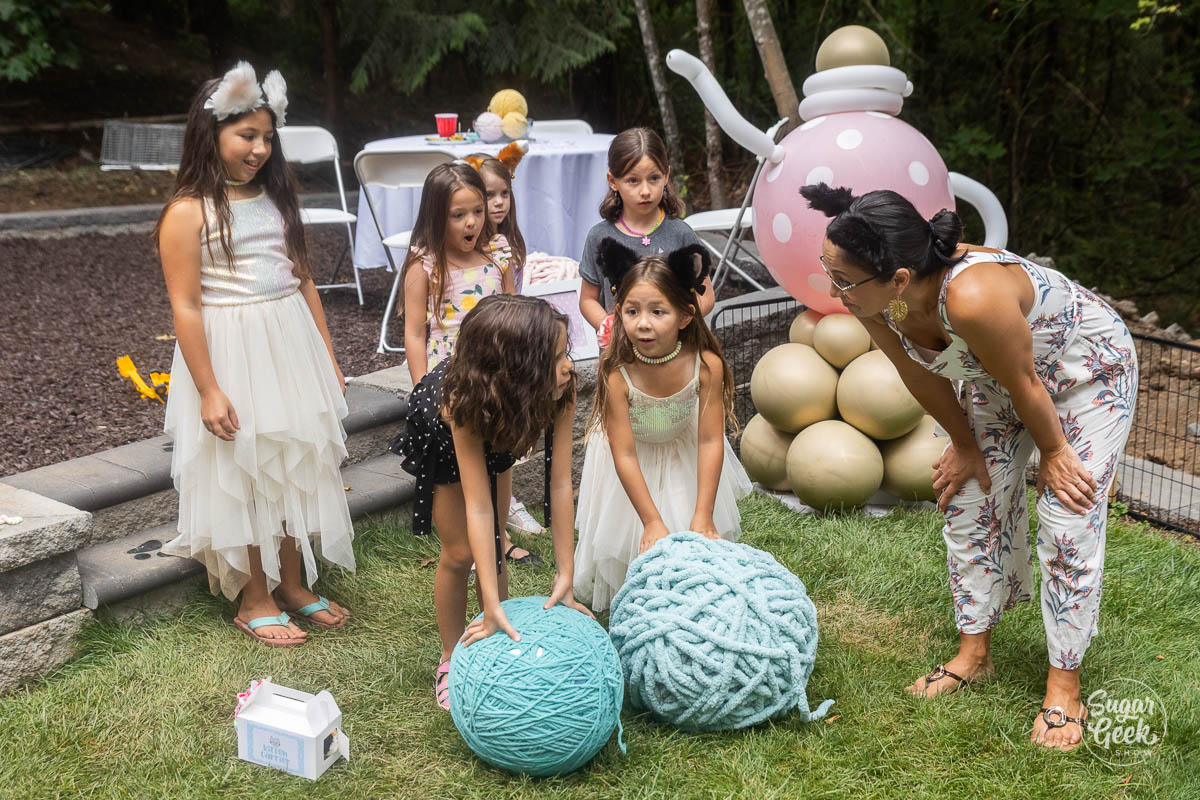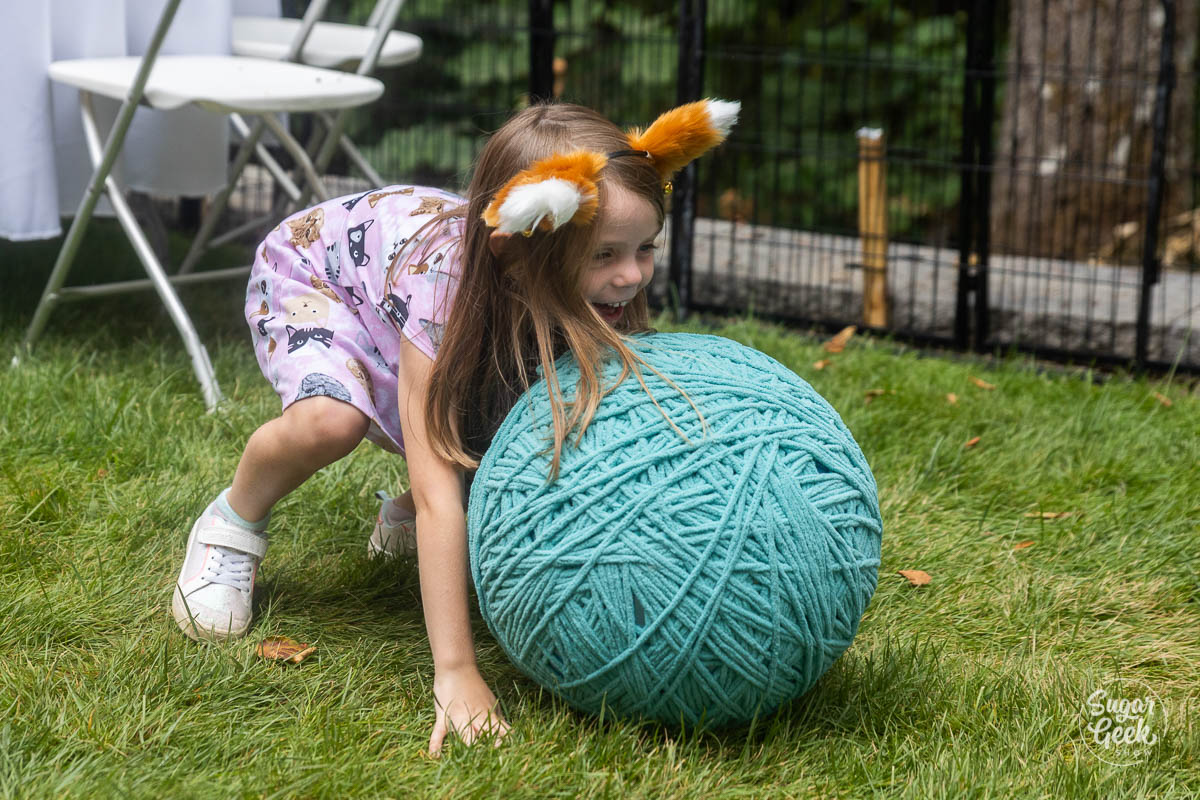 Enjoy this little video montage of the party! A huge thank you to all my amazing friends who helped assemble all the moving parts and pieces for this party. Seriously could not have done it without them <3
Vendor Links
Cat Themed Sugar Cookies - Jam Cakes
Cat Macarons - Mamas Artisan Sweets
Cat Cupcake Toppers - MimiCafe Union
Yarn Ball & Tea Pot Cake Pops - Flour By Design
Fish Skeleton Cookies - Those Bailey's Cookies
Balloons - BR Konexion
Table Rentals - Barbur Blvd Rentals
Photography - Images From Amy
Recipe & Tutorial Links
Lemon Bars
Pavlova
Sushi Petit Fours
Glitter Bomb Cocktails