This mirror glaze geode cake is so pretty with it's shiny pink mirror glaze, gold geode decorations and delicious mousse filling
I never get tired of making mirror glaze cakes! I decided it would be really fun to try out the latest in geode cake trends and combine it with a mirror glaze cake. Something I haven't seen done yet so I was excited to try it out!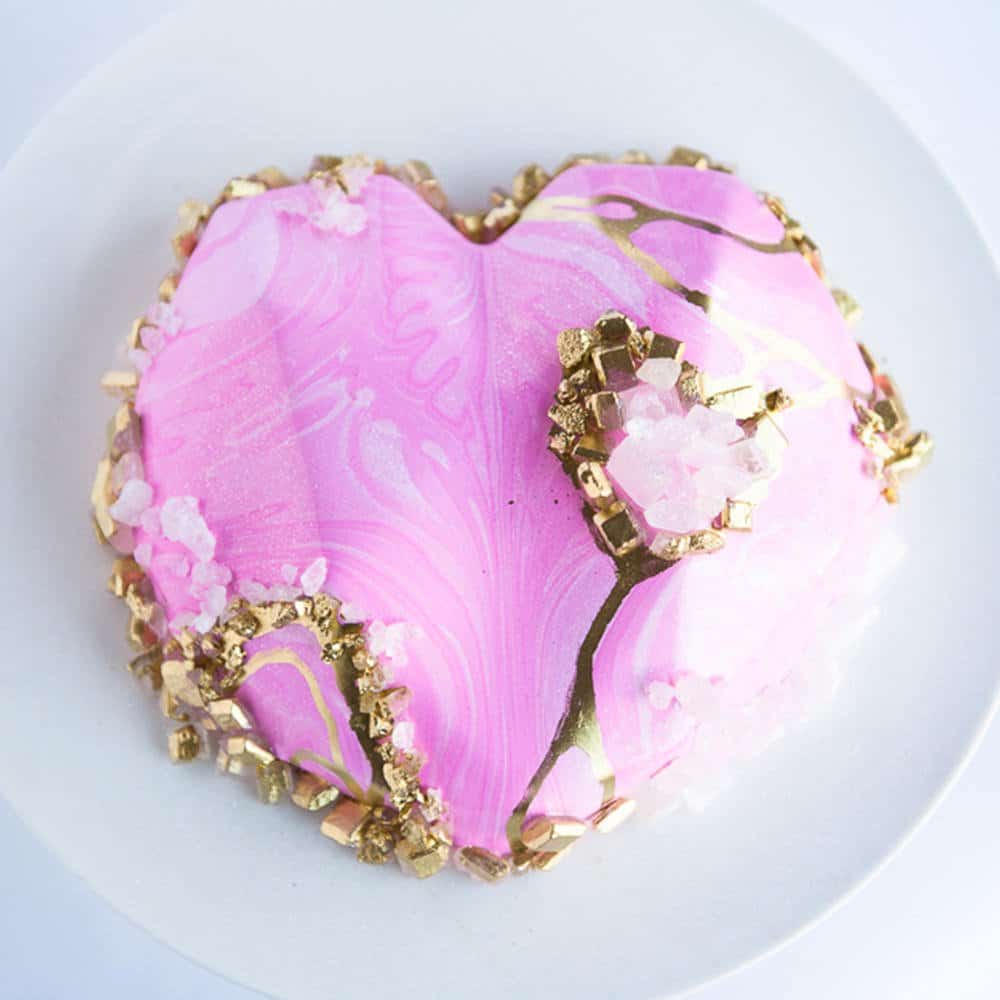 Making a geode mirror glaze cake is much like making any other mirror glaze cake. Thats one of the things I love about making mirror glaze cakes, the design possibilities are endless.
How to make the elements of a mirror glaze geode cake
First you need a mousse cake mold. I'm using our geometric heart mirror glaze cake mold. We only have a few left and then we are discontinuing so grab em while you can!
I decided to keep the filling to this mousse cake simple since my last chocolate mirror glaze cake got pretty complicated! To fill my geode mirror glaze cake, I used my chocolate honey mousse and some chocolate joconde cut into a heart shape. You could totally add in some fresh berries into this cake and I think that would also taste amazing.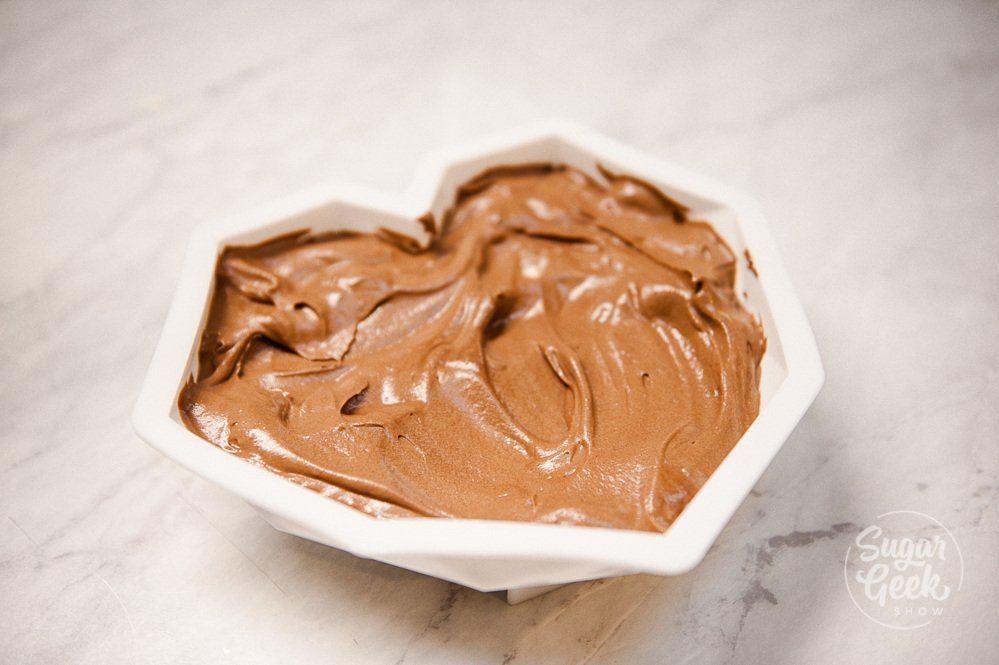 Next freeze that cake nice and solid. You can glaze regular buttercream cakes too but they need to be frozen for an hour or the glaze won't set properly. If you accidentally freeze the cake too long your can put it in the fridge to defrost naturally after you glaze it.
I made a batch of my regular white mirror glaze and divided into three parts. I colored one part dark pink, one part light pink and left one part white. Then I poured these three glazes together but I didn't mix them so that they would marble when I poured the glaze out. Make sure you let your glaze cool to 90ºF before pouring or it might be so hot it all runs off the cake.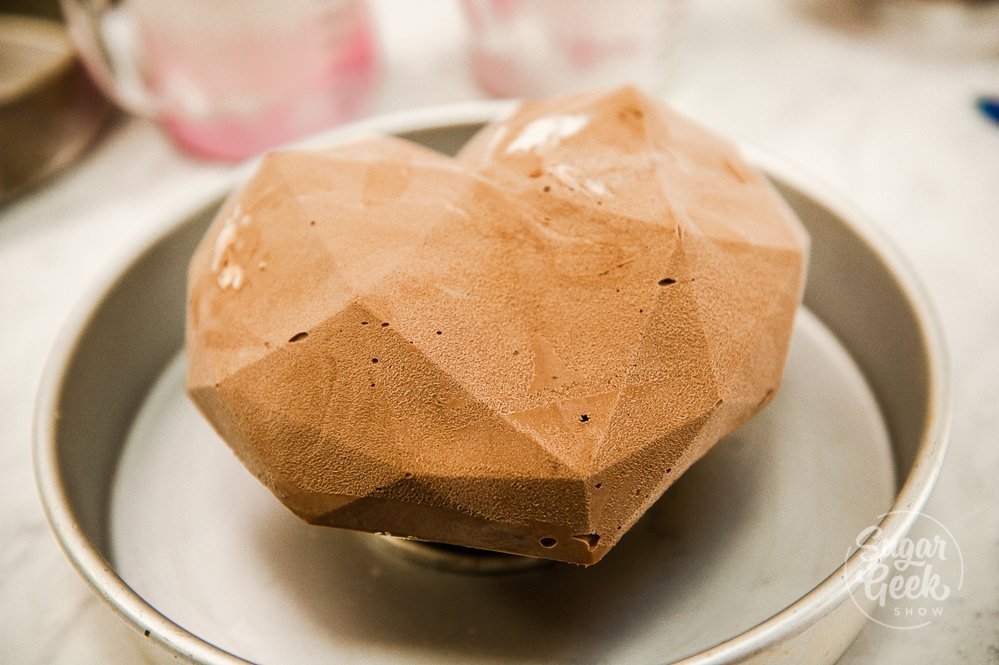 Putting together your mirror glaze geode cake
When you take your frozen cake out of the mold, place it on top of a cake board that is cut roughly to the size of the bottom of the cake so you can pick it up and transfer it to a plate easily. Then place that cake on top of a small bowl or cake pan and then that inside another larger pan to catch the excess glaze. You can re-use the glaze by heating it back up to 90ºF and pour it over another cake.
After a few minutes, the glaze will stop running and you can trim off the drips with a hot knife. Transfer the cake to a plate and now it's time to decorate!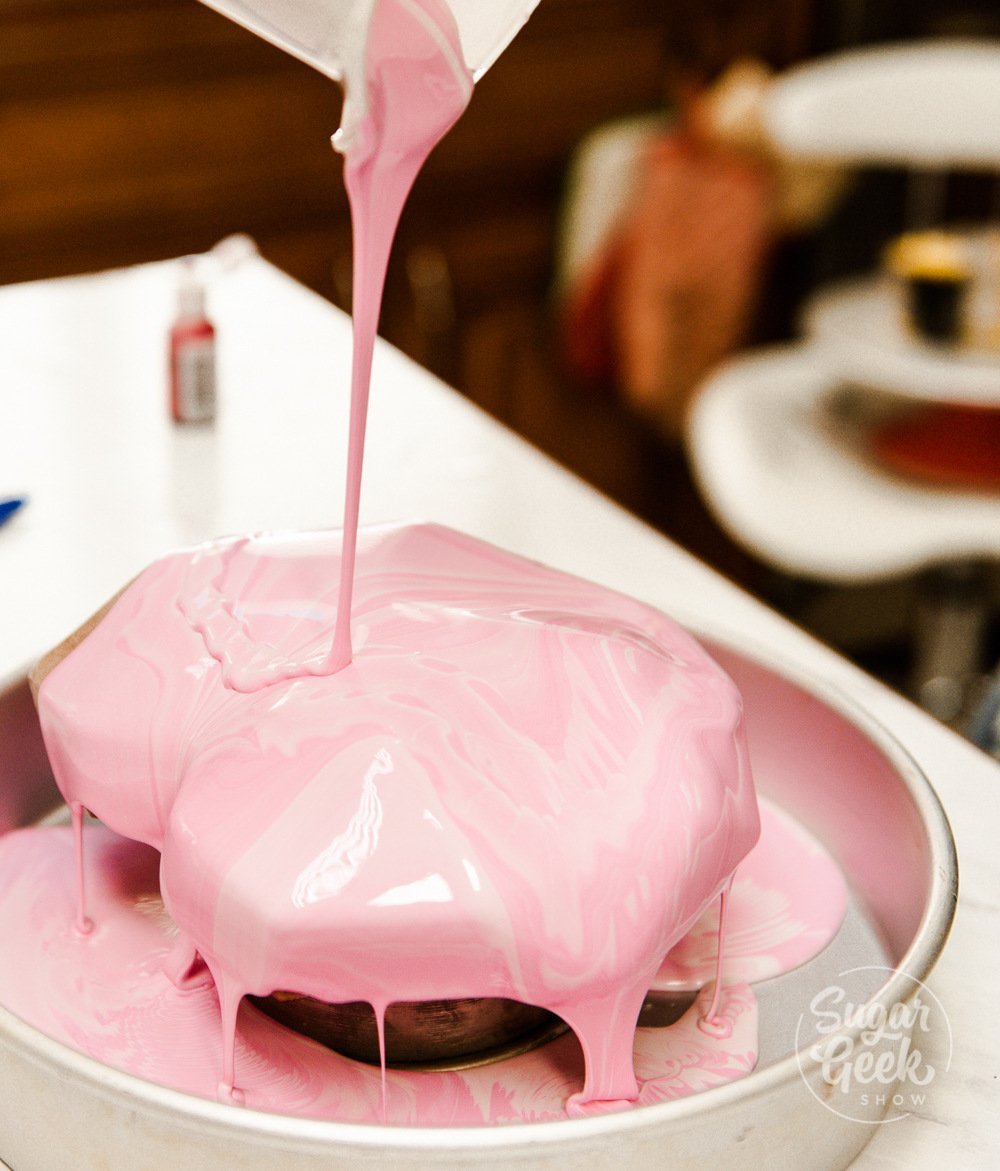 For the geode crystal look, I used asian lump candy which is really inexpensive and can be found in asian food stores. You can also use rock candy if you have that on hand.
I arranged the lump candy all the way around the outside edge of the cake and some going up the sides. Then I used some small crushed lump candy to make a little heart in the center. You can get creative with what type of geode you want your mirror glaze to have.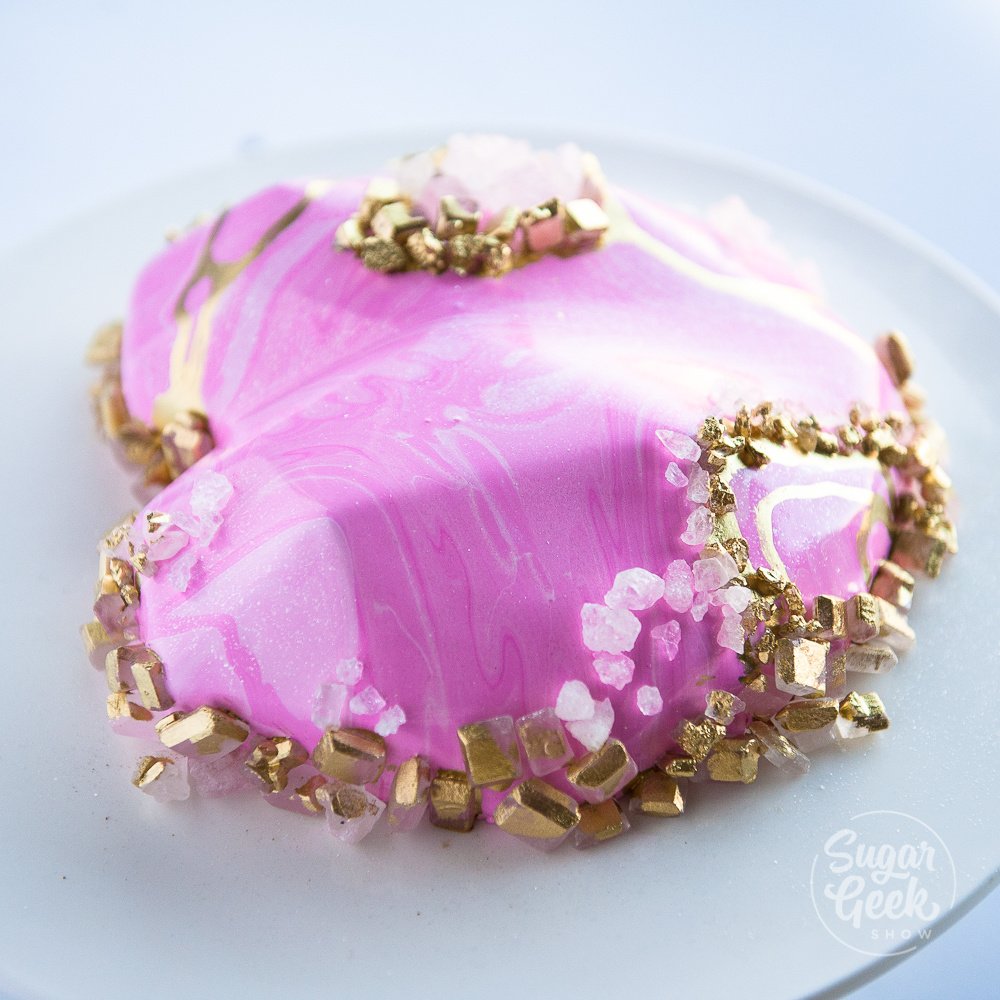 Then I combined some TMP super gold with a little everclear to make a thick paint. I painted the edges of the lump candy and some lines on the mirror glaze that kind of mimicked the pattern of the marbling. I wasn't sure if the gold paint would ruin the glaze but it didnt and ended up looking really pretty.
That's it! Your geode mirror glaze cake is complete! All that's left now is to eat it! Or you can refrigerate the cake but keep in mind that mirror glaze loses it's shine after 24 hours so if you're making this cake for a client make sure you pour the glaze the same day as delivery.
Recipe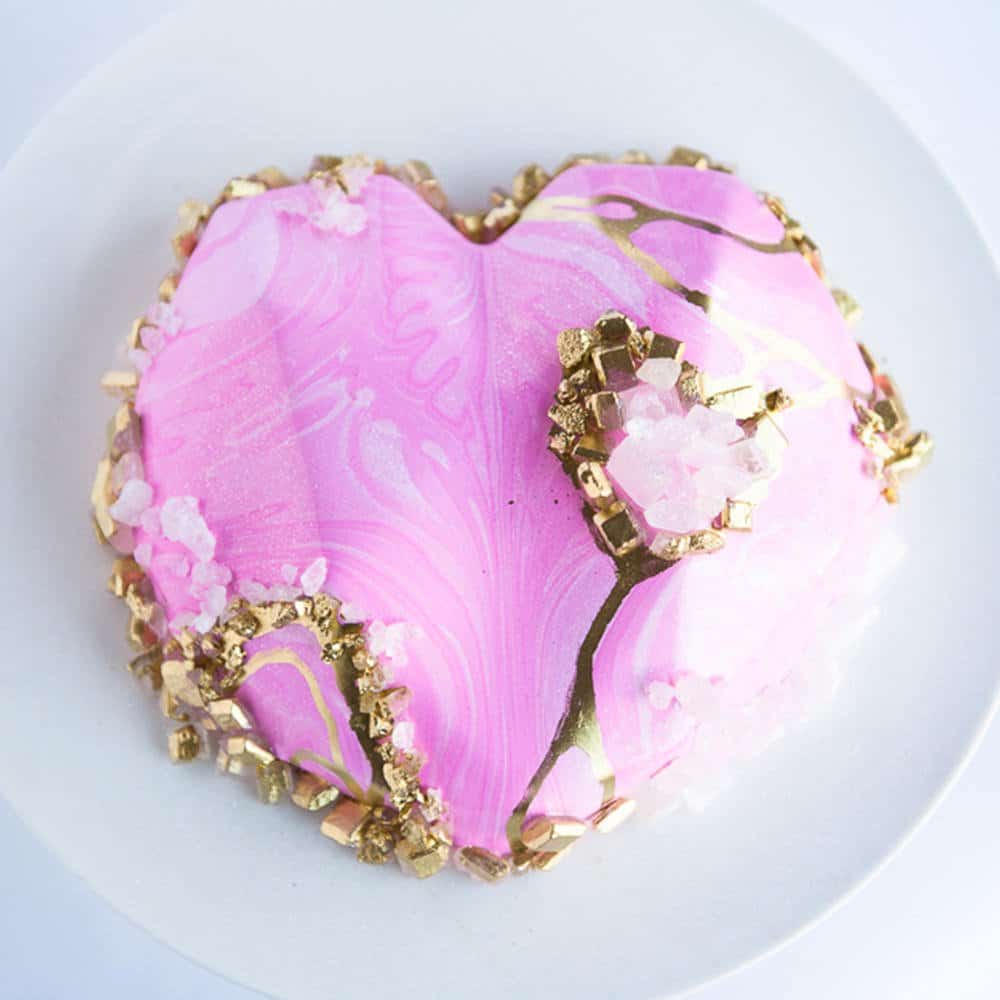 Ingredients
Chocolate Joconde (for one heart)
50

grams

almond flour

42

grams

powdered sugar

12

grams

cake flour

1

large

eggs

1

whole

egg whites

7

grams

sugar

17

grams

melted butter

4

grams

cocoa powder
Chocolate Honey Mousse
3

oz

dark chocolate

1.5

oz

honey

1

large

egg yolk

½

teaspoon

dark rum

5.5

oz

heavy cream
Mirror Glaze
150

grams

sugar

100

grams

sweetened condensed milk

2.5

oz

water

16

grams

powdered gelatin

2

oz

water

180

grams

white chocolate

1

tablespoon

White food coloring
Instructions
Joconde Instructions
First you need to preheat your oven to 425ºF/230ºC.

Sift together your almond flour, sugar, and flour so you don't have any lumps.
Then you should blend in the egg into the flour until smooth.
In a separate bowl, whip egg whites to soft peaks and slowly add sugar. Continue whipping to firm moist peaks. If they start crumbling you have over-whipped your egg whites and there isn't any way to save them. 
Then fold your meringue into mixture until just combined. Make sure you don't over mix it or get too rough and break down all the air you built up in your batter or you'll have a very flat cake. 
Slowly whisk in the melted butter and chocolate mixture.
Finally, spread the mixture onto your prepared silicone mat or cake pan and bake for 8 minutes. Make sure you don't over bake your cake.
Once your cake is cooled, sprinkle a thin layer of granulated sugar over the surface of the cake and cover with plastic wrap. Let sit overnight in the fridge. The sugar will dissolve into the cake as a result, the cake will stay moist even if it's exposed to air. Cool huh!

Mousse Instructions
Place your chocolate in a heat proof bowl over a pot of simmering water to melt.

Bring your honey just to a boil and remove from the heat

Place your egg yolks into a large heat proof bowl. Add ⅓ of your hot honey and whisk until smooth. Then add in the rest of your honey and whisk until egg yolks are thickened

Add your egg mixture to the melted chocolate and whisk to combine

Whip up your heavy cream to soft peaks and gently fold into your chocolate base until no streaks are present

Pour into molds and freeze
White Mirror Glaze
Add the sugar, sweetened condensed milk, and first quantity of water to a medium-sized saucepan and heat over medium-low heat, stirring occasionally.

Pour the second quantity of water into the powdered gelatin and mix with a spoon. Leave to fully absorb for a few minutes.

When the sugar, milk and water mixture begins to simmer, remove from the heat and add the bloomed gelatin. Stir until the gelatin has dissolved.

Pour the hot liquid on top of the chocolate chips and leave to sit for 5 minutes to melt.

Use a whisk to stir the glaze until the chocolate has completely melted.

Add the white food coloring and mix with immersion blender until well-mixed. Pass the glaze through a fine strainer to remove lumps. Leave the glaze to cool.

Once the glaze has cooled to 90º F / 37º C, pour it over the frozen cake which is on top of a cup, sitting on a tray or plate with a edge to catch the drips.

Leave the glaze to set for 5 minutes before using a hot knife to remove the drips.

Transfer the cake to a plate and enjoy right away or refrigerate until you need it. Keep in mind that mirror glaze loses it's shine after 24 hours so if you're making this for a client, glaze the same day as delivery.
Nutrition
Serving:
1
g
|
Calories:
972
kcal
|
Carbohydrates:
115
g
|
Protein:
16
g
|
Fat:
52
g
|
Saturated Fat:
27
g
|
Cholesterol:
179
mg
|
Sodium:
154
mg
|
Potassium:
437
mg
|
Fiber:
4
g
|
Sugar:
104
g
|
Vitamin A:
895
IU
|
Vitamin C:
1.1
mg
|
Calcium:
241
mg
|
Iron:
3.7
mg