Giant gingerbread man cookie that is soft and chewy on the inside and a whole lot of fun on the outside
My husband Dan is only slightly addicted to gingerbread cookies. I actually had no idea until one day I went to go get one for myself from the latest batch and they where all gone! The betrayal! We made a little joke about it but it was pretty awesome seeing that he liked them so much! Nothing feels better than baking up some goodies to be devoured by those you love!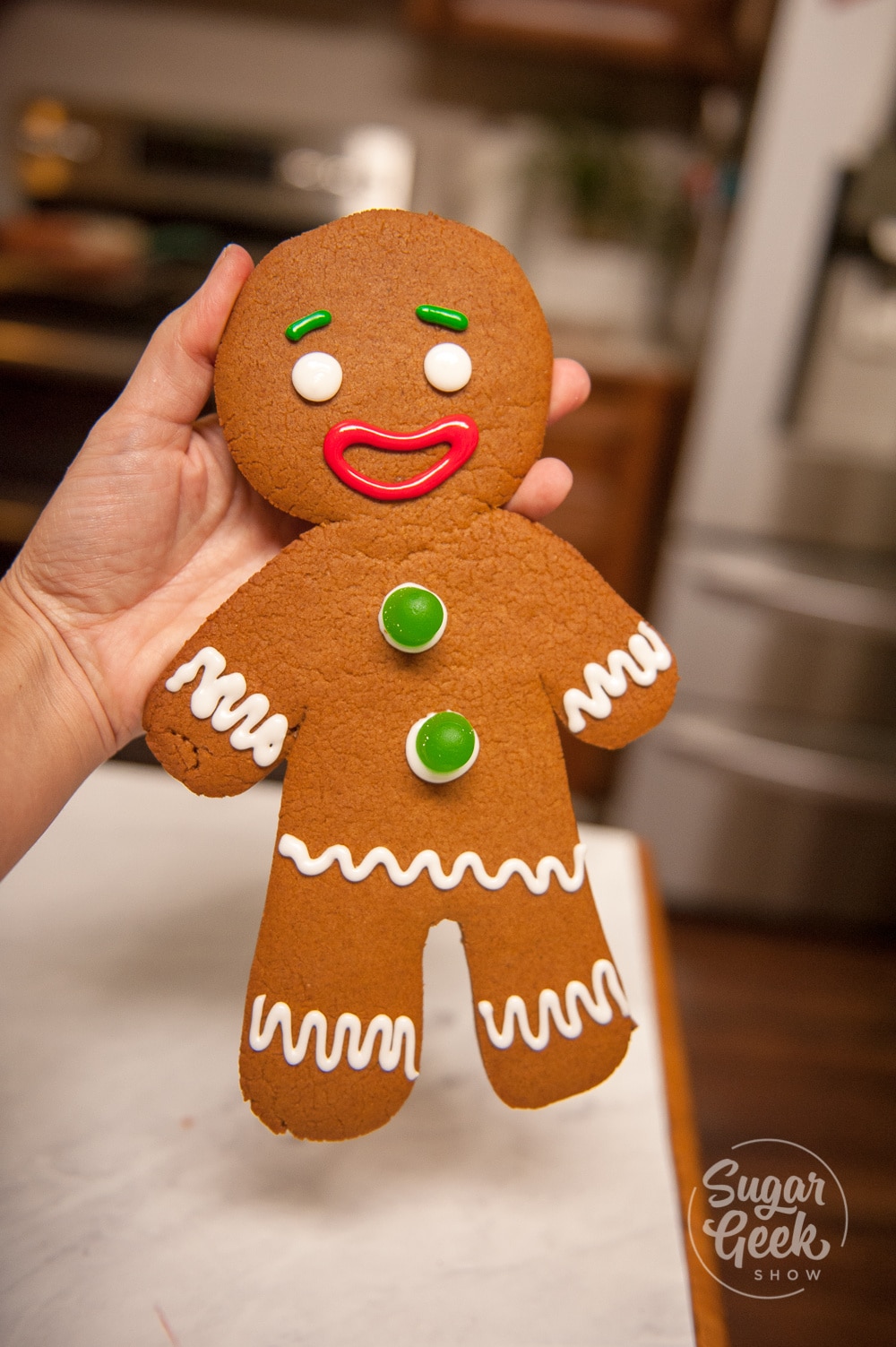 This gingerbread man cookie bakes up nice and soft and chewy on the outside but firm enough that it can easily hold it's shape. I like to decorate my giant gingerbread man cookie with royal icing and some gumdrop buttons.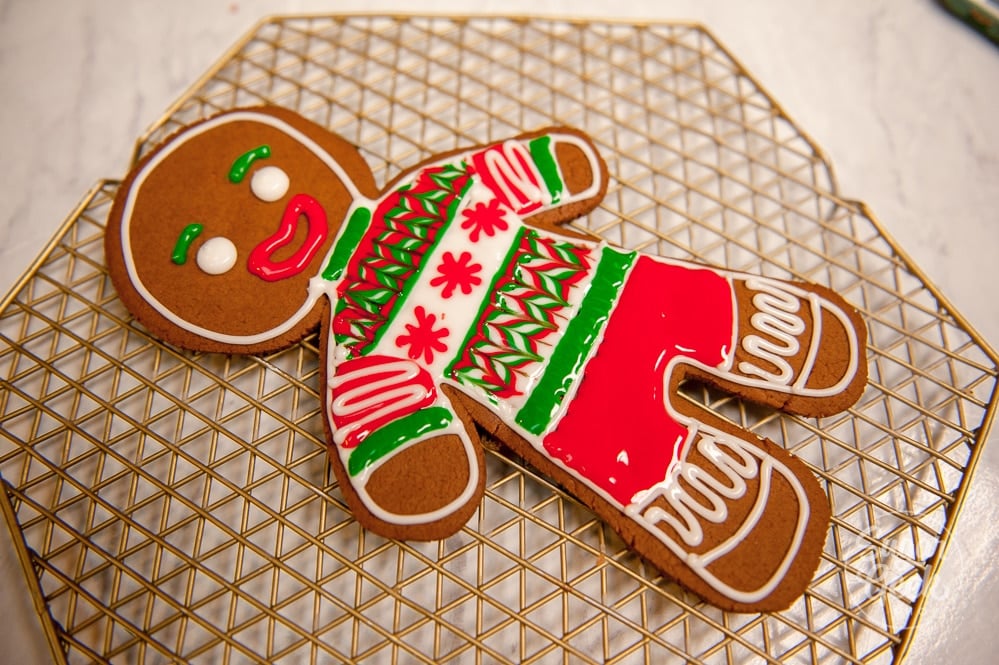 Or you can take it up a notch and use your royal icing to make an awesome ugly sweater ensemble. Don't pretend like you don't want to, I know you do 😀
How to make a giant gingerbread man cookie
To make the giant gingerbread man cookie, I start off with a batch of my gingerbread cookies dough and my free gingerbread man template.

Roll your dough out to about ¼-1/2" thick and use the template to cut out a couple of gingerbread men. I like to do this on top of the parchment paper so they are easier to move. You can use the leftover scraps to make more gingerbread men if you like.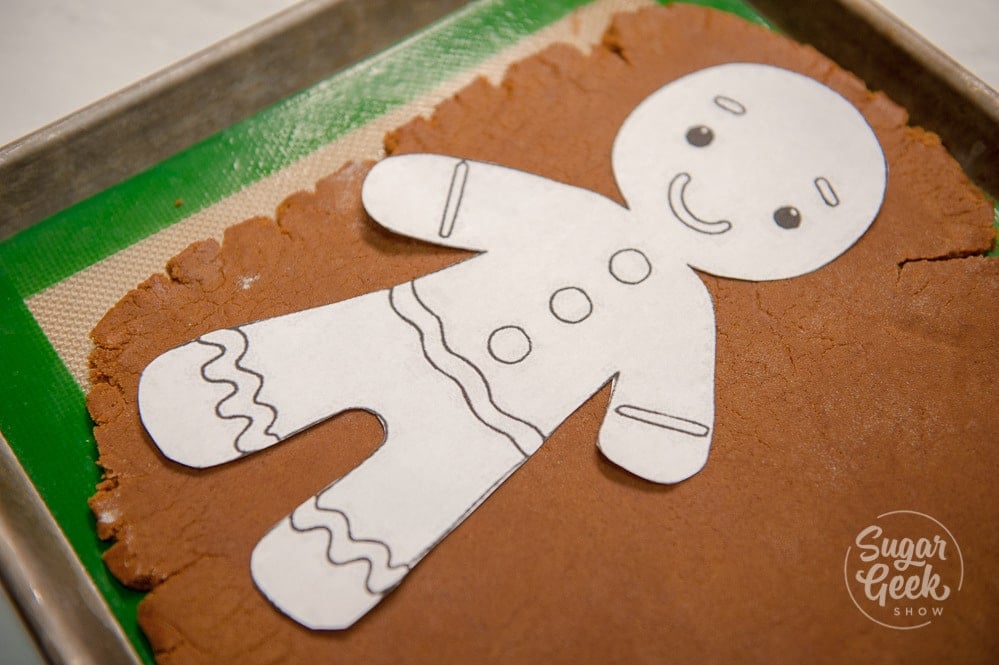 Bake your giant gingerbread man for about 14-18 minutes. Longer for thicker cookies then let them cool completely before you remove them from the parchment paper to prevent any premature crumbling of your cookies.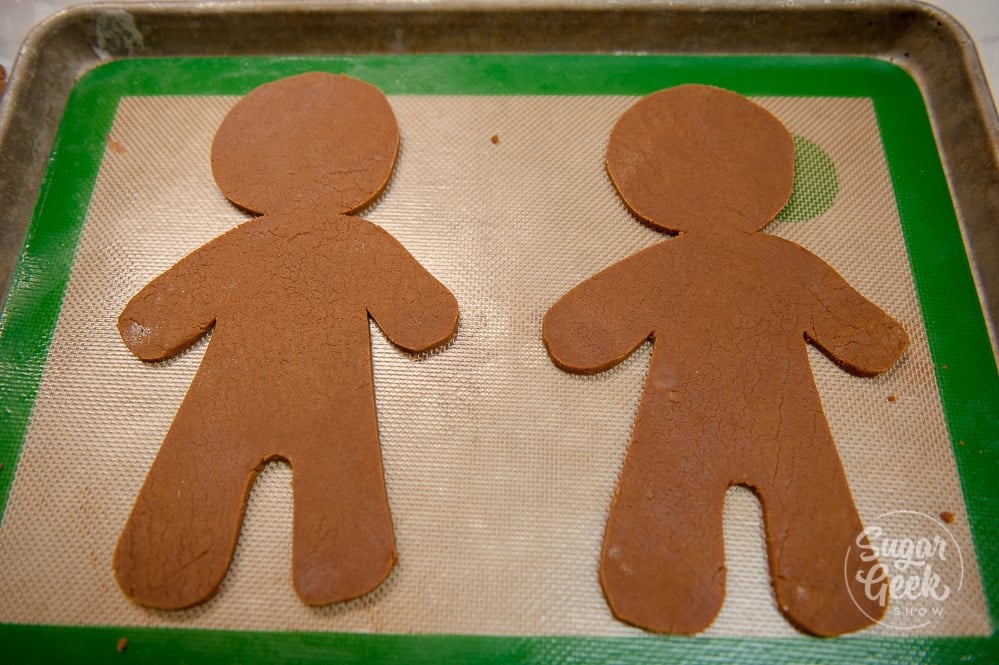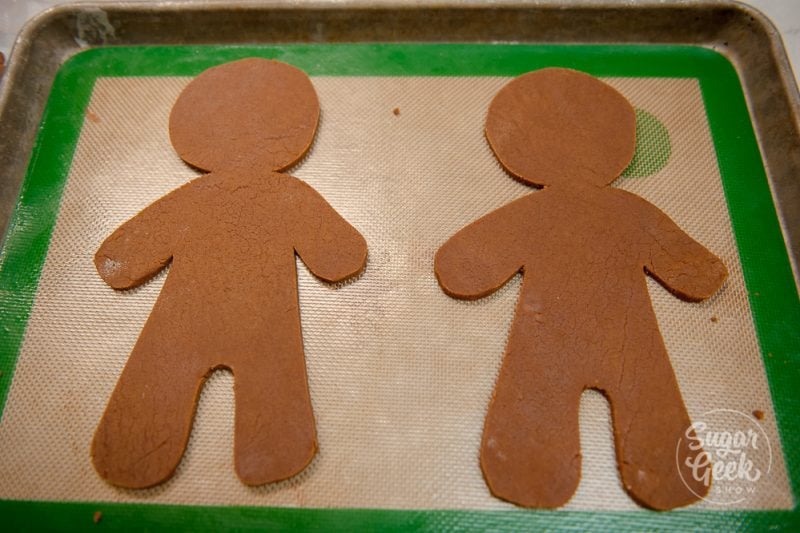 Once cool, you can decorate your giant gingerbread man however you like! Here's a really simple way to decorate yours the way I did mine.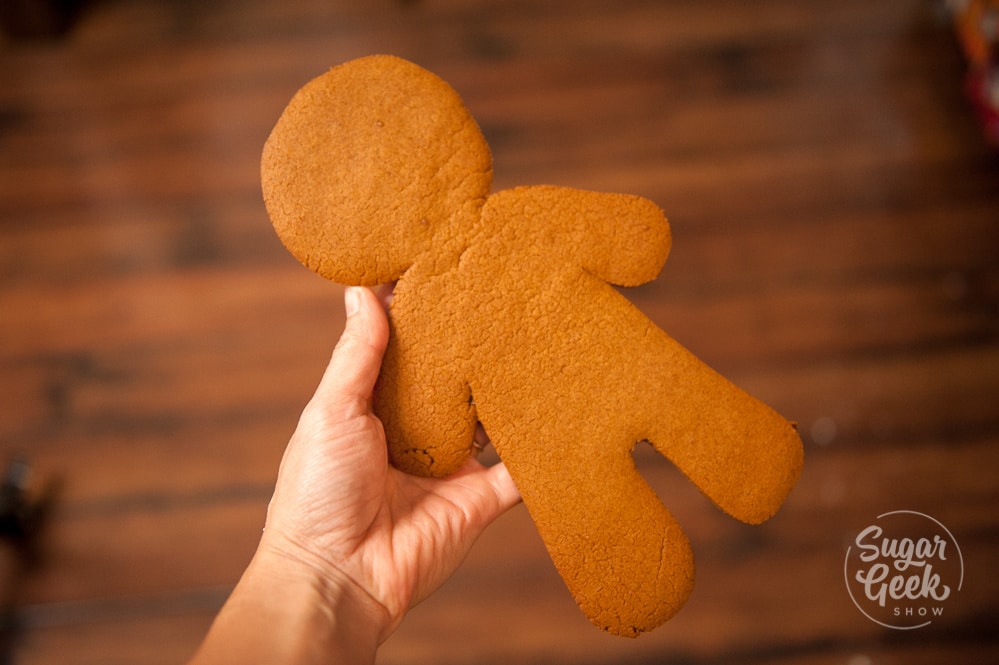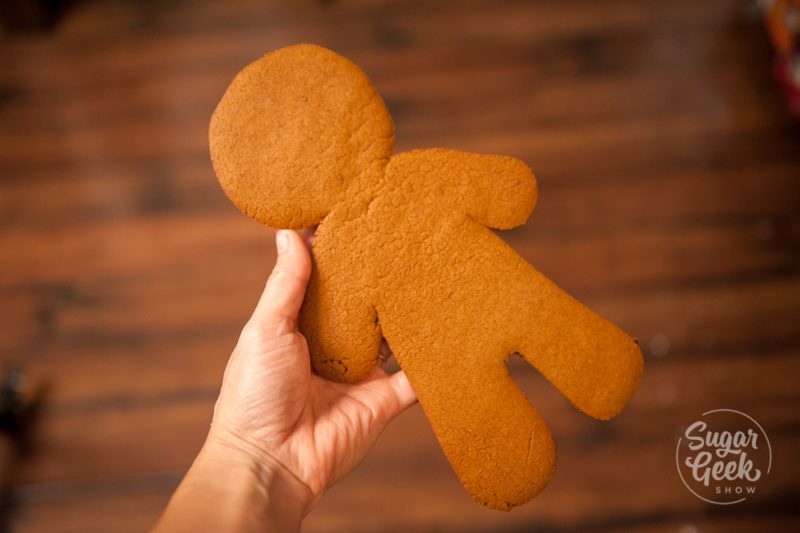 How to decorate a giant gingerbread man cookie
First I thin down some royal icing to the consistency of top glazing so I don't have to fuss around with piping and flooding and I can get right to the fun part. I use a #2 piping tip and a piping bag and fill it with a few spoonfuls of the royal icing.
I start by piping a little squiggle on the arms, legs and through the middle of the gingerbread man. Then a couple of dots in the center to glue on the gumdrop buttons.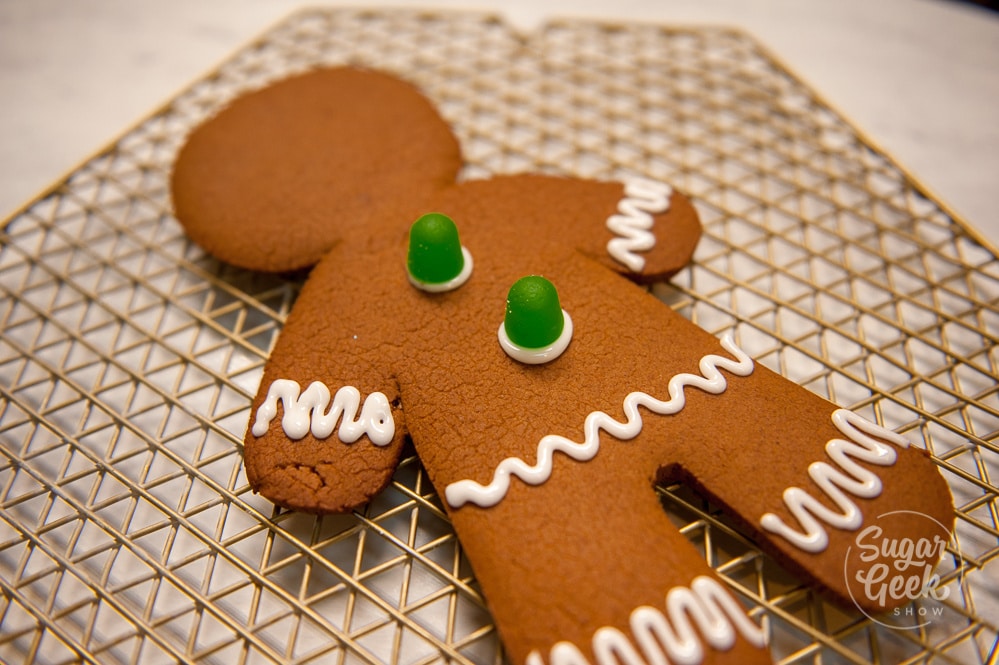 All that's left is to pipe a couple of eyes. I color a tiny bit of the royal icing red and green for the mouth and then for the eyebrows. All done! Isn't he so cute!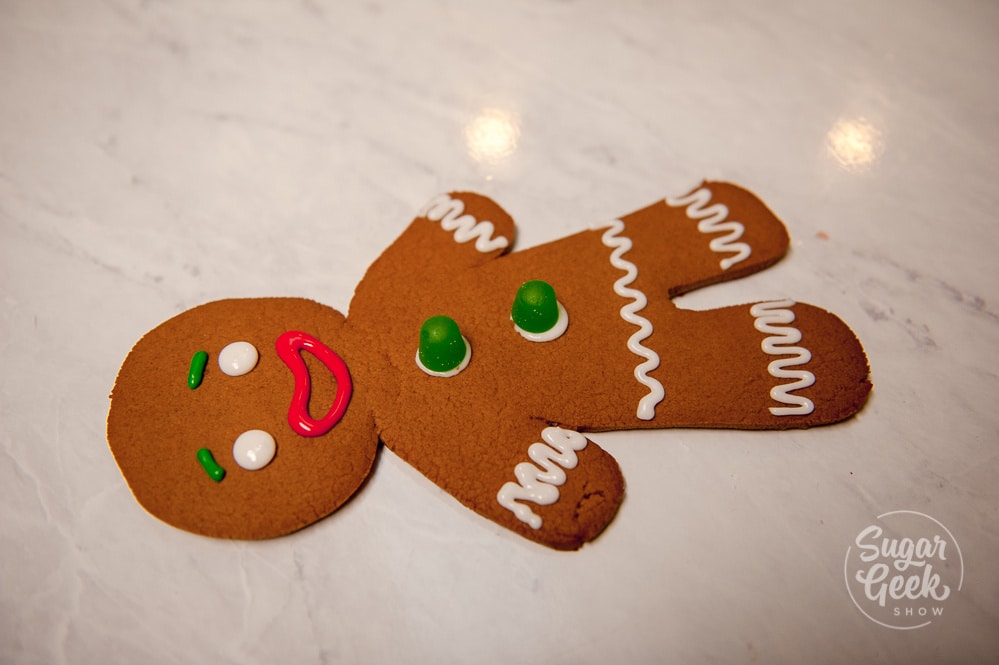 Giant gingerbread man cookie with ugly sweater
Ok so I had a ton of royal icing left and wanted to challenge myself a bit so I went a little crazy and made a giant gingerbread man cookie with an ugly Christmas sweater! So fun!
I started out by taking the same white royal icing in the #2 piping tip and outlined the whole cookie. Then I added a collar, cuffs and a hem.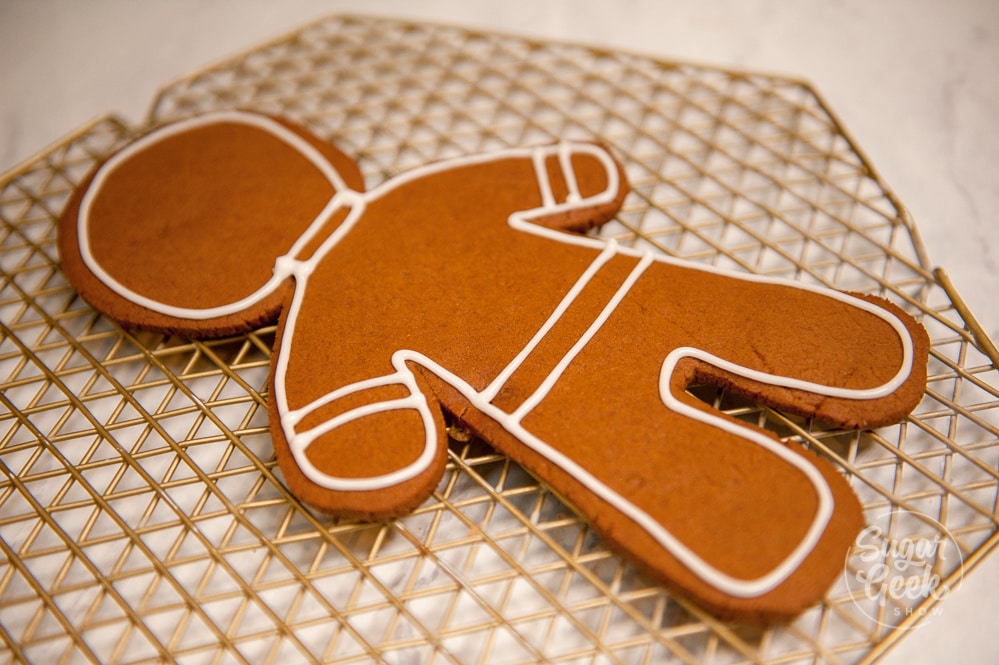 I piped some of my green into all the spaces for the collar, cuffs and hem. This is seriously so easy, I have zero piping skills but this is like color by number.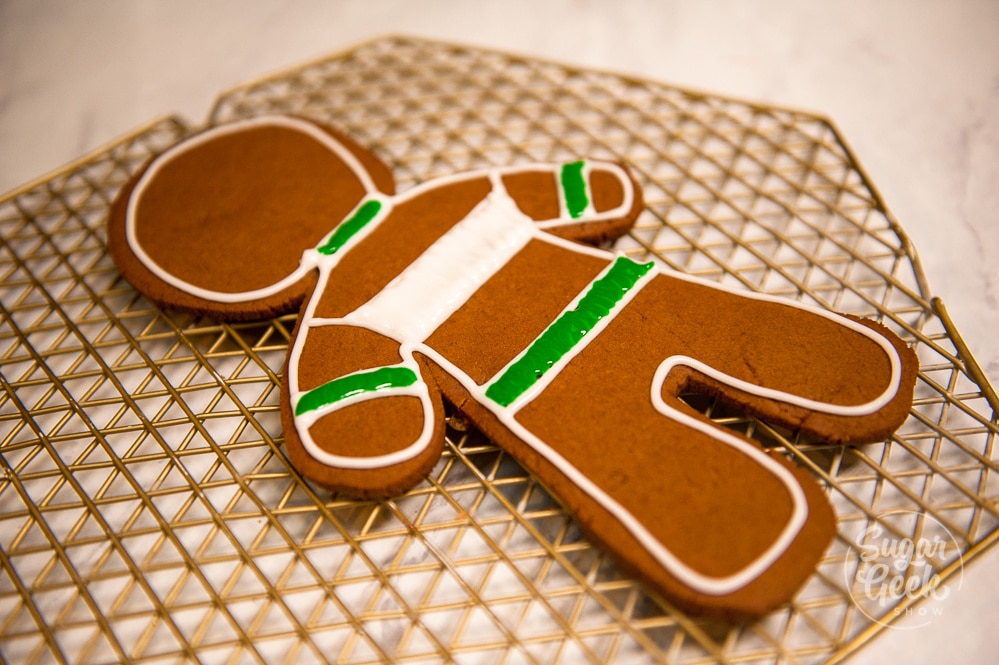 Next I made a rectangle of white in the center of the sweater and outlined it with a stripe of the red royal icing and the green royal icing. I filled the sleeves in with the red as well. Then I piped some little crude snowflakes into the white rectangle.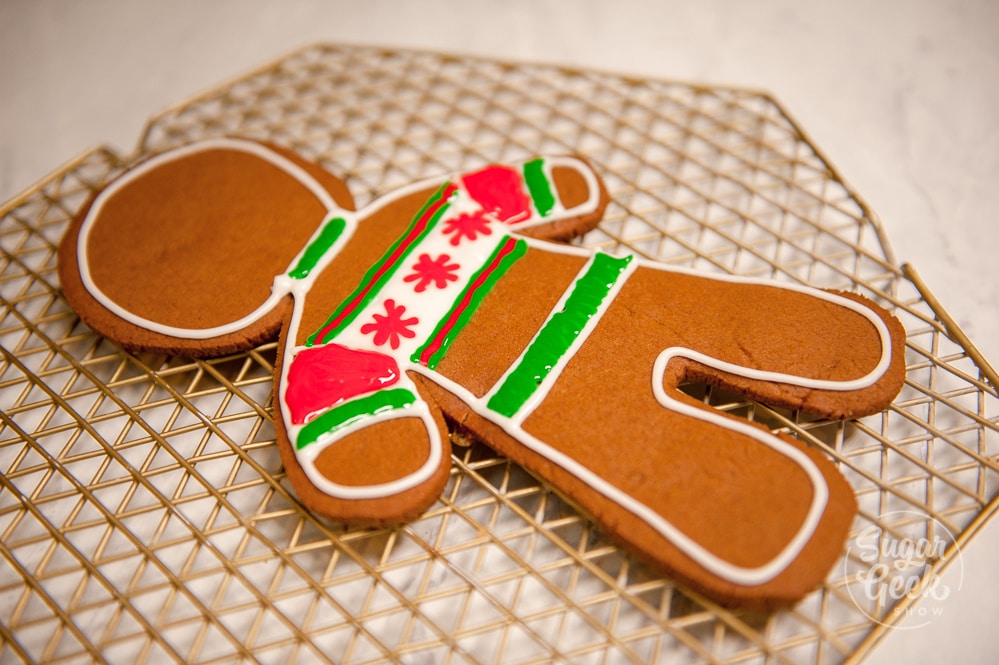 Continue the stripes of red, green and white above and below the white rectangle until the space is filled. Use a toothpick to drag lines through the icing to create the knit look (see video). Add pants if you felt like your gingerbread man was a little naked (Like I did) and you're all done!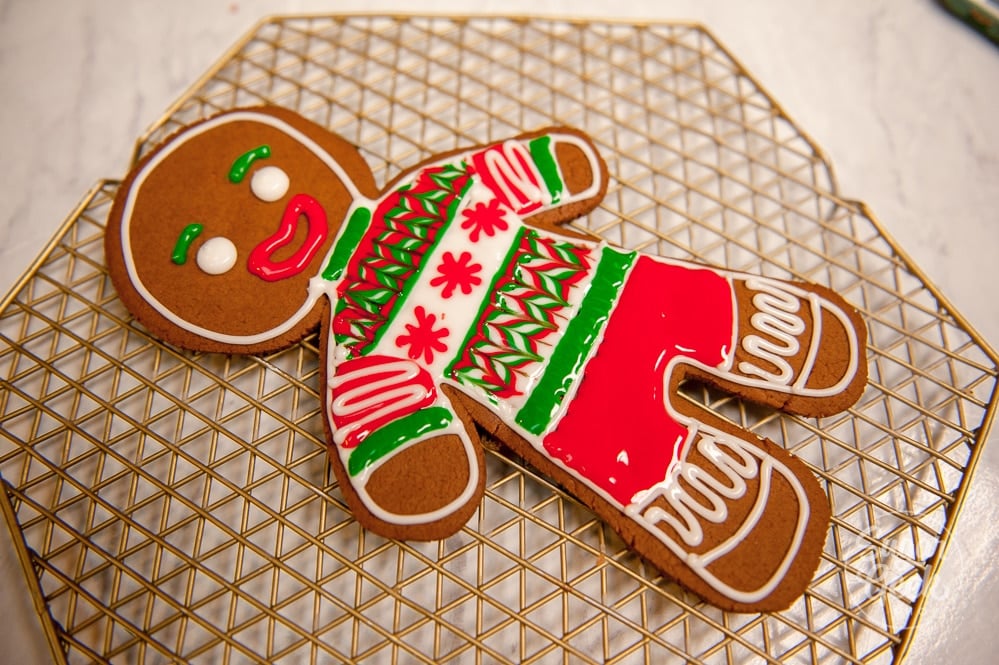 I personally love the sweet flavor of royal icing on cookies so for me the more decorated gingerbread man tastes better and sure is a lot of fun!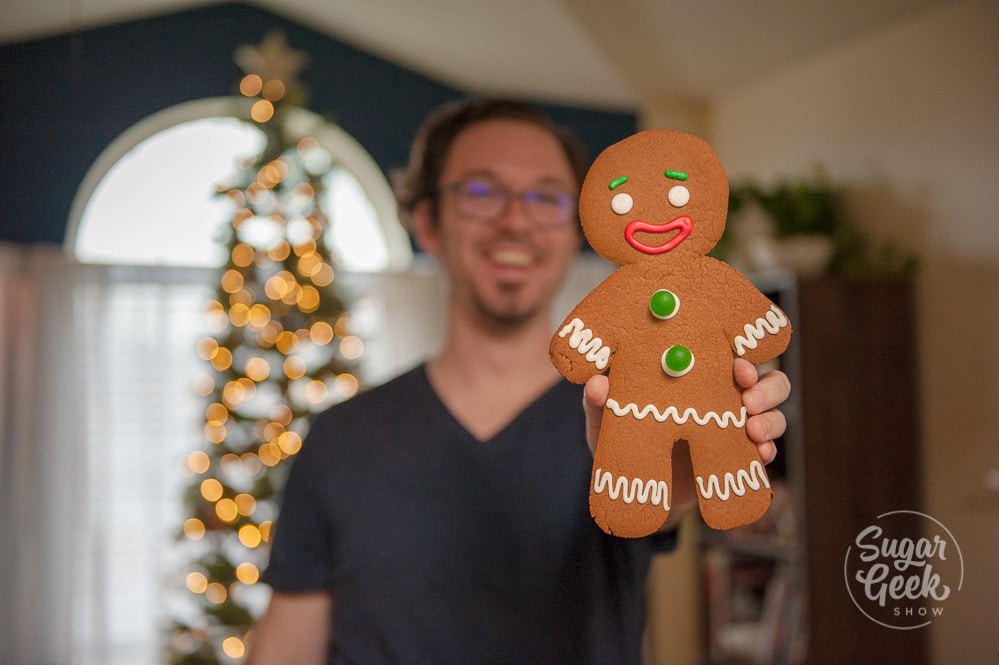 Want more gingerbread fun? Check out our gingerbread man cake tutorial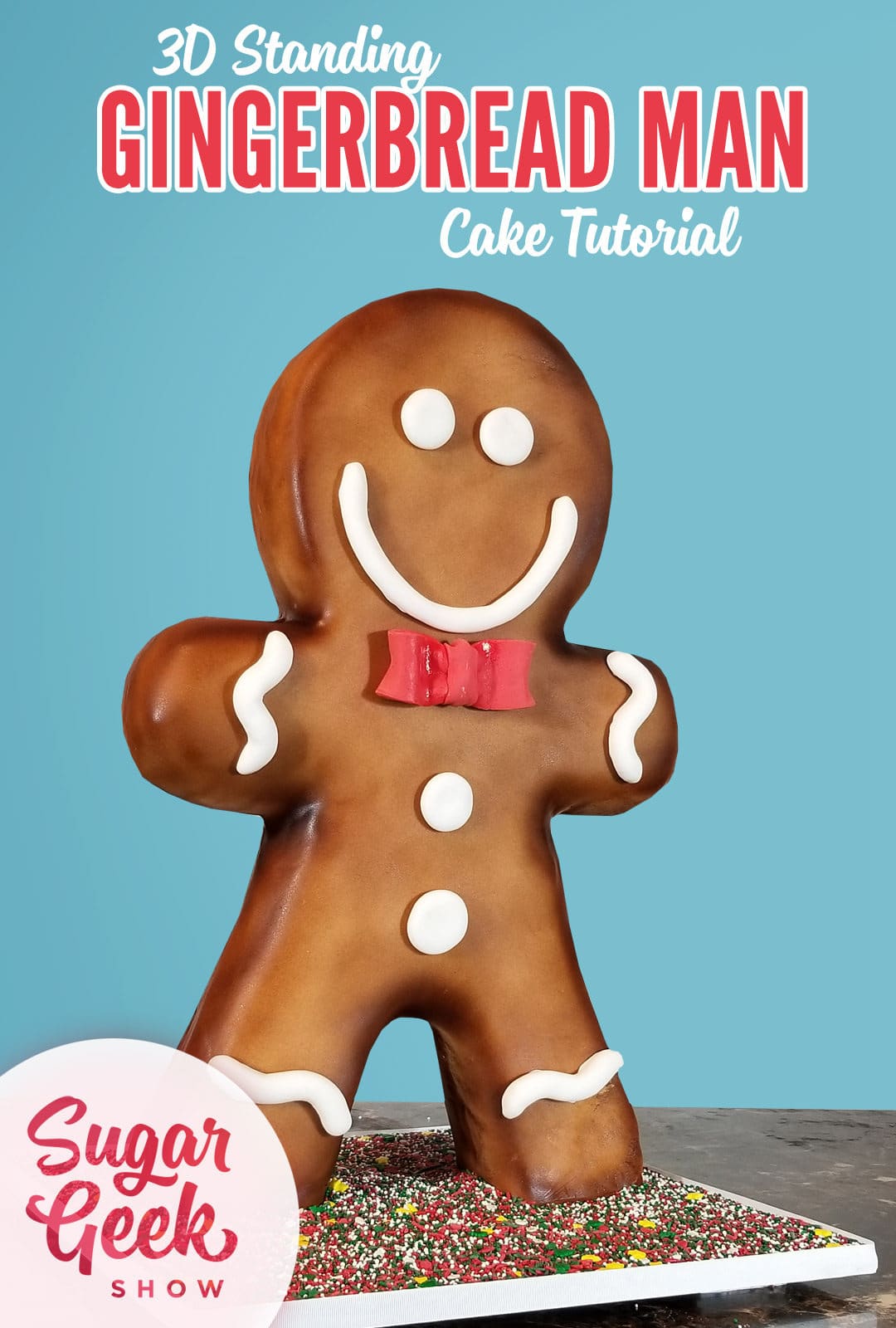 Recipe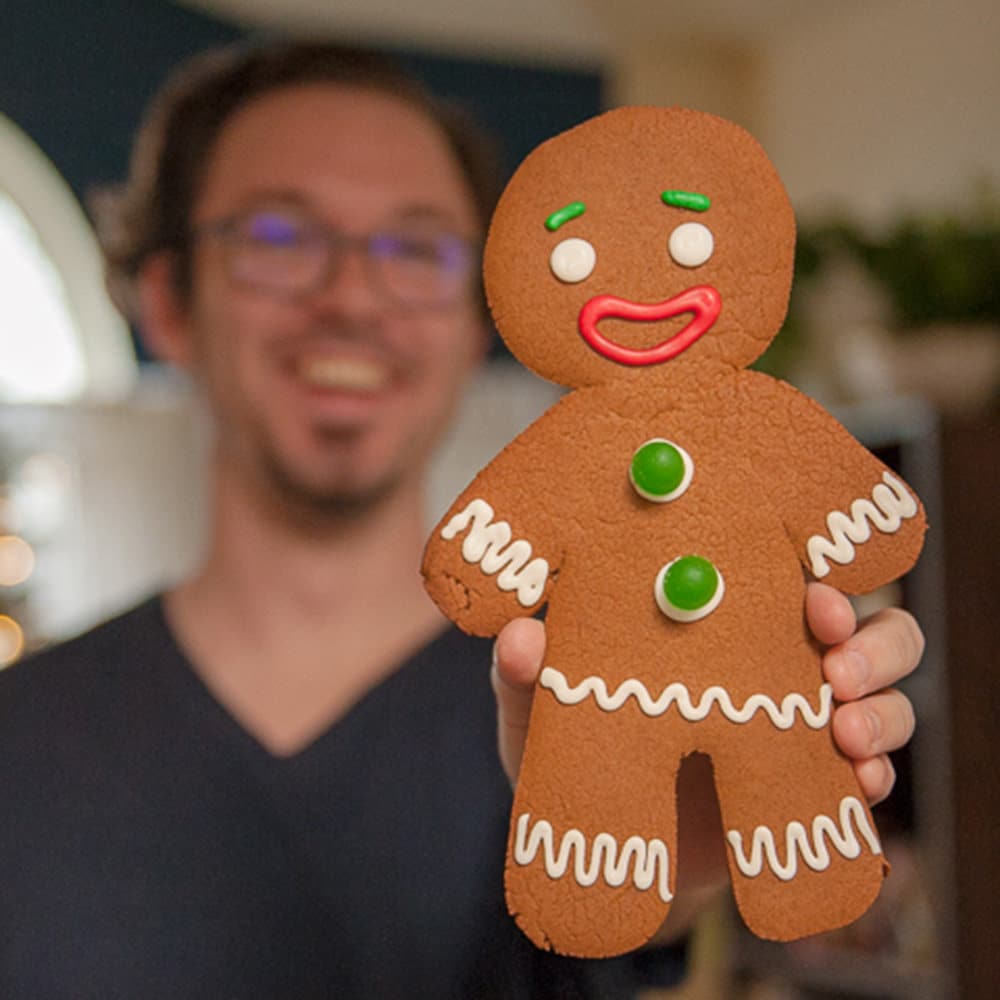 Ingredients
20

oz

AP flour

1

teaspoon

baking powder

½

teaspoon

baking soda

2

teaspoon

cinnamon

1

teaspoon

powdered ginger

½

tsp

nutmeg

¼

tsp

cloves

1

teaspoon

salt

7

oz

unsalted butter

5

oz

brown sugar

8

oz

molasses

1

large

egg
Instructions
Preheat oven to 350ºF

Whisk together your flour, baking powder and baking soda. Set aside.

Melt butter and add to your stand mixer. On low add in brown sugar, molasses, salt, cinnamon, ginger, nutmeg and cloves and mix until combined, let cool for a few minutes.

In the bowl of your stand mixer, once the mixture has cooled to about room temperature, add in the egg and whisk until combined.

Switch to your paddle attachment and add in your flour mixture. Mix until your dough starts to form. Dough will still be slightly sticky.

Divide dough in half, form into a rectangular shape and wrap tightly with plastic wrap and place in fridge for at least 1 hour.

Once the dough has been chilled. Roll out dough to ¼"-½" thickness on a clean, floured surface. The thinner you roll your dough, the crisper the cookies will be. If your dough gets sticky, you may need to re-flour your dough (both sides) as you go.

Cut your cookies out using the giant gingerbread man cookie template

Bake on a parchment lined cookie sheet for 14-18 min or until the edges are slightly brown.

Let cool completely for several minutes before removing from cookie sheet and placing them on a cooling rack to completely set.

Decorate your cooled cookies!
Notes
Making gingerbread men cookies can be so fun! Just make your dough, bake your cookies and then frost details with royal icing! No special piping skills required. I used a piping tip #2 and a piping bag and red, black and green food color gel from americolor. 
Nutrition
Serving:
1
cookie
|
Calories:
797
kcal
|
Carbohydrates:
125
g
|
Protein:
11
g
|
Fat:
28
g
|
Saturated Fat:
17
g
|
Cholesterol:
102
mg
|
Sodium:
531
mg
|
Potassium:
789
mg
|
Fiber:
3
g
|
Sugar:
51
g
|
Vitamin A:
870
IU
|
Calcium:
169
mg
|
Iron:
6.7
mg