Learn how to make this delicious and decadent coconut pecan filling that pairs perfectly with german chocolate cake. This is one of the first fillings I ever learned to make from scratch. My Dad's favorite cake was German Chocolate Cake. Every year for his birthday, my sisters and I would bake up a nice Box Cake and slather on some of that pecan canned frosting. My dad loved it. I loved it too until I made it from scratch. OMG I can never go back. Sorry Dad.

Cake Batter and Frosting Calculator
Select an option below to calculate how much batter or frosting you need. Adjust the servings slider on the recipe card to change the amounts the recipe makes.
Choose a pan type
Choose a cake pan size
(based on 2" tall cake pan)
Choose a cake pan size
(based on 2" tall cake pan)
Choose a cake pan size
(based on 2" tall cake pan)
Cups of Batter Needed
8 cups
Cups of Frosting Needed
5 cups
Recipe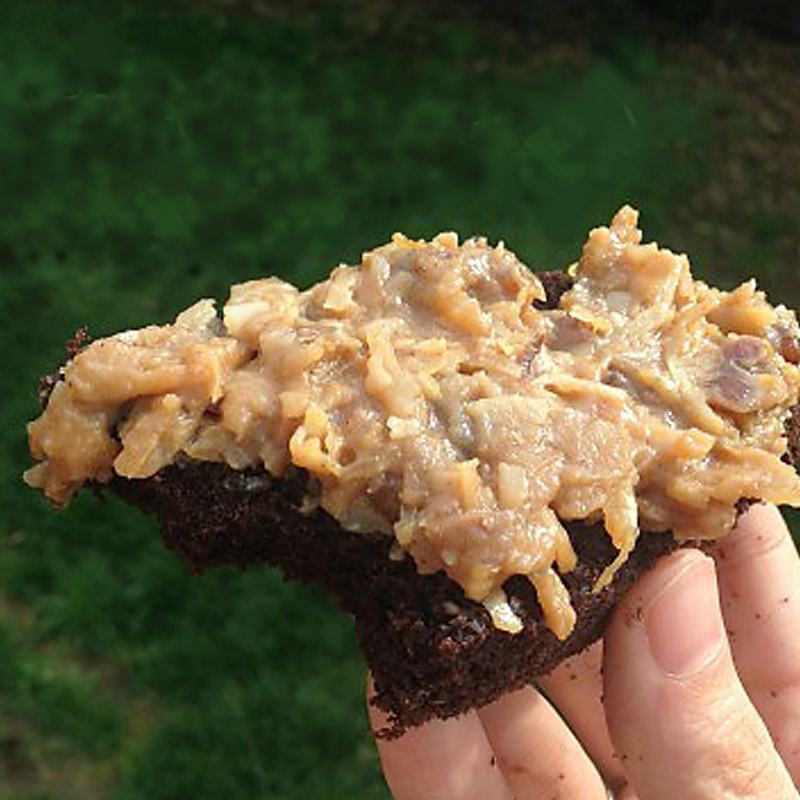 Servings: 4 cups
Calories: 1805kcal
Ingredients
12 oz whole milk
4 oz half and half or cream
6 egg yolks
8 oz butter 2 sticks
12 oz brown sugar
2 teaspoon vanilla extract
7 oz toasted pecans chopped
8 oz toasted shredded coconut
Instructions
In a medium sauce pan, combine milk, cream sugar, butter, egg yolks and vanilla.

Cook on medium while whisking constantly until thickened and golden brown

Fold in toasted coconut and pecans to combine

Let cool to room temperature before using as a filling

Store leftovers in the fridge for up to one week or freeze for 6 months
Notes
Store in an air-tight container in the fridge for up to 7 days or freeze up to 6 months.
Nutrition
Calories: 1805kcal | Carbohydrates: 138g | Protein: 16g | Fat: 139g | Saturated Fat: 75g | Cholesterol: 464mg | Sodium: 538mg | Potassium: 843mg | Fiber: 13g | Sugar: 117g | Vitamin A: 2420IU | Vitamin C: 1.4mg | Calcium: 315mg | Iron: 4.6mg