I absolutely love this classic cake donut recipe. I grew up making cake donuts with my sisters and it brings back fond memories. You may be intimidated by making donuts from scratch but don't be! The dough is incredibly easy to mix and frying is a breeze as long as you have a thermometer or something like a fry daddy. These cake donuts are INCREDIBLY soft on the inside and crispy on the outside. Finish them off with a simple glaze, powdered sugar, chocolate glaze or cinnamon sugar.
Let's make some cake donuts together!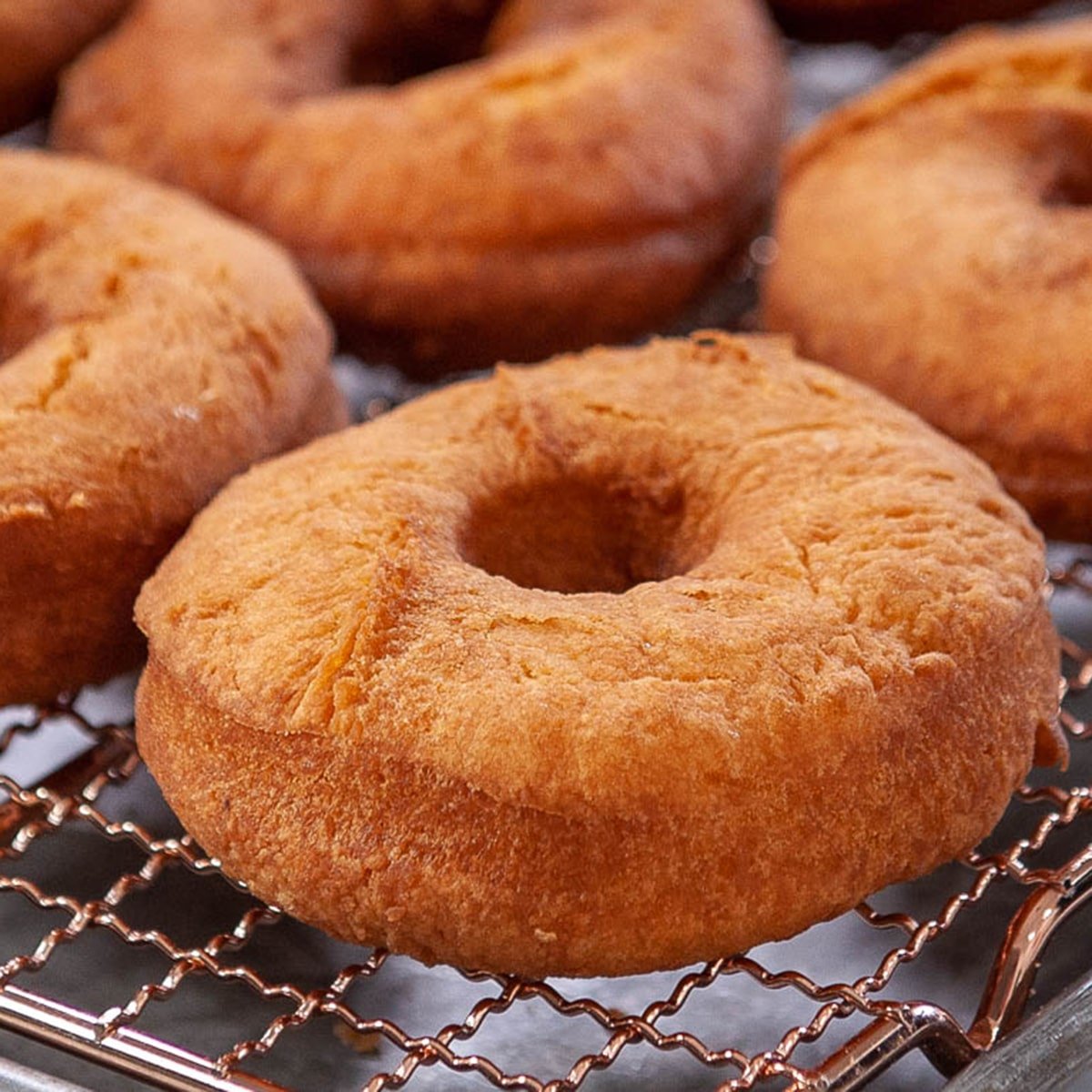 What's the difference between a cake donut and a yeast donut?
A cake donut is made from a sweet dough that is leavened with baking powder and a yeast donut is a sweet dough that is made with yeast. The dough is rolled out and then cut with a donut cutter or circular cutter and then fried. Some cake donuts are made with a very loose batter that is then extruded into hot oil to cook or piped into a donut pan and baked.
Cake donuts are a bit denser than yeast donuts and have the texture of a slice of cake. Yeast donuts tend to be fluffier and lighter than cake donuts but can be greasier (think Krispy Kreme donuts).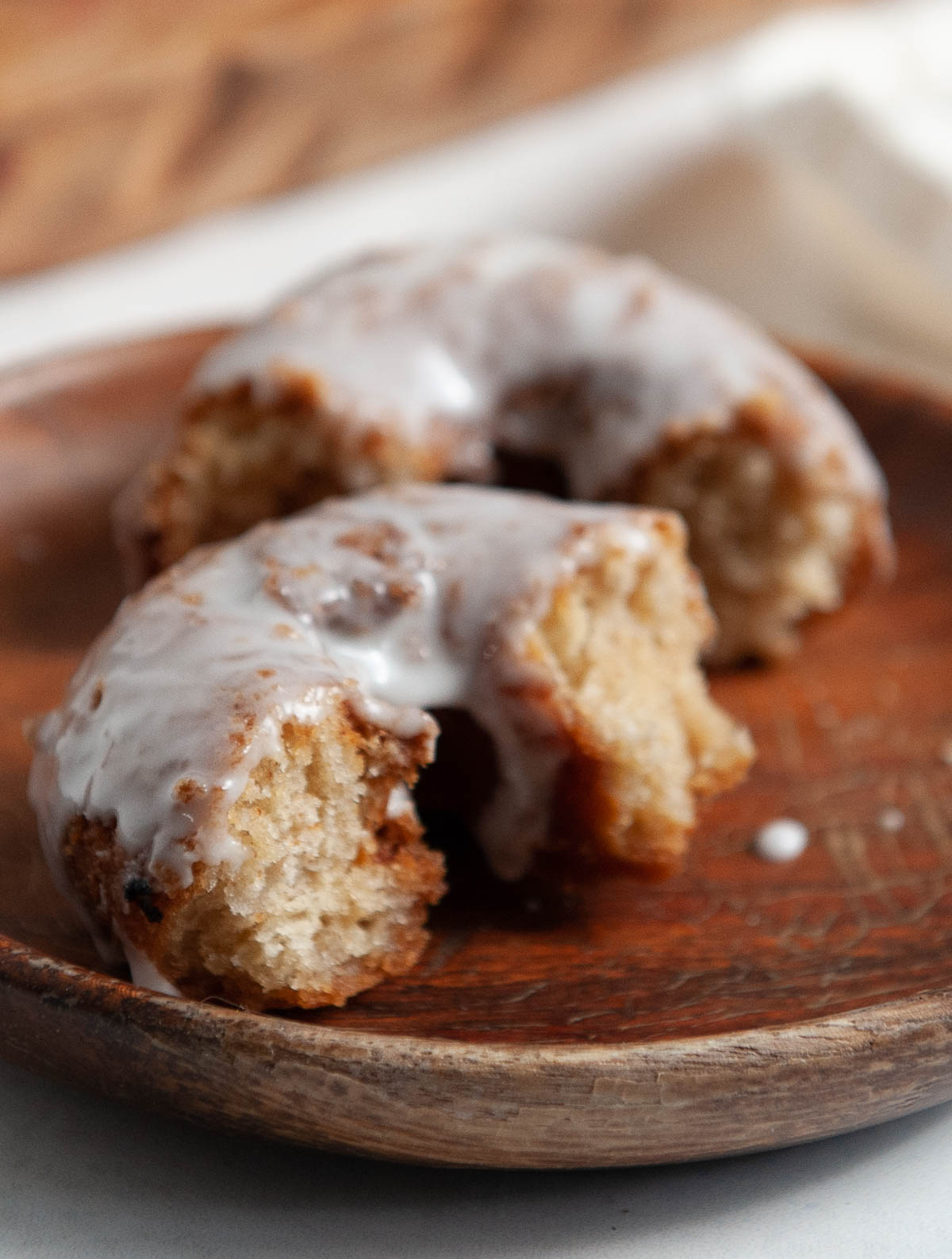 Cake Donut Ingredients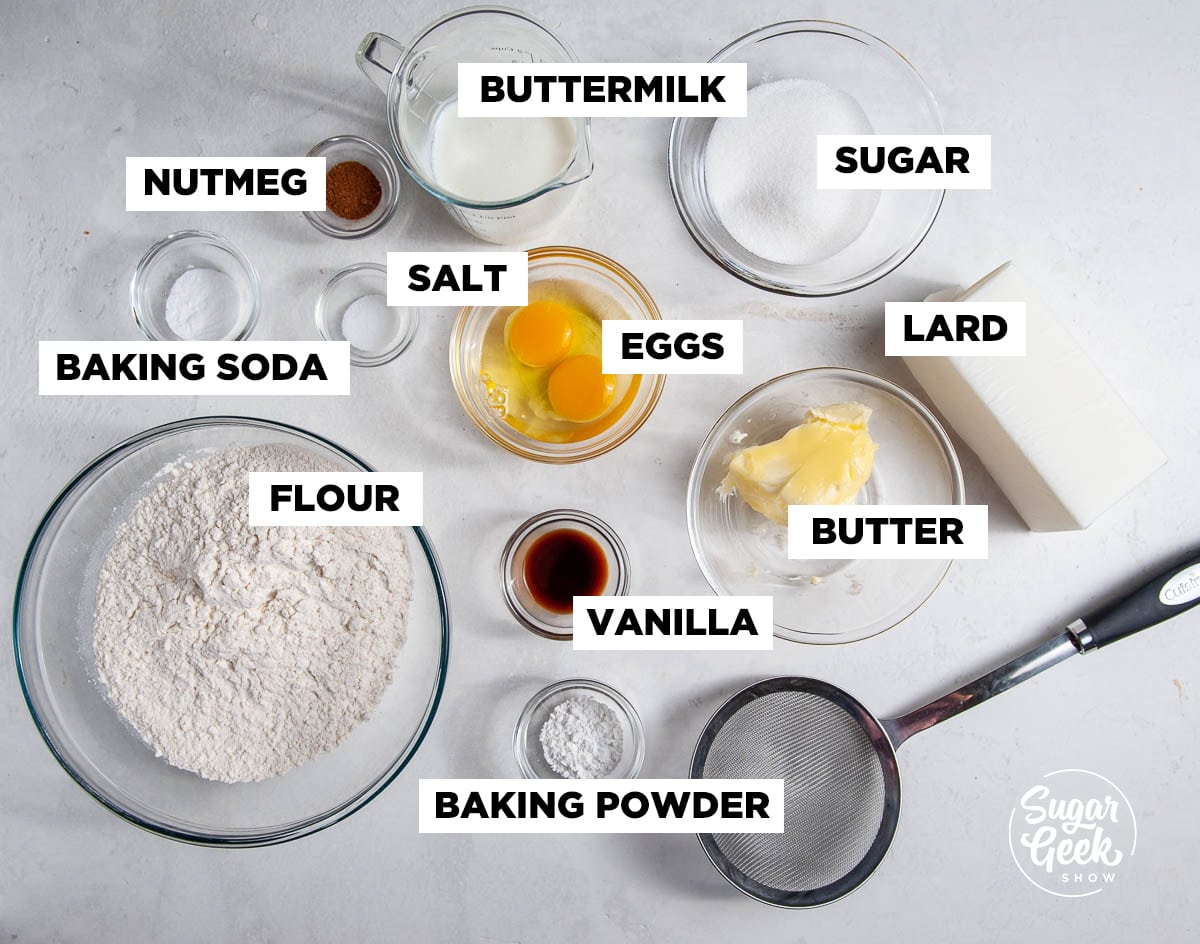 Making cake donuts is very similar to making a cake (not a big surprise there) but the batter is a bit thicker than a typical cake batter. A classic cake donut recipe MUST have nutmeg! Trust me, I forgot the nutmeg the first time around and they didn't taste right at all. Nutmeg is key.
I like to use buttermilk in my cake donuts because it makes the donuts super tender and adds flavor. If you don't have buttermilk you can make a buttermilk substitute or you can use regular milk and leave out the baking soda.
You might also be curious about the lard in this recipe so keep reading on to learn about the different types of oil to use.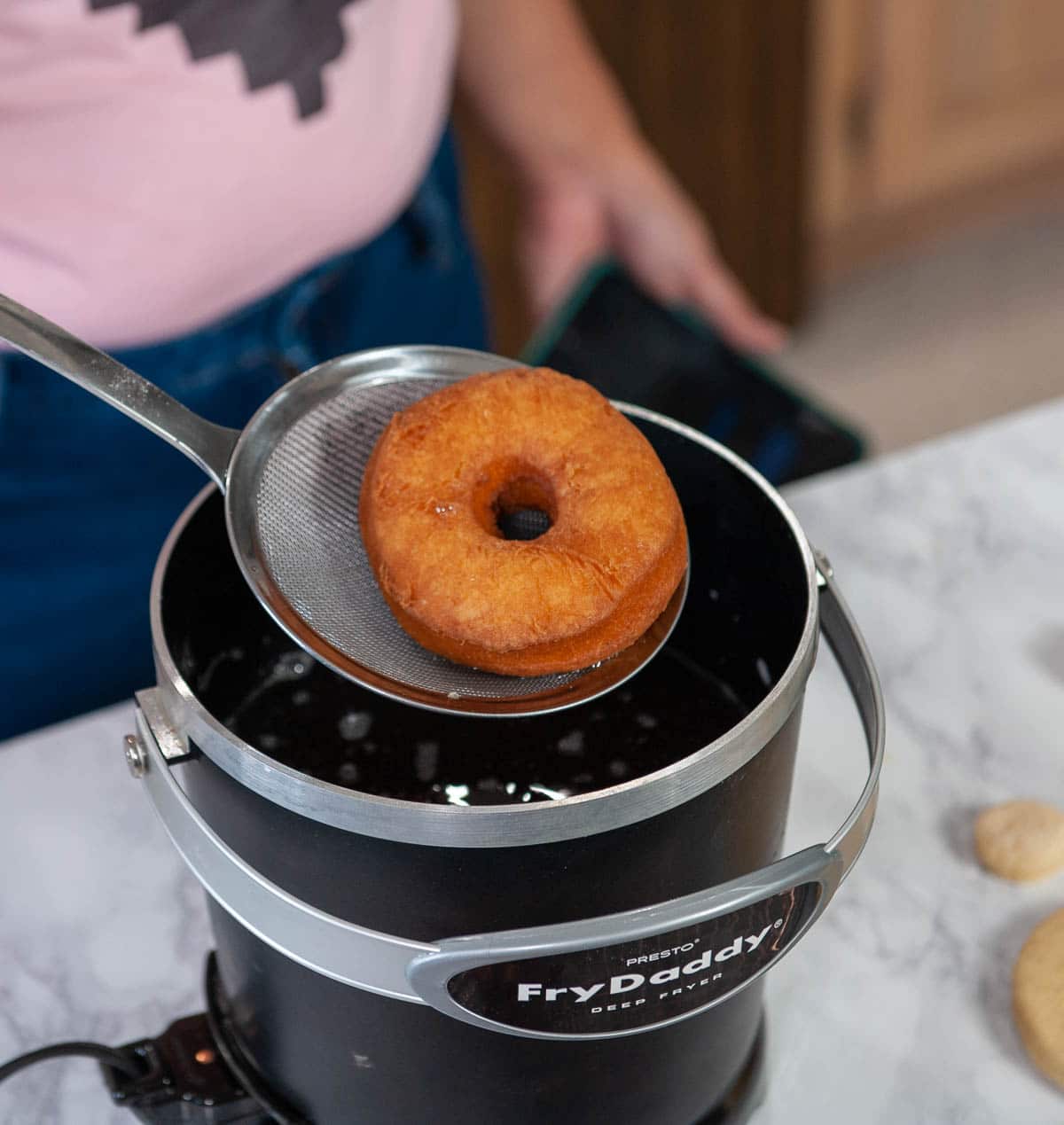 Because these donuts are fried, these cake donuts have a super crisp, delicate outer layer and an incredibly soft and delicate center. So drool-worthy. You will need a large stockpot for frying, a slotted spoon or spatula for lifting the donuts, and a cooling rack with a sheet pan for draining the donuts after cooking.
What kind of oil is best for frying cake donuts?
The best oil to use for deep frying is one that has a high smoke point and a neutral flavor. In my research I found the best oils to use are peanut oil or vegetable oil, vegetable shortening, or lard. Here are the pros and cons of each.
Vegetable oil - least amount of saturated fat, leaves an unpleasant taste on fried foods and in the air
Crisco (vegetable shortening) - Neutral flavor but is made of soybean oil, fully hydrogenated palm oil, and other additives including trans fats in small amounts.
Lard - Neutral flavor, dairy-free, higher in saturated fat than Crisco.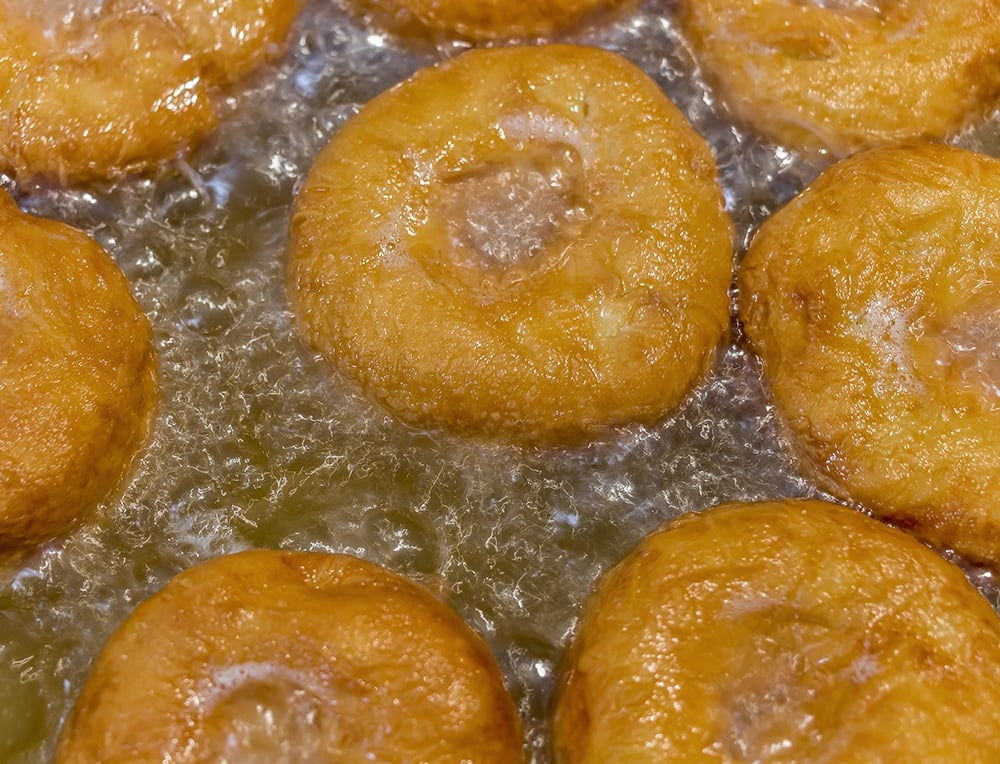 Even though lard has been demonized as "unhealthy" due to high amounts of saturated fat, the facts are, butter has 15% more saturated fat than lard. Unlike butter, lard fully drains away from baked goods leaving no water or dairy product behind, resulting in the crispiest baked goodies you've ever had. There's a reason that lard was so popular in baking before marketing made Crisco seem like a healthier alternative.
By no means should lard be considered healthy but using it to bake special treats now and then is perfectly ok and in my opinion a better alternative than using highly processed, hydrogenated oil that isn't even from vegetables.
What pot is best for frying cake donuts?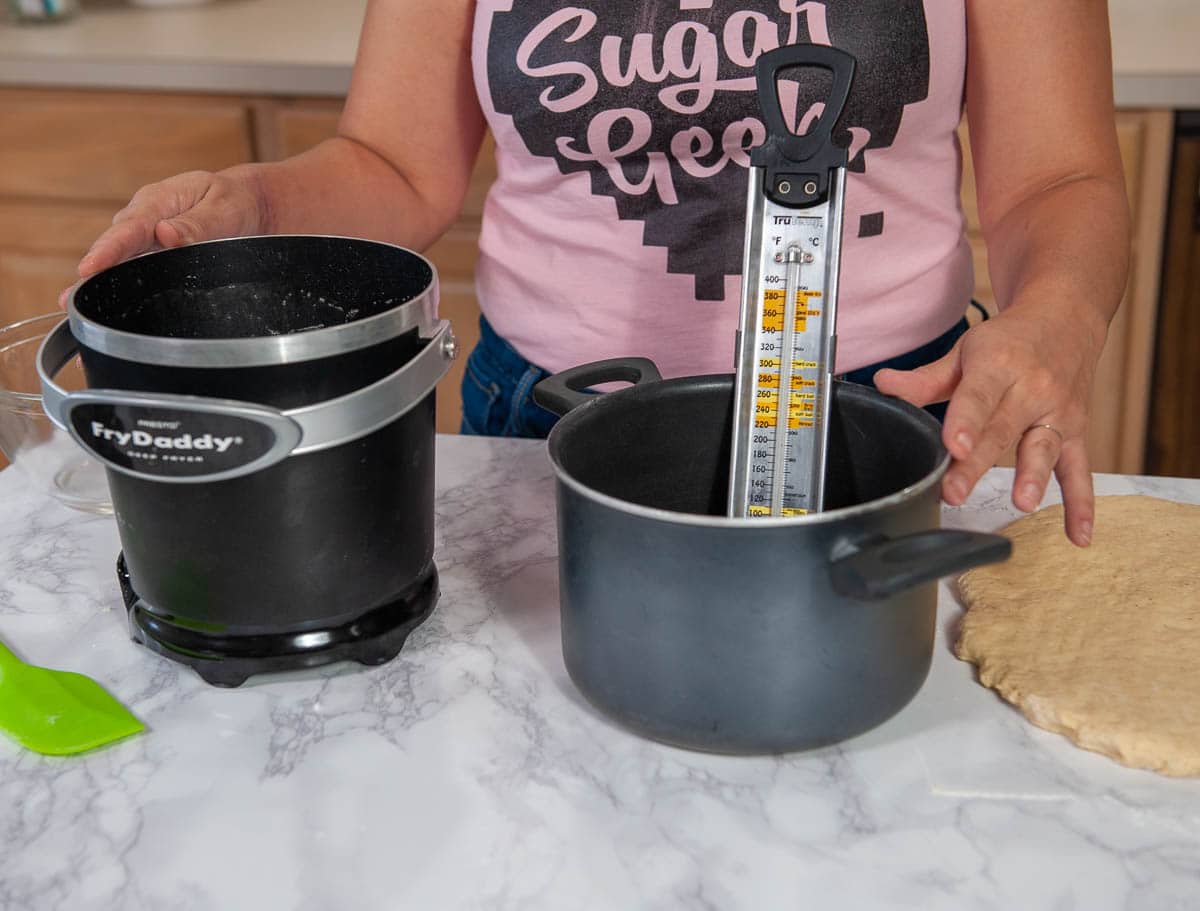 The best pot is the one you have but ideally, a heavy pot with high sides and is going to work best and reduce the risk of burns from splatter. Never fill your pot more than half full of oil. You really only need about 2" of oil to fry cake donuts.
I use a fry daddy because they are super inexpensive and make a great place to store the leftover oil after frying. Just pop the lid back on and store it away until the next use.
What temperature is best for frying cake donuts?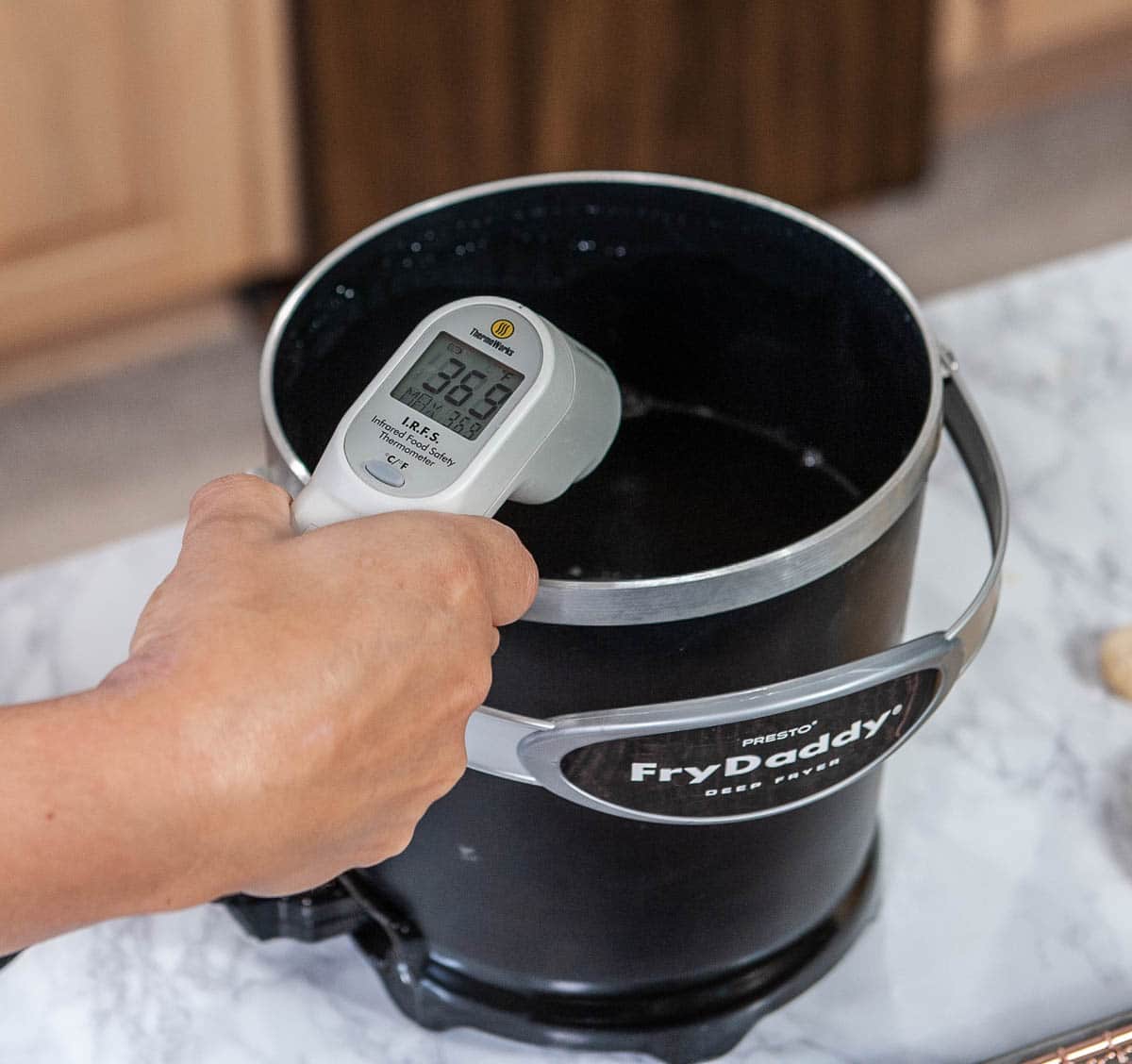 You will need 4 cups of oil to fry your donuts. Set your heat to medium and let the oil get hot for 5-10 minutes. I usually start heating my oil after my dough is resting and ready to cut.
Donuts of all kinds fry best at a temperature between 360ºF-375ºF (182ºC-190ºC). You can save yourself a lot of headaches by using a candy thermometer or infrared heat thermometer to measure the temperature of your oil.
If you don't have a thermometer, you can test your oil by dipping the handle of a wooden spoon or wooden chopstick into the oil. If it starts bubbling right away, it's ready. If it bubbles very violently or you see smoke, your oil is too hot. If it doesn't bubble at all, it's too cold.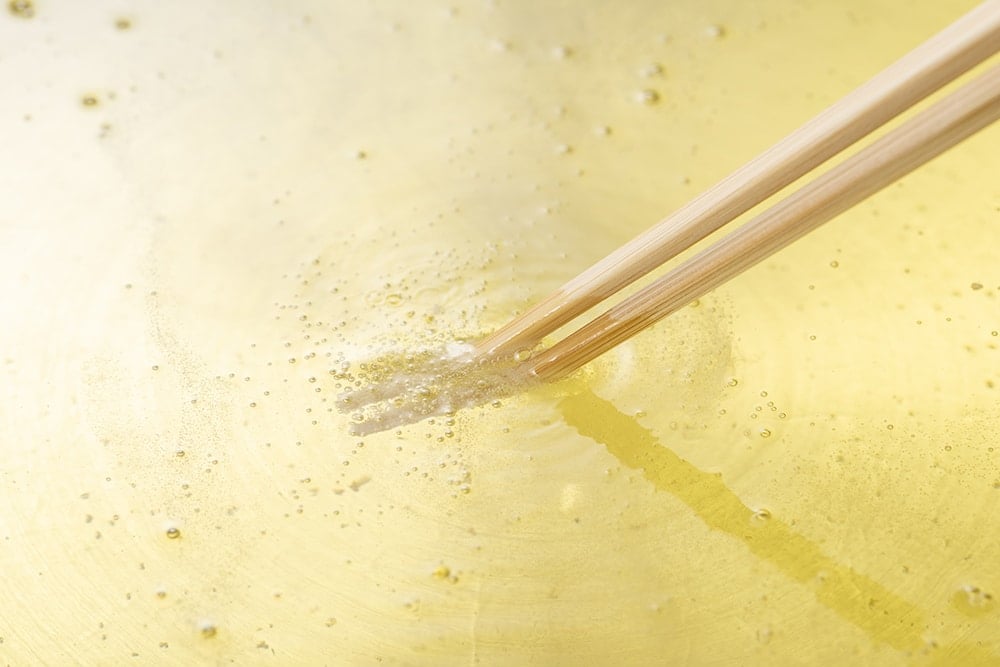 If your oil is too hot, your donut will get very very dark on the outside, and remain raw in the center. If your oil is too cold, your donuts will absorb a ton of oil before it develops that outer crispy layer. That crispy layer is vital to stopping more oil from absorbing into the donut so proper temperature is key to a perfect cake donut.
Remember, the oil temp will drop a few degrees every time you add donuts so don't overcrowd the pot. 2-3 donuts at a time max for a large stockpot or fry daddy.
Cake donut recipe step-by-step
Make sure your eggs, milk, and butter are all room temperature so that the ingredients combine together well. If your eggs or milk are too cold, they will not mix with the eggs and your donuts won't rise properly.
Step 1 - Cream the butter and the sugar together on medium-high speed until light and fluffy. About 2 minutes.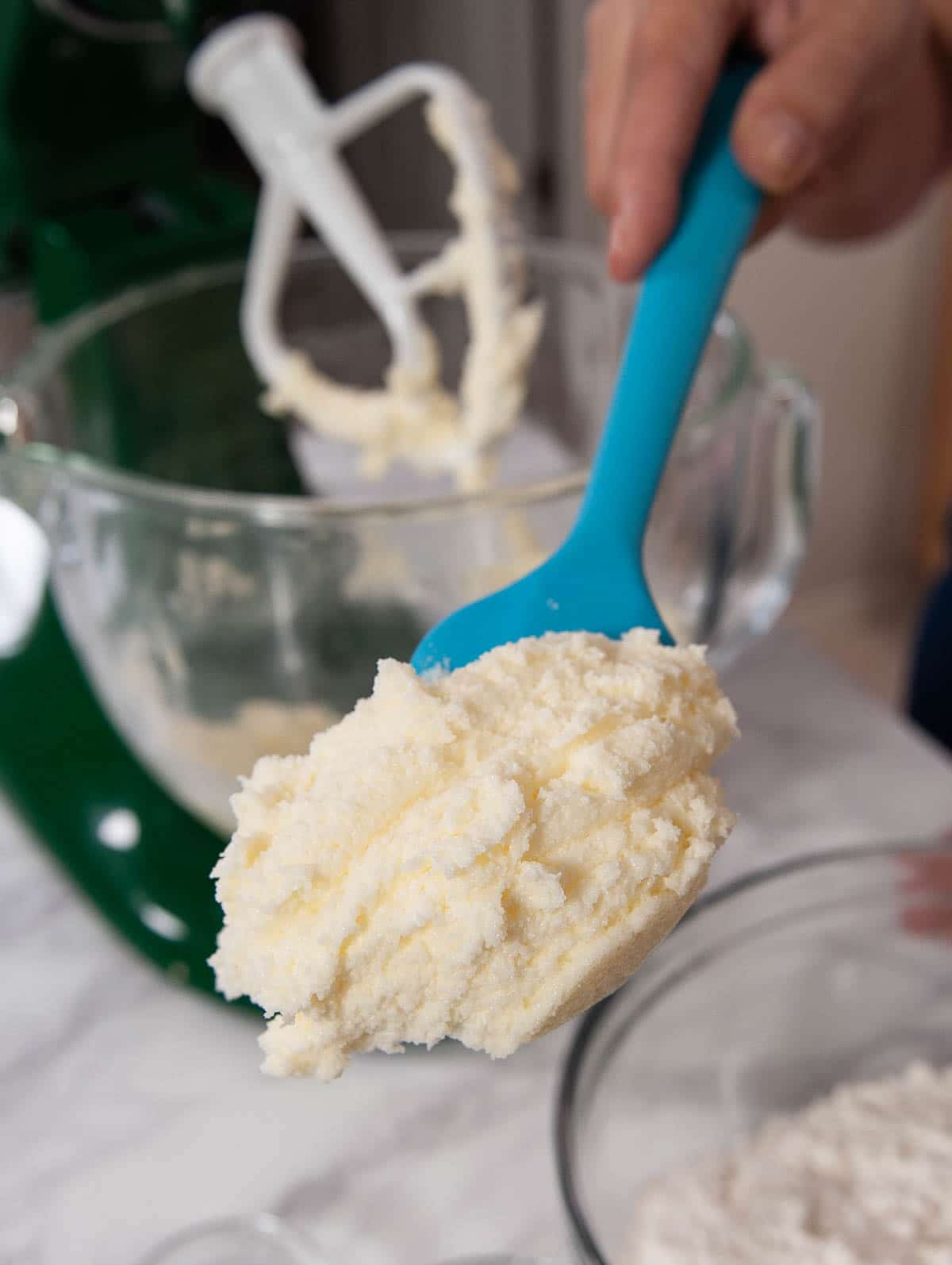 Step 2 - While mixing on low, add in the eggs and mix on medium speed until combined.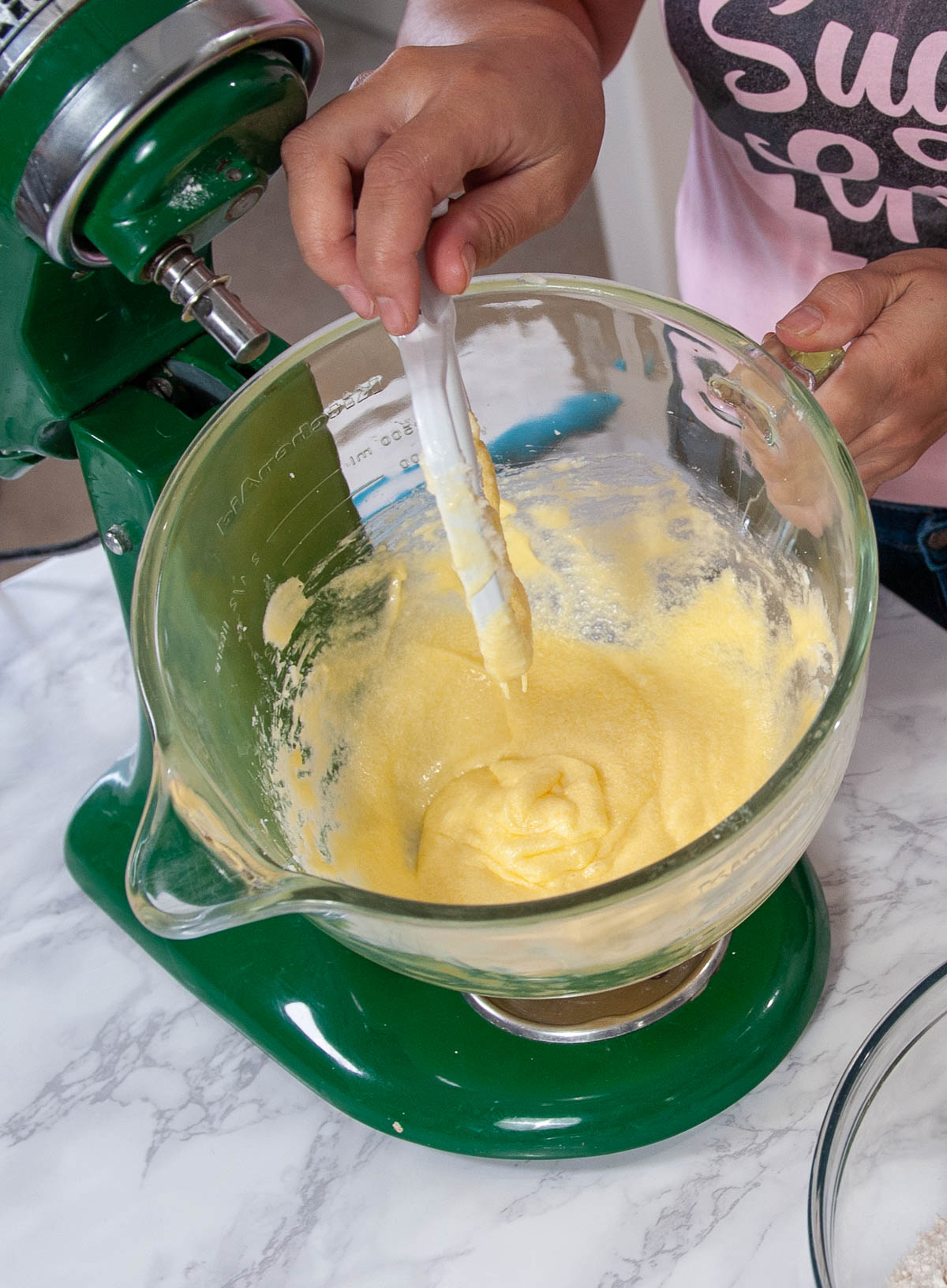 Step 3 - While mixing on low, add in the milk, vanilla, flour, baking powder, baking soda, nutmeg, and salt. Mix until the dough just comes together. It will be sticky.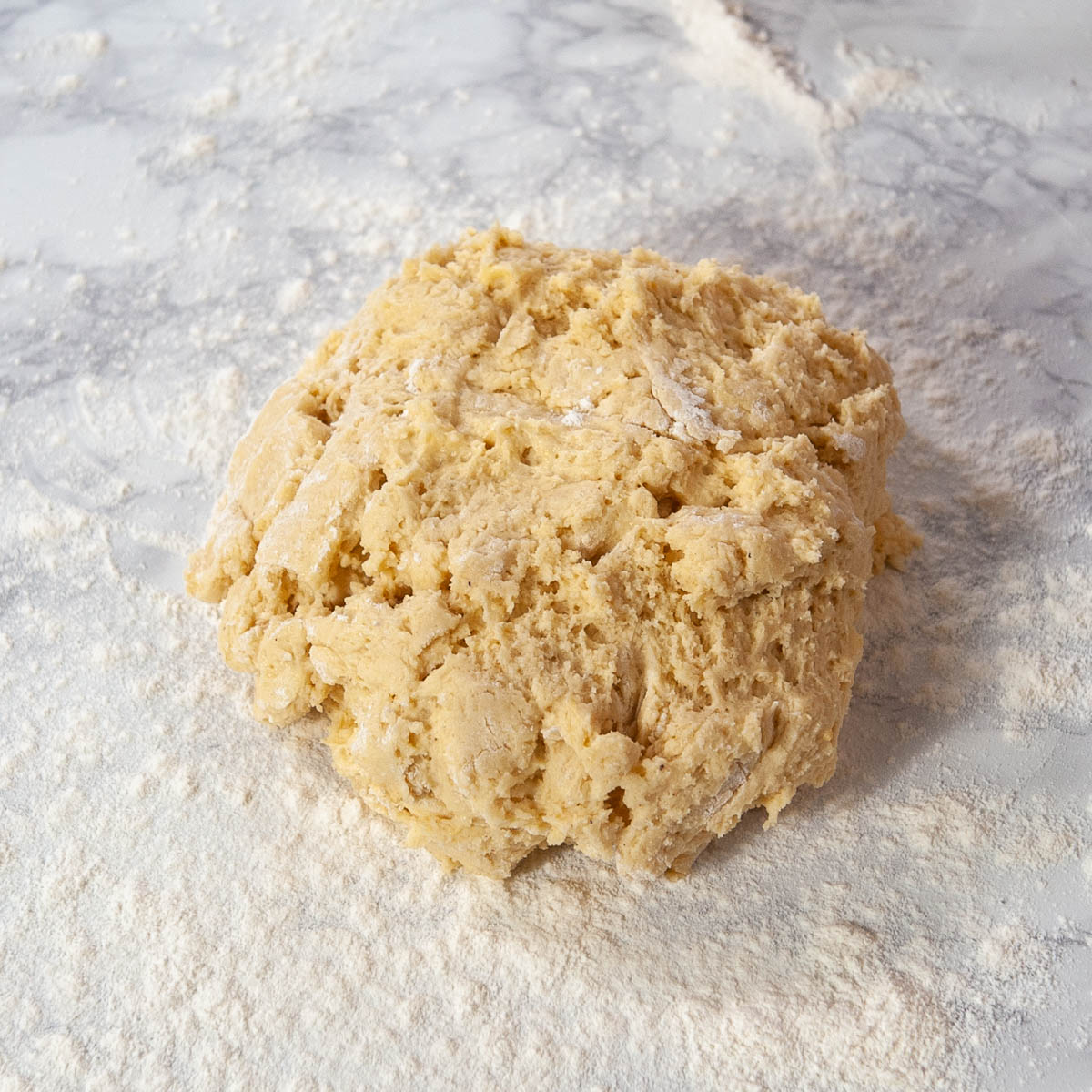 Step 4 - Place the dough onto a lightly floured surface. Press it down with your hand to about 1" tall. Fold the dough over onto itself 3-4 times until it looks a bit smoother but don't overwork it or the dough will get tough.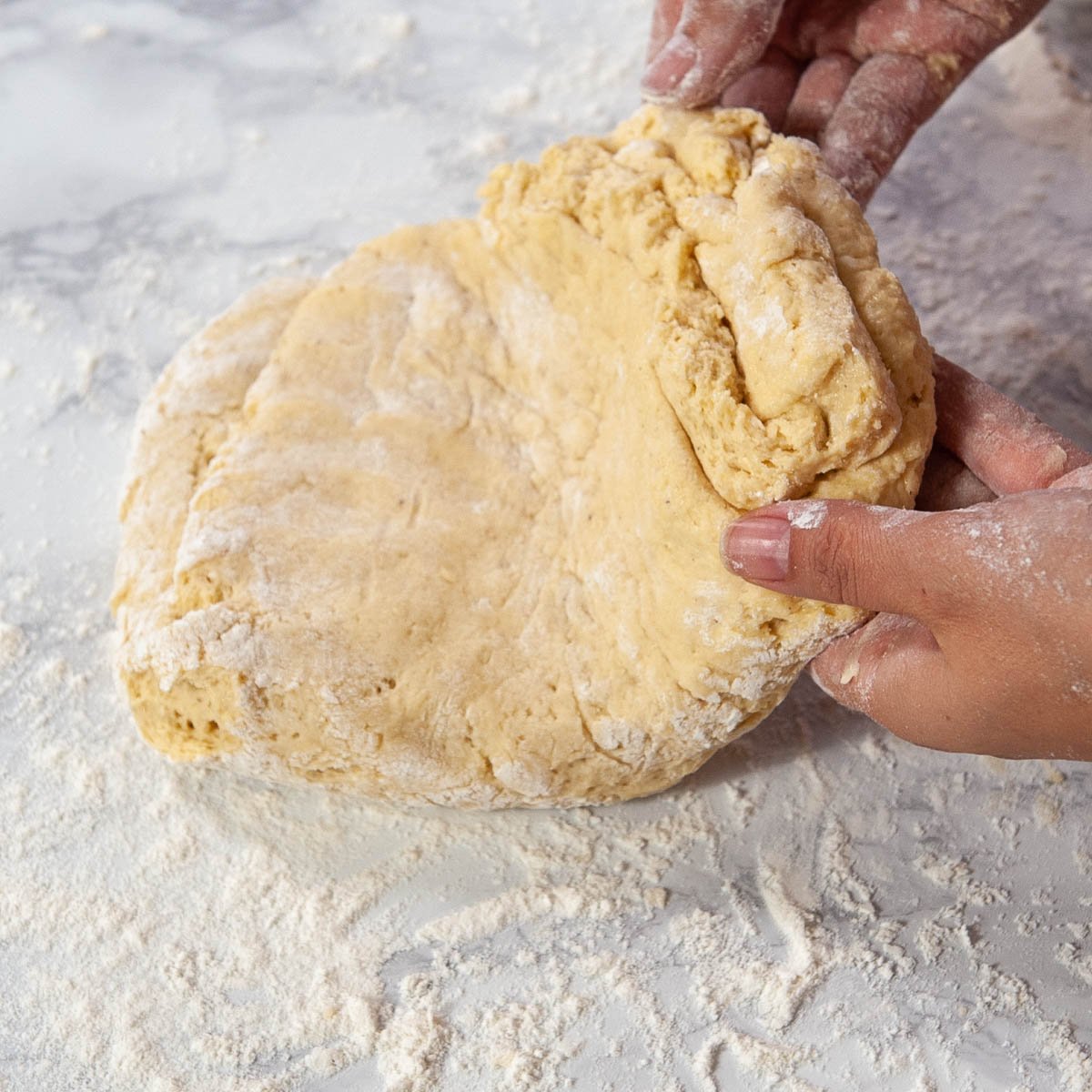 Step 5 - Press the dough down to about ½" thick and dust with a bit of flour. Let it rest for 5-10 minutes. Now is the perfect time to start heating up your oil. Set your temperature to medium if you don't have a fry daddy.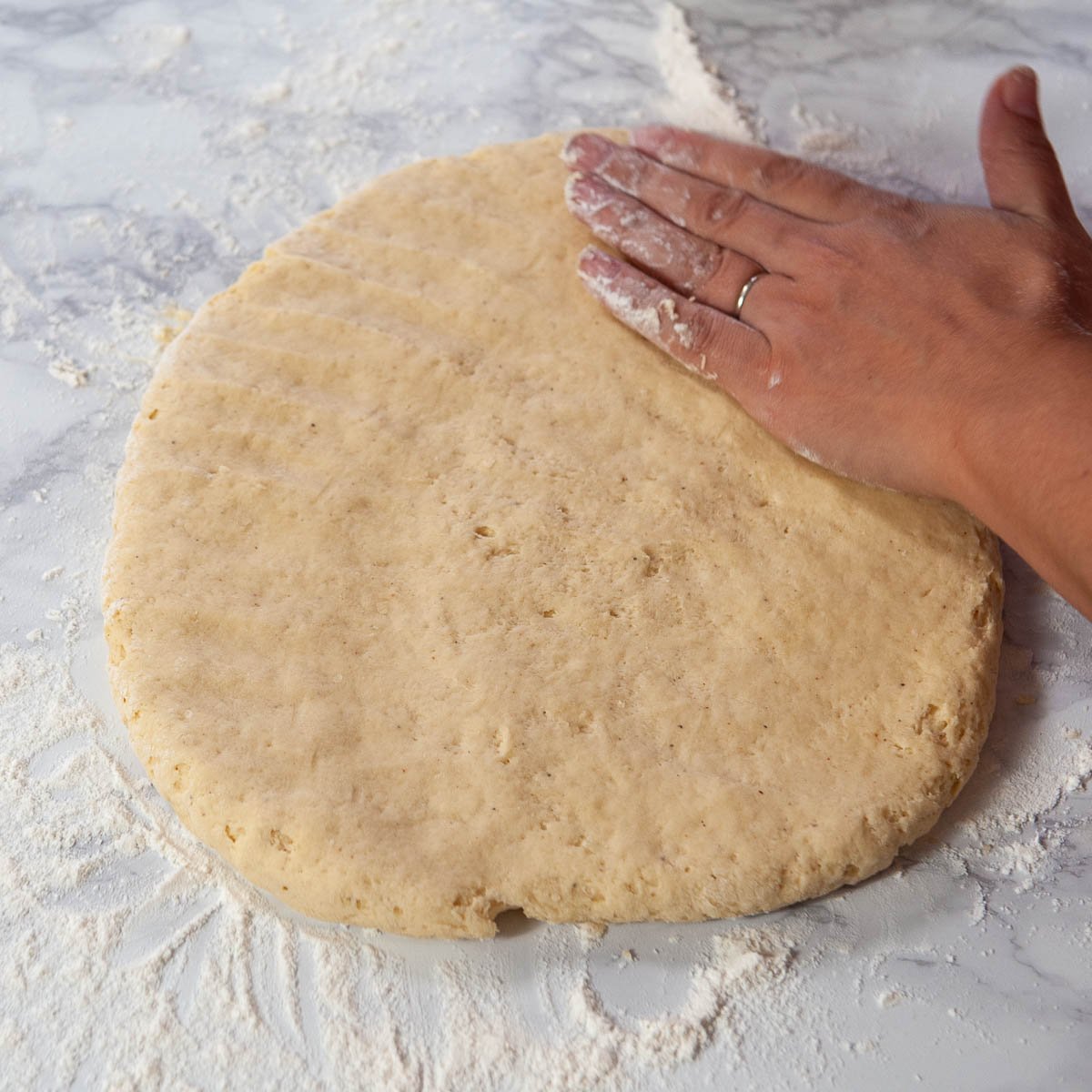 Step 6 - Use a donut cutter or metal ring cutter to cut out the donuts. (You can also use a cup or a can if you don't have a metal cutter.) Try to leave as little space as possible between the donuts. Set the holes aside to fry at the end. Press the leftover scraps together and continue cutting donuts. You should get 10-12 donuts with a 4" cutter. More if you're using a smaller cutter.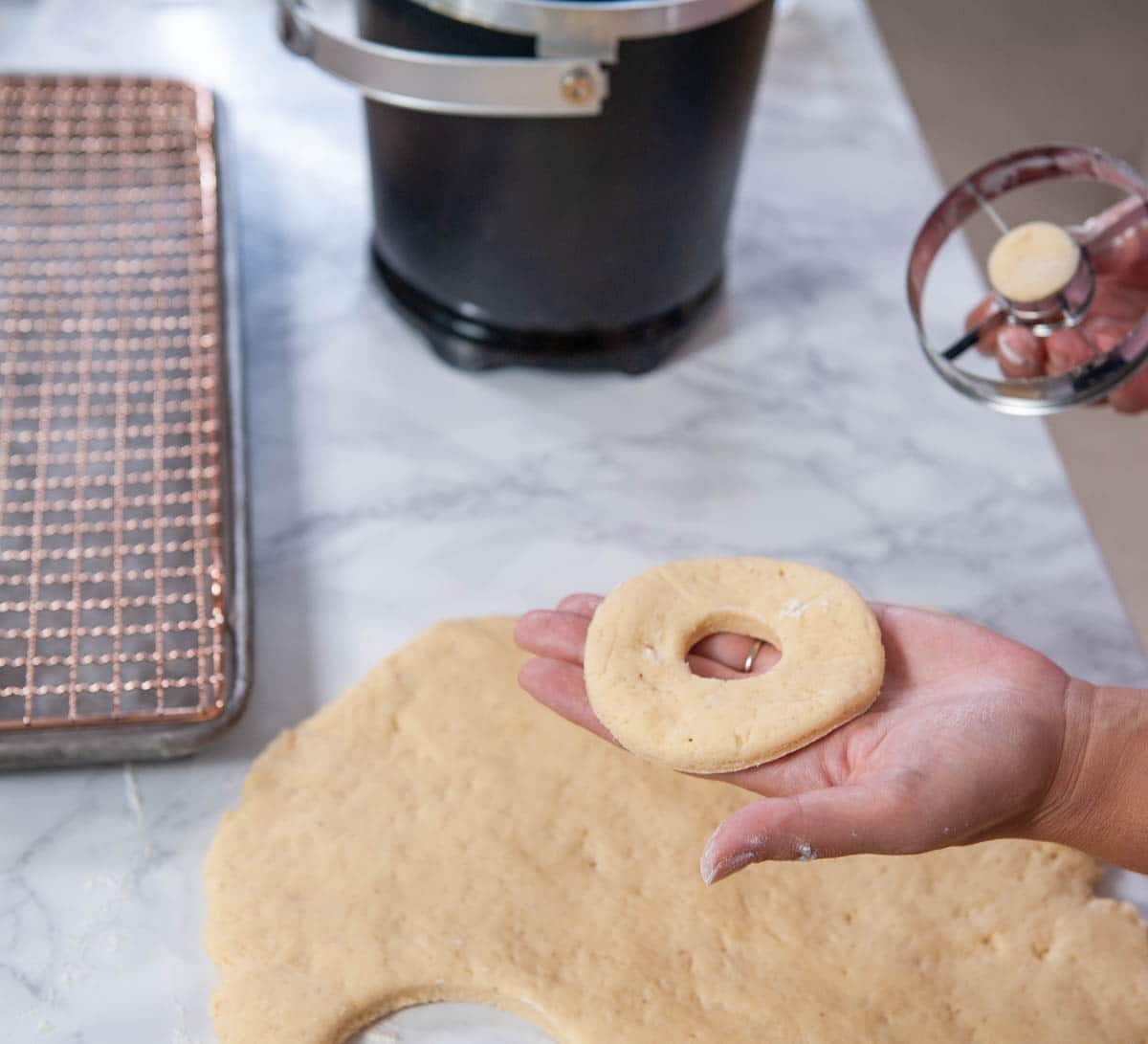 Why do donuts have holes?
It's important to poke out a hole in the center of a donut to ensure even cooking. If you were to fry a donut without taking out the center, the middle of the donut would be raw because the oil wouldn't be able to penetrate all the way to the center. To avoid it becoming gooey and raw, holes are cut out to promote even frying.
Step 7 - Use a slotted spatula or skimmer to lower the donut into the hot oil. Do not drop the dough or it could splash up on you and burn you. The doughnut will start bubbling a ton at first then settle down as a crispy outer layer develops.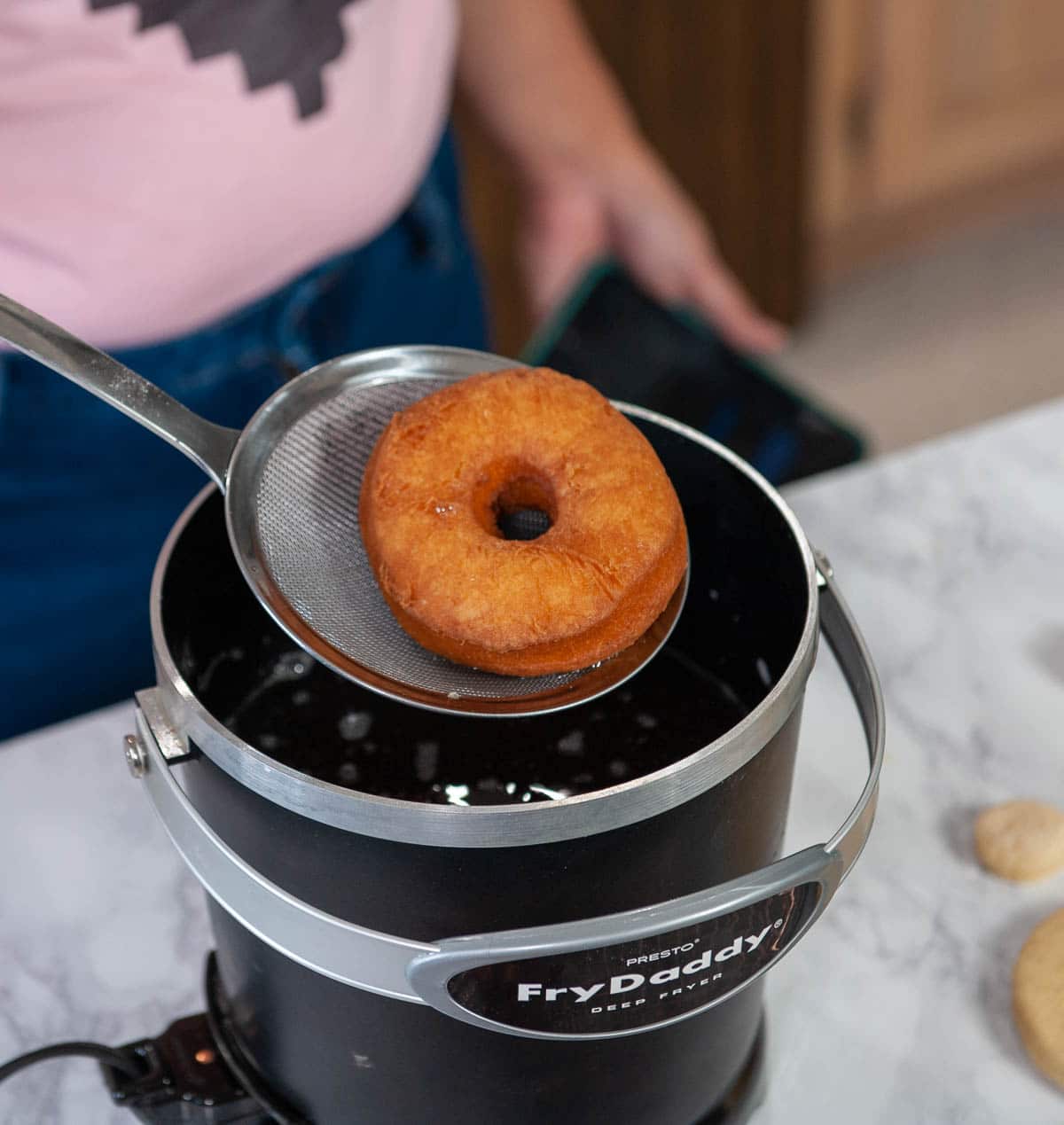 Step 8 - Fry the donut for 2 minutes on one side then flip over and fry for another 1 minute. Remove the donut from the oil with the slotted spoon and transfer to a cooling rack over a sheet pan. Fry your donut holes at the end for about 1 minute, stirring and pushing them down with your spoon until golden brown on the outsides.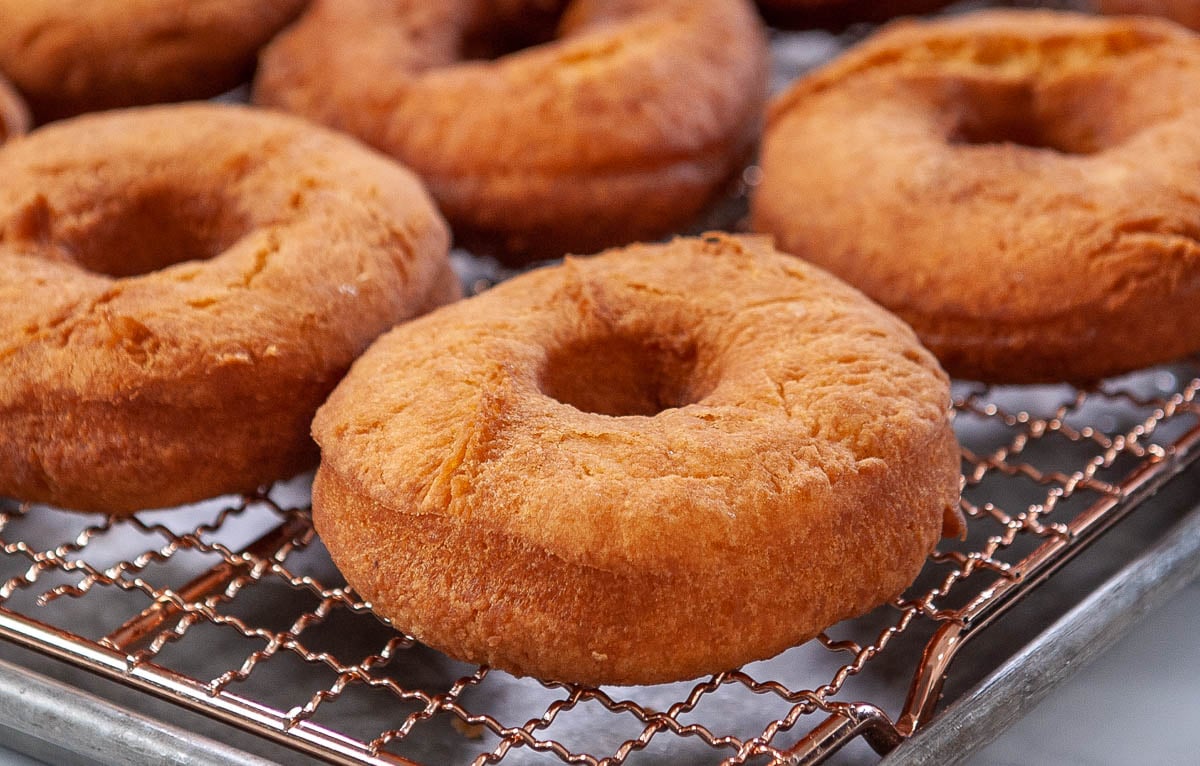 Step 9 - You can now roll your donuts in powdered sugar or cinnamon sugar, glaze with ganache or donut glaze. See the recipes below.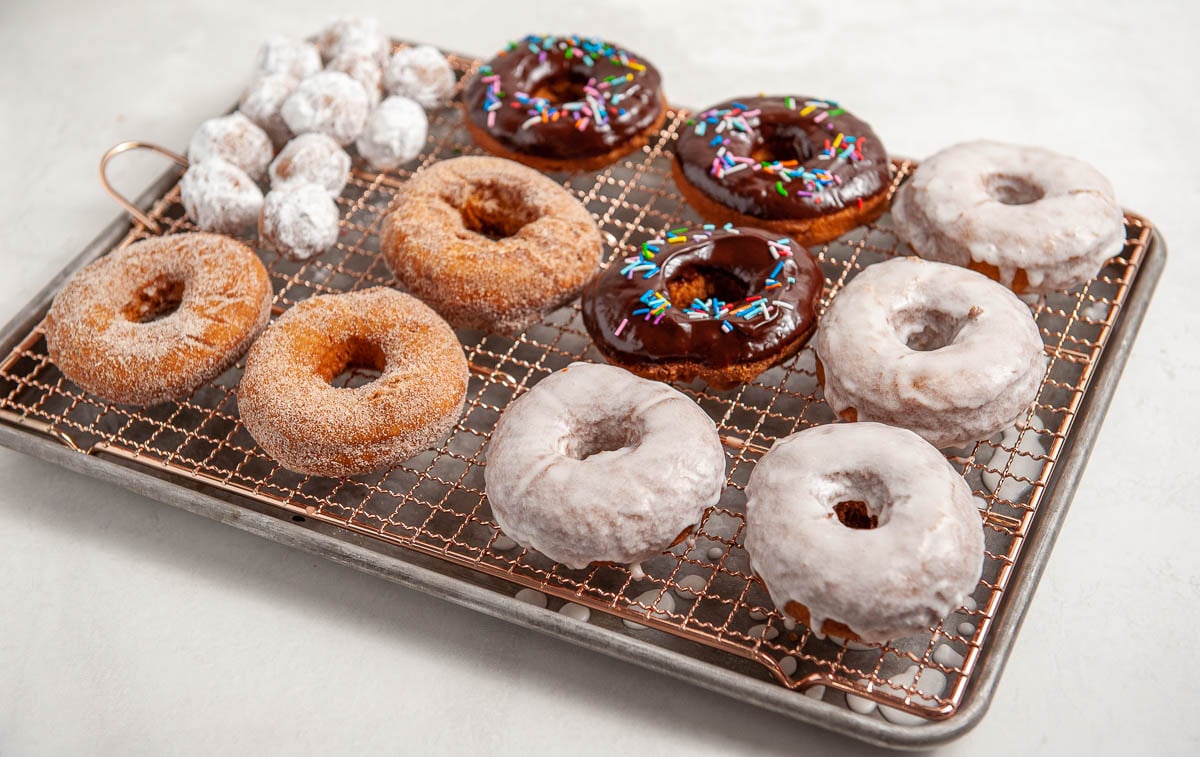 Donut Toppings
There are SO many things you can use to top your donuts but we're going to keep to the classics here.
Powdered sugar - You can simply roll your donuts in powdered sugar for truly the simplest way to finish your donuts off. Pros: adds just the right amount of sweet and is super easy. Cons: messy and eventually melts with humidity over the course of a day.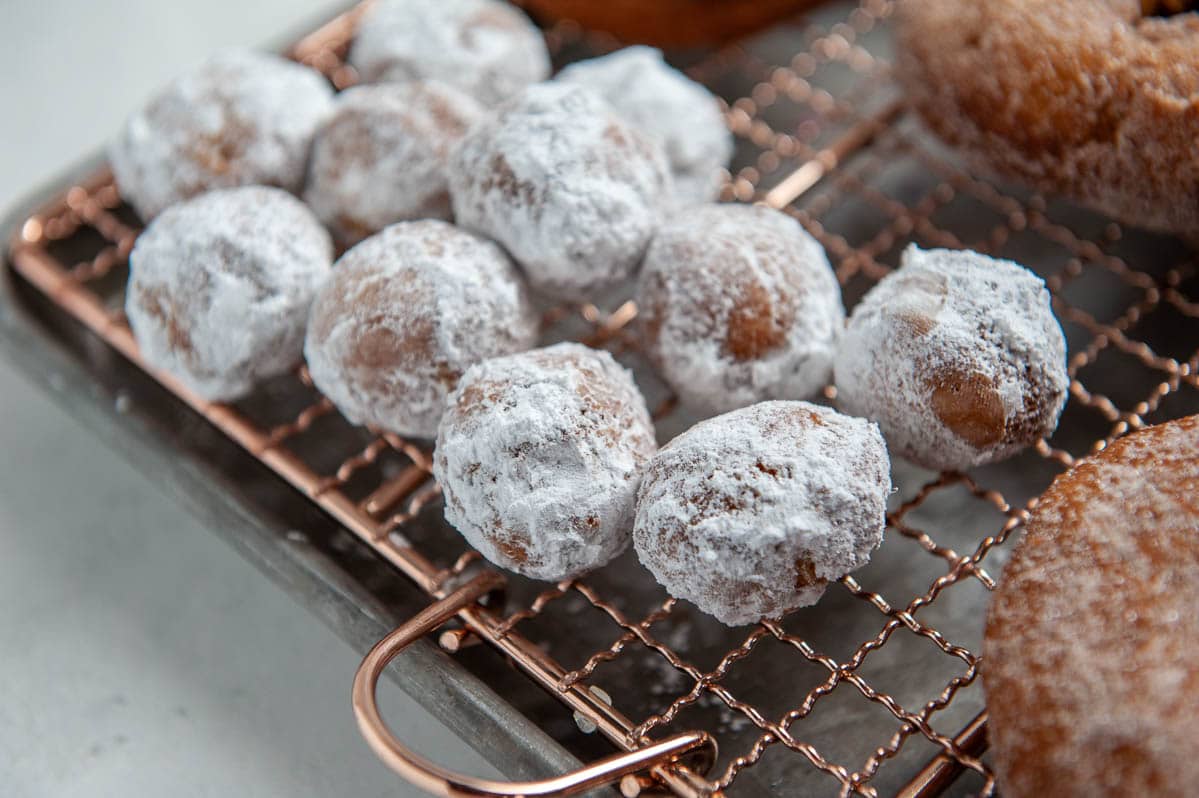 Cinnamon sugar - Combine 1 cup sugar with 2 teaspoons cinnamon and roll your donuts in the mixture. Pros: Adds the perfect amount of sweetness plus added flavor from the cinnamon. Cons: can be messy looking.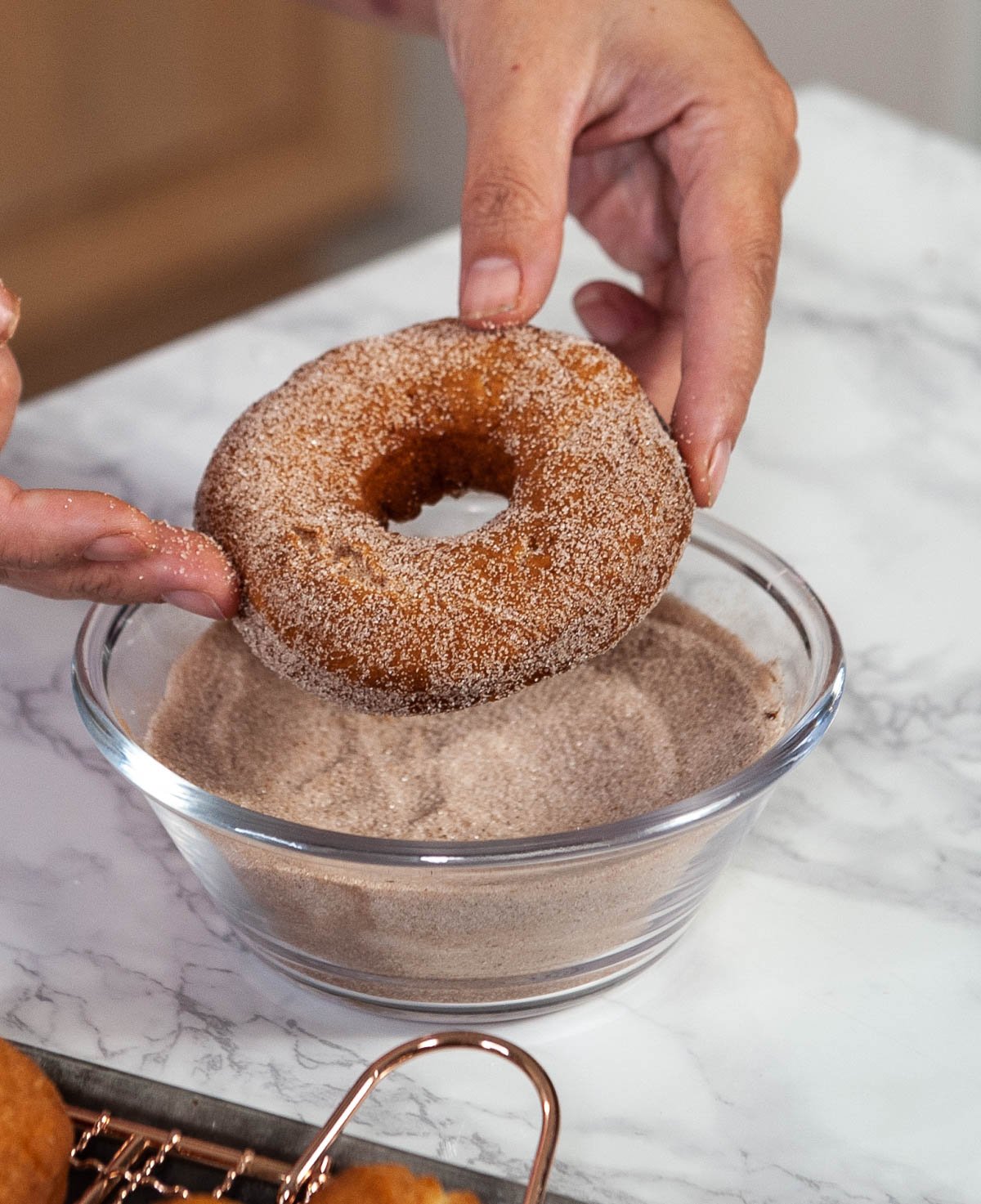 Glaze - Simply combine 1 cup sifted powdered sugar with 2 Tablespoons of milk and whisk until smooth. Pros: Looks beautiful, tastes amazing, sets hard. Cons: A lot of glaze runs off the donuts and is kind of a waste.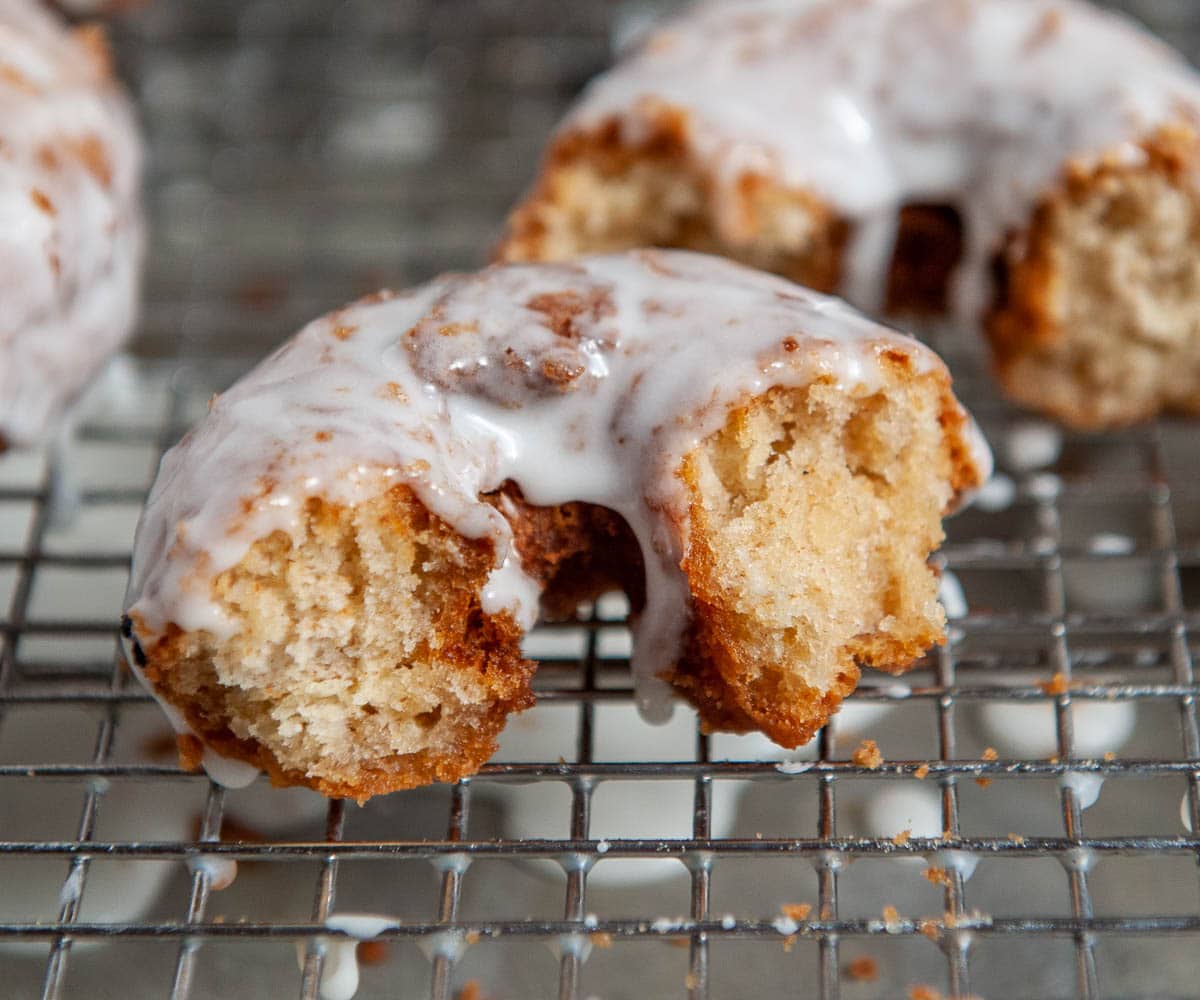 Ganache glaze - Melt together ½ cup of good quality chocolate, 2 Tablespoons heavy cream, 2 Tablespoons butter, and 2 teaspoons corn syrup in the microwave for 30 seconds and whisk until smooth. Pros: Looks absolutely stunning and tastes delicious. Looks amazing with sprinkles. The chocolate sets up but not super hard. Cons: The chocolate can overpower the taste of the donuts. A few more steps to make the glaze.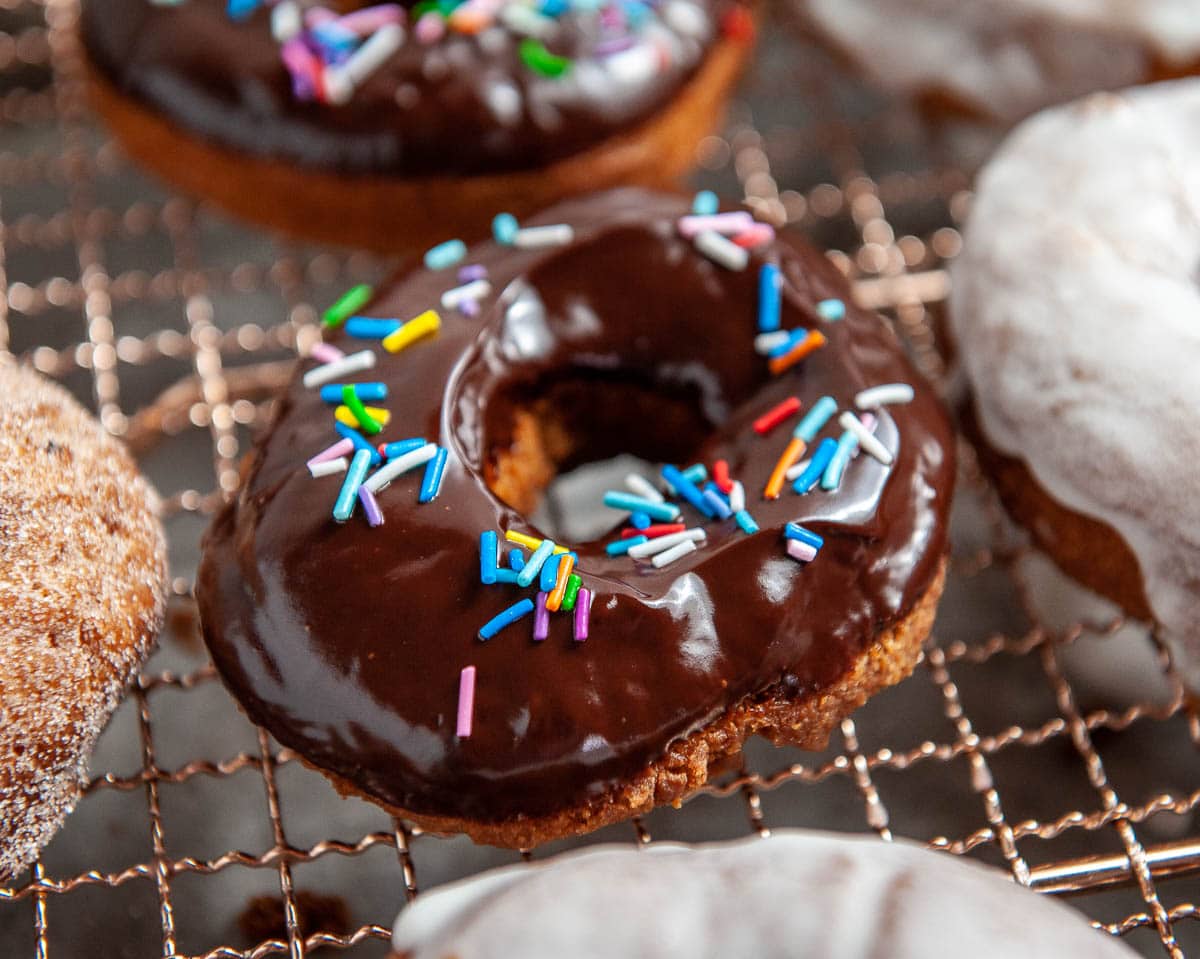 Recipe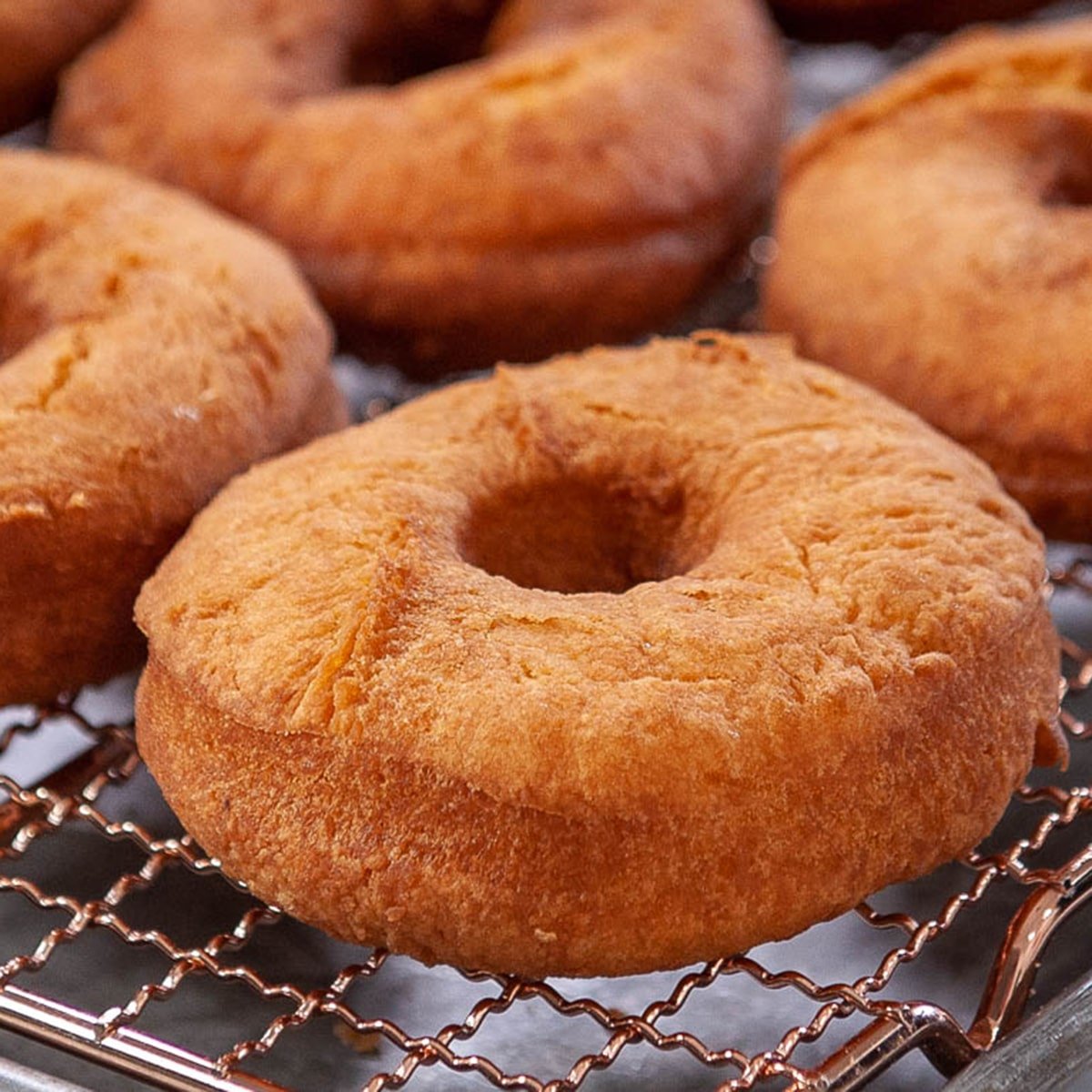 Equipment
FryDaddy Deep fryer or heavy pot with thermometer

Slotted spoon or spatula

Sheet pan with cooling rack
Ingredients
Cake Donut Recipe
4

ounces

unsalted butter

softened but not melted

5

ounces

granulated sugar

2

large

eggs

room temperature

6

ounces

buttermilk

room temperature

2

teaspoons

vanilla extract

15

ounces

All-Purpose flour

2

teaspoons

baking powder

1

teaspoon

baking soda

½

teaspoon

nutmeg

½

teaspoon

salt

32

ounces

lard or oil

for frying (4 cups)
Classic Donut Glaze Recipe
5

ounces

powdered sugar

2

Tablespoons

milk

or water
Chocolate Donut Glaze
4

ounces

chocolate chips

2

Tablespoons

butter

1

Tablespoon

corn syrup

or glucose/honey

2

Tablespoons

heavy cream
Cinnamon Sugar
1

cup

granulated sugar

2

Tablespoons

cinnamon
Instructions
For The Donuts
In the bowl of your stand mixer with the paddle or the whisk attachment, cream the softened butter and the sugar on medium high speed until the mixture is light in color and fluffy.

While mixing on low, add in one egg, let it mix in and then add in the second egg and mix on medium speed until everything is smooth and combined

Add in the buttermilk and the vanilla and mix until combined

While mixing on low, add in the flour, salt, baking powder, baking soda, and nutmeg and mix until the dough is combined. Do not over-mix. The dough will be sticky.

Lightly flour your work surface and transfer the sticky dough to the floured surface.

Press the dough down lightly until its about 1" thick.

Fold the dough over onto itself 3-4 times until the dough is smooth.

Flatten the dough down to about ½" or use a rolling pin. Let the dough rest for 5-10 minutes while your oil is heating up.

Turn on your FryDaddy or begin heating your oil to 360ºF-375ºF (182ºC -190ºC). Set up a draining station for the donuts by placing a cooling rack over a sheet pan to catch the oil.

Use a donut cutter or ring cutter to cut out the donuts. You can press together the scraps and roll them out again to get as many donuts as you can. Just keep in mind the more you work the dough, the tougher the donuts will get.

Add the donut to the hot oil using your slotted spoon to lower it gently. Fry the donut for 2 minutes then flip it over and fry it for 1 more minute.

Fry your donut holes for about 1 minute, stirring and pushing them down with your spoon until golden brown on the outsides. 

Transfer the dough to a cooling rack over a sheet pan to let the oil drain away from the donut

Once your donuts are cooked you can roll them in powdered sugar, cinnamon sugar, glaze them with donut glaze or chocolate glaze!

Store donuts in a paper bag at room temperature for up to two days. They are best eaten fresh! Do not refrigerate.
Classic Donut Glaze Recipe
Sift the powdered sugar into a bowl and add the milk (or water). Whisk together to combine, add more powdered sugar to make it thicker or more milk to make it thinner.
Chocolate Donut Glaze
In a medium sized bowl, add the heavy cream, butter and corn syrup to the chocolate chips. Microwave for 30 seconds and stir together until the chocolate is melted. Microwave for another 15 seconds if needed.
Notes
Common mistakes when making cake donuts
1. Using the wrong pot
Donuts expand much more than you think while frying, so you want to be sure to use a big enough (and tall enough) pot. To avoid a crazy messy kitchen. I like to use a really tall pot or a fry daddy that could hold at least double the oil that I need.
2. Overmixing/undermixing
Cake donuts only need to be mixed until combined, while yeast donuts require much more mixing. Make sure to follow the directions carefully to avoid having a really tough cake donut. 
3. Use a thermometer 
A good thermometer

 

is easy to find at most grocery stores or online and is only about $10-15. Seriously, if you're going to make donuts it's best to just buy one. There are other tricks out there about how to test your oil, but if you're putting the effort in to make donuts you don't want them to be under/over fried. Make sure to continue to test the temperature of your oil before putting in new donuts, as the degree can fluctuate easily. 
4. Frying at too low or high of a temperature
The temperature you fry your donuts at is very important. Fry too low and it will take too long for the donuts to cook, letting the oil seep into the dough and making for soggy donuts. Fry too high and it could burn the sides of the donuts too quickly, resulting in an undercooked center. 
5. Draining your donuts incorrectly
A common misconception is that donuts should be drained directly on paper towels. I recently learned that it's actually best to drain them on a wire rack with a sheet pan underneath to catch the oil. This keeps the donuts from sitting in their own oil on the paper towels, making them extra crispy! 
Nutrition
Serving:
1
donut
|
Calories:
342
kcal
|
Carbohydrates:
53
g
|
Protein:
5
g
|
Fat:
12
g
|
Saturated Fat:
7
g
|
Cholesterol:
62
mg
|
Sodium:
237
mg
|
Potassium:
139
mg
|
Fiber:
1
g
|
Sugar:
26
g
|
Vitamin A:
400
IU
|
Calcium:
62
mg
|
Iron:
2
mg