Buttermilk pancakes made with brown butter are the most fluffy, flavorful and delicious pancakes you've ever had!
Buttermilk pancakes are my favorite weekend treat. This wasn't always the case. I actually used to hate pancakes. They always made me feel bloated and left an odd floury taste in my mouth. I could never figure out what the big deal was about pancakes.
That was until one day, my husband Dan decided to make a batch of buttermilk pancakes from scratch using a recipe from Cooks Illustrated.
We love experimenting with recipes from this magazine because they do a lot of testing beforehand and everything we try is always so tasty!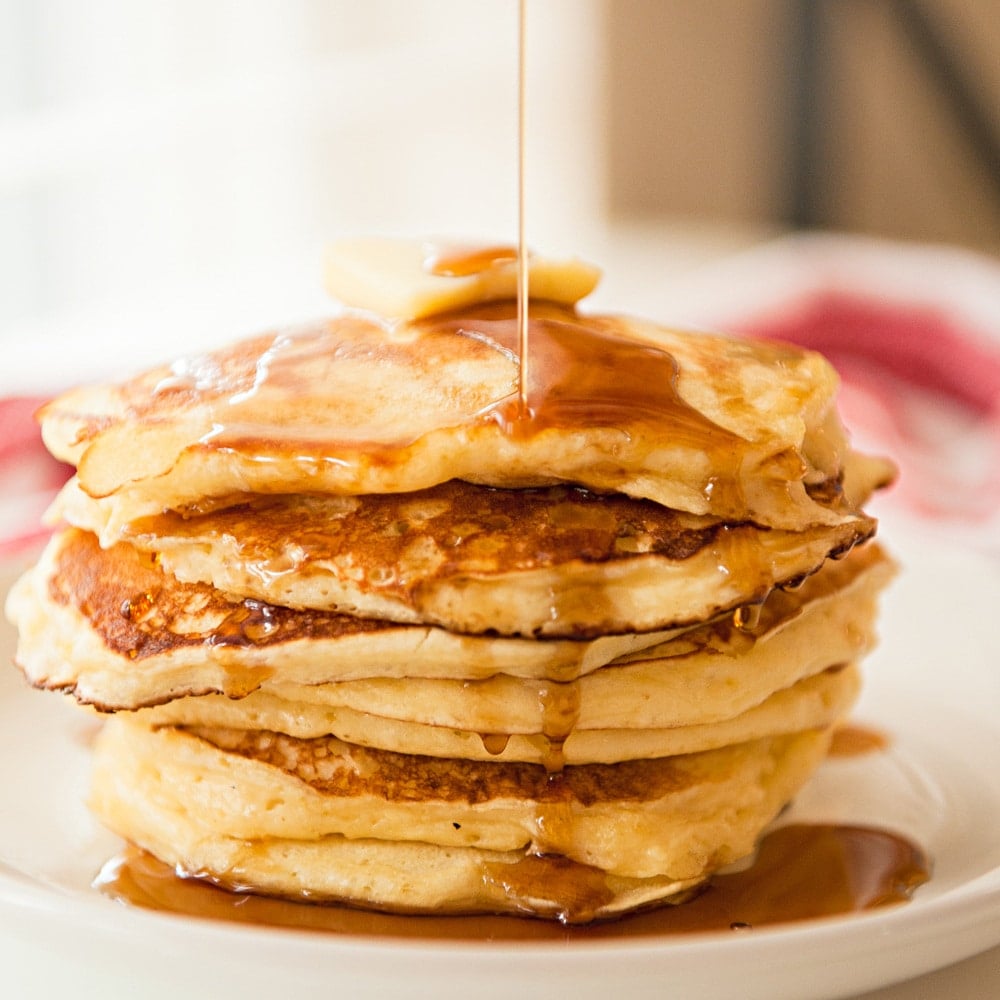 So we ditched the box mix and decided to try our hand at homemade. I don't know why I was SO surprised that they were SO incredibly good! I mean... cakes from scratch are better so why wouldn't it be the same for pancakes?
The outer layer of the pancake was crisp and the inside was light and fluffy but the biggest surprise was the flavor! It didn't just taste like a bunch of flour, it tasted like butter, and buttermilk and had almost a cake flavor to it. I was sold.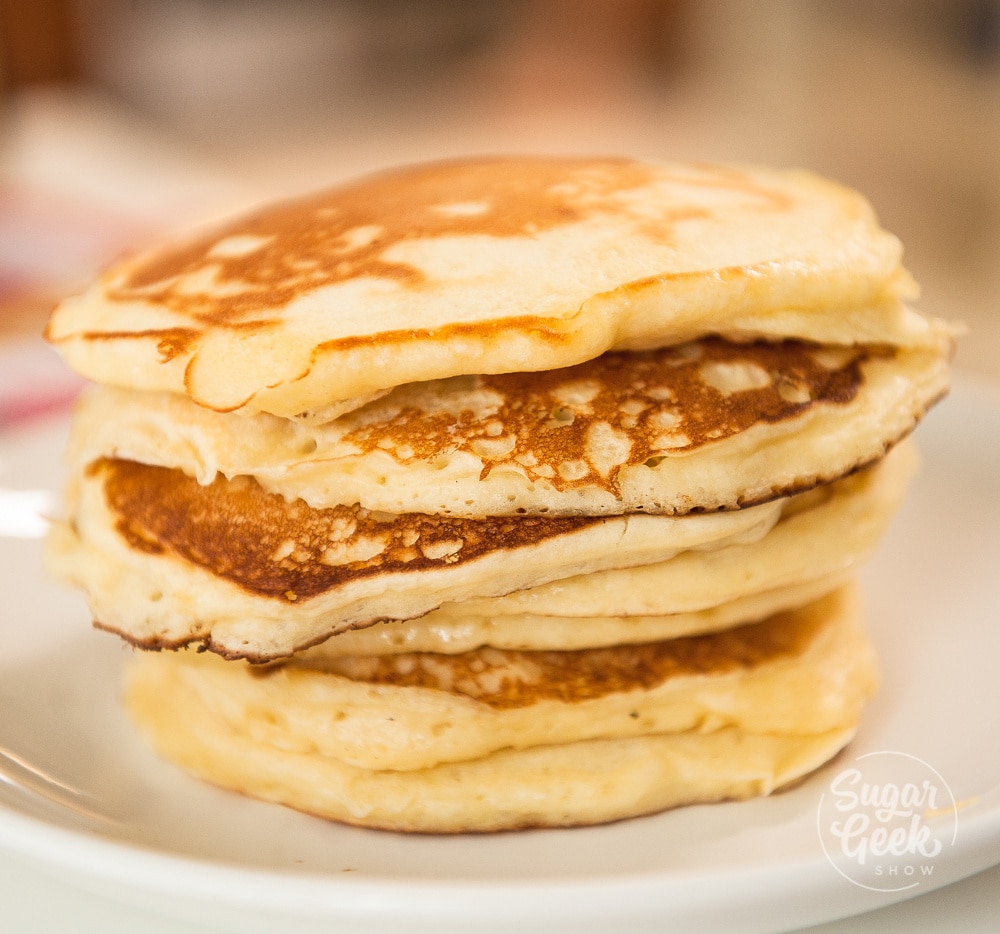 So we've been making these pancakes ever since and have tweaked them a tad to our tastes. We added vanilla and brown butter to the recipe.
This will be my first official breakfast related blog post on Sugar Geek Show. "hey, bakers gotta eat breakfast too right?" So I hope you enjoy these pancakes and let me know if you want to see more breakfast recipes!
How do you make the best buttermilk pancakes?
There are two things you need to make the best buttermilk pancakes you've ever had in your life.
Buttermilk (duh)
Sour cream
Baking soda AND baking powder
Bet you didn't see that one coming huh? Buttermilk is well-known to make the most amazing pancakes ever but the addition of sour cream adds even more flavor to your pancakes. They are also acidic much like the buttermilk so you get that classic tang.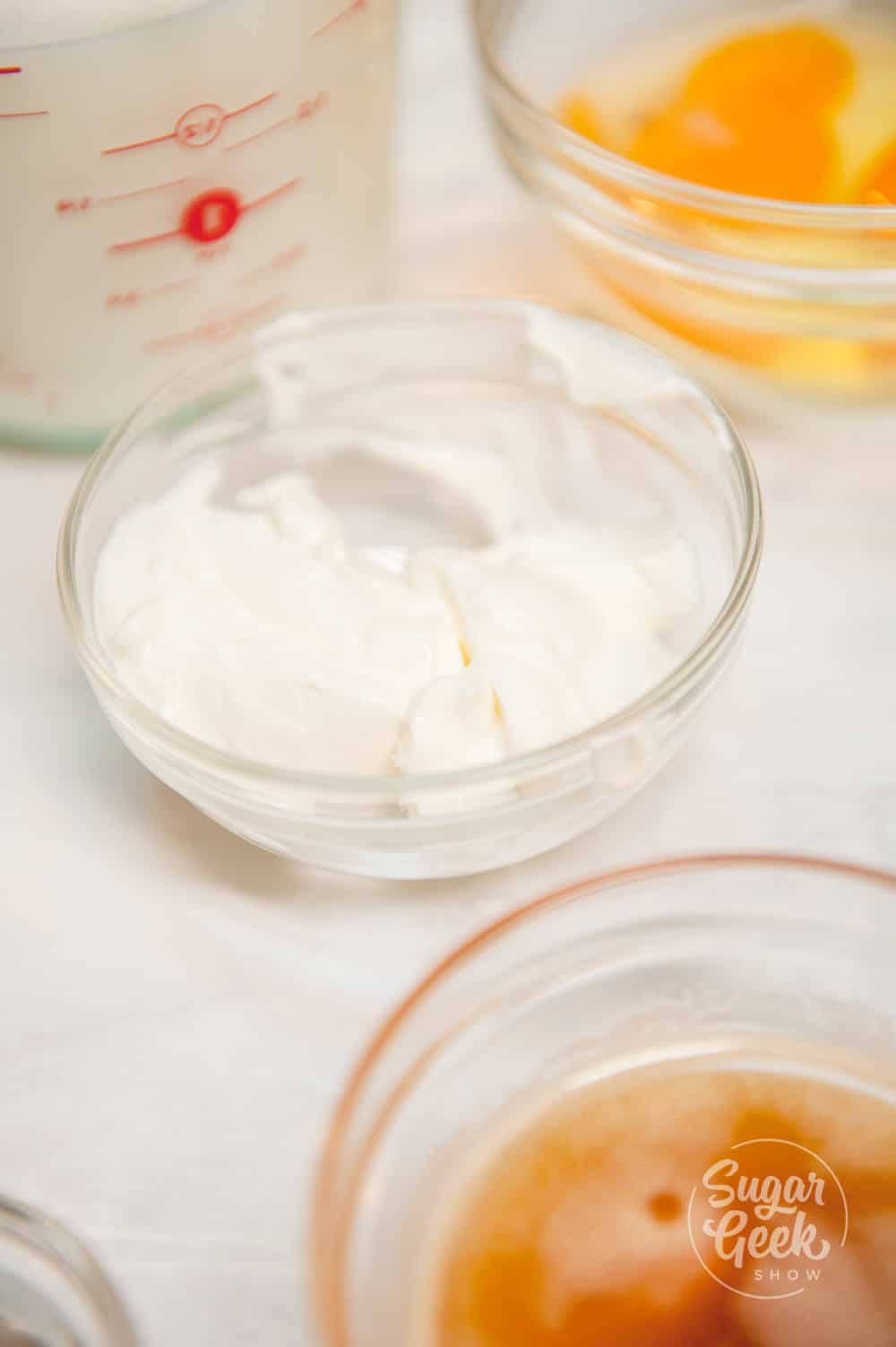 No buttermilk? No problem. You can make a buttermilk substitute by adding 1 tablespoon of white vinegar to one cup of regular milk and let it sit for 5-10 minutes.
Once it curdles, you've got yourself some homemade buttermilk. You can also do this with lemon extract if you don't have any vinegar but I don't like the flavor of the lemon in my pancakes.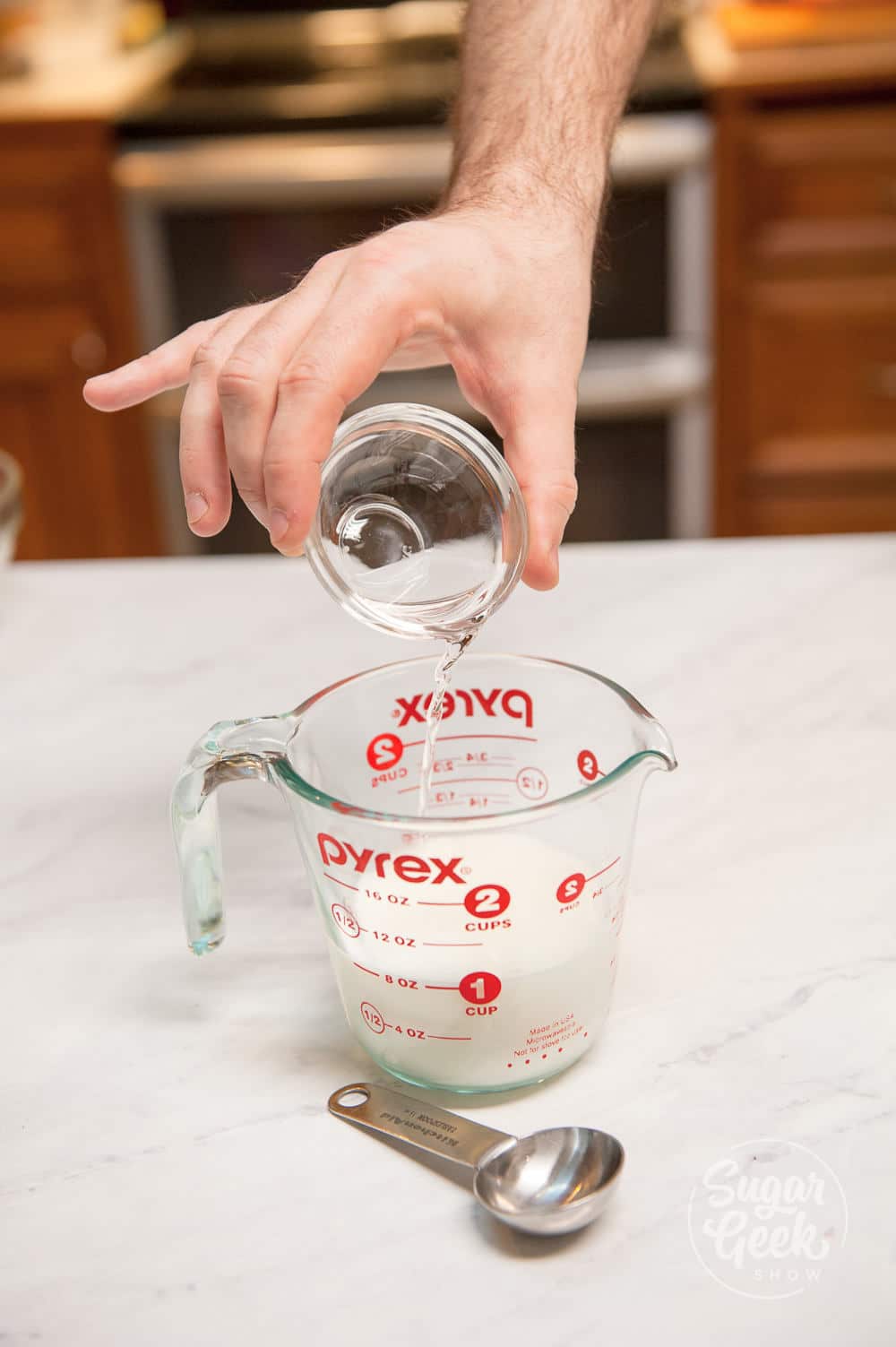 We're using baking soda and baking powder in our buttermilk pancake recipe so that we get maximum fluff without having an odd taste from using too much baking soda.
Lastly, you'll need three tablespoons of melted browned butter. Browning butter is really easy and only takes a few minutes but adds a lot of flavor to your pancakes! Simply place 4 tablespoons of butter in a sauce pan and melt on med/high heat. Whisk constantly until the mixture turns a nice hazelnut brown color. Pour into a separate bowl while you prepare your other ingredients to let it cool slightly.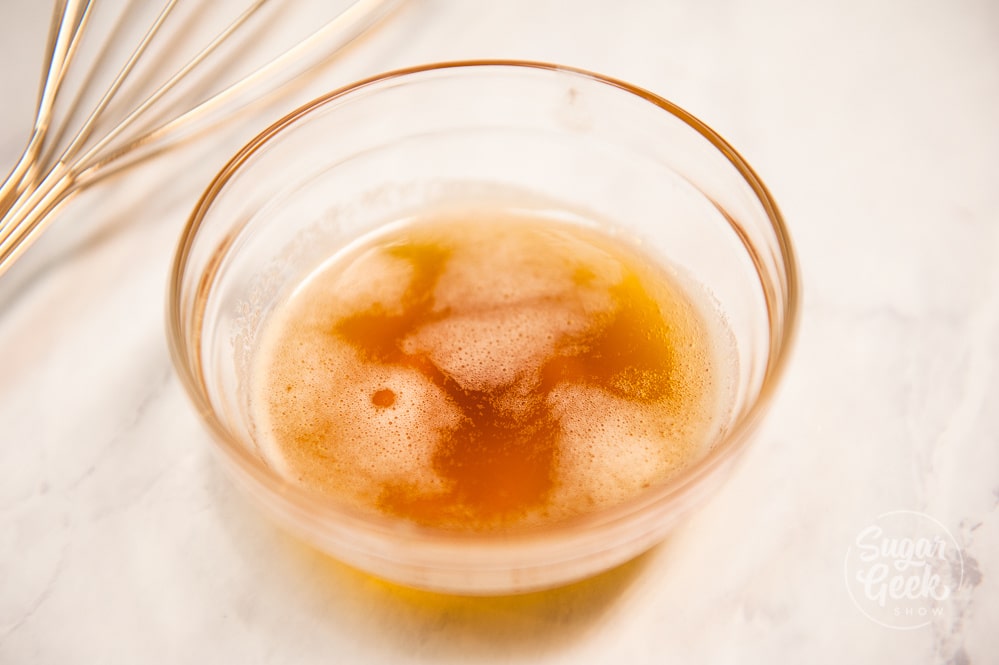 I know browning butter for pancakes sounds like an unnecessary pain but trust me, you won't regret it!
How to make fluffy buttermilk pancakes from scratch
Ok so let's start making these pancakes! First add your flour, baking powder, baking soda and salt together in a bowl and whisk together.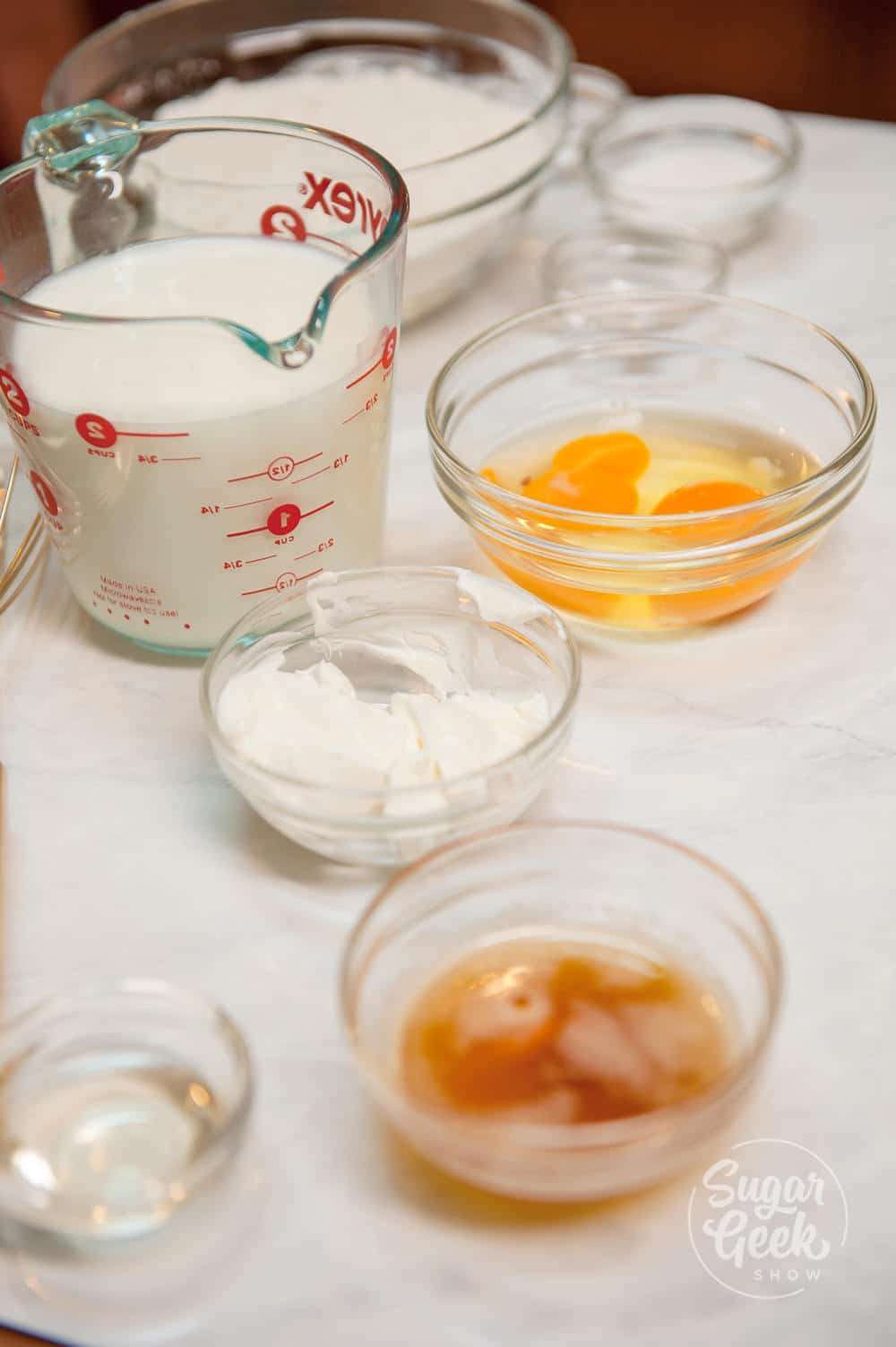 Then combine your buttermilk, sour cream, melted butter, vanilla and eggs into another bowl and whisk lightly to break up those eggs.
Make a well in the middle of your dry ingredients and add in the liquids. Then with a spatula, gently fold your mixture together until it's combined but still lumpy. DO NOT over-mix your batter and try to make it smooth or you will have some flat, not fluffy pancakes.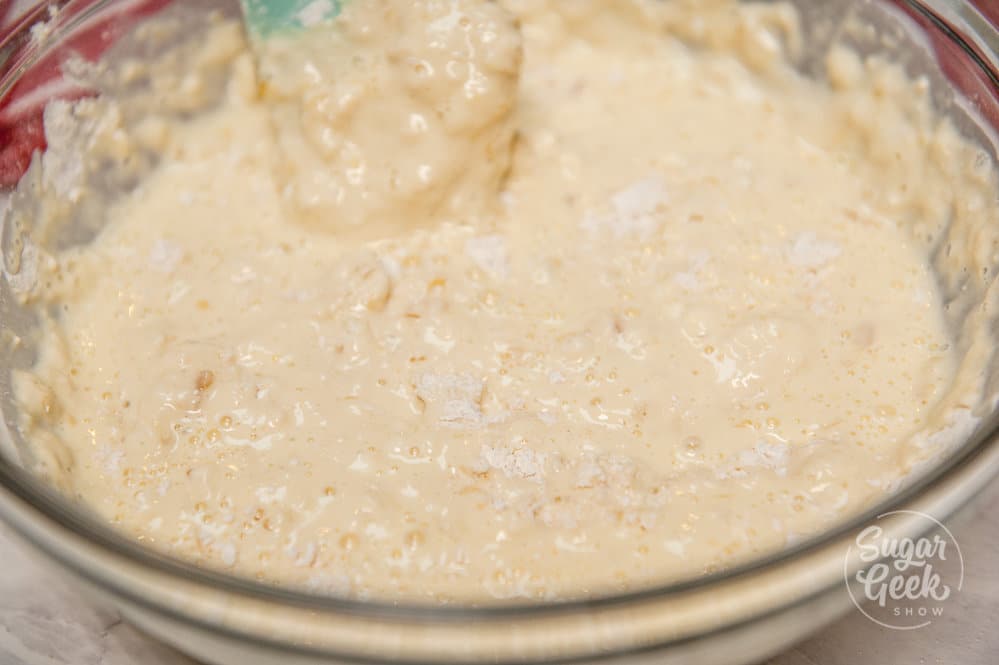 You should see some lumps and a few dry pockets of flour in the batter.
Let your batter rest for 10 minutes.
How to cook perfect buttermilk pancakes
So let's start heating up our pan. I'm using a cast iron skillet because I like the crispiness that it adds to the outside of the pancake (taste over looks) but if you want your pancakes to have that super even and smooth brown outside like tv pancakes, you'll want to use a non-stick pan.
Turn your heat up to medium and let it heat for 5 minutes. Add in a pat of butter (or oil) and swirl it around in the pan. Turn your heat down to medium/low. Wipe out any excess with a paper towel.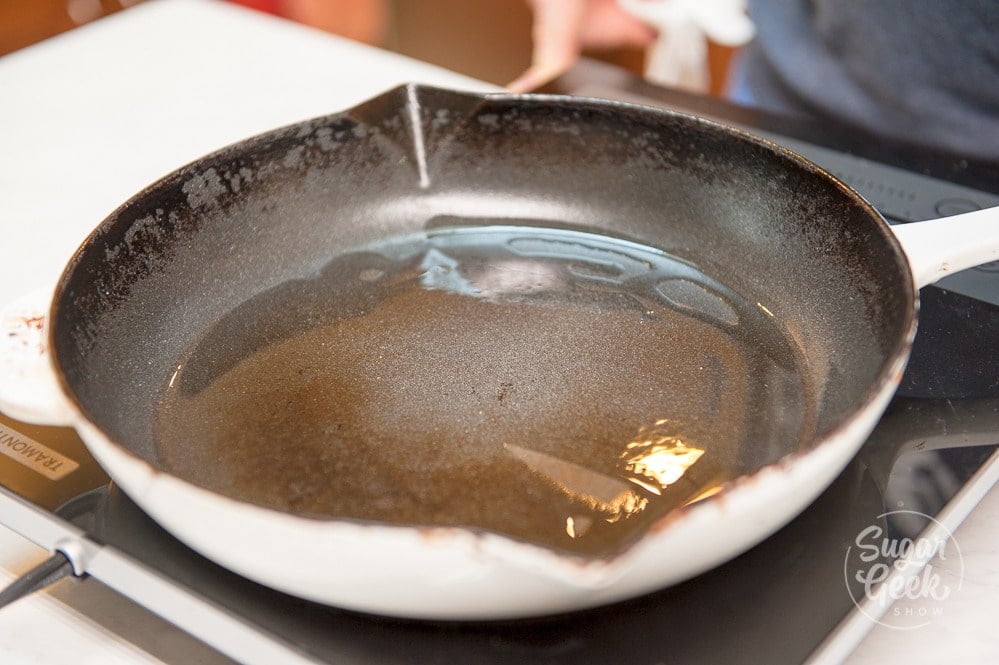 Use a ¼ cup scoop to scoop up your batter and place into the center of your hot pan. If it's not perfectly round just use the scoop to push it around to get a better shape.
Now be patient. Wait until you see some bubbles rising to the surface in the middle of the pancake and start to pop. The outer edges of your pancake should also star to look dull and dry instead of sticky and wet.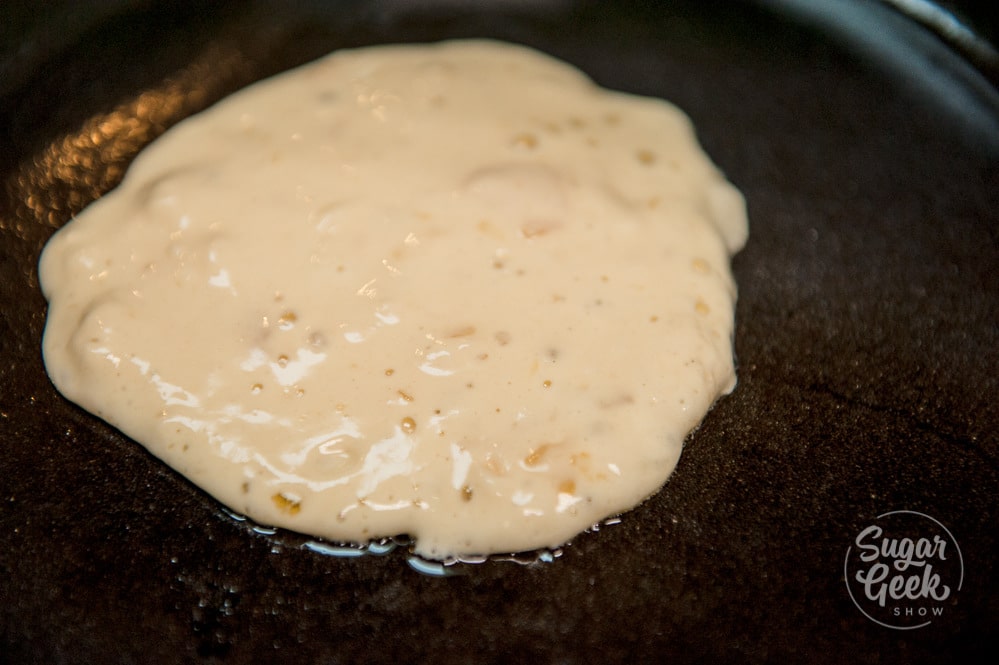 Do a little test with your spatula and lift one edge of the pancake. If it looks golden brown, it's time to flip. If it sticks or its very pale, let it cook for longer. Once it's flipped it's mostly cooked and should only have to cook for another minute or two before it's done.
Don't worry if your first pancake doesn't turn out right. That's typical and usually what we call the "sacrificial pancake".
You just made buttermilk pancakes from scratch!
Give yourself a big high five! You just made your own buttermilk pancakes from scratch and now you'll never be able to go back to the box mix.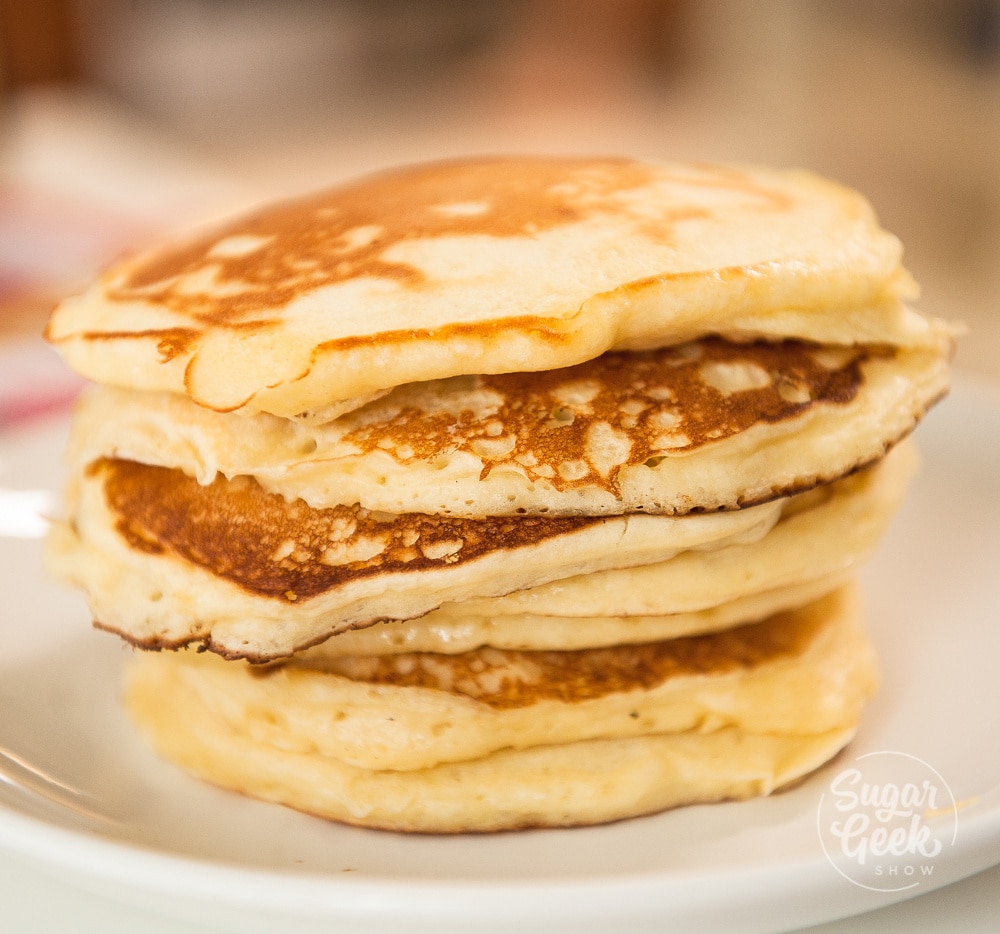 I like to top my pancakes with a dusting of powdered sugar, a pat of butter and some real maple syrup. Try different toppings like chocolate chips, fruit and whipped cream or even a side of bacon.
These pancakes have become a family tradition in the Marek household and I hope you enjoy them as well!
Recipe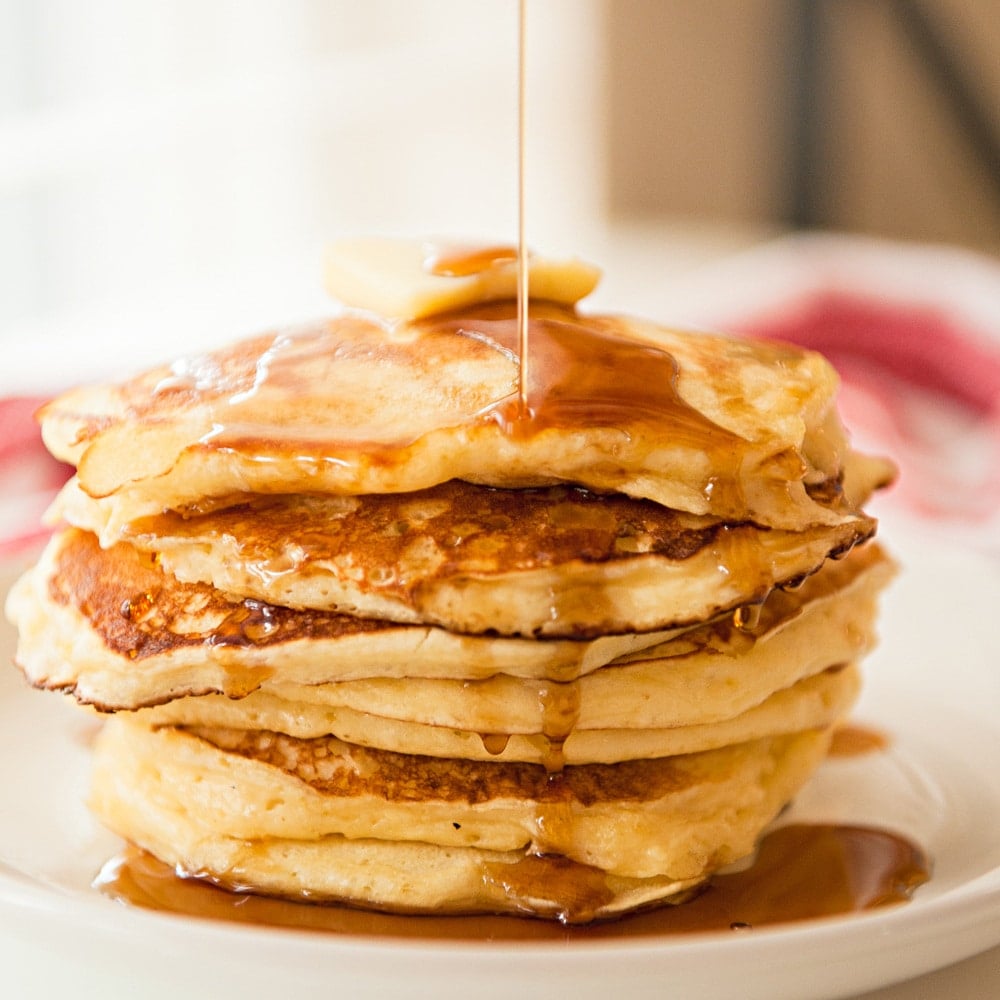 Ingredients
Buttermilk Pancake Recipe
10

oz

flour

two cups

2

tablespoon

sugar

1

teaspoon

baking powder

½

teaspoon

baking soda

½

teaspoon

salt

16

oz

buttermilk

two cups

2

oz

sour cream

¼ cup

½

teaspoon

vanilla extract

2

large

eggs

3

tablespoon

brown butter

cooled

1-3

tablespoon

butter for frying
Instructions
Whisk together flour, sugar, baking powder, baking soda and salt

Combine buttermilk, sour cream, vanilla, butter and eggs. Whisk lightly to break up eggs.

Make a well in the flour mixture and add in your egg mixture. Fold gently until combined but the batter is still lumpy. Let rest for 10 minutes.

Heat a skillet on medium heat for 5 minutes. Melt a tablespoon of butter in the pan and turn the heat down to med/low.

Scoop ¼ cup pancake batter and pour into the middle of the pan. Let cook until you see bubbles popping in the center of the pancake and the edges of the pancake look dry and not shiny anymore. Then flip.

Cook your pancake for 1-2 minutes more then it's done! Top with powdered sugar, maple syrup and butter! Mmmmm!
Nutrition
Serving:
4
oz
|
Calories:
97
kcal
|
Carbohydrates:
16
g
|
Protein:
3
g
|
Fat:
1
g
|
Cholesterol:
26
mg
|
Sodium:
151
mg
|
Potassium:
97
mg
|
Sugar:
2
g
|
Vitamin A:
80
IU
|
Calcium:
52
mg
|
Iron:
1
mg