How to make a trendy fault line cake with fresh strawberries and buttercream frosting
Fault line cakes are all the rate right now on social media. There have already been so many creative interpretations of this theme from sprinkles to flowers! One of the best things about this cake trend is that it does allow for so much creativity but the basic steps for creating a fault line cake are the same.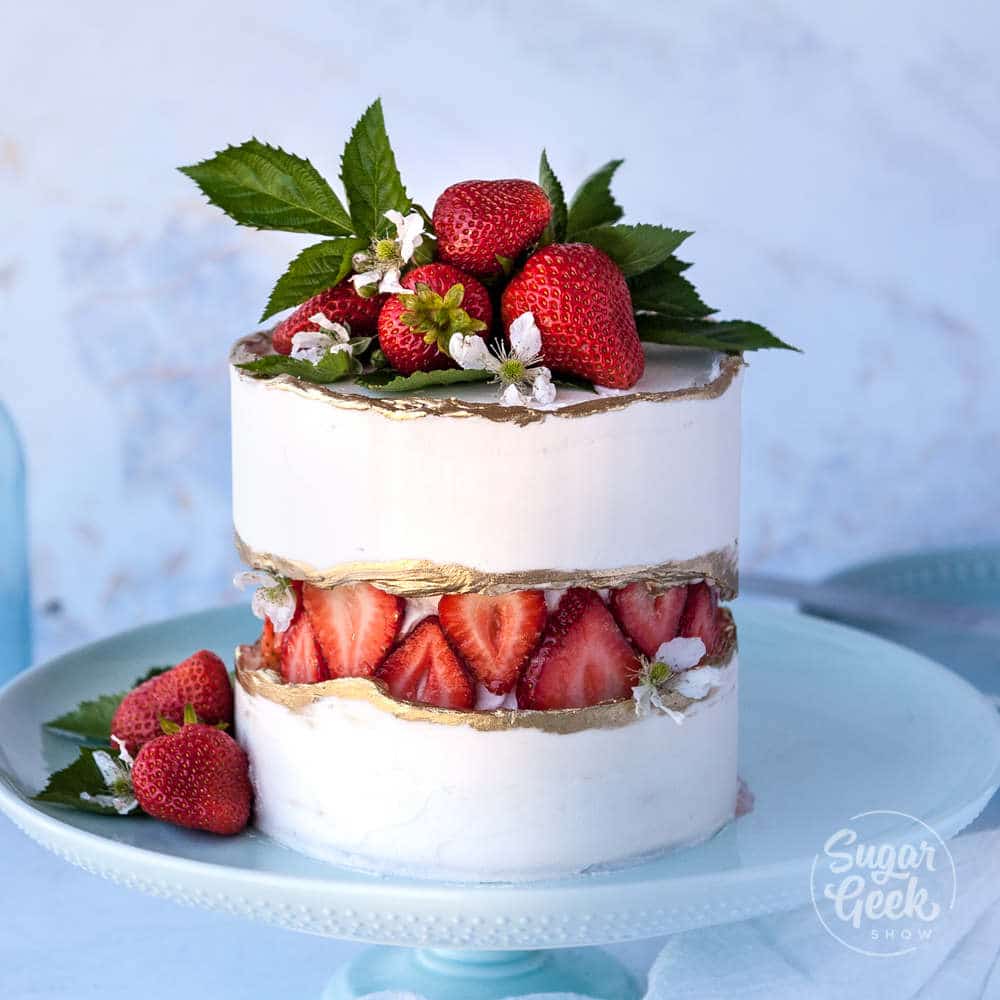 As far as I can tell, this is the earliest version of the fault line cake, created by Milk Moon Kitchen on Instagram. She's been making these beauties since March of 2018.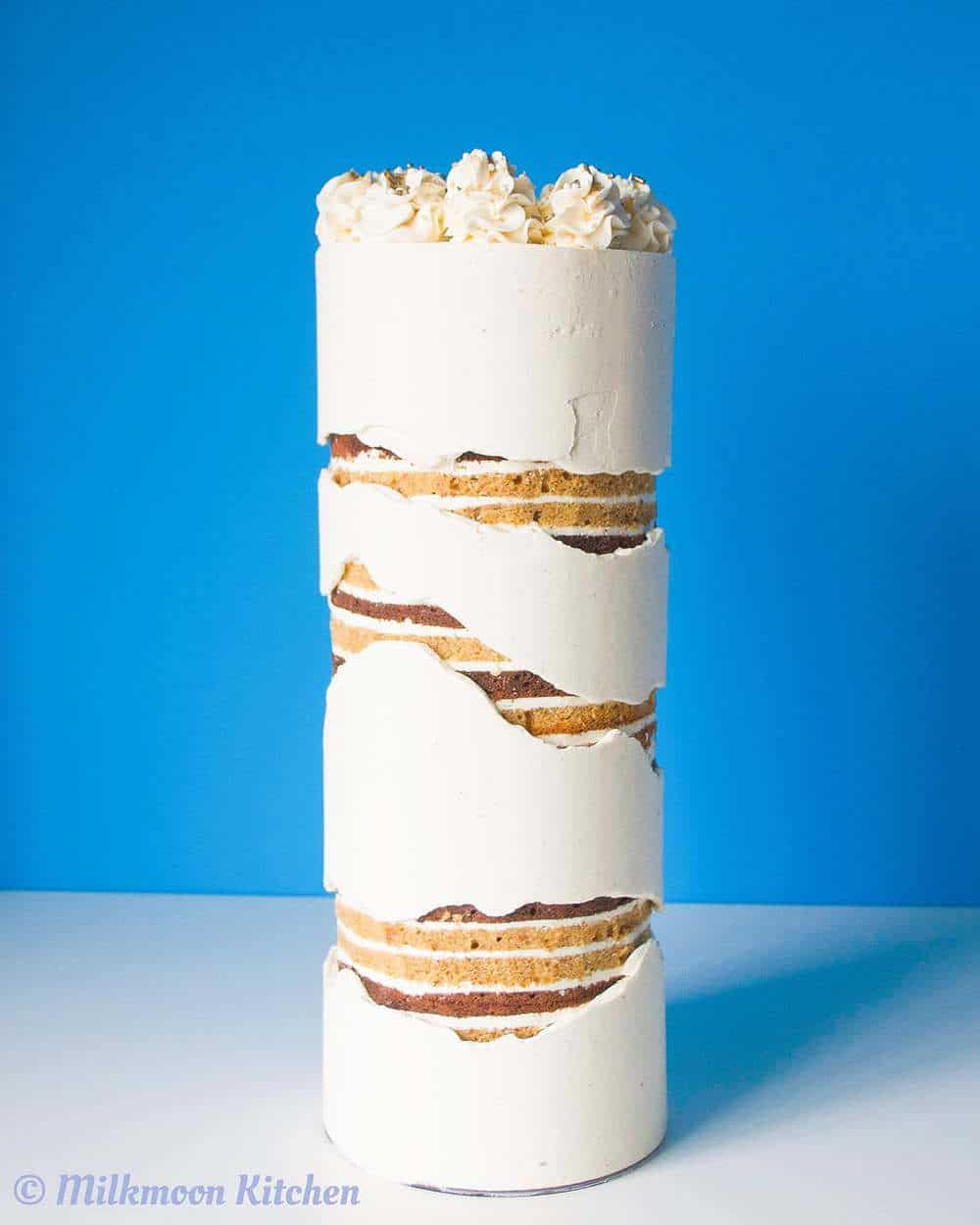 Now, this trend is really taking off and we're seeing all kinds of super creative versions like this amazing tiger sprinkles cake from Susie Makes. She hand-placed each of those sprinkles onto wafer paper brush with piping gel to make the tiger pattern! Then wrapped the paper around the cake before applying the final coat of buttercream. Amazing work!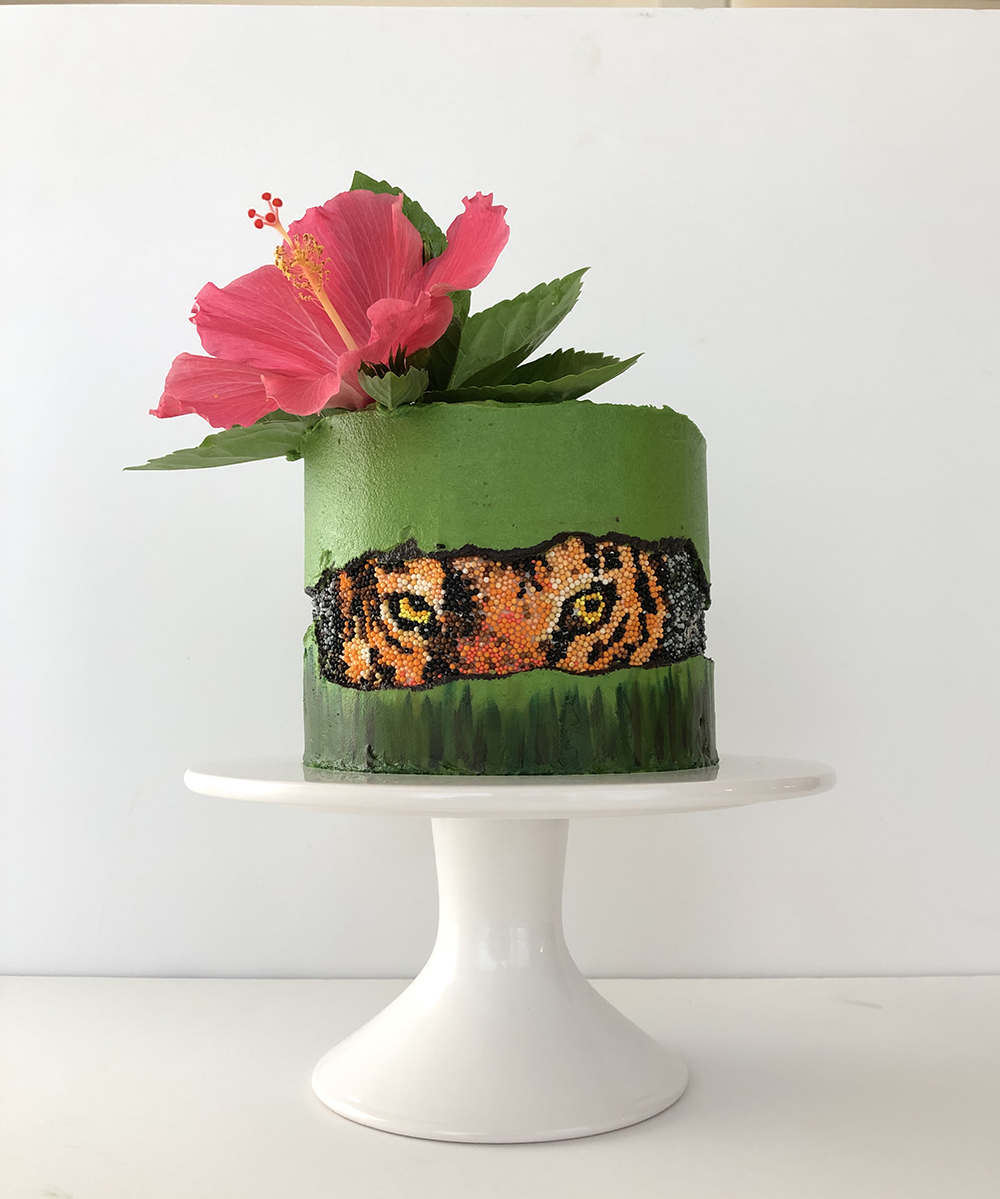 Or this stunning rose fault like cake from Cutely Made. The creator states that this cake was made by placing a 4" styrofoam cake dummy between two 6" cakes. The roses were then pushed into the styrofoam and the buttercream frosted over the top to create the fault line cake. Don't worry, roses are edible and were prepared in a food-safe way.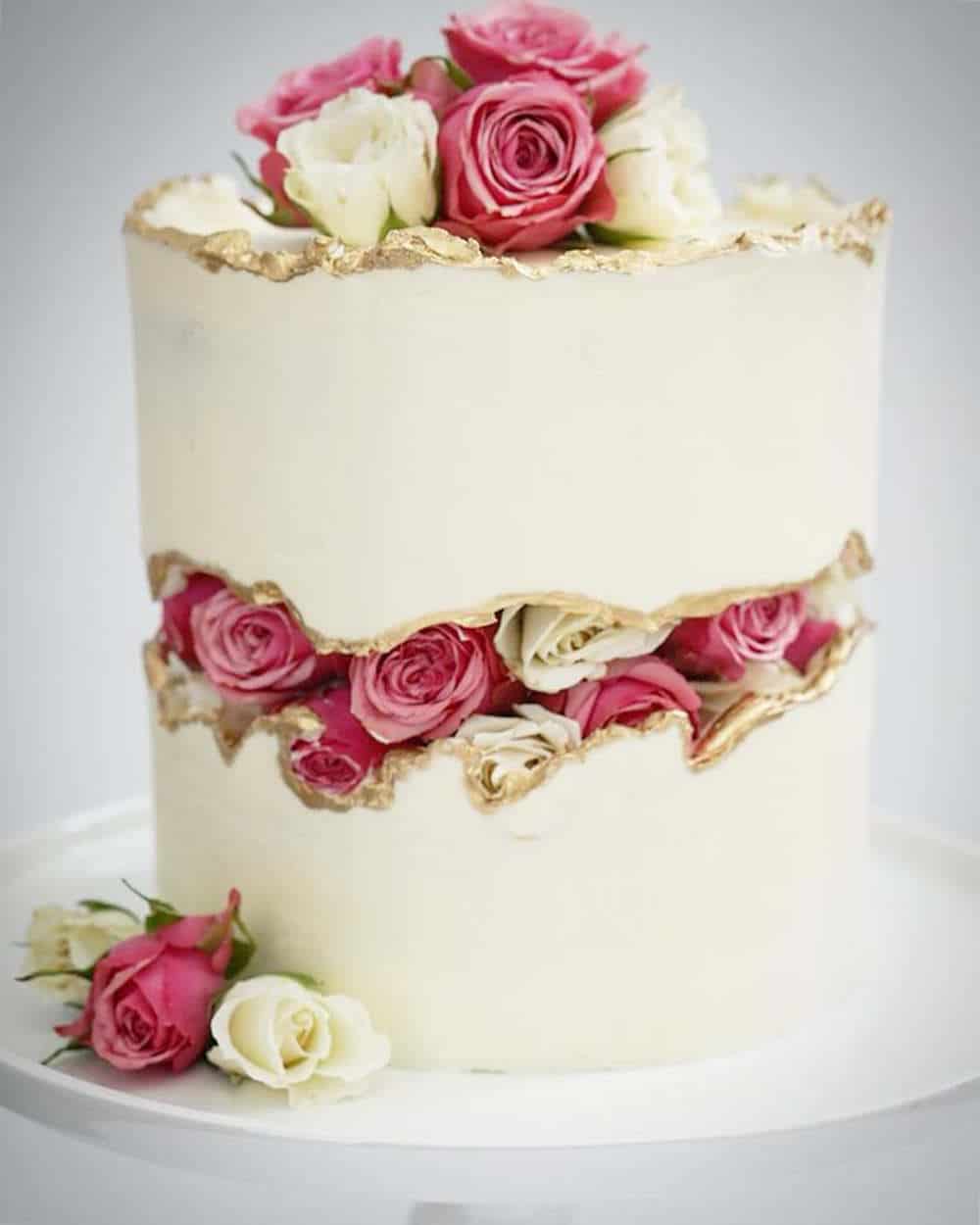 The possibilities really are endless if you think about it!
Today I'm going to show you how to make my version of the fault line cake using fresh strawberries! A total no-brainer for a delicious and beautiful cake for summer.
How to keep berries fresh
Whenever you are using fresh fruit in a cake, you have to take some precautions to make sure that your fruit doesn't mold quickly. I think we've all experienced purchasing a box of fresh fruit from the store that looks great one day and the next it's all moldy.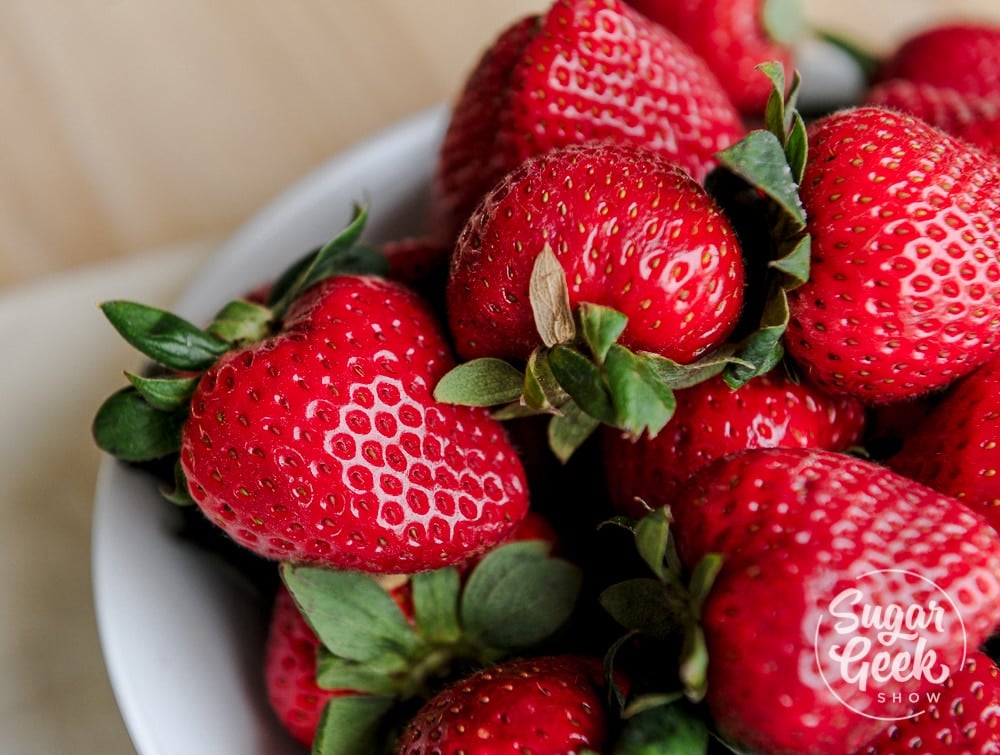 To prevent your fruit from molding in the cake, you're going to give it a little bath. Combine 4 cups of cool water and ½ cup of white vinegar in a large bowl. Add in your fresh fruit and let soak for about 5 minutes. Rinse your berries under cool water in a colander and then lay on a paper towel to dry.
The vinegar bath does not make your berries taste like vinegar so don't worry about that. It will, however, extend the life of your berries and kill off any mold that is lurking around the corner.
How to stack and fill your fault line cake
The first step to making the fault line cake is to prep the cake. I am using my fresh strawberry cake but you could use any cake that you like. I have two 6" cake layers and one 4" cake layer. Each cake layer is 2" tall. My cakes have already been chilled and I have trimmed off the brown edges on the top, sides and bottom. If you want to know more about preparing a cake for decorating, check out my video on how to make your first cake.
Start by stacking your first 6" cake on a cake board. Add a layer of strawberry puree (if you prefer) then cover with a layer of easy buttercream. I decided to slice my 4" cake layer in half to make it a bit taller. I filled it with buttercream and strawberry puree as well.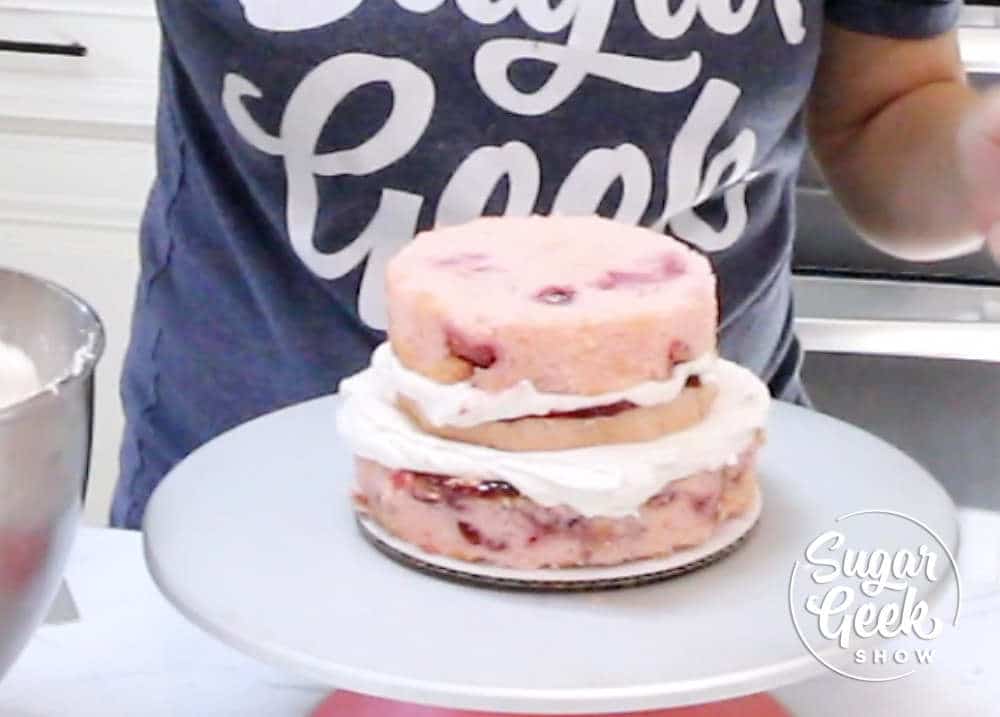 Now let's do a quick crumb coat of buttercream before we move onto the next layer of cake. You can decide to chill the cake at this point if you feel like your cake is too soft and moving around a lot but I went ahead and pushed on to the next step.
Stack the last 6" cake layer on top of the 4" cake layer and crumb coat. Place the whole cake in the freezer for 20 minutes to let the cake firm up.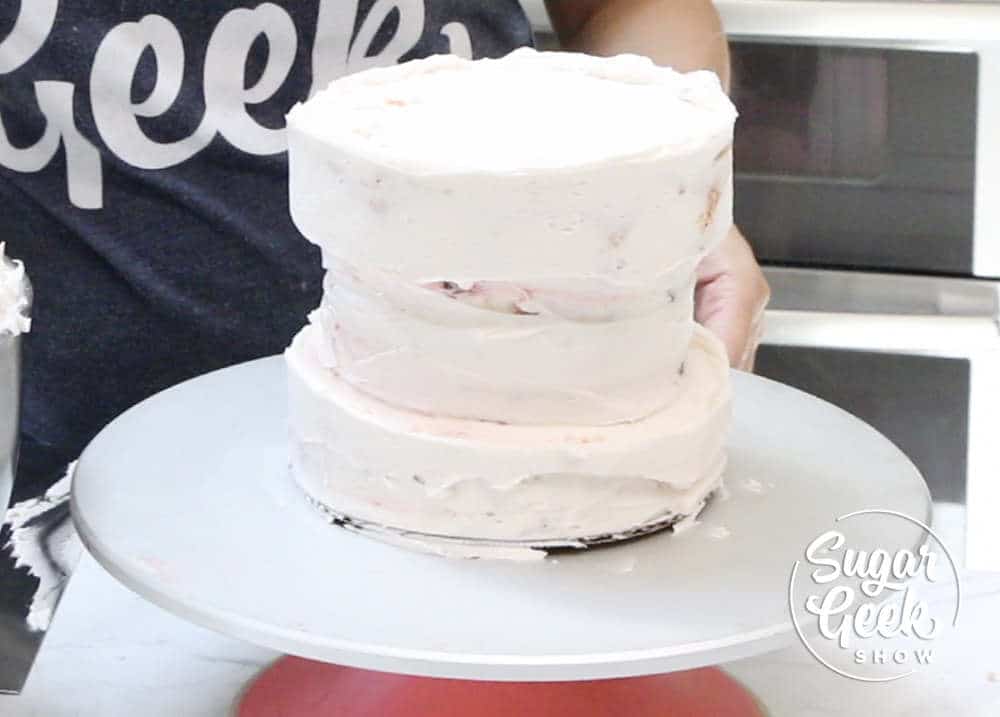 While the cake is chilling, slice up some medium sized strawberries. You can also use other types of fruits!
Let's also prepare our fruit glaze. I'm using apricot jam and have watered it down a bit to make it thinner. This is a technique I learned in pastry school to glaze all sliced fruits to keep them from drying out and keep them looking shiny and beautiful!
How to create the fault line look with buttercream
Once the cake is chilled, add another thin layer of buttercream to the center of the cake so you can push in the strawberries easily. Press your strawberries into the soft buttercream. Alternating them so that they fit snugly next to each other.
Now let's start adding our buttercream. Add some to your top layer and smooth it out nice and flat. Then add some buttercream to the sides of the cake but don't cover your strawberries. You want to keep the buttercream nice and thick so you don't scrape into your strawberries.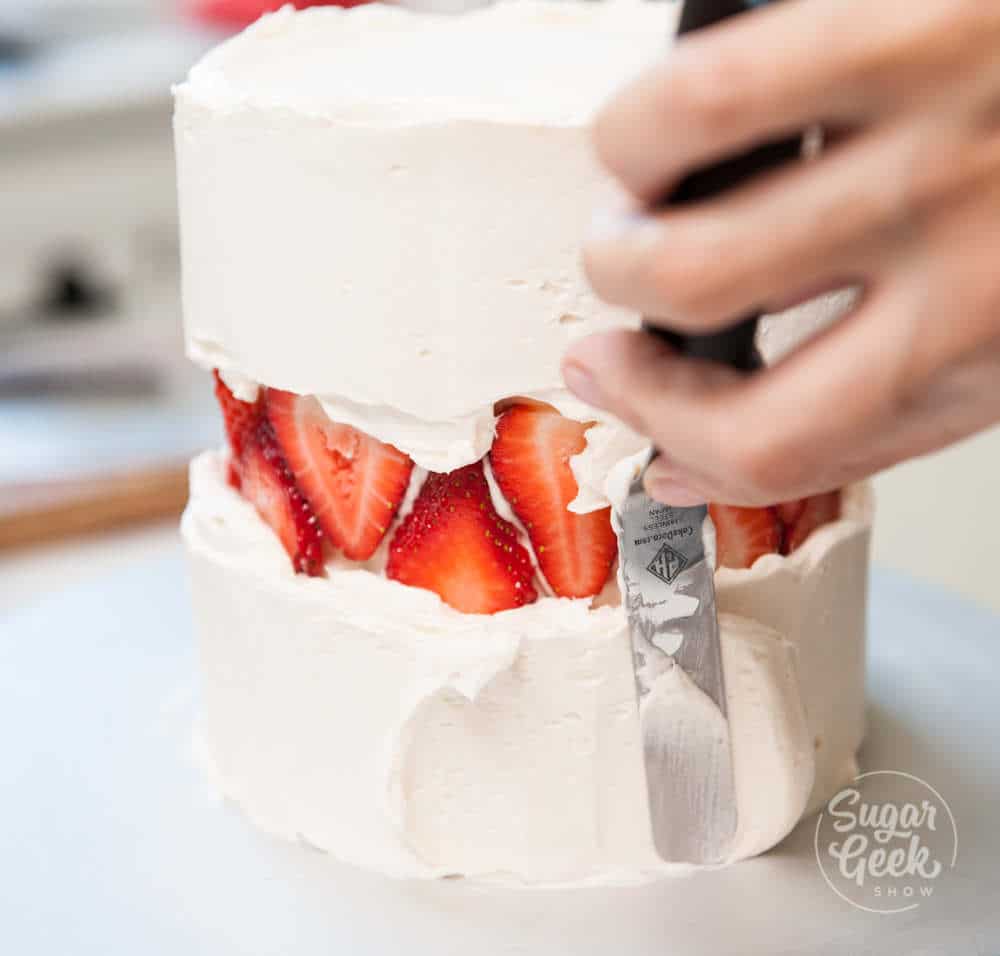 Start smoothing down the sides of the cake with your bench scraper. Fill in any gaps or holes and continue to scrape until nice and smooth.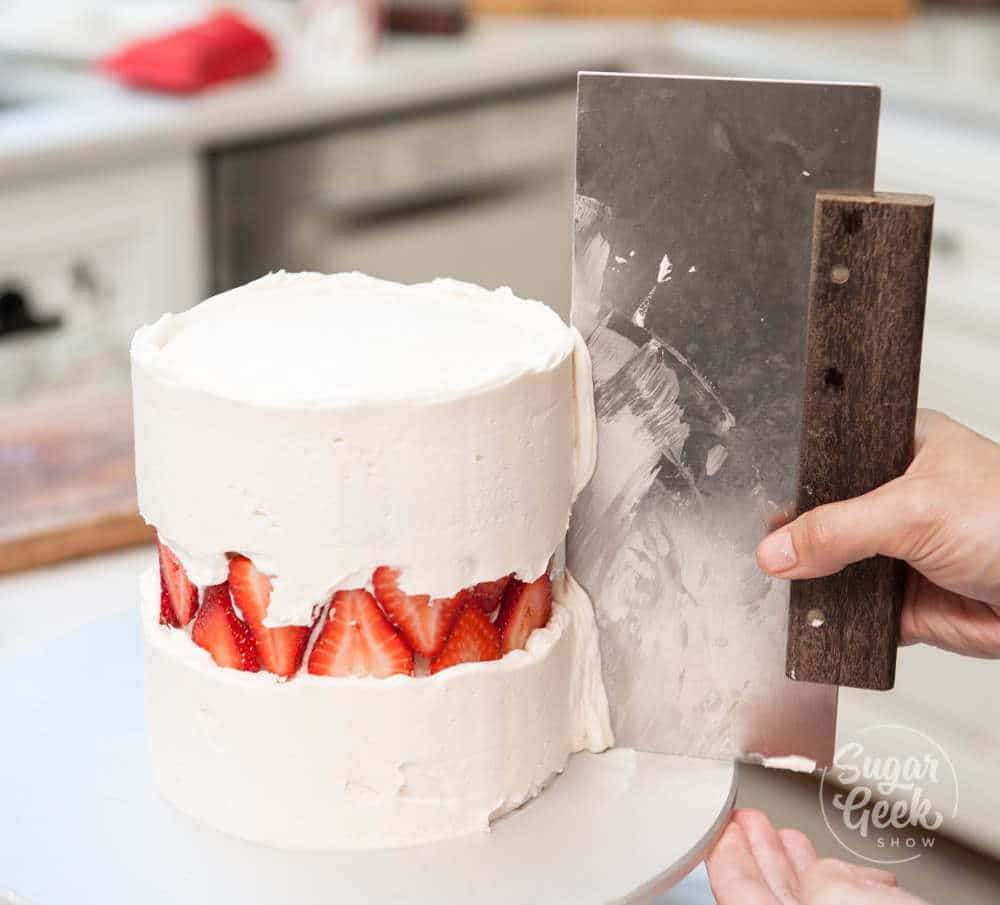 Paint the edges of the buttercream with some gold paint if desired. The one I used was the Truly Made Plastics super gold mixed with a little Everclear alcohol. You want the mixture to be a thick liquid for best coverage. One teaspoon of gold dust mixed with a few drops of alcohol until it's just become liquid is good.
I transferred my chilled cake to a cake stand and then stacked some more fresh berries and leaves on top of the cake along with some blackberry leaves and edible flowers.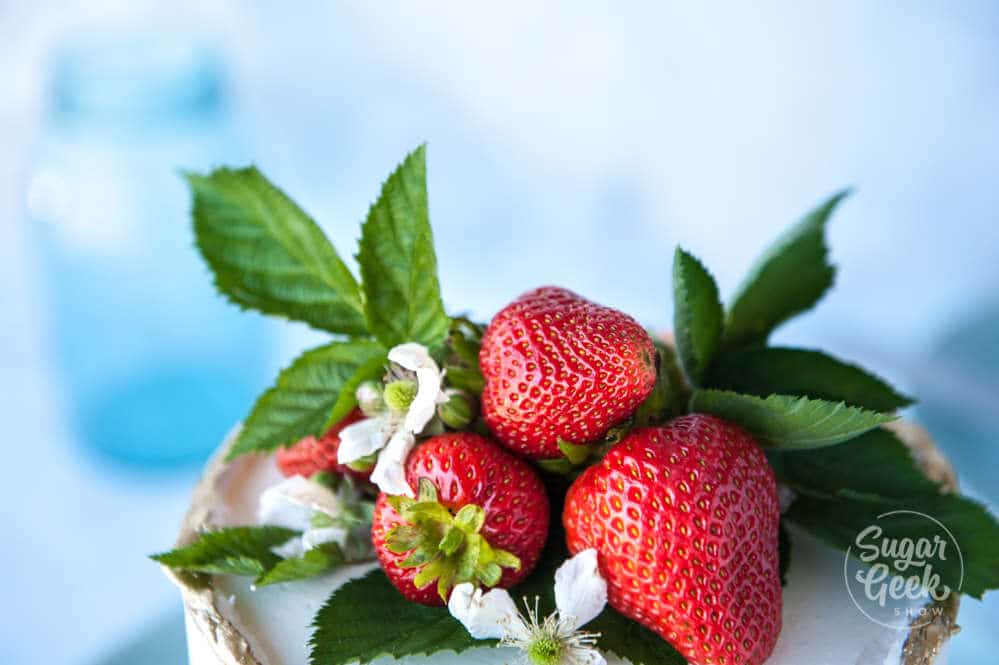 That's it! You can use these same techniques with other types of berries, sprinkles, candy, whatever you like! The possibilities are endless!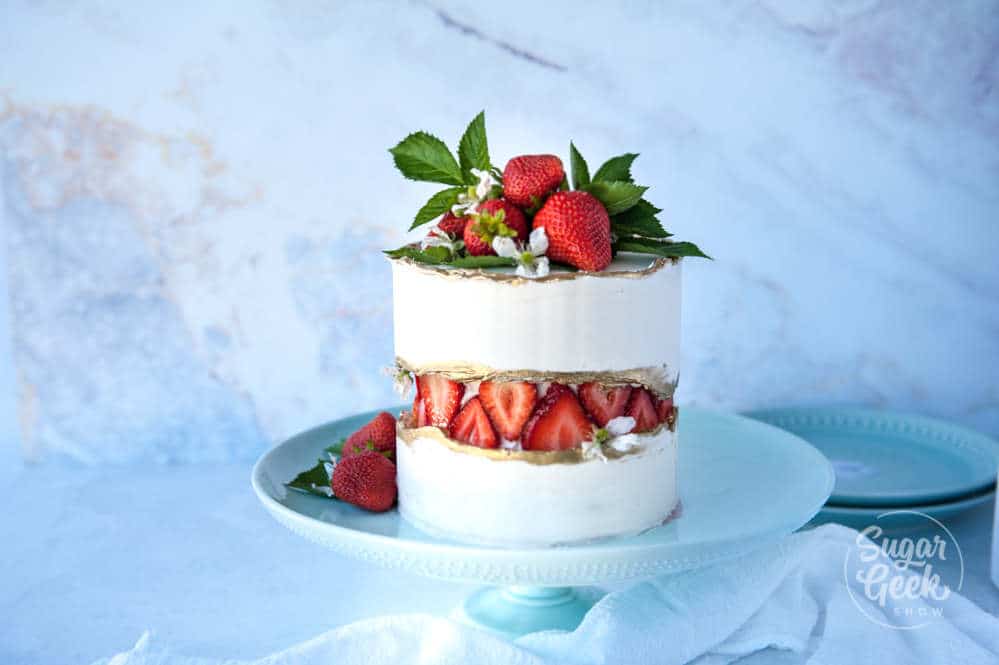 Watch the full tutorial below on how to make this strawberry fault line cake. If you have any questions just leave them in the comments.
Fault Line Cake Ingredients & Tools
Two 6"x2" strawberry cakes, chilled and trimmed
One 4"x2" strawberry cake, chilled and trimmed
6" cake board
2 cups fresh strawberries
Few sprigs blackberry leaves and flowers for garnish (optional)
Everclear (lemon extract or other grain alcohol will also work)
Apricot jam for glazing the berries
Offset spatula
Recipe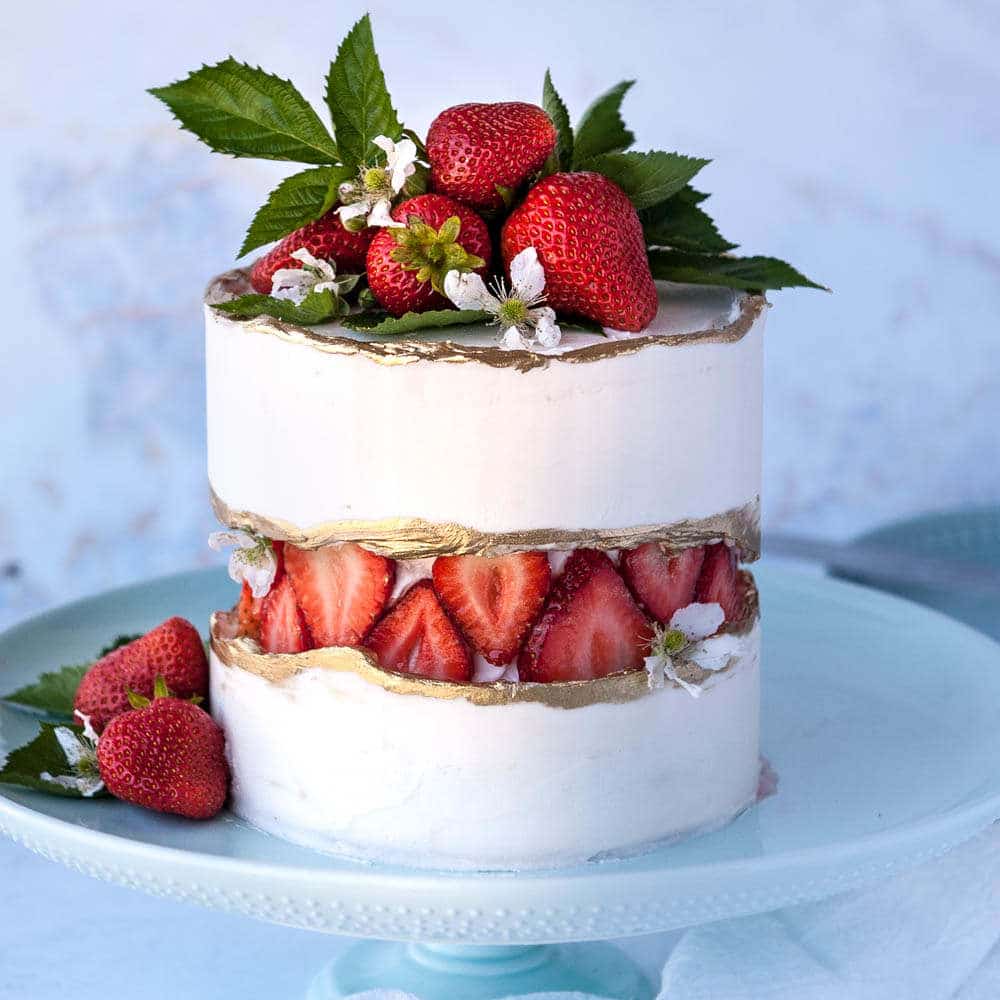 Equipment
Stand mixer or hand mixer

Offset Spatula

Two 6-inch cake pans and one 4-inch cake pan

6 inch cake board

Turn table
Ingredients
Strawberry Cake Ingredients
14

ounces

AP flour

10

ounces

granulated sugar

1 ½

teaspoons

baking powder

1

teaspoon

baking soda

½

teaspoon

salt

8

ounces

unsalted butter

room temperature

1

teaspoon

vanilla extract

½

teaspoon

lemon extract

1 ½

teaspoons

strawberry extract

zest

one

lemon

1

Tablespoon

fresh lemon juice

6

ounces

egg whites

room temperature

4

ounces

strawberry puree

6

ounces

milk

room temperature

½

teaspoon

electric pink food color
Strawberry Puree
32

ounces

fresh or frozen strawberries

do not thaw

1

teaspoon

lemon zest

1

Tablespoon

lemon juice

1

pinch

salt

4

ounces

sugar (optional)
Easy Buttercream Frosting
8

ounces

pasteurized egg whites

32

ounces

unsalted butter

32

ounces

powdered sugar

1

teaspoon

salt

1

teaspoon

vanilla extract
Instructions
Cake Instructions
NOTE: It is SUPER IMPORTANT that all the room temperature ingredients listed above are room temperature and not cold or hot.

If your ingredients just came out of the refrigerator or the strawberry puree is too hot, your mixture could curdle during the process of making the cake batter and become ruined.

Adjust an oven rack to the middle position and preheat to 350ºF/176ºC.

Grease two 6" cake pans and one 4" cake pan with cake goop or other preferred pan release.

Add butter to stand mixer and beat at medium-high speed until smooth and shiny, about 30 seconds. Gradually sprinkle in the sugar, beat until mixture is fluffy and almost white, about 3-5 minutes. Add the egg whites approximately two at a time, beating 30 seconds between.

Whisk the flour, baking powder, baking soda, salt, and lemon zest in a medium bowl.

Combine the strawberry reduction, milk, vanilla extract, lemon extract, strawberry extract and food coloring in a separate medium bowl.

With the mixer at the lowest speed, add about a third of the dry ingredients to the batter, followed immediately by about a third of the milk mixture, mix until ingredients are almost incorporated into the batter. Repeat the process 2 more times. When the batter appears blended, stop the mixer and scrape the sides of the bowl with a rubber spatula.

Divide the batter evenly between the prepared pans. Smooth the tops with a rubber spatula. Bake cakes until they feel firm in the center and a toothpick comes out clean or with just a few crumbs on it, about 35-40 minutes.

Transfer pans to a wire rack and let cool for 10 minutes. Invert cakes onto the rack and pop cakes out of pans. Cool completely before frosting.
Strawberry Puree Instructions
Defrost strawberries if frozen or cut up strawberries if whole

Blend strawberries if you prefer a smoother texture of strawberry puree

Place into a small sauce pan and bring to a simmer over med heat. Add in sugar if desired.

Once bubbling, reduce heat to low and let slowly reduce until berries begin to break up and liquid is almost gone. 

Occasionally stir the mixture to prevent burning. Add in lemon zest and salt. Transfer to another container and let cool before use. 

Store extra in the freezer for up to 6 months
Buttercream Instructions
Place egg whites and powdered sugar in a stand mixer bowl. Attach the whisk and combine ingredients on low and then whip on high for 5 minutes 

Add in your butter in chunks and whip with the whisk attachment to combine. It will look curdled at first. This is normal. It will also look pretty yellow. Keep whipping.

Let whip on high for 8-10 minutes until it's very white, light and shiny. 

Switch to a paddle attachment and mix on low for 15-20 minutes to make the buttercream very smooth and remove air bubbles. This isn't required but if you want really creamy frosting, you don't want to skip it. 
Nutrition
Serving:
1
serving
|
Calories:
603
kcal
|
Carbohydrates:
63
g
|
Protein:
3
g
|
Fat:
39
g
|
Saturated Fat:
24
g
|
Cholesterol:
102
mg
|
Sodium:
222
mg
|
Potassium:
89
mg
|
Fiber:
1
g
|
Sugar:
50
g
|
Vitamin A:
1190
IU
|
Vitamin C:
2.9
mg
|
Calcium:
37
mg
|
Iron:
0.8
mg