Gold Crackled Fondant Is A Beautiful Texture For Many Different Cake Applications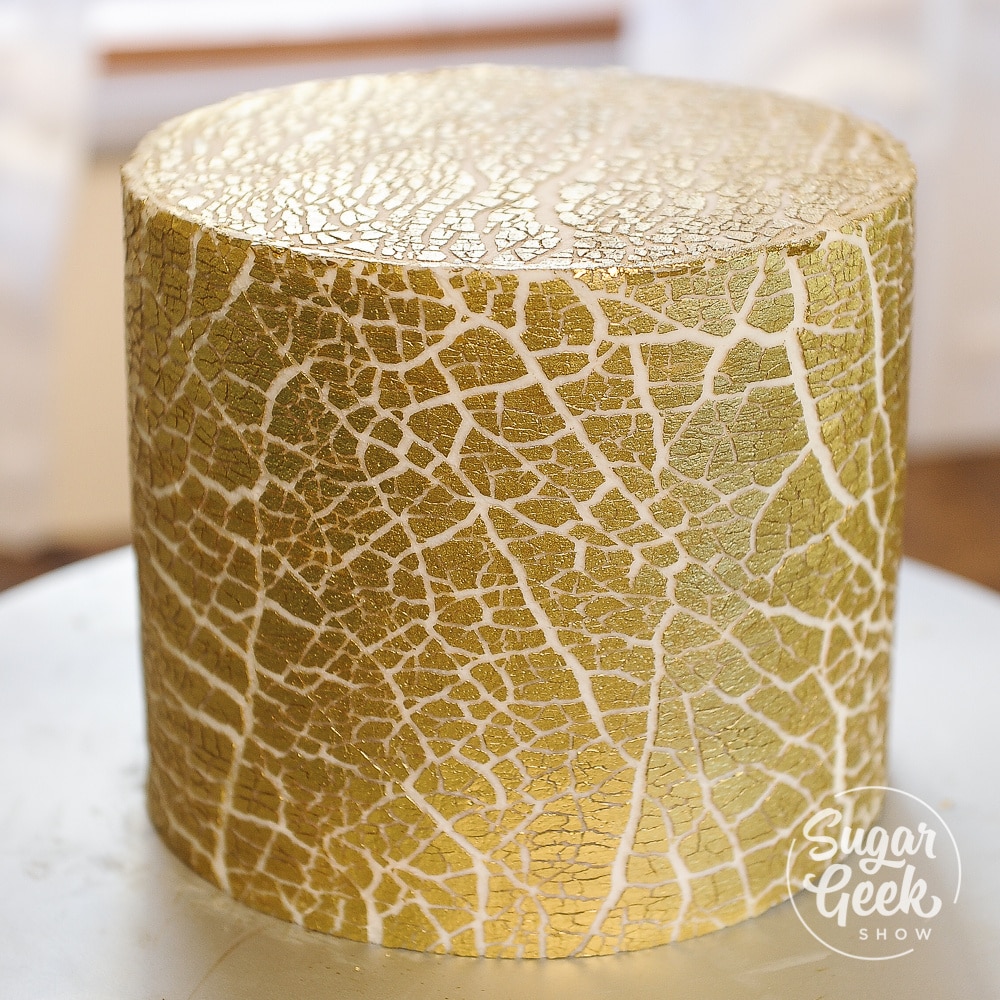 Gold crackled fondant is so beautiful and easy to make! All you need is some fondant, non-toxic or edible gold paint, everclear or rose water, confectioners glaze, a blow torch and a rolling pin! I love the beautiful effect the gold crackle has on a simple tiered cake or you can use it on sculpted cakes for a reptile scale or weathered look. Check out my cute sea turtle cake tutorial to see how this gold crackled fondant looks on a sculpted cake.
I first fell in love with the gold crackled look from that amazing work from Angela Morrison. Her technique uses gumpaste over fondant and is really beautiful as well!
How To Make Gold Crackle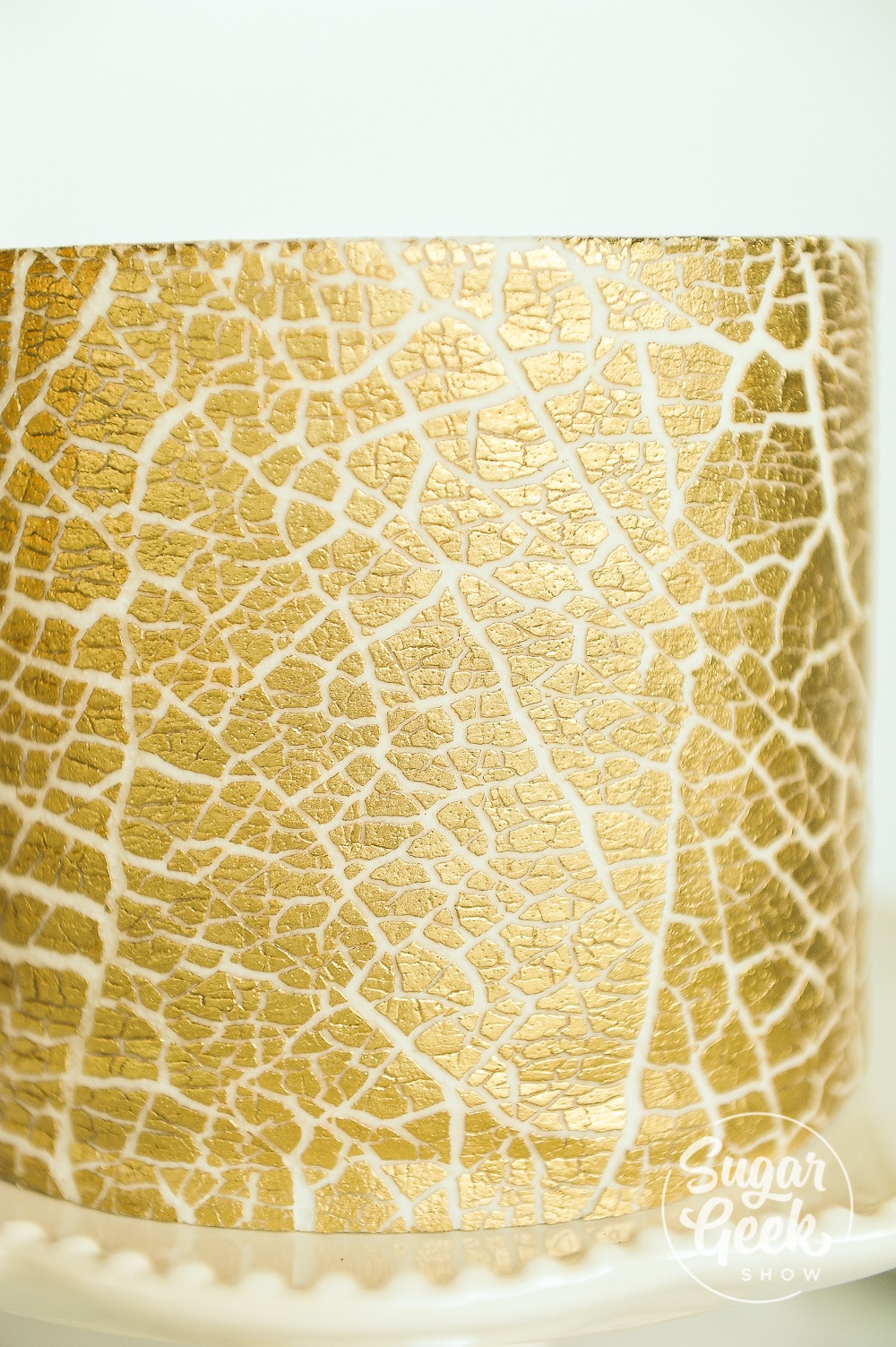 Making gold crackle is easier than you think. Here are the supplies that you're going to need.
Gold Crackled Fondant Materials List
Fondant
Creme brulee torch
Confectioners glaze
Corn starch
Non-toxic gold or edible gold (note: if you use the edible gold paint then you don't need confectioners glaze)
Everclear, rosewater or lemon extract
Rolling pin
X-acto blade
Fondant smoother
Chilled Cake
How To Achieve Crackle Fondant On A Cake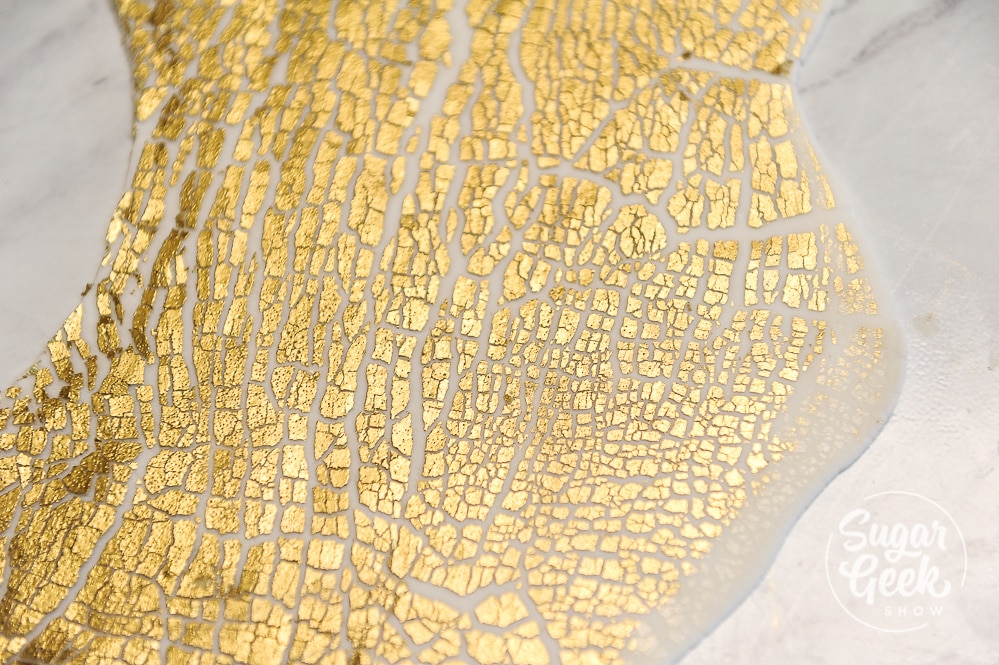 First roll out your fondant to about half as thick as you normally would. Torch the surface with your creme brulee torch until the surface is nicely toasted. If there are any light spots, that place will not crackle.
Paint the surface with confectioners glaze then paint it with your gold/everclear mixture. Let dry completely to avoid the gold from flaking off when you crack it with your rolling pin.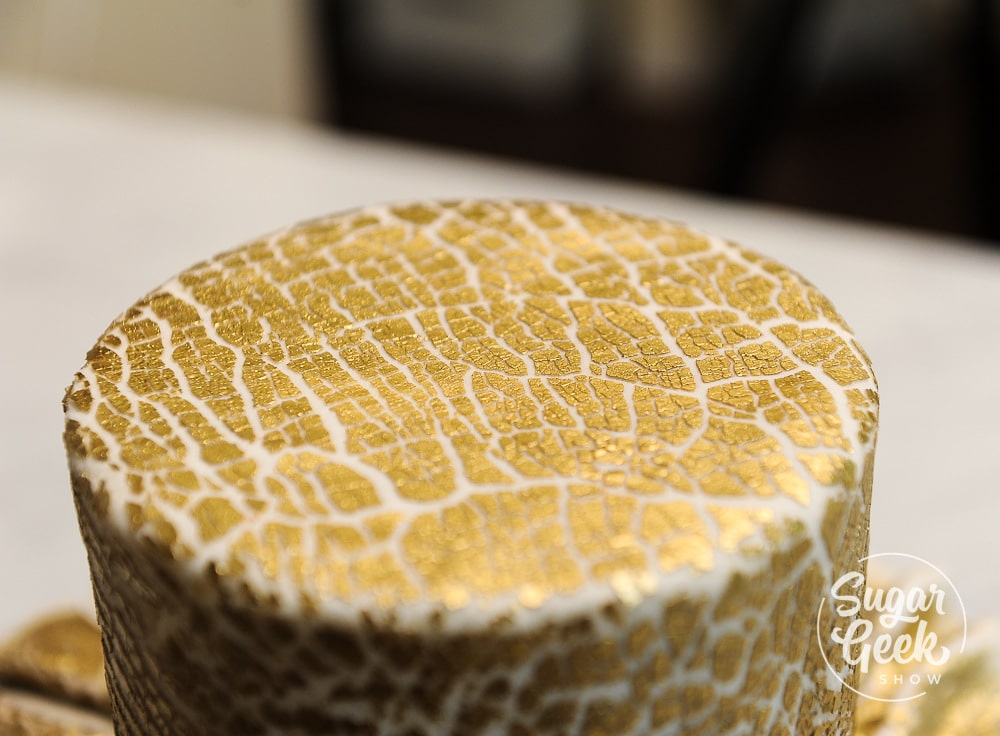 Crackle your fondant by rolling it out with your rolling pin. Go in both directions. The more you roll, the bigger the cracks will be. I prefer to keep my cracks pretty small.
Now you can cover your cake in one piece or you can panel it depending on the final look you are going for.
Edible Crackle Paint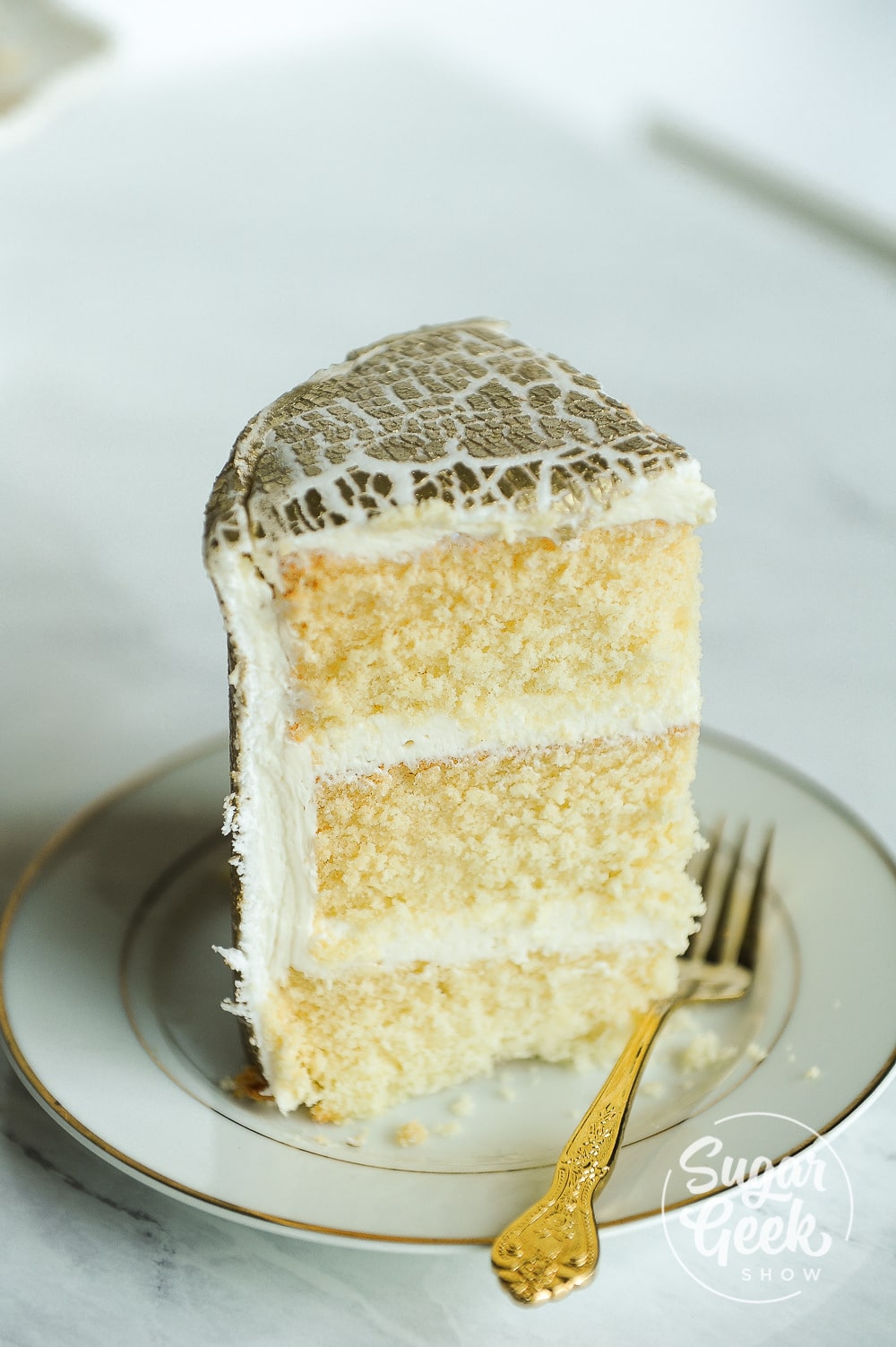 If you want to make a crackle that isn't gold, you can paint the surface of your fondant with food coloring and it will crackle the same way. I used black airbrush for this crackled fondant tutorial but you could use any type of food coloring. Just paint it on and let it dry. Edible artist decorative paints are great for this because it dries really fast.
For the inside of this cake I used my delicious vanilla cake recipe from scratch filled with easy buttercream frosting. I always make sure my cakes are fully chilled before covering with fondant.
Recipe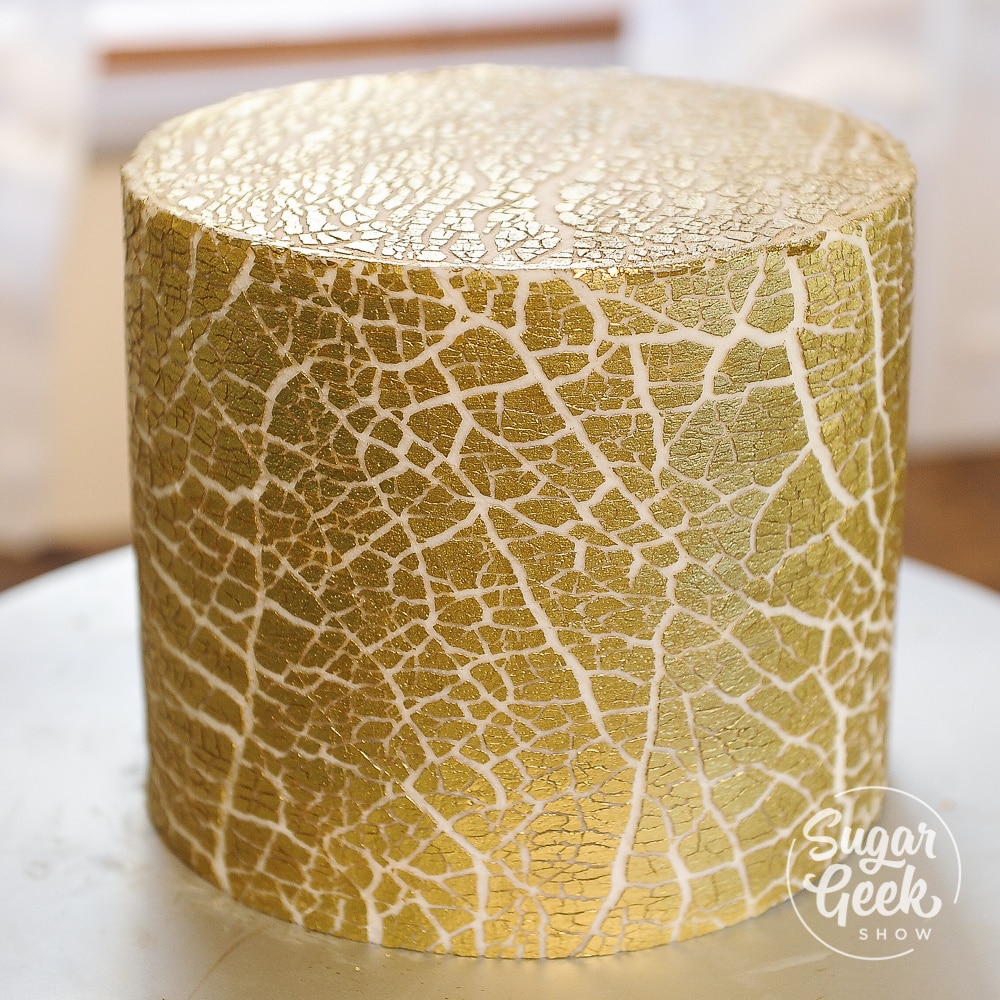 Ingredients
Gold Crackled Fondant
1 ½

lbs

fondant

1

teaspoon

confectioners glaze

2

teaspoon

Non-toxic gold or edible gold
Instructions
Tools Needed
Creme brulee torch

Corn starch duster

Rolling pin

X-acto blade

Fondant smoother

Chilled Cake

Roll out fondant to half as thick as your normally do. Torch the surface of the fondant until it's brown and bubbly. Let cool.

Brush the surface of the fondant with confectioners glaze. Combine your everclear and gold dust to make a paint. Paint over the glaze and let dry fully. At least 10 minutes.

Use a bench scraper to loosen the fondant from the table and then using a rolling pin, roll out your fondant to the desired thickness. The more you roll, the thicker the cracks will be. I like thinner cracks.

Cover your cake in one piece as you would normally or panel to keep the texture more intact.
Notes
Gold crackled fondant is so beautiful on a cake! Learn how to make two ways, traditional and paneled fondant. 
Nutrition
Serving:
1
g
|
Calories:
3245
kcal
|
Carbohydrates:
342
g
|
Protein:
74
g
|
Fat:
180
g
|
Saturated Fat:
14
g
|
Sodium:
224
mg
|
Potassium:
1837
mg
|
Fiber:
20
g
|
Sugar:
272
g
|
Vitamin A:
85
IU
|
Calcium:
401
mg
|
Iron:
12.9
mg