What is Mirror Glaze Cake?
Mirror cake glaze is a shiny cake made by pouring a delicious chocolate sugar glaze that has gelatin in it over a frozen cake, called an entremet (oooh so french). You can use a variety of colors and shaped molds to make the frozen cake to get that super reflective surface which is how the cake got it's name
These cakes really took off as a trend in 2017 but they seem like they are here to stay. One of the most popular creators of the mirror glaze cake is the instagrammer @olganoskovaa from Moscow Russia. Her cakes are so fun to watch, we never get tired of them!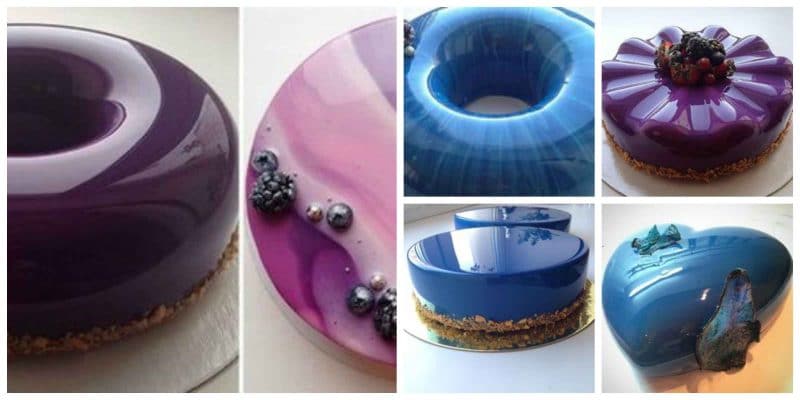 What is mirror glaze made of?
Mirror glaze is made from sweetened condensed milk, a little chocolate, water and gelatin and sometimes flavorings and colors. Mirror glaze sets because of the gelatin but not hard. It is pretty sticky stuff.
Mirror glaze has a nice taste. It's sweet but not too sweet and the flavors meld well with the cake and fillings. It might look a little strange putting gelatin on cake but it tastes delicious!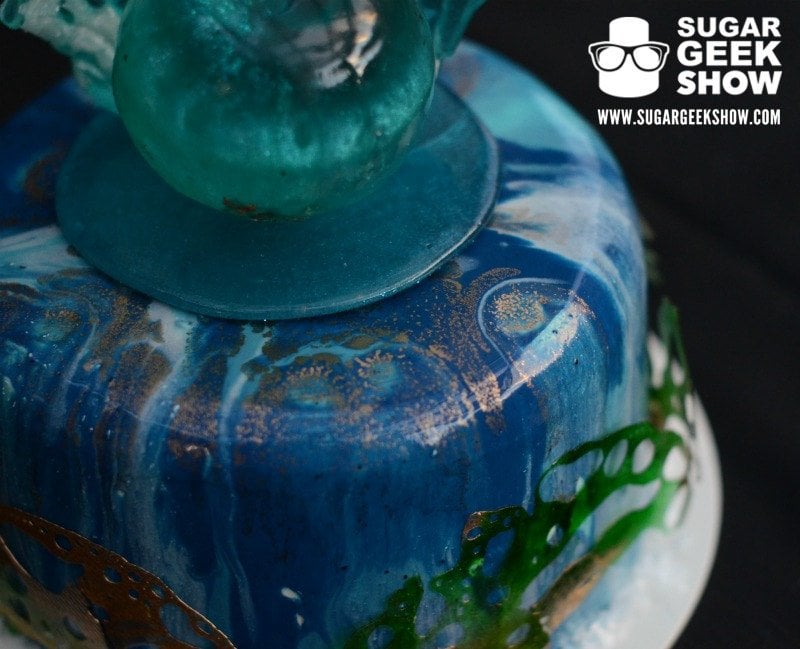 Easy Mirror Glaze Recipe
Lucky for us, easy mirror glaze recipe isn't even that hard to make. Like most things related to baking, it does take a few specific things to be fully successful in your quest for mirror glaze awesomeness.
Use a high quality white chocolate with more than 30% cocoa butter for best results
Make sure you strain your glaze after you make it so that you don't have any lumps ruining the finish
Pour your glaze at exactly 90 degrees F. Too warm and it will run off your cake. Too cold and it won't be smooth
Make sure your entremet is frozen and fresh outta the freezer so that it sets the gelatin and chocolate in the glaze quickly
Make sure you put your cake on top of a cake pan or glass so that the glaze can drip off easily.
Colored Mirror Glaze Recipe
To add colors to your glaze, simply start with making the white glaze. Divide the glaze into a few bowls and color them with regular food coloring. Some people like to then put these colors together into a big bowl or pitcher and then quickly pour over the frozen cake or they prefer to pour the colors individually and layer them up.
I used a combination of dark blue, turquoise and white to make this mirror glaze cake. You can even learn to make your own ocean wave mirror glaze cake complete with cool metallic effects!
fun little tip, if you add some metallic gold dust to some everclear or other grain alcohol and drip it over the mirror glaze, it makes some cool effects! Don't use too much though or it will eat away at your glaze.
Mirror Cake Galaxy
Making a galaxy cake is super fun! For this I prefer to use a dark chocolate mirror glaze recipe and add a little black food coloring to make it nice and dark. Then layer up some white, pink, purple, blue or any colors you want really! Top with some edible sprinkles or glitter for an extra out-of-this world look!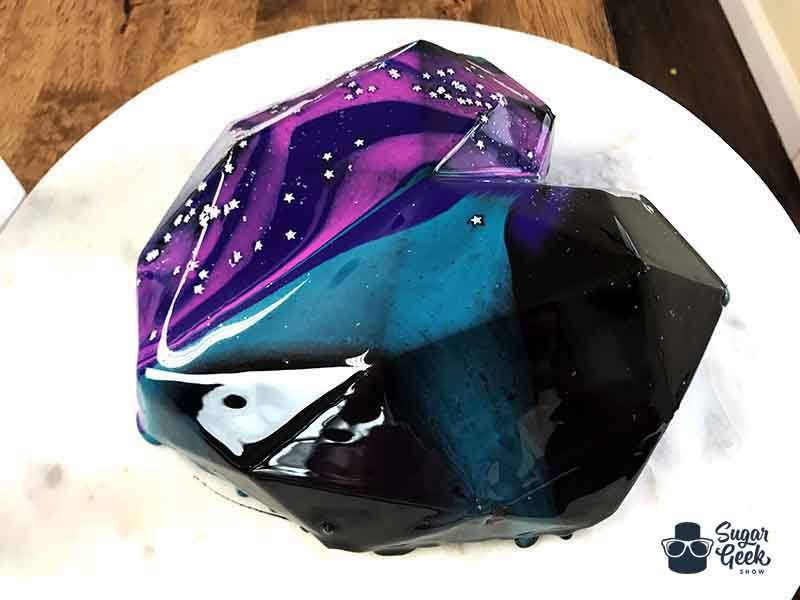 Galaxy mirror glaze cakes can be really fun and easy! My daughter avalon helped me make this one in a recent fb live. I just love how she has recently shown more interest in helping me bake, especially when it's time to lick the bowl.
Mirror glaze mousse cake recipe
So how do you actually make one of these beautiful, shiny cakes?
Start by making a mousse. Mousse is technically just any sort of custard (or pudding if you're from the US) that is lightened by whipped cream. You could make your own or if you're like me, you just use the boxed mix.
Switching up the flavors of your mousse can be pretty much anything! You can even start with vanilla and add in fruit purees to give it a different flavor like lemon or passion fruit! oohhh fancy.
How to make a mirror glaze cake
I had a great time making this valentines day themed mirror glaze cake heart with my daughter and she really enjoyed eating it. You see, its win/win that way. I get to make a yummy treat but I don't have to feel guilty about eating the whole thing myself.
I cooked up a batch of chocolate vanilla pudding and folded in some whipped cream. About ¼ liquid then whipped up to a firm peak. Fold until combined and smooth.
Fill your mold with about ⅓ of the mousse. Layer up some strawberries or fruit puree. More whipped cream, then your cake (I recommend our delicious vanilla cake recipe). Seal with another layer of cream and then freeze!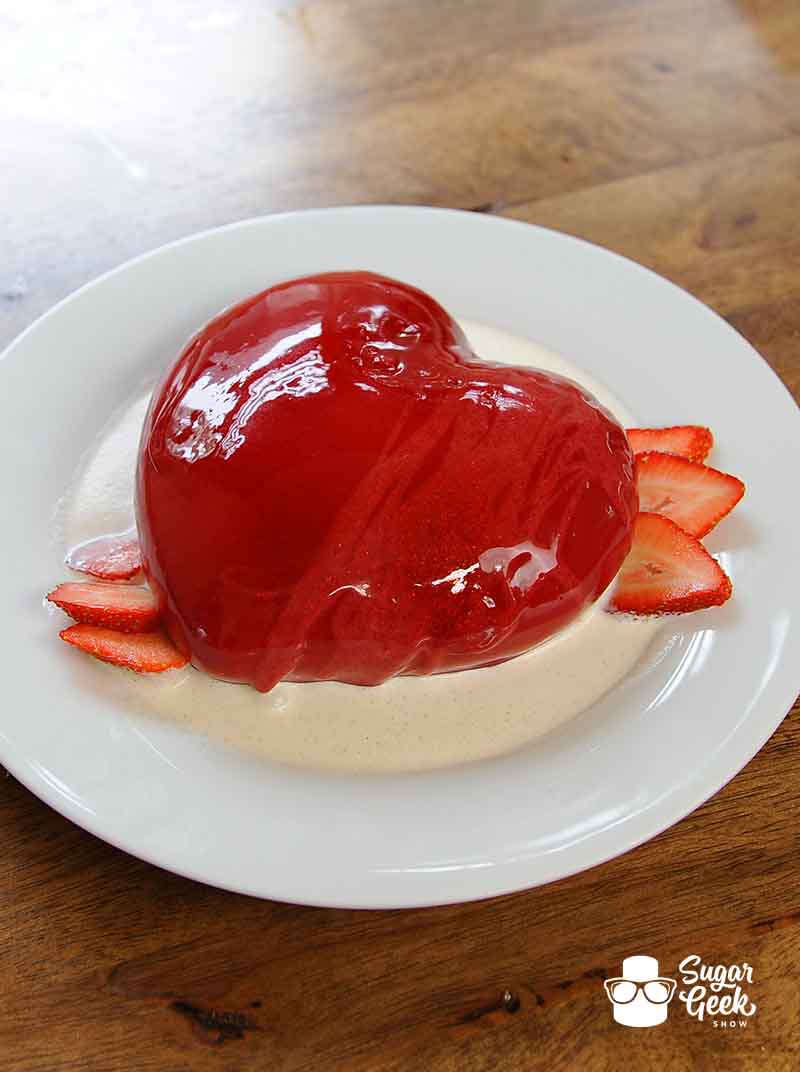 I love how this pretty cake looks on top of some melted ice cream and surrounded by fresh berries. Definitely, the perfect valentines day dessert that you can easily make on your own.
My smooth mirror glaze cake mold is perfect for creating a super shiny surface for the cake! Don't forget to trim off the drips after your glaze sets for a nice clean finish.
One more tip, once you glaze your cake, put it in the fridge for a few hours to soften. No one likes eating rock-hard cake! This cake will keep up to 24 hours but after that, it will start to lose it's shine.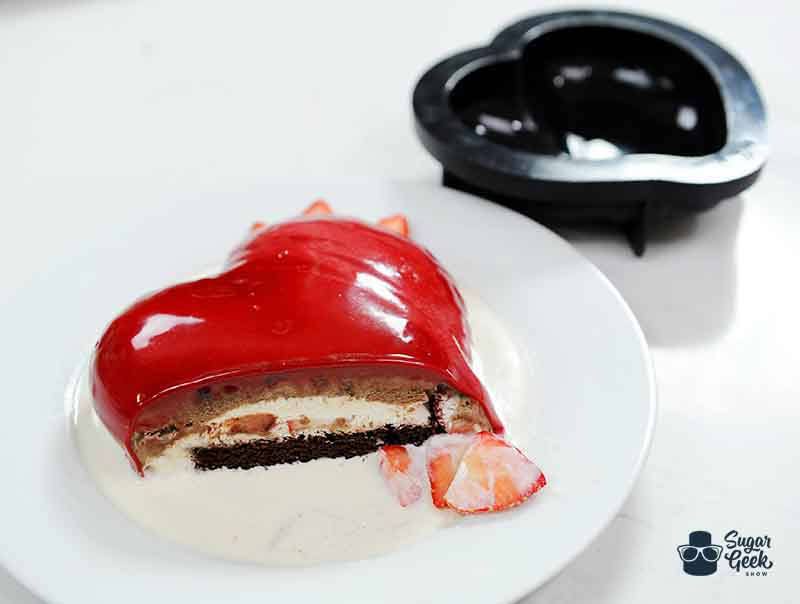 Chocolate mousse cake with mirror glaze
Chocolate mousse cakes are not the only way to use mirror glaze. You can also use regular cake iced in plain old buttercream to make a mirror glaze cake with frosting. Make sure it's really really smooth though and frozen for a least an hour before you put that glaze over the top.
Once you put the glaze on, let the cake chill in the fridge until you're ready to slice into it.
Kitchen tools to make a mirror glaze cake
This post may contain affiliate links. Read my disclosure policy
Kitchen thermometer - Vital tool for making sure your mirror glaze is not too hot or cold when you pour. Also great for use when using chocolate!
Mirror glaze mold (smooth heart) - The classic mirror glaze mold! Perfect size to make a tasty treat for two.
Mirror glaze mold (geometric) - This mold is a little bigger than the smooth heart and has a cool geometric finish. Great for small gatherings like bridal showers or birthdays!
Strainer (chinois) - super fine strainer for getting out pesky lumps and bumps in your mirror glaze so you have a super smooth, super shiny finish on all your cakes!
Recipe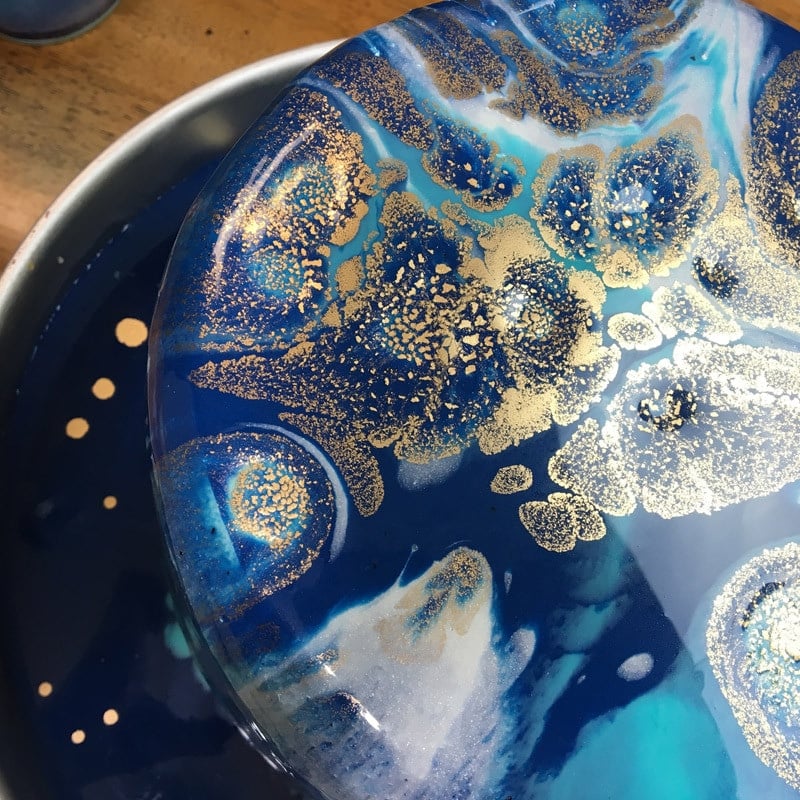 Ingredients
Ingredients
10

oz

Granulated Sugar

7

oz

Sweetened Condensed Milk

5

oz

Water

4

teaspoon

Gelatin Powder

2.5

oz

Water

7

oz

White Chocolate (high quality for best results such as Valrhona)

2

drops

White Food Coloring
Instructions
Instructions
Add the sugar and first quantity of water to a medium-sized saucepan and heat over medium-low heat, stirring occasionally.

Pour the  second quantity of water into the powdered gelatin and mix with a spoon. Leave to fully absorb for 15 minutes.

Combine white chocolate and sweetened condensed milk in large heat proof container

When the sugar and water mixture begins to simmer (do not boil), remove from the heat and add the bloomed gelatin. Stir until the gelatin has dissolved.

Pour the hot liquid on top of the chocolate chips and sweetened condensed milk and leave to sit for 5 minutes to melt.

Use a whisk or immersion blender to stir the glaze until the chocolate has completely melted.

Add the gel food coloring and stir until well-mixed. Pass the glaze through a fine strainer to remove any lumps. Leave the glaze to cool.

Once the glaze has cooled to 90º F / 32º C, pour it over the frozen cake which is on top of a cup, sitting on a tray or plate with a edge to catch the drips.

Leave the glaze to set for 5 minutes before using a hot knife to remove the drips.

Enjoy your cake right away or refrigerate until serving. Keep in mind that glaze loses it's shine after 24 hours so if you're making this for a client make sure you pour the same day as delivery.
Nutrition
Calories:
3346
kcal
|
Carbohydrates:
567
g
|
Protein:
59
g
|
Fat:
102
g
|
Saturated Fat:
62
g
|
Cholesterol:
124
mg
|
Sodium:
575
mg
|
Potassium:
1511
mg
|
Sugar:
566
g
|
Vitamin A:
625
IU
|
Vitamin C:
6.6
mg
|
Calcium:
1122
mg
|
Iron:
1.4
mg