My meringue cookie recipe makes a delicious, crisp cookie that tastes like a toasted marshmallow.
The first time I made a meringue cookie recipe was in pastry school. I had no idea they were so easy to make. Simply combine egg whites and sugar and whip it up! This meringue cookie recipe is perfect for making meringue pops or pretty much any shape you can think of.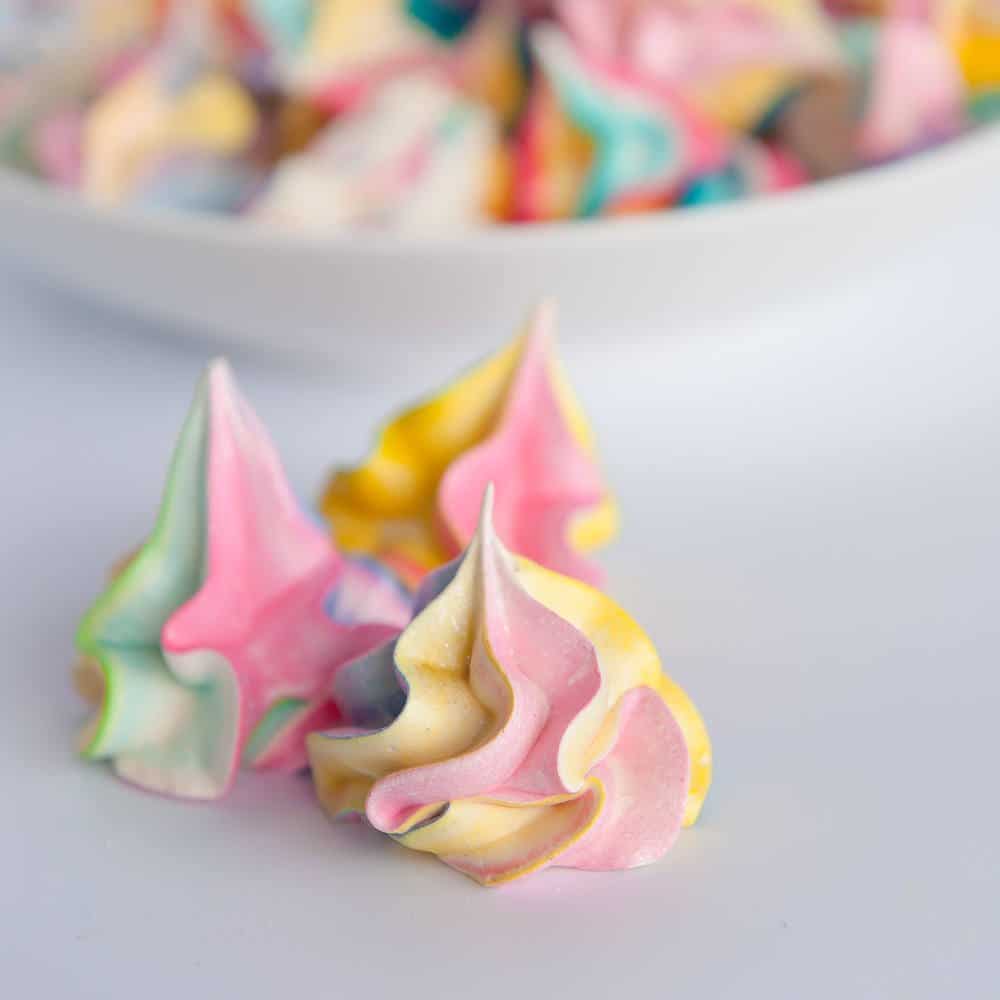 What is an easy meringue cookie recipe
My meringue cookie recipe is super easy. The key to a perfect meringue cookie recipe isn't in the ingredients, it's in the baking (if you can call it that), it's more like a dehydration process.
Just bring a couple of inches of water to a simmer in a pot.
Place a stainless steel mixing bowl over the simmering water.
Add in your egg whites and your sugar and whisk occasionally until the sugar dissolves.
Once the sugar is dissolved, you can begin whipping. Add in your vanilla and cream of tartar. I use my kitchenaid for this otherwise, it would take a long time to do with your hands. Let your meringue whip until it's at the stiff peak stage.
Once your meringue is ready you can add color if you like. To make the rainbow meringue kisses, I place a little dab of food coloring on the inside of my piping bag with a toothpick so it colored the meringue as I piped. I used light blue, pink and yellow.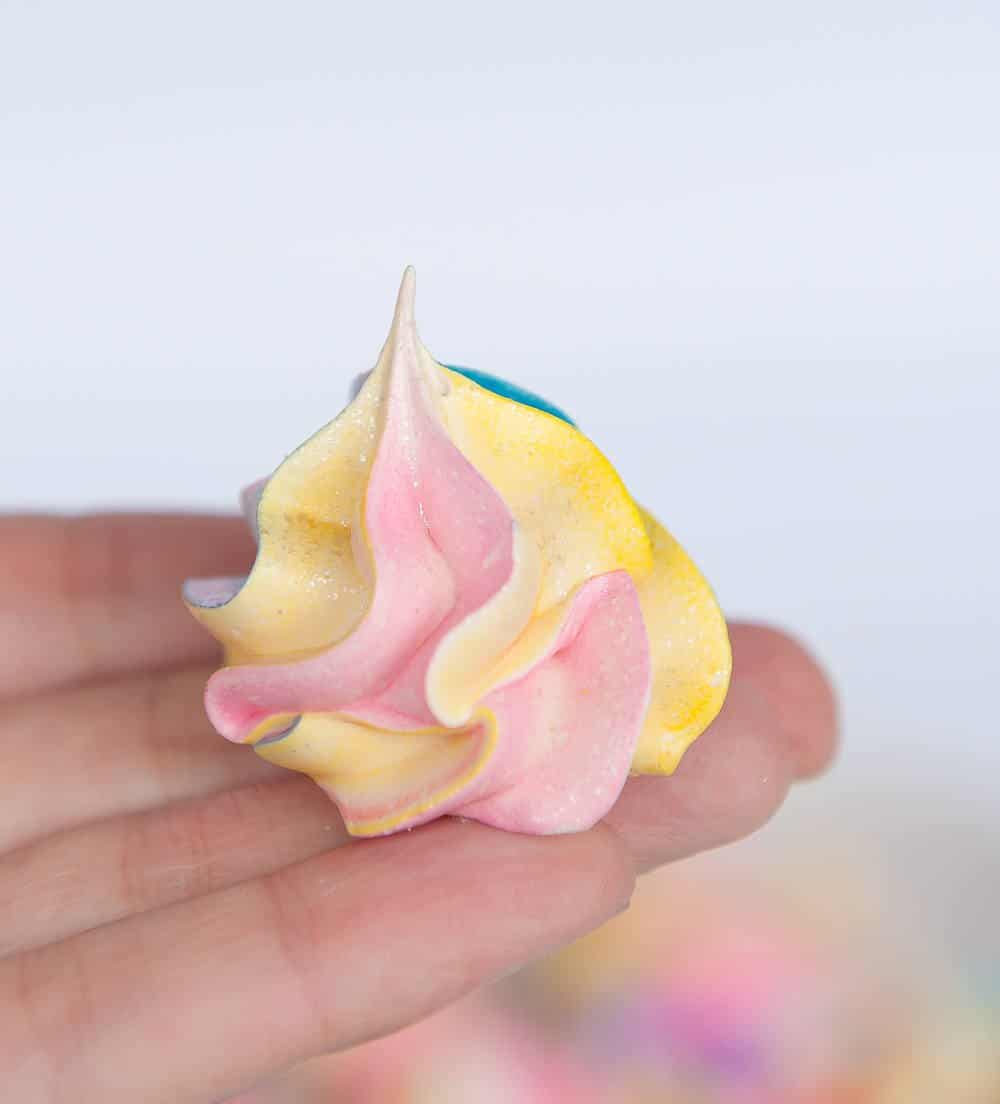 How to bake meringue cookies
Most people do not bake their meringues for long enough which results in wrinkly or sticky meringues.
Preheat your oven to 225ºF
Pipe your meringues onto parchment. If you're making multiple sizes, put larger meringues on a separate pan.
Bake meringues 2" or smaller for 60 minutes. After the time is up, turn off the oven and leave them in the oven until it's completely cool (I let mine sit in there overnight).
For larger meringues like meringue pops, bake for 90 minutes then let cool.
How do I know if my meringue cookies are done?
Once your meringues are totally cool, they should lift right off the parchment paper. When you bite into them they should not be soft in the middle and feel very light and crisp. If you go to lift the meringue cookie off the paper and it sticks, they are not done yet.
Why are my meringue cookies sticky?
The day I made my meringue cookies, it was raining like crazy. I thought for sure they would be sticky, but they weren't. As long as your meringue cookies are baked for long enough and left in the oven to completely cool, they won't be sticky. The stickiness comes from leftover moisture in the meringue coming to the surface and making it sticky.
How long do meringue cookies last?
The great thing about meringue cookies is that you can make a whole bunch ahead of time and then save them for later. You can store meringue cookies in an airtight container for up to two weeks. Meringue cookies make great gifts because they stay fresh for so long. They do not need to be refrigerated.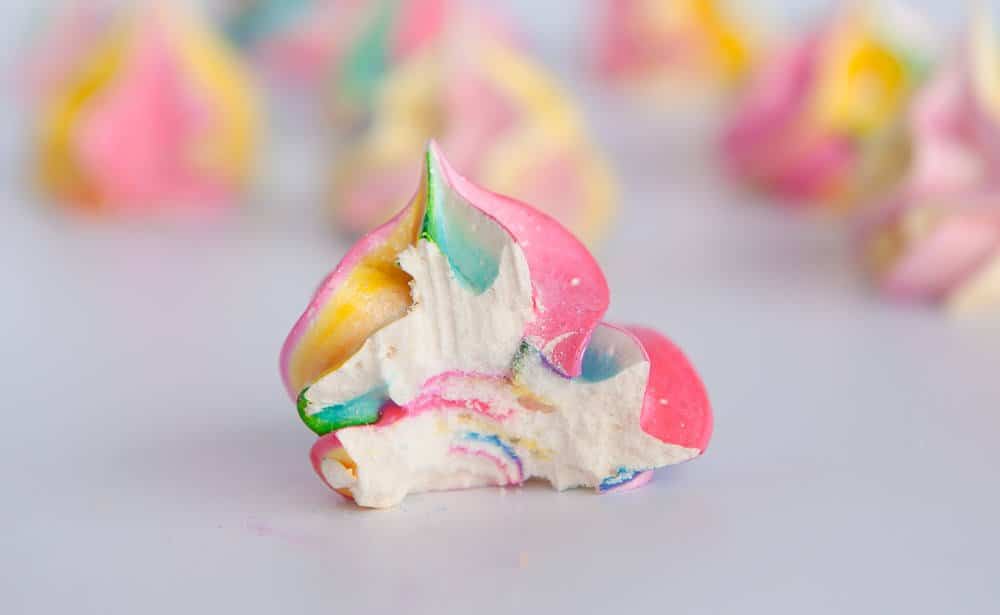 How do you change the flavor of the meringue cookie?
You can change the flavor of your meringue cookie very easily! Simply replace the extract with any other type of flavoring you desire like strawberry or peppermint. I thought about flavoring this meringue cookie recipe with bubblegum flavoring since it's a unicorn theme and all but I couldn't find any locally. Next time!
How do you make a meringue pop?
You can use this same recipe to make fun meringue pops! All the rage right now in the cake world. You can color your meringue the same way. This time pipe the meringue onto one half of a cake pop stick. Apply some fun sprinkles and bake as usual. These make great treats for parties, for using on cakes or for packaging individually for sales.
For extra fun, try using a little edible glitter from never forgotten designs! I love how much it sparkles!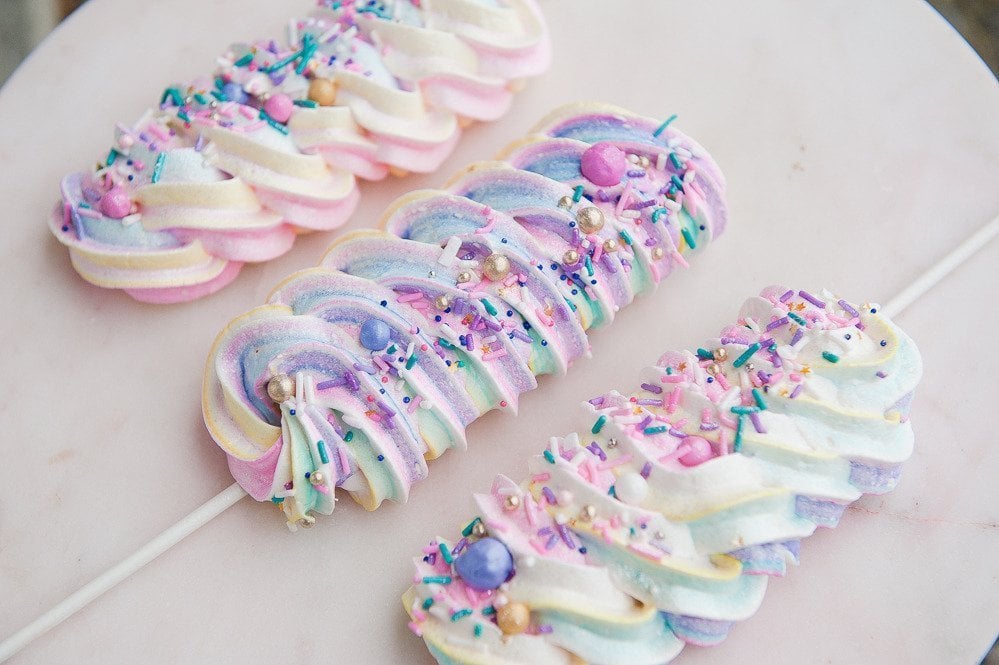 Recipe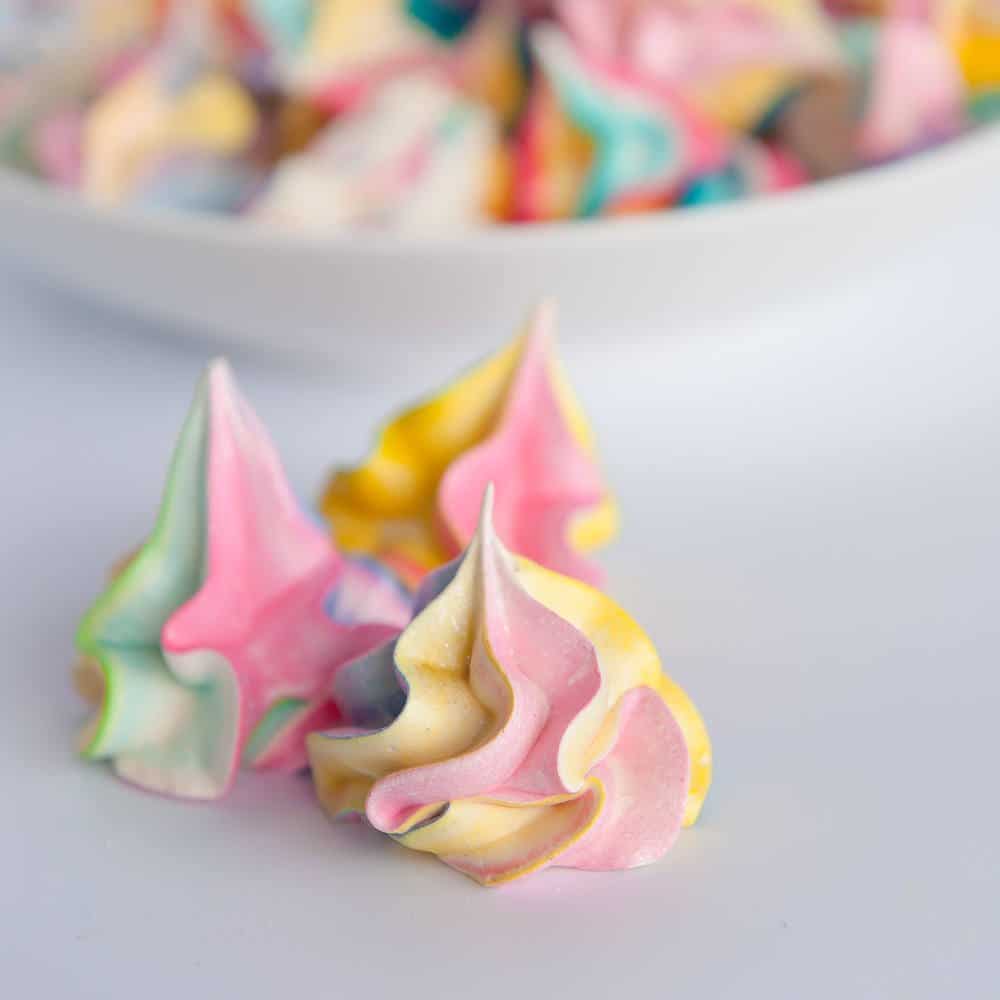 Ingredients
Meringue Cookie Ingredients
3

egg whites

fresh

¼

teaspoon

cream of tartar

5

oz

sugar

½

teaspoon

vanilla

or other flavoring

1

pinch

salt
Instructions
Meringue cookie instructions
Pre-heat your oven to 225ºF and line a baking sheet with parchment paper

Bring 2 inches of water to a simmer in a pot. Place a clean stainless steel mixing bowl over the water. It shouldn't touch the water.

Combine your egg whites and sugar and whisk to combine. Occasionally whisk as it's heating to distribute the heat and dissolve the sugar.

Once your egg whites are at 110ºF (or when you don't feel any grains of sugar between your fingers) you're read to whip

Place the bowl on your stand mixer with the whisk attachment. Whisk on med for one minute, add in cream of tartar, salt and flavoring.

Bump up to high and let whip until you reach STIFF peaks.

Now you are ready to pipe your meringue onto the baking sheet in kisses, swirls or pops. The possibilities are endless!

Bake for 60 minutes, then turn off the oven but do not take out the cookies. Let them sit in the oven until they are completely cold. I leave mine in overnight.

Cookies can be stored in a ziplock bag unrefrigerated for up to two weeks.
Nutrition
Serving:
1
cookie
|
Calories:
11
kcal
|
Carbohydrates:
2
g
|
Sodium:
6
mg
|
Potassium:
11
mg
|
Sugar:
2
g