A shark cake that is sure to impress and might even motivate you to take a stab at making one of your own!
Have you ever wanted to make a shark cake? Maybe you have and maybe you haven't but either way we've got a handful of fun shark cakes that are worth checking out!
It's Shark Week and there is no shortage of awesome shark cakes on the webs to celebrate. I've compiled s0me shark cakes from cute to creepy to honor this epic week. Whether you're fascinated by sharks or frightened, I think everyone can agree these cakes are killer! (The good kind).
Shark Cake Tutorial
We of course have to start off by showing our very own shark cake that's a tutorial available to Premium and Elite Sugar Geek Show Members! It features a gravity defying design, sculpting, painting, a unique gelatin layer on top of the cake for the "water" look and so much more!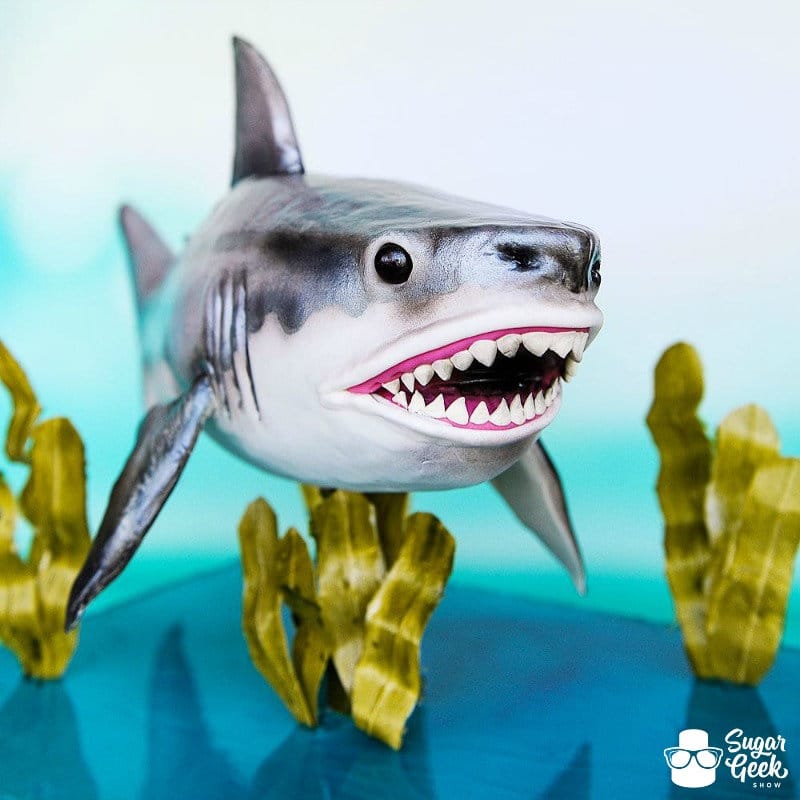 Shark Cake Pictures
The design of this cake is fantastic and it certainly has a lot of sharks! A great mix of scary and cute. I love the 2D scene throughout the tiers and I think rounded cake edges really lend well to water themed cakes.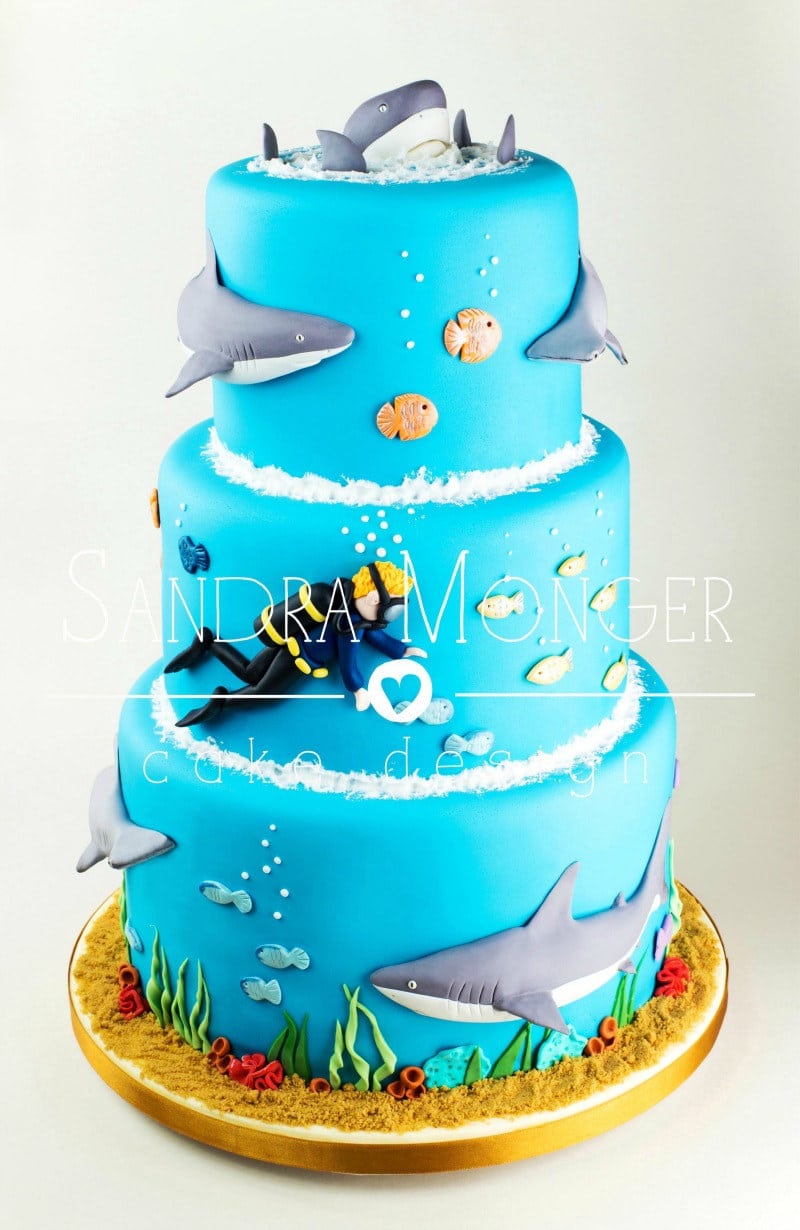 I love the 2D shark on this cake! So well done and super artistic. It looks like a mixture of modeling, painting and piping to create the look which is brilliant! The life saver adds a cute touch and you can never have too much cookie crumb sand on beach themed cakes.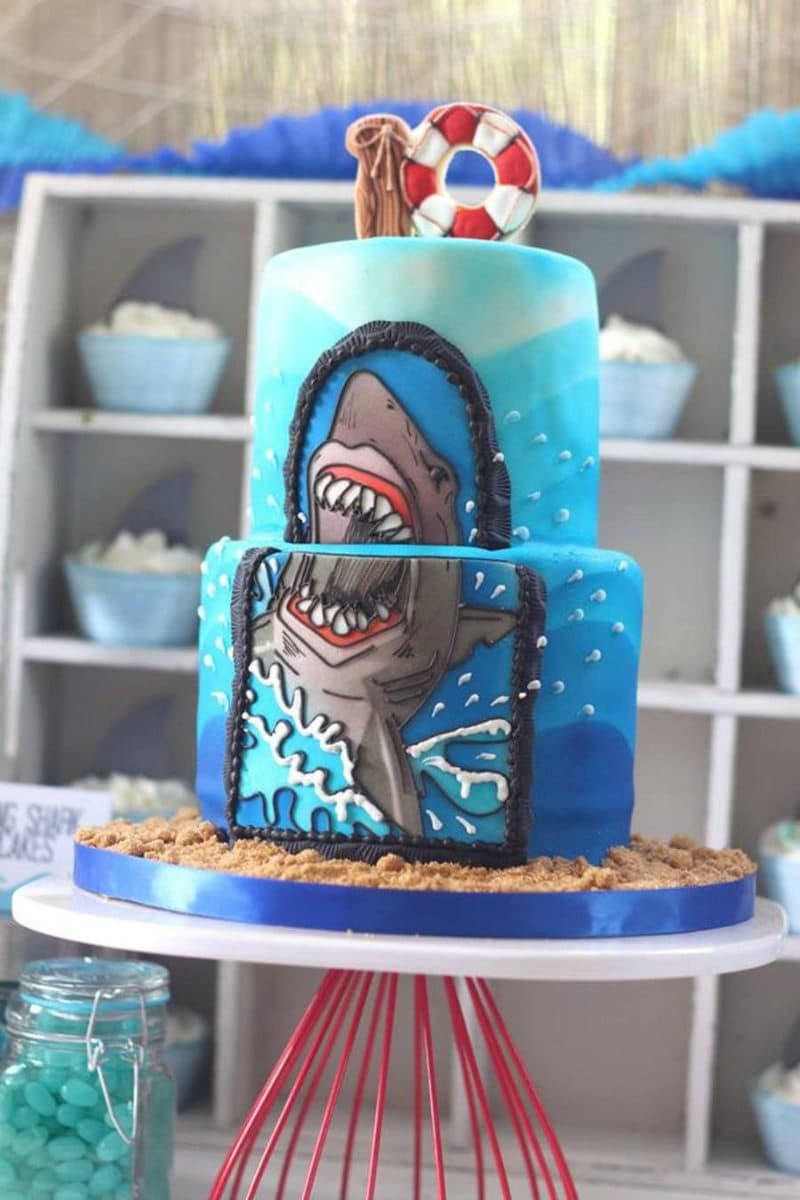 This shark is apparently eating a sub (from what the description said), a clever play on words perhaps because it looks more like a sub sandwich but you might expect a shark to be eating an actual submarine. It doesn't matter what he's eating, he's pretty intimidating! It's a fantastic job.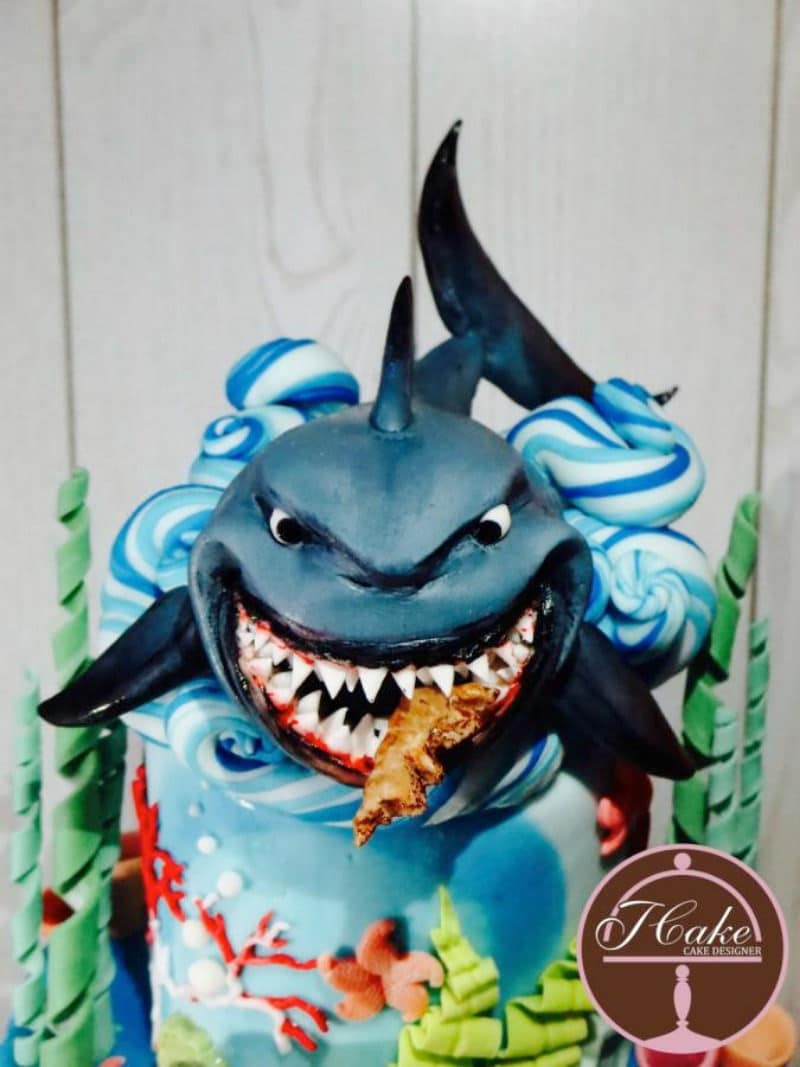 Simple Shark Cake
Although this cake is simple it really caught my eye. The shark may be little but is definitely scary and so well done. I am pretty sure it's those crazy realistic jagged teeth and pink flesh tone that give it the heeby jeeby factor. The mild background really makes it stand out.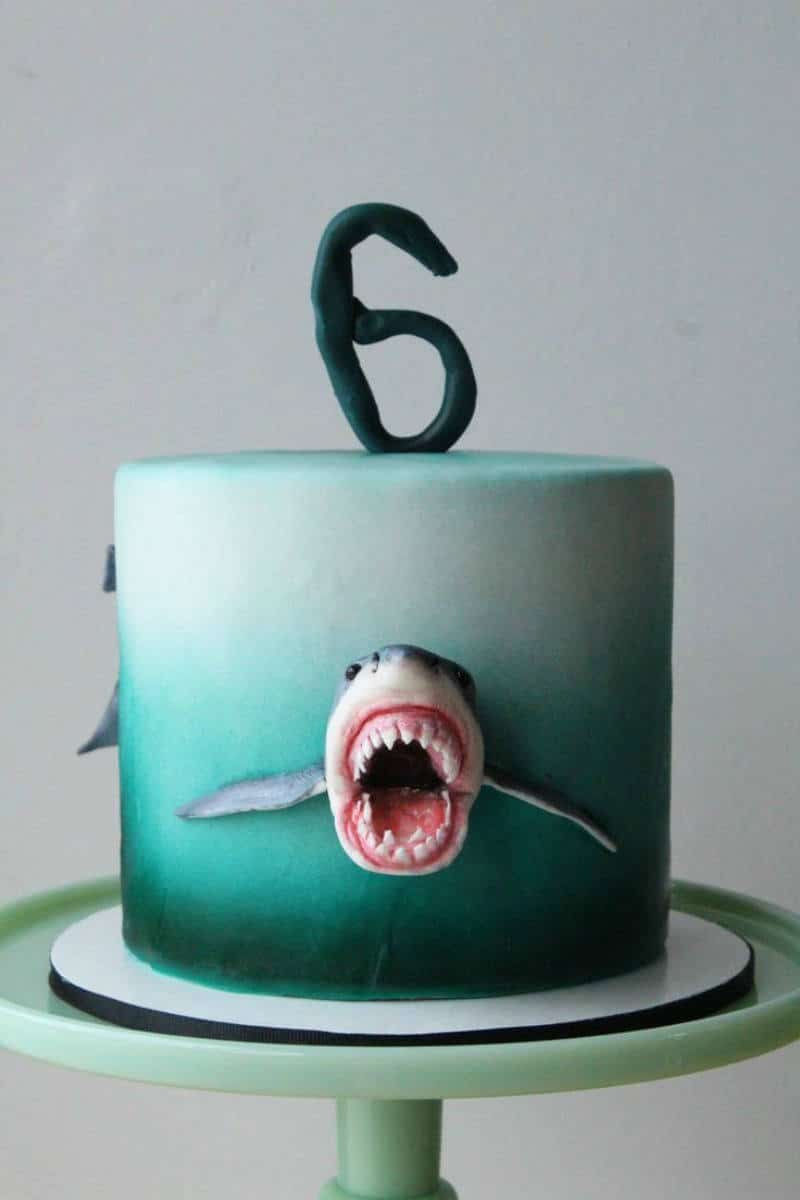 Ello Bruce! (in my best Australian accent). Everyone loves the shark from Finding Nemo and I thought this cake did a great job of capturing his character and in buttercream nonetheless!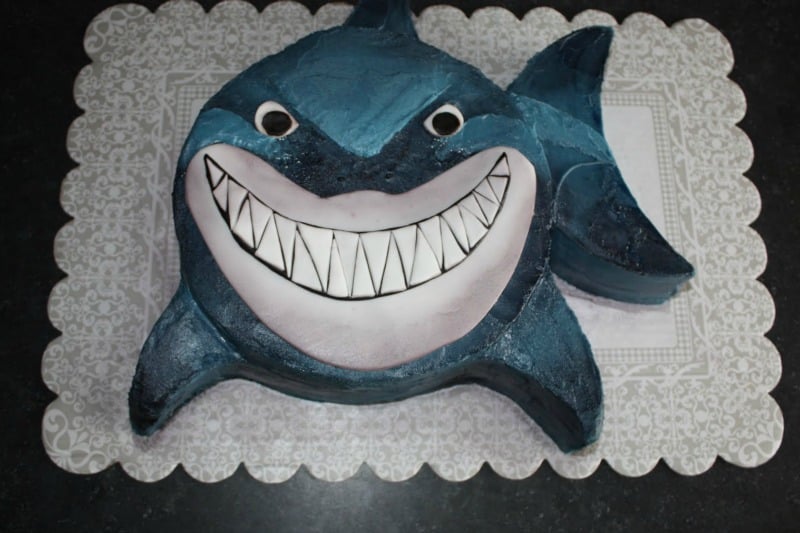 I love the nautical theme of this cake and if you stick a shark on top it becomes truly unique. That life saver won't be saving any lives today.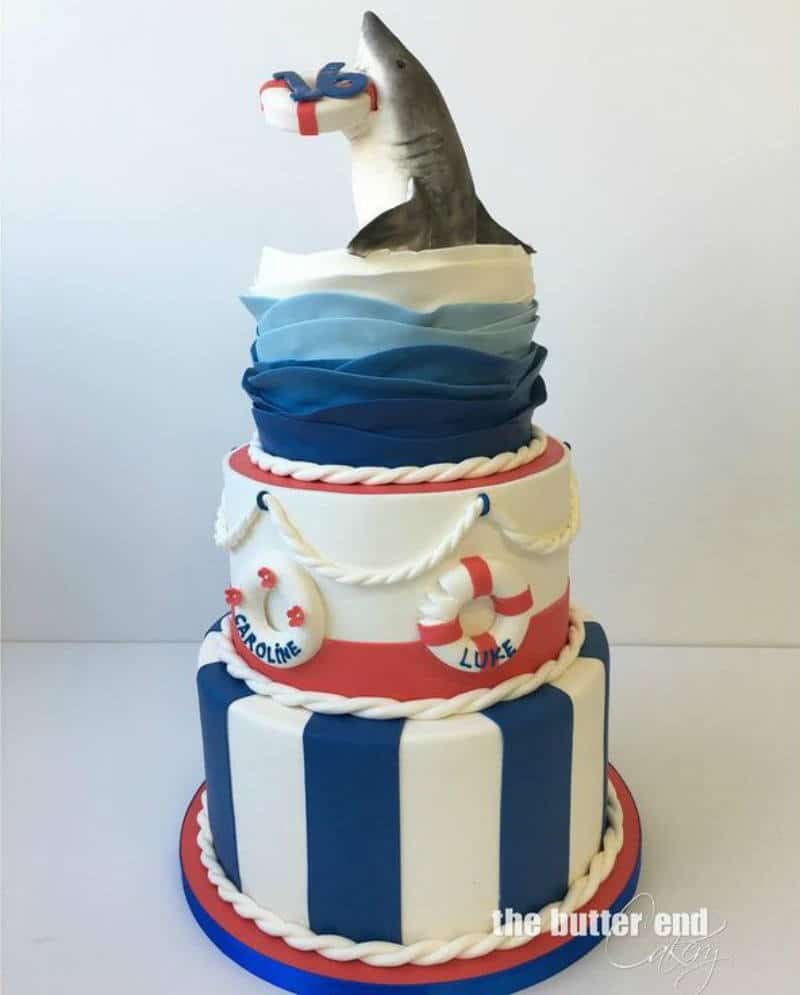 Of course, when many people think of sharks they think of the iconic movie Jaws. I applaud the design of this cake doing such a fantastic job at emulating the very recognizable poster. If you have a chance to do the backstage tour at Universal Studios in California I highly recommend it. You get to see the actual animatronic shark used in the movie cruising through the water next to the trolley. If you thought it was scary on screen, wait until you see it in real life!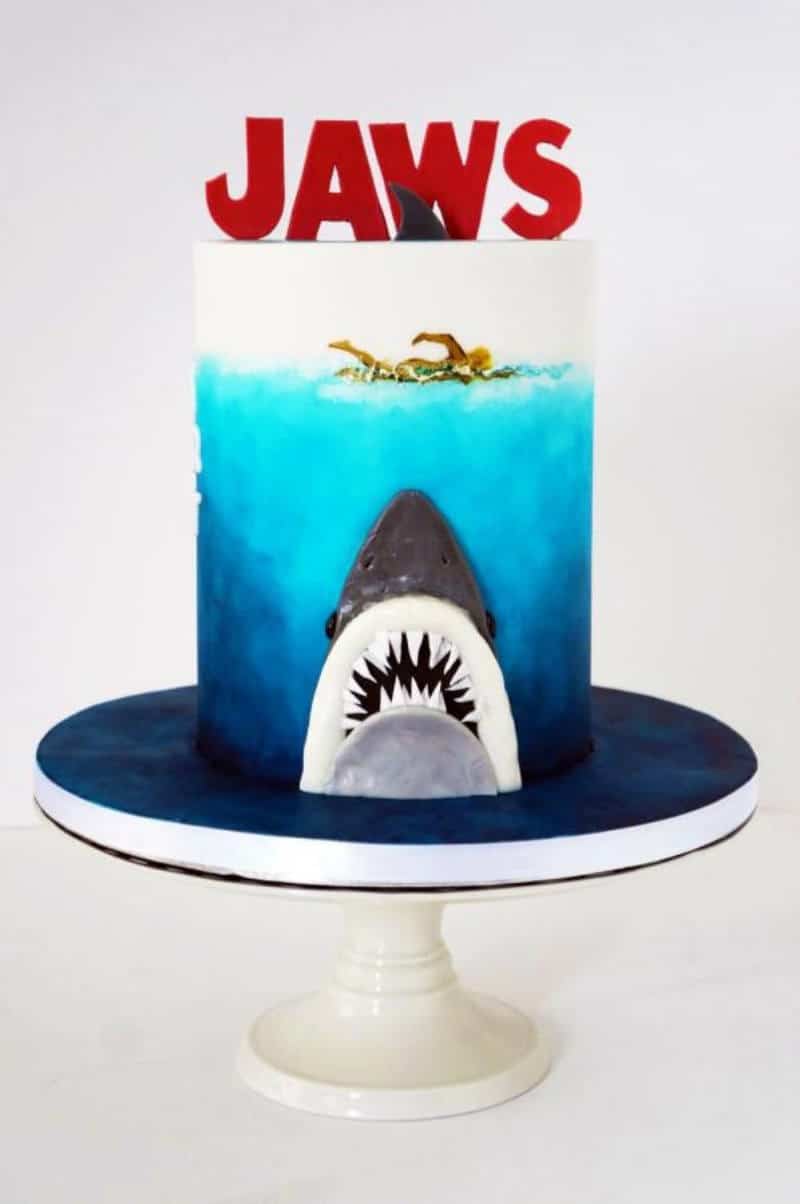 How cute is this cake? It's a super fun design and I especially love all the extra shark fins in the waves. The life savers also seem particularly well done, don't they?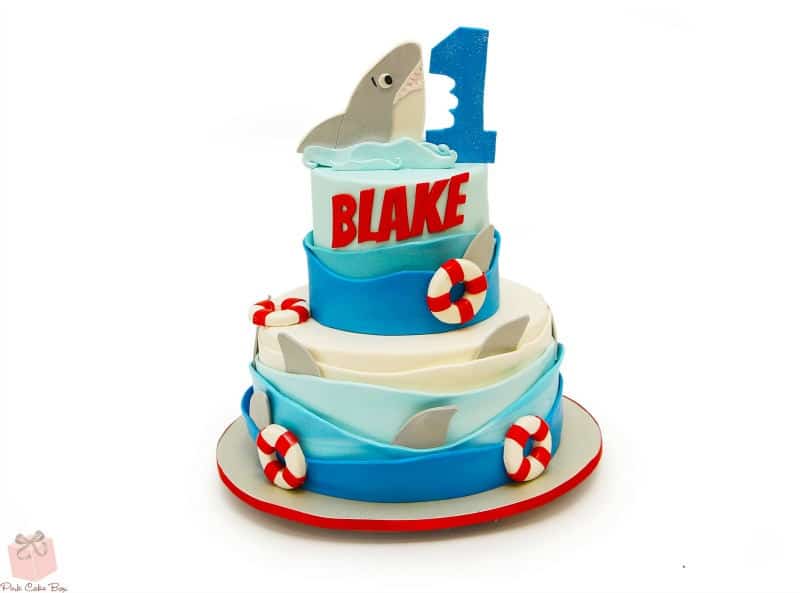 Okay, so I had to add at least one gory, terrifying cake. Some people are into that sort of thing. I personally prefer to keep nightmares suppressed as much as I can but that's just me. Either way, I have to admit it's a pretty cool cake! It's a pretty realistic shark and definitely realistic enough to make your stomach start to rise into your throat. All in all I'd say it does what it set out to do.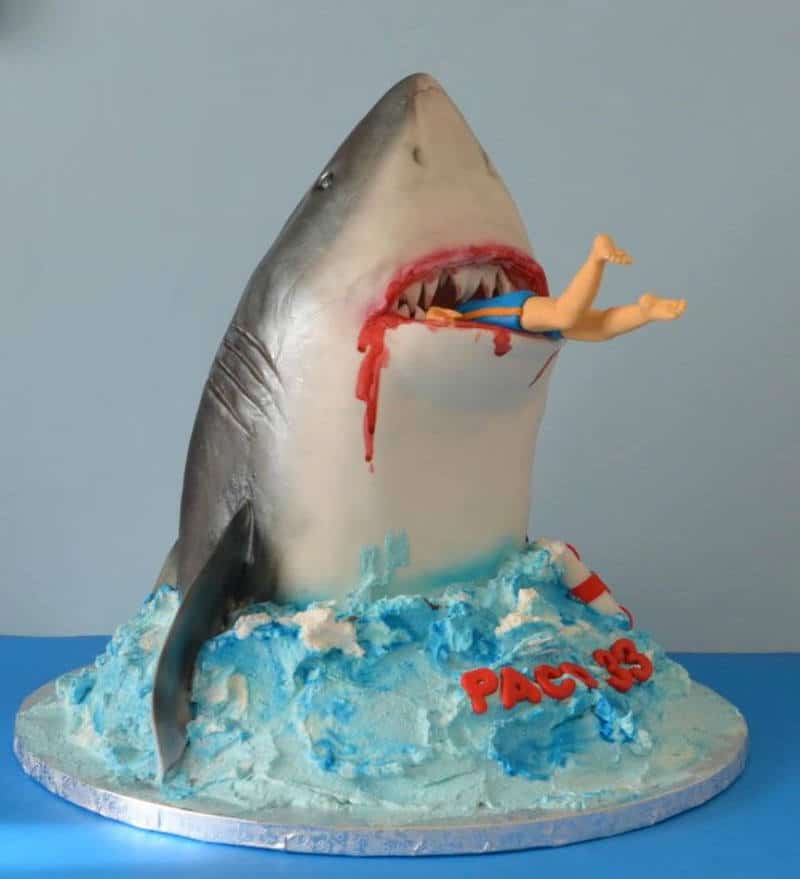 Baby Shark Cake
I really love this cute and simple design just right for a shark loving kiddo. It's simple, cute and makes it look like he could be your best buddy which I suppose is a bit misleading but hey, the kid is 3 and nobody wants to ruin his birthday.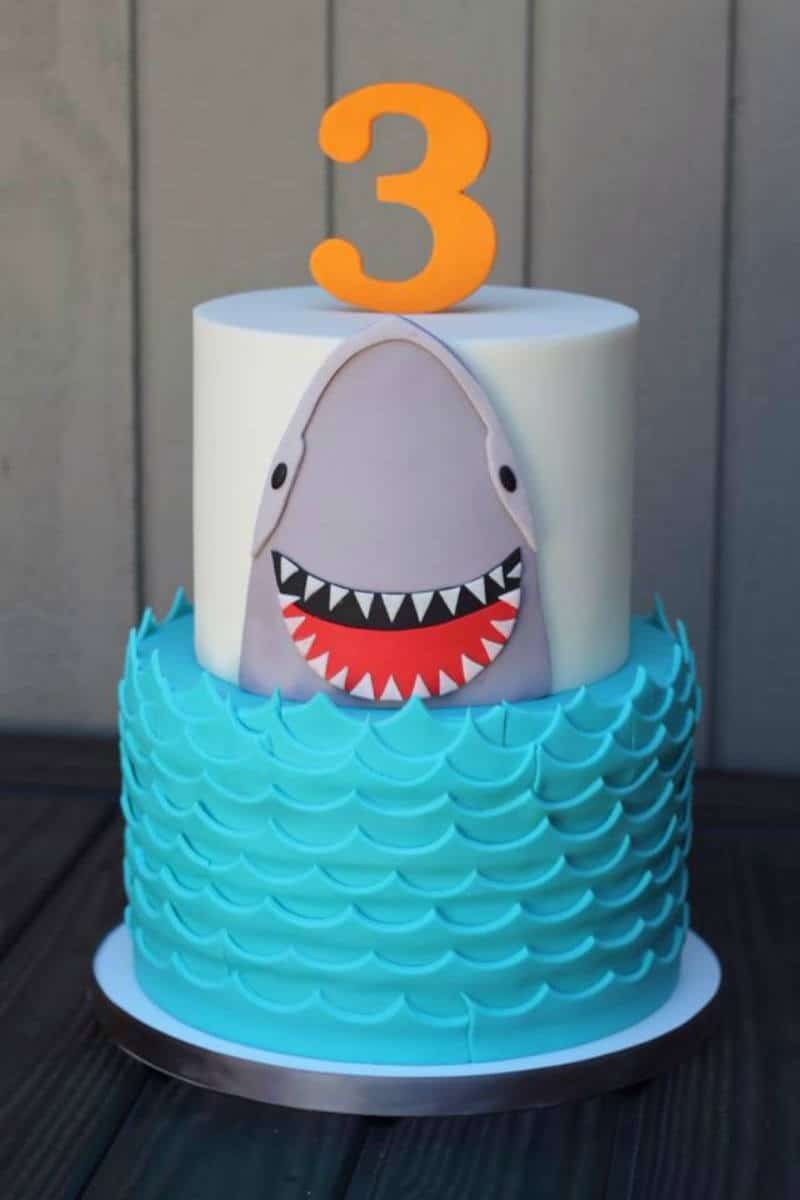 DIY Shark Cake
As an added bonus, here is a super fun shark cake tutorial from the fantastic Yolanda Gampp of How To Cake It! This is a sculpted shark cake anyone can do! It is really a perfect cake design for someone who has never sculpted a cake before. The shape is simple enough for a first project but will also teach you the basics you need to know for sculpting cake.
How to Make a Shark Cake Topper
If tackling an entire shark cake is a bit intimidating for you then maybe you'd like to start with just a shark cake topper? This tutorial from Rasnabakes Elearning YouTube Channel gives you a perfect demonstration of how to make a super cute shark out of fondant to go on top of any shark or beach themed cake!
Shark Cake Pan
Surprisingly there doesn't seem to be a shark shaped cake pan available but Wilton gives this fantastic tutorial on how to use a football shaped pan to create a super cute shark! What a clever use of a football pan that takes the carving out of it if you're just not feeling up to the challenge. Little Timmy or Sally will be just as impressed!
First make all of your fondant or gum paste pieces ahead of time and let them dry. This would be the fins and also the eyes if you'd like to make the eyes ahead of time instead of piping them on with buttercream. It would be a good idea to stick a wooden skewer in the fins for added support.
Next you will bake your football cakes and allow them to cool. Then you will mark out the mouth and pipe in all the details with Wilton piping tips. Number 17 for the body, number 352 for the teeth, a 1A for the eyeballs if you didn't make them out of fondant or gum paste and a number 3 for the mouth and pupils.
Full tutorial available at Wilton along with a template for the mouth shape! Easy peasy!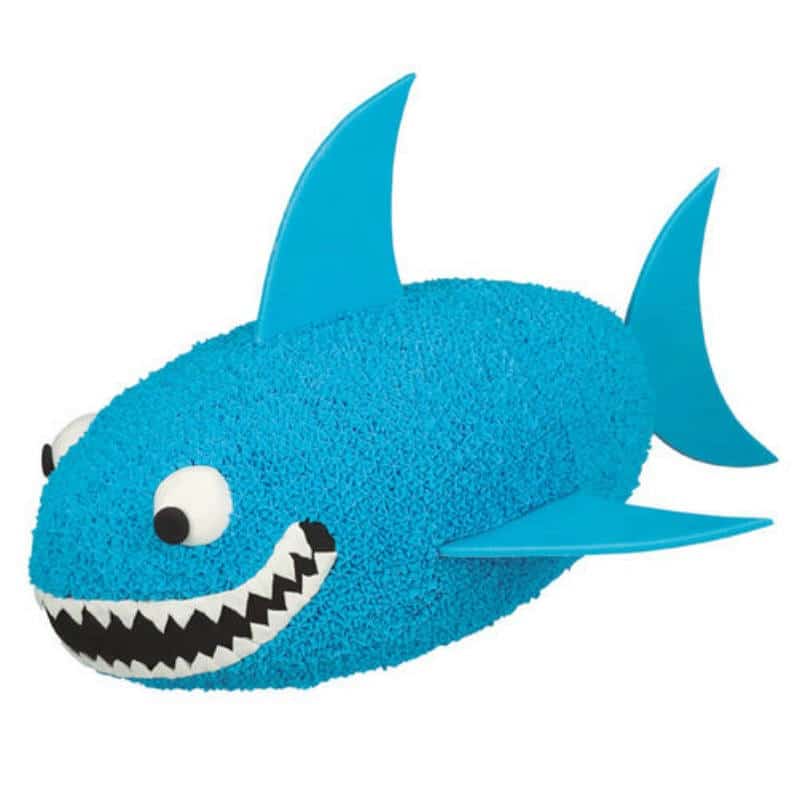 That wraps up our shark celebration. Be sure to flip to the Discovery Channel for all the sharky fun this week...or you can just keep it to less horrifying shark cakes, totally up to you.