These M&M cookies bake up soft and chewy and are perfect for any occasion
M&M cookies are the perfect easy cookie for Holidays. Switch up the colors (thankfully M&M's come in so many colors) and you've got yourself a super simple festive treat in no time. All you need is a glass of milk or a bowl of ice cream to make your life complete. Follow my tips in the blog post for getting thick and chewy cookies with no spreading. No chilling required!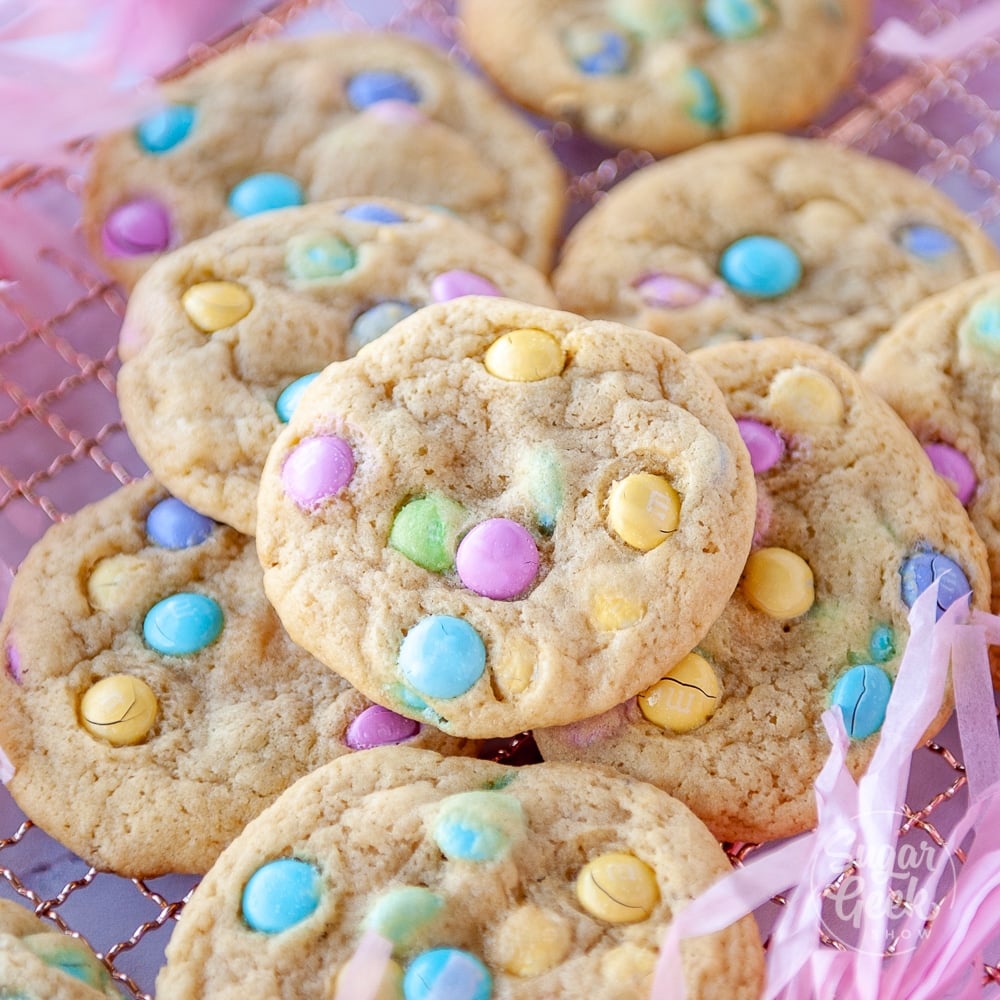 M&M's are one of the most popular candies in the USA. They are an American tradition. M&M's were created in the 1940s, by Forrest Mars, Sr. By the 1950s, M&M's were wildly popular and solidified their place in candy history. Regular M&M's make a great snack but also taste amazing baked into desserts!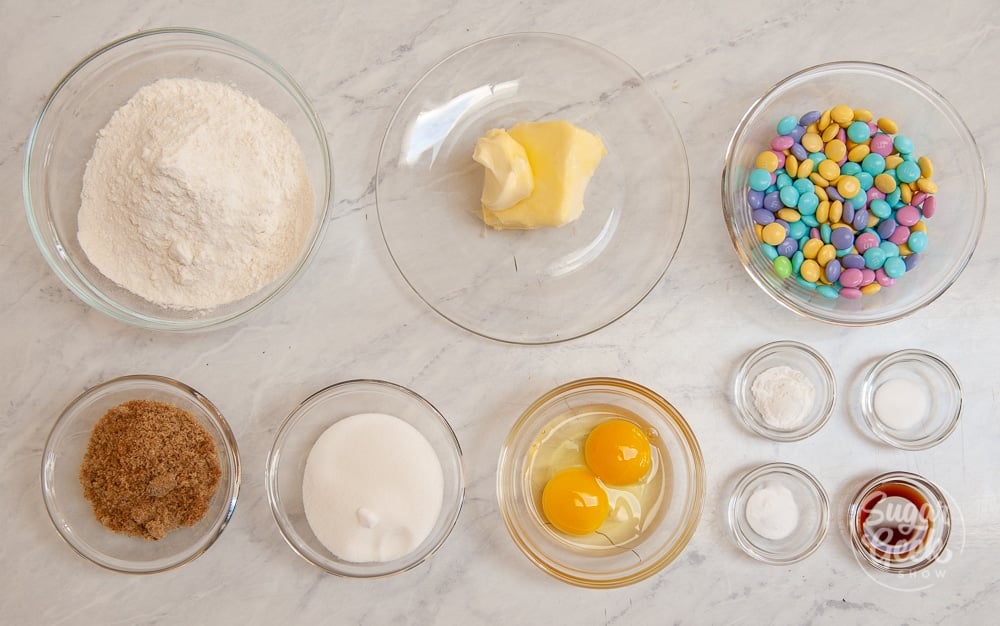 Ingredients for easy M&M cookies from scratch
Making M&M cookies from scratch is really easy. I promise. It's all about the ingredients being the right temperature to get those perfect soft and chewy cookies. If you want to learn more about what makes cookies crispy, chewy or cakey, you should check out my cookie 101 post.
Granulated Sugar - Provides sweetness and crisp edges on your cookies. It's also important for creaming with the butter to create air in the cookie dough.
Brown Sugar - Also provides sweetness to the M&M cookies but the molasses in the brown sugar also keeps the cookies nice and soft, even after days of storage.
Unsalted butter - Using unsalted butter is important so that your cookies do not taste salty. Make sure your butter is room temperature (soft enough to leave an indent with your finger but still holds its shape) so that it creams properly with the sugar. Too hard, or too melted and you won't get the proper lift in your cookies.
Eggs - Hold everything together. Make sure they are room temperature so that they emulsify with your butter properly. Cold eggs equal lots of spreading and flat cookies. We are using an extra egg yolk in this recipe for added moisture and chew factor.
Salt - Some salt is important. It brings out the flavor in your recipe without making it taste salty.
Flour - Just the right amount to hold everything together so the cookies don't spread but not so much that they taste dry.
Baking Powder - Gives our cookies a nice lift, making them super soft
Baking Soda - Also adds lift as well as flavor
Vanilla - Gives the cookies a nice flavor. Without it, they would taste very bland.
M&Ms - The star of the M&M cookies! Switch out the colors to whatever your event calls for. I always set aside about ¼ cup of M&M's to use for the tops of my cookies after scooping.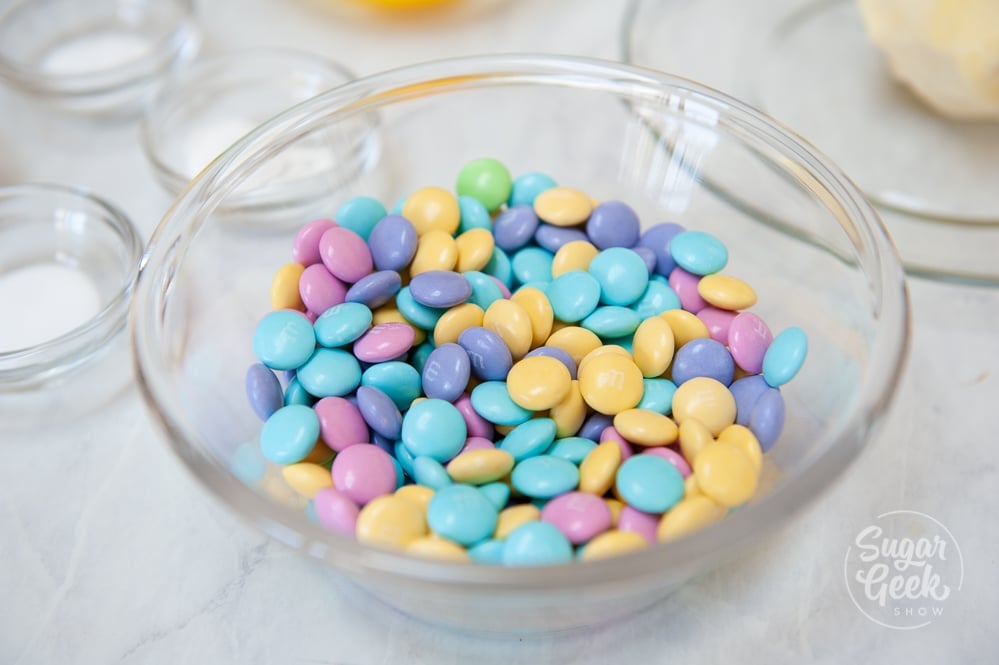 How to make M&M cookies from scratch
Making the M&M cookie dough could not be easier. Just cream together your butter, sugar, and salt until light and fluffy. Add in your egg plus egg yolk and mix until smooth. Then add in the flour, baking powder, baking soda, and M&Ms. Mix until it's all combined.
Scoop your dough with a #20 cookie scoop (about 2 Tablespoons) and place them onto a parchment-lined cookie sheet.
I always add a few extra M&Ms on top so that you can really see the color after the dough spreads out. About five M&Ms per cookie.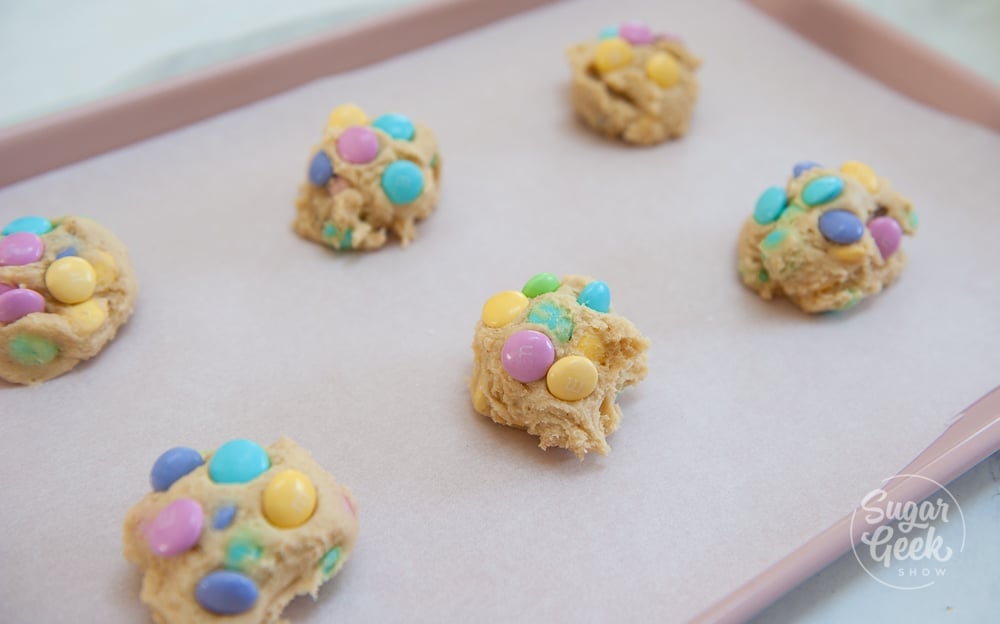 Bake your cookies for 5 minutes at 350ºF then rotate the pan to promote even baking. Bake for another 6-7 minutes or until the center of the cookie is no longer shiny. Don't over bake them! They will get firmer as they cool. If you bake them too long, they will get hard and crunchy.
When the M&M cookies come out of the oven, they will be very puffy but will settle down as they cool.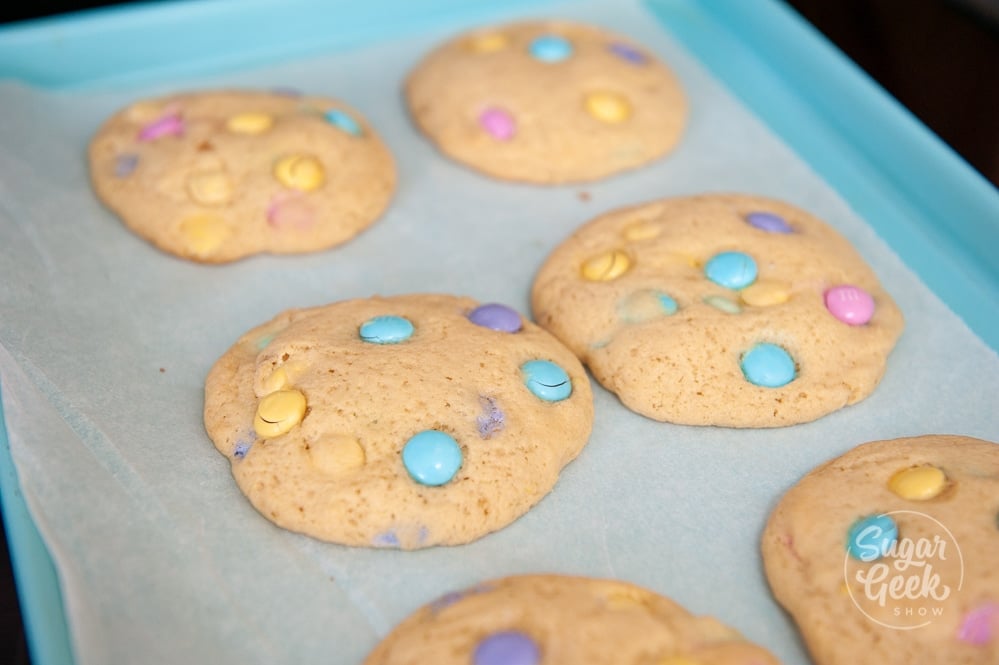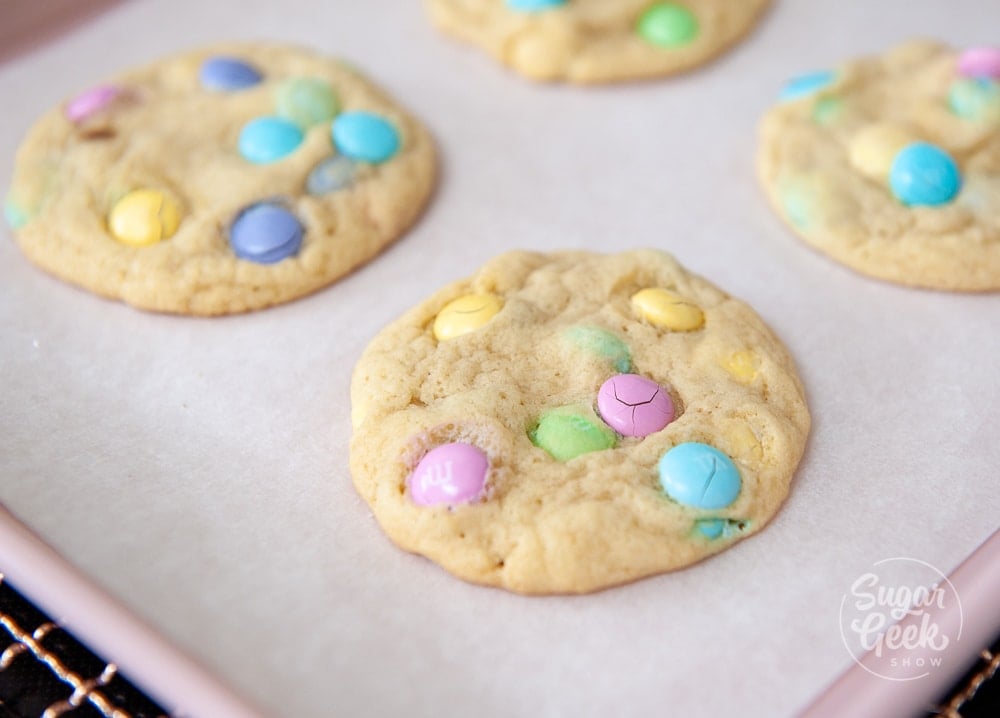 You can also freeze cookie dough balls to bake any time you want a warm cookie. No need to defrost. Just add a couple of minutes to the baking time.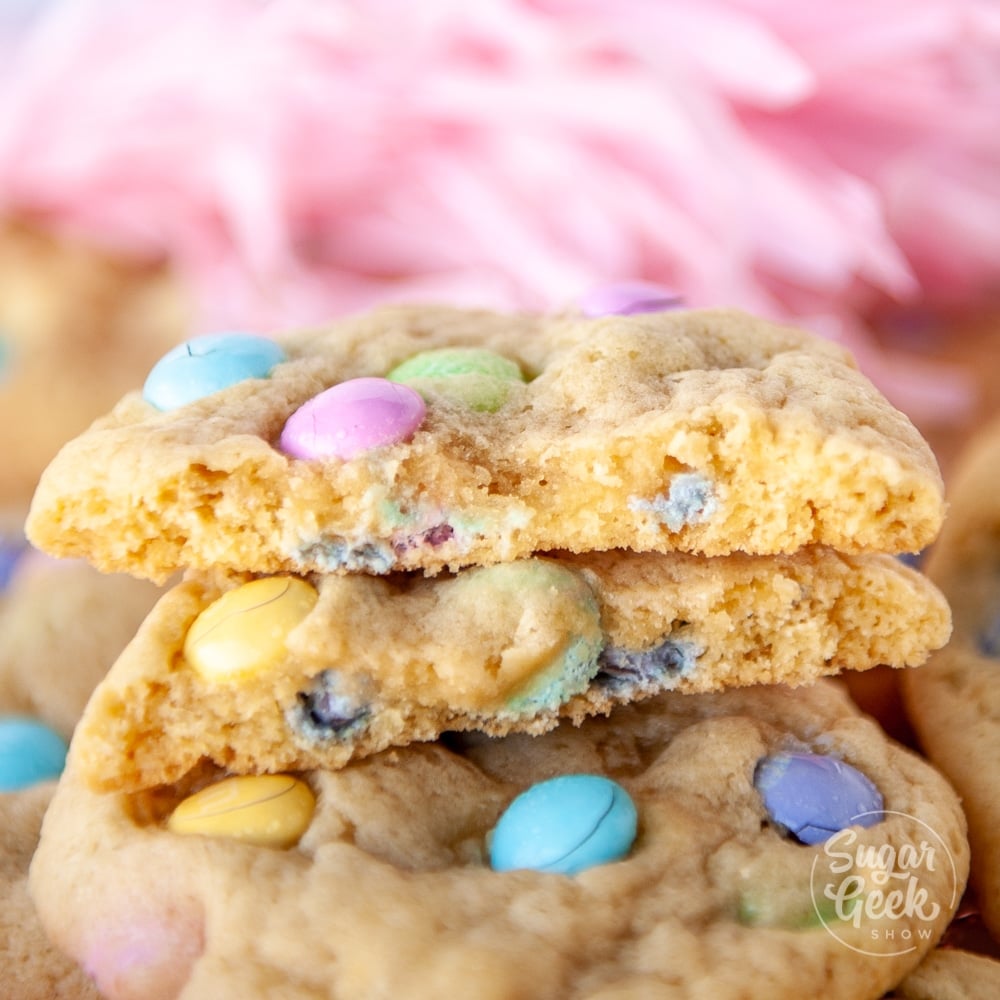 Store baked M&M cookies in a cookie jar, ziplock bag or any airtight container at room temperature for up to two weeks.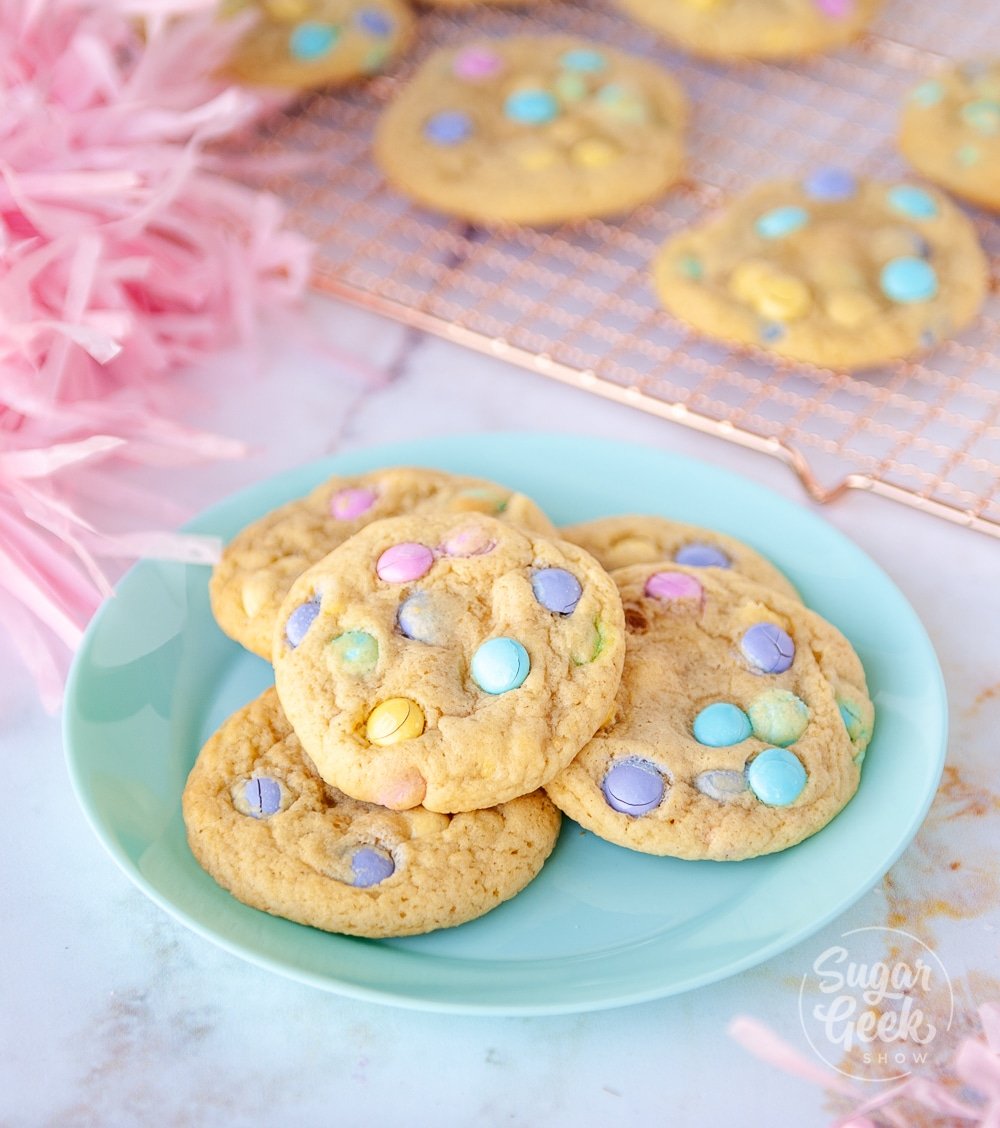 More cookie recipes to try
Soft & Chewy Chocolate Chip Cookies
Recipe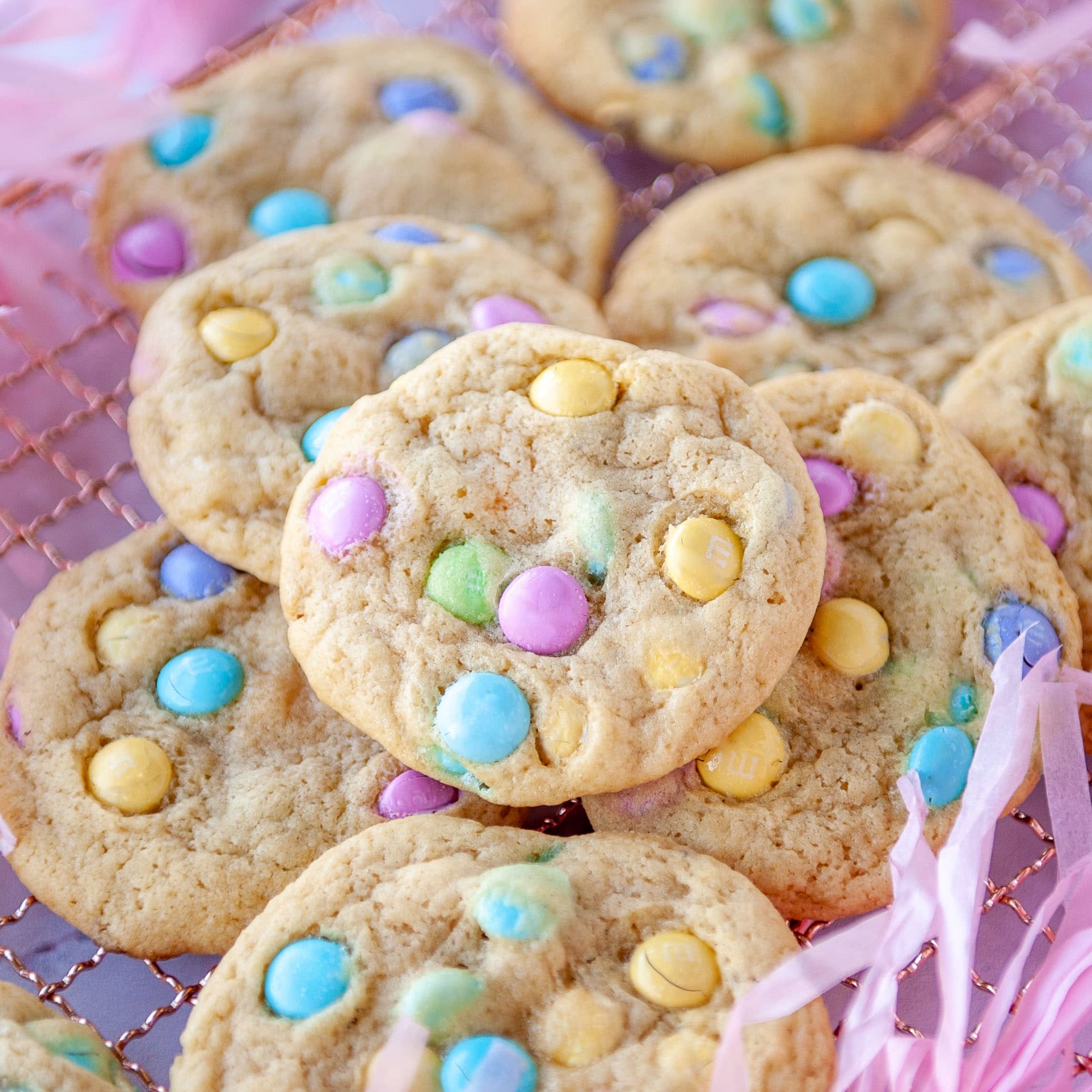 Equipment
Stand mixer with paddle attachment
Ingredients
9

ounces

all-purpose flour

2 cups spooned and leveled

1

teaspoon

baking powder

½

teaspoon

baking soda

4

ounces

unsalted butter

½ cup, room temperature

4

ounces

granulated sugar

½ cup

2

ounces

brown sugar

¼ cup

1

large

egg

room temperature

1

large

egg yolk

room temperature

2

teaspoons

vanilla extract

10

ounces

M&M candy

2 cups

½

tsp

salt
Instructions
Preheat your oven to 350ºF and line two cookie sheets with parchment paper.

Cream the softened butter, white sugar and brown sugar together in the bowl of your stand mixer with the paddle attachment until light and fluffy. About 2 minutes.

Add in your egg, egg yolk and vanilla and cream on low until combined. Scrape the bowl to make sure everything is combined evenly.

Add in the flour, baking powder, baking soda and salt and mix on low until combined.

Scoop the dough onto your cookie sheet using a #20 scoop (about two tablespoons per scoop) and place a few M&M's on top so you can see the colors when they bake.

Bake for 10-12 minutes or until the center of the cookie is no longer shiny. Cookies will be pale.

Allow your cookies to cool on the pan for 5 minutes before transferring them to a wire rack to cool the rest of the way. Store at room temperature in an air tight container for up to two weeks.
Notes
Tips for success
Use room temperature butter for the best results
Use room temperature eggs.  I place my eggs (in the shell) into a bowl of warm water for 5 minutes. Room temperature eggs make thicker cookies. 
Cream your butter and sugar for 1-2 minutes until light and fluffy in color before adding in eggs 
Nutrition
Serving:
1
cookie
|
Calories:
2447
kcal
|
Carbohydrates:
346
g
|
Protein:
33
g
|
Fat:
103
g
|
Saturated Fat:
62
g
|
Cholesterol:
614
mg
|
Sodium:
748
mg
|
Potassium:
892
mg
|
Fiber:
6
g
|
Sugar:
170
g
|
Vitamin A:
3349
IU
|
Calcium:
375
mg
|
Iron:
13
mg