Homemade rainbow cake made with layers of moist vanilla buttermilk cake and easy buttercream frosting
This rainbow cake just makes me feel so happy. I absolutely LOVED slicing into it to see all those gorgeous colorful layers! The best part is, this rainbow cake isn't just for looks, it tastes absolutely amazing. You won't have a crumb leftover.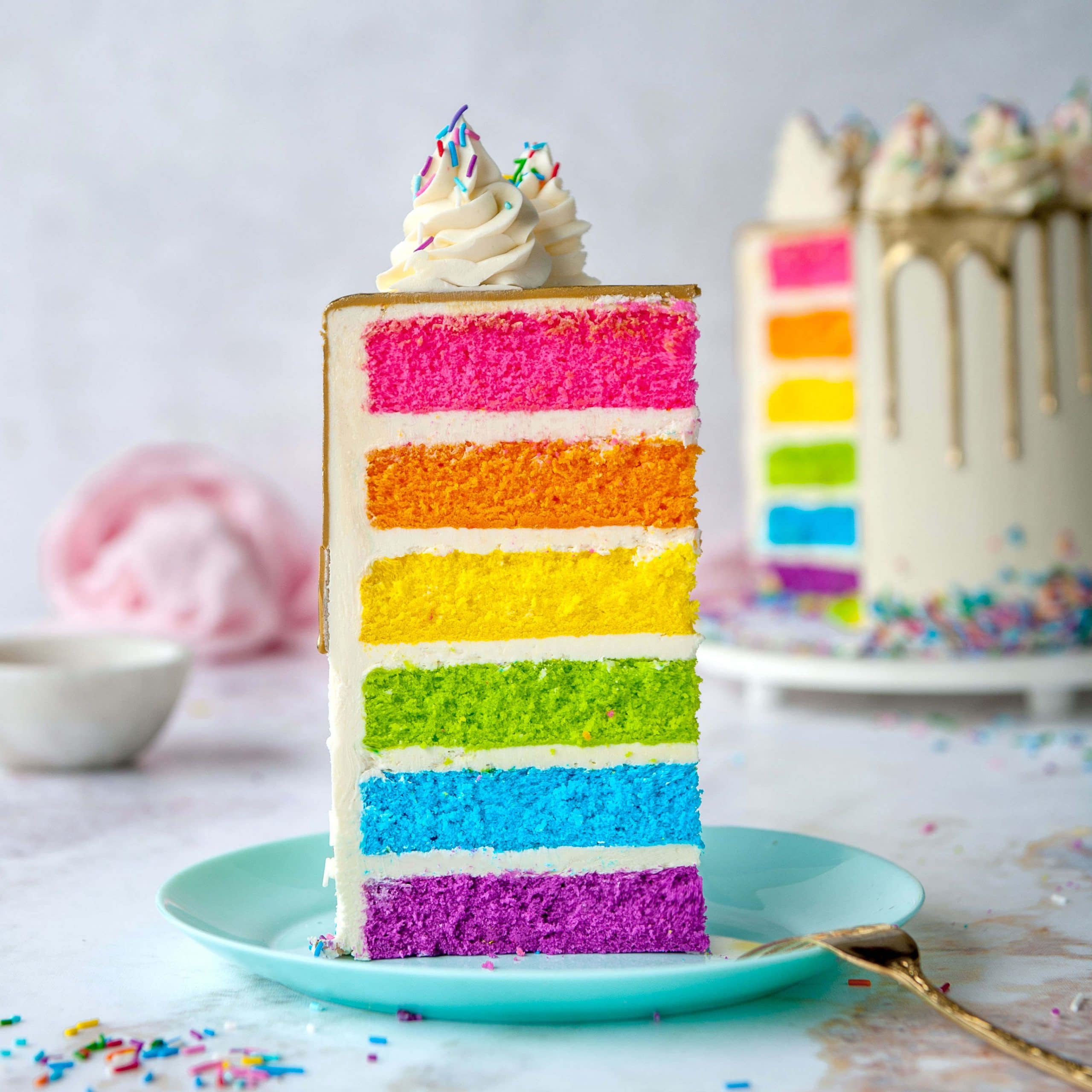 This rainbow cake is very special to me. I've been waiting to make it for a long time. Ever since we found out we were pregnant with our son, Ezra, I knew I wanted to make him a rainbow cake for his half birthday (6 months).
Most people know that my husband and I had to go through a lot of infertility treatments to get our dear Avalon. I'm not ashamed of it. I think we should talk more about infertility and how common it is. So we feel less alone.
We started treatments TWO years ago. Nothing was working. My body was fighting against me. I was not in a good place emotionally or mentally.
It might sound crazy but I had a dream we had a son. I didn't tell anyone but I held onto hope as best I could.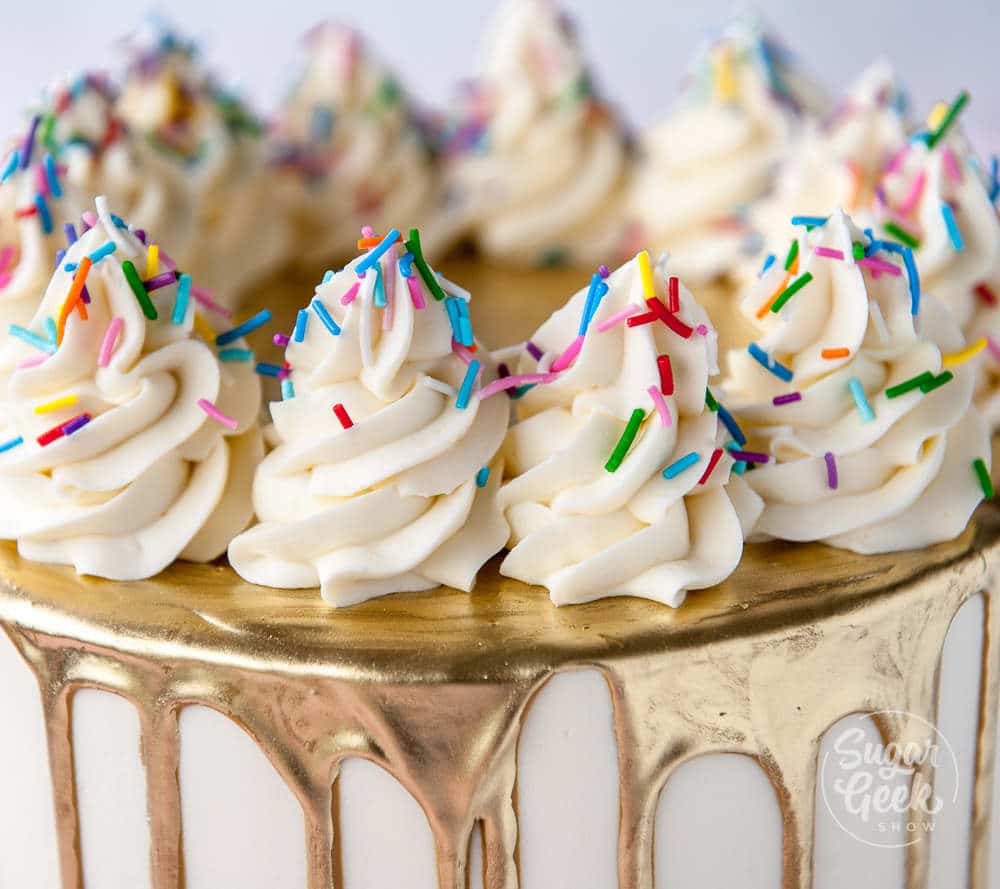 We had honestly almost given up that we would ever have a second child. But I just felt in my soul that we had a second child waiting for us. So we didn't give up.
After all those treatments and all those medications, we ended up with ONE single egg. If you've gone through IVF you. know that the chances of that ONE egg taking are extremely low. I did not get my hopes up.
But that one egg did stick. And here we are with our beautiful baby boy. Our rainbow after the storm. Our lucky charm. The completion of our family.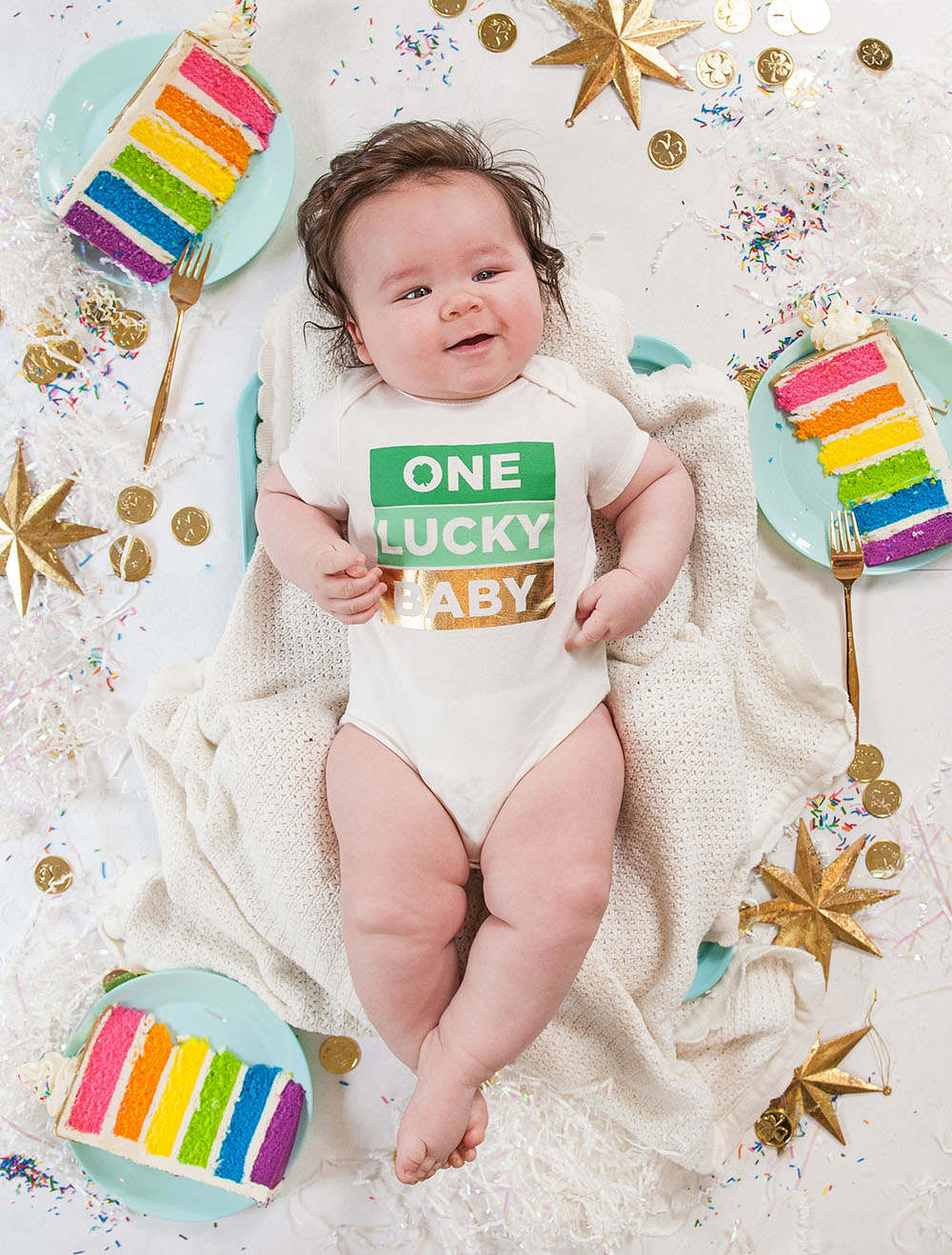 What cake recipe is best for rainbow cake?
So the first thing that we have to do is bake our rainbow layers. This might sound intimidating but it's actually really easy.
We're going to use my favorite cake, white velvet. Not only. is this cake delicious, but it's also very white so it will take the color well.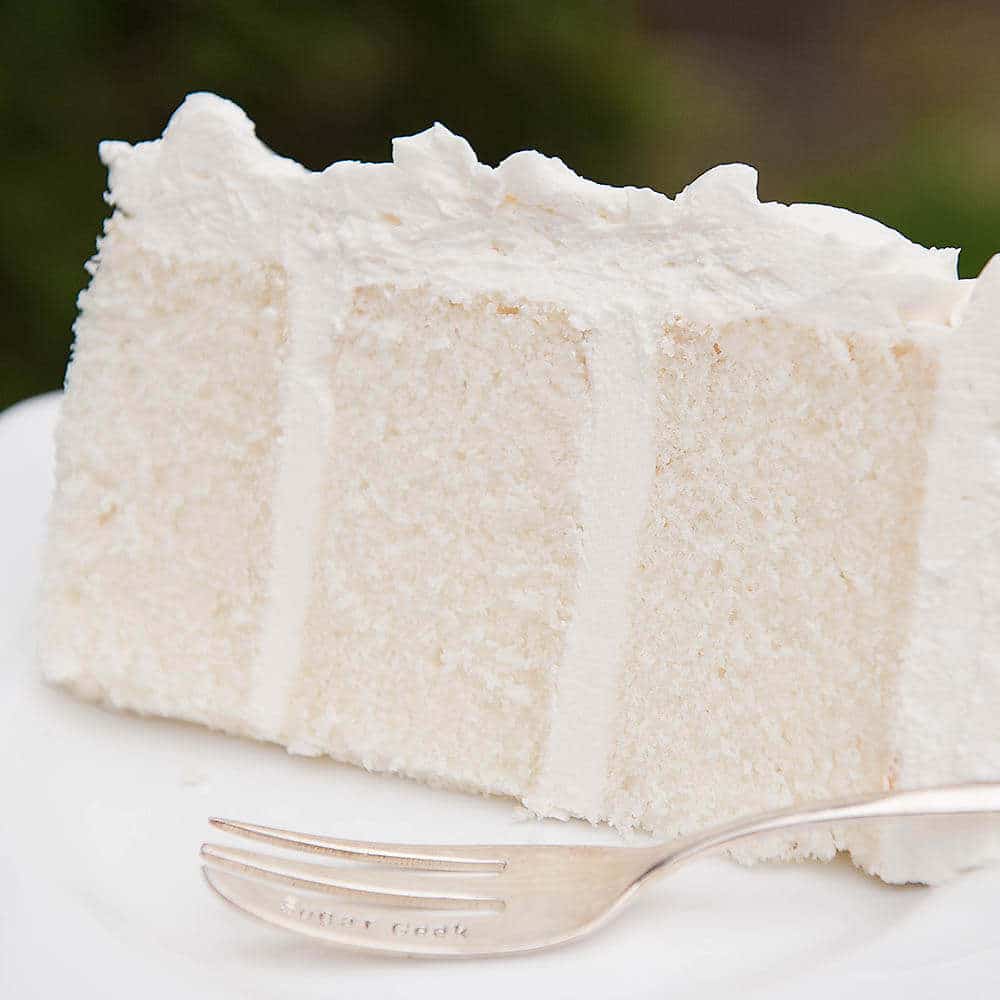 If you try to add color to a vanilla cake that has egg yolks in it, those yolks will distort your colors while baking.
The other reason white velvet is perfect for making a rainbow cake is that it won't get over-mixed when you add the color.
I've added color to white velvet so many times, making everything from pink velvet, green velvet, and even blue velvet. The texture always turns out amazing.
How to make rainbow cake layers
Get your 8"x2" cake pans ready. You might not have 6 cake pans all the same size (I don't) so keep your cake batter in the fridge while your other cakes are baking. They are really thin so they bake up fast.
Coat your cake pan in a layer of cake goop and preheat your oven to 335ºF. I also put a piece of parchment paper in the bottom of my pans so that they were easier to take out of the pan since they would be so thin.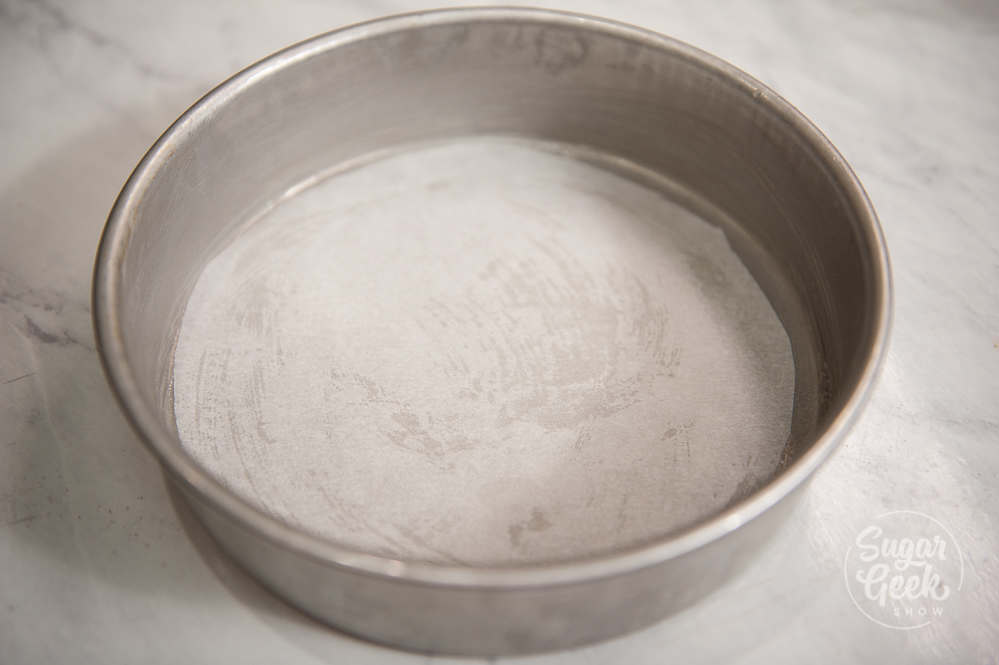 To make our rainbow cake layers, all you have to do is mix up your batter (follow the recipe below) and then divide your batter into 6 bowls evenly.
Each bowl holds 15 ounces of cake batter. I used a kitchen scale to weigh mine out so they would all be equal.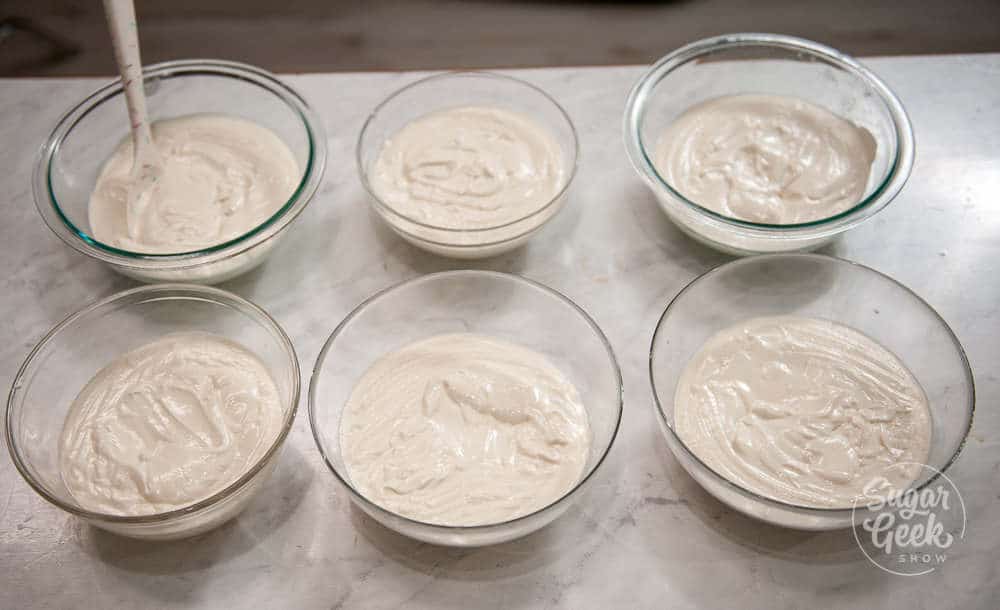 I'm using electric colors from Americolor and I'm not making an EXACT rainbow, this rainbow is more Lisa Frank style. I really like these electric colors because they make super bright neon colors and you don't have to use a lot of food color.
Colors I used
Electric Purple
Electric Blue
Electric Green
Electric Yellow
Electric Orange
Electric Pink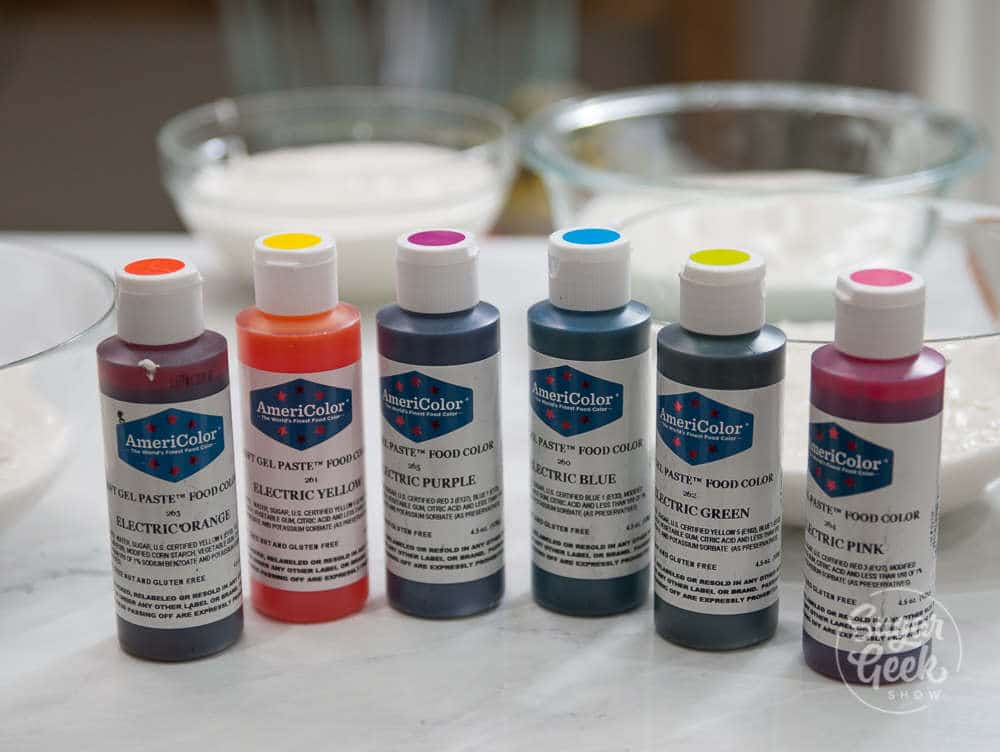 You can totally go classic rainbow and use red instead of pink, violet instead of electric purple and royal blue instead of electric blue.
Add a drop or two of color to each bowl and stir with a spoon until combined. Make sure for the green you use a little yellow and a little green so the green is more vibrant.
For the orange, use a little orange and a little yellow to make the orange more vibrant.
For the purple, add a little pink and purple to make the purple more vibrant.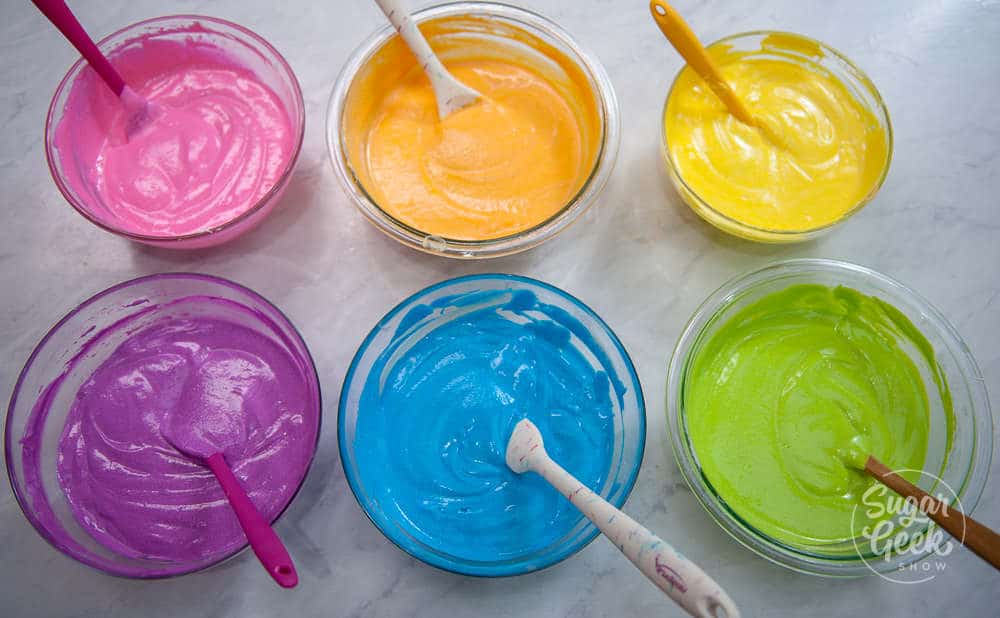 Pour your batter into your cake pans (I baked three at a time and put 15 ounces of batter in each pan).
When they are done baking, they will start to pull a tiny bit from the edges of the pan (that's normal) let them cool a bit in the pan before turning out onto a cooling rack to fully cool down.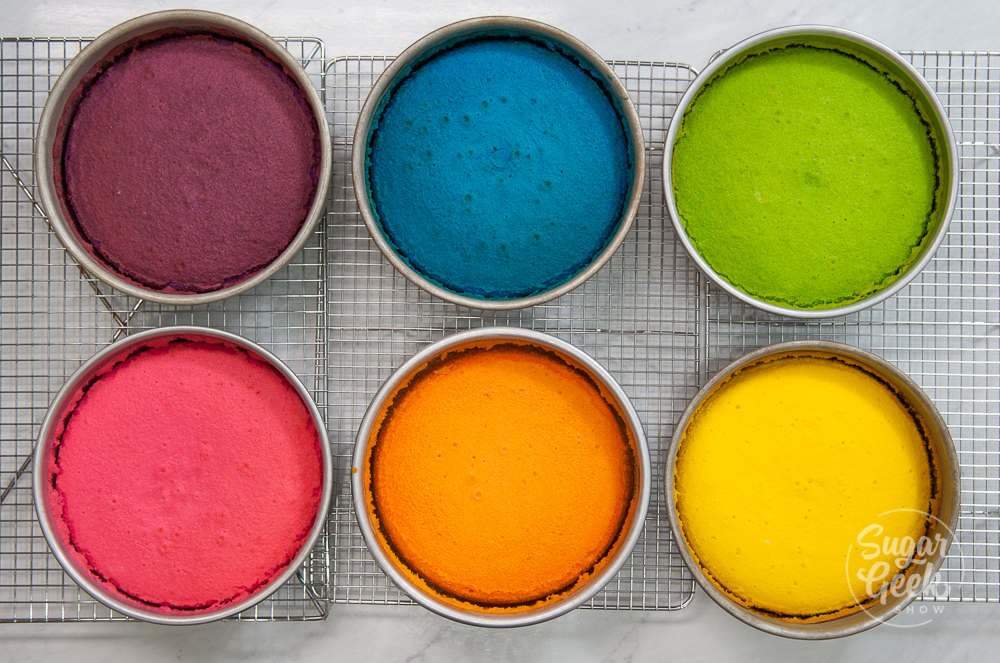 I put my cakes into the freezer for about 30 minutes to firm them up before trimming off the dome, the brown sides, and the brown bottom.
Trimming your cakes just makes the slices extra perfect and beautiful when you slice them.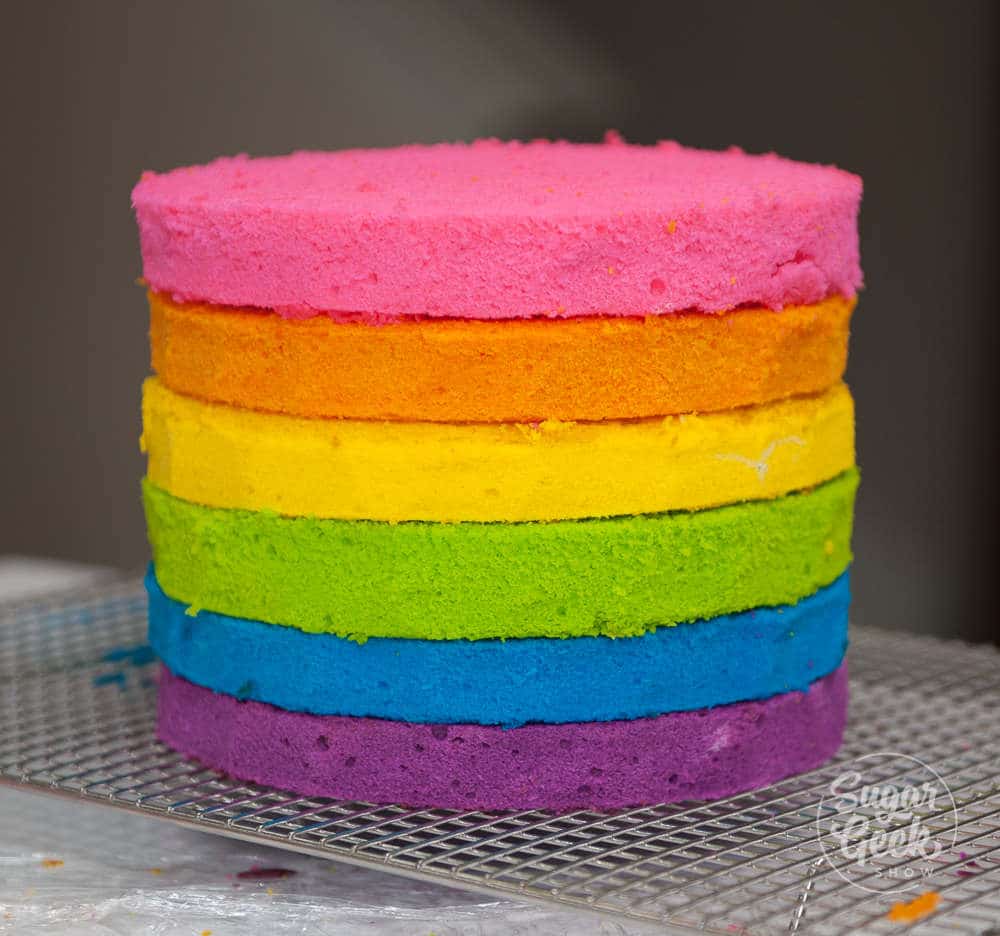 How to decorate a rainbow cake
Time to decorate our rainbow cake! I'm using my easy buttercream because it comes together so fast. You could use any buttercream though like swiss meringue buttercream, Italian meringue buttercream or even cream cheese frosting.
Place your first layer onto your cake board. I'm working on a turntable to make this whole process easier.
Apply a thin layer of buttercream. Shoot for about ¼" of frosting.
Keep your spatula nice and flat so your buttercream has an even thickness.
I'm starting with the purple because that makes sense to me in my brain but you could start with the pink if you want to go in the opposite direction.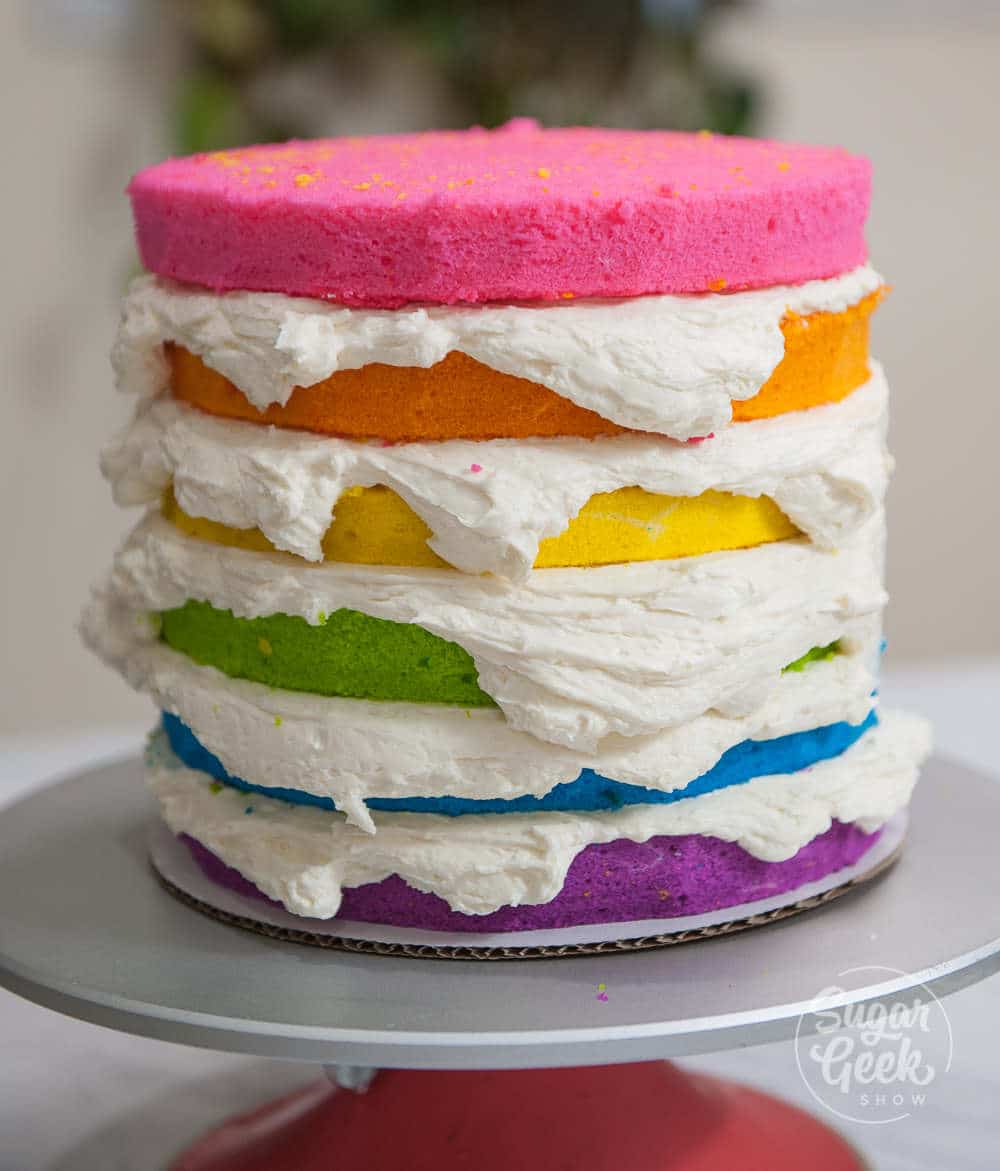 Continue frosting and stacking this way with the rest of the layers and then give the whole cake a nice crumb coat to seal in all those rainbow crumbs.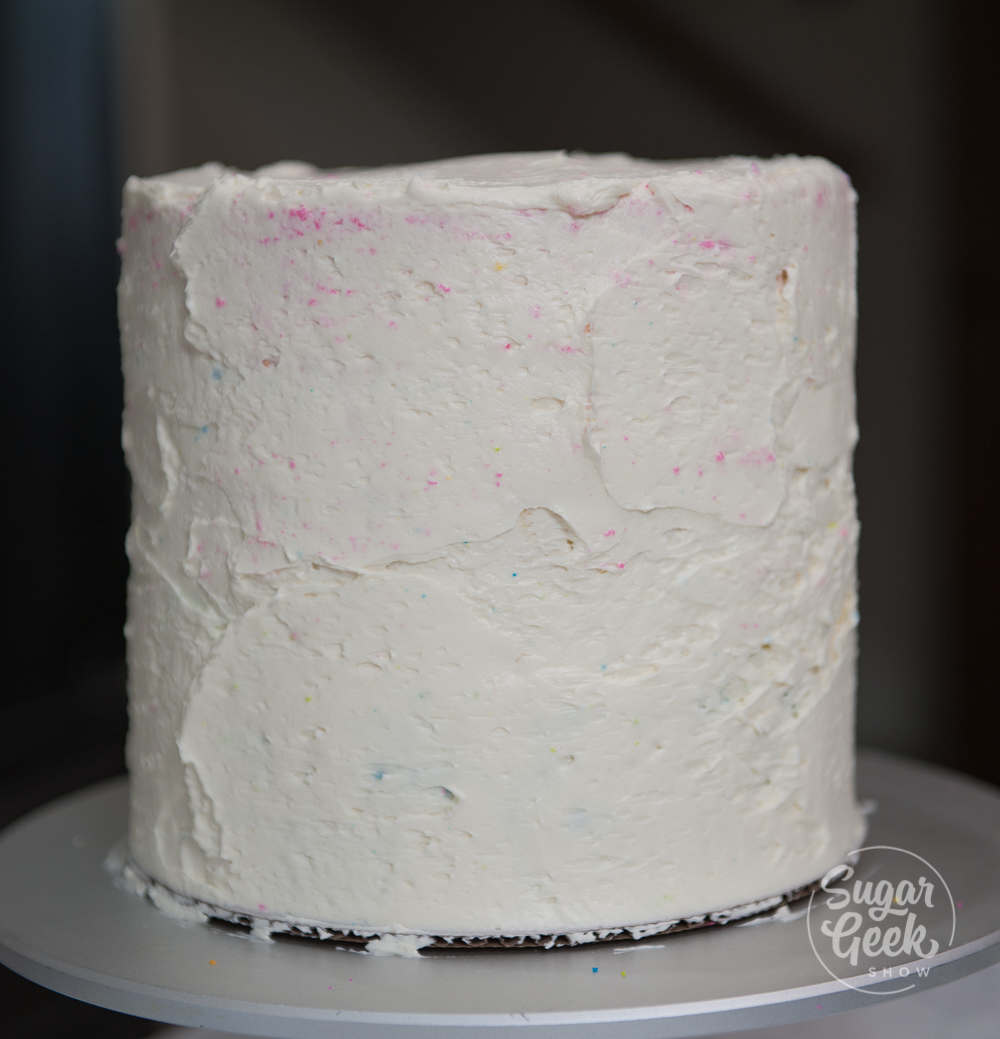 Chill your cake for 15 minutes to firm up that layer of buttercream.
Finish your cake with a final layer of buttercream and smooth it out with your bench scraper and offset spatula.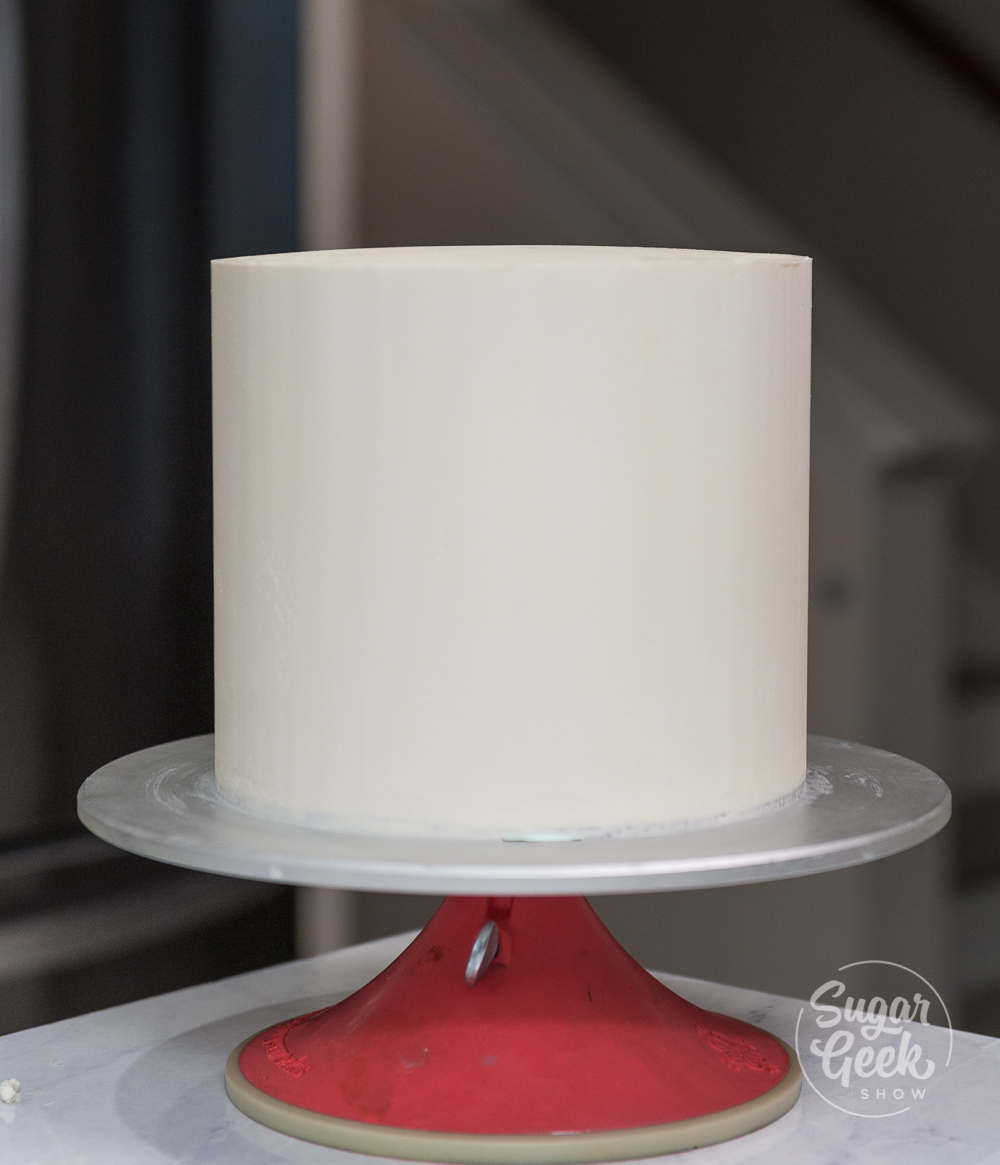 After chilling my cake, I added some fancy sprinkles to the bottom border of the cake, then I transferred my cake to a cake board.
I'm finishing this cake with a water ganache drip. I used 5 ounces of white candy melts, 1 ounce of chocolate candy melts and 6 ounces of water.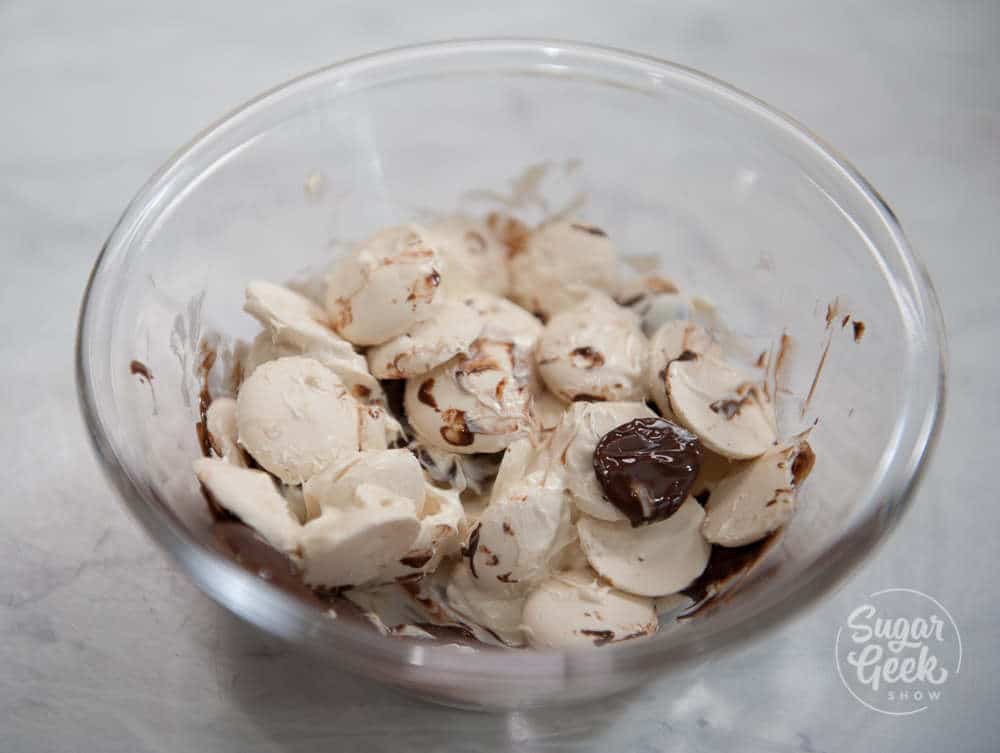 After melting, I added a few drops of electric yellow food coloring to make a gold candy melt color. I dripped this water ganache onto my chilled cake. Then painted gold with some truly mad plastics gold dust and vodka.
Make sure your mixture of dust and vodka is fairly thick, like paint so that you get good coverage.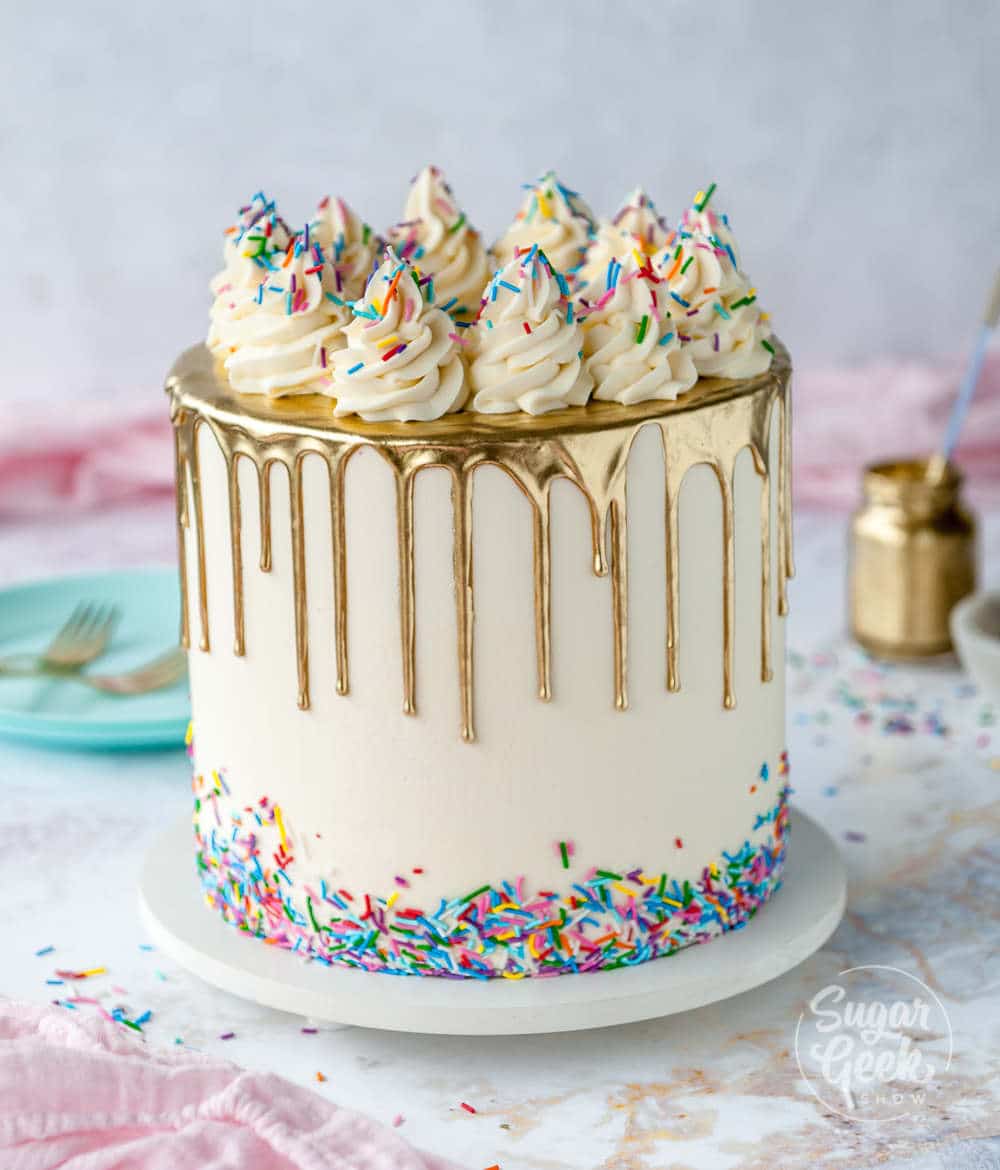 Then I added some little swirls of white frosting on top and added some more sprinkles. I used a 1M piping tip to do the swirls.
And we're done with our rainbow cake! Doesn't it look so pretty! I love how the slices look and they are the perfect accent to this month's Ezra photo.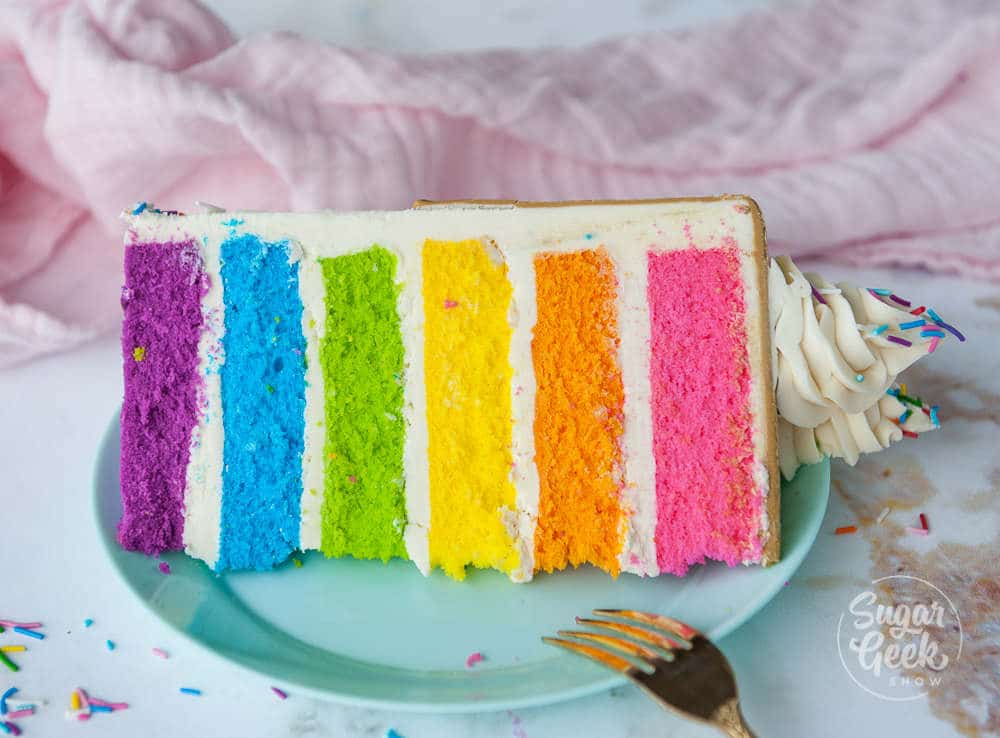 Cake Batter and Frosting Calculator
Select an option below to calculate how much batter or frosting you need. Adjust the servings slider on the recipe card to change the amounts the recipe makes.
Choose a pan type
Choose a cake pan size
(based on 2" tall cake pan)
Choose a cake pan size
(based on 2" tall cake pan)
Choose a cake pan size
(based on 2" tall cake pan)
Cups of Batter Needed
8 cups
Cups of Frosting Needed
5 cups
Recipe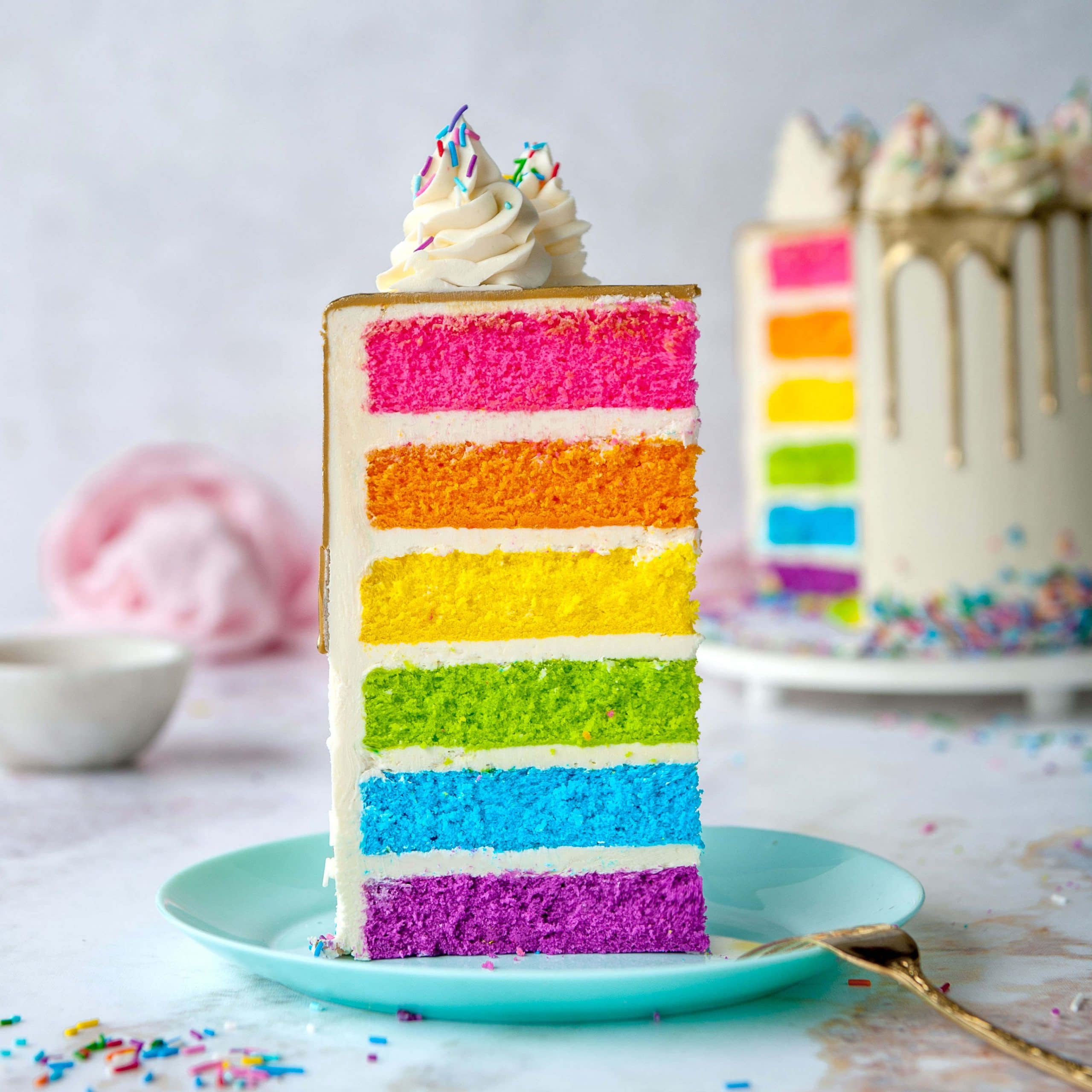 Servings: 14 cups
Calories: 853kcal
Equipment
Stand Mixer

Whisk Attachment

Paddle Attachment

Turntable

Offset Spatula

Piping Bag

1M Piping Tip
Ingredients
Rainbow Cake Ingredients
24 oz cake flour
24 oz granulated sugar
1 teaspoon salt
2 tablespoon baking powder
1 teaspoon baking soda
10 oz egg whites room temperature
6 oz vegetable oil
18 oz buttermilk room temperature or slightly warm
12 oz butter unsalted and softened
1 Tablespoon vanilla extract
Easy Buttercream Frosting Ingredients
8 oz pasteurized egg whites
32 oz powdered sugar
32 oz unsalted butter softened but not melted
2 teaspoon vanilla extract
½ teaspoon salt
1 dot purple food coloring to make the buttercream white
Gold Drip
5 oz white candy melts
1 oz chocolate candy melts
1 oz hot water
1 teaspoon Truly mad plastics super gold dust
¼ teaspoon everclear or vodka or lemon extract
Instructions
NOTE: It is SUPER IMPORTANT that all the room temperature ingredients listed above are room temperature and measured by weight so that the ingredients mix and incorporate correctly. Heat oven to 335º F/168º C

Prepare six ( 8"x2") cake pans with cake goop and place a round piece of parchment paper in the bottom of the pan for easy removal of the cake

Combine 8 oz of the buttermilk and the oil together and set aside. 

Combine the remaining buttermilk, egg whites, and vanilla together, whisk to break up the eggs and set aside. 

Combine flour, sugar, baking powder, baking soda and salt in the bowl of a stand mixer with the paddle attachment. Mix 10 seconds to combine. 

Add your softened butter to the dry ingredients and mix on low until mixture resembles coarse sand (about 30 seconds).

Add in your milk/oil mixture and let mix until dry ingredients are moistened and then bump up to med (setting 4 on my KitchenAid) and let mix for 2 full minutes to develop the cake's structure. If you don't let your cake mix on this step your cake could collapse. 

Scrape your bowl and then reduce speed to low. Add in your egg white/milk mixture in three batches, letting the batter mix for 15 seconds between additions. Scrape down the sides again to make sure everything has incorporated.

Divide your batter into 6 bowls. Weigh 15 ounces of batter for each bowl.

Color each bowl with your Electric food colors. ½ teaspoon for pink for the pink layer, ¼ teaspoon yellow plus ¼ teaspoon orange for orange layer, ½ teaspoon yellow for yellow layer, ¼ teaspoon yellow plus ½ teaspoon green for green layer, ½ teaspoon blue for blue layer, ¼ teaspoon pink and ½ teaspoon purple for the purple layer.

Bake your layers for 20-24 minutes or until the edges JUST start pulling away from the cake pan. Do not under-bake or the middle of the cake will collapse.

IMMEDIATELY TAP PAN FIRMLY on countertop once to release the steam from the cake. This stops the cake from shrinking. 

Let cakes cool for 10 minutes inside the pan before flipping them out. The cake will shrink a bit and that is normal. Freeze your cake layers 30-60 minutes before trimming your cakes. Frost and fill with buttercream frosting.

After your buttercream is smooth, place the cake back into the fridge for 15 minutes before you apply your drip.

Wait for your drip to set before painting with gold paint. Finish the cake with buttercream rosettes and more sprinkles.
Easy Buttercream Instructions
Place powdered sugar and pasteurized egg whites in the bowl of your stand mixer with the whisk attachment.

Mix on low to combine then increase speed to high.

Add the butter in small chunks while mixing. Continue mixing until all the butter is added in. Then add in your vanilla and salt.

Mix on high until light and fluffy and no longer tastes like butter. Add a dot of purple food coloring to reduce the yellow appearance of the buttercream (optional).

Remove the whisk attachment and replace it with the paddle attachment. Mix on low for 10 minutes to remove bubbles from the buttercream.
Gold Drip Instructions
Melt the chocolate in the microwave in 15-second increments until almost fully melted.

Add in your hot water and microwave another 15 seconds

Stir until smooth. Then add in your yellow food coloring. Stir until smooth.

Place water ganache into a piping bag, snip off the tip and drip the ganache around the edge of your chilled cake. After it sets, you can mix your gold dust and vodka together and paint the drip gold
Notes
This cake is very TALL (about 7") so your slices will be very tall. You could cut them in half but then you'd ruin the rainbow. 
*note* if you adjust the cake pan size using the calculator, keep in mind that the pans should only be filled halfway (1" tall) so the layers are not too big. The calculator is formulated for 2" tall layers.
Important Things To Note Before You Start
1. Bring all your ingredients to room temperature or even a little warm (eggs, buttermilk, butter, etc) to ensure your batter does not break or curdle. 
2. Use a scale to weigh your ingredients (including liquids) unless otherwise instructed (Tablespoons, teaspoons, pinch etc). Metric measurements are available in the recipe card. Scaled ingredients are much more accurate than using cups and help ensure the success of your recipe. 
3. Practice Mise en Place (everything in it's place). Measure out your ingredients ahead of time and have them ready before you start mixing to reduce the chances of accidentally leaving something out.
4. Chill your cakes before frosting and filling. You can cover a frosted and chilled cake in fondant if you wish. This cake is also great for stacking. I always keep my cakes chilled in the refrigerator before delivery for easy transporting. Learn more about decorating your first cake. 
5. If the recipe calls for specific ingredients like cake flour, replacing it with all purpose flour and cornstarch is not recommended unless specified in the recipe that it's ok. Substituting ingredients may cause this recipe to fail. 
All purpose flour is a plain flour with no rising agents. It has a protein level of 10%-12%
Cake flour is a soft, low protein flour of 9% or less. 
Cake flour sources: UK - Shipton Mills Cake & Pastry Flour
Nutrition
Serving: 1serving | Calories: 853kcal | Carbohydrates: 92g | Protein: 7g | Fat: 52g | Saturated Fat: 34g | Cholesterol: 115mg | Sodium: 365mg | Potassium: 207mg | Fiber: 1g | Sugar: 70g | Vitamin A: 1416IU | Calcium: 97mg | Iron: 1mg