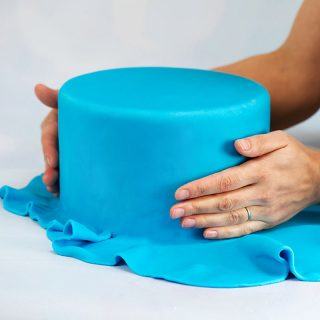 LMF Marshmallow Fondant
A recipe to extend store-bought fondant into a tasty, easy-to-use fondant that won't rip, tear, or get elephant skin. This isn't a scratch fondant recipe, but has become a standard fondant for many cake decorators in the cake decorating community.
Ingredients
2

lbs

powdered sugar

sifted (also called icing sugar, confectionary sugar)

1

lb

marshmallows

WinCo, Hy-Top, Aldi, and Campfire brands work best

1.25

lbs

Wilton fondant

Satin Ice fondant will also work

2

tbsp

warm water

For dark colors, use 1 tbsp warm water and 1 tbsp food color gel

.5

cup

vegetable shortening

Also called white vegetable fat, trex, copha
Instructions
Prep the ingredients
Sift the powdered sugar and set aside in a large bowl.

Place vegetable shortening in a stand mixer bowl.
Melt Marshmallows
Heat marshmallows for 40 seconds in the microwave on high (or on stove top). Stir with spoon.

Place marshmallows back into microwave and heat for another 30 seconds (or on stove top). Stir with spoon.

Heat marshmallows (last time!) for 30 seconds in the microwave (or on stove top).

Marshmallows should be ooey-gooey at this point and ready to be added to the mixer bowl.
Mix Ingredients
Turn stand mixer on lowest setting (setting 1 on Kitchenaid stand mixers).

Add in half of your sifted powdered sugar, a measuring cup at a time, and let mix for 2 minutes.

Pull fondant off the dough hook attachment by putting vegetable shortening on your fingers and pulling it off the hook.

Take the soft mixture out of the bowl and put it into the large bowl with the rest of the powdered sugar.
Incorporate Store-Bought Fondant
Warm the Wilton fondant in the microwave for 40 seconds and add to the large bowl with the powdered sugar and marshmallow mix.

Knead until powdered sugar, marshmallows and Wilton fondant is mostly incorporated. You may not use all of the powdered sugar depending on your climate and that is completely fine.

Pull fondant like taffy until it is stretchy and smooth.

Store in a zip-lock bag at room temperature. Fondant will keep for months in a zip-lock bag. To use again, reheat and knead well until stretchy before each use. You can add color as desired but for dark colors, you should add them during the mixing process or you could get a sticky mess.
Recipe Notes
Skill level: Newb
One of the most important parts of making any sculpted cake with a 'smooth' look, marshmallow fondant can also be quite the burden. There are many things that can go wrong with fondant, including:
Fondant tastes terrible
It can tear and wrinkle, making "elephant skin" on an otherwise smooth surface
It's expensive!
It's time-intensive to make and time = money
One of the first things I focused on when started as a cake decorator was fondant. I think Wilton fondant was the first product I used and I quickly became familiar with working hard on a cake, only to have the fondant get elephant skin, or rip and tear, making the process of having to re-roll out the fondant, cover the cake, have it rip... agh!
I began experimenting with ways that I could extend marshmallow fondant with the store-bought brand to create something that was cheap, easy to make and great to work with.
The total cost to make 4.25 lbs of LMF fondant costs about $5, all the while working just like the good stuff that costs an arm and a leg.
I have used small batches of LMF during cake tastings to convince brides and clients that fondant can taste good. I hope this recipe helps you in your cake decorating career as it has in my own.
- Liz Marek
30 October,2015