Chocolate joconde is sponge cake with a light chocolate flavor. It can be used to make rolled cakes or for other pastries like mirror cakes
Chocolate joconde is literally just the chocolate version of my super popular joconde cake recipe. It's a light, sponge based batter that is baked really thin in a sheet pan. When it comes out of the oven you can roll it up and let it cool and use it for a swiss roll cake or you can cut it into shapes for small pastries. I usually use my chocolate joconde to make my mirror glaze cakes.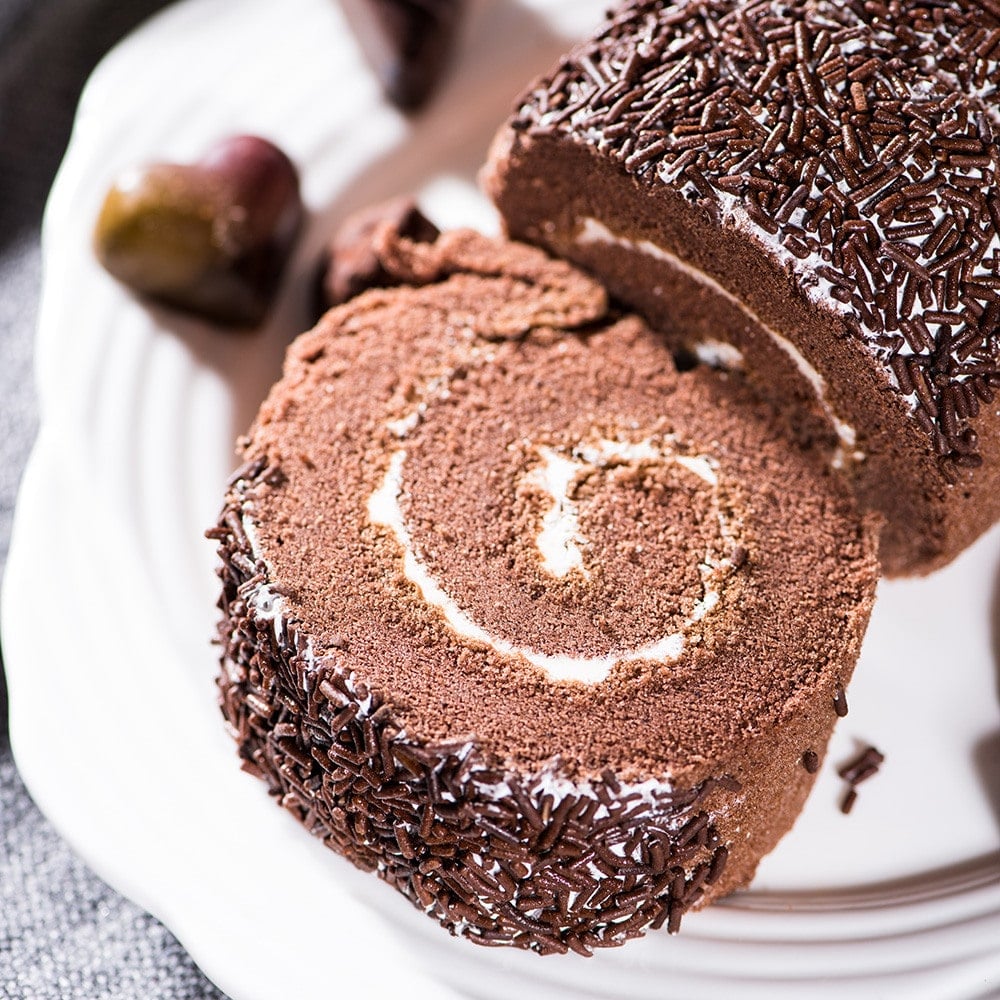 One of the reasons chocolate joconde is such a great cake is that its very light and not like a typical cake. You can even pipe patterns into it using colored joconde, freeze and then spread more batter over the top and roll it. It's very versatile.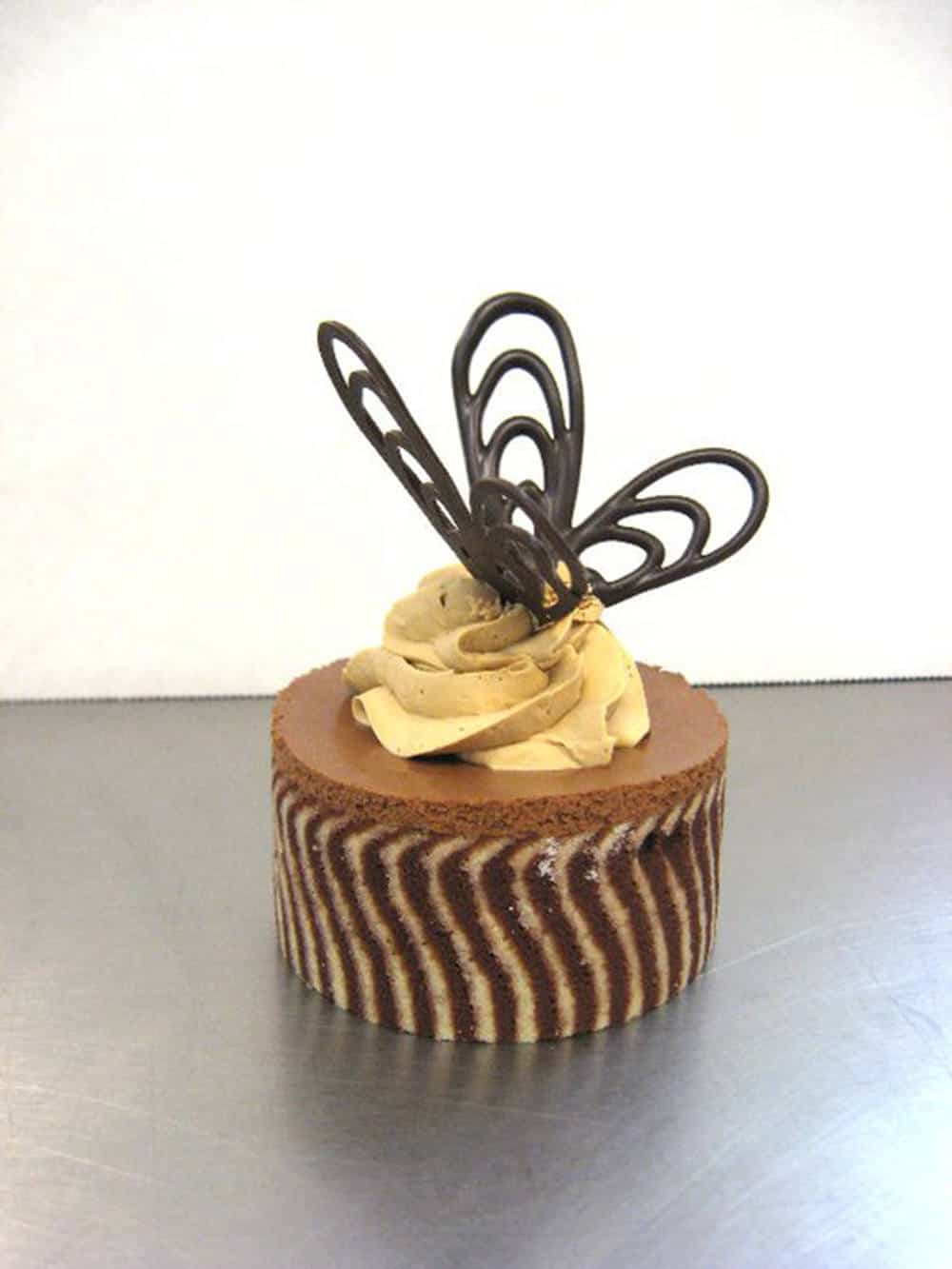 How to make chocolate joconde
Making chocolate joconde depends mostly on how you whip your egg whites and how you fold them into your batter since that is what we use for the cakes structure, no baking powder or soda. So take extra care in this step.
Sift together your flour, almond flour and sugar
Combine the flour mixture with the whole eggs with a whisk until smooth

Melt down your butter and combine with your cocoa powder and set aside to cool slightly
Whip your egg whites to a stiff glossy peaks. It should not look broken or grainy. If this happens your whites are over whipped and cannot be used and they cannot be saved so keep an eye on em!

Add a ¼ of your egg white mixture to your flour/egg mixture and fold gently to combine. Then add in another couple of scoops and fold.

Add your last bit of flour with the chocolate mixture and fold gently until no streaks remain.

Spread evenly into a ¼ sheet pan lined with baking parchment and bake at 425ºF for 8 minutes.

Remove the cake from the oven and if using for a swill roll, place a tea towel over the top and roll into a log and let cool. That way when you go to roll it up later it's already go the right shape and it won't crack.

If not rolling, coat the top of the cake in granulated sugar and cover with plastic wrap. Let chill overnight. The sugar helps keep the cake moist.

So thats all there is to making a chocolate joconde! If you want more chocolate flavor you can add in 10g more cocoa and subtract 5 grams ap flour.
Recipe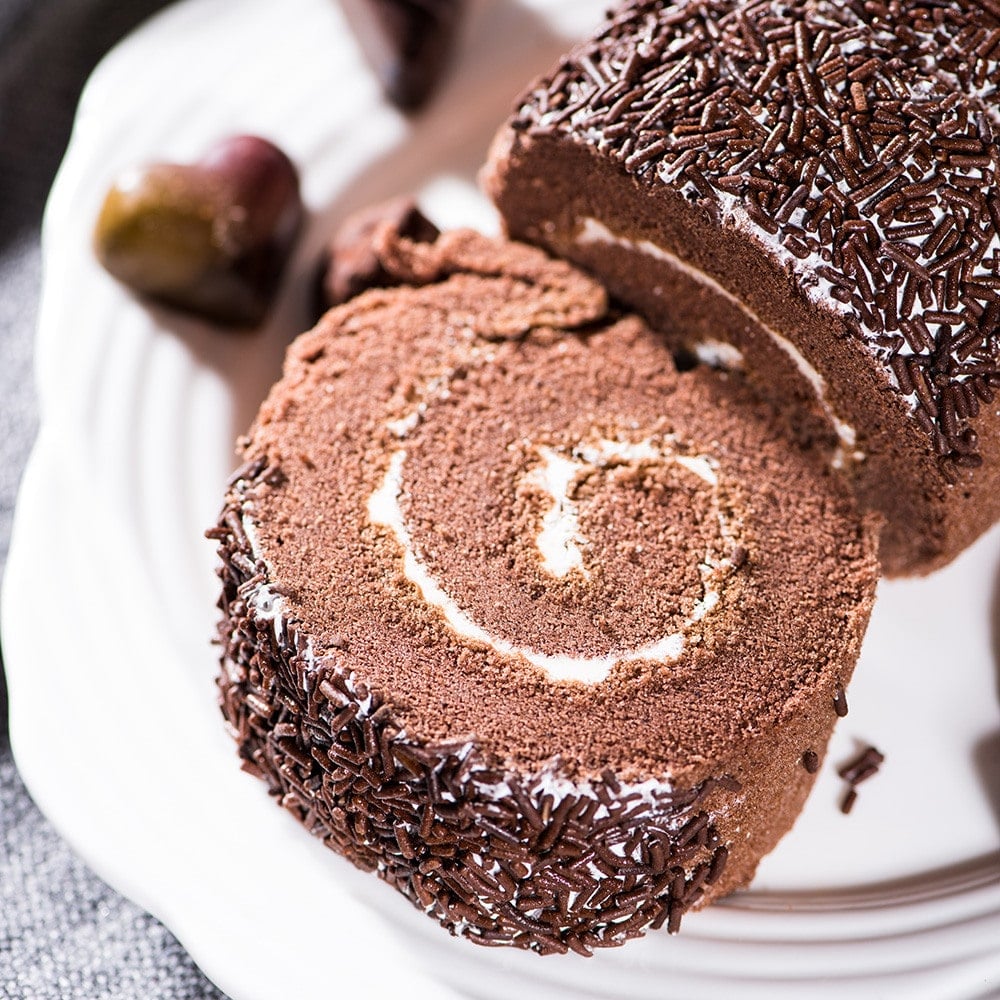 Ingredients
200

grams

almond flour

170

grams

powdered sugar

46

grams

cake flour

5

large

eggs

6

whole

egg whites

30

grams

granulated sugar

70

grams

melted butter

15

grams

cocoa powder
Instructions
First you need to preheat your oven to 425ºF/230ºC.

Sift together your almond flour, powdered sugar, and flour so you don't have any lumps.

Then you should blend in the 5 whole eggs into the flour until smooth.

In a separate bowl, whip egg whites to soft peaks and slowly add granulated sugar. Continue whipping to firm moist peaks. If they start crumbling you have over-whipped your egg whites and there isn't any way to save them. 

Then fold your meringue into mixture until just combined. Make sure you don't over mix it or get too rough and break down all the air you built up in your batter or you'll have a very flat cake.

Slowly whisk in the melted butter and chocolate mixture.

Finally, spread the mixture onto your prepared silicone mat or parchment paper in a jelly roll or shallow sheet pan and bake for 8 minutes. Make sure you don't over bake your cake.

Once your cake is cooled, sprinkle a thin layer of granulated sugar over the surface of the cake and cover with plastic wrap. Let sit overnight in the fridge. The sugar will dissolve into the cake as a result, the cake will stay moist even if it's exposed to air. Cool huh!
Nutrition
Calories:
2966
kcal
|
Carbohydrates:
283
g
|
Protein:
81
g
|
Fat:
180
g
|
Saturated Fat:
51
g
|
Cholesterol:
1082
mg
|
Sodium:
875
mg
|
Potassium:
401
mg
|
Fiber:
22
g
|
Sugar:
202
g
|
Vitamin A:
3120
IU
|
Calcium:
574
mg
|
Iron:
12.4
mg