Strawberry buttercream made with fresh, ripe strawberries and a hint of lemon makes a silky smooth buttercream packed with strawberry flavor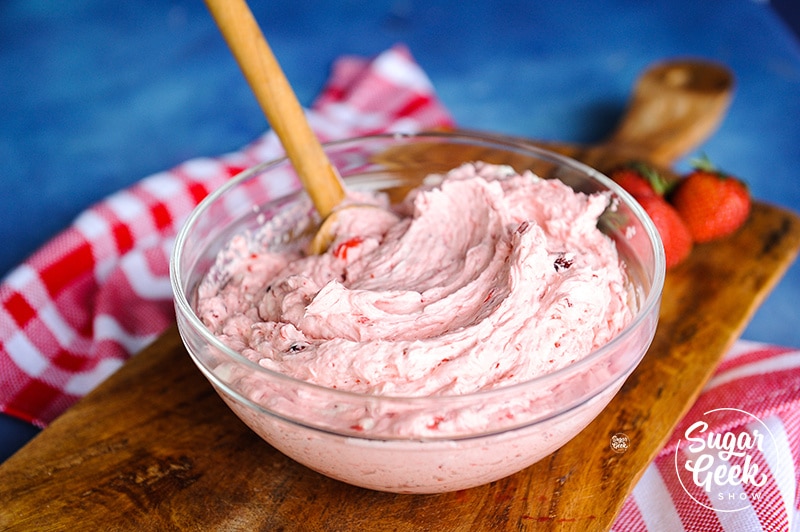 Strawberry buttercream reminds me of a summer afternoon growing up in my hometown Lebanon, Oregon. Every year we have the biggest event of the year (big for a small town) called the strawberry festival. Complete with rides, fried food and lots and lots of strawberries. We even have the worlds largest strawberry shortcake. When you come from a small town, it's the little things that stick with you.
I wish that I could travel back in time and go back to the days of helping my dad pick strawberries to make strawberry preserves. I still remember getting in trouble for eating more strawberries than I picked. Who seriously hires a 10 year-old to reliably pick fruit anyway. You know they can't be trusted. I would eat and eat until my stomach would feel like it was going to burst! You might say I'm a little obsessed with strawberries.
When strawberries are fresh, juicy and warmed by the sun, there's nothing like it! You can harness this flavor by growing your own, going to a you-pick strawberry farm or you can buy frozen strawberries which usually are picked at the peak of ripeness (is ripeness a word?) and then flash frozen to seal in that flavah. You can freeze strawberries yourself or you can even can them. Something I definitely want to try at some point!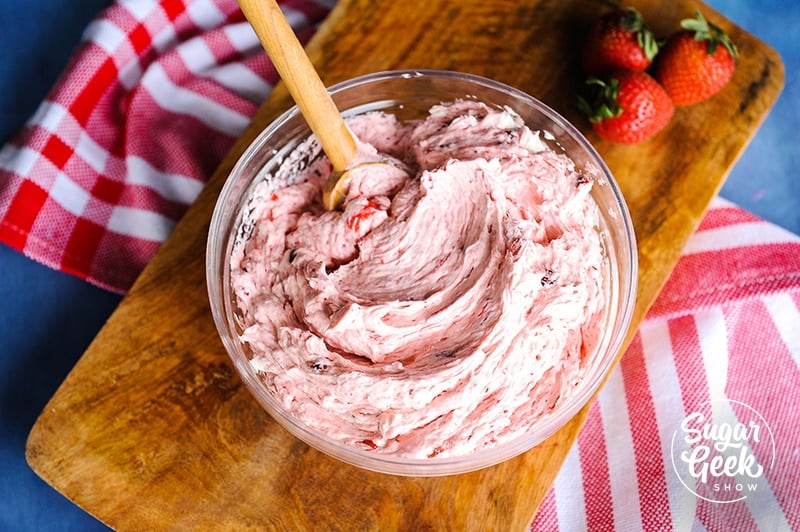 Making strawberry buttercream with fresh strawberries
To make strawberry buttercream successfully, the best way to start is with some strawberry puree. Strawberry puree is fresh strawberries or frozen that have been reduced so that there is not as much liquid in the strawberries but you still get all that delicious strawberry flavor. I like to add in some lemon zest to up that strawberry zing.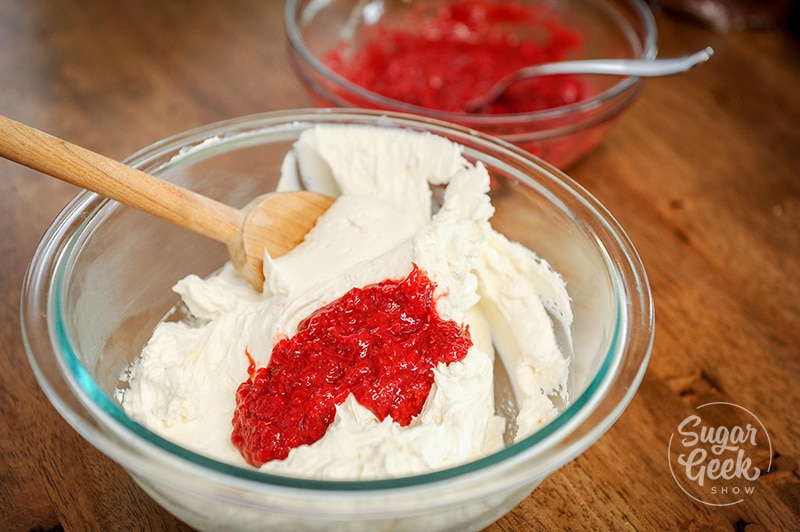 If you've ever tried to make strawberry buttercream with fresh strawberries you know… it's not as easy as mixing strawberries into the buttercream. When you try to mix them together you end up with something that looks more like it's from a horror film than a yummy fruit recipe. Bonus, if you ever need to make some gory special effects, strawberry puree looks pretty spot on.
Because fruit is mostly water and buttercream is mostly… well… butter, you can't just stir the two together. Water and oil don't like to play nice but it IS possible to make it work with a few tips.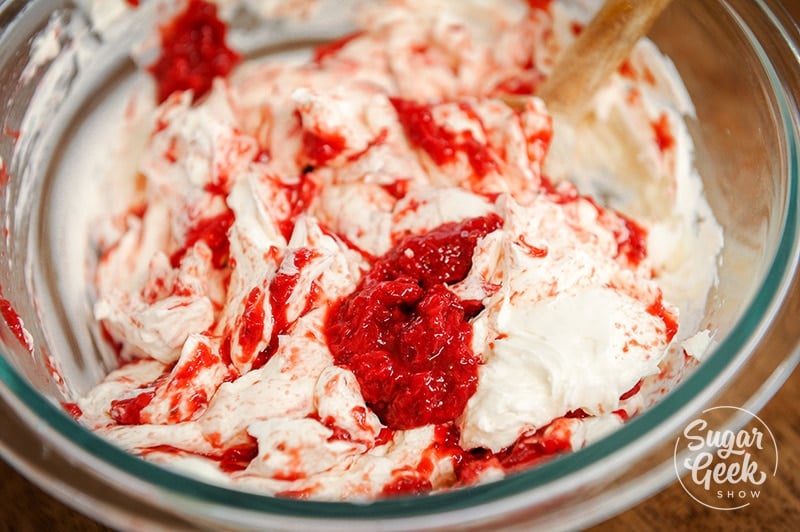 First of all, you'll need a batch of buttercream. I like my silky smooth easy buttercream for fruit frostings but you can also use american style buttercream or even crusting cream cheese frosting depending on the flavor profile that you like. Next you'll need about 1 cup of strawberry puree. Make sure the puree is cooled otherwise you'll end up with strawberry soup.
Measure out about 1/4 cup of your buttercream and melt it in the microwave for about 15 seconds until it's softened but not super hot. Combine the melted buttercream with your cup of strawberry puree to make an emulsion. You're basically suspending the water based strawberry liquid in the oils so it can then be combined fully into the buttercream without separating. Just like when you're making Caesar dressing which btw, if you aren't making your own salad dressing then you're really missing out on life.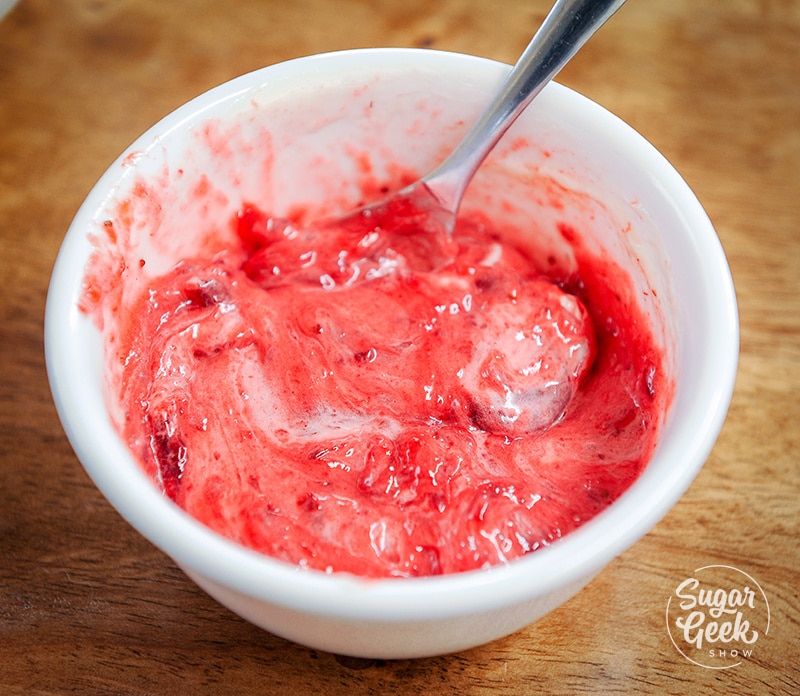 Ok so I know that it doesn't look delicious but trust me, the deliciousness is coming!
You can now combine this mixture into the rest of the buttercream and voila! You got yourself some delicious, sweet, packed with strawberry flavor buttercream! This buttercream pairs so well with so many cake flavors! Lemon cake, vanilla cake, even chocolate cake.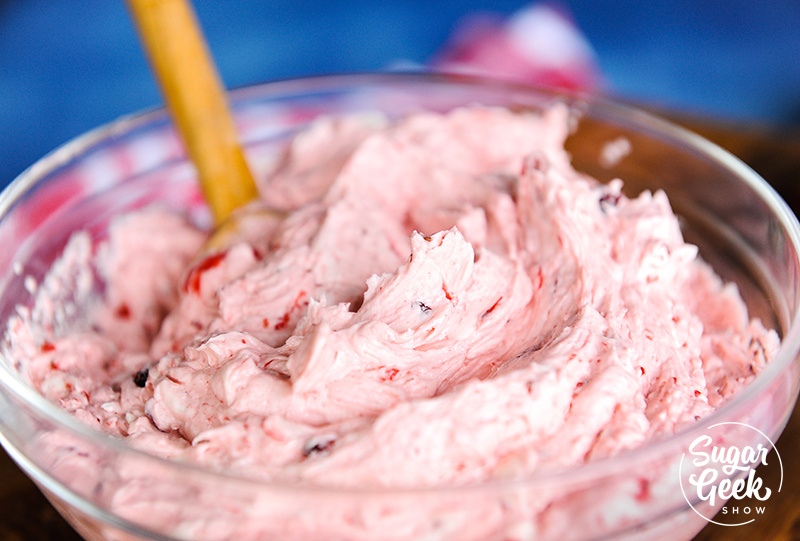 You can basically do this same process with any fruit. Some fruits you don't have to reduce because they don't have a lot of liquid in them or you can just drain off the excess liquid like in my marion berry filling. Blueberries, peaches, raspberries… anything!
Fresh strawberry buttercream filling
This buttercream is really great as a filling or frosted on the outside of the cake. Just keep in mind that the buttercream has chunks of real strawberry in there that still has a lot of moisture. If you need to cover the cake with fondant then maybe use this buttercream to fill between the layers of cake and use strawberry buttercream made with dehydrated strawberries for the outside or you can just do straight up buttercream.
When you're trying to smooth out the final coat of buttercream on the cake using your bench scraper, it can catch on the bits of fresh strawberries as well so just take care not to press too hard as you are smoothing. If you want the buttercream to be even smoother then you can blend the strawberry puree before adding it to the buttercream.
For extra strawberry power, you can spread on a nice layer of strawberry puree onto the cake before adding the strawberry buttercream. Some people like to make a strawberry flavored simple syrup as well but if you pair this buttercream with the fresh strawberry cake, you'll have plenty of strawberry flavor and moisture. This cake is great for a straight-forward strawberry flavor but is pretty delicate. If you want a firmer cake try the strawberry wedding cake recipe which slices beautifully and has a gorgeous color.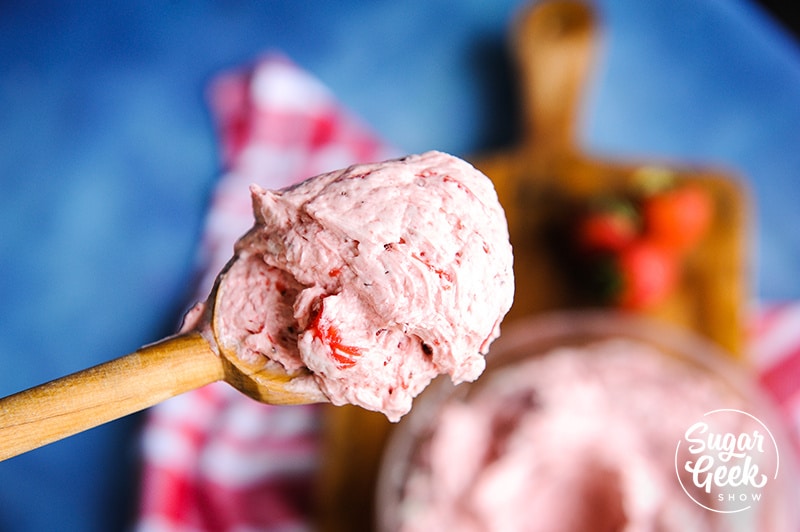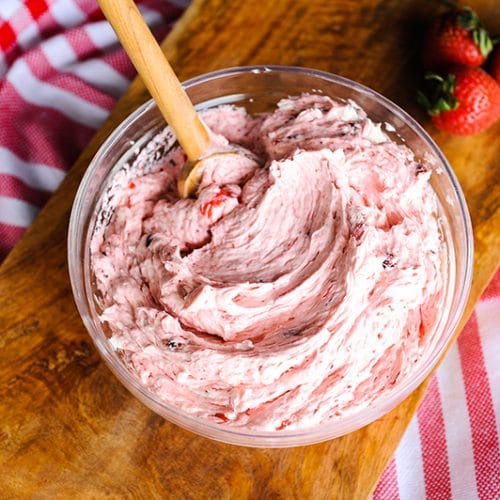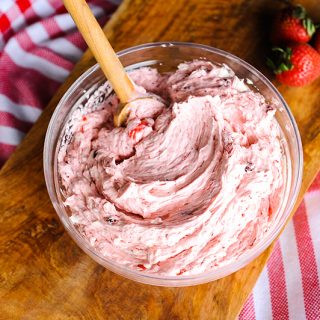 Fresh Strawberry Buttercream
Strawberry buttercream made with fresh strawberries that is sweet, juicy and so easy to make!
Ingredients
1

cup

strawberry puree

https://sugargeekshow.com/recipe/strawberry-reduction-recipe/

1

tsp

lemon zest

1

cup

pasteurized egg whites

room temperature

2

lbs

powdered sugar

2

lbs

unsalted butter

room temperature

1/2

tsp

salt

1

tsp

vanilla extract
Instructions
Place egg whites and powdered sugar in a mixing bowl with the whisk attachment. Whisk to combine. Add in butter in small chunks then vanilla and salt. Whip on high until light and fluffy and white. Optional: switch to the paddle attachment and mix on low for 15-20 minutes until all air bubbles are gone.

Combine 2 cups room temperature puree and zest with buttercream. Fold together to combine.

Because this buttercream has fresh fruit in it make sure it stays refrigerated. Store excess buttercream in the fridge or freeze for up to 6 months. Defrost buttercream in the fridge and re-whip before use.
Nutrition Facts
Fresh Strawberry Buttercream
Amount Per Serving
Calories 1707
Calories from Fat 1098
% Daily Value*
Total Fat 122g 188%
Cholesterol 325mg 108%
Sodium 287mg 12%
Potassium 95mg 3%
Total Carbohydrates 154g 51%
Protein 5g 10%
* Percent Daily Values are based on a 2000 calorie diet.
May 9, 2019