St Patrick's day cakes can be simple or elaborate, this one is a little of both!
This St Patrick's Day cake is so fun to make and features some of my daughter's favorite things, chocolate and color! St Patrick's Day is a time to get together and celebrate with friends (and everyone pretends they are irish) which can be a lot of fun! This cake is perfect to bring to a get-together, bake up for the family dinner or just make for fun!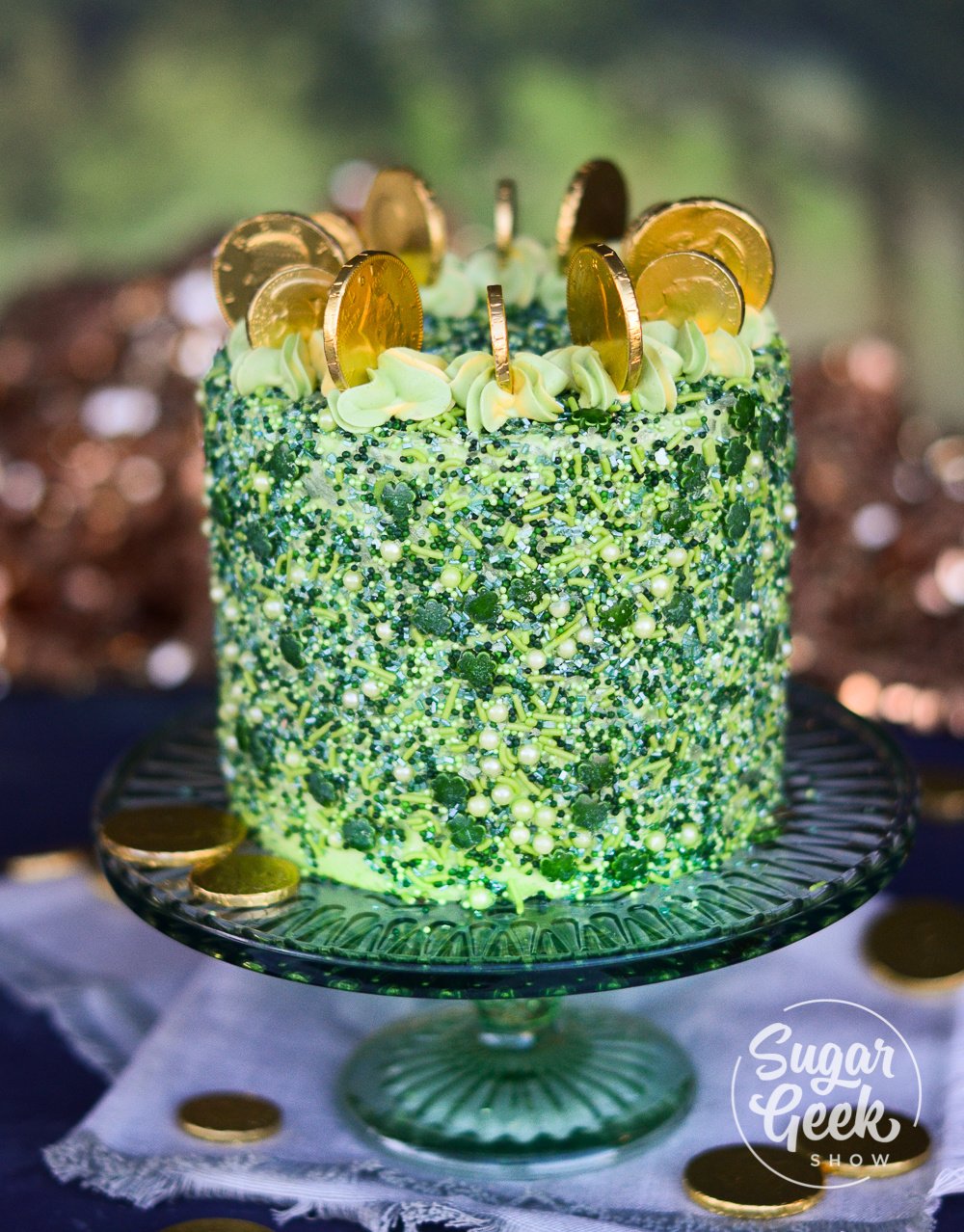 How to make a St Patrick's day cake
For this cake, I converted my red velvet cake recipe to a green velvet by replacing the red food coloring with green. I left the cocoa powder in the recipe but cut it in half (1 tablespoon instead of two) so that the color was not quite as dark.
For a brighter green, leave the cocoa powder out.
I love the riche, natural green color of this green velvet cake. The taste is really amazing and pairs really well with easy buttercream or of course cream cheese frosting.
How to make custom St Patrick's day sprinkles mix
I love making sprinkles mixes! It's kinda my new obsession. Yes I am fully aware that I am really late to the trend on this one but I get it now. Making your own sprinkles mixes is so fun! Many places like Michaels actually sell sprinkles by color so it makes it really easy. I got myself some shamrocks, a couple different sizes of non perils, sugar pearls and some green crystal sugar. I of course had to take this opportunity to make some edible glitter too!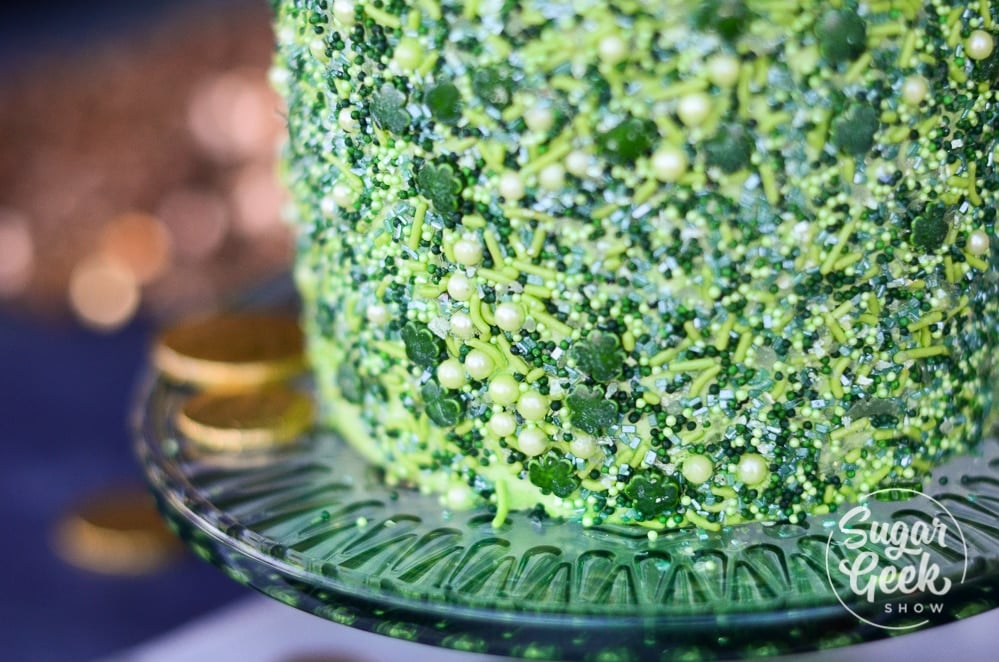 Combine all the sprinkles together and put them in a shallow dish to coat your cake and catch the sprinkles that fall off.
How to make green edible glitter
Follow the directions for my edible glitter recipe but instead of blue shine I used green shine. You could also use food coloring with pearl sheen if you have that available. Spread it out, let it dry and grind it up.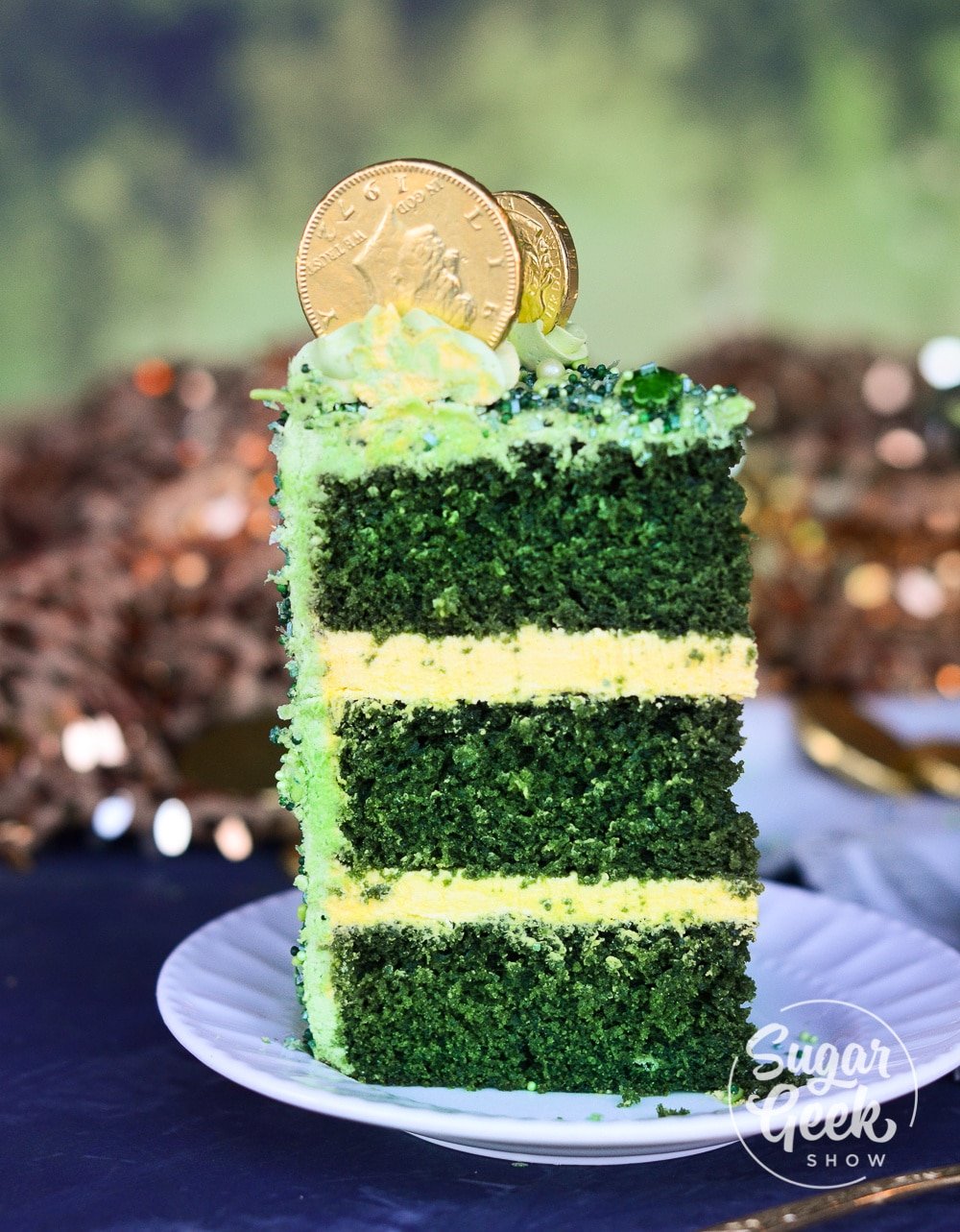 How to make your St Patrick's Day cake
I crumb coat the cake with buttercream colored with some yellow and green food color. I like to use artisan accents chameleon chocolate colors because they are oil based and better for coloring buttercream. Let the cake chill until it's firm. Then I put the final coat of buttercream on and smooth it out with a bench scraper.
Next we need to semi-freeze the cake so it's easier to pick it up to put the sprinkles on it. I accidentally froze mine a little to much so I ended up having to put another thin coat of buttercream onto the cake so that the sprinkles had something to "squish" into.
Put the sprinkles onto the top of the cake first so that your hand doesn't get all buttercream-y.
Now pick up your chilled cake and put one hand on the top and the other hand on the bottom and roll the cake in the sprinkles. I let the cake literally sit on the sprinkles so they push into the buttercream
You might have to occasionally skootch the sprinkles back into the middle.
I finished my cake with a few dollops of buttercream and some gold chocolate coins. You can also make some matching cupcakes if you need more servings for something like your kids school party or a larger get-together.
I hope you enjoyed this St Patrick's day cake tutorial! If you tried it, let me know, I'd love to see it!
Want more colorful velvet cake info? Check out my other blog post on all things white velvet cake and how to get custom colors.
Liz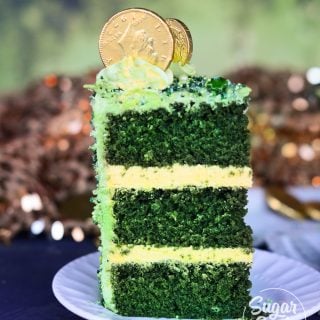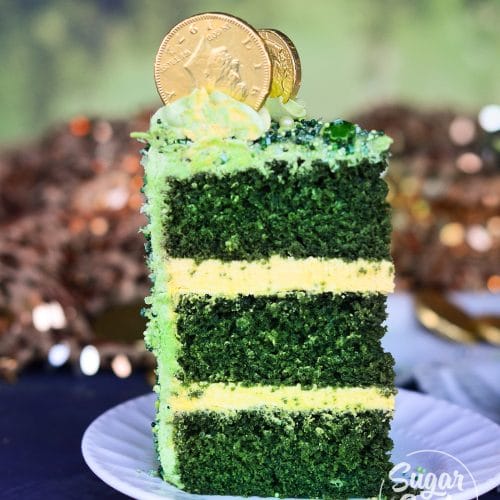 Green Velvet Cake Recipe
This green velvet cake is so fun to make for St Patricks Day or any other holiday where you need a pretty green cake that also tastes amazing! Adapted from my very popular red velvet cake recipe.
Ingredients
12

oz

AP flour

14

oz

Granulated Sugar

2

tsp

natural (not dutched) cocoa powder

I like Hershey's Special Dark

1

tsp

salt

1

tsp

baking soda

2

large

eggs

4

oz

vegetable oil

8

oz

buttermilk

1

Tbsp

white vinegar

4

oz

unsalted butter

1

tsp

vanilla

1-2

tsp

yellow food coloring

1

tsp

green food color
Instructions
Preheat oven to 350F and prepare two 8" cake pans with cake good or preferred pan spray

Whisk up eggs with oil, buttermilk, vinegar and melted butter and food coloring until combined and set aside.

Place dry ingredients into the bowl of your stand mixer and mix for a few seconds to combine

Add wet ingredients into your dry and mix on medium high for about a minute until combined

Pour into cake pans and bake for about 30 minutes or until a toothpick comes out cleanly. Cool and chill before frosting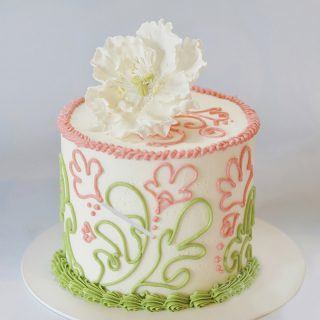 Easy Buttercream Frosting
Delicious, rich and easy buttercream frosting recipe that anyone can make. This is not a crusting buttercream. It is meringue based so it has a slight shine and chills nicely in the fridge. Takes 10 minutes to make and is fool-proof! Light, fluffy and not too sweet.

Servings
8
inch round cake
Ingredients
2

lbs

unsalted butter

room temperature. You can use salted butter but it will affect the taste and you need to leave out additional salt

2

lbs

powdered sugar

sifted if not from a bag

1-2

tbsp

vanilla extract

1

tsp

salt

1

cup

pasteurized egg whites
Instructions
Place egg whites and powdered sugar in a stand mixer bowl.

Attach the whisk and combine ingredients on low and then whip on high for 5 minutes.

Once the meringue is light, white, fluffy and shiny, add in your butter in chunks. Add in vanilla and salt.

Let whip on high for 8-10 minutes until it's very white, light and shiny.
March 10, 2018