Easy Christmas Cookies That Are Soft, Super Yummy And Make Great Gifts This Holiday Season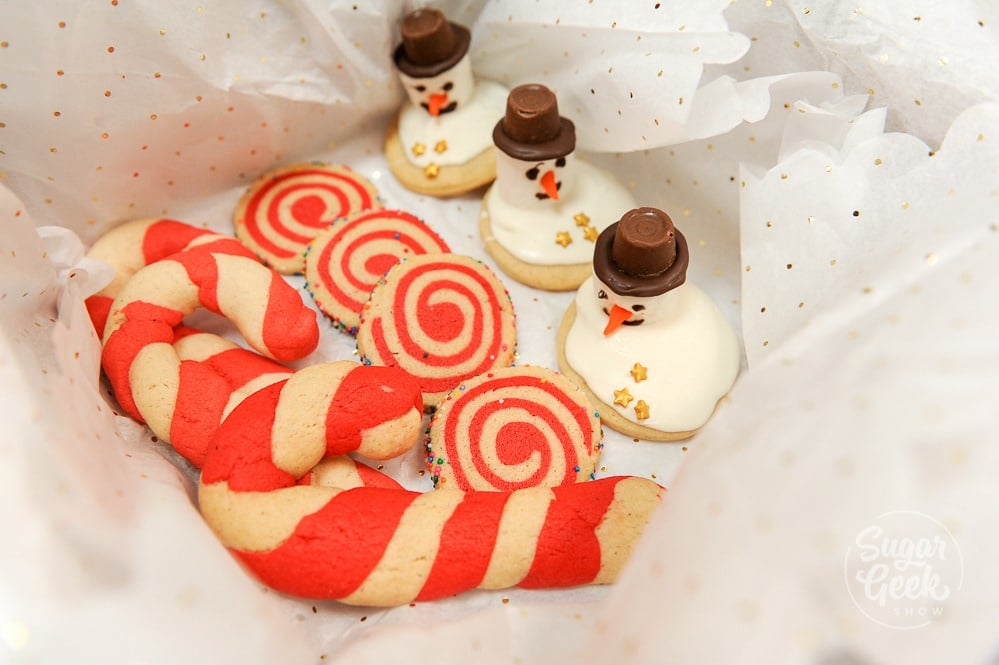 I always wanted to be the person that makes amazing Christmas cookies. I will be the first person to admit I am not that great of a cookie maker! My strengths definitely fall in the cake category. It wasn't until I tried this easy sugar cookie recipe from Susan Trianos that I thought maybe there was hope for me yet! I love this recipe because it comes together so fast, you can mix up the flavors to your liking and the season and the cookies never spread! It's like the worlds greatest edible play-doh but ya know... better tasting.
The holiday season has barely begun around the Marek household but already our daughter Avalon is eye-balling toy magazines and noticing the Christmas trees in the stores. She's already excited about "presents" and Santa Clause which is great BUT now that she's four, I want her to understand the joy that is GIVING gifts which happens to also be my love language.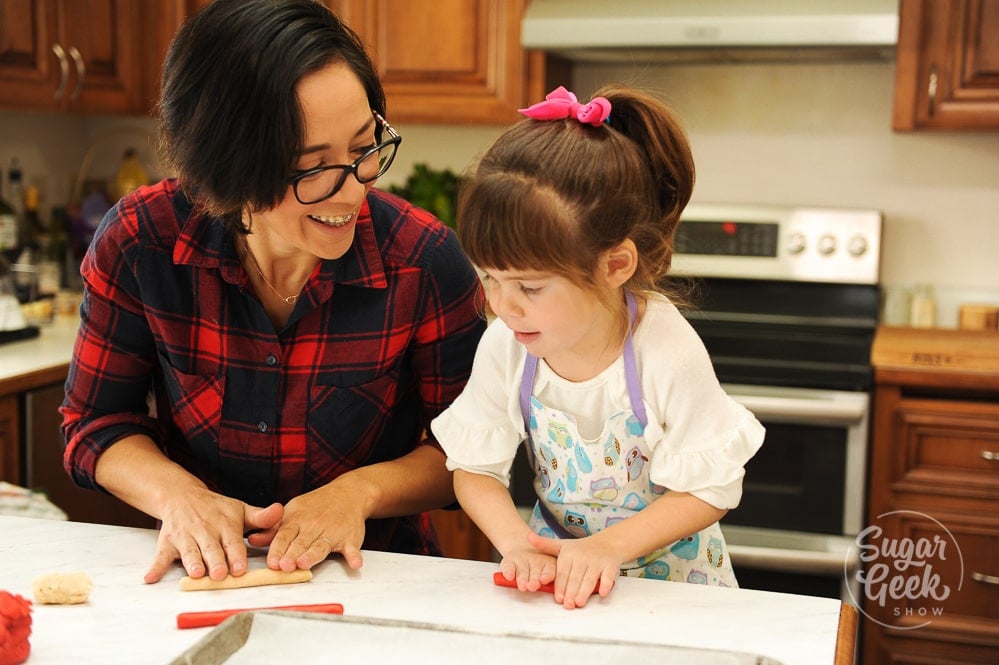 So this year I made a deal with our friends and family. No store-bought presents. Everything we give to each other must be hand-made. Santa will bring her a couple of toys from the "toy shop" but that's it. Our days will be spent looking for things to make for our friends.
Some of the best gifts I can remember receiving when I was a poor kid growing up in the country. Hand-made dresses and quilts from the ladies at our church, art supplies from Santa and cookies from our neighbors!
So no more excuses for this cake lady. This year we're learning how to make cookies and we're going to give them as gifts!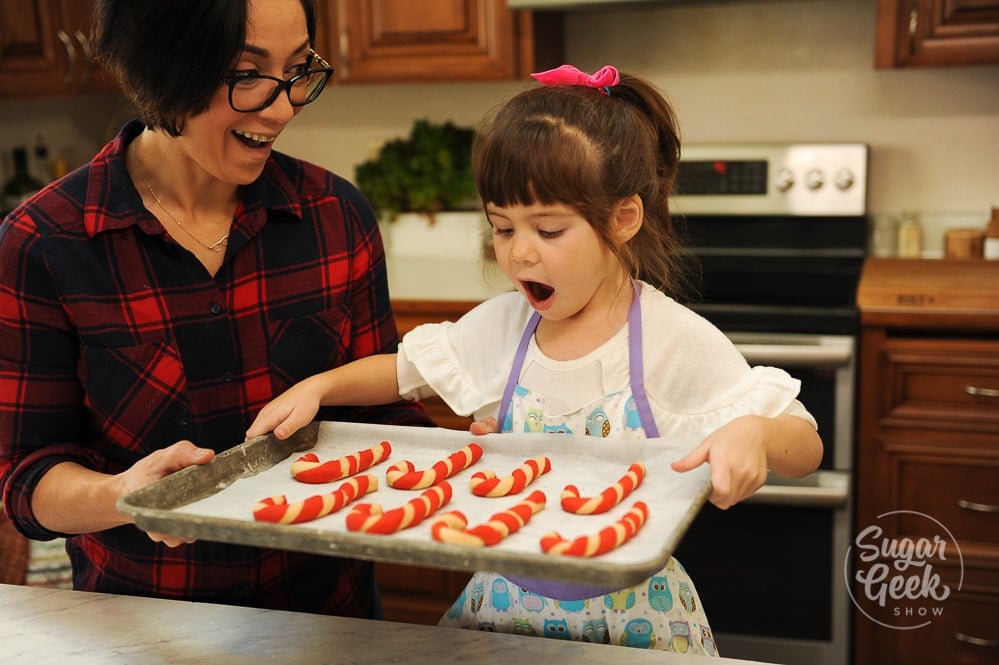 When looking for cookies to make, I specifically chose cookies that I thought looked tasty, could all be made from the same sugar cookie dough and where simple enough for myself and my four-year-old to make. Enter in the worlds easiest Christmas cookies!
Christmas Cookie Recipe
This recipe rocks!! It's everything you want a sugar cookie recipe to be! Melt-in-your-mouth tender but a little crisp! Super buttery and the perfect amount of spice. My absolute favorite sugar cookie recipe.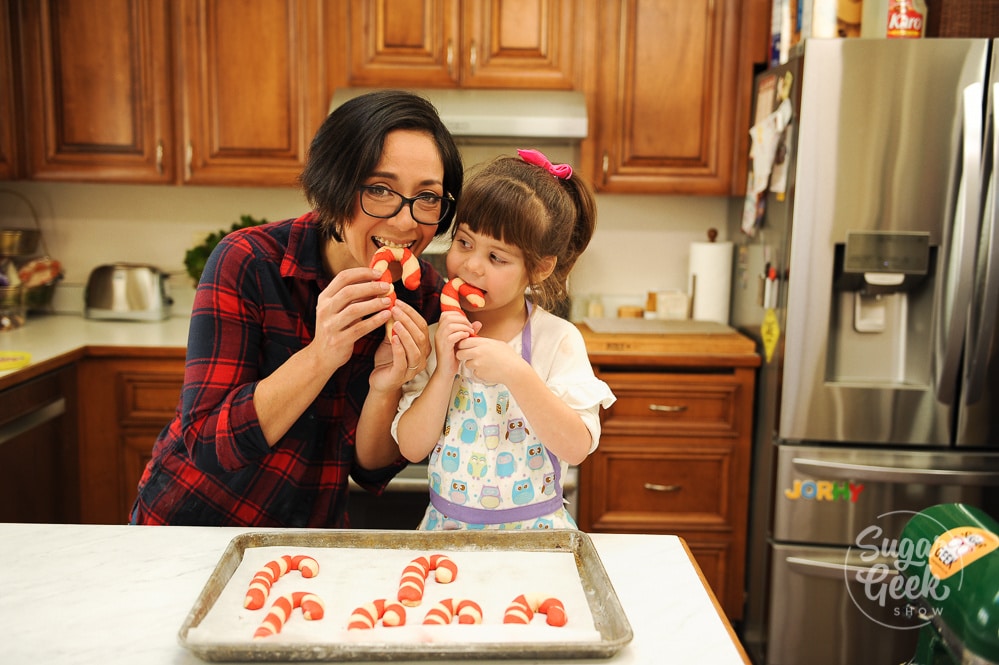 The first thing you want to do is make your sugar cookie dough. I made mine the day before so that I would have a whole day of cookie making without that pause in between while the cookie dough chills. Apparently if you don't let your cookie dough chill your cookies not taste as good and will spread more because you need to give the flour time to absorb the butter and milk. Crazy cookie science facts right there.
Once your cookie dough comes out of the fridge, it will be a bit hard from being in the fridge but will soften up once you knead it with your hands.
How To Color Sugar Cookie Dough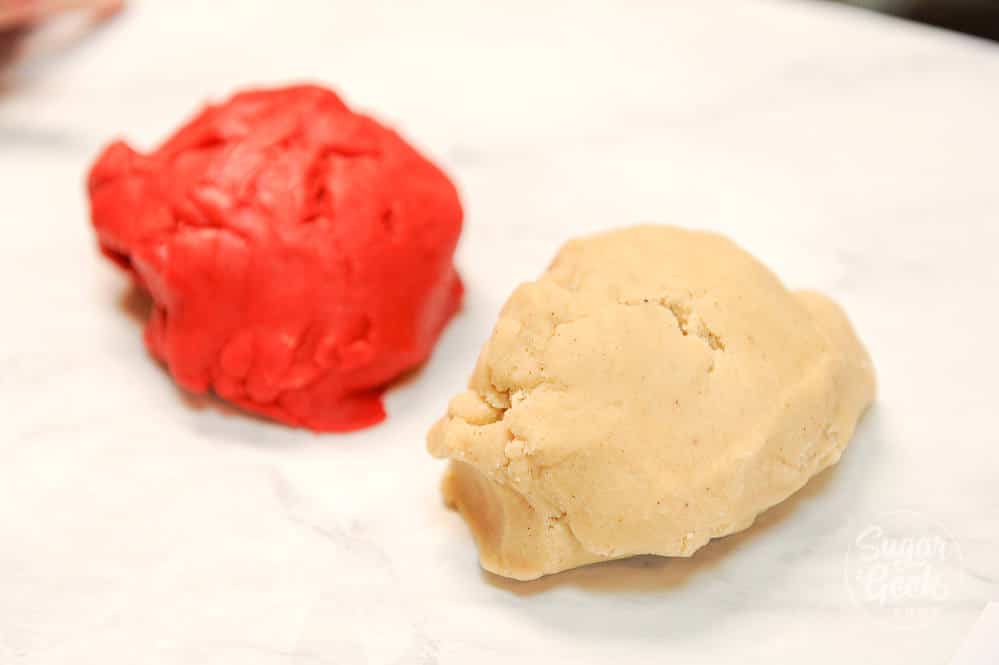 Sugar cookie dough is so awesome. It's like what you always wished play-doh tasted like. You can easily color it with gel paste food colors like americolor food coloring. Just add a few drops and mix it in! You can use any colors you want. I used some super red food coloring for my Christmas cookies.
How To Make Candy Cane Cookies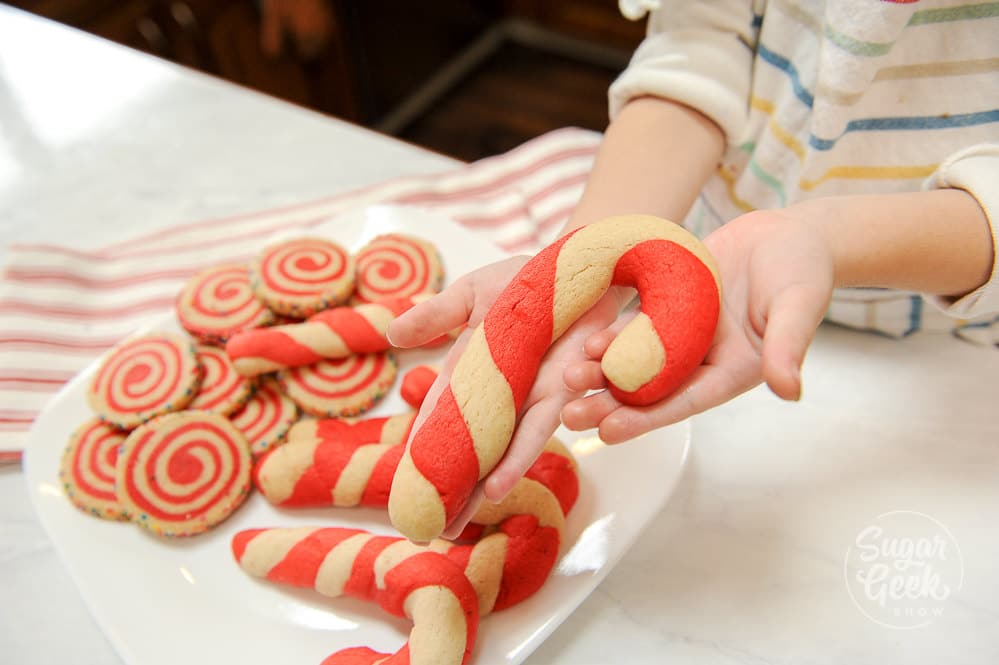 You can add a drop of peppermint extract to your red cookie dough (I meant to but forgot). Simple roll your red and white dough into small balls, about two tablespoons of each dough. Then roll the balls out into snakes of equal length.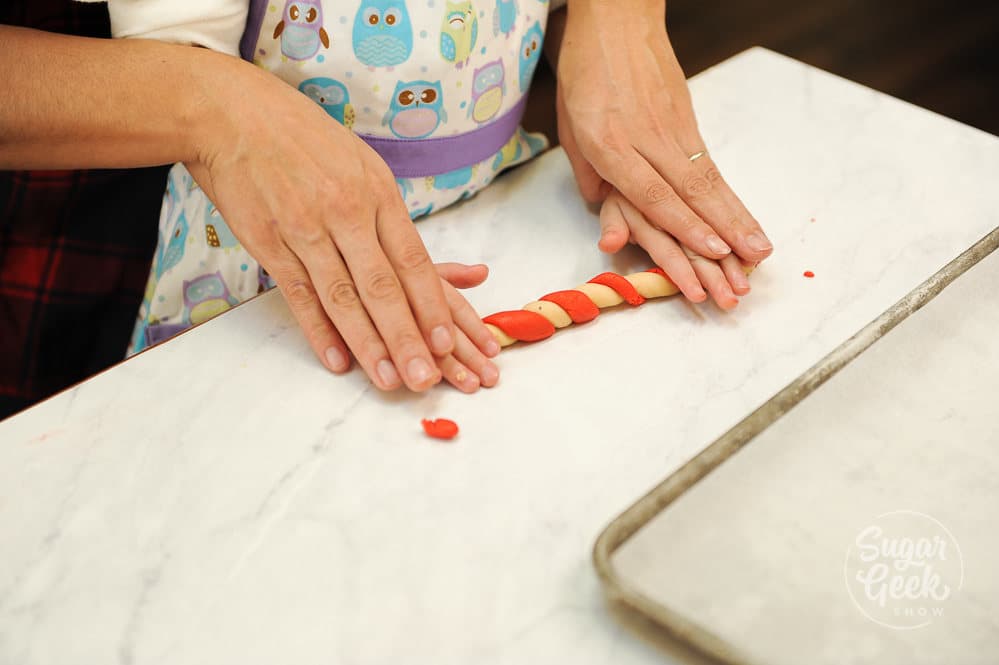 Avalon loved this part and even did a good job of twisting the snakes into the candy cane shape.
Once you make all your candy canes, place them onto a parchment lined cookie sheet and into the freezer for 15 minutes.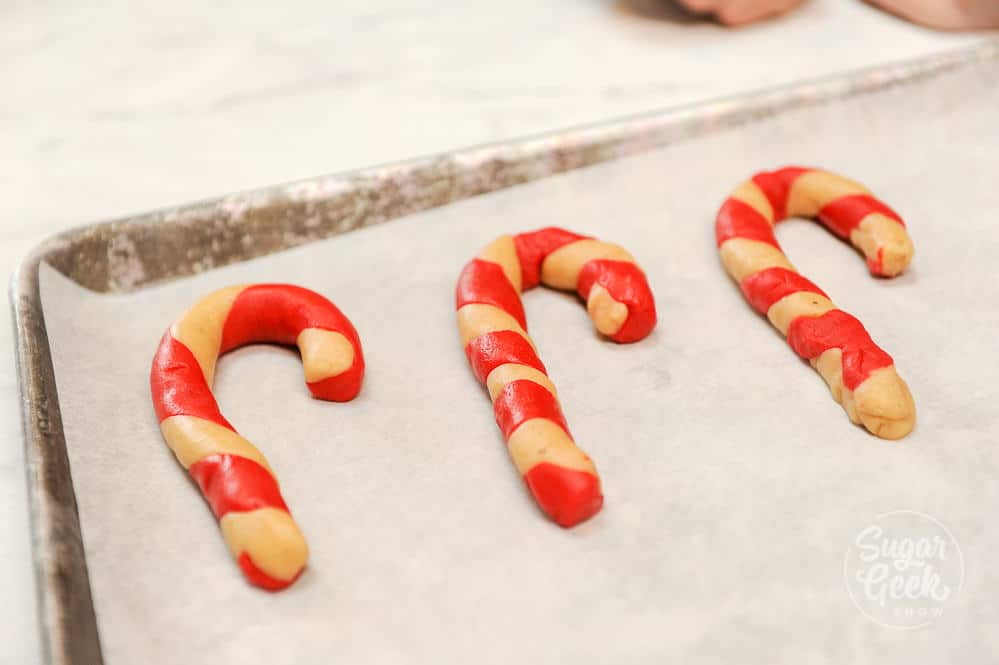 Once they are chilled, you can bake them in an oven pre-heated to 350°F for 12-14 minutes until the edges just start to turn golden brown.
How To Make Pinwheel Cookies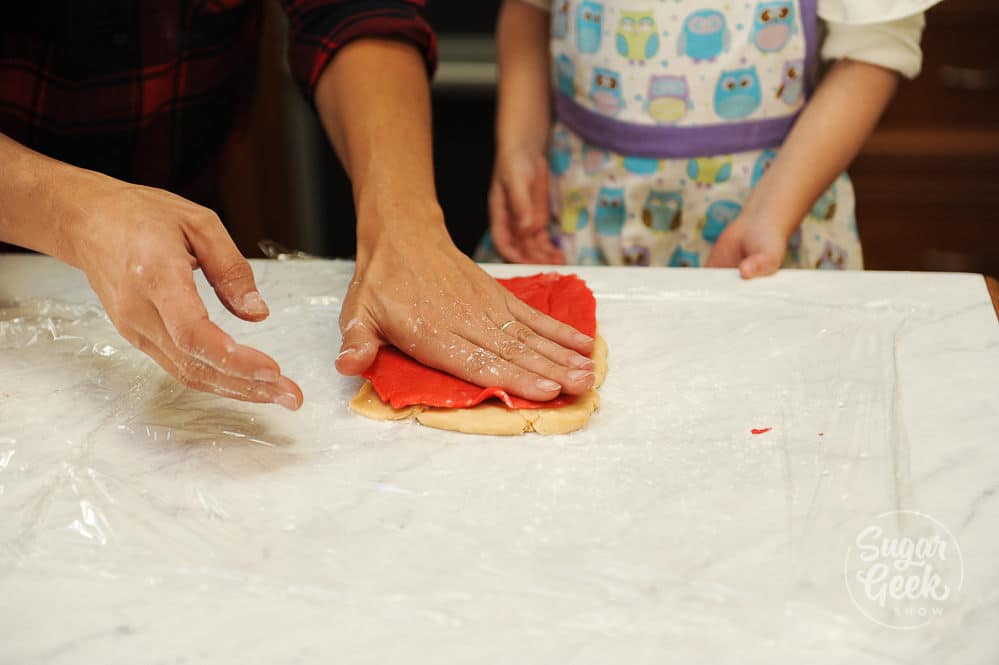 To make our pinwheel Christmas cookies, I shaped my leftover red cookie dough into a rectangle about ¼" thick. I shaped some regular cookie dough the same way so the sizes match. If your dough is sticking, just dust the surface with more flour.
Then you just stack the two rectangles on top of each other and roll them into a tight spiral. Try not to leave any gaps or your cookies will have holes in them when you cut them.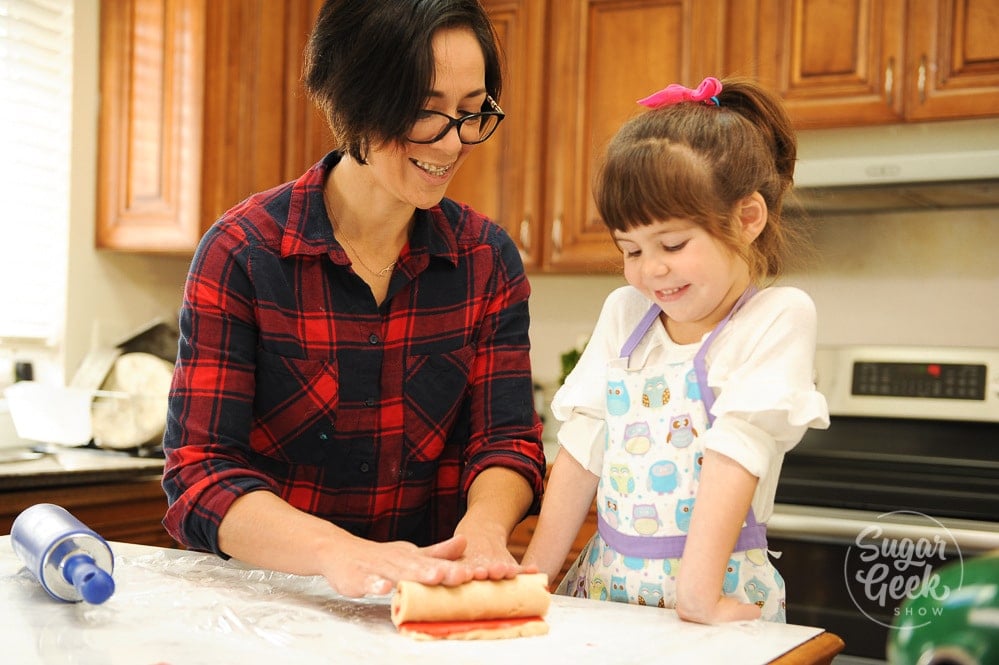 Then roll your cookie log into some sprinkles. I just used some rainbow non-peril sprinkles because they hold up in the oven. After you get your log covered, chill the log in the freezer for about 30 minutes.
Once your cookies are chilled you can slice them into cookies about ¼" thick. No need to chill them further. Just pop them into the oven and bake for 12-14 minutes until they just start to brown around the edges.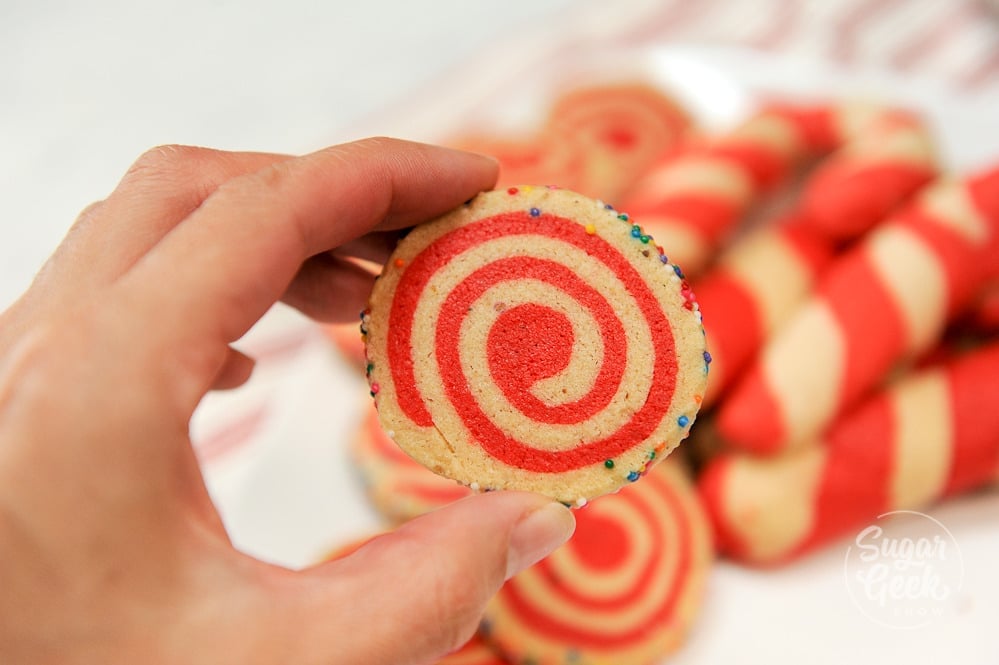 How To Make Melting Snowmen Cookies
Now onto the slightly more complicated Christmas cookies. For these cookies we'll need some marshmallows, rolo candies, white and dark chocolate candy melts, toothpicks, a piping bag and some sprinkles.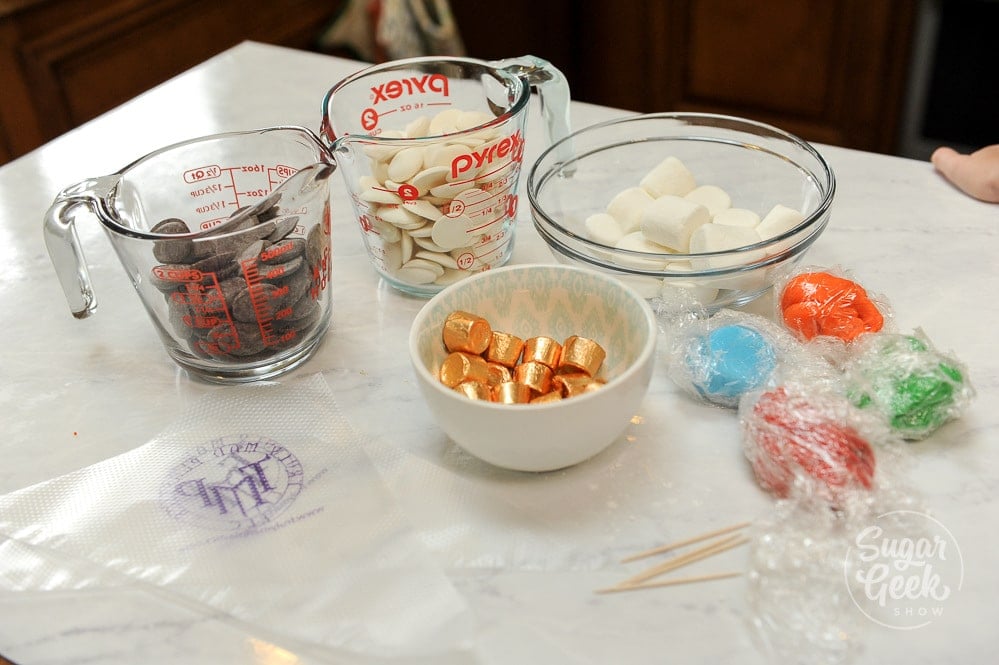 The melting snowman cookie is pretty simple to make but takes a bit more work and ingredients. First roll out your cookie dough to about ¼" thick and cut out some 3" circles.
Place your round cookies onto a parchment lined cookie sheet and bake for 12-14 minutes until golden brown around the edges. Let cool fully.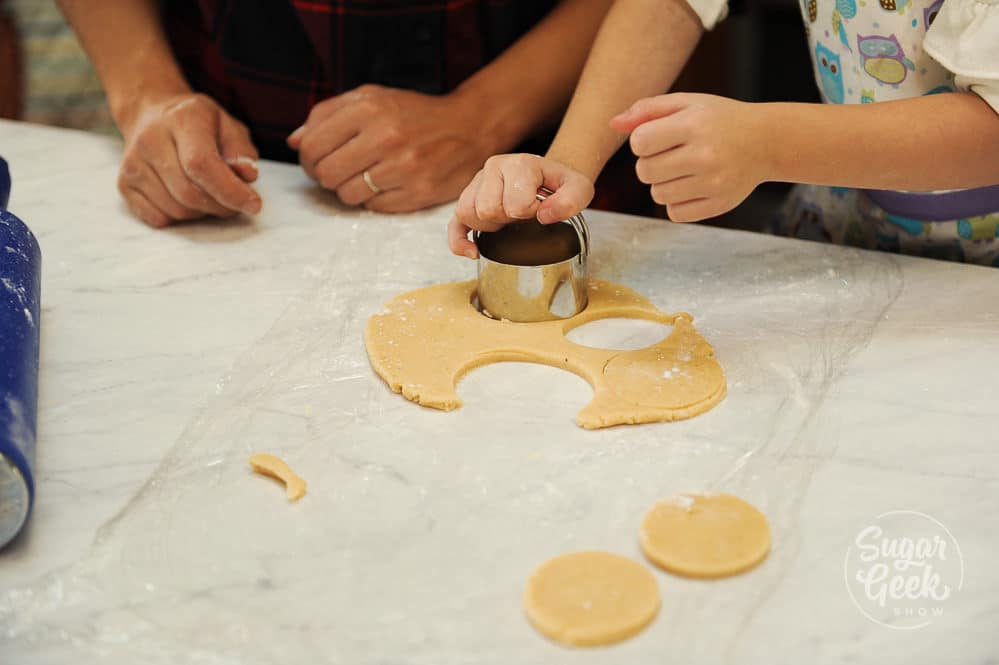 While your cookies are cooling, you can start making your snowman decorations.
To make the hats, I melted down some candy melts. I used candy melts because they will firm up in the freezer and don't require any tempering. Place some melted chocolate into a piping bag and pipe some little circles onto a parchment lined pan. Plop a little candy rolo on top and chill for 5 minutes to set the chocolate.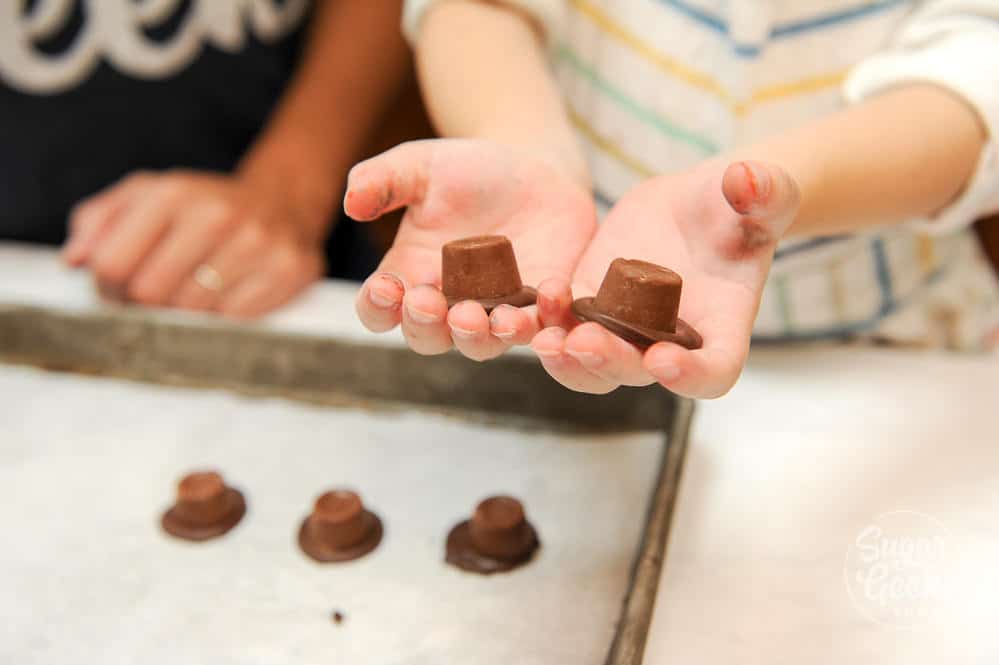 For the snowmen heads, I used some marshmallows. I formed some carrot noses out of orange fondant because hello, I'm a cake decorator and always have fondant on hand. You could use an orange sprinkle or even candy corn if you like. To make the eyes I just dipped a toothpick in a little chocolate and drew on two eyes and a mouth.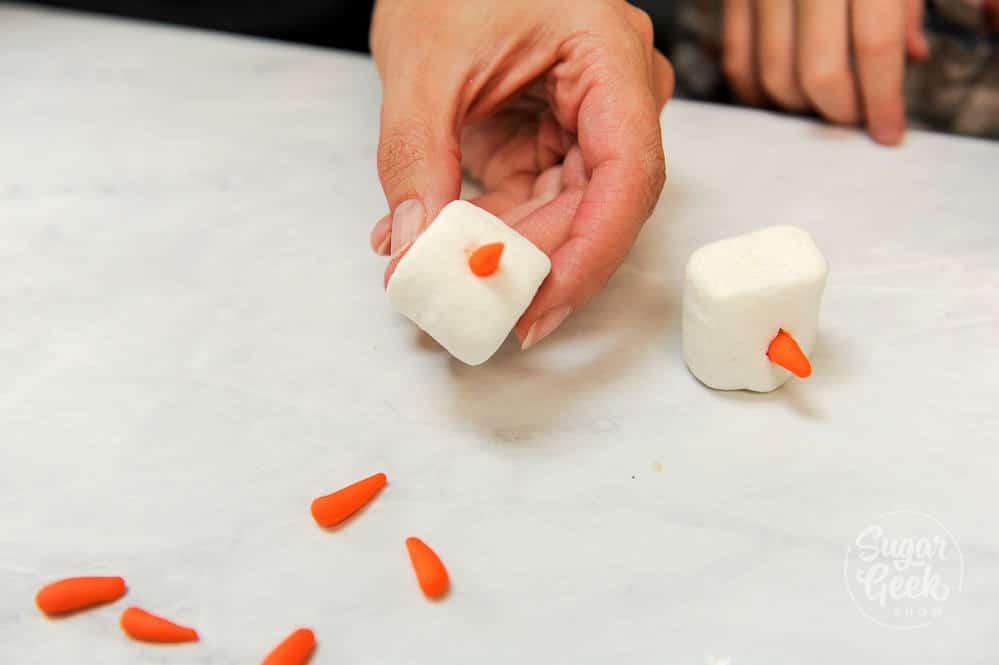 Glue the hat onto the marshmallow with a dab of chocolate and the heads are done!
Once the cookies are cooled you can pipe on some melted white chocolate onto the cookies. I like the white chocolate instead of royal icing because it's just really easy and less steps than making royal icing.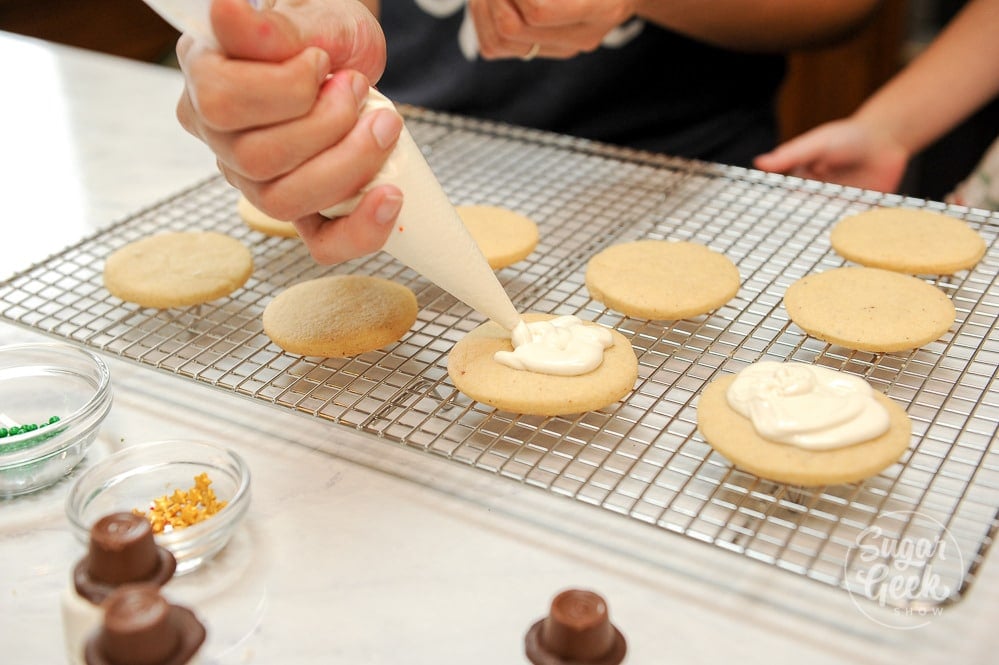 Once you get the chocolate on, you can tap the cookie lightly to get the chocolate to smooth out. This is a super duper easy cheat if you don't want or like to make royal icing (like me). Plus I think the white chocolate tastes so good!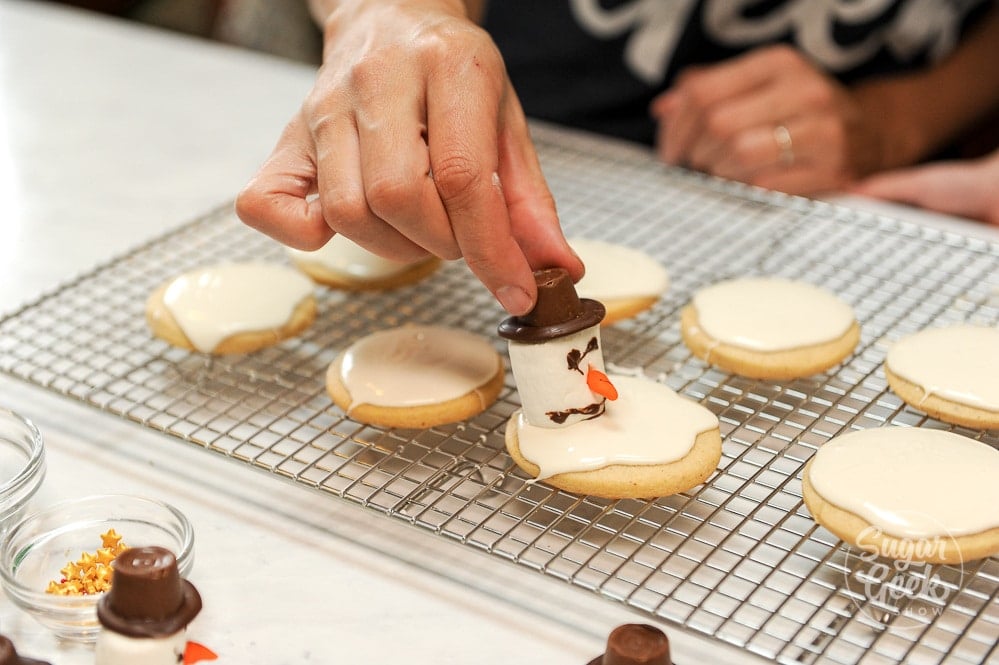 Place the snowman head on the chocolate and add some sprinkles or mini M&M's for buttons.
Fight the urge to re-make your kids cookies. The type-A control freak in me wants to make that melted snowman cookie look a little less melty but what kind of message would I be sending Avalon? So I let them be and they still tasted great.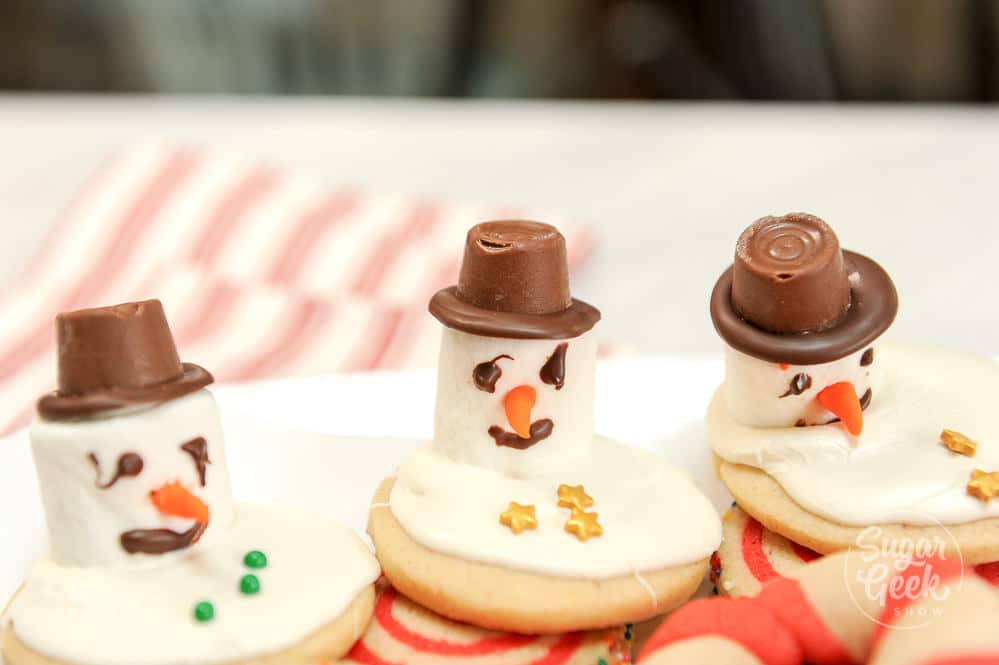 Easy Christmas Cookies For Cookie Exchange
These Christmas cookies are great to give as gifts or for a cookie exchange. They can be be wrapped individually or packed in a tissue lined box or cookie tin. We simply put ours in a tissue lined box with a bow and gave them to Daddy for Christmas!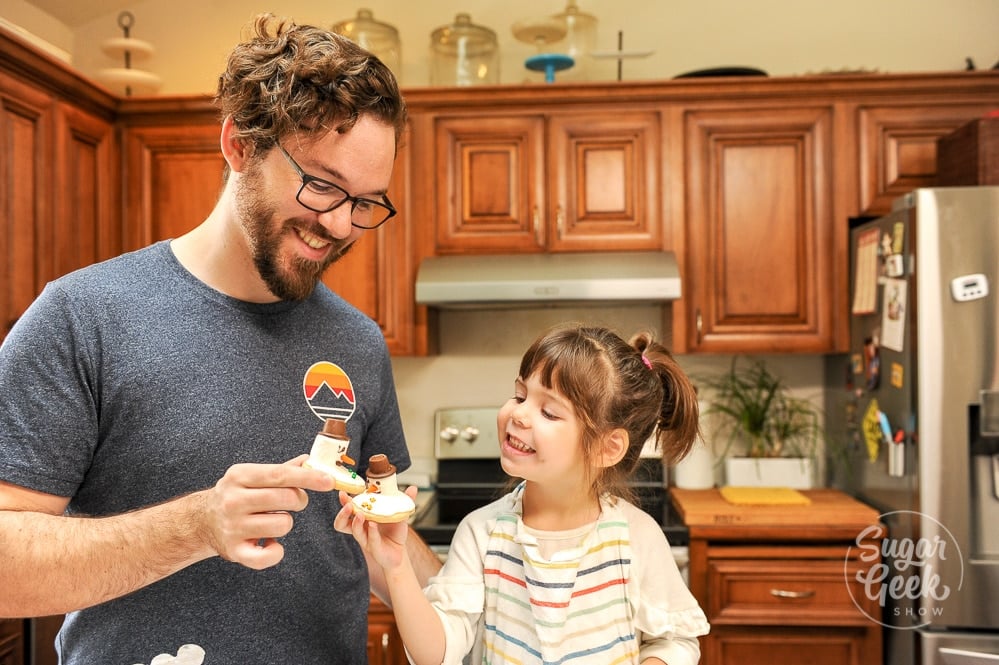 I could tell Avalon really enjoyed being involved with making this gift for her daddy and I know the memory will stick with her much longer than just buying something from the store (at least I hope so).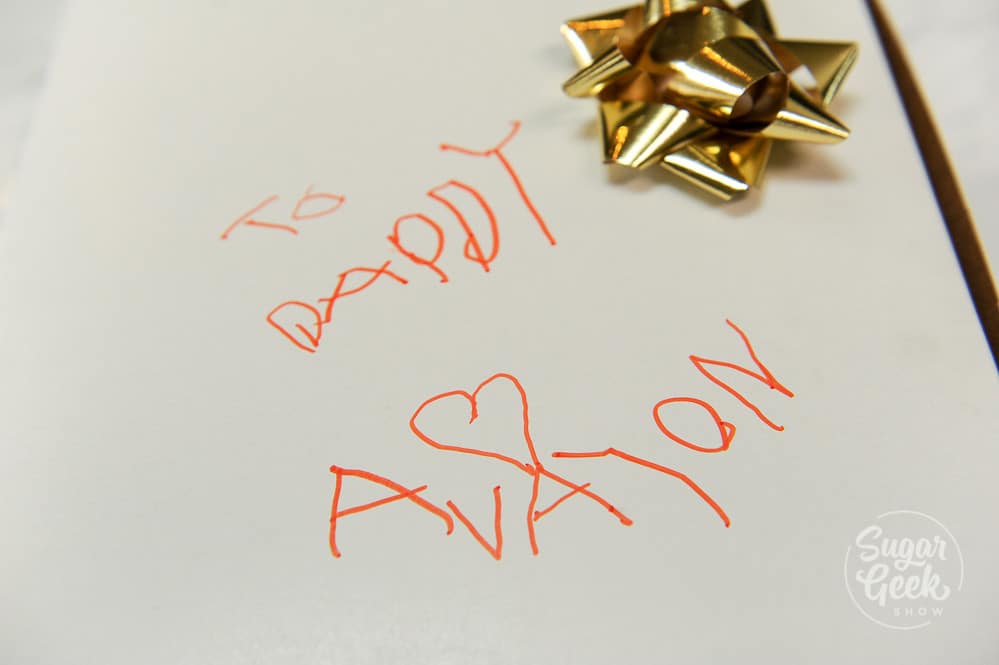 If you want to watch how we made these Christmas cookies, you can watch the video below.
Recipe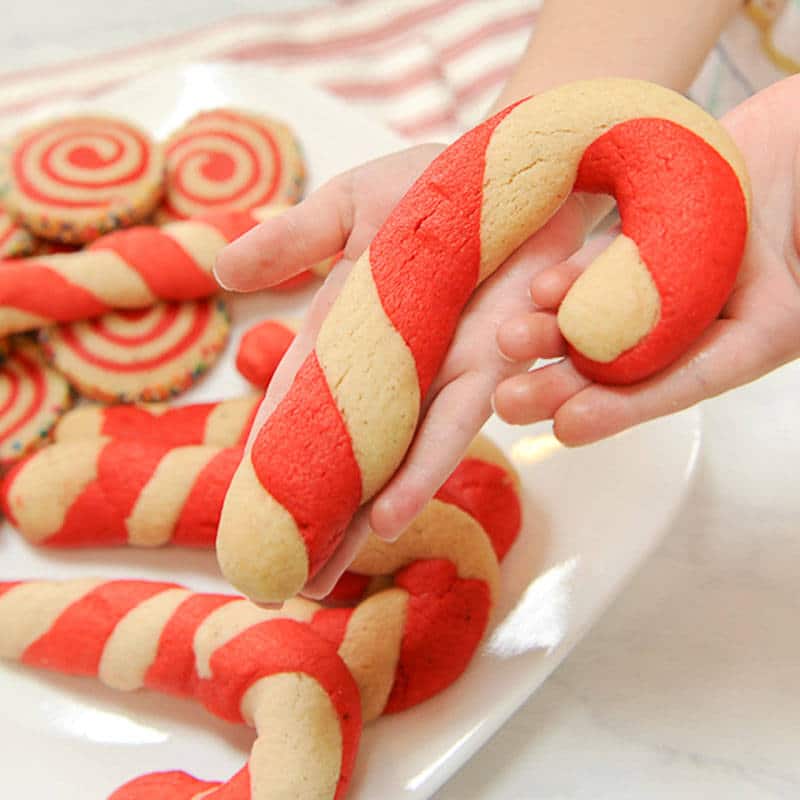 Ingredients
Ingredients
16

oz

Salted butter

Room temperature. Can be unsalted butter if you add your own salt to recipe. Add ½ teaspoon of salt if using unsalted butter.

14

oz

Granulated sugar

2

large

Egg

2

teaspoon

Vanilla extract

42

oz

AP flour

3

teaspoon

Baking powder

1

teaspoon

Nutmeg

2

teaspoon

Milk

½

teaspoon

Cinnamon (optional)
Instructions
Instructions
Place room-temperature butter, (salt if unsalted butter) and granulated sugar in stand mixer with paddle attachment and mix on low until smooth. Creamed butter should be fluffy and pale yellow in color.

Add 1 large egg at room temperature and mix on medium (4 on Kitchenaid mixer) in stand mixer until fully incorporated. Scrape bowl when necessary to make sure egg incorporates.

Add 1 teaspoon of vanilla extract. Mix until just incorporated.

In a separate bowl, whisk dry ingredients (AP flour, baking powder, nutmeg) together.

Add dry ingredients into stand mixer with a scoop (about ⅓ of total dry ingredients at a time) and mix until fully incorporated. Start mixer on slow until flour starts to incorporate, then turn up to medium. Scrape bowl as needed to fully incorporate.

Add 1 teaspoon of milk once flour is fully incorporated. Continue to mix on slow until dough becomes a solid mass.

Scrape out mixer bowl, wrap up sugar cookie dough in plastic wrap and chill in refrigerator for 2 hours.

Knead cookie dough and roll out cookie dough until thin to cut cookie shapes. Use a cookie cutter to cut out uniform shapes.

Place cookies on a baking sheet lined with parchment paper. Put cookie sheet back in refrigerator for about 15 minutes to chill again.


Bake chilled cookies at 350ºF for 10-14 minutes depending on size of cookie. Cookies will be slightly golden brown on the edge. Chilled cookie dough will keep it's shape in the oven and not expand or warp.
Nutrition
Serving:
1
cookie
|
Calories:
161
kcal
|
Carbohydrates:
20
g
|
Protein:
1
g
|
Fat:
8
g
|
Saturated Fat:
4
g
|
Cholesterol:
28
mg
|
Sodium:
71
mg
|
Potassium:
53
mg
|
Sugar:
8
g
|
Vitamin A:
250
IU
|
Calcium:
20
mg
|
Iron:
0.8
mg