Glitter crinkle cookies are chewy and fudgy on the inside and sparkly on the outside.
These glittery crinkle cookies are so beautiful but could not be easier to make. The fudgy chocolate cookie batter comes together in a few minutes then all you have to do is roll in glitter and bake for ten minutes! These make fantastic gifts for your holiday cookie exchange just like my gingerbread cookies or easy Christmas cookies.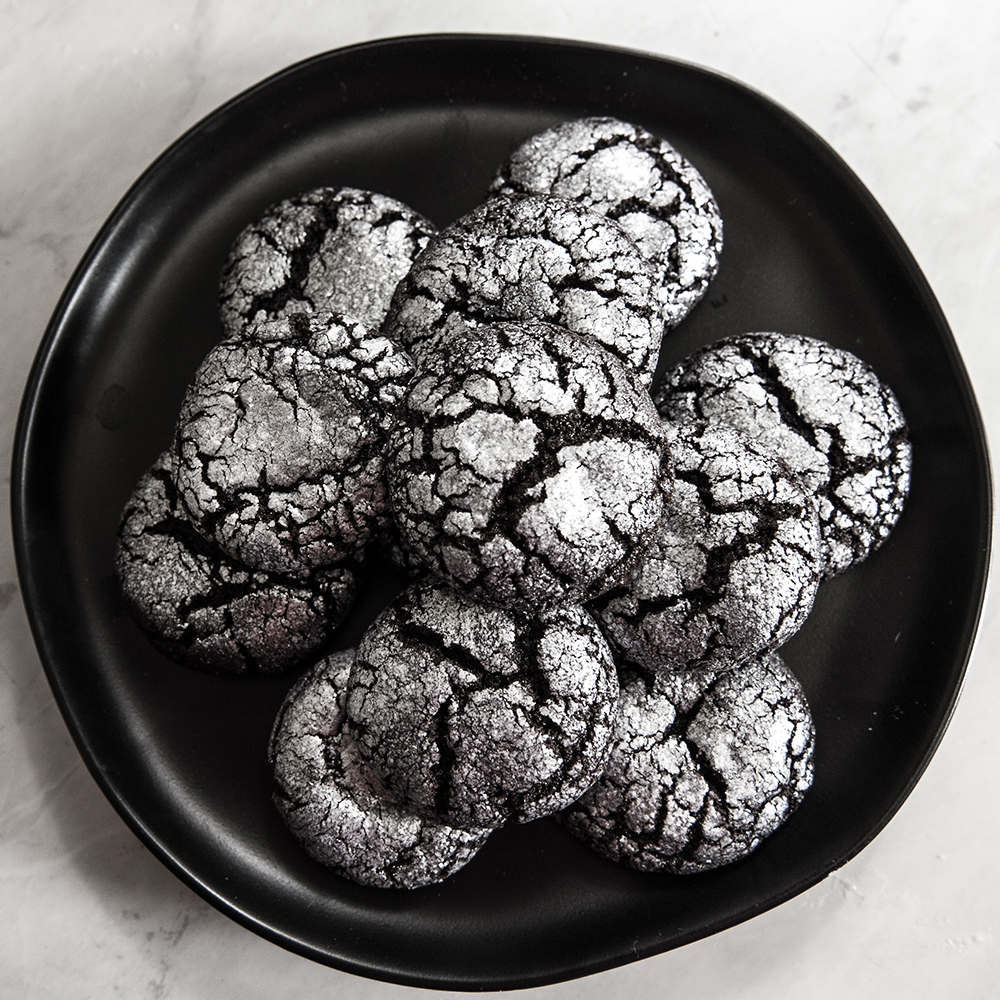 What makes these glitter crinkle cookies better than regular crinkle cookies?
I love making classic chocolate crinkle cookies but what I don't love is that the powdered sugar rubs off! Those beautiful crinkles soon disappear because powdered sugar dissolves from the moisture in the cookie. It also gets everywhere! forget about putting those powdered sugar crinkle cookies in a gift box!
So I mostly avoided making them until one day... I had a random thought. What if I replaced powdered sugar with edible glitter. Would that work? Would it taste good? Would the glitter lose its shine after baking? I had to know!
My brain is a funny thing. I don't know why I think of these crazy ideas but once they start, I can't stop thinking about them until I try them out.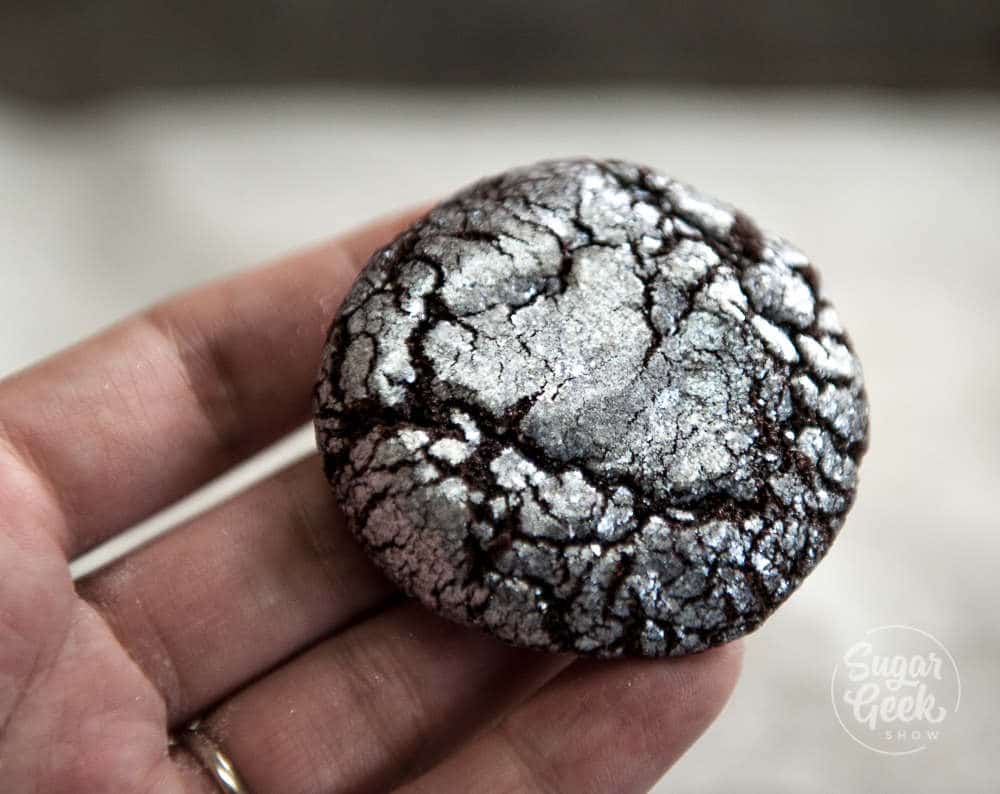 What's the best edible glitter to use?
Before we get into the making of these glitter crinkle cookies, it's important to note we are using EDIBLE glitter. Not disco dust, not non-toxic glitter but real edible glitter. I really like flash dust from Never Forgotten Designs. The glitter is very shiny, doesn't dissolve in liquid or melt in the oven and it's really edible and FDA approved. They have tons of colors available!
Or you can make your own edible glitter. It's not as fine and sparkly but it's easy to make.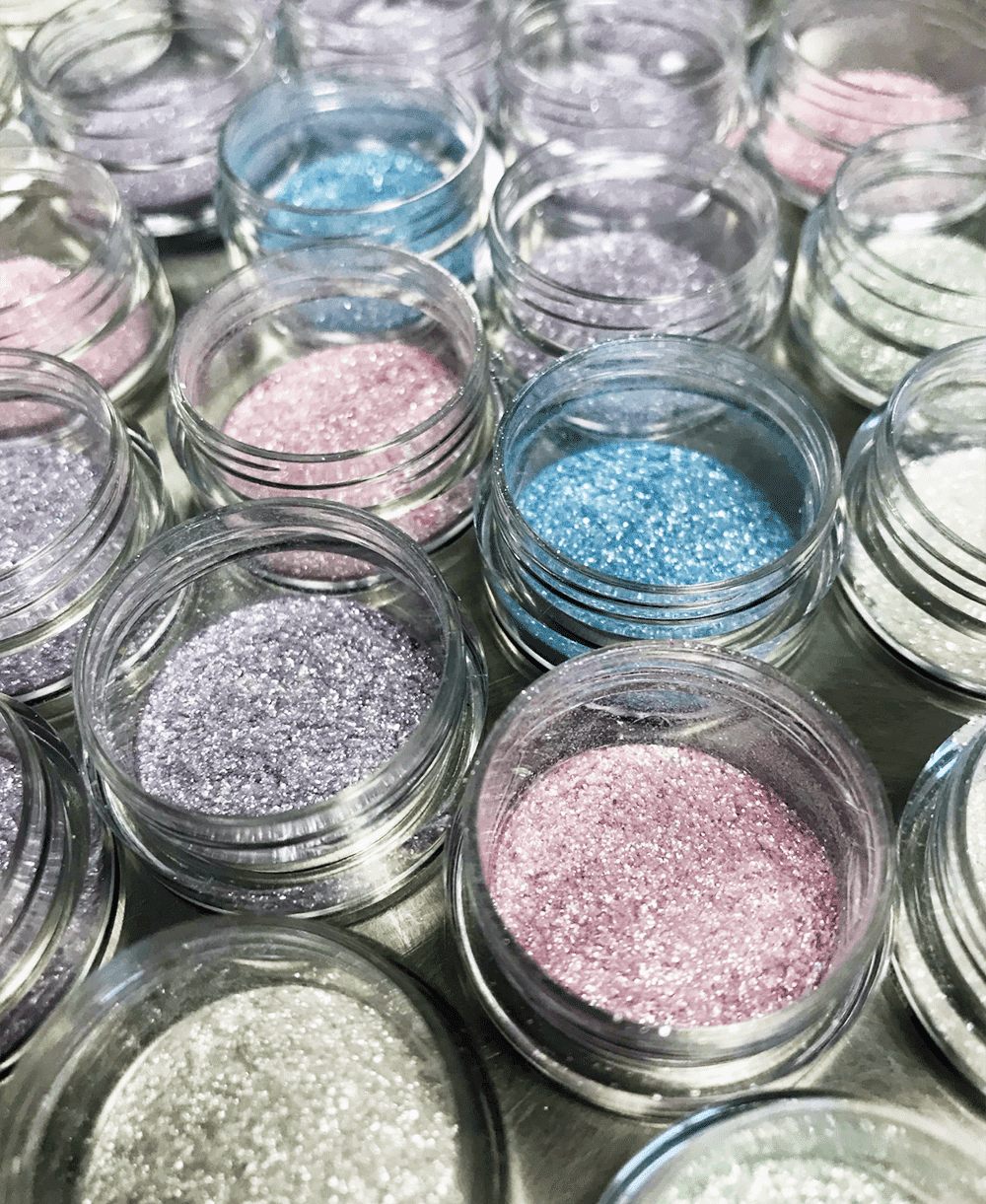 How to make glitter crinkle cookies
These glitter crinkle cookies are just like any other chocolate crinkle cookie on the inside. They are moist, fudgy and chewy and taste much like a brownie. The mixing method is easy. Just cream together your cocoa powder, brown sugar and oil until smooth.
Then add in your eggs one at a time, letting them combine fully before adding the next egg.
Then add in your flour, baking powder, and salt and mix until just barely combined. If you have some bits of flour left in there it's no big deal. Better to not over-mix.
The dough is really sticky and that is normal. I used a #20 cookie scoop to portion out my dough and placed them on a cookie sheet lined with parchment paper.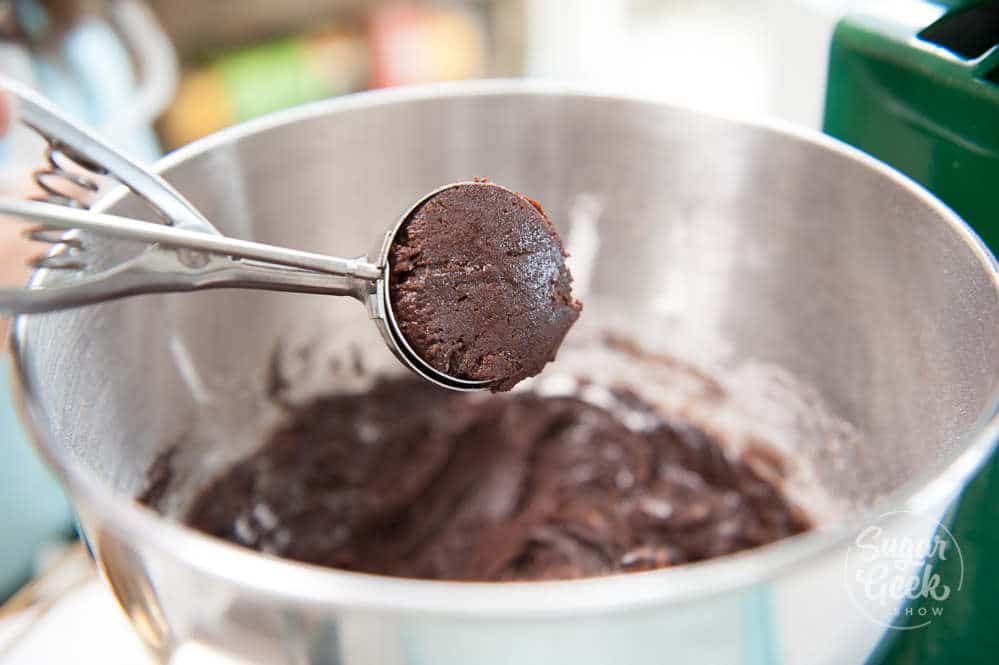 Then I let my cookies chill in the fridge for about an hour. This just gives the flavors a chance to meld and develop but it's not really necessary. You can just scoop, roll and bake.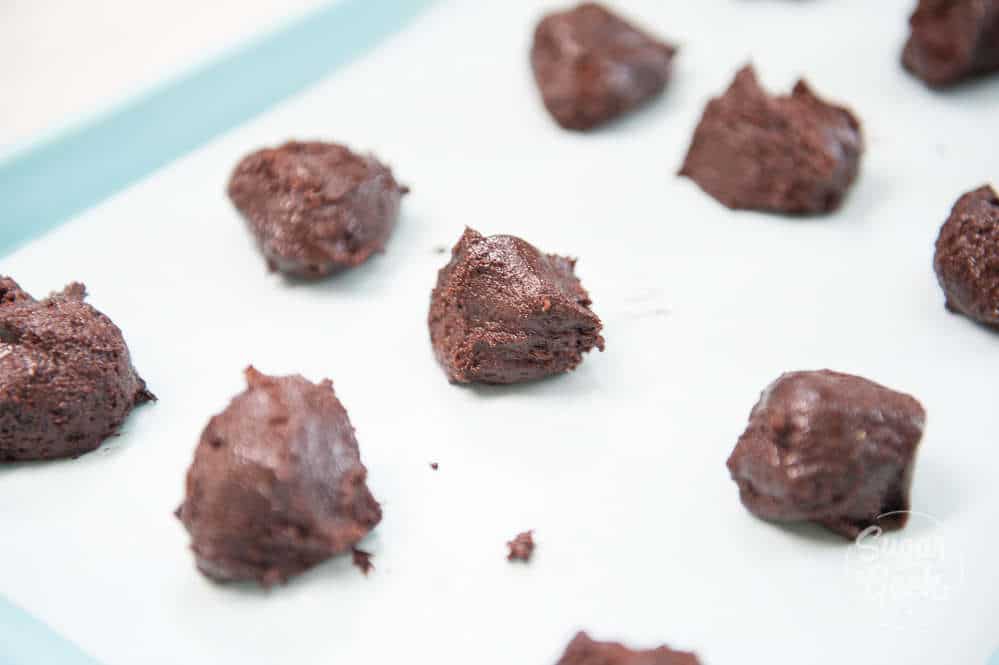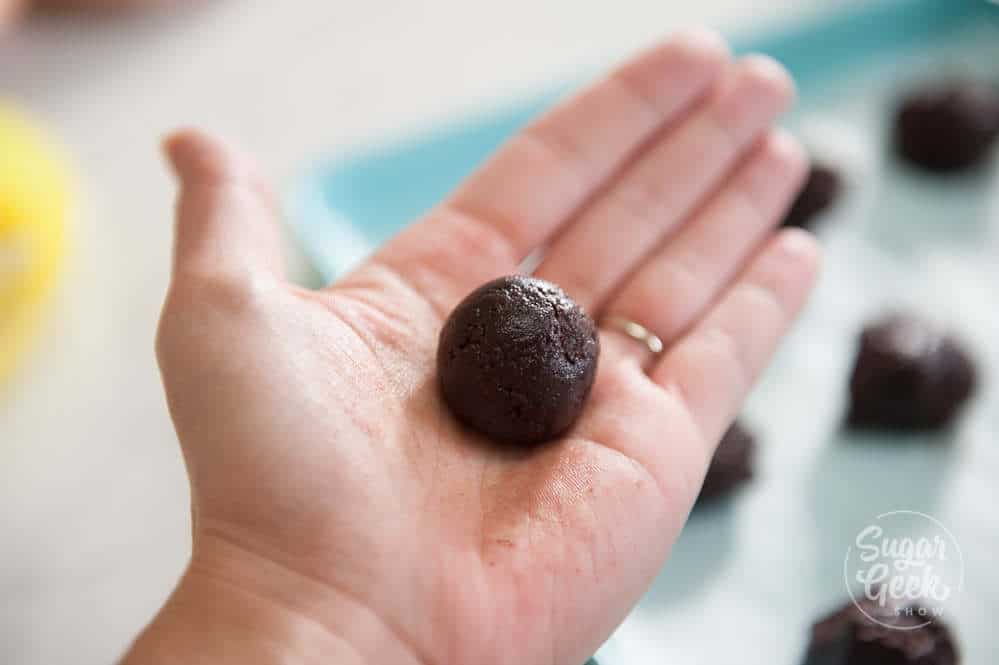 After chilling, I roll the dough into balls then roll half the ball in edible glitter. I only do the top half because no one is going to see the bottom and I don't want to waste that pretty glitter.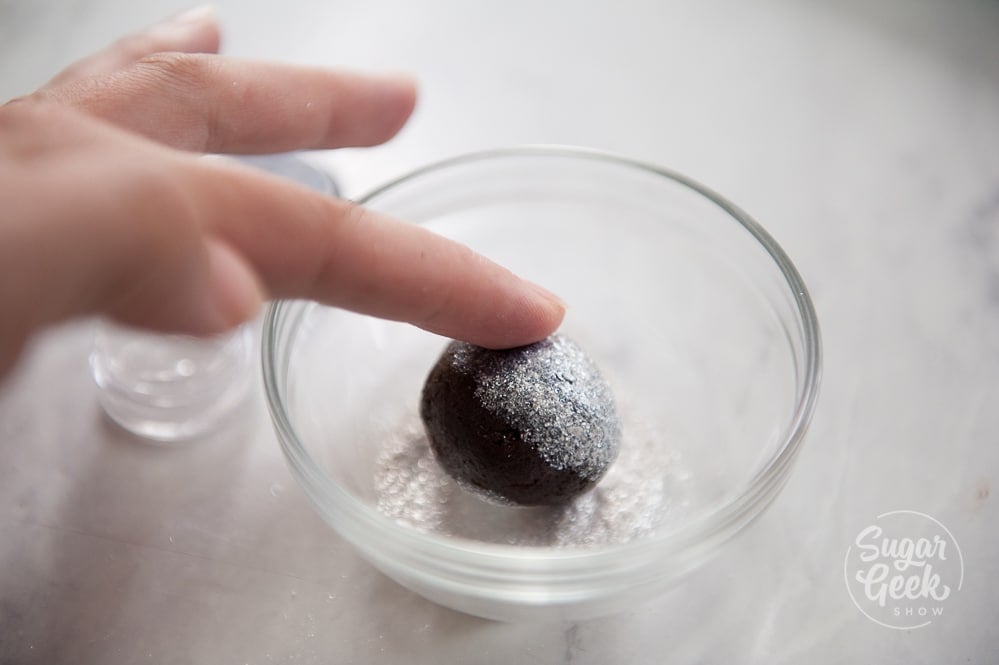 Then into an oven preheated to 350ºF oven for 10 minutes. They will be super soft but will harden as they cool.
These glitter crinkle cookies look SO pretty and sparkly! I can't wait to give these out for the holidays in a pretty little box. The best part is they actually taste amazing too.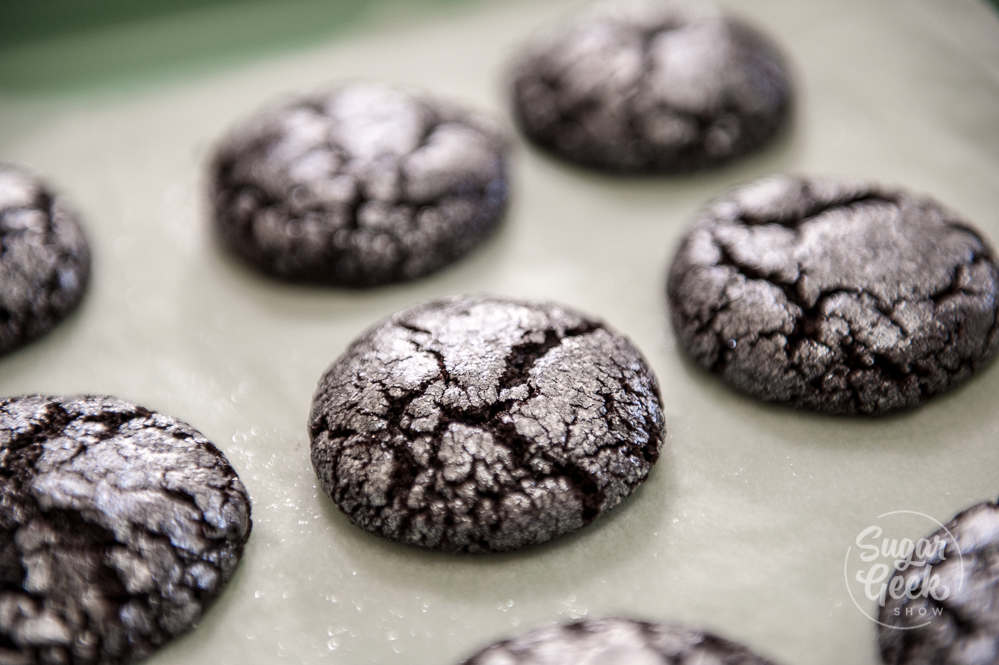 Recipe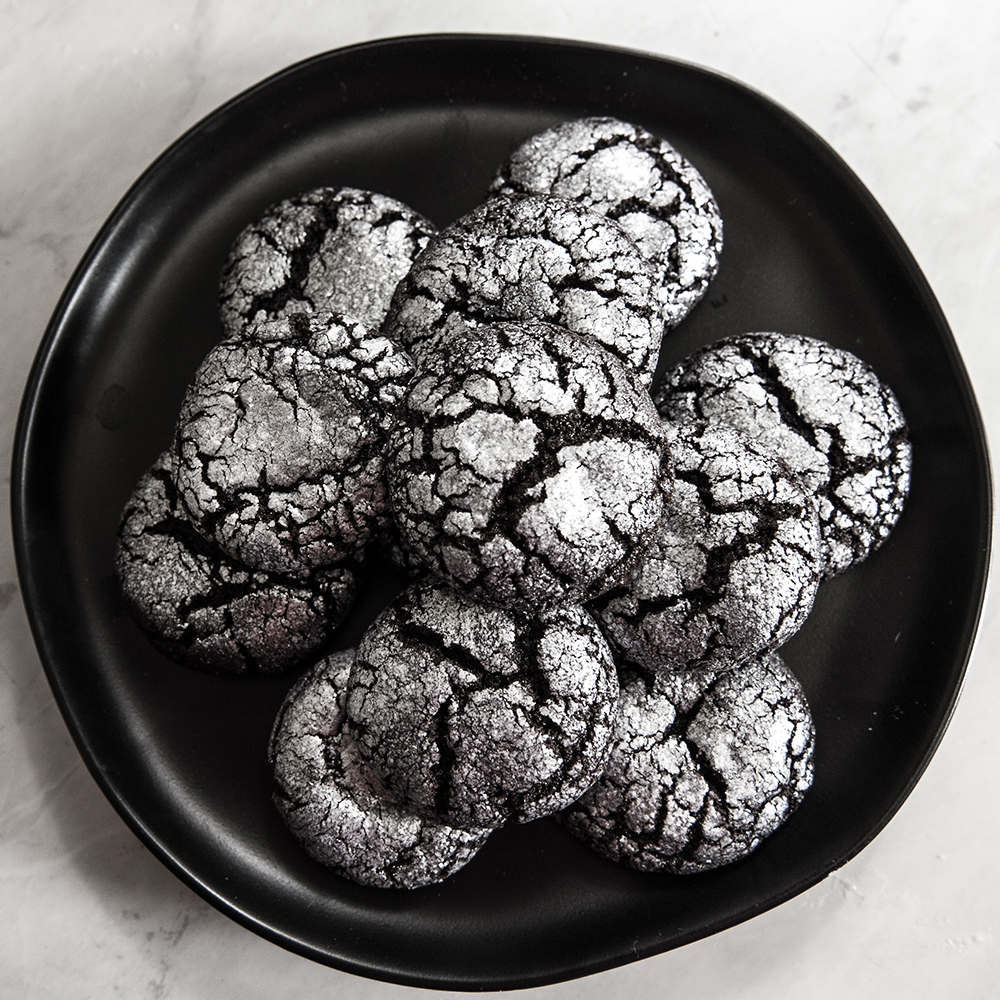 Ingredients
Glitter Chocolate Crinkle Cookies Ingredients
2

ounces

dutched cocoa powder

(½ cup) Hersheys is ok too

7

ounces

brown sugar

1 cup

2

ounces

vegetable oil

¼ cup

2

large

eggs

2

teaspoons

vanilla extract

5

ounces

All-Purpose Flour

1 cup

1

teaspoon

baking powder

½

teaspoon

salt

2

teaspoons

edible glitter
Instructions
Instructions
In a medium sized bowl, cream together your cocoa powder, sugar and vegetable oil until smooth

Add in your vanilla, and eggs one at a time, letting them combine fully before adding the next

Add the flour, baking powder and salt and mix until just combined. Scrape the bowl to ensure everything is mixed evenly.

Cover the dough with plastic wrap and chill for at least an hour to let the flavors develop or you can bake right away if you're impatient.

Scoop the dough onto a parchment paper-lined cookie sheet with a cookie scoop or a tablespoon. Dough will be sticky. (If your dough seems too soft and is unworkable, slowly work in up to 2 tablespoons of flour until desired consistency.)

When you're ready to bake, preheat your oven to 350ºF

Roll the dough into balls and then cover half with edible glitter.

Bake your cookies for 10 minutes. They will be soft when they first come out of the oven but will harden as they cool.
Video
Nutrition
Serving:
1
g
|
Calories:
87
kcal
|
Carbohydrates:
14
g
|
Protein:
2
g
|
Fat:
3
g
|
Saturated Fat:
2
g
|
Cholesterol:
18
mg
|
Sodium:
58
mg
|
Potassium:
77
mg
|
Fiber:
1
g
|
Sugar:
8
g
|
Vitamin A:
26
IU
|
Calcium:
21
mg
|
Iron:
1
mg