Cream Tart, cream biscuits, alphabet cakes, letter cakes
Cream tarts are all the rage right now. This trendy dessert goes by many names but whatever you might call it, it's definitely beautiful!
These fresh and fruity desserts have taken the internet by storm! How do you make them? What is the crust made of? What is the filling? Well the good news is, after much research and taste-testing, I have de-coded the cream tart and I'm going to show you how to make one of your own!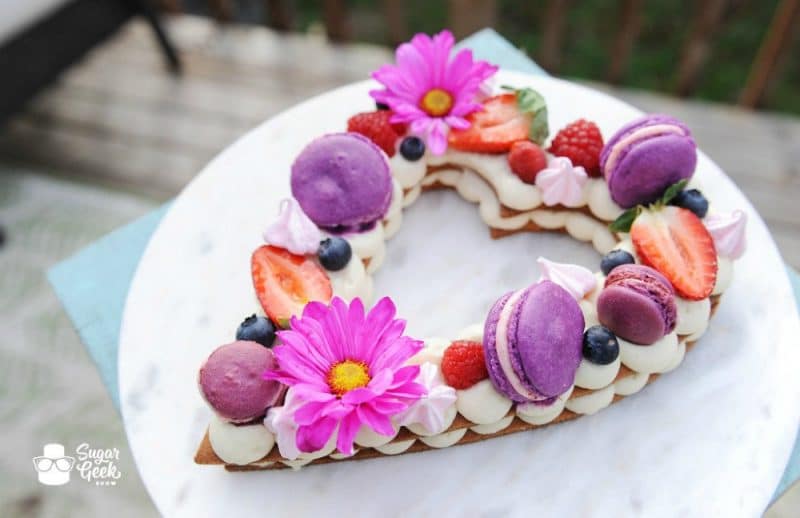 The cream tart has been around for ages and called many things depending on the baker. It was made popular by an instagrammer by the name of @adikosh123 from Israel. Her cream tarts are so beautiful looking, you may just be tempted to lick your screen.
What is a cream tart dough made of?
The tarts are typically made from a almond pate sable dough (the cookie or biscuit) which is basically shortcrust or tart dough. This crust is super tender, crunchy and just melts in your mouth. It is not hard to bite or cut. The key is to remember to roll it thin. We made these a lot in pastry school so I was super excited because this dough is fool-proof to make!
I just made my tart dough, let it chill for about an hour, then rolled it out thin and cut out my hear template. I just printed out part 1 and part 2 and then taped them together to make the heart shape. I then froze my dough for about 15 minutes so I could easily transfer the dough to a cookie sheet. Bake until starting to get golden around the edges. About 12 minutes. Let cool
There is also a version without almond flour called pate sucre if almonds aren't your thing or you have an allergy.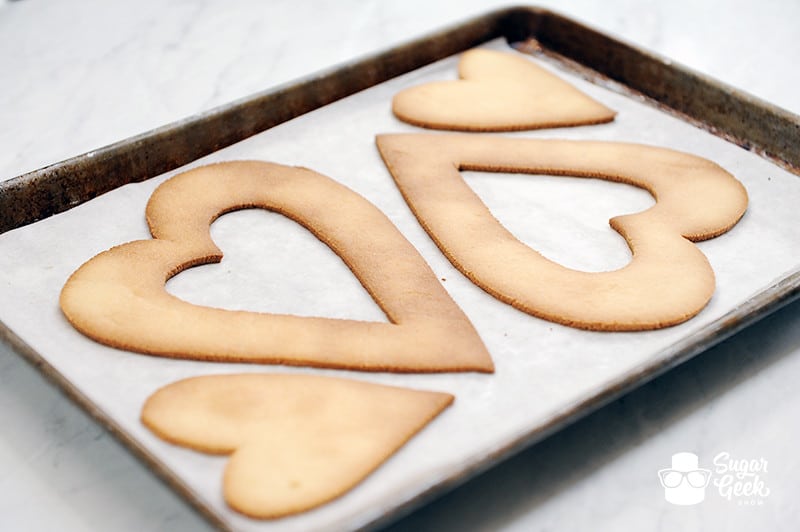 What kind of filling goes in a cream tart?
Cream tart filling is traditionally made from pastry cream with freshly whipped cream added into it for a light, fluffy and not-to-sweet flavor combo. Sometimes called chantilly cream or diplomat cream depending on the part of the world you're in.
However, pastry cream can be tricky for beginners to master so I gave myself a little work-around. I whipped up a batch of vanilla pudding and used that as my base instead of pastry cream. Then I whipped up my cream and added in my cooled gelatin (cooled being an important word here) to stabilize the whipped cream and then folded it into the pudding. BOOM. We have ourselves some delicious, stable filling for our cream tart.
So how do you make a cream tart?
Cut your dough into shapes and let them cool
Make your diplomat cream filling
Make your french macarons or buy some! Or you can use other types of cookies like oreos or candy
Cut up your fruits and dip your flowers into some melted chocolate to seal them
Use a piping bag with a round piping tip to pipe dollops of buttercream onto the first layer of the cookie
Place the other cookie on top
More dollops
Top with fruit, berries and flowers and enjoy!
How long can a cream tart sit out?
So because the cream tart has perishable fillings like cream and fresh fruit, you may not be able to legally make and sell these desserts. Most cottage laws do you not allow you to sell perishable creams and fillings. If you're a licensed bakery you should be fine but check with your local health department to make sure.
If you CAN make the cream tart then it's good to go for 48 hours without getting soggy. Anything longer than that and the fruit is going to start getting mushy and the whipped cream will start to weep. This is one of those desserts that you want to make and then serve up pretty quickly.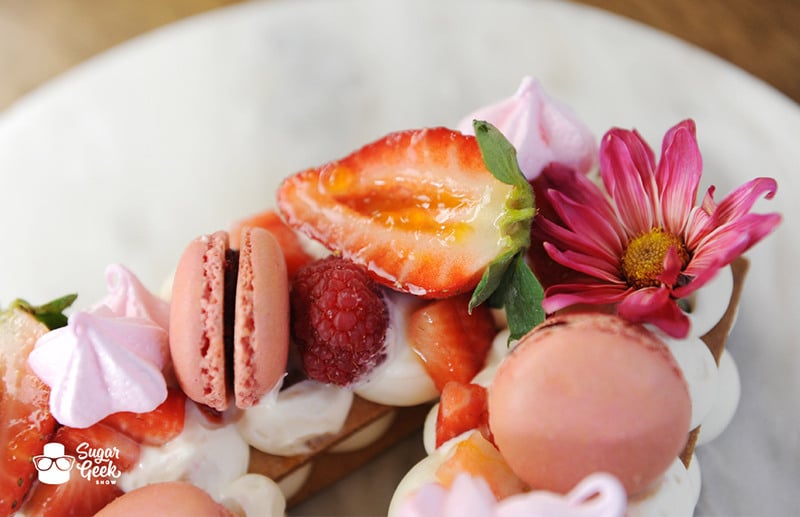 What can you put on a cream tart?
One of the BEST things about making these cream tarts is that you can change them up and make them different so easily. I chose to make my cream tart in the shape of a heart for valentines day but you can make any shape! Alphabet letters, numbers, shapes! You can easily switch out the fruits or the macarons for cookies and candy. Topping with fresh flowers is super simple too but just make sure you seal the ends of the stems with melted chocolate so that the water from the flower does not seep into the tart filling.
I really liked making a strawberry lemonade version of the cream tart! I'm partial to lemon anything and wow the reds and yellows look so juicy and fresh on the cream!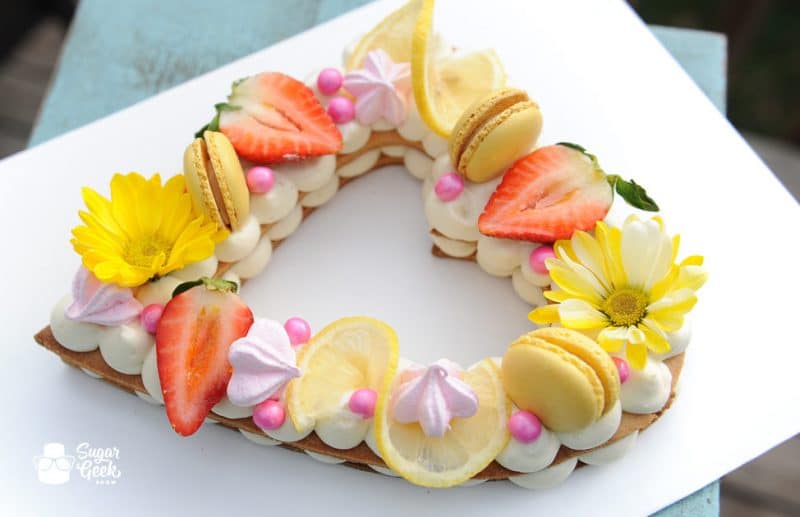 You can flavor the cream and make it chocolate instead of vanilla. I thought his would be a fantastic idea for valentines day. I got one of those cheap valentines day candy hearts and took the chocolate truffles to put on top of the cream tart instead of using french macarons. It was super fast! My friend Shani also came out with a full recipe on the chocolate version of the almond sable dough recipe and chocolate diplomat cream.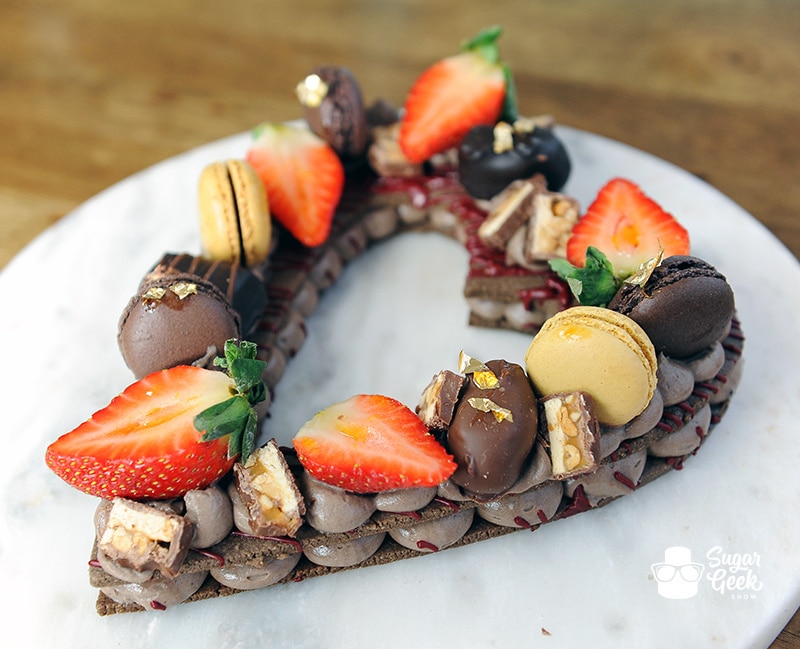 These tarts are so easy to make, my daughter avalon could even pipe the cream! We did a little facebook live where avalon literally does a better job than I do piping the diplomat cream filling.
How much should you charge for a cream tart?
This is a question I get a lot and there isn't a GOOD answer but what I can advise is that you run a special and make a bunch at once. If you make up a batch of french macarons, you can freeze the leftovers and take them out as you need them. We're running a valentines day special here at the shop for two days only and set the price at $35 for a 10" tart. Thats a little more than the most expensive, non-shaped tart you can buy here at a high-end bakery so I felt that was pretty spot on. Obviously prices vary depending on your area.
Can you make a cream tart out of cake?
Yes! You can totally make this out of cake! But you don't want to just use any old cake recipe, you want to go with something that can stand up to being exposed to air and still stay moist. I prefer my jaconde cake for the cake portion. Just bake and cut your shape like you would with the almond sable dough. I keep mine moist by sprinkling confectioners sugar over the surface then placing it in the fridge overnight to dissolve into the cake.
Fill your jaconde cake with some big dollops of easy buttercream and top with fresh fruits, berries, french macrons and flowers like you did with the cream tart.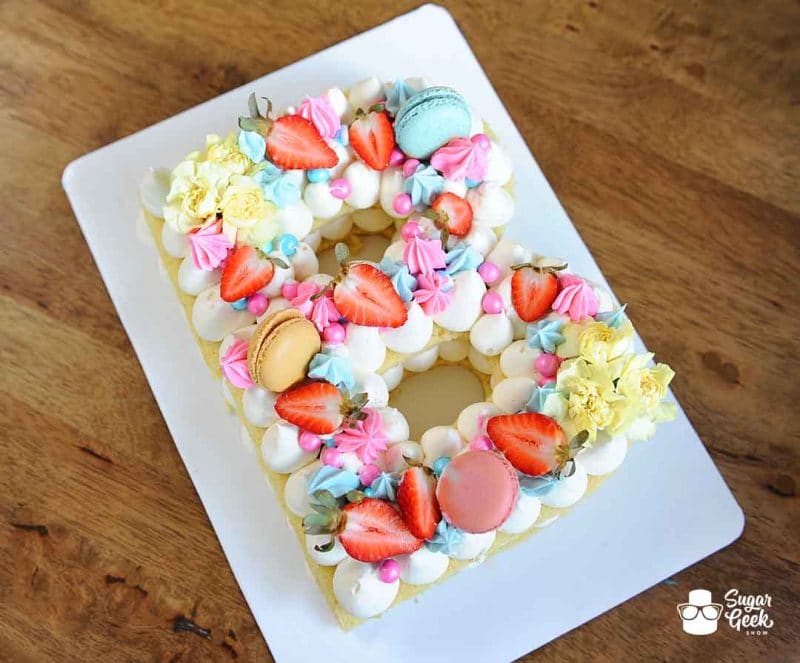 For an added fun bonus, I actually made my alphabet cake into a gender reveal! Wouldn't this be so cute to have at a baby shower and then cut into it and reveal the big news! The way I put the colored buttercream in the middle was pretty easy. I just did my dollops of buttercream around the outside edges and piped one stripe of blue buttercream down the middle.
That way you can't see the color from the inside or the outside edge but you can when you cut into it!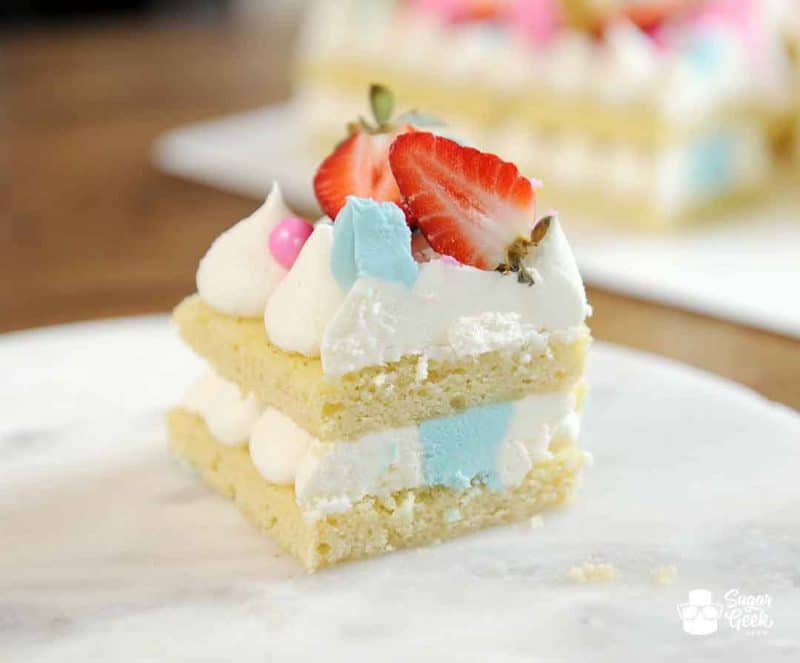 The last tip I have for you is to make sure you glaze any cut berries with some watered down apricot jam. This was a little tip I learned in pastry school. It helps keep the moisture in the fruit and also makes them look really juicy and yummy! You don't have to worry about glazing the berries like blueberries or blackberries, only the ones that are cut.
Cream tart tutorial?
More of a visual person? You can watch me make the cream tart and listen to some nice music while you're at it 🙂

Recipe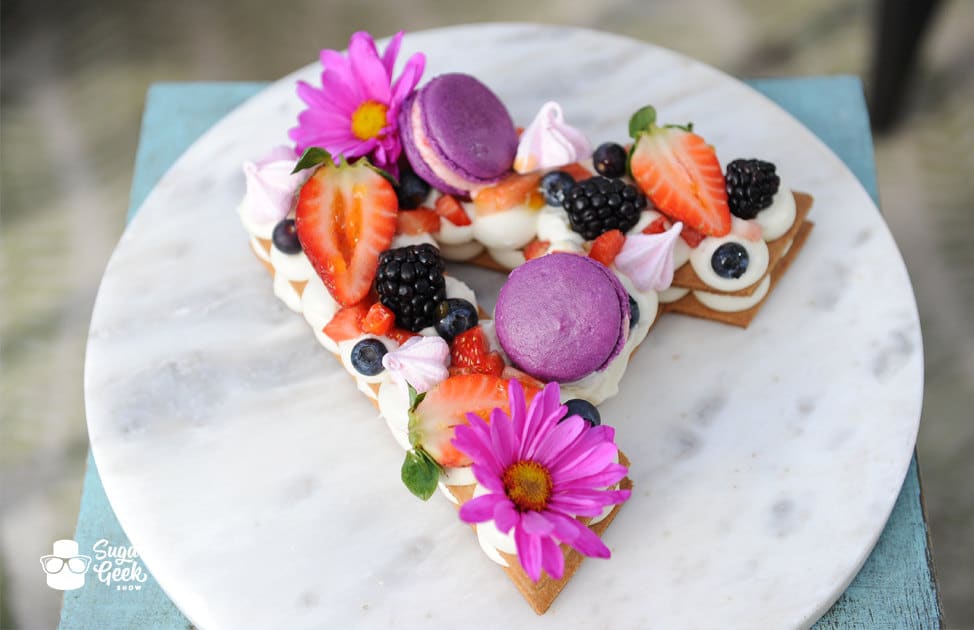 Ingredients
Almond Sablé Dough
11

ounces

All purpose flour

3

ounces

almond flour

½

teaspoon

salt

8

oz

unsalted butter

room temperature

2

ounces

powdered sugar

1

large

egg

1

large

egg yolk
Pastry Cream Filling
16

ounces

milk

2.5

ounces

granulated sugar

2

teaspoon

vanilla extract

1 ½

ounces

cornstarch

2

large

egg yolks

1

large

egg

2

ounces

unsalted butter

2

ounces

granulated sugar
Stabilized Whipped Cream
8

ounces

heavy whipping cream

2

Tablespoon

powdered sugar

2

teaspoon

vanilla extract

1

Tablespoon

instant pudding mix

(see stabilized whipped cream blog post for more options)
Instructions
Instructions
In a bowl, whisk together the AP flour, almond flour and salt.

Put a paddle attachment onto your stand mixer, then combine butter and confectioner's sugar in mixer bowl. Mix on medium-low speed until combined, about 4 minutes.

Mix in the egg and then the yolk, allowing each to be incorporated before adding the next. In 2 parts, add the flour mixtures, scraping down the sides of the bowl after each part.

Turn bowl over with dough mixture onto a clean lightly-floured work surface. Divide in half, shape into flattened desks and wrap each 1 in plastic warp. Refrigerate for at least 1 hour, or overnight.

Roll out dough to ⅛" thick on parchment paper. Use a template to cut two shapes. Chill in the freezer 5 minutes.

Bake tart dough at 350F for 10-14 minutes until just starting to brown. Don't underbake or your tart wont be crisp. Let cool
Pastry Cream Filling
Bring milk and first quantity of sugar to a simmer over medium high heat. Whisking constantly to avoid burning.

Combine the eggs, cornstarch, and second quantity of sugar in a heat proof bowl and whisk to combine

Add ¼ of your hot milk mixture to the egg mixture VERY slowly while whisking constantly to temper your egg yolk mixture. Whisk until smooth.

Slowly add the rest of the milk, whisking constantly. Return mixture to the saucepan and bring to a simmer.

Once your mixture starts bubbling, reduce the heat to medium and continue whisking for 2-3 minutes to ensure the mixture is cooked and properly thickened.

Pour your mixture into a heatproof container and place your butter cubes on top, allowing them to melt. Do not cover.

Allow your pastry cream to cool until just warm to the touch. Stir in your butter and then add in your vanilla extra.

Cover with plastic wrap so that it's touching the surface of the pastry cream to avoid a skin forming. Let cool completely before using.
Stabilized Whipped Cream
Whip heavy cream to soft peaks with a whisk or stand mixer

 Add in powdered sugar, vanilla and instant pudding (see blog post for other variations on how to stabilized whipped cream) Whip to firm but soft peaks. Don't over-whip.

Fold together the cooled pastry cream and whipped cream to make your cream tart filling
Nutrition
Calories:
593
kcal
|
Carbohydrates:
64
g
|
Protein:
7
g
|
Fat:
34
g
|
Saturated Fat:
19
g
|
Cholesterol:
166
mg
|
Sodium:
372
mg
|
Potassium:
77
mg
|
Fiber:
2
g
|
Sugar:
38
g
|
Vitamin A:
1065
IU
|
Vitamin C:
0.1
mg
|
Calcium:
53
mg
|
Iron:
1.7
mg