Super easy marzipan recipe needs only four ingredients and 5 minutes
All you need to make this marzipan recipe is sugar, corn syrup (or honey) and finely ground flour. You can grind your own almond flour with a food processor or buy it. Sometimes flavors like rosewater, almond extract or vanilla are also added. Marzipan can be colored and shaped into sweets that look like fruits or vegetables or even to cover a cake. It's commonly used in the UK, Italy, and Germany and is quite tasty.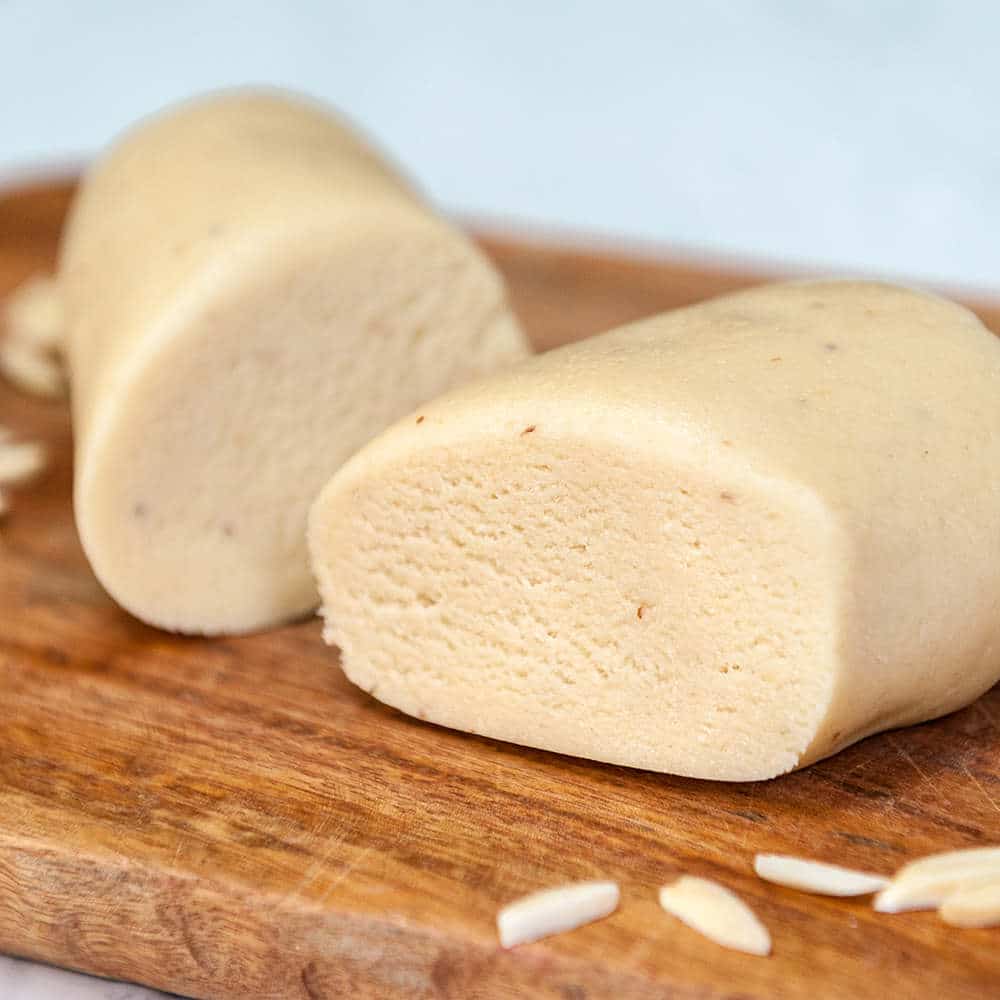 What is marzipan for?
Marzipan is most commonly used as a filling for marzipan candies, for coloring and shaping into fun designs or for covering cakes like fruit cake. It is similar to almond paste but contains more sugar so it's sweeter.  Marzipan is similar to fondant in that it can be shaped, colored and used for covering cakes but fondant is more elastic and doesn't contain any almonds.
If I had to compare marzipan to anything, it's really like good tasting playdough. It's not as smooth as modeling chocolate or fondant and kind of tears and breaks if you try to stretch it.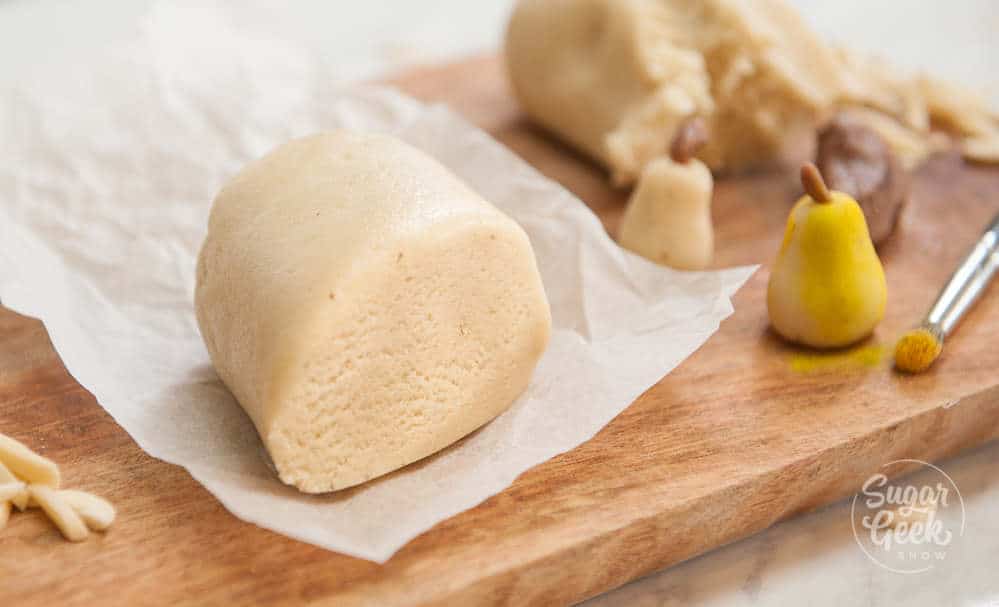 Do you have a marzipan recipe without egg whites?
This marzipan recipe does not have egg whites. Egg white is traditionally used to make marzipan but I prefer corn syrup or honey as the binder. The shelf life of the marzipan is longer and there is no risk of eating raw egg white. If you prefer to use egg white, replace half the corn syrup with pasteurized egg white. If you use honey keep in mind that your marzipan will have a slight honey flavor.
What's the difference between marzipan and almond paste?
Although very similar (both made with almonds and sugar) marzipan and almond paste are different. Almond paste is not very sweet and typically not flavored. Marzipan is very fine in texture, sweeter and firmer than almond paste so it can hold its shape. Almond paste is more commonly used as filling in pastries like frangipane tarts and bear claws.
What ingredients do you need to make your own marzipan?
Finely ground blanched almonds (or finely ground almond flour). It's more cost-effective to grind your own.
Powdered sugar – Adds sweetness without adding grit because it's powdered
Extract – almond, vanilla or rose water is commonly used to add flavor but it totally optional.
Corn syrup or Honey – Used as a binder to hold the almond mixture together.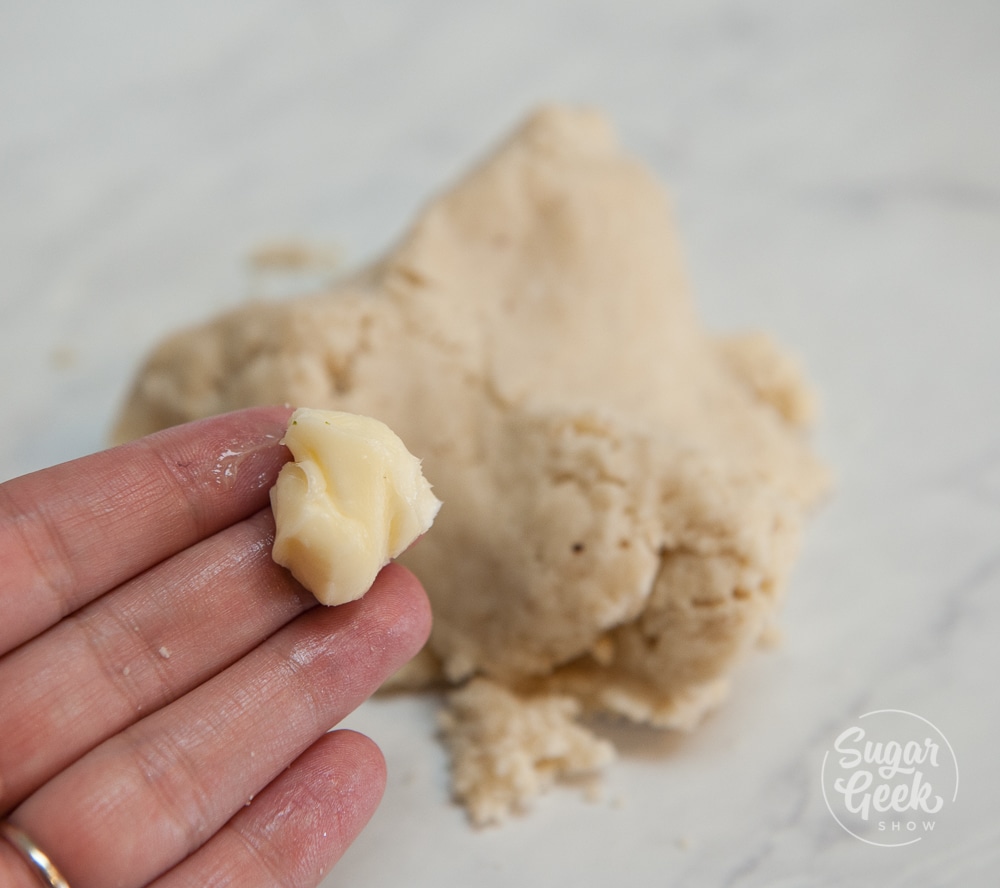 Tips for making this marzipan recipe
The main reason for buying pre-made marzipan is that the paste is super fine and smooth but you can definitely make your own. After all, people have been making marzipan long before things like food processors existed.
If you're going to make your own almond flour, use blanched almonds without the skin so that your flour is nice and pale.
Grind your blanched almonds in a food processor by pulsing in bursts. Sift your almonds through a strainer to remove any large bits of almond. Return the larger pieces to the food processor to grind up again. Repeat the process until you have enough finely ground almond flour.
Let your marzipan rest overnight before you handle it.
How do you use marzipan?
Marzipan is really easy to use! You can shape with your hands or with modeling tools. You can color it with food coloring or you can dust it with food powders. The great thing about marzipan is that the base color is ivory so the things you make have a more realistic look to them like this marzipan pear I am making. You can see the little specks of almond skin from the almond flour and the texture makes the pear look really real.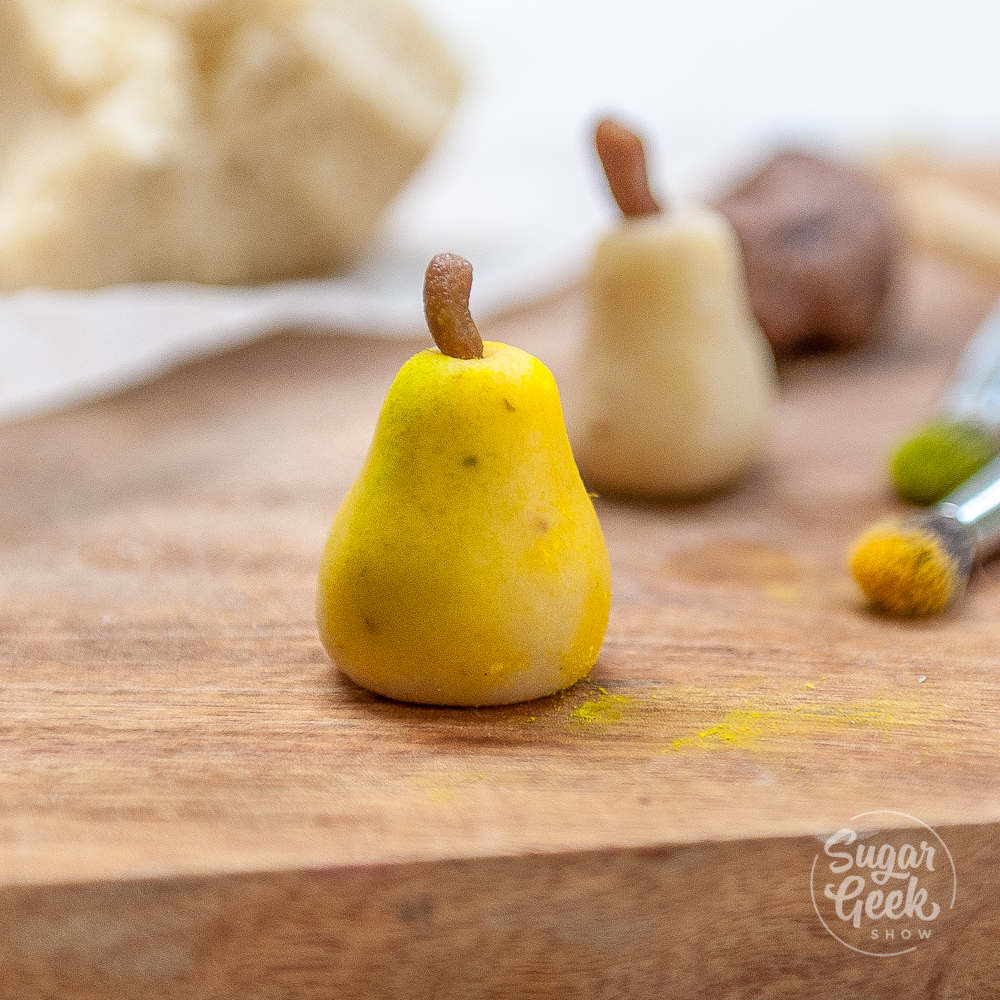 To color the marzipan dark brown, I just added a bit of cocoa powder to the marzipan. You could also color with food coloring if you wanted to.
To keep the marzipan from sticking to my hands, I put some butter on my fingertips and kneaded it through the marzipan until it wasn't sticky anymore.
You can also cover your cakes with marzipan which is an excellent alternative to fondant. Keep in mind that marzipan is not as stretchy as fondant but it tastes really good.
Looking for more recipes? Check these out!
Fool-proof French Macaron Recipe
Did You Make This Recipe?
Leave a rating and tell me how it went!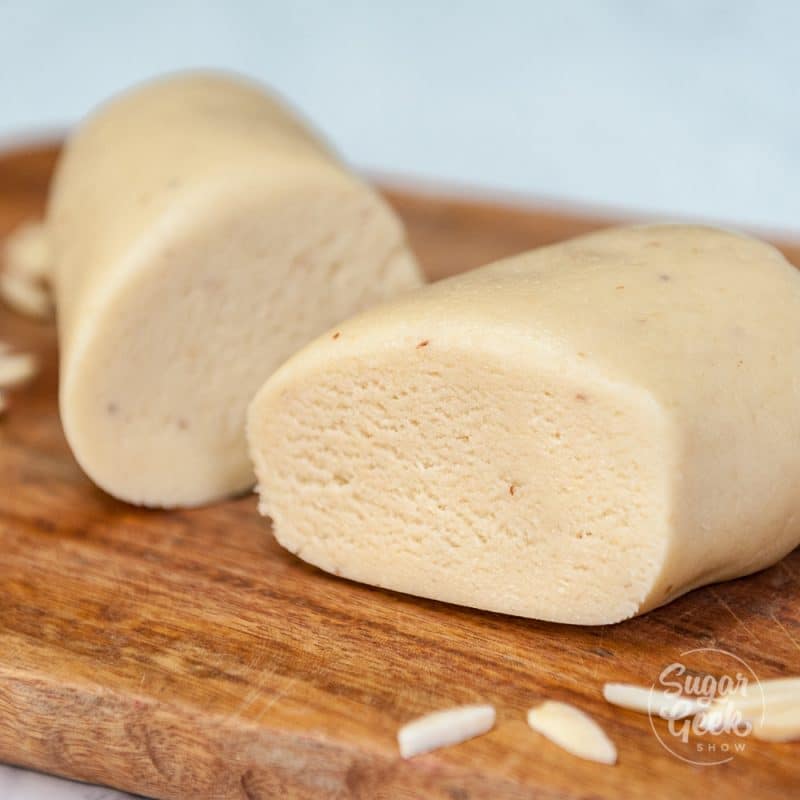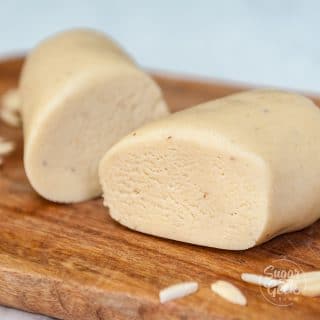 Easy Marzipan Recipe
How to make easy marzipan with only 4 ingredients! Perfect for shaping into candies or for covering a cake
Print
Rate
Never Miss A Cake
Ingredients
5

ounces

(

142

g

)

fine almond flour

6

ounces

(

170

g

)

powdered sugar

1

teaspoon

almond extract

or vanilla or rose water

3

ounces

(

85

g

)

corn syrup

1

Tablespoon

butter

(optional for kneading)
Instructions
Place almond flour and sugar in the bowl of your stand mixer with the paddle attachment (or you can mix by hand with a spatula).

Add in your flavoring and the corn syrup and blend for 1 minute until the starts sticking together. If your marzipan seems dry, add in another teaspoon of corn syrup and keep blending.

Finish kneading your marzipan on the counter with your butter until smooth. It should feel fairly stiff and a bit sticky.

Wrap the marzipan up in plastic wrap and seal in a ziplock bag. Refrigerate for an hour or so until it's cool enough to handle. Keeps in the fridge for 6 weeks or freeze for 6 months or more.

Marzipan can easily be colored with food coloring, cocoa powder or dusted with food dusts
Nutrition
Serving:
1
ounce
|
Calories:
65
kcal
(3%)
|
Carbohydrates:
17
g
(6%)
|
Fat:
1
g
(2%)
|
Sodium:
4
mg
|
Sugar:
17
g
(19%)
|
Calcium:
1
mg