Skill level: Intermediate
I got the chance to make an Encanto-themed birthday cake recently and wanted it to feature the house Casita from the movie. There's many ways to approach house cakes, but for this project, I wanted to make something gravity-defying that felt like an homage to the popular topsy-turvy cakes that were really big when I was first getting into cake decorating so many years ago.
In this tutorial, you will learn how to build the cake structure to support this unique design, how to add all the details to the house, and you will learn how to create an edible stucco texture on the cake tiers to make them look authentic. We also go over how to make edible tree leaves, how to pipe foliage details, and how to insert real flowers into the cake in a food-safe way.
Please note: the Encanto figurines are not part of this tutorial, they are 1.5″ tall action figures that were purchased at a retail store separately.
1:20:02 Minutes of Instruction
What You Will Learn
How to make a gravity-defying Encanto house cake
Learn how to create a realistic stucco texture
How to create edible roofing tiles
Learn how to make edible tree leaves
Liz's tips and tricks to add details to this unique cake design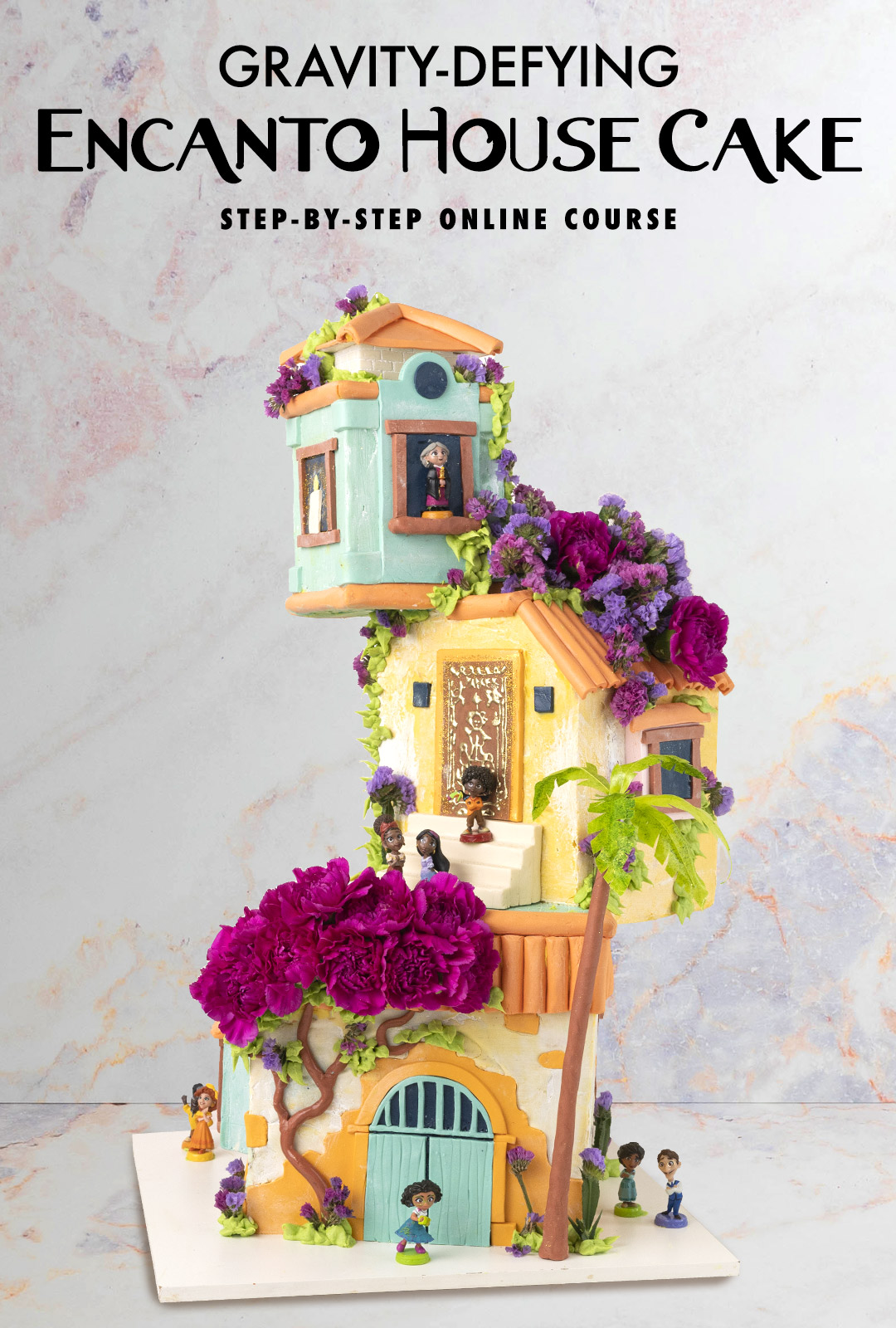 Tutorial Chapters
Overview Of The Structure
Adding The Threaded Rod
Coloring The Ganache
Stacking The Lower Tier
Texturing The Lower Tier
Preparing The Second Tier
Covering The Top Tier In Fondant
Texturing The Second Tier Pt.2
Making The Roof
Texturing The Top Tier Pt.1
Making The Roof Pt.2
Texturing The Top Tier Pt.2
Stacking The Middle Tier
Making The Roof Pt.3
Adding The Top Tier And Roof
Coloring The Modeling Chocolate
Making The Blue Door
Preparing The Orange Tiles
Dry Brushing The Cake
Adding The Rock Texture
Adding The Door Frame
Adding The Blue Tiles
Adding The Orange Tiles
Making The Gold Door
Making The Stairs
Adding The Blue Details
Preparing The Pink Window
Adding The White Details
Adding The Pink Window
Adding The Orange Tiles & Details
Adding The Turquoise Panel
Preparing The Turquoise Square
Adding The Blue Windows Pt.1
Adding The Turquoise Square
Coloring The Brown Modeling Chocolate
Adding The Tree
Painting The Gelatin Leaves
Touching Up The House
Adding The Brown Siding
Adding The Candle
Adding The Palm Tree
Adding The Flowers
Adding The Figurines