Skill level: Intermediate
In this tutorial, you will learn how to create a bobble-head stylized Boba Fett cake. Few characters are as popular and recognizable in the Star Wars universe as the notorious Boba Fett!
You will learn how to create this gravity-defying cake, featuring Boba Fett's iconic Mandalorian helmet shape, how to get the proportions of a Funko-Pop figure correct, adding the details including hands, boots, this helmet antenna, and his iconic blaster and jetpack.
There's a lot to cover in this tutorial, so let's get our tools together and let's get started!
1:38:07 Minutes of Instruction
What You Will Learn
How to create a Funko-Pop Boba Fett figure out of cake and edible materials
Learn how to sculpt Boba's helmet, blaster, jetpack and poncho
How to get the gravity-defying structure right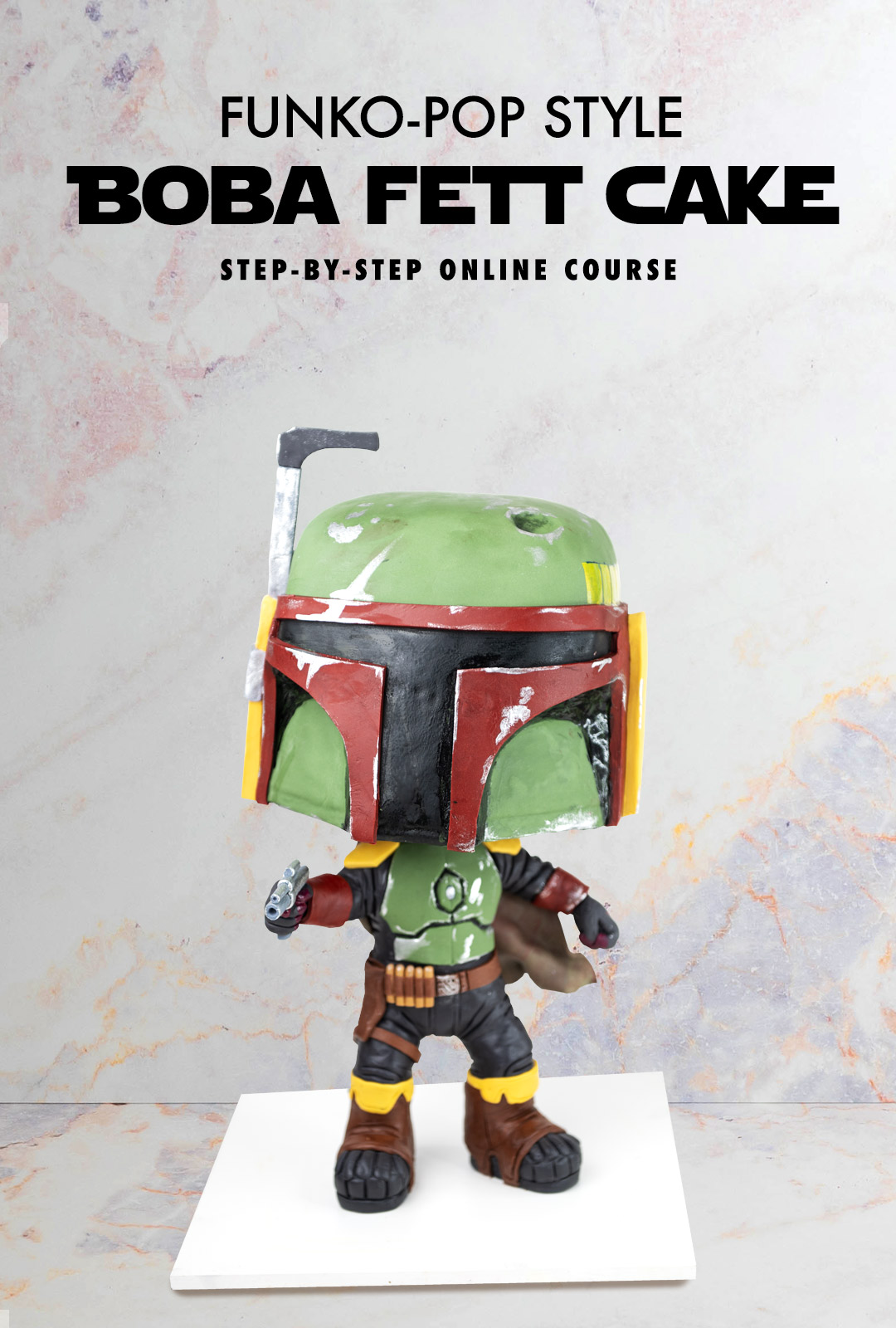 Tutorial Chapters
Making the bases
Making the structure
Adding the armature wire
Stacking The Cakes
Shaping The Cakes
Coloring The Fondant
Building Up The Torso
Coloring The Fondant Pt. 1
Covering The Cake In Fondant
Making The Boots
Building Up The Legs
Bulking And Detailing The Torso
Making The Gun
Making The Antenna Pt. 1
Making The Fist
Painting The Helmet Pt. 1
Coloring The Modeling Chocolate Pt. 2
Detailing The Boots
Making The Belt And Holster
Adding The Body Armor
Adding The Fist And Detailing
Making The Antenna Pt. 2
Making The Shoulder Pads
Adding The Helmet Details
Adding The Antenna
Adding The Arm Cuff
Making the Jetpack Pt. 1
Adding The Gun And Hand
Making And Adding The Poncho
Making The Jetpack Pt. 2
Painting The Helmet And Hand
Painting The Final Details