Vanilla Sculpted Cake Recipe
I have had MANY requests for a moist, delicious vanilla sculpted cake recipe that uses AP flour instead of cake flour. Now you know I am #teamcakeflour all the way but I understand not everyone has access to cake flour or just wants a cake that's a little bit better for carving. This cake does the job and is my go-to cake to switch up the flavors to make it custom or to use in sculpted cakes.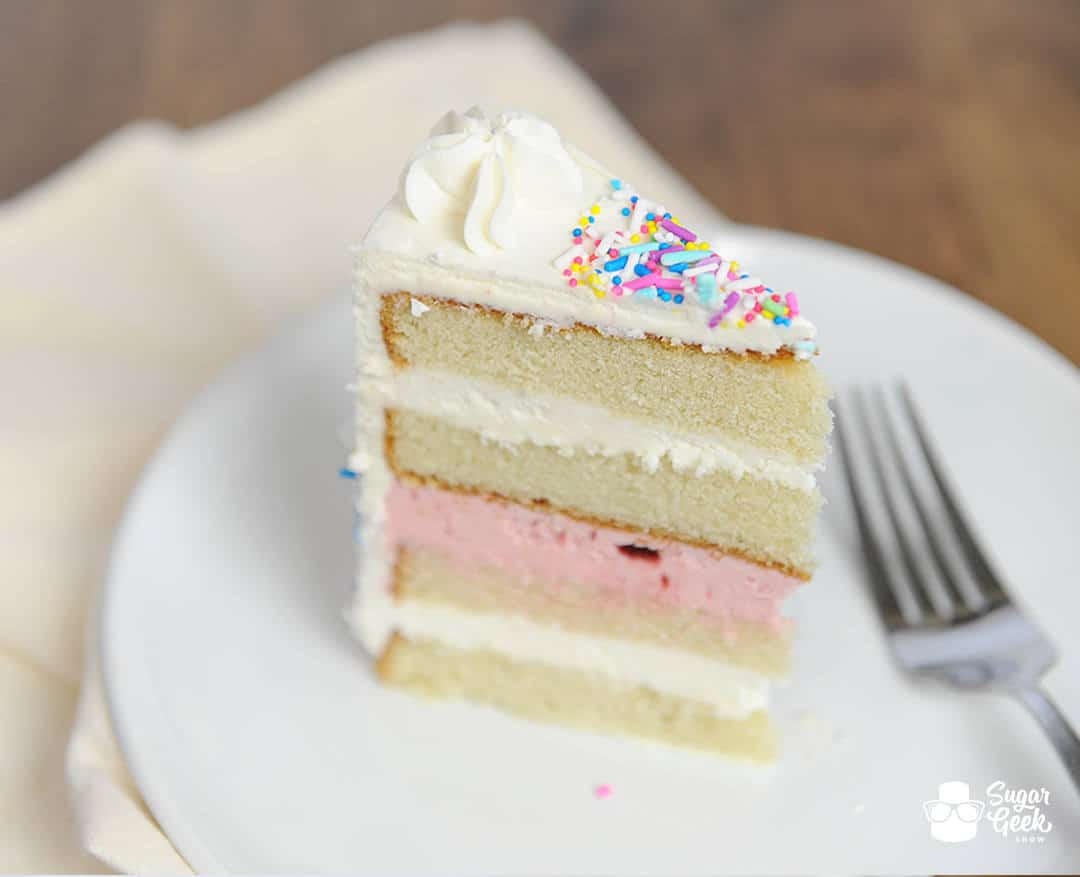 This is also the recipe to try if you're looking to dip your feet into the baking pond. It's practically fool-proof, delicious and a great cake to serve up for a birthday party.
Change up the flavors in the buttercream and keep the classic vanilla taste. A few sprinkles and bam! Everyone will be envious of your mad DIY birthday cake skills. Need some pointers? Check out our basics cake series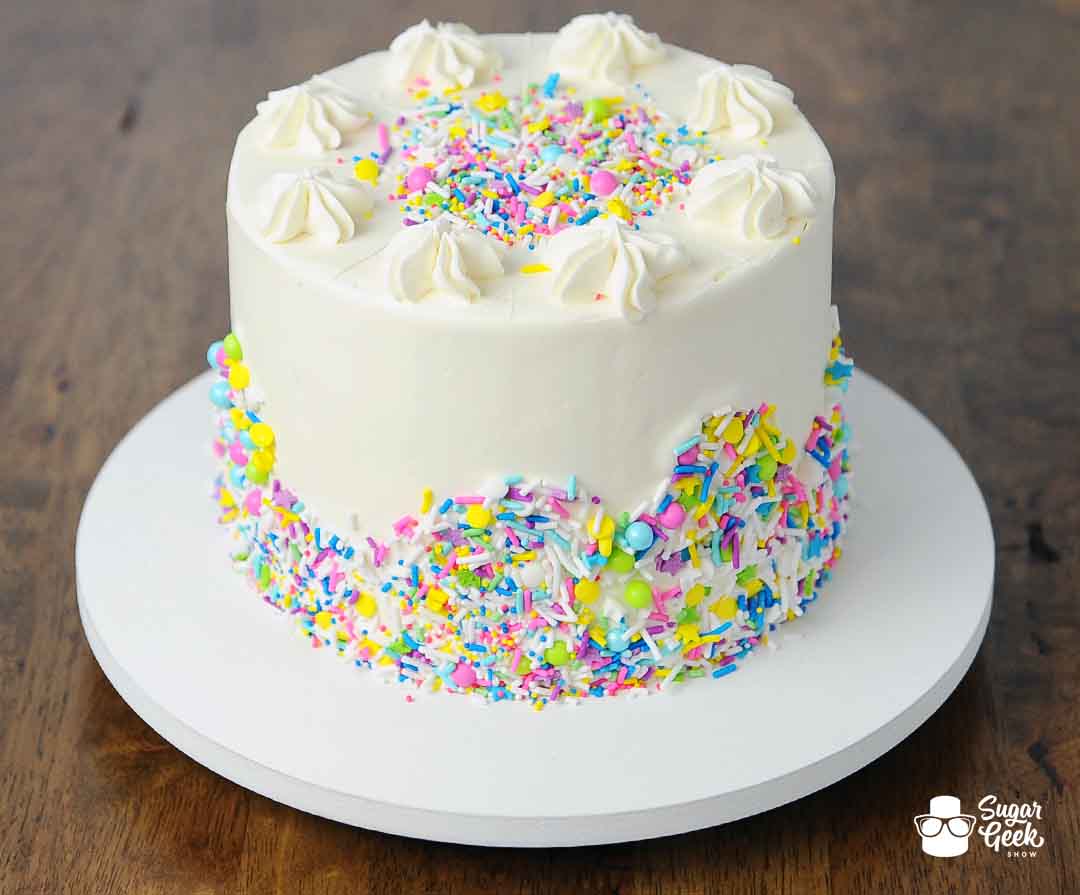 Firm Cake Recipes For Carving
For a while now I have been developing a series of cake recipes that work well for sculpting because even though in the past I have just used my regular cake flour recipes because I LOVE the taste the best, it can be challenging to teach that to other people. Especially if you're not used to handling a delicate cake flour cake.
Since my job is to teach people, I thought coming up with a vanilla sculpted cake recipe that still tastes amazing but works really well for carving and sculpting would be my go to.
This cake is based on the vanilla cake recipe by Yolanda Gampp. I used her recipe for years when I needed something sturdy but have since made some adjustments to make the recipe more to my own tastes. A little less sugar and some added fat to keep the cake moist since I don't like using simple syrup on my cakes.
I also have a red velvet sculpted cake recipe, a chocolate sculpted cake recipe and a bright red sculpted cake recipe that can be adjust to any color really.
Sturdy Cake Recipe For Stacking
You might be wondering if this recipe is good for stacked cakes. Yes it is! Some places you can't find cake flour very easily or maybe you just prefer the durability and flavor of AP flour over cake flour. Whatever the reason, it's nice to have options.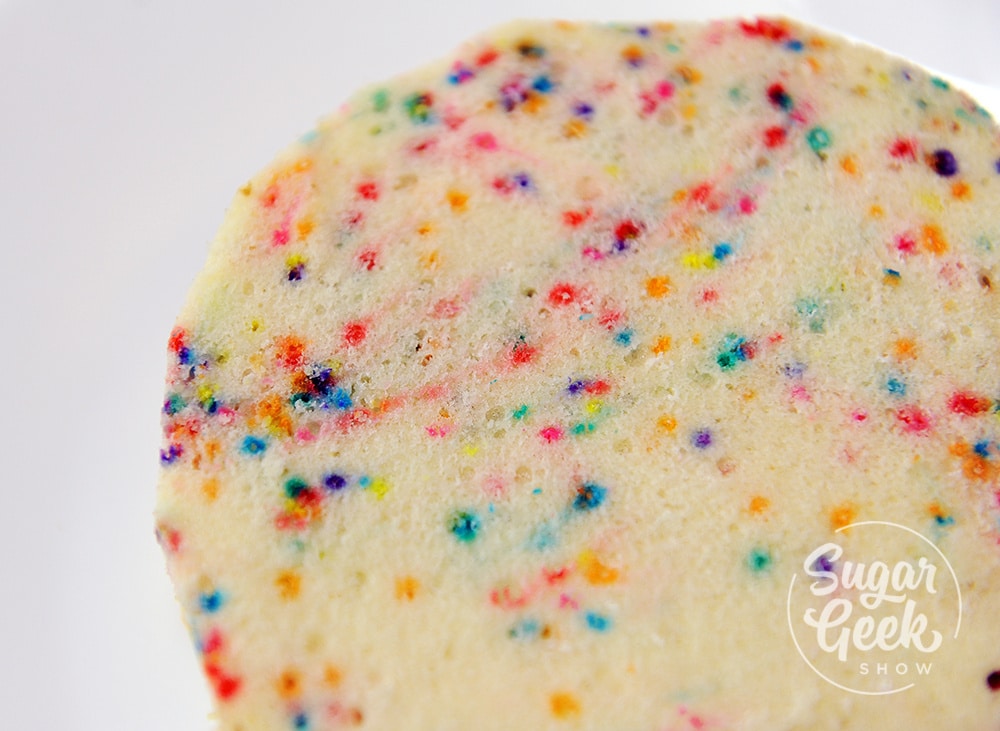 This vanilla sculpted cake recipe doubles as a great vanilla stacked cake recipe. If you want to make it into funfetti, you can stir in a couple of Tablespoons of rainbow sprinkles right at the end before you put the batter in the cake pan. Then sprinkle a few more on top because they tend to sink as the cake bakes. This way you'll have sprinkles all through the batter.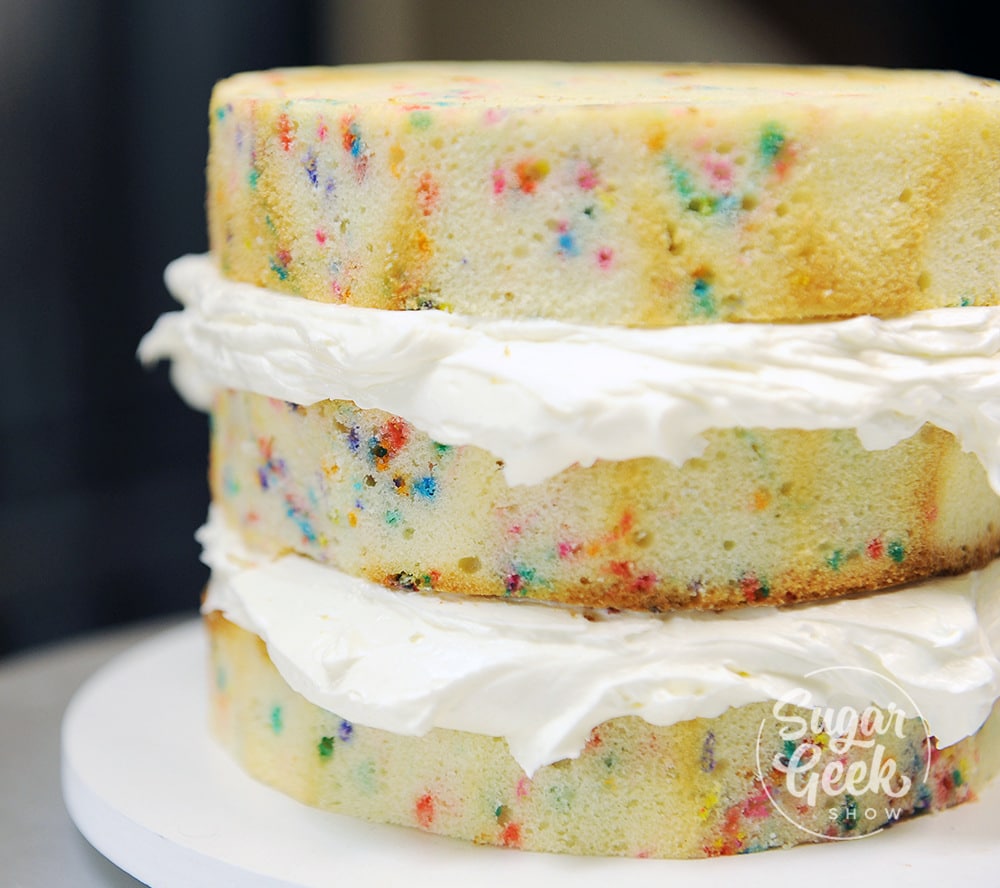 When I'm stacking my vanilla cakes, I like to trim off the outside layer of crust so that I get some nice clean slices. In vanilla cake especially I feel like the brown on the outside takes away from the pretty white texture on the inside of the cake.
Sculpted Cake Recipe For Competition Cakes
Sometimes you need a nice sturdy cake and the taste isn't important. These types of cake are usually used for display cakes that are going to be left out for a long time or for competition cakes. Yes there are things called cake shows where cake decorators come from all over the world and compete against each other. Most of the time you have to use real cake.
For these cakes I like to use box mix. I know that sounds counter-intuitive because I always say to stay away from box mix if you want a nice stable cake. The reason why box cake is so great is because it has preservatives in it. These preservatives protect the cake from getting mold or going bad. I know it sounds terrifying but I actually had a display cake made with box cake sitting on top of my fridge for over a year and it never got moldy. It's like those McDonalds french fries you find under your chair. They just dry out and become perfectly preserved. Freaky.
To make my boxed vanilla cake sturdier, I add in two cups of flour, 4 extra eggs and leave out the oil. I also tend to over-mix the batter so it get's really tough. It may not look the best but it's great for holding it's shape for a competition. This sturdy cake is also better for when the cake has to travel a long way by car or even plane and not refrigerated for long periods of time.
Cake Batter and Frosting Calculator
Select an option below to calculate how much batter or frosting you need. Adjust the servings slider on the recipe card to change the amounts the recipe makes.
Choose a pan type
Choose a cake pan size
(based on 2" tall cake pan)
Choose a cake pan size
(based on 2" tall cake pan)
Choose a cake pan size
(based on 2" tall cake pan)
Cups of Batter Needed
8 cups
Cups of Frosting Needed
5 cups
Recipe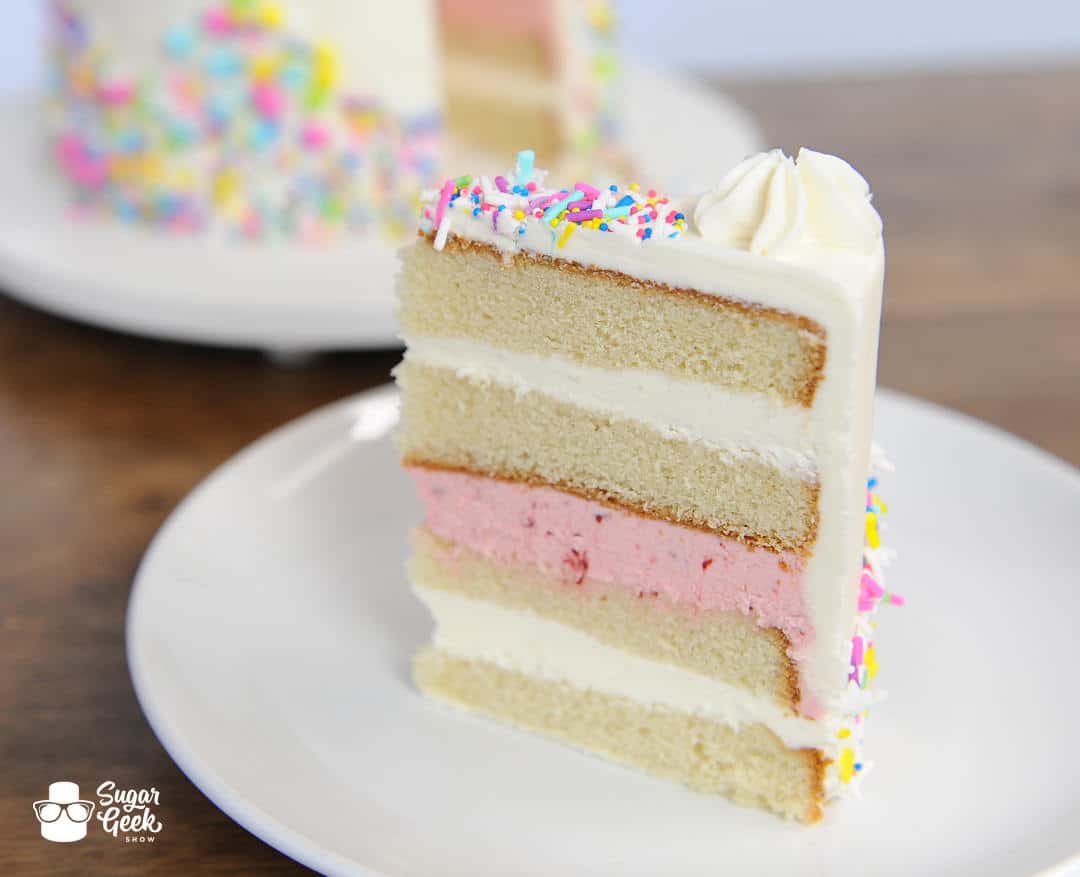 Servings: 6 cups
Calories: 859kcal
Ingredients
12 oz AP Flour I like king arthur brand
2 ½ teaspoon baking powder
½ teaspoon salt
8 oz unsalted butter room temp
12 oz granulated sugar I like superfine
1 tablespoon vanilla extract
4 large eggs room temp
8 oz milk room temp
2 oz oil
Instructions
Preheat oven to 350F and prepare two 8" rounds with cake goop or preferred pan spray.

Whisk together flour, baking powder and salt and set aside

In the bowl of a stand mixer with paddle attachment, cream the butter for 20 seconds until smooth

Sprinkle in the sugar and whip on med-high until light in color and fluffy. About 8-10 minutes. Scrape the bowl halfway through mixing

Bring back to low mixing, add in eggs one at a time. Let mix in fully for one minute fore adding the next egg. Mixture should look smooth, not broken or lumpy. If it is, your eggs might have been too cold.

Add your vanilla and oil to your milk

Add flour to mixture in four parts, alternating with the milk. Start with flour, mix until just incorporated, then add ⅓ of the milk. Repeat in alternating steps beginning and ending with flour. Let mix for 10 more seconds then stop

Bake for 25-30 minutes or until toothpick comes out clean. Do not over-bake or your cake will shrink and your sides will not be straight.
Nutrition
Calories: 859kcal | Carbohydrates: 103g | Protein: 11g | Fat: 45g | Saturated Fat: 21g | Cholesterol: 209mg | Sodium: 265mg | Potassium: 376mg | Fiber: 1g | Sugar: 59g | Vitamin A: 1185IU | Calcium: 169mg | Iron: 3.4mg