This is a great red velvet cake with lot's of flavor but is sturdy enough to use for carved and sculpted cakes
Cake Batter and Frosting Calculator
Select an option below to calculate how much batter or frosting you need. Adjust the servings slider on the recipe card to change the amounts the recipe makes.
Choose a pan type
Choose a cake pan size
(based on 2" tall cake pan)
Choose a cake pan size
(based on 2" tall cake pan)
Choose a cake pan size
(based on 2" tall cake pan)
Cups of Batter Needed
8 cups
Cups of Frosting Needed
5 cups
Recipe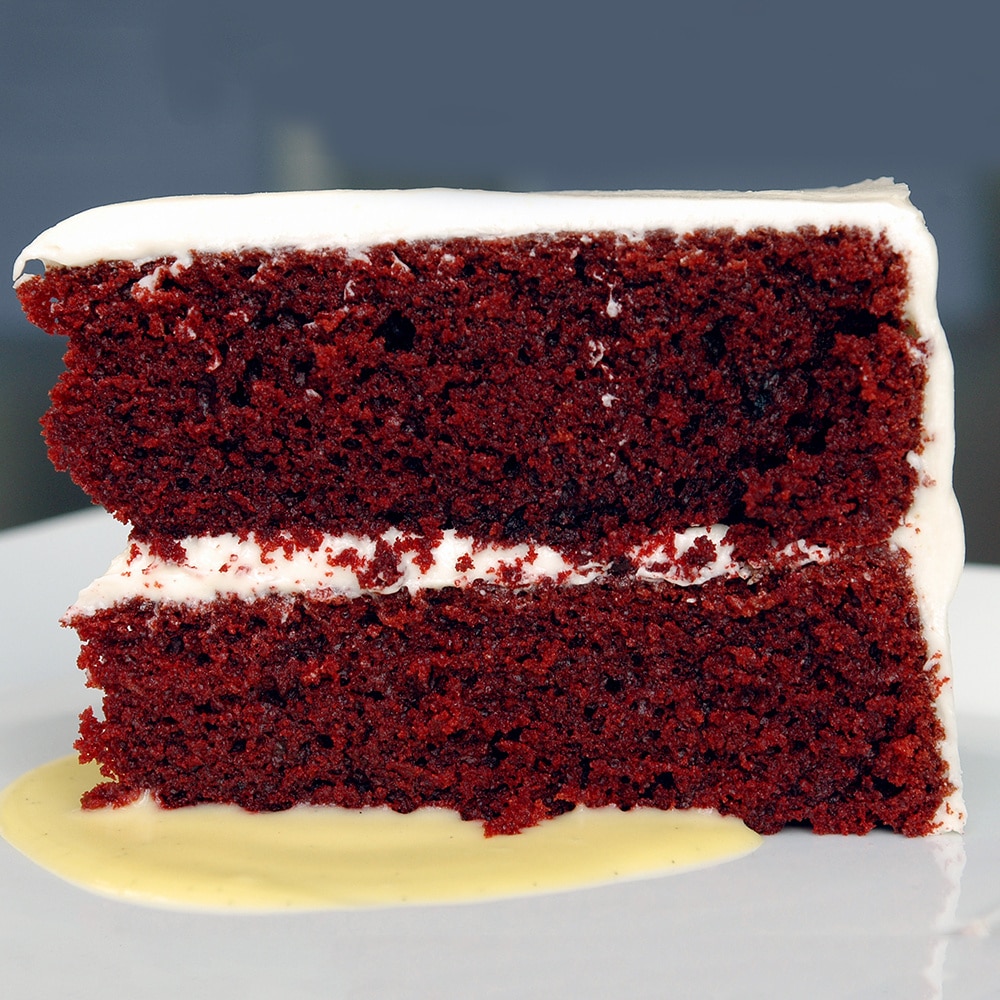 Servings: 10 cups
Calories: 763kcal
Ingredients
9 oz unsalted butter room temperature
22 oz granulated sugar
22 oz AP flour
2 ½ teaspoon baking soda
1 teaspoon salt
3 tablespoon cocoa powder
5 large eggs room temperature
20 oz buttermilk room temperature
1 tablespoon vanilla extract
3 oz vegetable oil
2 ½ teaspoon cider vinegar
1 teaspoon egg yellow food coloring
2 tablespoon super red food coloring
Instructions
NOTE: It is SUPER IMPORTANT that all the room temperature ingredients listed above are room temperature and not cold so that the ingredients mix and incorporate correctly.

Heat oven to 335º F/168º C.

Add butter to stand mixer and beat at medium-high speed until smooth and shiny, about 30 seconds. Gradually sprinkle in the sugar, beat until mixture is fluffy and almost white, about 3-5 minutes.

Add eggs one at a time, fully combining each egg before adding the next.

Add in your food coloring to the egg/butter/sugar mixture

Mix dry ingredients in a medium bowl and whisk to combine and set aside

Combine wet ingredients and set aside

With the mixer at the lowest speed, add about a third of the dry ingredients to the batter, followed immediately by about a third of the milk mixture, mix until ingredients are almost incorporated into the batter. Repeat the process 2 more times. When the batter appears blended, stop the mixer and scrape the sides of the bowl with a rubber spatula.
Nutrition
Calories: 763kcal | Carbohydrates: 98g | Protein: 10g | Fat: 37g | Saturated Fat: 23g | Cholesterol: 154mg | Sodium: 1074mg | Potassium: 237mg | Fiber: 1g | Sugar: 68g | Vitamin A: 865IU | Calcium: 153mg | Iron: 2.8mg