Making your own unsweetened applesauce is so simple and tastes so much better than storebought. Sweetened, or spicy, you can alter this one recipe to your tastes. I love using this applesauce recipe in my applesauce spice cake! A delicious unsweetened applesauce recipe that can be canned, frozen, or used in baked goods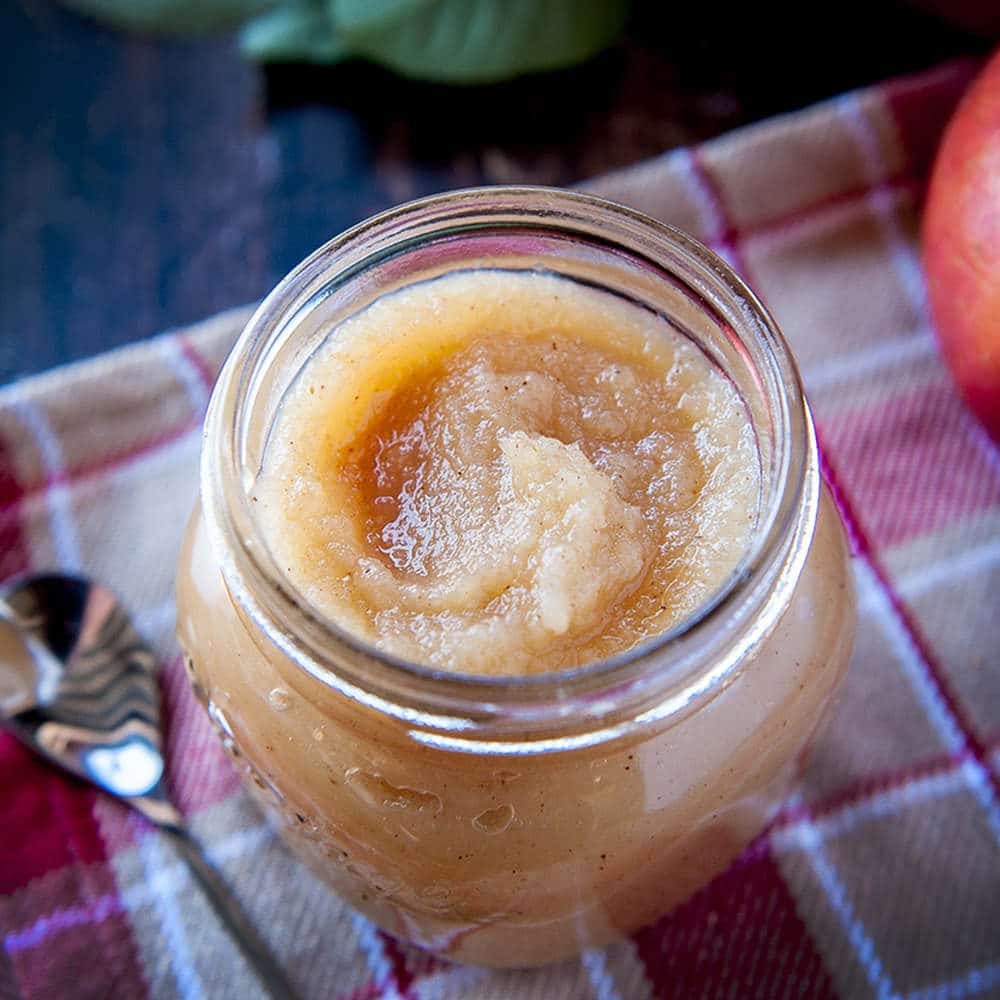 I grew up making this applesauce recipe from apples that grew in our own backyard. We'd spend the day chopping, cooking and canning that sweet applesauce as a family. At the time, of course, I hated it but as an adult, I realize how special that applesauce was!
Recently, I asked my dad to show me how to make that homemade applesauce using the same food mill we used when I was a kid. You don't need any special equipment to make your own homemade unsweetened applesauce though. You can literally mash it with a fork but I've included some equipment that might already have on hand.
What kind of apples are best to make homemade unsweetened applesauce?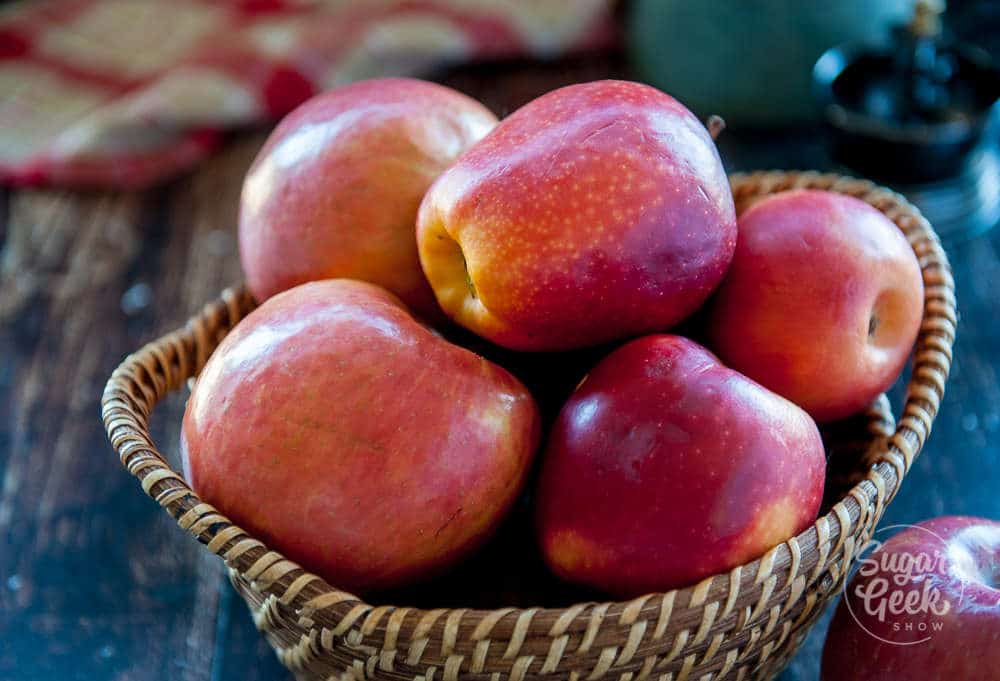 The best applesauce is made for free (or almost free). If you have apples in your yard, use them! But if you have the option of choosing some delicious in-season apples from either the local farmers market or orchard, that's pretty awesome too and less expensive than the grocery store.
Here are some popular apple options for making your own homemade applesauce
Jonagold - Sweet - Season: Sept-Nov
McIntosh - Sweet/Spicy - Season: Sept-Oct
Granny Smith - Sweet/Tart - Season: Sept-Oct
Fuji - Sweet - Season: Oct-Nov
Honeycrisp - Sweet/Tart - Season: Aug-Oct
Gala - Sweet - Season: Aug-Sept
Golden Delicious - Sweet - Season: Sept-Oct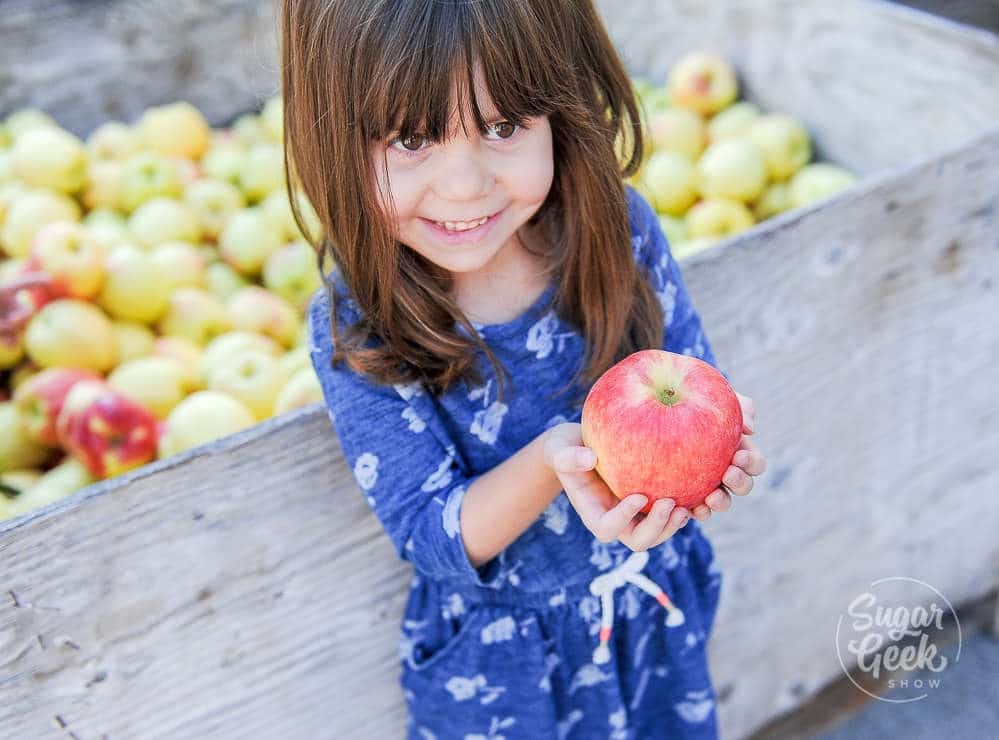 Choose a combination of apples that are tart and sweet for the best flavor in your applesauce. Or you can even add in something that's a little spicy. Fuji and Golden delicious make a great combination for homemade unsweetened applesauce.
We have a lot of apple festivals here in Portland so one of my favorite things to do is go and taste the apples and choose which ones I want to use to make my applesauce.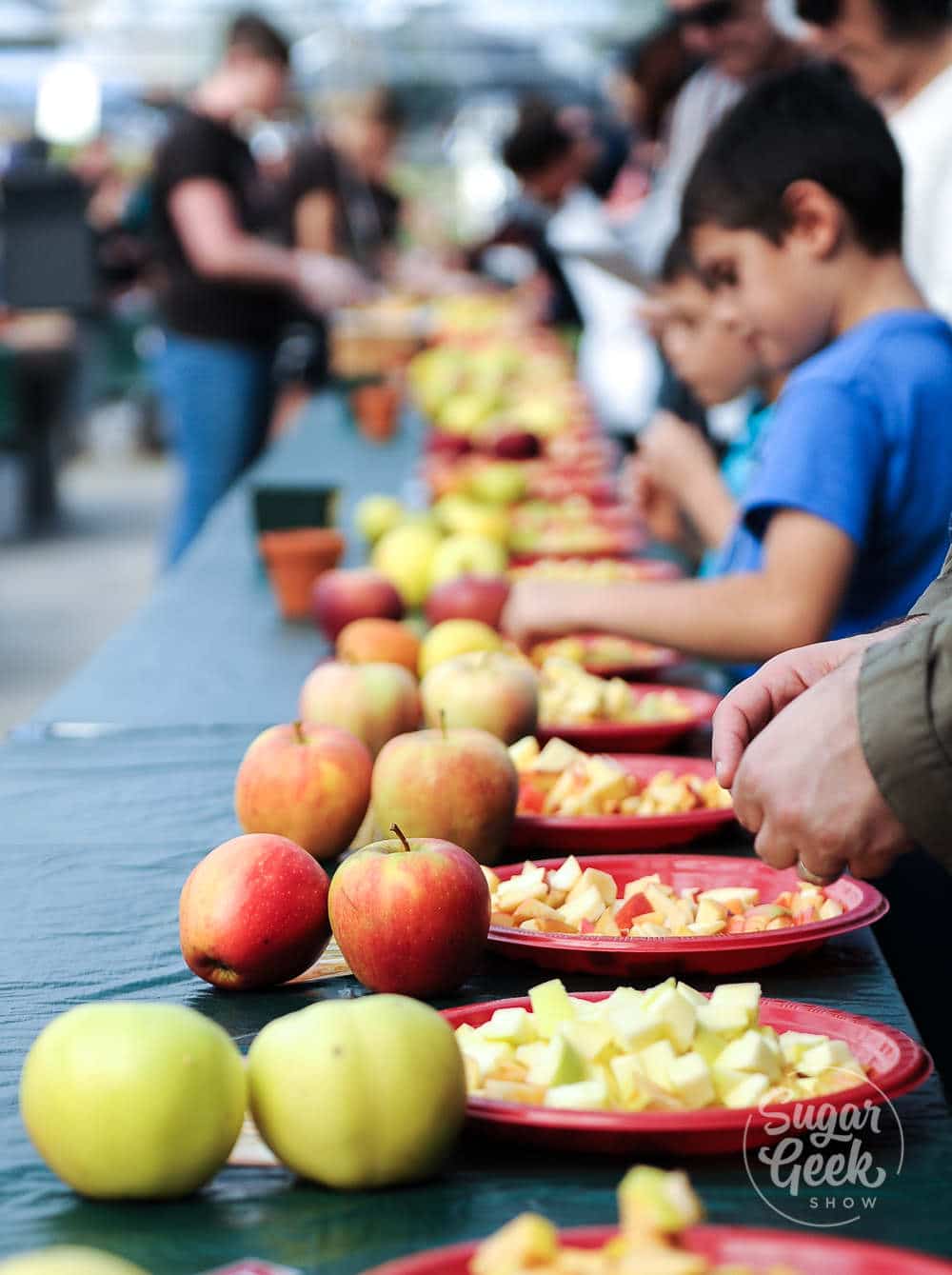 If you use apples that are in season and ripe, you won't need to add any extra sugar to the applesauce. Apples are usually in-season from late July to early November depending on the variety.
How do you make homemade unsweetened applesauce?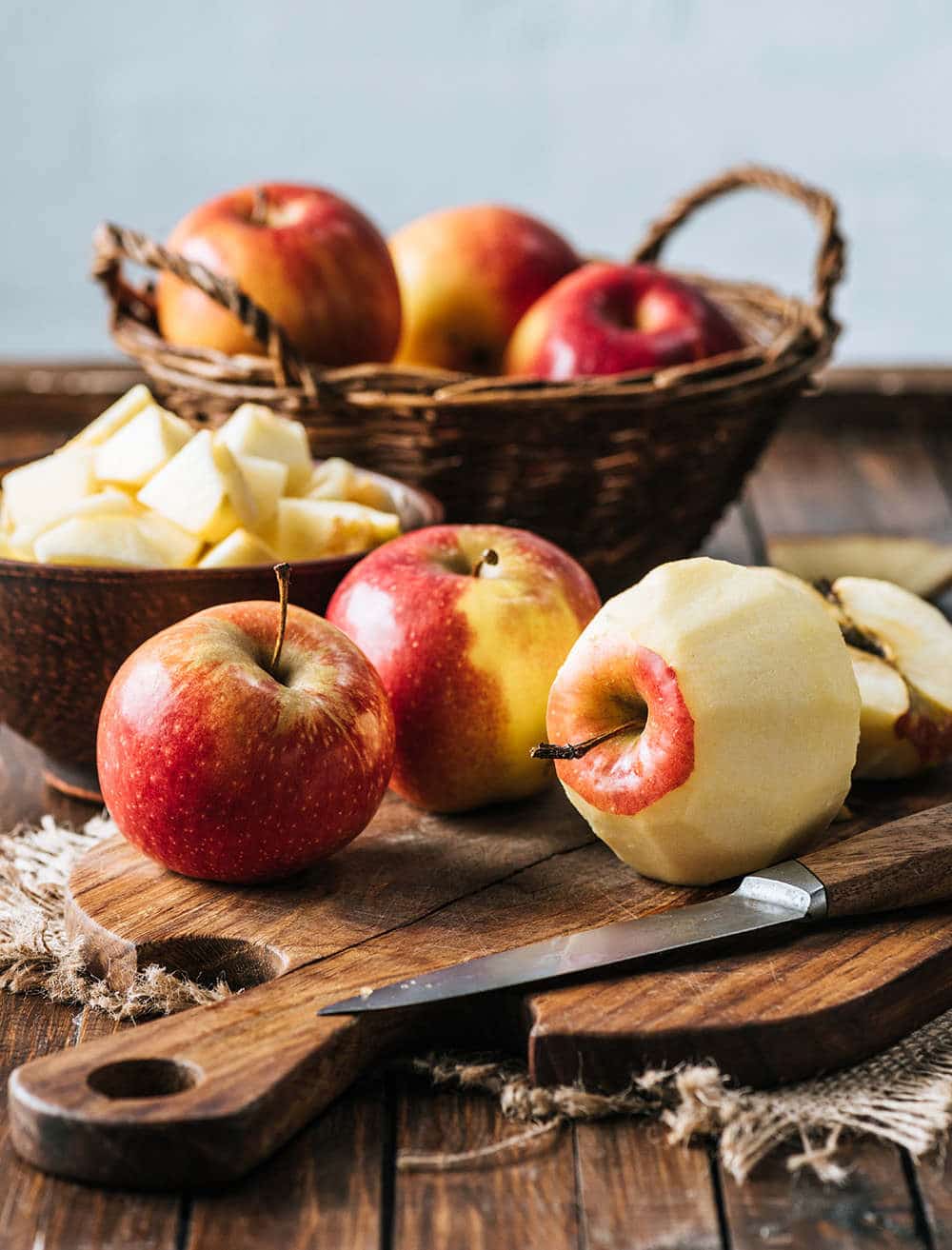 Core your apples with an apple corer or core your apple with a knife and chop your apple into slices. You can leave the skins on or off. Skins will make slightly chunkier applesauce but will keep more of the apple's nutrients in the sauce which is great if you're making applesauce for your kids. If you have a food mill, you don't need to peel and core your apples.
Place your apples into a stockpot and add just enough apple juice (or water) to barely cover the apples.
Bring the apple mixture to a boil over high heat then reduce the heat to medium. Let your apple mixture simmer for 5-20 minutes depending on the apple firmness. Once the apple is fork tender and you can kind of smoosh it with the fork, it's done.
Drain your apples with a strainer and place them into a bowl.
If you have a food mill, you can process the apples through the mill to remove the seeds and skins. Otherwise, just put the apple chunks into a blender or use an immersion blender until it's as smooth as you like. Some like chunkier applesauce, I prefer super smooth.
Now you can add in some sugar if you want your sauce sweeter and your cinnamon. Taste your sauce! Keep adding spices and sugar until you are happy with the flavor!
How long does applesauce last in the fridge?
You can keep homemade unsweetened applesauce in the fridge for up to two weeks. So if you're making small batches for snacks, no need to freeze or can.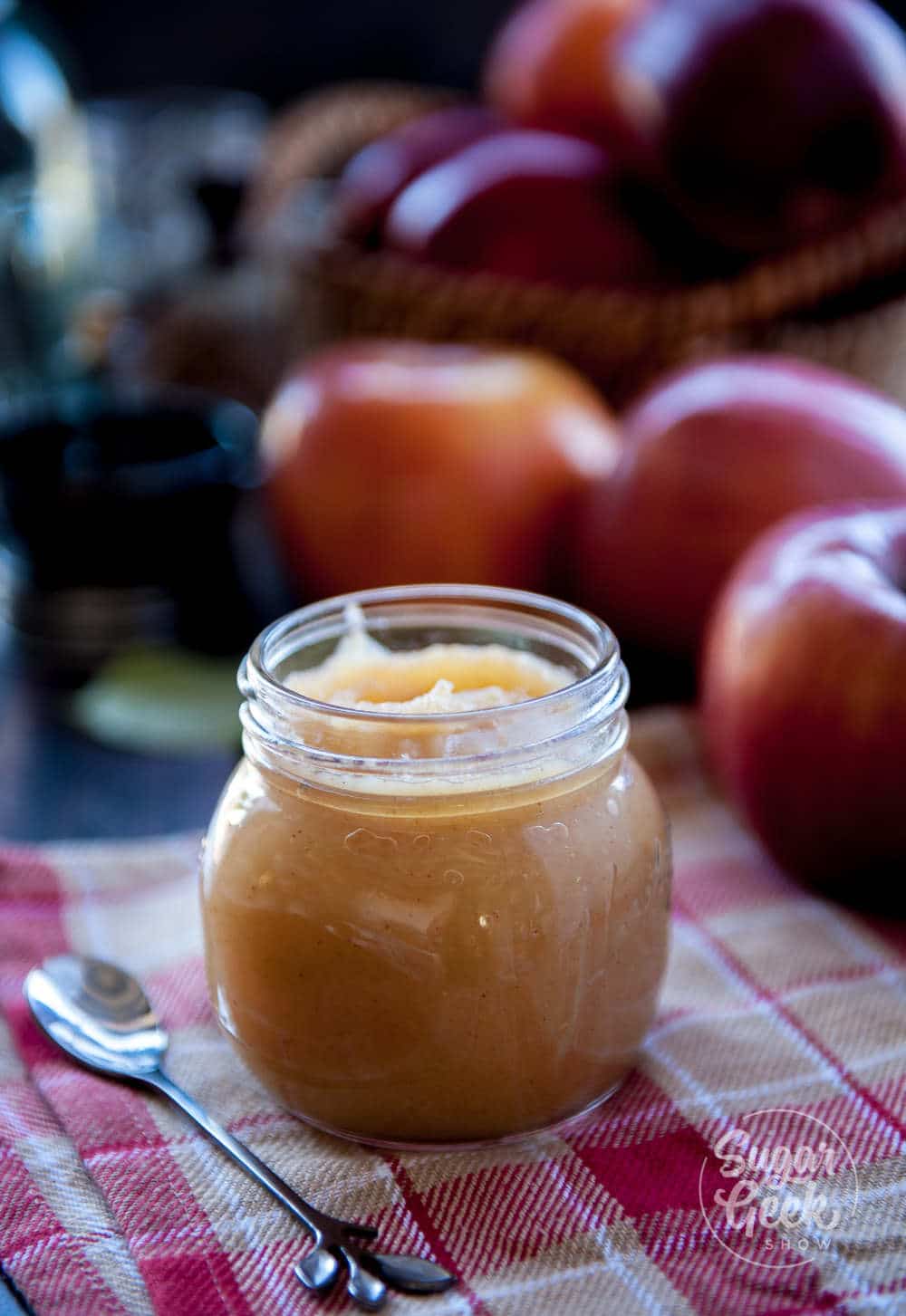 Can you freeze leftover applesauce?
Freezing applesauce is super easy. Sometimes I make a double batch depending on how many apples I have on hand, so leftovers are inevitable. Just freeze the applesauce in quart-sized freezer bags for up to two months. Label them with the date your freeze them.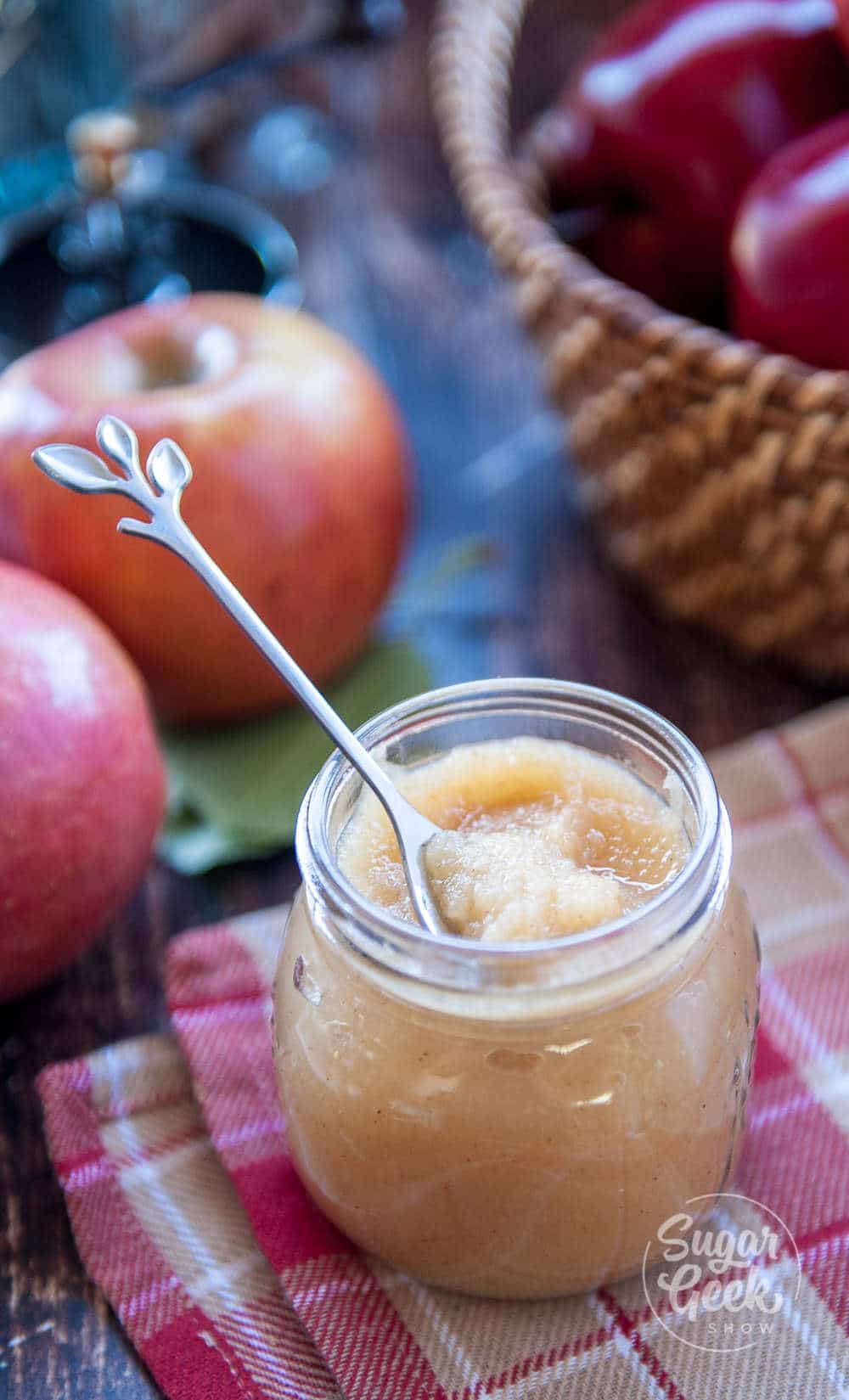 How do you make canned unsweetened applesauce?
Do you have a ton of apples on hand? You might want to can your applesauce so you can enjoy the sauce all year long.
Canning is the process of heat treating jars of food at high temperatures to kill microorganisms and bacteria to prevent the food from spoiling. 
More Apple Recipes
Recipe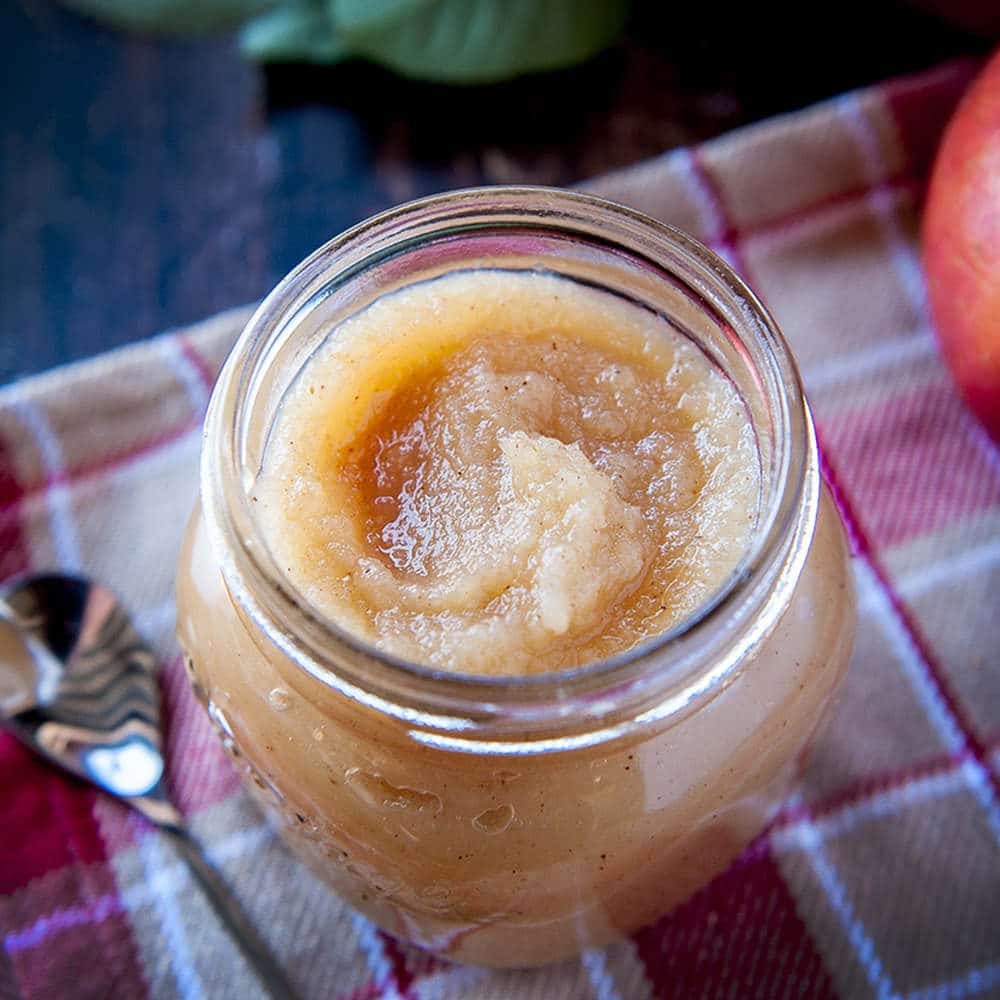 Ingredients
Unsweetened Applesauce Recipe
32

ounces

Apples

4-5 Medium Apples - peeled, cored and sliced

4

ounces

Apple Juice

or water

1

teaspoon

Cinnamon
Optional (add as many or as little as you like)
¼

teaspoon

Nutmeg

⅛

teaspoon

Cloves

1

Tablespoon

Lemon Juice

2

ounces

Brown Sugar

2

ounces

Honey
Instructions
Unsweetened Applesauce Instructions
Wash your apples in hot water to remove any dirt or wax from the outside of the apples.

Peel the skin off your apples and remove the core with an apple corer or use a knife to remove the core (see blog post for more info) If you are using a food mill you don't need to peel or core your apples.

Place your apples in a large pot and add in your apple juice or water. Your apples should be barely covered. Add more apple juice if needed. Bring to a boil over high heat.

Reduce your heat to medium and let your apples simmer until they are fork-tender or you can crush them easily with the flat side of the fork (about 15 minutes)

Strain your apples and discard the liquid.

Use an immersion blender or blender to blend your apples to your desired consistency.

Add in your cinnamon and stir. Taste your applesauce. If you would like it sweeter or spicier you can add in honey, sugar or other spices that you like.

Once you've added everything in, let your applesauce cool before refrigerating, freezing or canning.
Nutrition
Serving:
4
g
|
Calories:
461
kcal
|
Carbohydrates:
122
g
|
Protein:
1
g
|
Fat:
1
g
|
Saturated Fat:
1
g
|
Sodium:
16
mg
|
Potassium:
580
mg
|
Fiber:
11
g
|
Sugar:
104
g
|
Vitamin A:
245
IU
|
Vitamin C:
24
mg
|
Calcium:
61
mg
|
Iron:
1
mg
To make canned applesauce you'll need to add 1 tablespoon of lemon juice to every 3lbs of apples you use to have the proper acidity levels. Follow the recipe above for more in-depth instructions on how to can homemade applesauce.