Cream cheese frosting is a delicious frosting made with cream cheese, butter and icing sugar and is typically less sweet than traditional buttercream.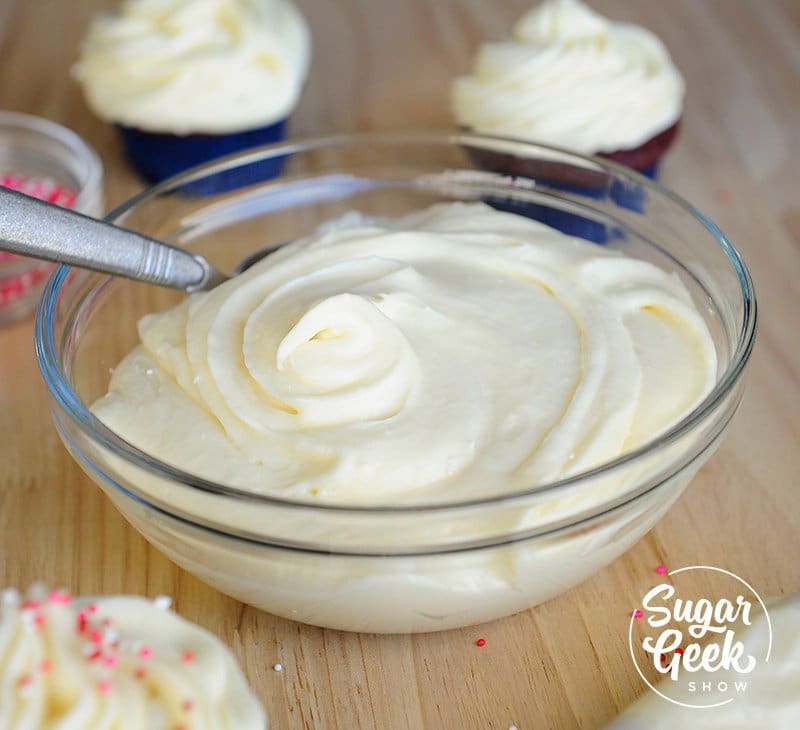 Cream cheese frosting has to be an all time favorite among just about everyone. It's creamy, not too sweet and packs a special flavor you can only get with cream cheese. You most often see it paired with red velvet cake or carrot cake but it can most certainly go with any flavor cake! Do you really even need cake? That's a matter of opinion.
Can cream cheese frosting be used for piping?
Well that depends on what kind of piping you are talking about. Cream cheese frosting can most certainly be used to pipe onto cupcakes. If you're looking to pipe intricate designs or flowers with it however that is not going to work. Flowers and filigree type piping are best done with royal icing as cream cheese frosting is a bit too soft for that.
However, if you use cream cheese frosting to fill and frost your cake, you really don't need it for the little decor details and you will save yourself a lot of time, frustration and probably profanity if you skip trying to use cream cheese frosting for piping anything intricate. It's like trying to use a spoon to cut a steak.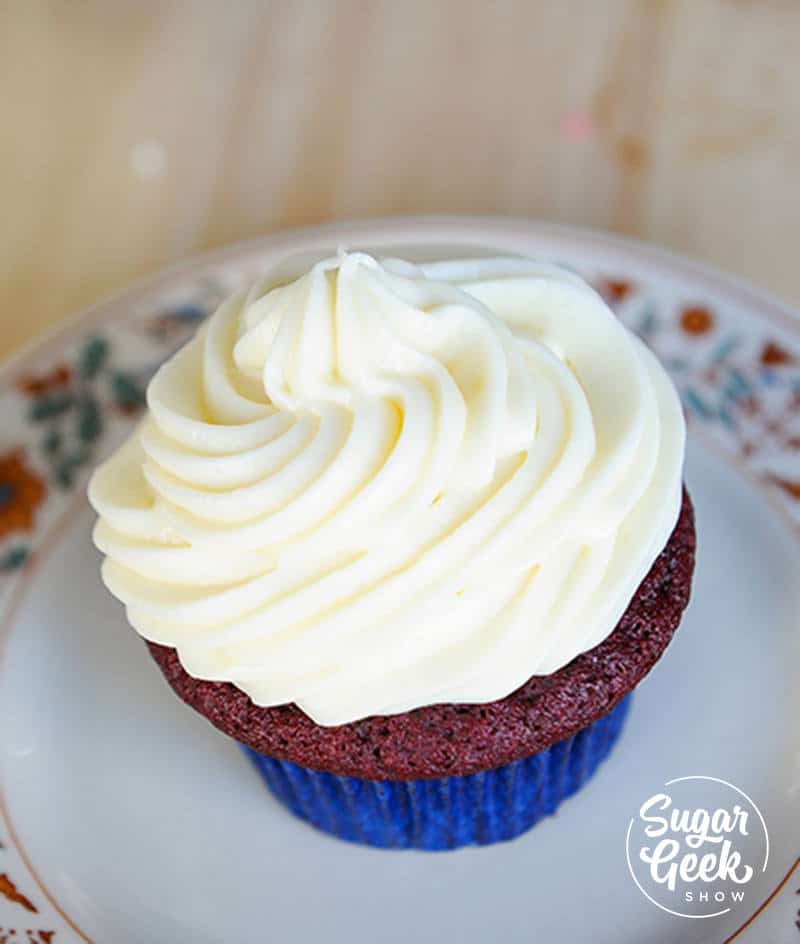 Why is my cream cheese frosting so runny?
It could be the temperature in your house but it's most likely because the ratio of cream cheese to butter and icing sugar is too high. If you have too much cream cheese in your frosting it simply will not be stable enough even for frosting a cake. Perfect for drizzling over hot cinnamon rolls but for frosting a cake or piping cupcakes? Not so much. Adding too much liquid with extracts or juices can also be an issue. If you follow our recipe it should be nice and stable as it also crusts!
How do I make cream cheese frosting thicker?
Really the best way to have an amply thick frosting is to start with the correct ratio of cream cheese to butter and sugar. So many people add too much cream cheese simply making it too soft to work with or hold up.
Many people believe that just adding more sugar will do the trick but really you can't add enough powdered sugar to it to make a difference and it quickly becomes way too sweet. Really the addition of fat such as butter is what also helps to make it stable especially when being refrigerated as butter firms up solid when it's cold.
Cream cheese icing to drizzle over cinnamon rolls is not going to be the same thing you need to frost a cake or pipe onto cupcakes plain and simple so you will need to change up the ratios and ingredients accordingly!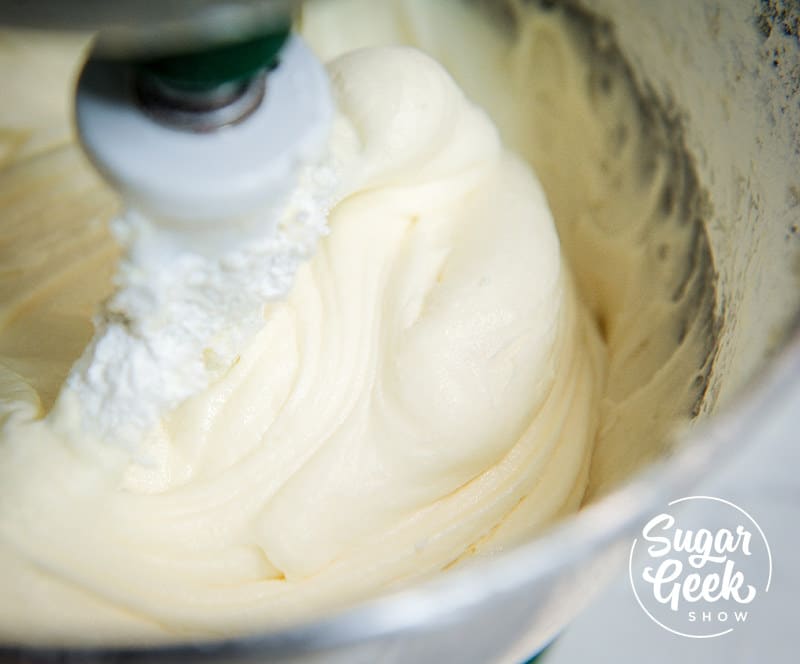 Cream Cheese Frosting Without Powdered Sugar
Many people are looking for a cream cheese frosting recipe without powdered sugar. Another approach is to use granulated sugar and use cream to dissolve it. It's a process of mixing your cream and sugar in your mixing bowl on medium-low for a few minutes until the sugar is dissolved and then bumping up the speed until the mixture thickens to a yogurt like consistency, then you add in your cream cheese. While I have never tried it, I have heard it can also yield a fluffy and very stable cream cheese frosting.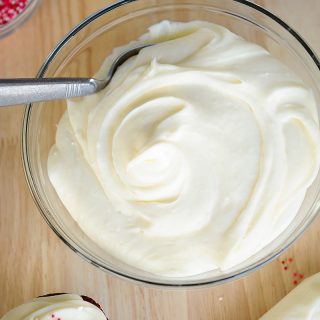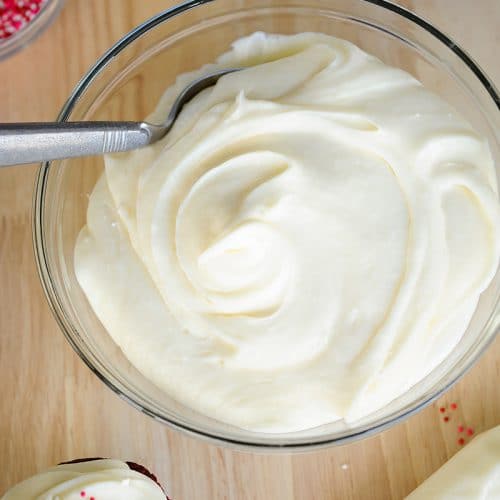 Crusting Cream Cheese Buttercream
A delicious cream cheese buttercream that is sturdy enough to pipe or frost and fill your cakes.
Ingredients
Ingredients
8

oz

cream cheese

room temp

8

oz

butter

room temp

2

lb

powdered sugar

1

tbsp

clear vanilla

1

tsp

creme bouquet extract

optional
Instructions
Instructions
Cream the butter and cream cheese in stand mixer with paddle attachment on low until smooth.

Slowly add in powdered sugar, vanilla and creme bouquet. Mix at low for 5-6 minutes until smooth.

For a whiter buttercream, add white food coloring.
Recipe Notes
This buttercream cannot be left out for more than 4 hours.
Nutrition Facts
Crusting Cream Cheese Buttercream
Amount Per Serving
Calories 1989
Calories from Fat 783
% Daily Value*
Total Fat 87g 134%
Cholesterol 245mg 82%
Sodium 788mg 33%
Potassium 122mg 3%
Total Carbohydrates 305g 102%
Protein 5g 10%
* Percent Daily Values are based on a 2000 calorie diet.
February 26, 2018