Carrot cake with pineapple, big chunks of carrots, toasted pecans and cream cheese frosting is the ultimate homestyle carrot cake!
Chunky homestyle carrot cake with pineapple, candied pecans, coconut and lots of carrots! Frosted with tangy classic cream cheese frosting . My favorite cake to bake for my family!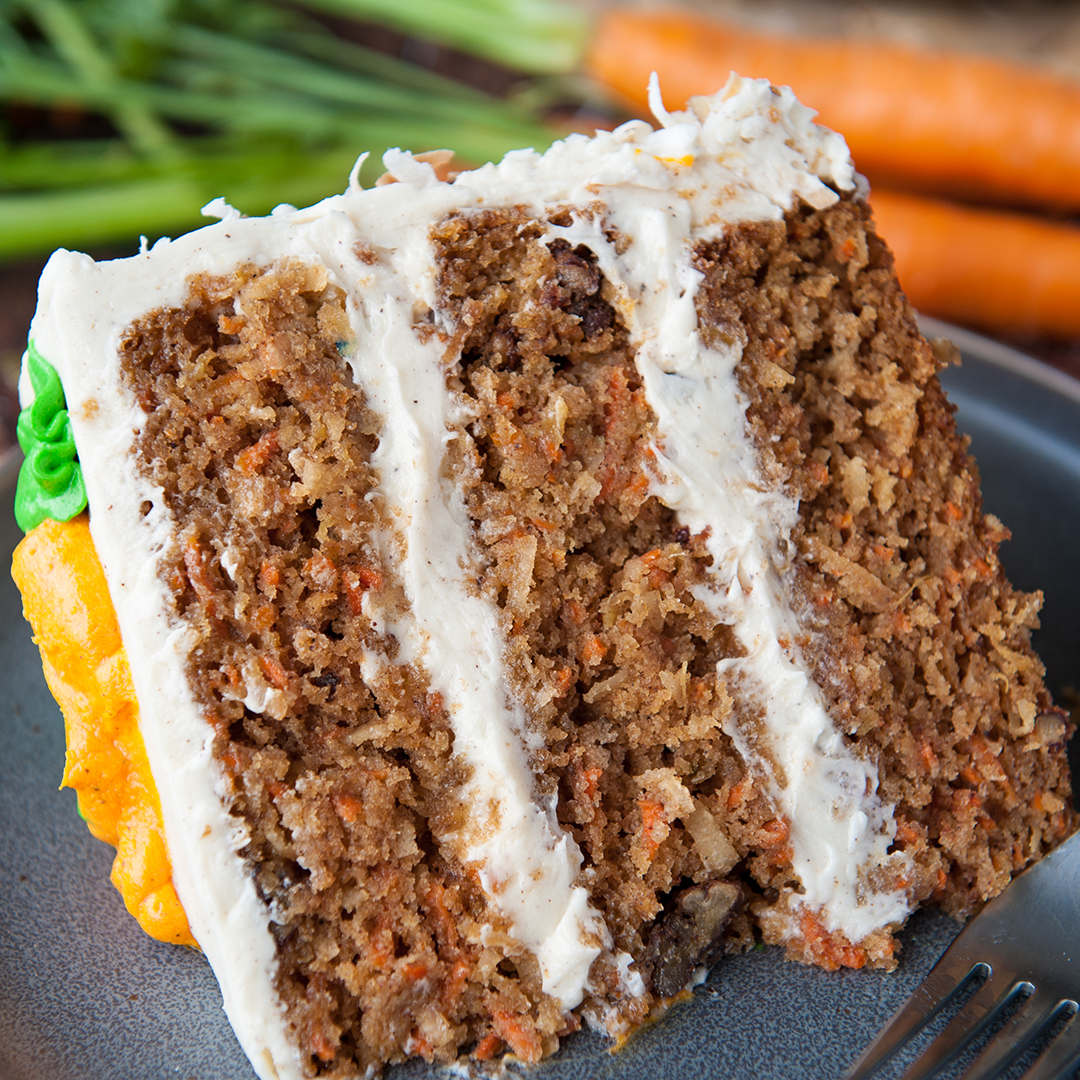 This carrot cake with pineapple has made lovers of carrot cake who have previously said they hated carrot cake. There are two kinds of carrot cake people out there. Those that like a nice spice cake with some teeny tiny carrots in it and those who like a teeny tiny bit of cake with their carrots. I fall in the second category.
I love making this carrot cake because it comes together in one bowl and is pretty much impossible to mess up!
Carrot Cake Ingredients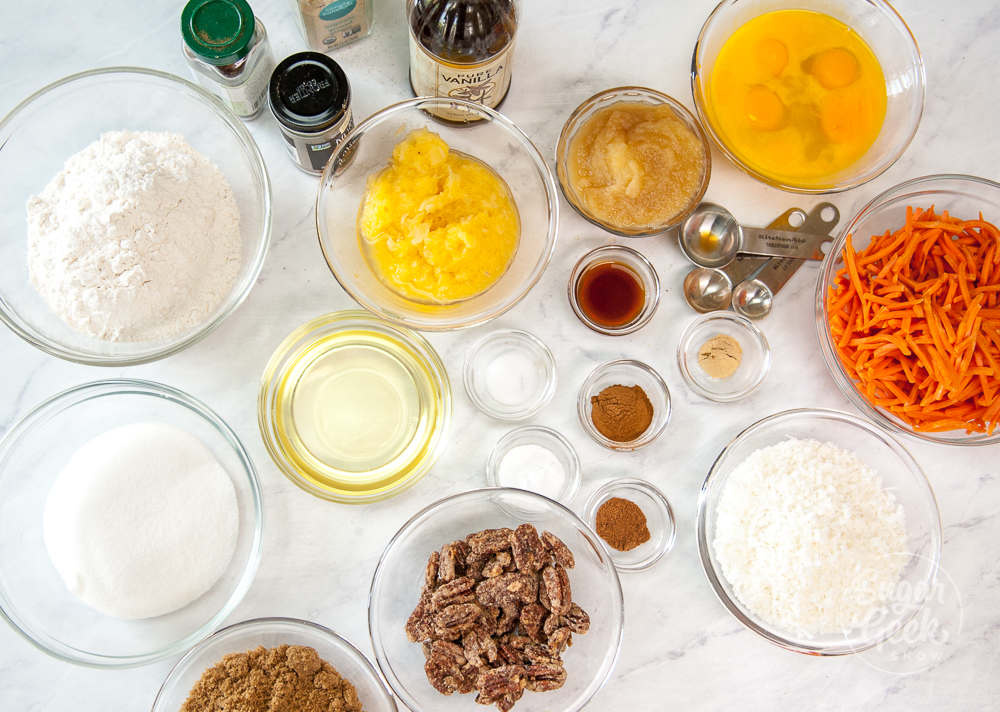 It might seem like there are a lot of ingredients in this cake that you don't fully understand why they are necessary but let me explain!
Pineapple - Adds amazing flavor and moisture to your carrot cake as well as texture
Candied Pecans - Sweet, salty and crunchy. Candied pecans add a delicious crunch and texture to the carrot cake.
Toasted Coconut - Adds another dimension of earthy flavor and texture to the cake
AP Flour - You might be surprised to see me using All-Purpose flour instead of cake flour but because there is so little flour in this carrot cake, we need the extra gluten to hold everything together.
Mashed Banana - So once upon a time I wanted to make my carrot cake and didn't have any applesauce but I did have a frozen banana so I used that instead. Honestly, I liked it better than the applesauce for that added moisture! You can use either banana or ½ cup applesauce.

Why do you put pineapple in carrot cake?
It might sound crazy but pineapple tastes amazing in carrot cake! Not only do the flavors compliment each other perfectly but the pineapple keeps the cake extra moist! The pineapple in carrot cake also holds onto moisture for longer so the carrot cake is less prone to drying out.
This carrot cake with pineapple actually gets better with age. In my opinion, it actually tastes better the second day! I wrap my cakes in plastic wrap and leave them on the countertop to frost the next day. This gives the flavors time to meld together and the cake actually gets even moister. It's truly magical!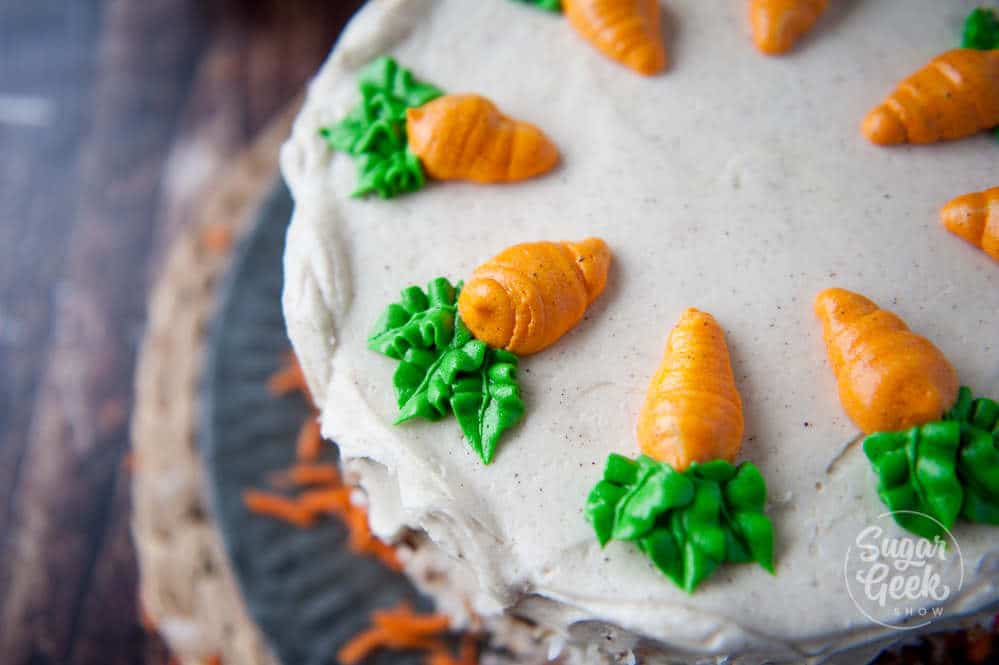 How do you grate carrots for carrot cake?
I like my carrots to be nice and chunky. To prepare my carrots, I chop off the tops of the carrot and then peel them. If you don't peel your carrots, they can turn green while baking.
To speed things up, you can use a food processor. To get 2 ¼ cups of carrots, I needed about 5 medium-sized carrots. Thankfully this carrot cake doesn't require exact amounts of carrot.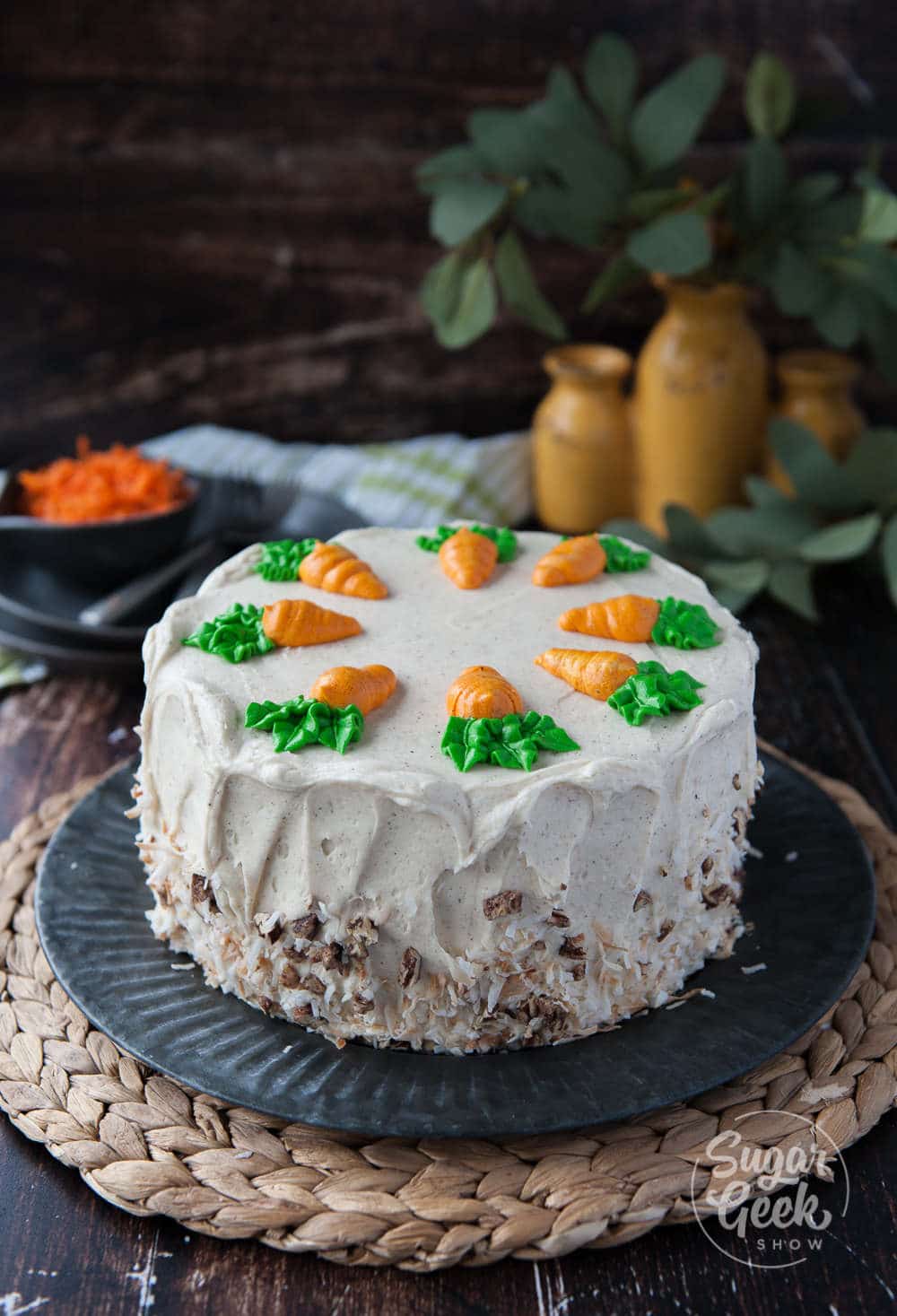 How do you make a carrot cake?
The best thing about this carrot cake with pineapple is that it all comes together so easily in one bowl.
Sift together your flour, sugar, salt, baking soda, and spices
Combine together your eggs, oil, melted butter, and vanilla
Pour your egg mixture into your flour mixture and stir until combined.
Fold in candied pecans, toasted coconut, carrots, pineapple and banana, and stir until just combined.
Divide into pans and bake! I have baked my carrot cake in two or three 8" pans. Two pans will have thicker layers but take longer to bake. Three pans will make thinner layers but bake in about 30 minutes.
Let your cake layers cool before frosting
How to make a carrot layer cake with cream cheese frosting
This carrot cake with pineapple and cream cheese frosting comes together in ten minutes flat!
Place your first layer of carrot cake on your cake cardboard or on your cake plate.
Spread a thick layer of cream cheese frosting onto the cake layer.
Place your second layer of cake on top of the frosting. Repeat if you have more layers.
Cover the whole cake in another thick layer of frosting. I like to keep my frosting rustic looking.
Pipe some cute buttercream carrots on top (see video for instructions)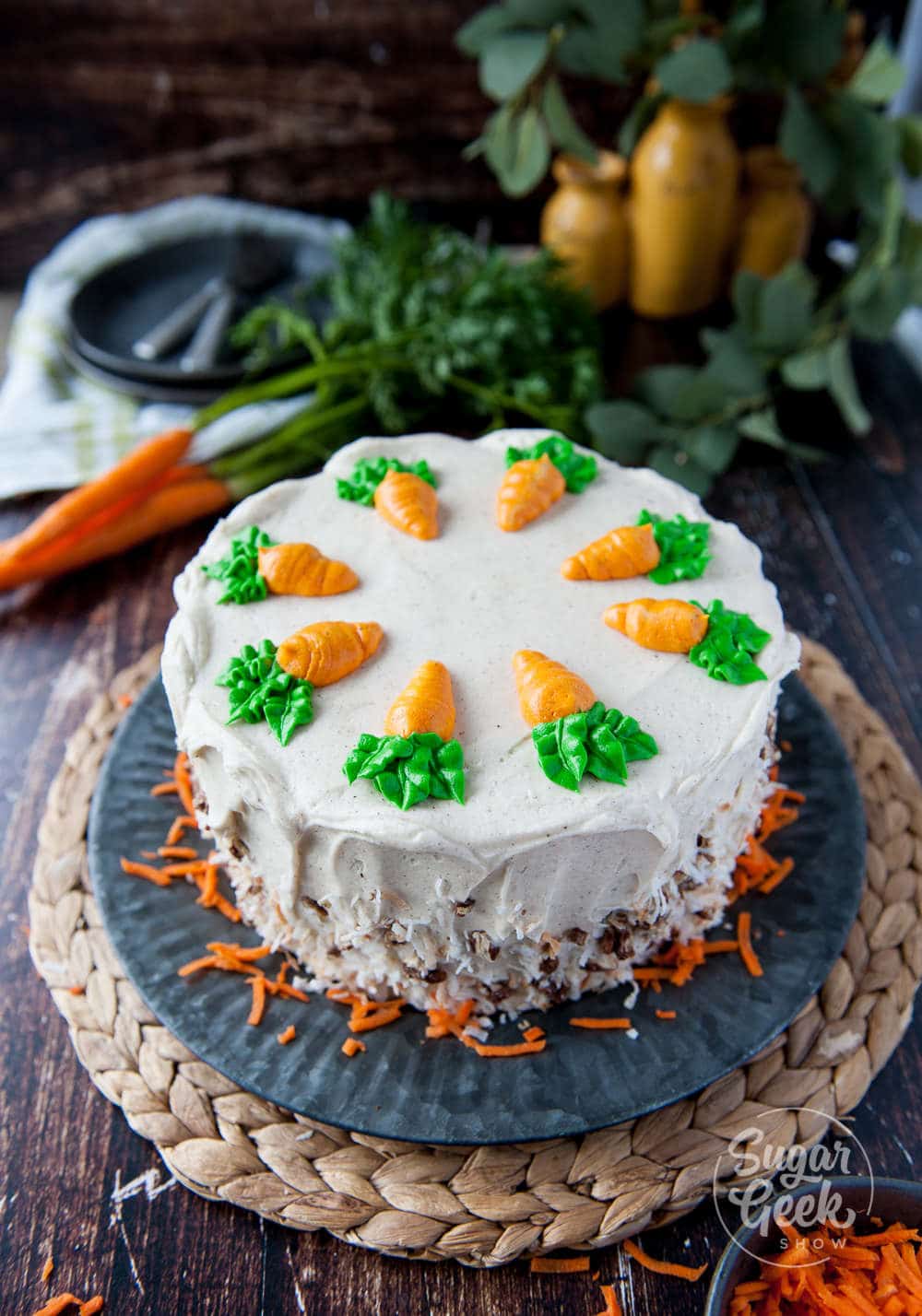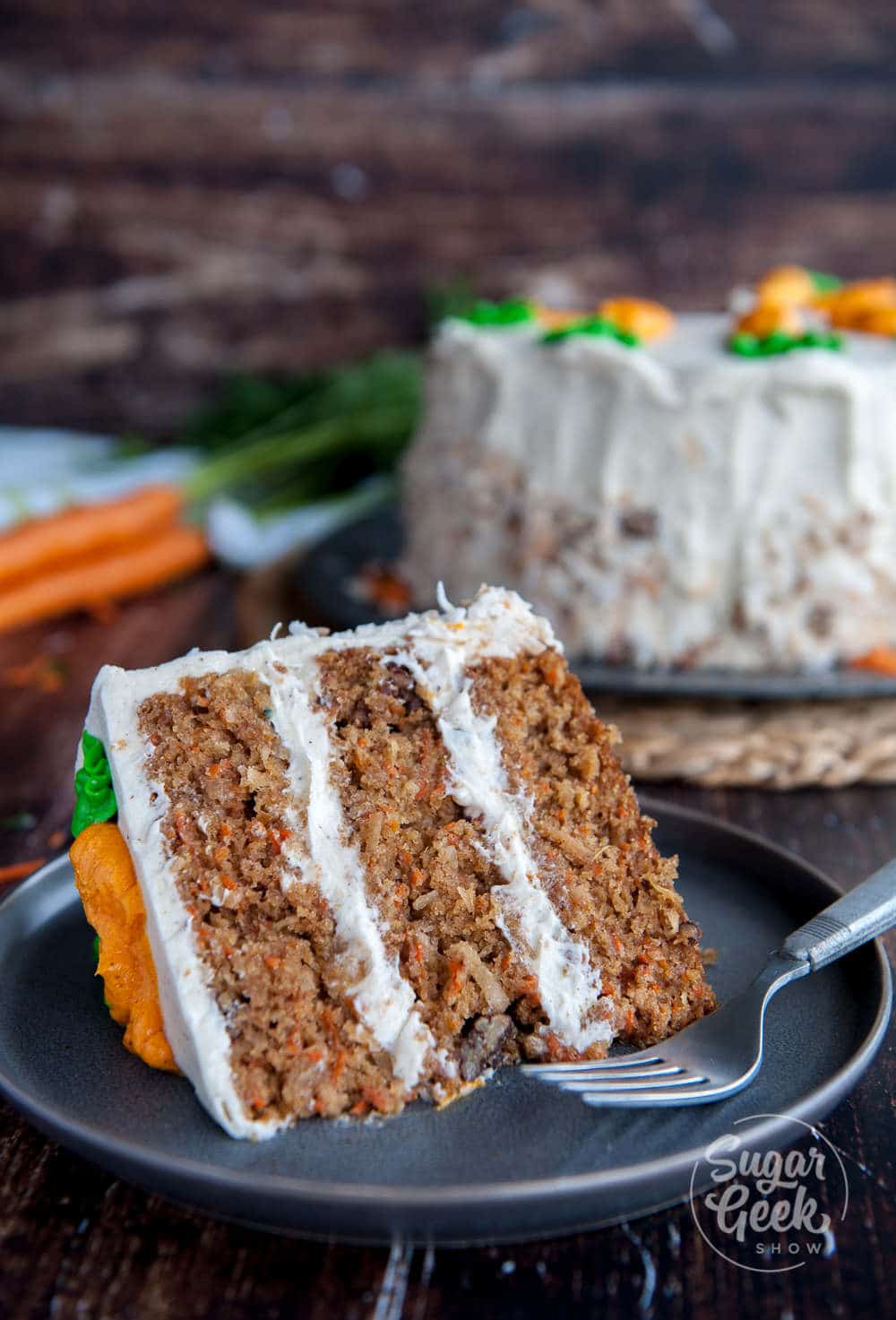 BONUS: Want step-by-step instructions on how to make your first cake? Watch my how to make a cake video tutorial!

I love how my brown butter cream cheese frosting tastes with this carrot cake. If you need a sturdier frosting, try my crusting cream cheese frosting
My easy buttercream is delicious too if you need to cover the cake with fondant (fondant and cream cheese don't mesh well together). You can replace some or all of the butter in my easy buttercream with brown butter if you want to keep that flavor.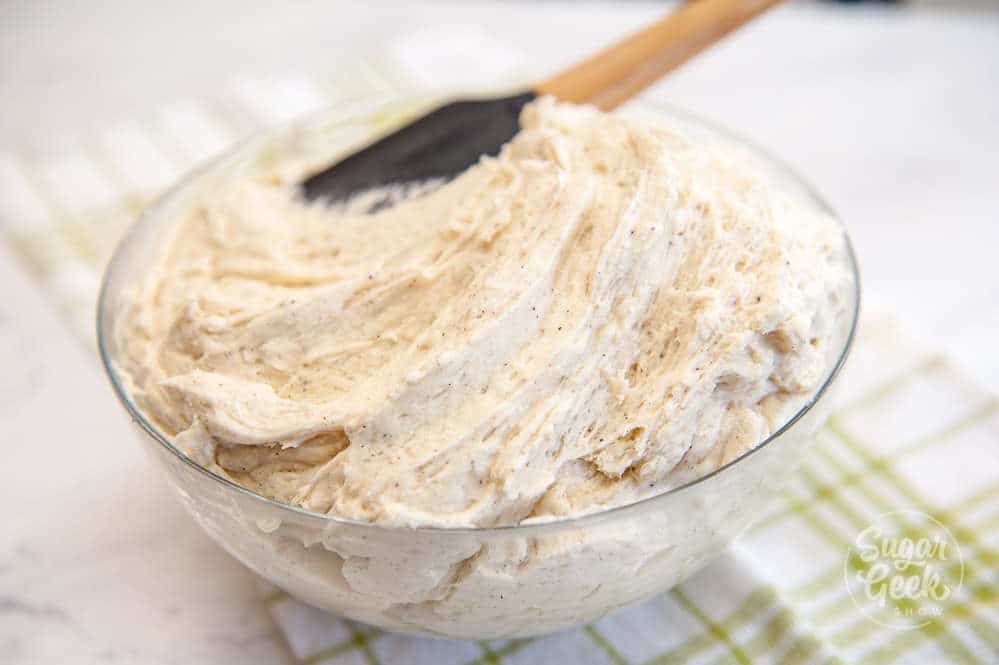 Want more? Try these recipes!
Pumpkin Spice Cake With Cream Cheese Frosting
Applesauce Spice Cake With Brown Butter Frosting
Banana Cake With Classic Cream Cheese Frosting

Cake Batter and Frosting Calculator
Select an option below to calculate how much batter or frosting you need. Adjust the servings slider on the recipe card to change the amounts the recipe makes.
Choose a pan type
Choose a cake pan size
(based on 2" tall cake pan)
Choose a cake pan size
(based on 2" tall cake pan)
Choose a cake pan size
(based on 2" tall cake pan)
Cups of Batter Needed
8 cups
Cups of Frosting Needed
5 cups
Recipe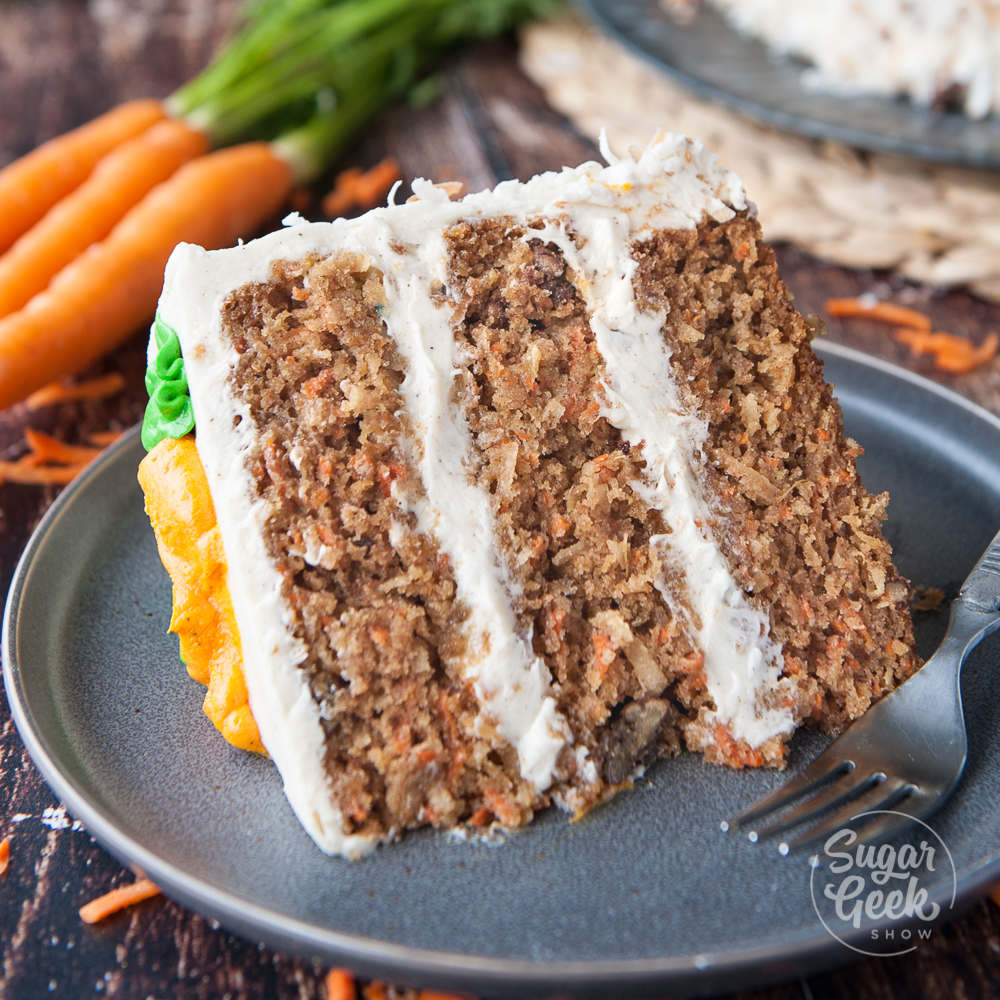 Servings: 8 cups
Calories: 1855kcal
Ingredients
Cake Ingredients
9 ounces All Purpose flour
7 ounces granulated sugar
7 ounces brown sugar
½ teaspoon salt
2 teaspoon baking soda
2 teaspoon cinnamon
½ teaspoon nutmeg
½ teaspoon ginger powdered
5 ounces vegetable oil
3 ounces butter melted
5 large eggs
1 tablespoon vanilla extract
5 ounces candied pecans chopped
3 ounces shredded coconut toasted
8 ounces carrots grated (about 4-5 medium carrots)
8 ounces pineapple drained and crushed
1 whole ripe banana mashed or 4 oz unsweetened applesauce
Browned Butter
12 ounces unsalted butter (after browning it should weigh about 10 ounces)
Cream Cheese Frosting
16 ounces cream cheese room temperature
6 ounces unsalted butter room temperature
10 ounces brown butter softened butter consistency
32 ounces powdered sugar
1 teaspoon vanilla extract
½ teaspoon orange extract (optional)
½ teaspoon salt
Instructions
Brown Butter
(It's best to do this the day before you bake) Place butter into a medium-sized saucepan over medium-high heat and bring to a simmer.

Whisk constantly (butter will foam up) and cook until the butter is a deep golden color

Pour the browned butter (do not strain) into a heat-proof container and let cool at room temperature overnight (or you can put it in the fridge to help speed up the process but stir every 20 minutes to prevent it from getting too hard. The butter needs to be soft but not melted.
Cake Instructions
IMPORTANT: Make sure all your ingredients are at room temp and you're using a scale to measure. Substituting ingredients may cause this recipe to fail. (see notes at the bottom of the recipe) 

Sift together flour, sugar, salt, baking soda and all the spices.

Mix together oil, melted butter, eggs and vanilla and blend into dry ingredients.

Add remaining ingredients and fold until combined.

Pour into three 8" cake pans that have been coated in cake goop (pan release). The layers will bake to about 1 ½" tall.

Bake at 350º F about 30 minutes. Test for doneness in multiple areas near the center with a tooth pick. If the tooth pick comes up dry with a few crumbs stuck to it, the cake is done. Let cakes cool in the pan for 15 minutes before turning out onto a cooling rack to cool the rest of the way. Cover with plastic wrap and chill before frosting. 
Cream Cheese Frosting
Cream the browned butter with the whisk attachment until smooth

Add in your softened cream cheese and whip together until smooth and no lumps are present

Slowly add in powdered sugar one cup at a time while mixing on medium until smooth

Add in your vanilla and orange extract and salt and mix until smooth.
Notes
Important Things To Note Before You Start
1. Bring all your ingredients to room temperature or even a little warm (eggs, buttermilk, butter, etc) to ensure your batter does not break or curdle. 
2. Use a scale to weigh your ingredients (including liquids) unless otherwise instructed (Tablespoons, teaspoons, pinch etc). Metric measurements are available in the recipe card. Scaled ingredients are much more accurate than using cups and help ensure the success of your recipe. 
3. Practice Mise en Place (everything in it's place). Measure out your ingredients ahead of time and have them ready before you start mixing to reduce the chances of accidentally leaving something out.
4. Chill your cakes before frosting and filling. You can cover a frosted and chilled cake in fondant if you wish. This cake is also great for stacking. I always keep my cakes chilled in the refrigerator before delivery for easy transporting. 
5. If the recipe calls for specific ingredients like cake flour, replacing it with all-purpose flour and cornstarch is not recommended unless specified in the recipe that it's ok. Substituting ingredients may cause this recipe to fail. 
6. Brown your butter the day before baking and leave it at room temperature so that it's the right consistency for making buttercream the next day. 
Nutrition
Serving: 8ounces | Calories: 1855kcal | Carbohydrates: 209g | Protein: 13g | Fat: 112g | Saturated Fat: 69g | Cholesterol: 339mg | Sodium: 856mg | Potassium: 361mg | Fiber: 3g | Sugar: 177g | Vitamin A: 7542IU | Vitamin C: 15mg | Calcium: 148mg | Iron: 3mg