This Sonic Cake Made For A Birthday Party Is Colorful, Fun And Easy To Re-Create
When my friend Kelsey asked me if I could create a Sonic The Hedgehog cake for her nephew, I totally jumped at the chance! The only downside? I only had one day to do it! I didn't want to compromise any of the decorations so we combined some designs we found online, choosing the ones that I knew would be easiest to re-create.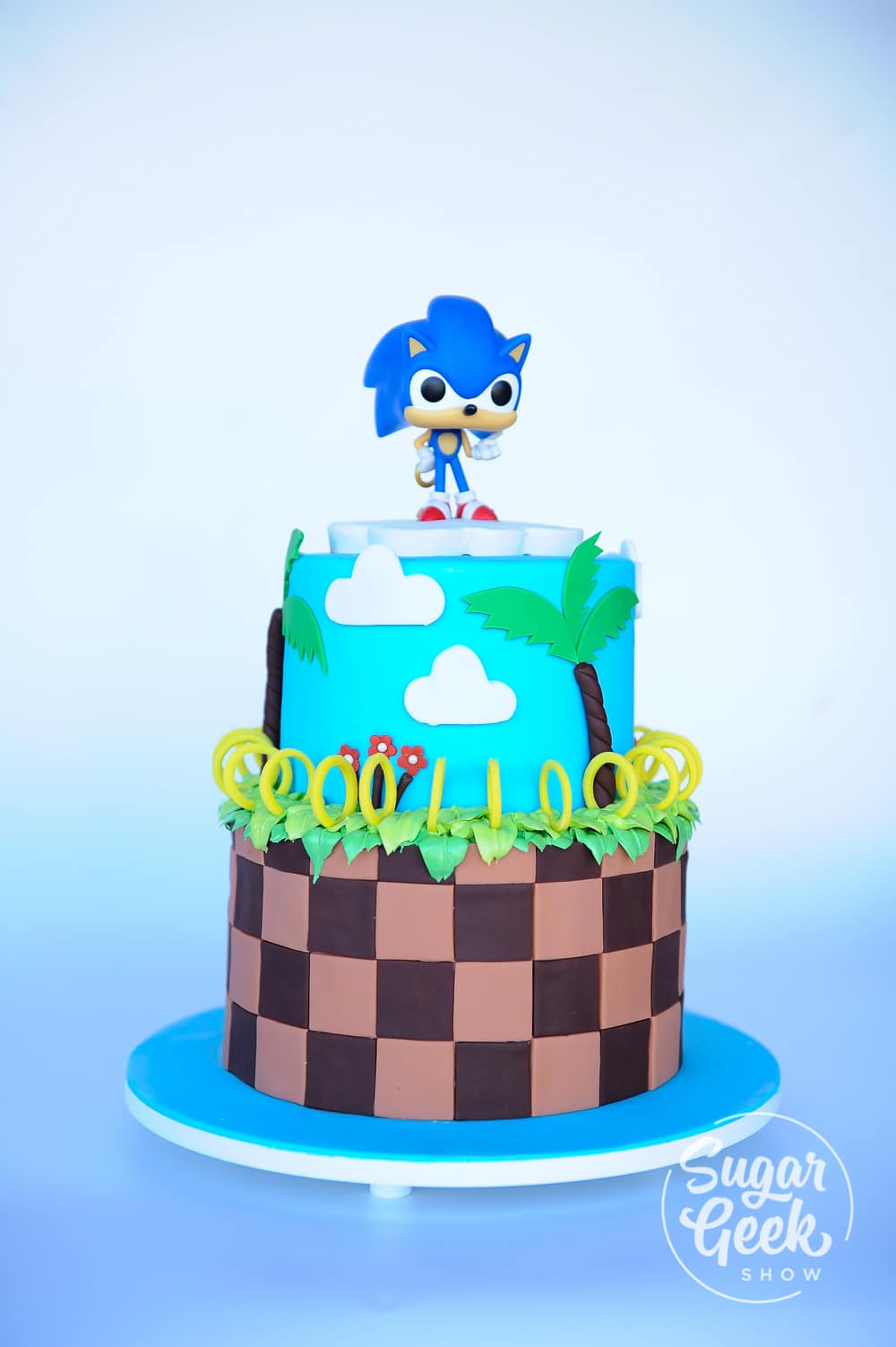 Edibles
2- 8" Blue Velvet Cakes (substitute green food color for blue)
2- 6" Blue Velvet Cakes
Easy Buttercream
White Fondant
Food Coloring- Electric Blue, Green, Orange, Yellow, Brown, Red
White Dragees
Structure
12" Cake board
2- 6" cardboard cake rounds
2- 8" cardboard cake rounds
Milkshake straws
Plastic Sonic Toy 
Tools
Offset spatula
Serrated knife
Rolling pin
Ex-acto blade
Scissors
Thin acetate smoother
Bench scraper
Cornstarch poof
Tylose powder
Fondant smoother
PME Geometric multicutter
1 ⅛" round cutter
1" round cutter
Small flower punch cutter
Medium leaf piping tip
2 small bowls
Parchment
Sonic Cake Ideas
Unfortunately I could not find the owners of these cakes since they came from pinterest and led to nowhere so if you do happen to know the creators, please let me know in the comments so I can link to them.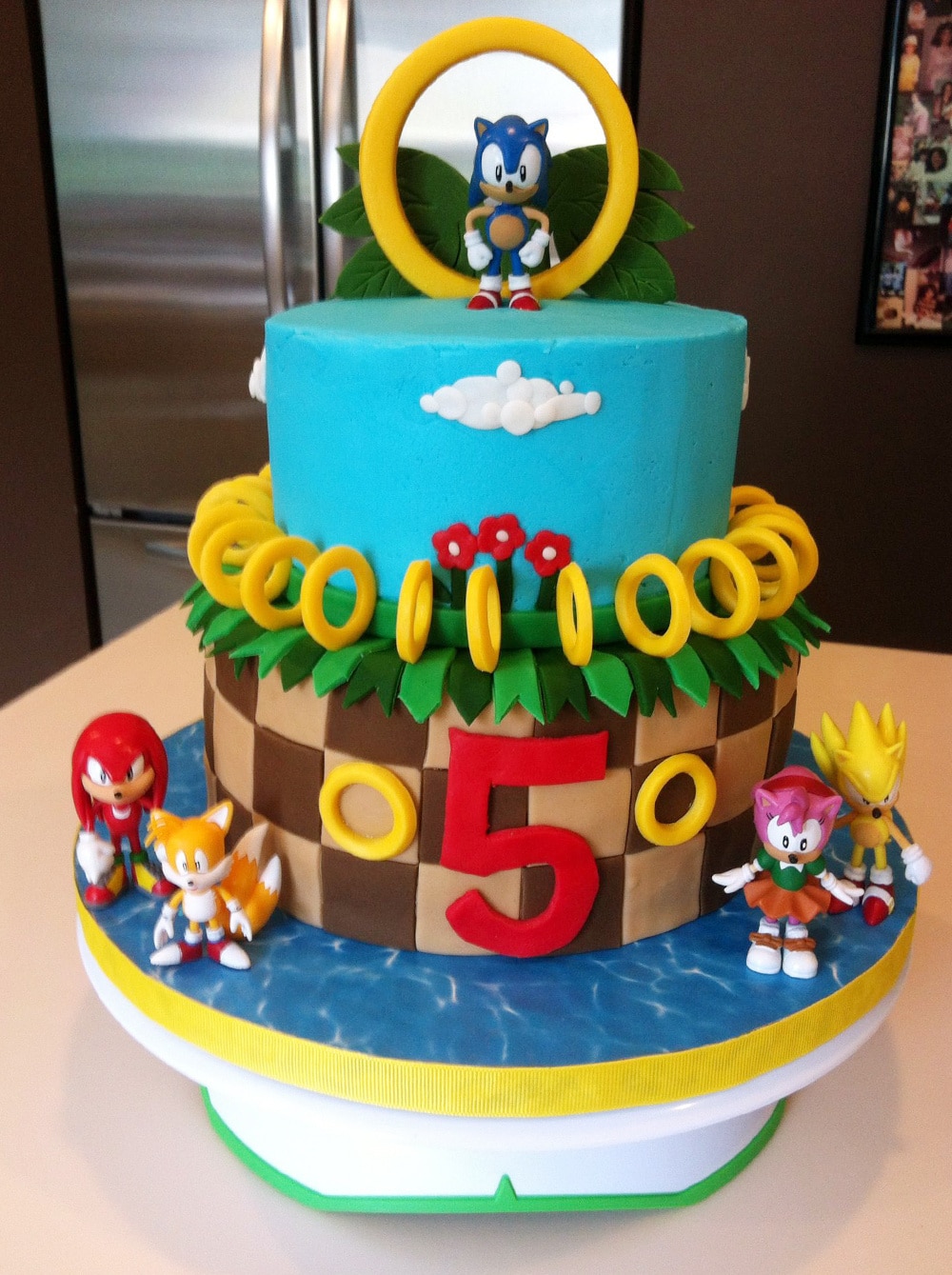 This is the main inspiration for the cake. The iconic brown squares, blue top tier, gold rings going around the tier and sonic topper makes this a great idea for a sonic cake.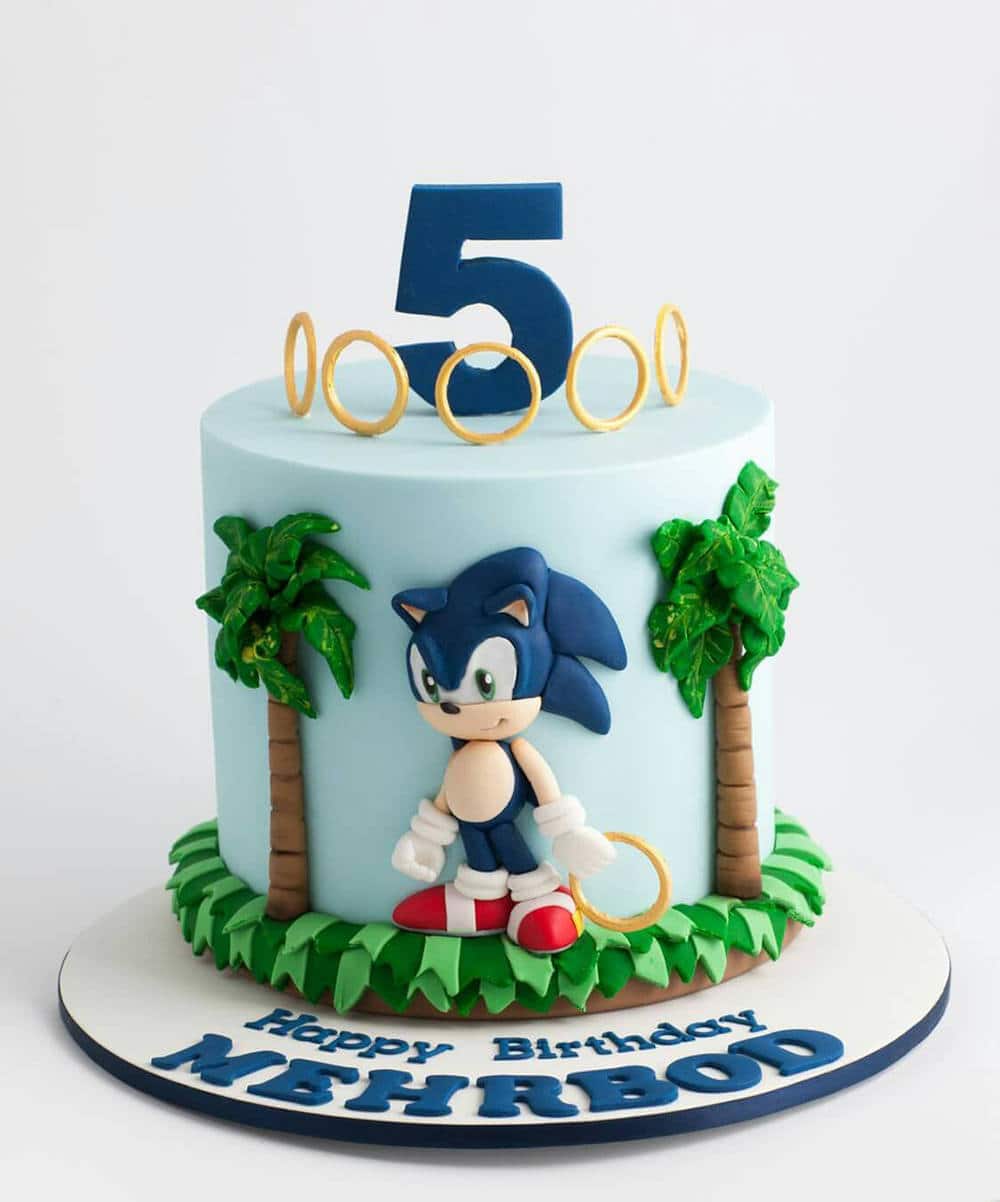 I also really liked the look of the palm trees on this cake and decided to incorporate some palm trees as well into my sonic cake design.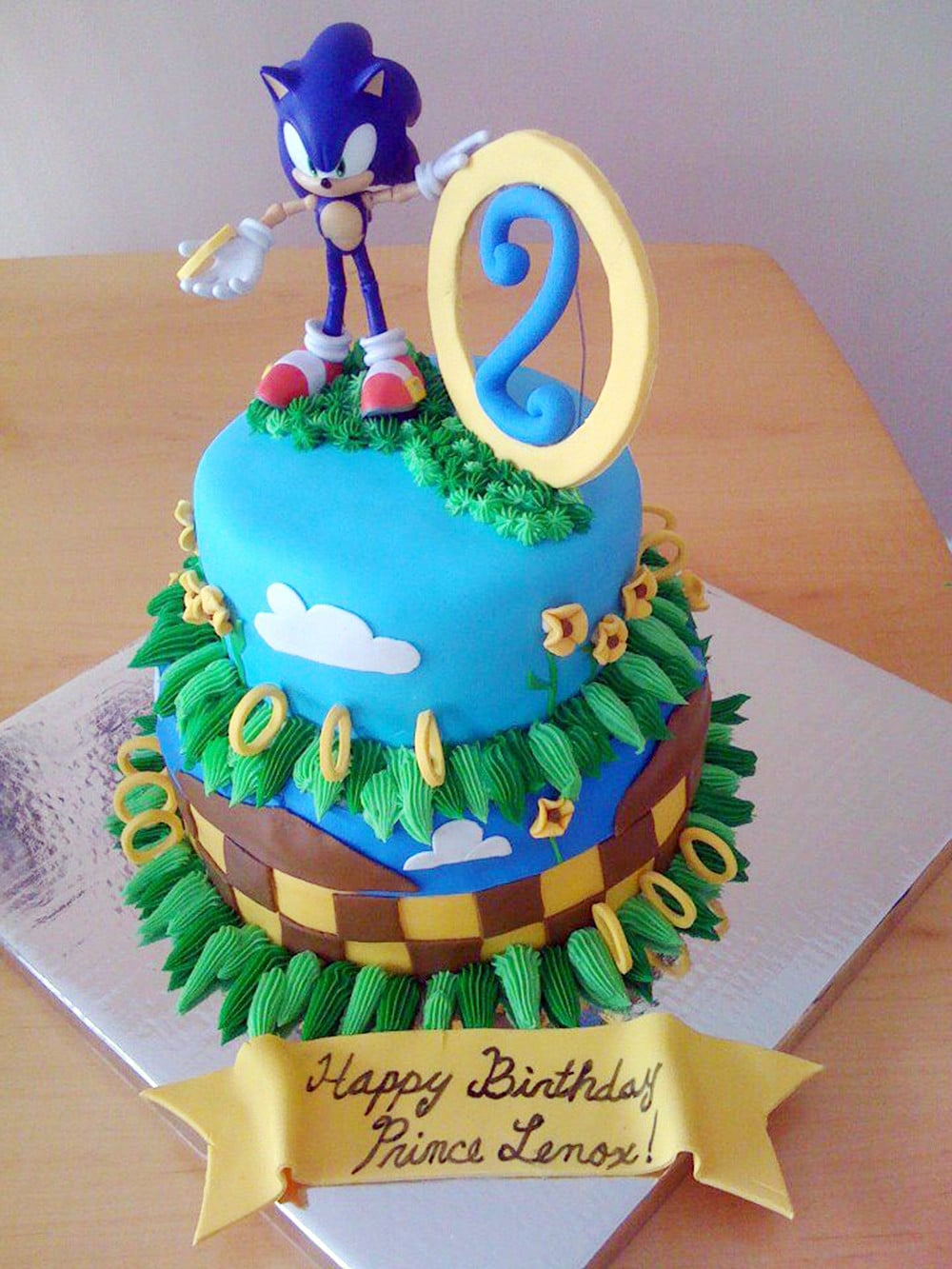 This is a super simple sonic cake featuring buttercream leaves and a toy topper. Since I only had a day to create my cake, I thought that might be the best bet for me as well but maybe put a little extra time into my leaves.
How To Make A Sonic Cake
We're not going to spend much time talking about stacking and frosting the cakes because I've talked about it so many times before, I don't want to bore my readers but if you need a refresher, you can learn how to cleanly stack your cakes in my cake basics series.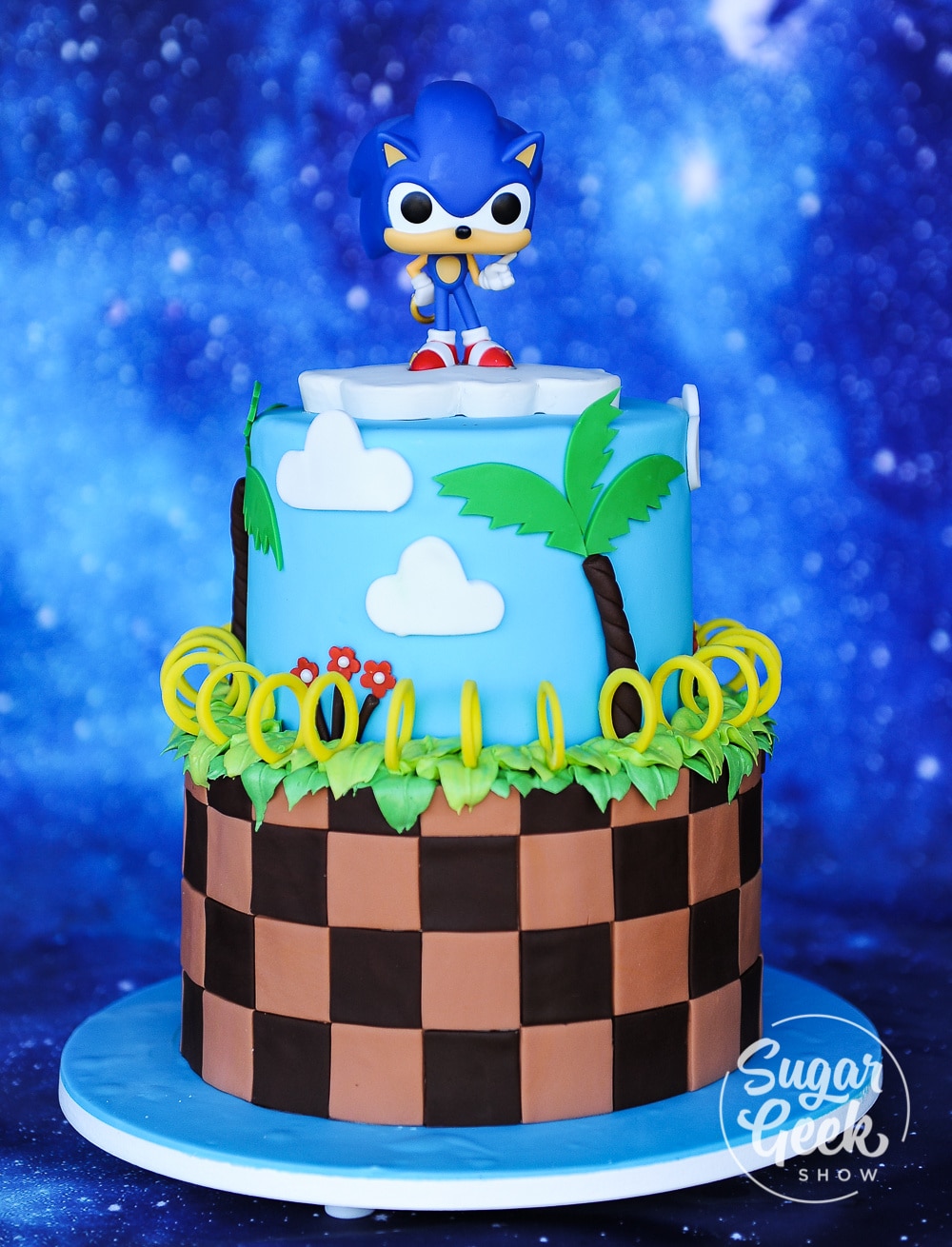 Once you have your cakes frosted and chilled, you want to bake your board. I like baking my board so that when I place my cake on top, it doesn't mess up the fondant. You can also must make your board ahead of time and let it dry naturally but of course it takes a lot longer.
Next I make all my decorations. The golden rings are just made from some marshmallow fondant with tylose powder added so that the fondant hardens up really quickly. I just rolled my fondant out pretty thin and using two circle cutters (one about 1 1/8″ and the other about 1″) to cut out the rings. Then set them aside to dry. Mine only took a few hours but overnight is usually the safest bet. If you're in a really humid area you can always make yours out of gumpaste.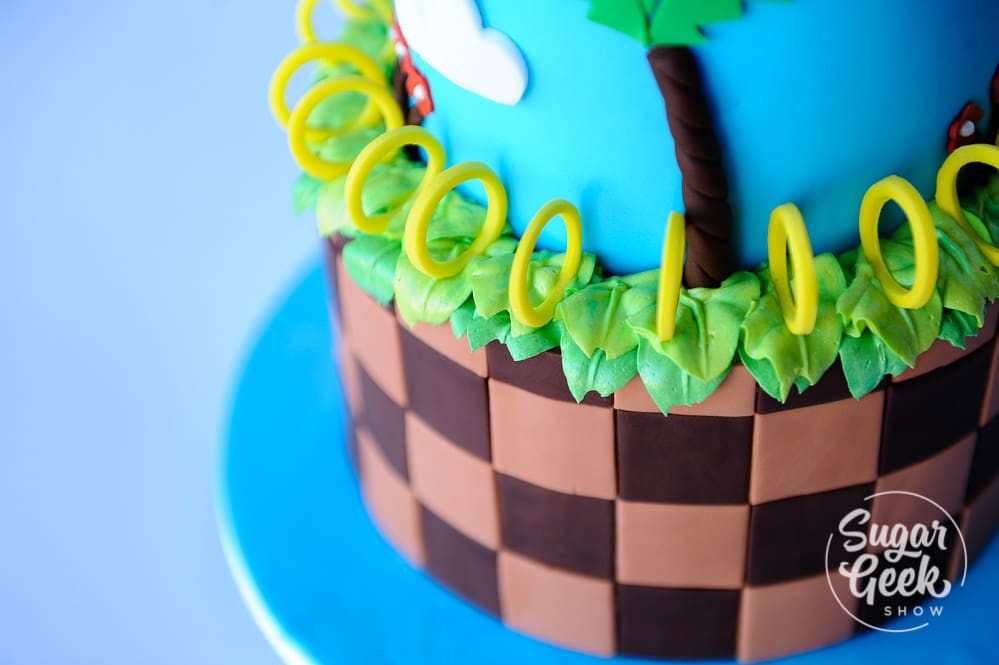 Next I make some palm tree leaves out of green fondant. I didn't even bother following a pattern. I just rolled out my fondant pretty thin, cut out a leaf shape and placed it onto a pan to dry. Fondant is always a lot easier to handle if you let it dry an hour or so before handling and placing onto the cake.
If your fondant is being really stubborn and you can't seem to cut a leaf out well, place the fondant on a cake board and pop it into the freezer for 5 minutes so it's easier to cut but beware, if you're in a humid area your fondant will sweat when it comes out.
Next cut out your flowers from some red fondant using a small flower punch. You can use any kind of flower cutter you have on hand but a punch makes it pretty easy.
Lastly cut out some clouds from some white fondant. I use a circle cutter to make some outlines and then cut them out but I'm pretty sure you could free hand a cloud.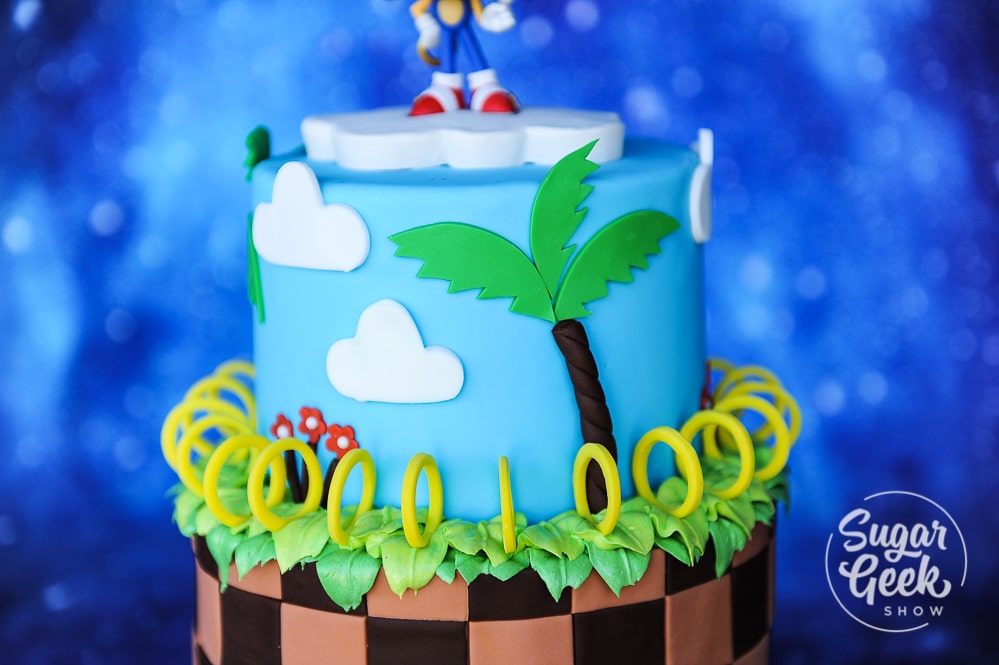 For the squares I use the PME Geometric Multicutter from the Cake Decorating Company but if you're not based in the UK you can also get them from Swank Cake Design or Amazon.
This cutter made making my squares for the bottom tier very easy. I simply cut out some light brown and dark brown squares and then set them aside to dry for a bit.
Once I had all my decorations made, I covered my top tier in some light blue fondant and decorated it with some fondant to look like a palm tree trunk. Then I added my leaves, clouds and flowers. A little white dragee in the middle of the red flower finishes the look.
I placed this cake in the fridge to chill while I worked on the bottom layer. For this one, it was just a matter of applying the squares to the cake in alternating colors. Took me about 15 minutes tops. I had to cut the top layer of squares in half to finish it but it was no big deal.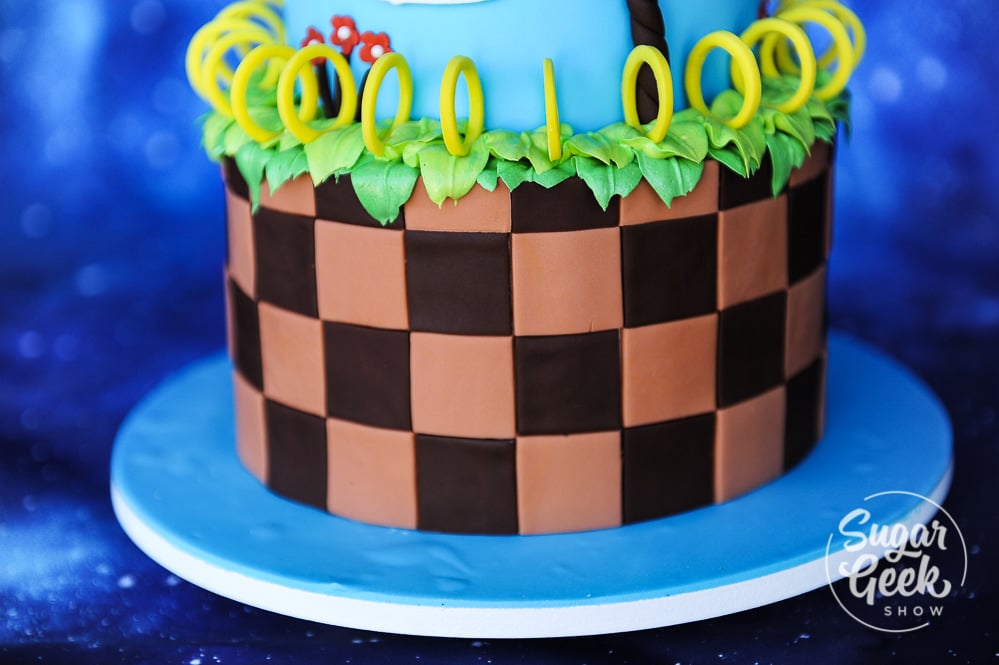 Then I stacked my blue tier on top of the square pattern tier using straws for support. I used a combination of light and dark buttercream and a leaf piping tip to finish the top layer. Once that was done I applied my dried golden rings going all the way around the cake.
The only left to do now is to place the topper. The toy topper was provided by my friend so it saved me time and her money because she didn't have to pay for me to make one by hand and I think it looked great. I used a couple of straws for support even though the topper was not that heavy but you can never be too careful!
Thats it! That's how we made an easy Sonic Cake. Make sure you watch the video below to see the full process with instructions and let me know what you think of this cake in the comments!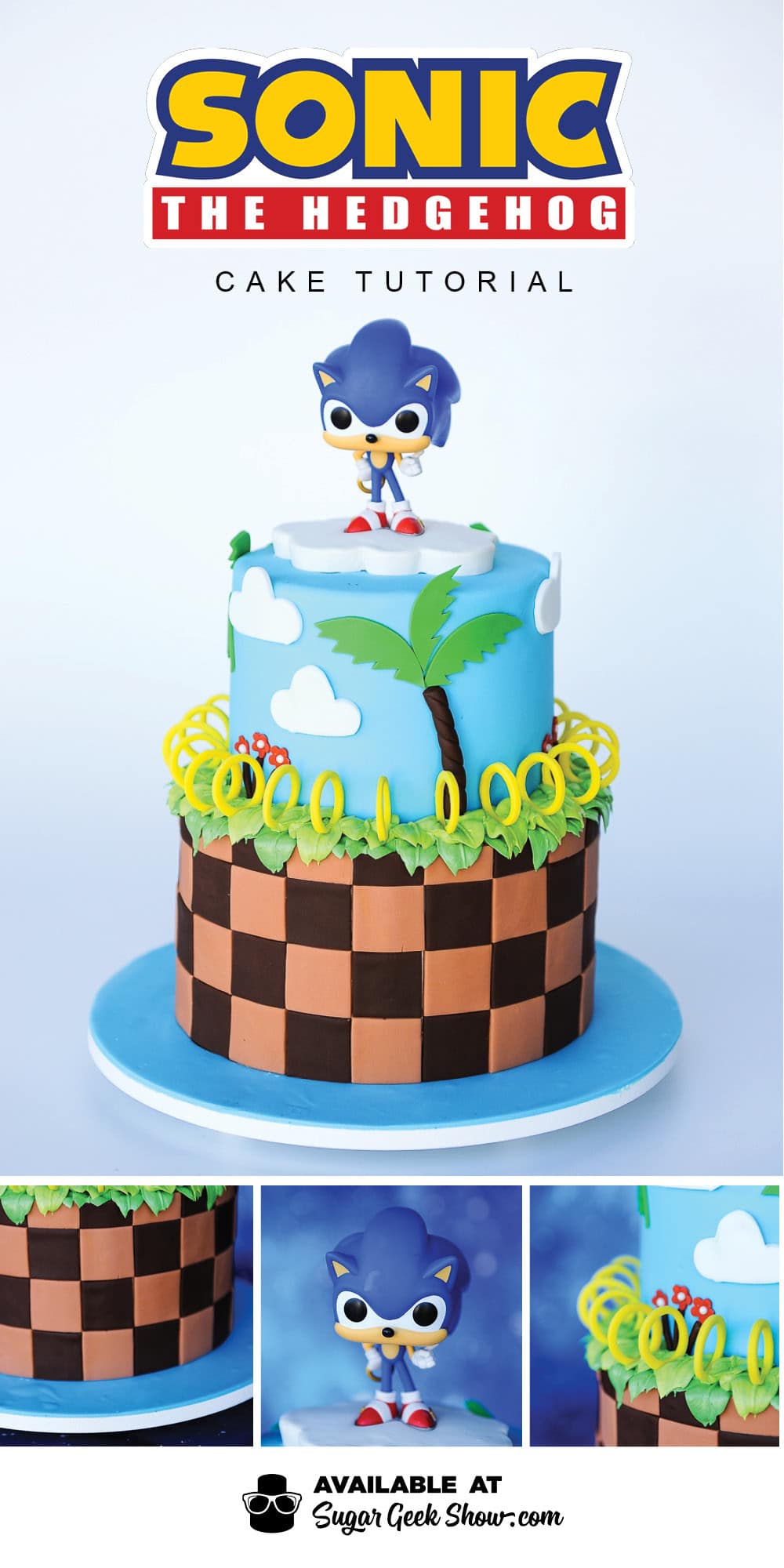 October 16, 2018