Liz's show piece for That Takes the Cake, Sugar Art Show & Cake Competition was nothing short of incredible. That Takes the Cake didn't know what hit them. From insane detail on every inch to a perfectly sculpted Mother Earth, this piece has it all. Winning 1st place as well as Best in Division is almost not good enough for this piece. They need a grander award when art like this walks through the door, buuut we'll settle for what they've got I guess. I'm kidding, that's only my opinion, Liz was beyond thrilled to win the titles and you'd think by now she'd be used to it, but it takes her by surprise every time and it's always an incredibly exciting moment.
First let's check out the crazy work in progress photos of this masterpiece.
The amount of work that went into this is astronomical, not to mention the sweat and probably tears. As shown above, Liz used her skull mold as a base to sculpt the face for this piece. You too can learn how to do this as a paid member by visiting the Face Sculpting with a Chocolate Skull Tutorial. But first, you'll probably want to purchase the mold at Decorate the Cake. She also has a small skull available there for figures!
Here you can see glimpses of her creative use of the geode technique shown in the Geode Love Cake Tutorial.
I had somebody mention to me that they thought there should be cake museums like there are museums for other art, what a cool concept right?! Somebody needs to start that because this piece definitely belongs in a museum.
These close up shots capture an extra beauty that almost gets lost when looking at the piece as a whole.
And of course, Liz happily beheading Mother Earth.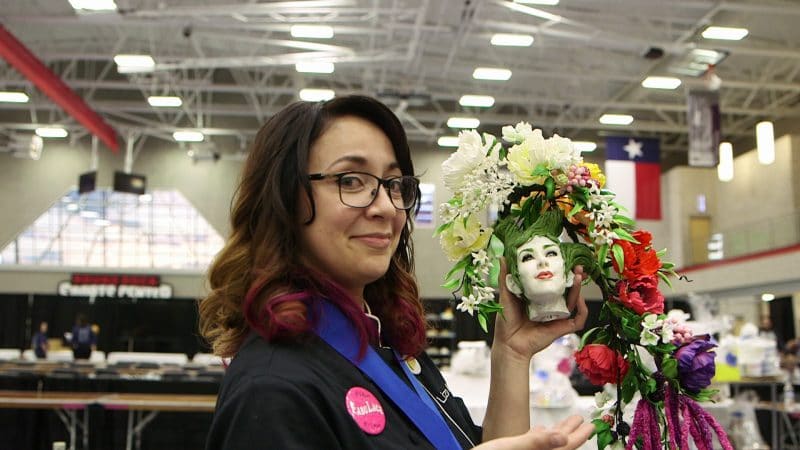 As always, if you haven't already, you should Sign Up to be a Premium or Elite Member to access these tutorials as well as every other tutorial Liz has ever made and every tutorial she will make in the future. Two new paid tutorials are released each month packed full of learning goodness!