How to make a perfect chocolate drip with any kind of chocolate
A lot of people ask me how to make a chocolate drip for their drip cakes. I normally use water ganache for my drips with white chocolate and food coloring. This makes some colorful drips but sometimes you want a nice decadent chocolate drip.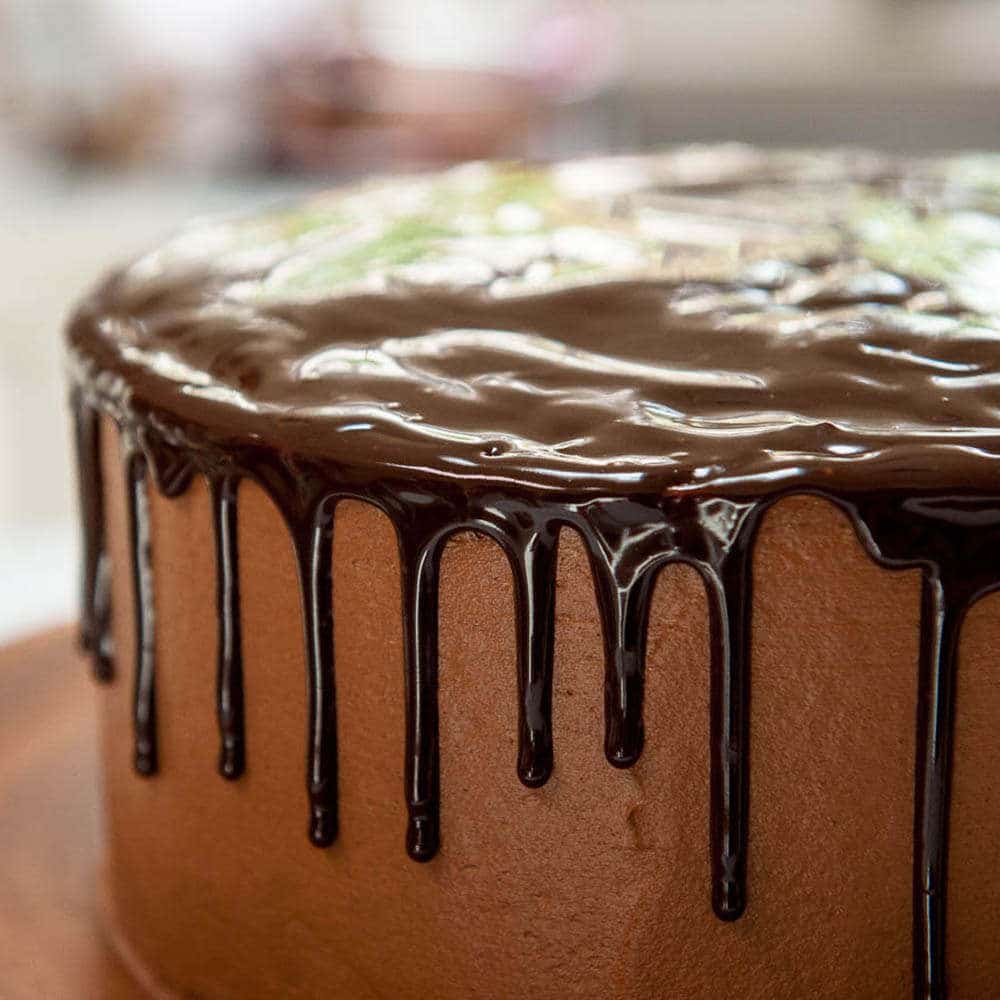 Drip cakes seem to be the new naked cake and are very on trend right now. Getting the perfect drip can be frustrating if you're a drip cake novice. But don't worry, I'm going to break it down for you and teach you how to make the perfect chocolate drip.
If you've never made a drip cake, don't worry. It's not very complicated at all. I often notice in my cake newbs cake decorating group that people have the most problems with the consistency of their drip. Either too thick or too thin.
A chocolate drip that is too thin either contains too much liquid or is too hot
So let's dive into those two problems and how to avoid them when creating the perfect chocolate drip
Chocolate drip made with heavy cream and chocolate
The most popular type of drip is made with chocolate and heavy cream. If you try to simply melt down chocolate and drip it on a cake, it will look very thick and the edges will not smooth out. The reason for this is chocolate by itself is not very liquid and as soon as it hits a cake, it starts to harden.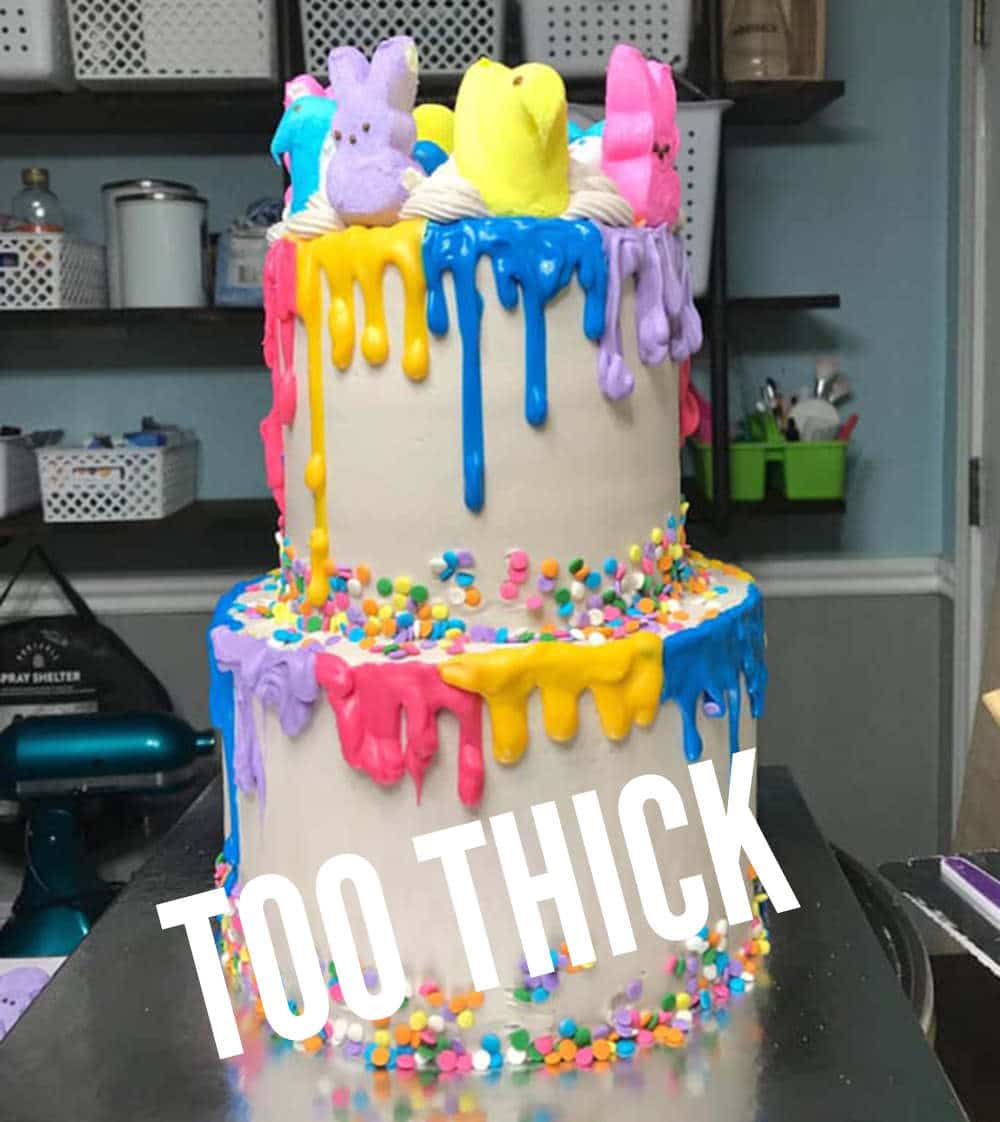 Chocolate needs some liquid to make it easier to drip. The most common form of liquid used is heavy cream. When you mix heavy cream with chocolate you get something called a ganache. Ganache creates a beautiful drip, sets firm enough to not be liquid but is still soft when you cut into it.
Here is the same cake with a ganache drip instead of just straight melted chocolate. Thank you to Sharp's Sweets for the photos!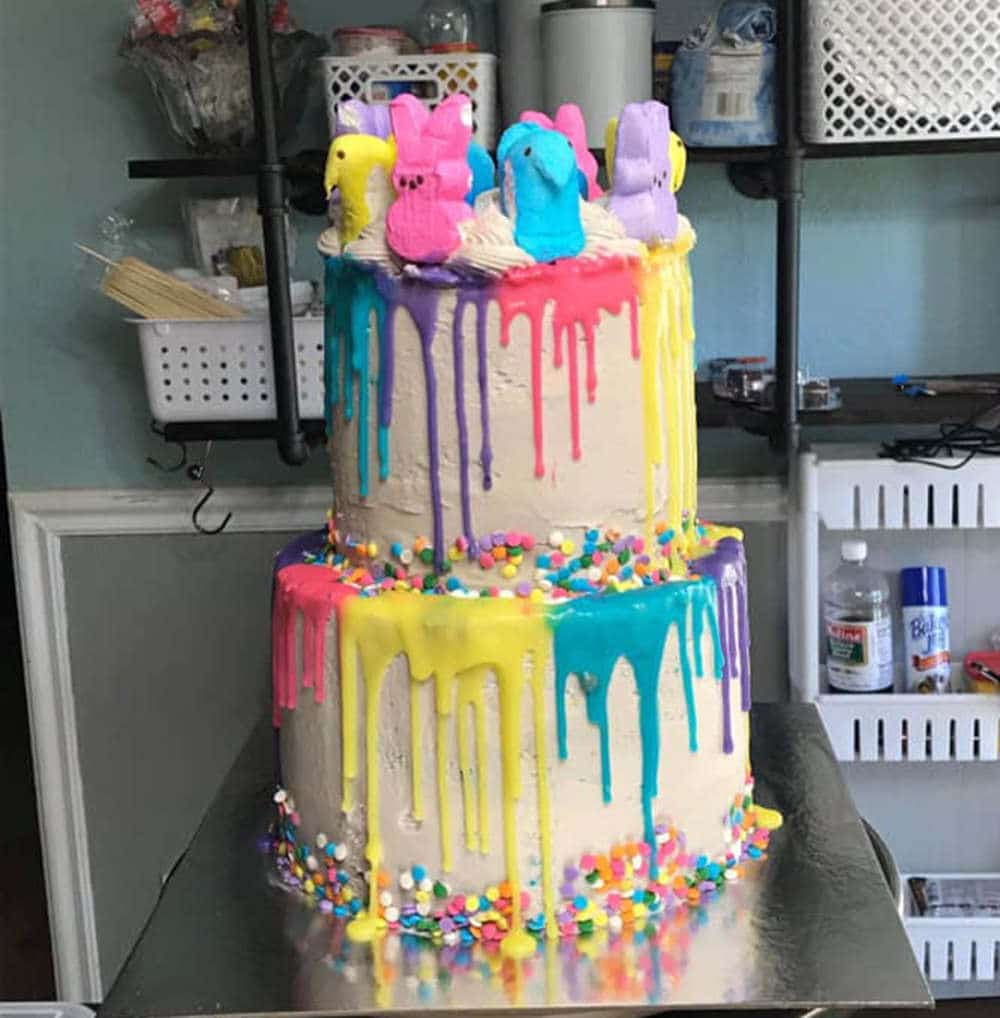 Depending on the chocolate you use, you will need to adjust the amount of cream you add. This is VERY important. The darker the chocolate, the more cream you will need. It doesn't matter where you get your chocolate from. It can be chips, melties or from a bar. I like to use mini chocolate chips because they melt easier.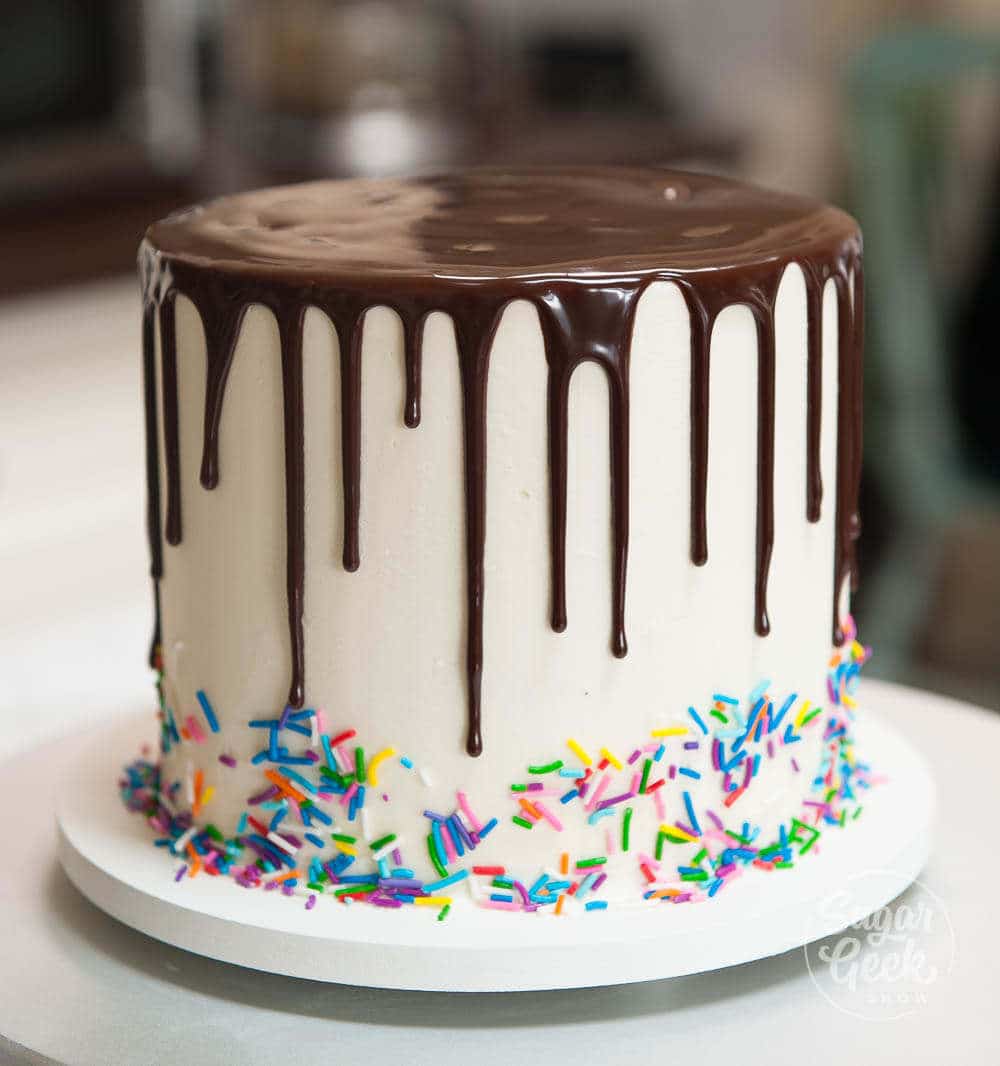 Dark chocolate or semi-sweet chocolate drip recipe
6 oz dark chocolate or semi-sweet chocolate
4 oz heavy cream
This ratio results in a perfect ganache drip and is what I used for my easy chocolate cake and my banana split cake. The chocolate stays very shiny.
Milk chocolate drip
6 oz milk chocolate
3 oz heavy cream
I don't usually use milk chocolate for a drip because of its light color but if it's all you have, or you prefer milk chocolate, you can use this ratio.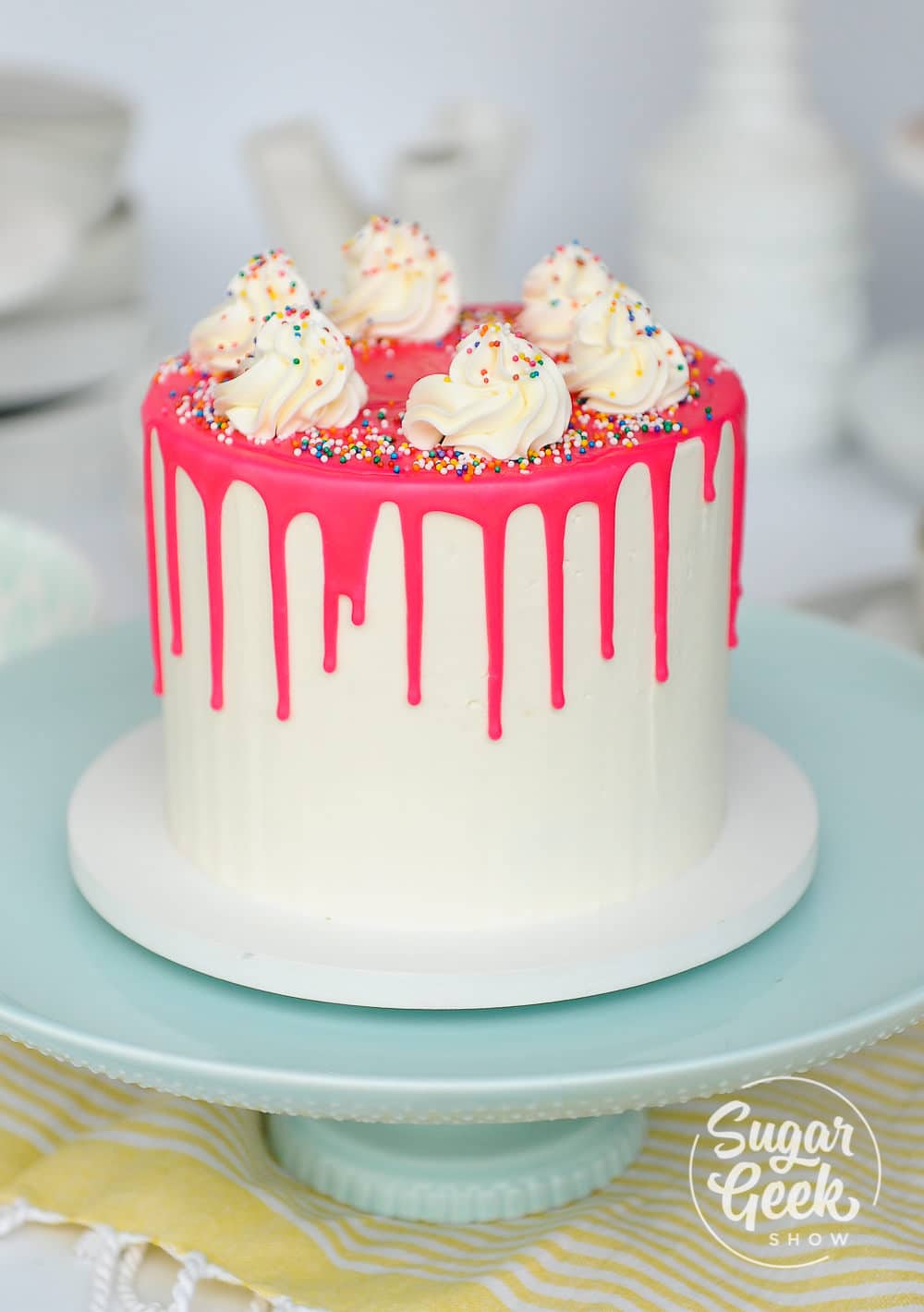 White chocolate drip
6 oz white chocolate
2 oz heavy cream
You can see that this ratio uses very little cream. Because white chocolate is a lot softer than dark chocolate. You can easily color your white chocolate drip by adding a drop of food coloring gel to the finished ganache. You do not need to use special food coloring for the ganache.
If your white chocolate drip is too transparent (you can see through it) you can add a drop of white food coloring to make it more opaque.
If you don't have any heavy cream on hand, you might want to try my water ganache drip which in my opinion makes the BEST white chocolate drips.
How to make a chocolate drip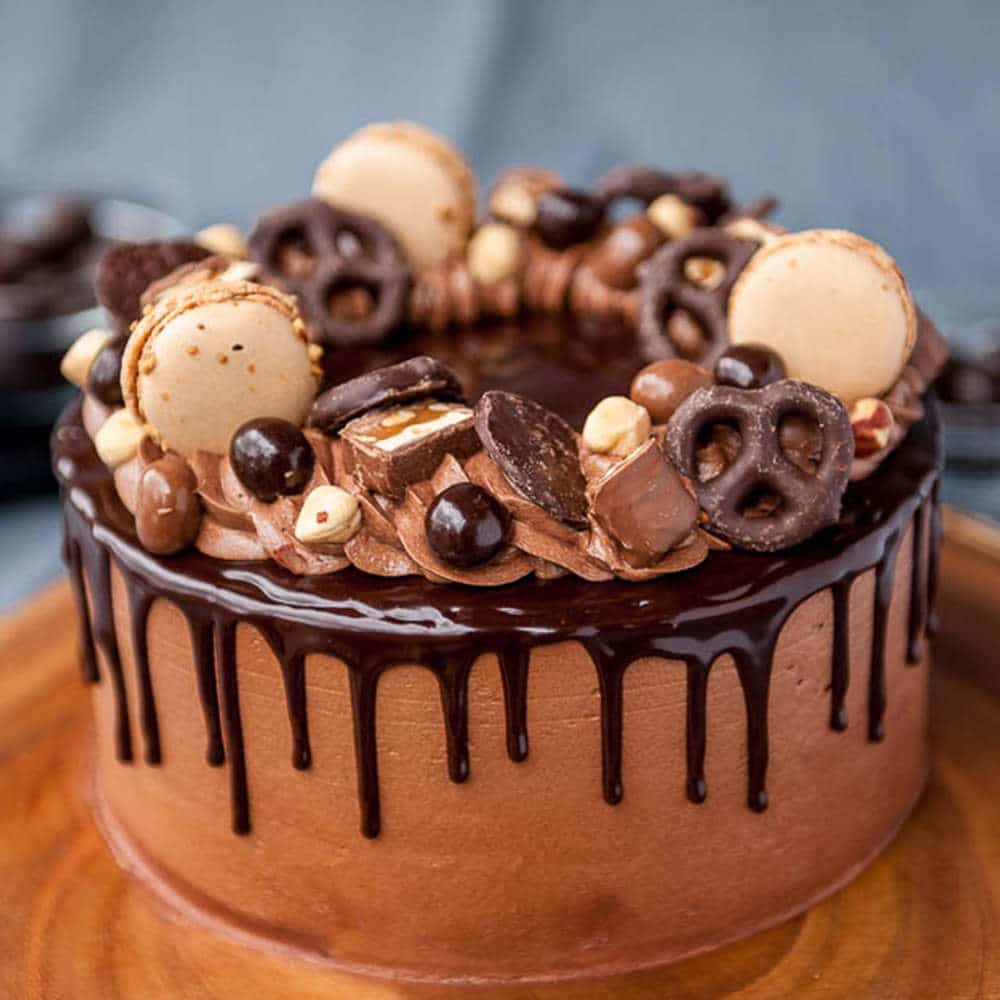 Ok so you have your chocolate and you know how much cream to add. Now let's make our ganache drip. Because we are using such a small amount of cream and chocolate, I like to use the microwave but you can also use a saucepan and a stove top if you prefer.
I heat my cream in the microwave for about 1 minute or until I can see some steam rising off the surface. Same thing applies to heating on the stovetop. DO NOT BOIL! This will make your cream too hot and will cause your ganache to be grainy.
Then I microwave my chocolate for about 1 minute just to get it warm. I'm not trying to melt the chocolate at this point.
Then pour the hot cream over the warm chocolate and let sit 2-3 minutes.
Whisk the two together. If there are some un-melted lumps, pop back in the microwave for 30 seconds and whisk again until smooth
Don't over mix or you will incorporate air into the ganache.
You can now add your coloring.
Tips for a successful chocolate drip
So now we have our ganache made but we're not ready to drip quite yet! If you put the hot ganache on your cake your drips will run all the way to the bottom of the cake or melt your buttercream.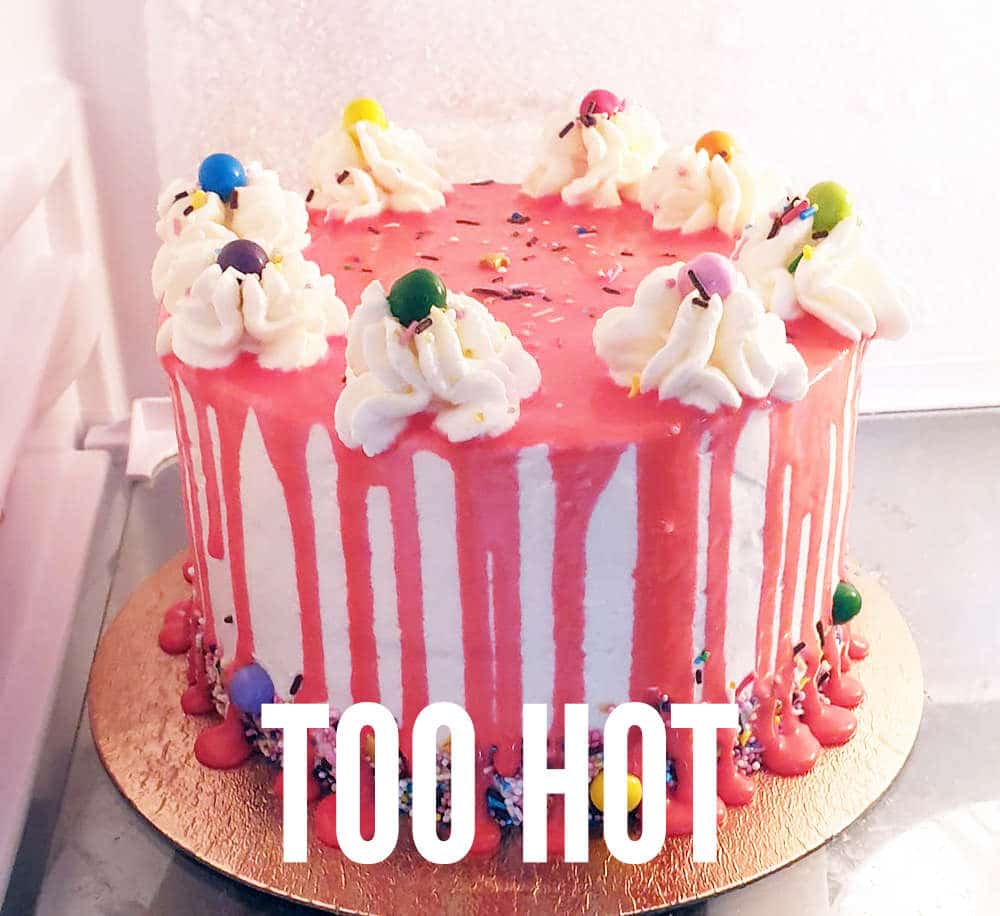 Make sure your cakes are chilled in the fridge for 20 minutes before applying your drip. The cold cake will help set the chocolate and keep it from dripping too far down the sides.
Let your chocolate ganache cool until it feels just barely warm to the touch. It should not feel hot.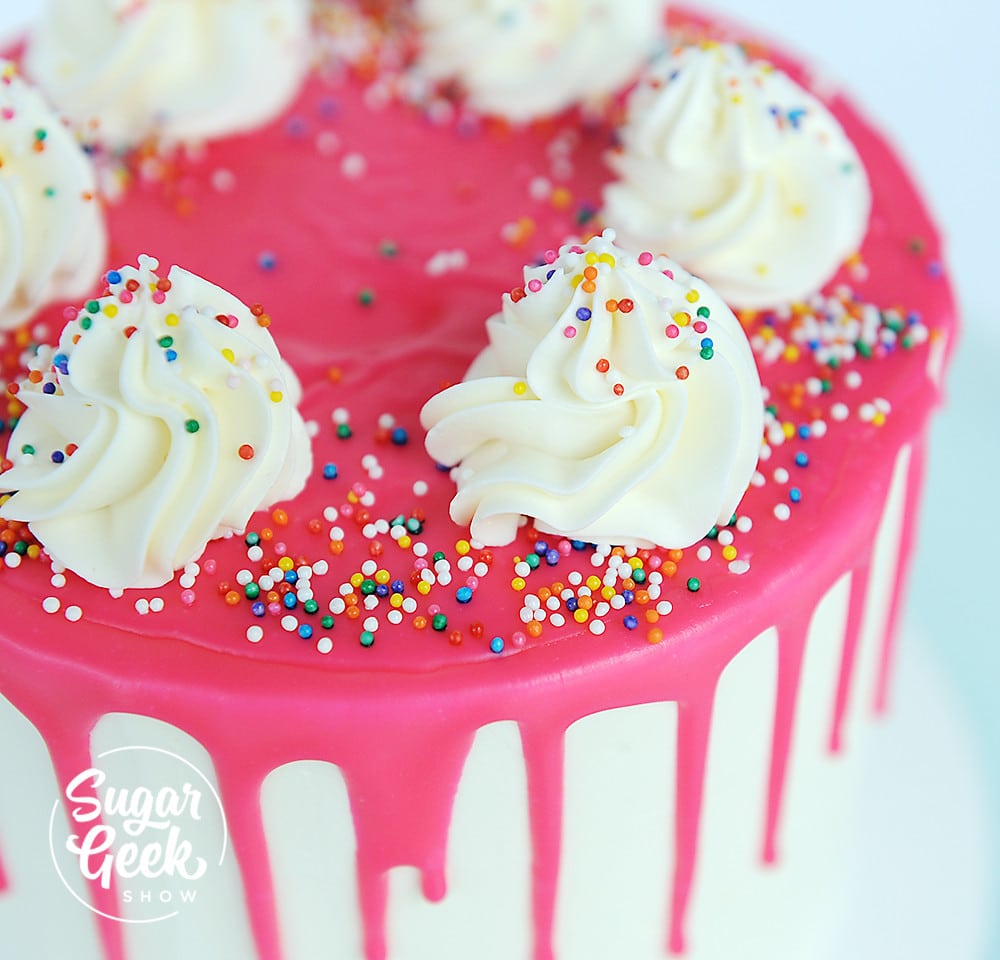 The best tools for applying a chocolate drip
There are a lot of ways you can apply a chocolate drip to the cake. You can use a piping bag (my favorite) a plastic bottle or even a spoon. Each tool will create a slightly different look. A piping bag produces very thin drips. A spoon will have a more natural look. Either is ok!
Make sure you have an offset spatula or spoon on hand to smooth out the top of your cake as soon as you're done piping your drip.
How to create perfect drips
As I said, I like to use a piping bag for my drips. I place the piping bag into a cup and fold the top edges over the cup so I can fill it with chocolate easily. Then I snip off the tip. Not too big because I don't like big drips.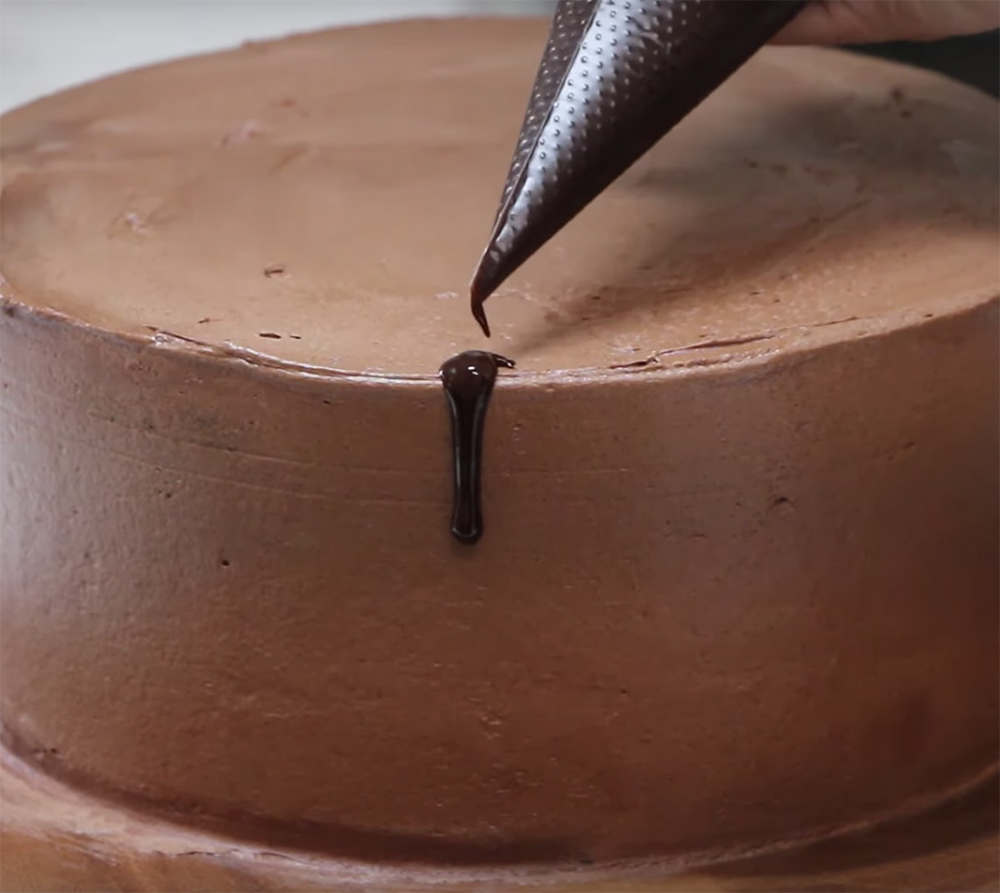 Do a test drip. Pipe a small amount on the edge of your cake and see if the consistency looks right and stops dripping about halfway down the cake. If it's too thin and looks flat on the cake, your ganache might be too hot or too thin.
If the ganache is very thick and doesn't drip at all, it could be too color or not thin enough. Now is the time to make adjustments. It's a lot easier to remove one bad drip from your cake then cover the whole thing, realize it's wrong and start all over again.
To make a perfect drip I start by piping a big drip by squeezing the piping bag gently, then I stop squeezing and move my piping bag over without lifting it from the cake. This drags the chocolate over. Then you can squeeze a little less to create a smaller drip. Keep alternating a big squeeze with a little squeeze to create an alternating drip look.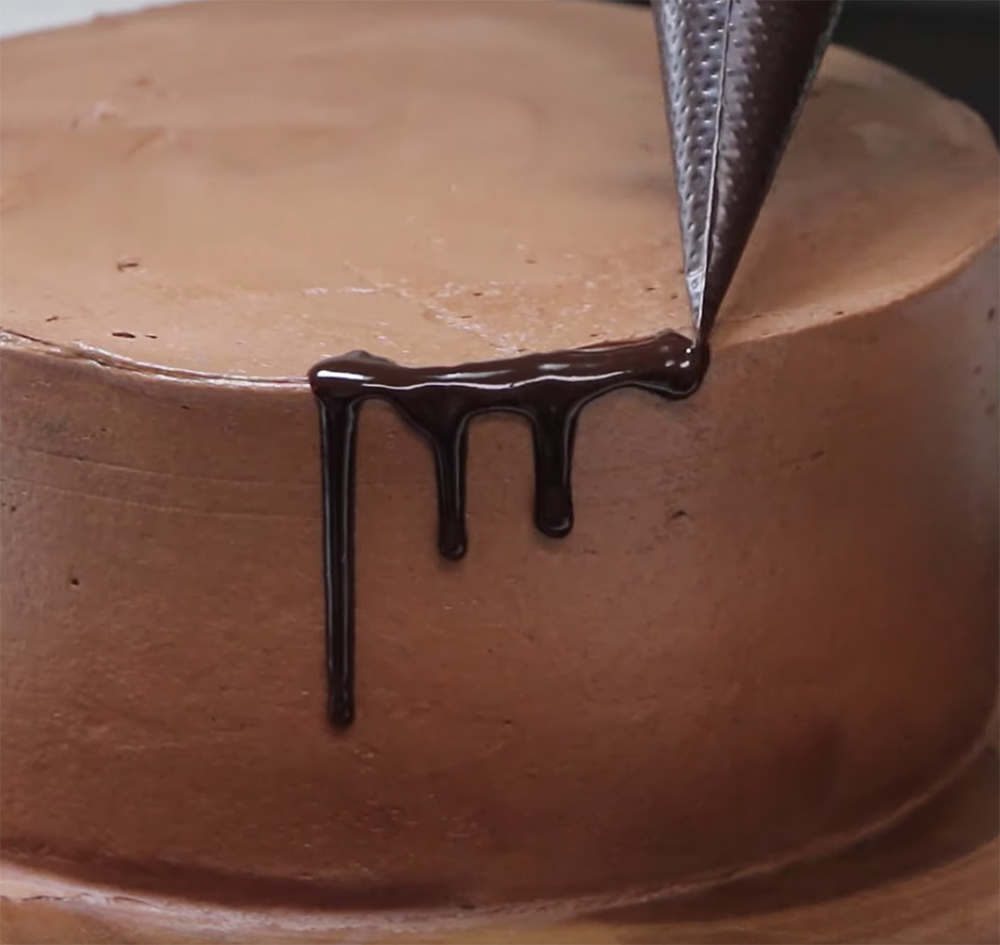 If you want all your drips to be the same, pipe your first drip then move over a little and pipe the same amount. It takes some practice to make these drips exactly the same. I often see these precise drips used on trendy sprinkle drip cakes.
So that's how you make a perfect chocolate drip for your drip cakes! I hope this clears up all of your chocolate drip fears and your next drip cake is a total success! Check out my video below on how to make chocolate drips!
Cake Batter and Frosting Calculator
Select an option below to calculate how much batter or frosting you need. Adjust the servings slider on the recipe card to change the amounts the recipe makes.
Choose a pan type
Choose a cake pan size
(based on 2" tall cake pan)
Choose a cake pan size
(based on 2" tall cake pan)
Choose a cake pan size
(based on 2" tall cake pan)
Cups of Batter Needed
8 cups
Cups of Frosting Needed
5 cups
Recipe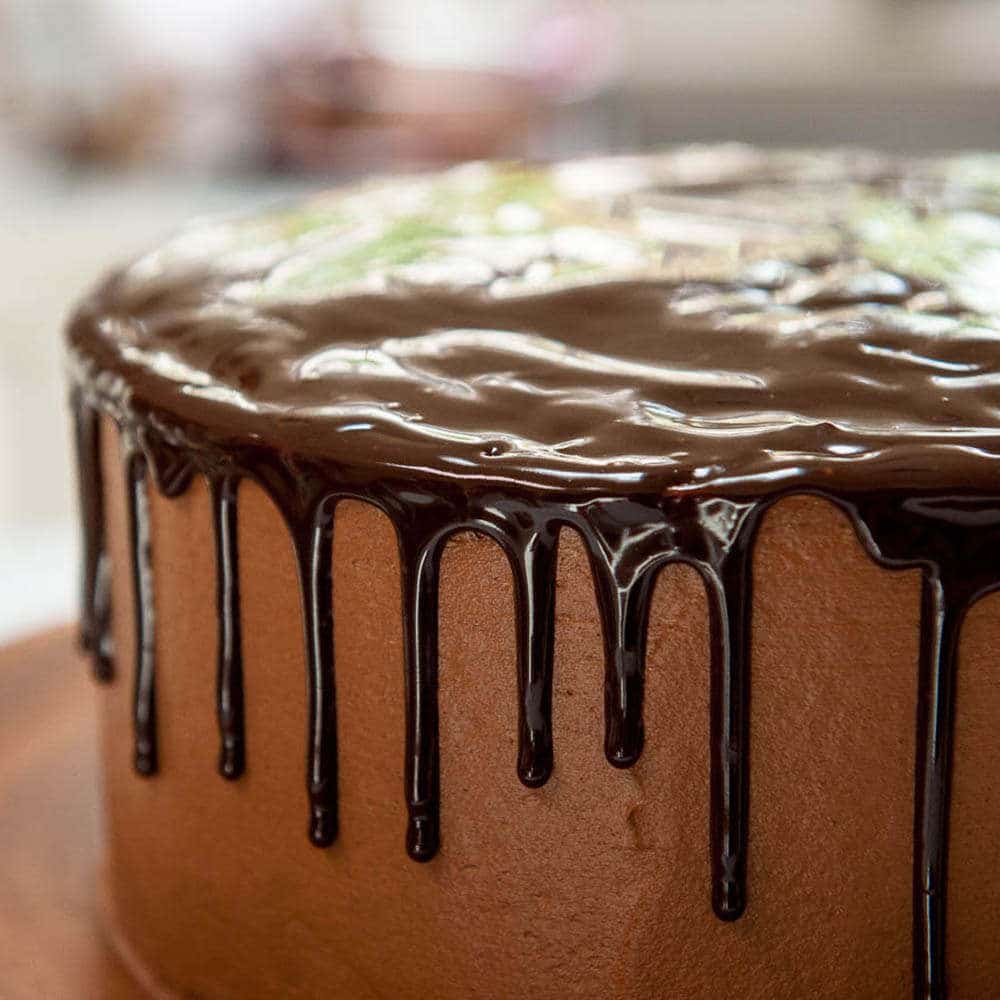 Servings: 10 oz
Calories: 137kcal
Ingredients
Chocolate Drip
6 oz semi-sweet chocolate or dark chocolate
4 oz heavy whipping cream
Instructions
Chocolate drip recipe
Heat cream until just steaming and pour over chocolate. Let sit 5 minutes then whisk until smooth. Let cool until slightly warm to the touch before piping onto your CHILLED cake.
Nutrition
Serving: 1oz | Calories: 137kcal | Carbohydrates: 9g | Protein: 1g | Fat: 10g | Saturated Fat: 6g | Cholesterol: 16mg | Sodium: 6mg | Potassium: 104mg | Fiber: 1g | Sugar: 6g | Vitamin A: 175IU | Calcium: 18mg | Iron: 1.1mg