**This post contains some affiliate links which means I might make a few pennies if you click on the link but it's no extra cost to you.
Why did I throw my five-year-old an Animal Crossing Birthday Party? Like a lot of people stuck at home in 2020, I downloaded the popular Nintendo Switch game, Animal Crossing to help pass the time. I had no idea how completely and utterly addicted I would become. The best part? The game is simple enough that my five-year-old daughter, Avalon could play it with me.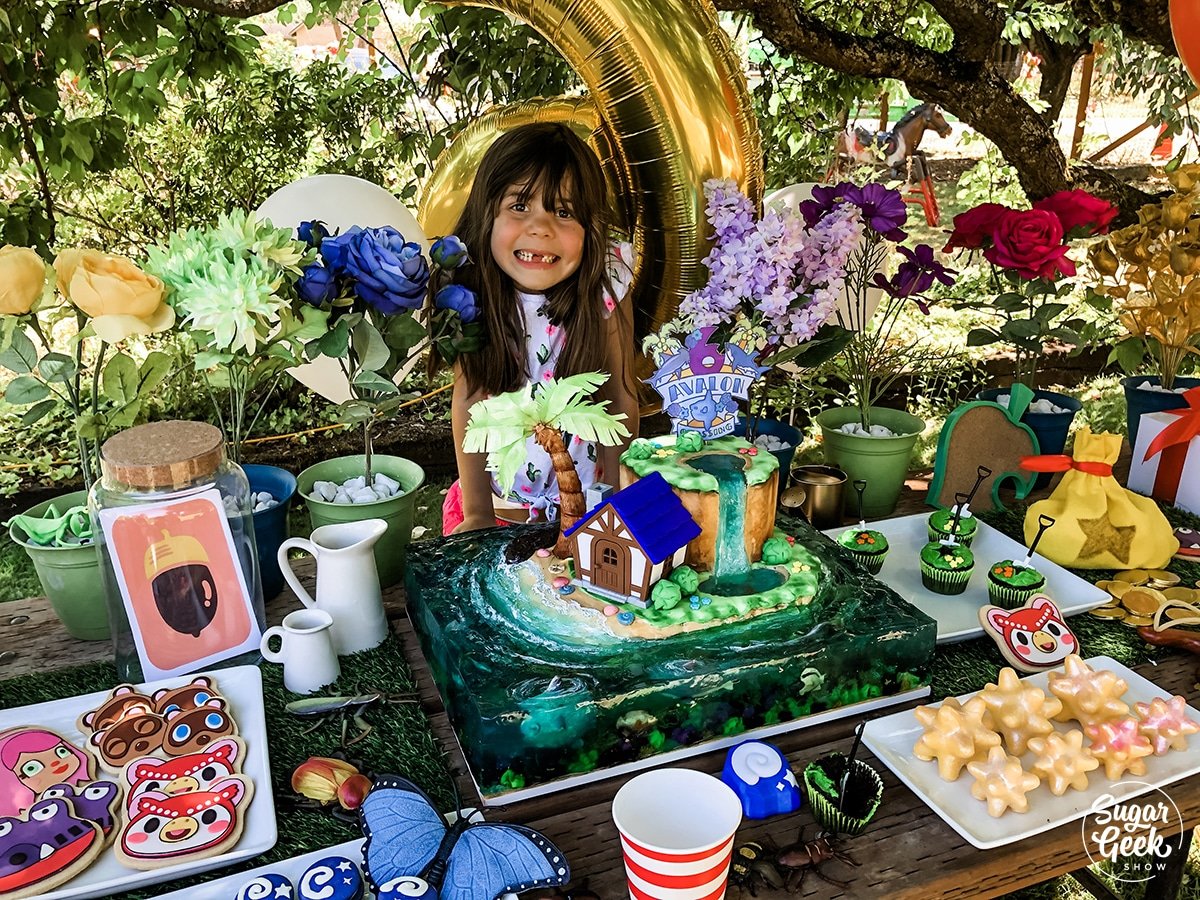 Avalon has always been REALLY into bugs, fish, and dinosaurs. So when she saw me hunting for fossils, fishing for sharks, and catching bugs, it wasn't long before she was asking me to play too.
I wasn't sure if the game mechanics would be too complicated for her since she had never used a video game controller before but to my surprise, she caught on really quickly.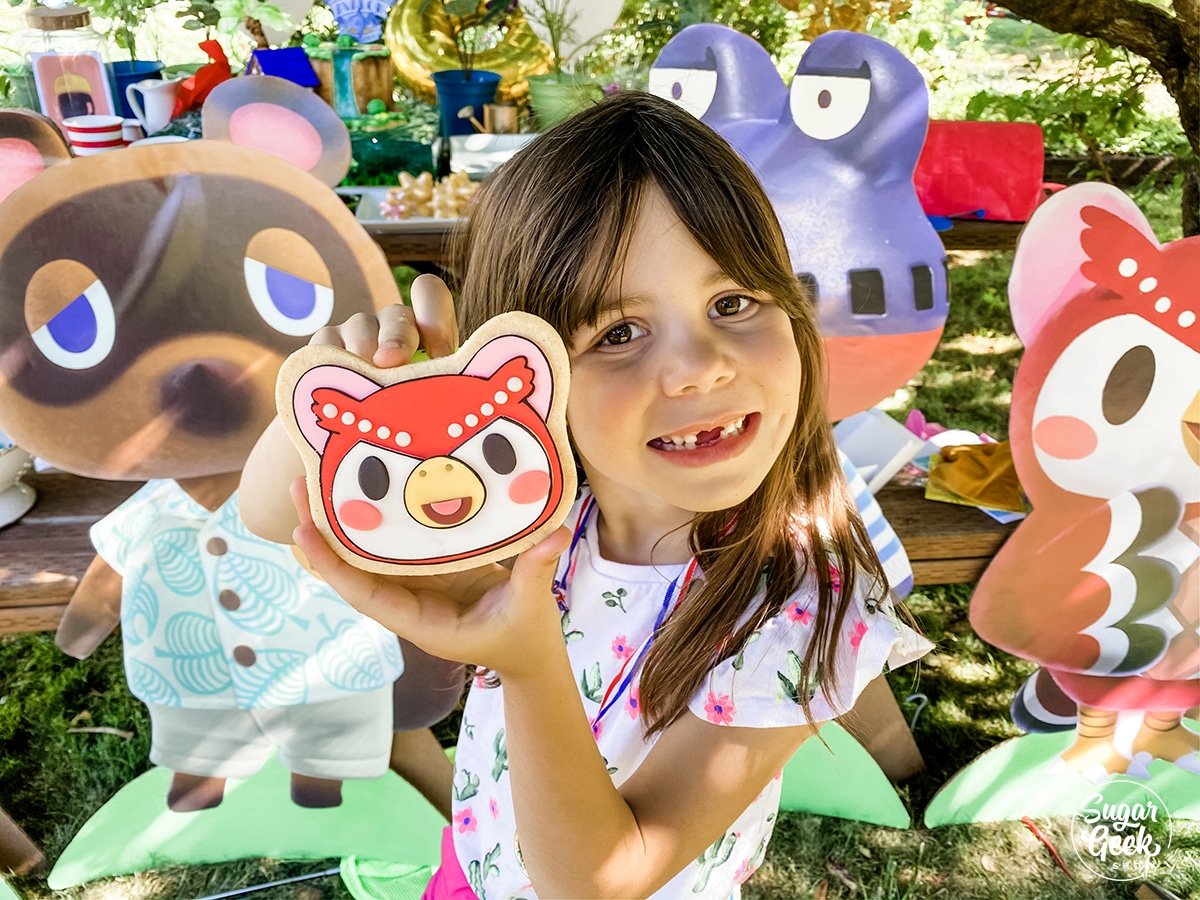 For months, we played the game together while the world around us came to a stand-still. When we began self-quarantining in March, I thought for SURE everything would be over by August. I had originally planned a birthday party at the near-by skate park that was going to be Ninja Turtle themed. Nope. I was wrong. Things had not calmed down by August and all the parks were still closed. So I had to re-think her party location and the theme.
I asked Avalon if she would like an Animal Crossing New Horizons birthday party and she immediately screamed YES! I only had about ten days to plan everything so I began planning the most epic Animal Crossing Birthday party ever!
Deciding On A Location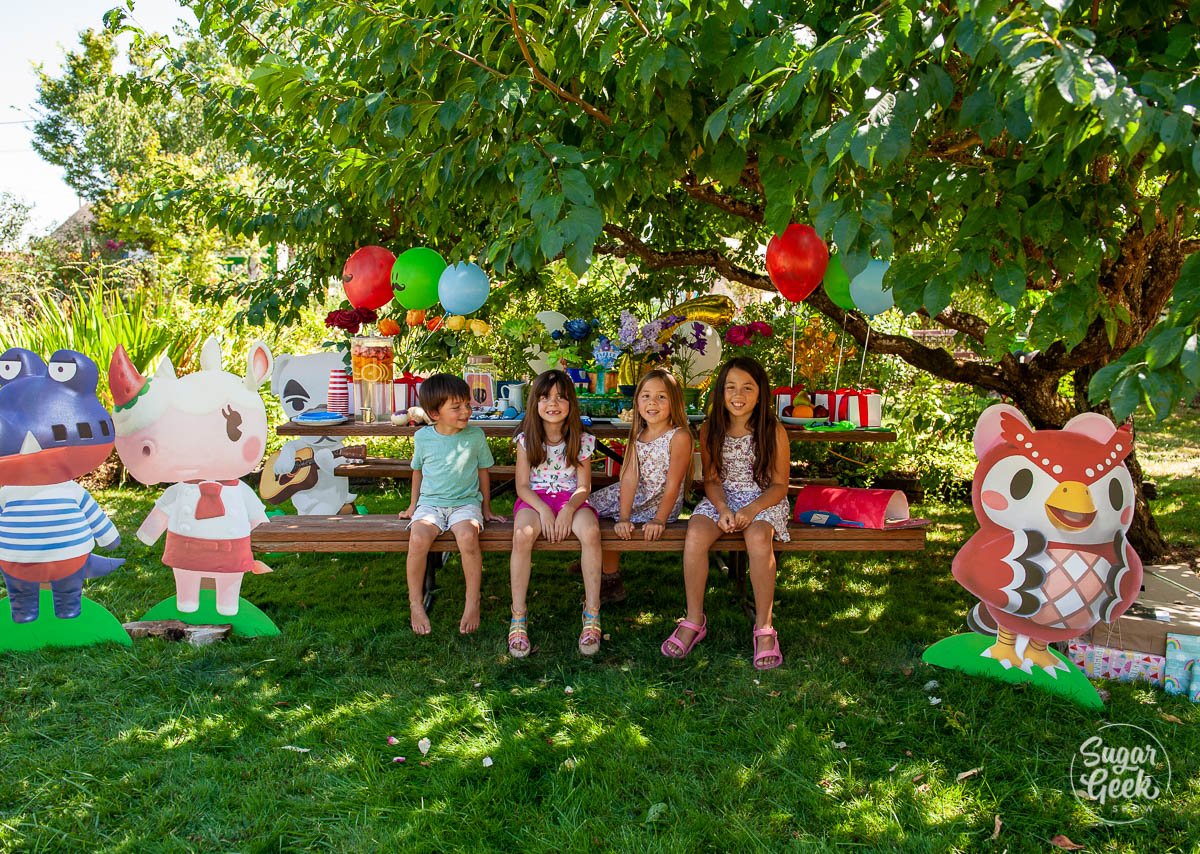 Since I knew the parks where all closed and indoors wouldn't really match the aesthetic of Animal Crossing, I decided to have the party at my Dad's house (where my Sister also lives). Guest would include my sister and her four kids who had also been home since March so I felt like this was a safe decision.
My Dad's yard is full of beautiful grass, trees, and pretty bushes so it was the perfect backdrop for an Animal Crossing party.
Animal Crossing Birthday Cake Ideas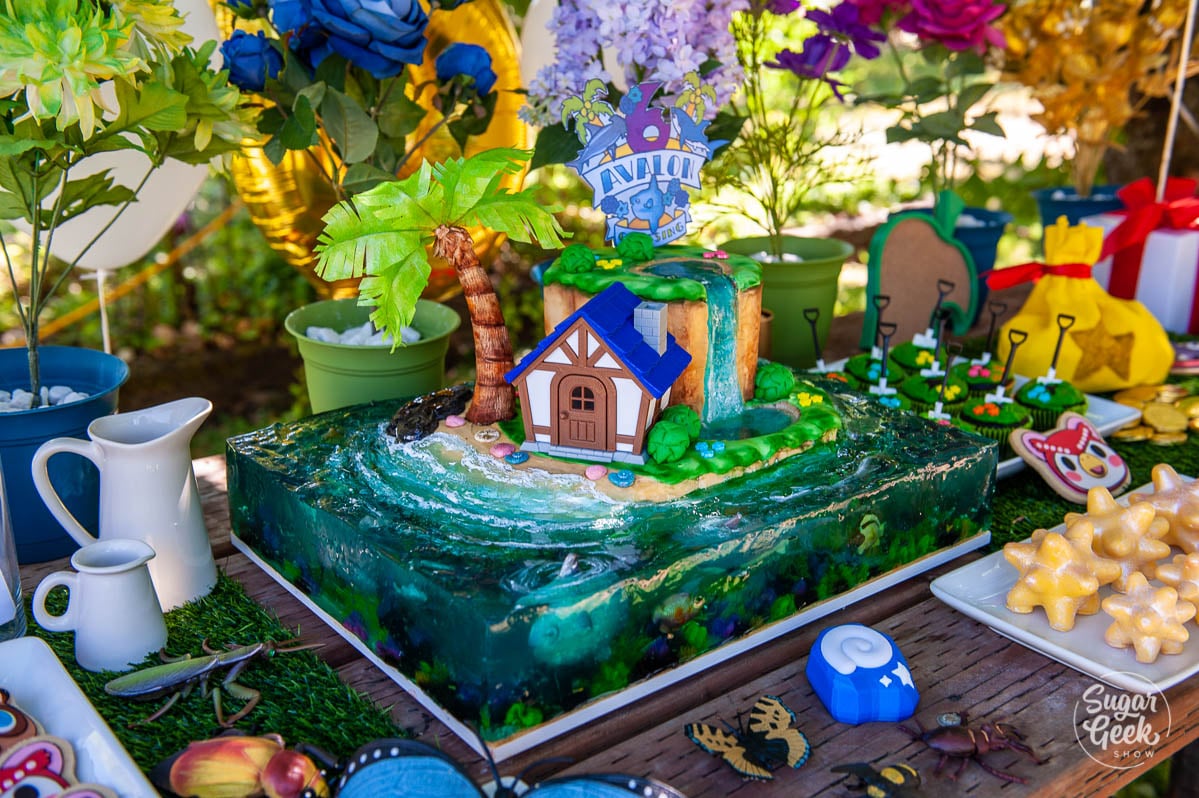 The first thing I do when I plan any party is to start with the cake. The cake is typically the centerpiece for the whole dessert table so it sets the stage for the party.
I'm a cake decorator so of course, my Animal Crossing birthday cake is completely over-the-top but that doesn't mean you have to go crazy too. Check out my online tutorial if you want to learn how I made this epic Animal Crossing birthday cake complete with jelly ocean and modeling chocolate fish.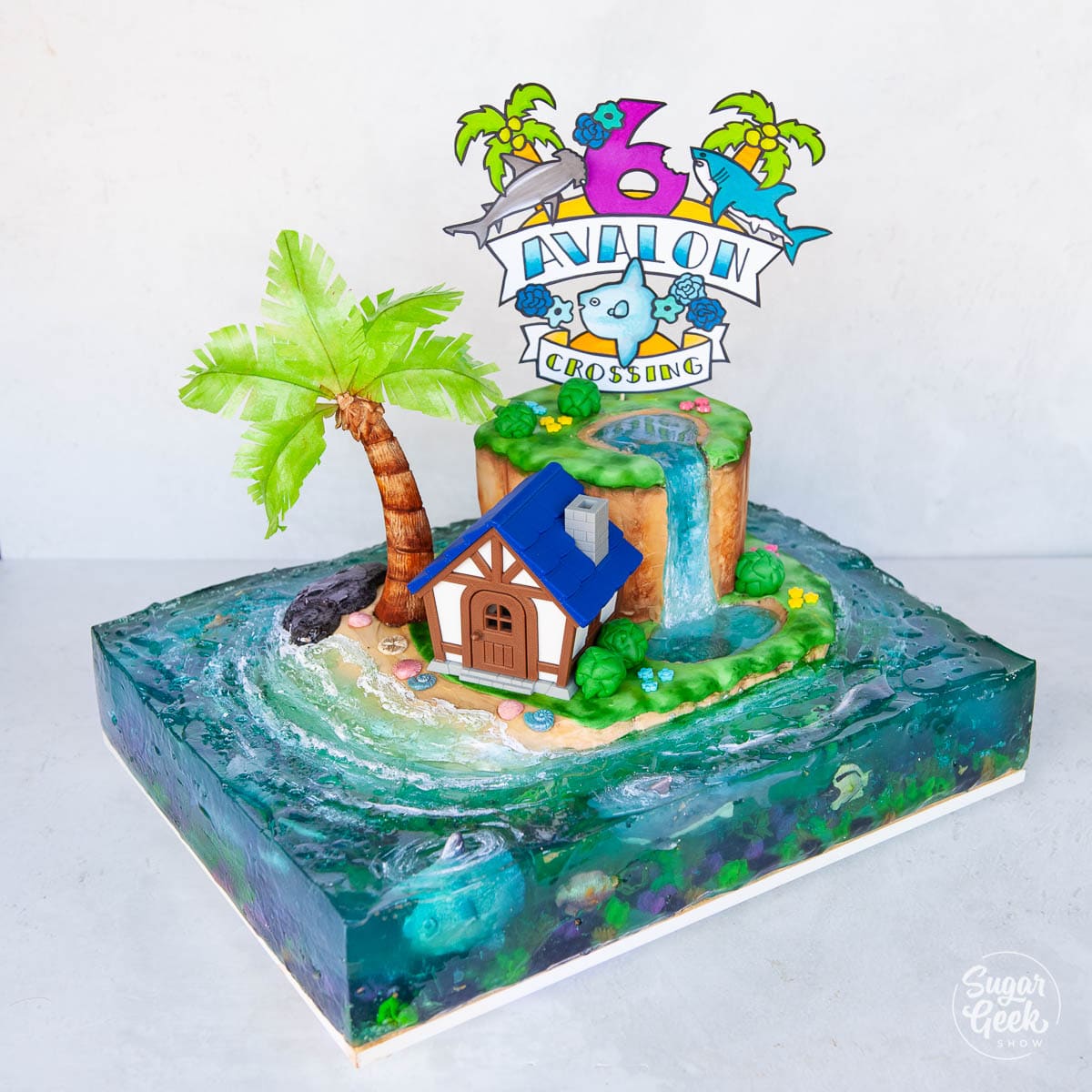 The little Animal Crossing house I could have made myself but I decided to buy this 3D printed version so that she could keep it and use it for decoration in her room.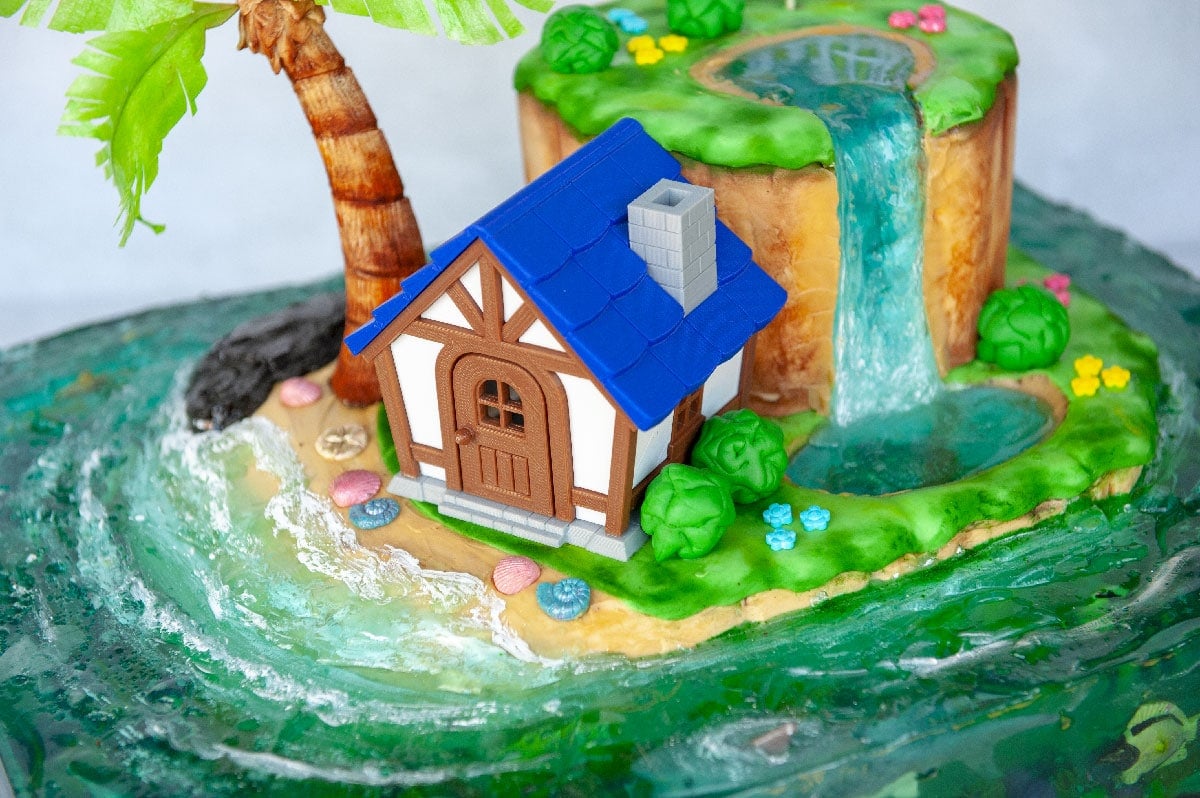 The cake topper I ordered from The Paper Sign Maker on Instagram. She did such a good job and incorporated all her favorite fish, colors and even shipped it so it arrived in time!
Here is a cute Animal Crossing cake design I found that is super adorable and very simple. You could make this yourself (check out my First Cake Tutorial if you're a beginner) or have a local cake designer make you one.
I love this simple Animal Crossing cake by The Robyns Nest and she even has a tutorial on her YouTube channel!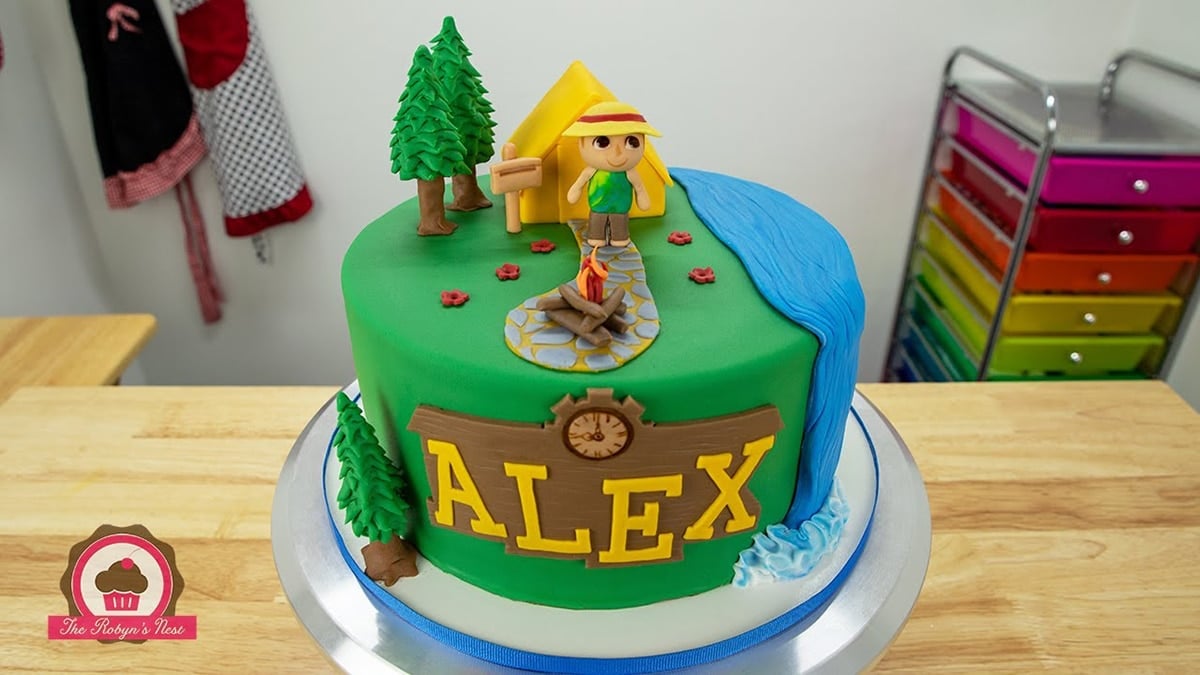 Avalon's favorite thing from Animal Crossing is the Sunfish so that was really prominent on the cake. I also included a ton of other fish and sharks all around the island. The cakes is all chocolate cake with vanilla buttercream and strawberry jelly for the water.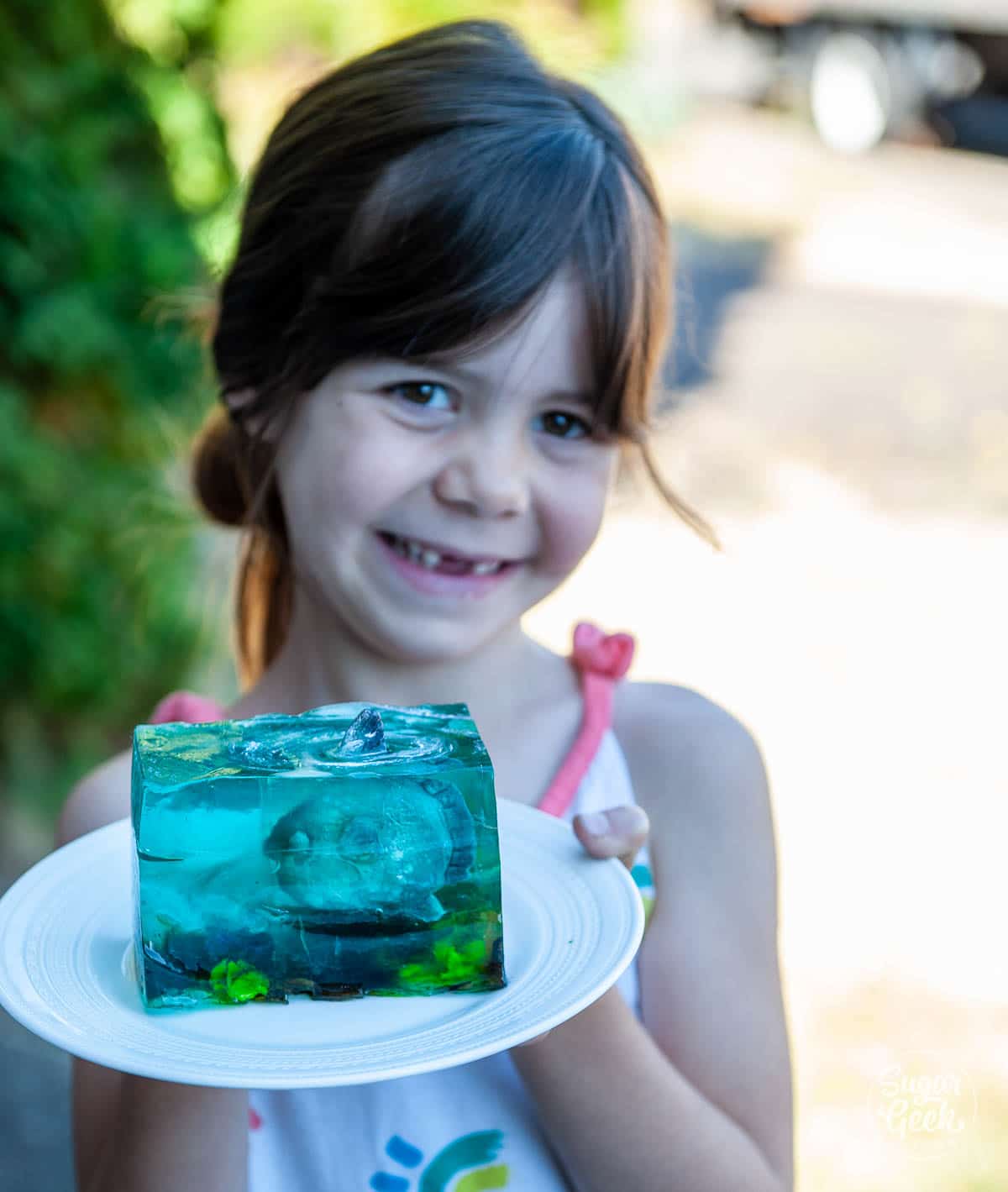 Or I have this simple Animal Crossing birthday cake design on my YouTube channel which features the modeling chocolate and wafer paper palm tree and a simple jelly island design.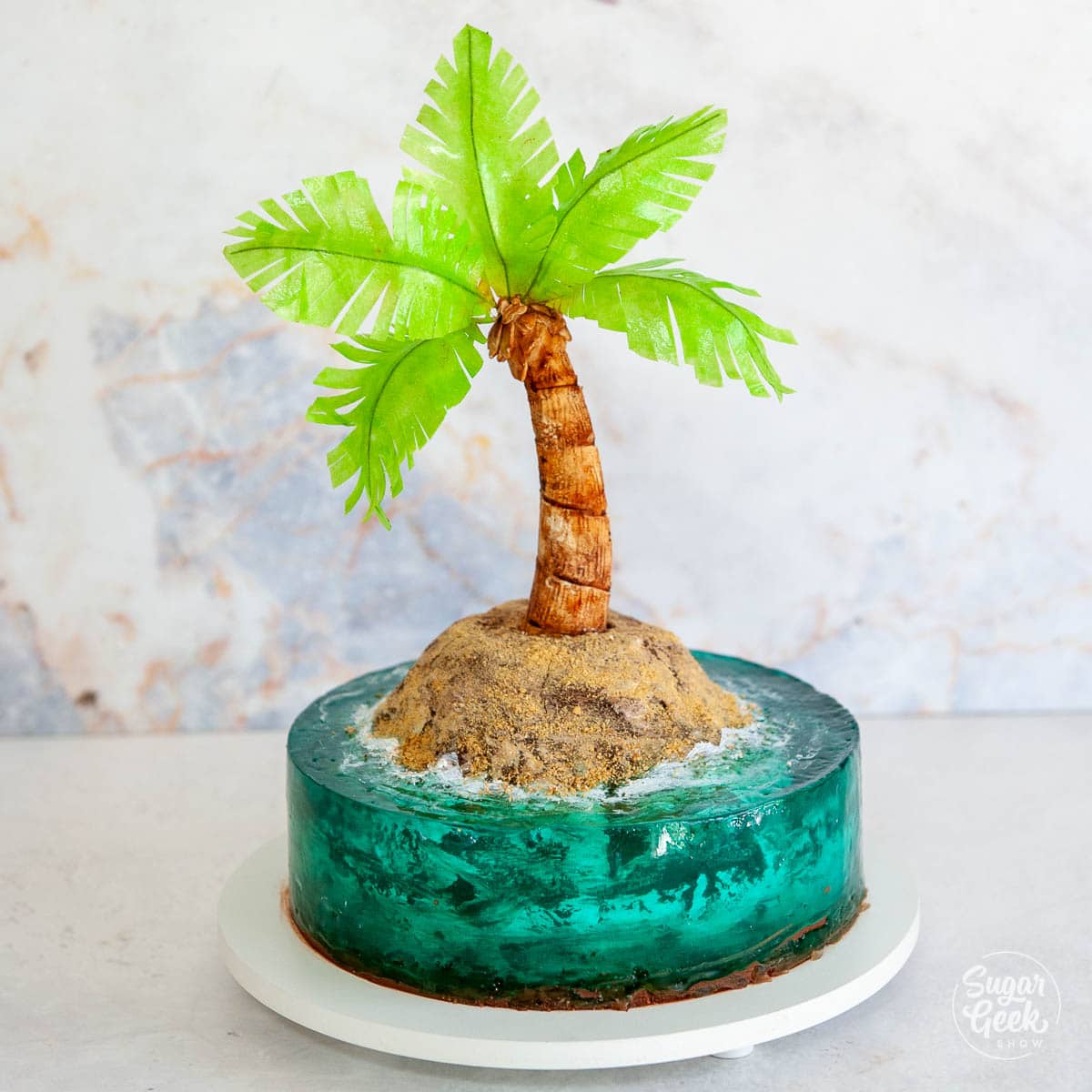 Animal Crossing Dessert Table Ideas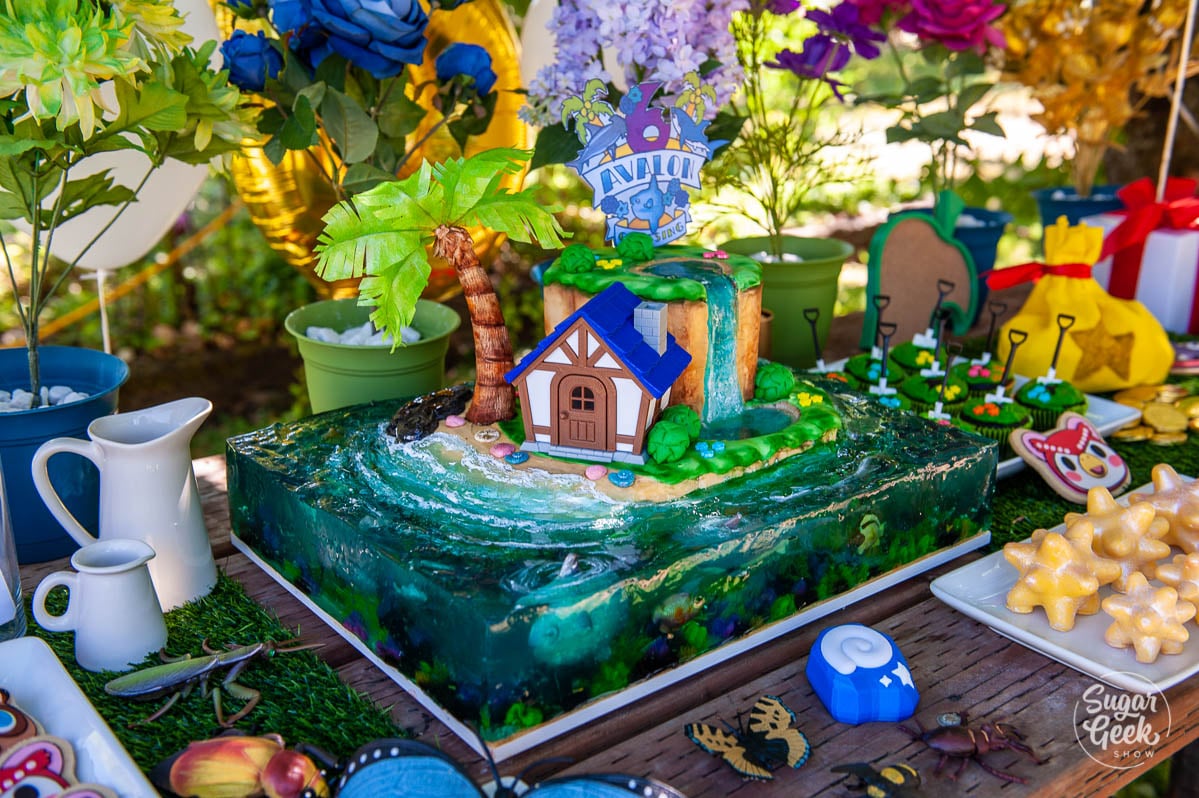 Once you have the cake design down, now it's time to start planning the table design.
Sometimes I use printed backdrops for the background when the parties are indoors but I knew that this time I would be outside in my Dad's backyard so I wouldn't need a backdrop. I still wanted some kind of decor to bring it all together though so I decided to put some faux flowers in some cheap pots to mimic the flowers from Animal Crossing.
I used a bag of decorative marble rocks to fill the pots so the flowers would not tip over.
Some other decorative elements I decided to include were some toy bugs and nets to "catch them".
Prizes for the kids hidden in white cardboard boxes and balloons tied to them to mimic the floating presents in the game. I even found some kid-friendly slingshots to hit the balloons and "win" the prizes.
This cute bell bag was made using some yellow felt, a glue gun, and a red ribbon. I simply drew the star on with a brown marker and filled it up with gold chocolate coins. Luckily I can buy them in bulk from Winco.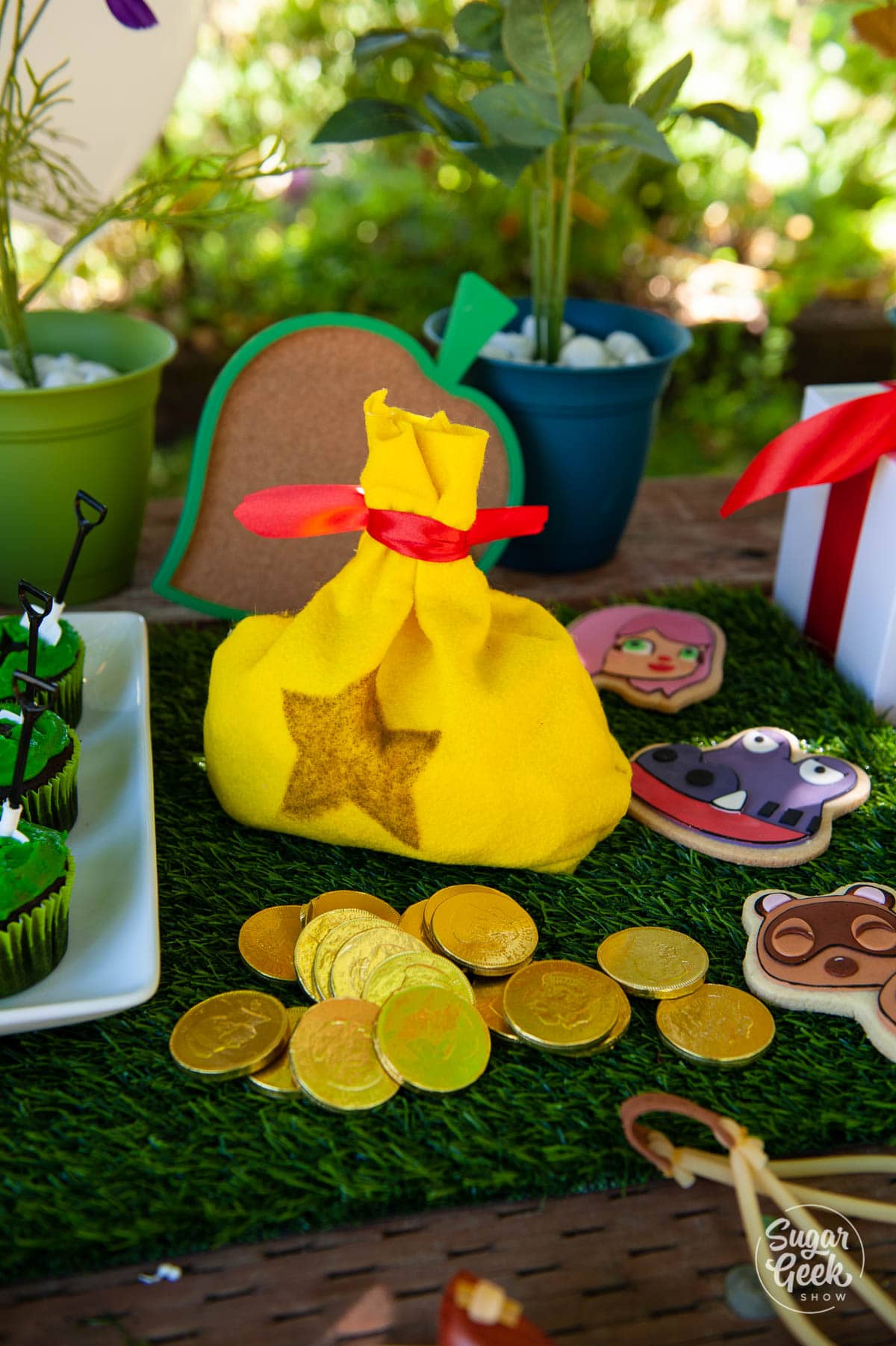 I also found this cool jar with a cork that looks a lot like the DIY bottles you find on the beach in Animal Crossing. I printed this design (you can get it for free here) onto cardstock and cut it out and put it in the jar. Super cute. Later I used it as decoration in her room.
Animal Crossing Themed Desserts
Even though this cake was PLENTY to serve to 5 kids, I couldn't help myself. I also made some "fossil" cupcakes complete with a little plastic shovel. These cupcakes were just my easy chocolate cake topped with green easy buttercream.
To make the grass, I pipe the star outline first, then added more buttercream around it and smoothed it flat with a small spatula. Then I added three little flower sprinkles I got from Michaels in the cake decorating aisle. Add in the little shovel and it's done!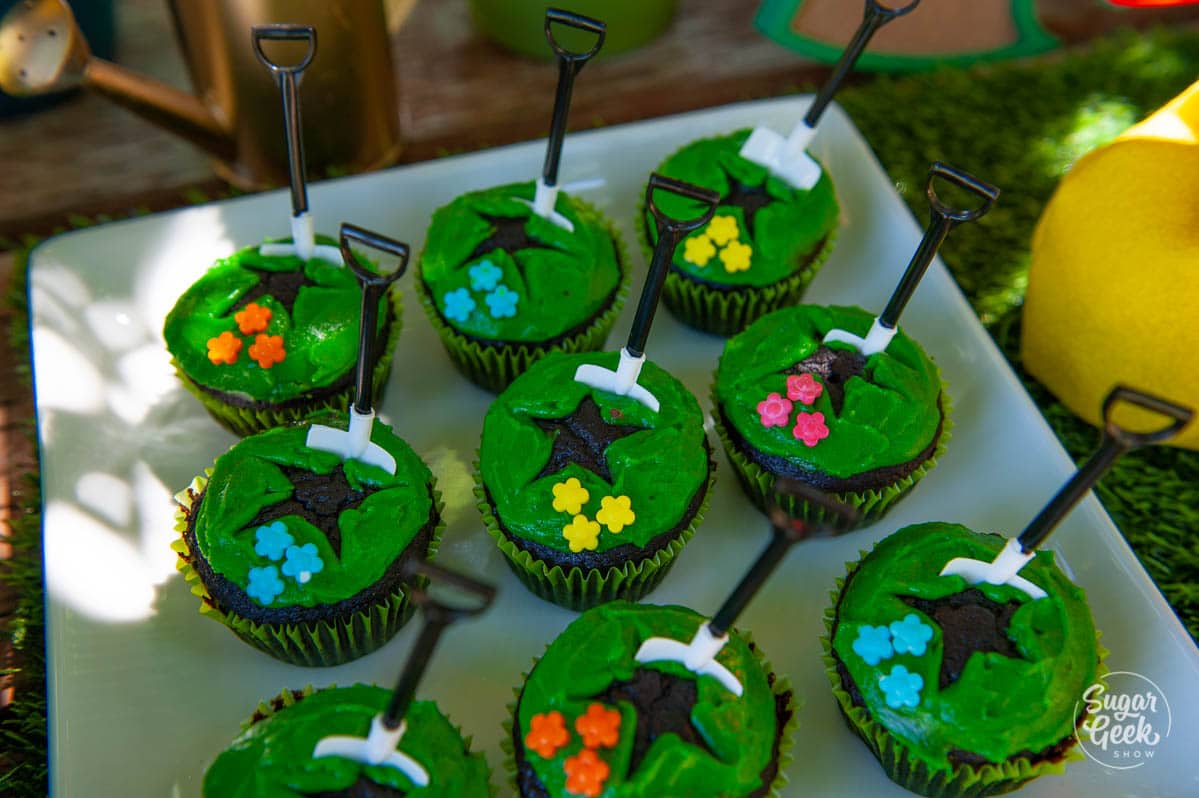 Probably the most elaborate dessert I made were these chocolate star fragments. I know they don't look elaborate but I ended up making custom silicone molds just to make these. I had a friend 3D print some fragments first then had a silicone mold made from SimiCakes. I just used yellow candy melts from Michaels and pink flash dust from Never Forgotten Designs.
To make the star fragments, pour your melted chocolate into the molds and give them several taps to make sure all the air bubbles are out. Put them into the freezer for about 30 minutes so let the chocolate set. Then carefully remove the star fragments from the mold.
Rub some oil on the chocolate and then dust with the flash dust for some shine.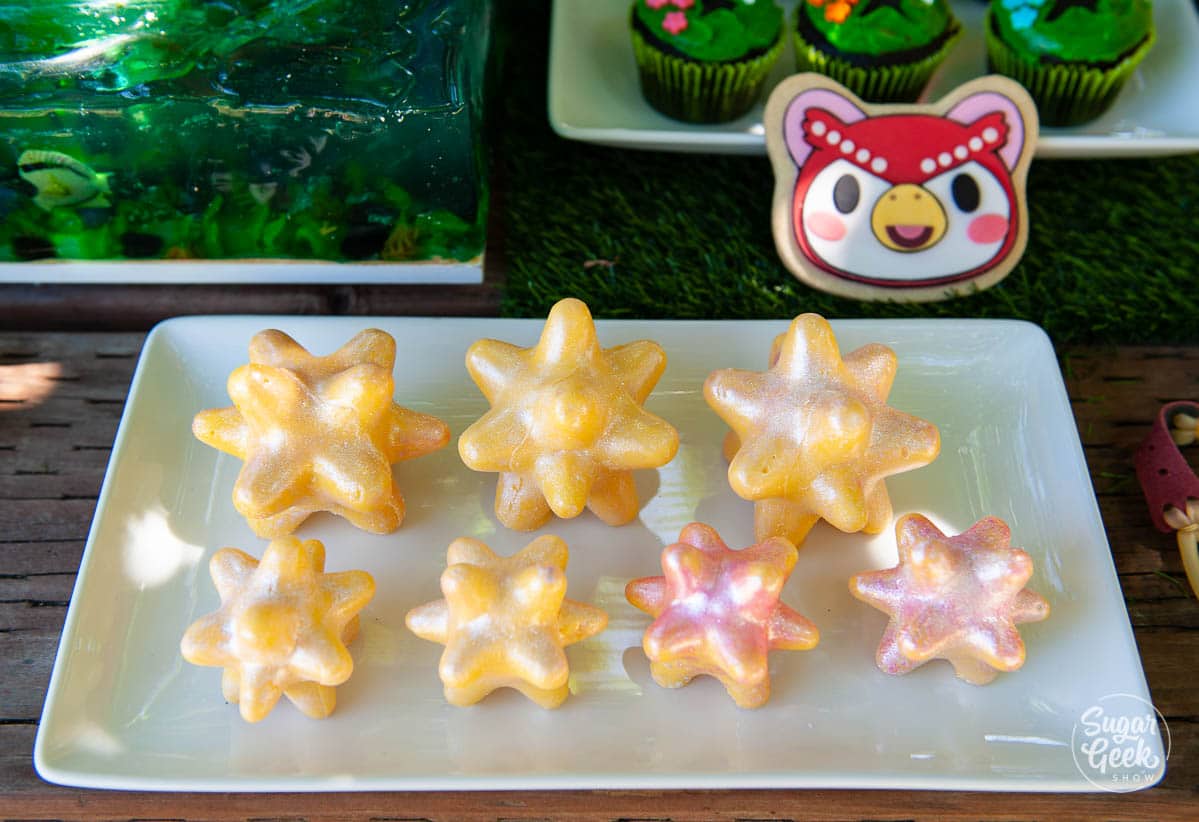 Even though I loved making the Animal crossing birthday cake, I am not really a cookie maker. So I ordered these adorable animal crossing themed sugar cookies from Jam Cakes here in Portland. She even shipped them to me!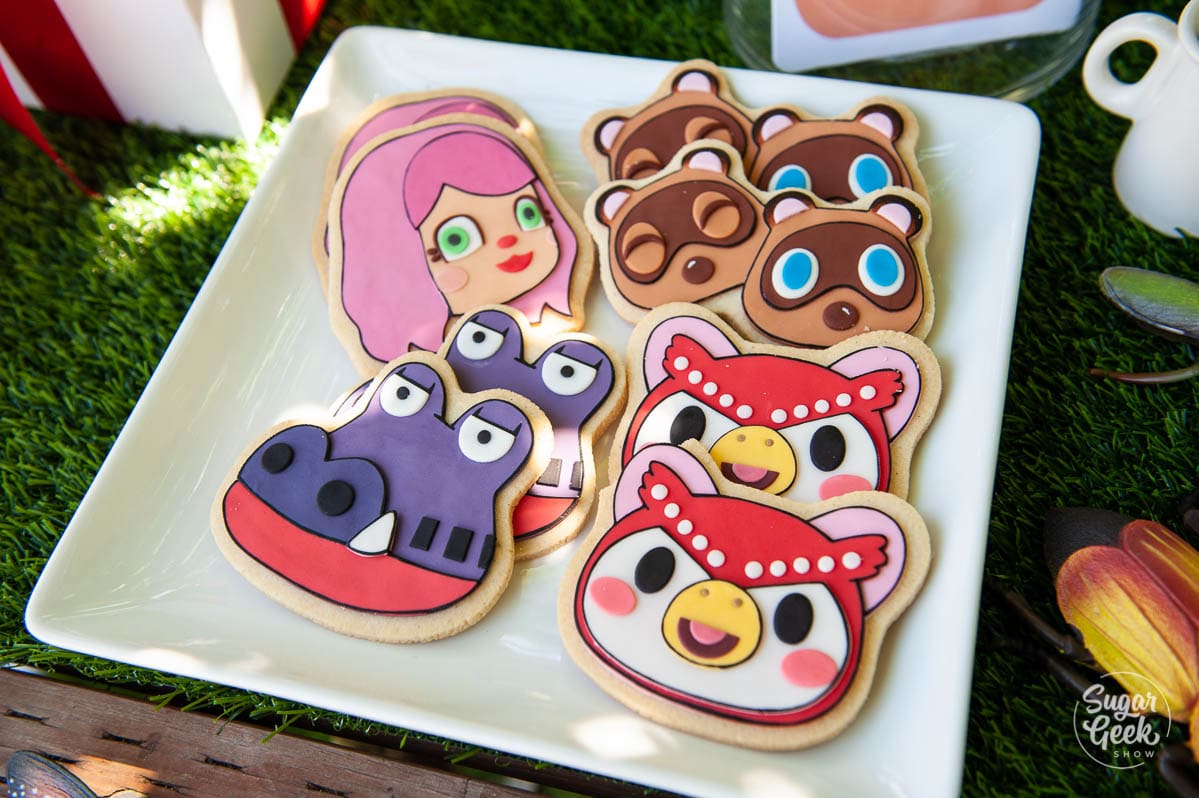 I got these super cute macarons from Mama's Artisan Sweets made to look like the Fossils from Animal Crossing and they turned out soooo cute. Plus they were really tasty!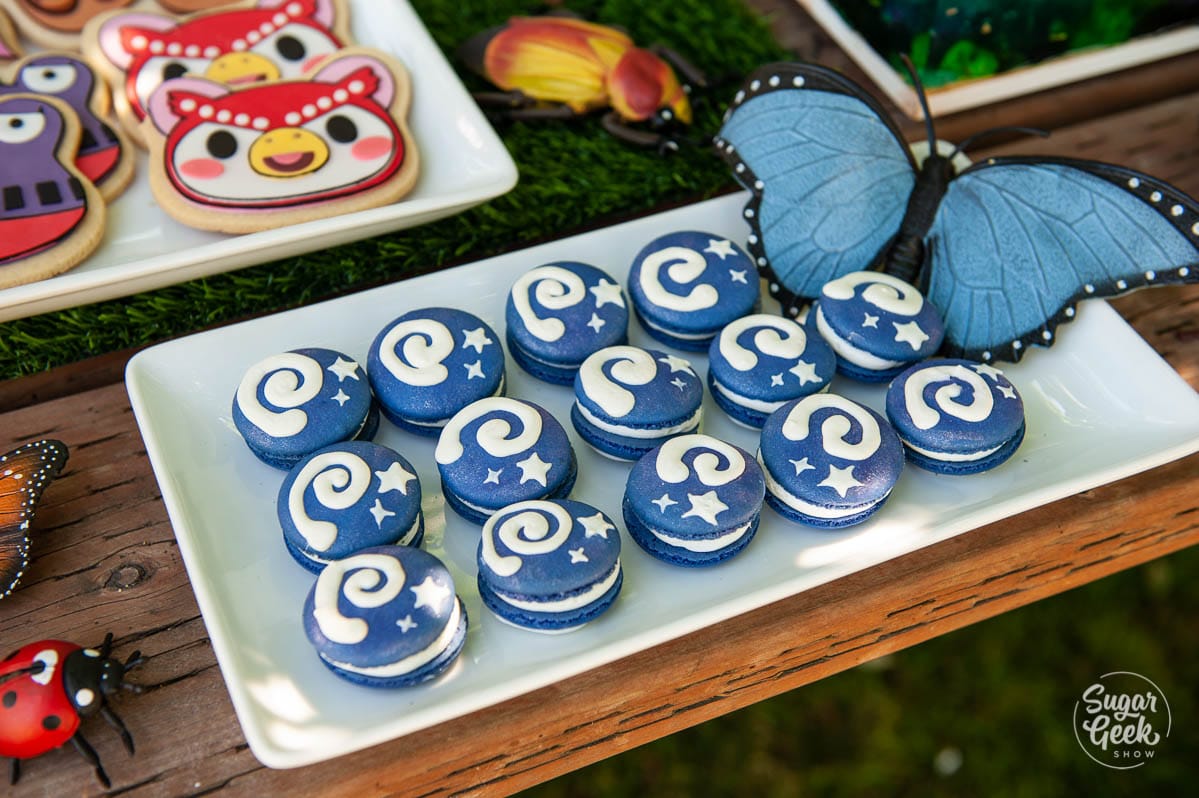 For the drinks, I used this big plastic dispenser and filled it with ginger ale and fresh-cut fruit. Another nod to an in-game item, the fruit infused water dispenser.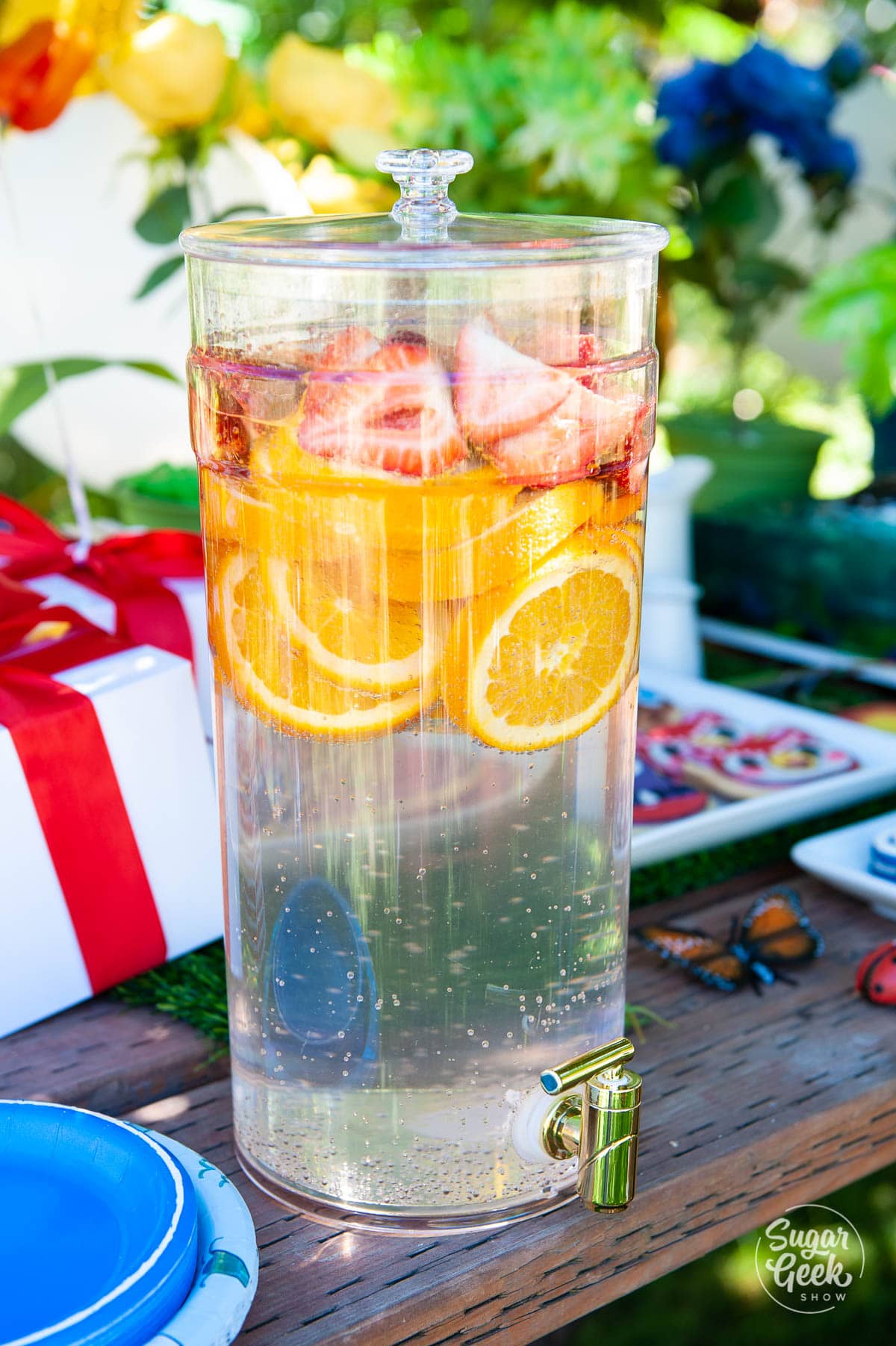 Animal Crossing Decorations
What would a completely over-the-top Animal Crossing birthday party be without decorations! Even though the party is outside where nature is the main decor, I couldn't resist adding a few more things.
The main decor was inspired by this TikTok I saw where this girl hand-painted all these characters from the game to display at her boyfriend's party. I didn't have the time to paint them so instead, I used my graphic design skills to turn some characters from the game into huge cutouts that could be displayed around the yard like they were actual villagers attending the party.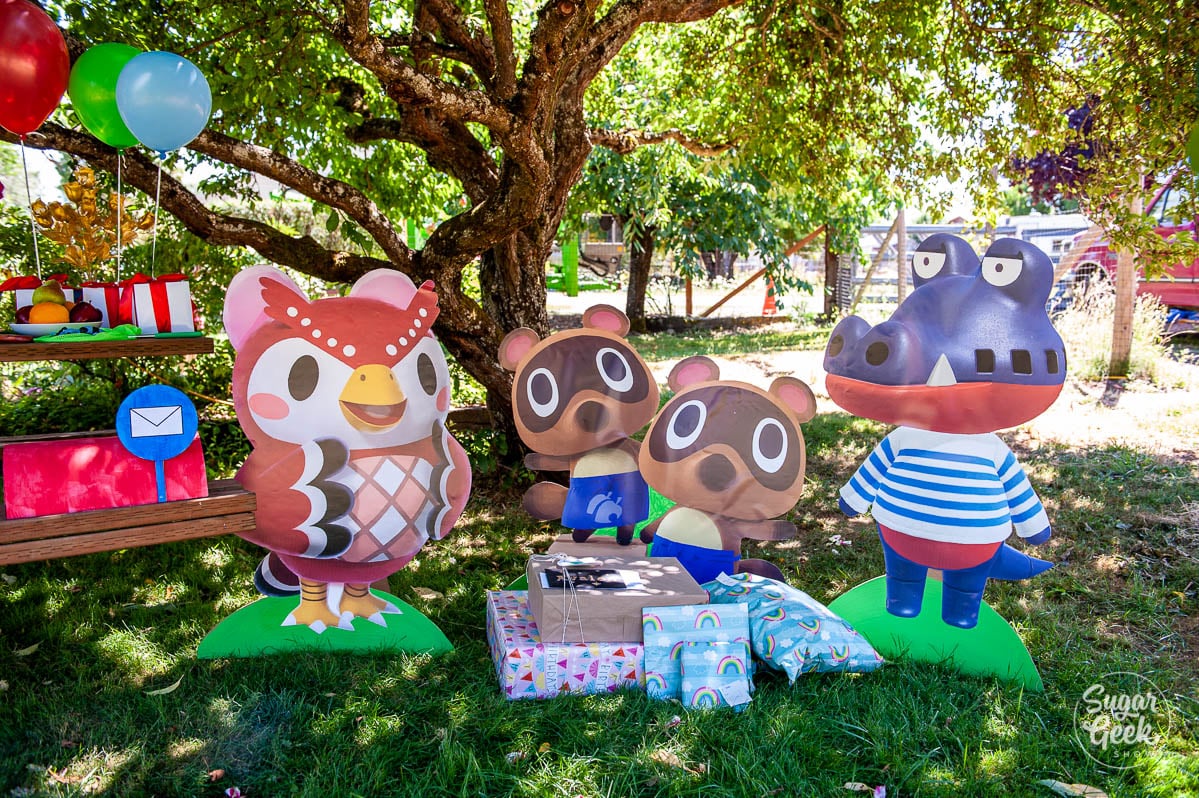 I used a local large format printer who was able to get them to me super fast. Then I applied the characters to sheets of cardboard that I bought from Uline.com. Then my husband and I spent two days cutting them all out with an x-acto blade.
Get my free Animal Crossing Villager printables and DIY cards.
[optin-monster slug="haekkszadbo0u8i477oy"]
I attached a triangular piece of cardboard to the back to hold them up but in hindsight, I should have also added some kind of weight as well so the wind did not blow them over. Because that definitely happened. A lot.
The villagers looked so cute around the yard though! Avalon's favorite villager is Del. He turned out so cute.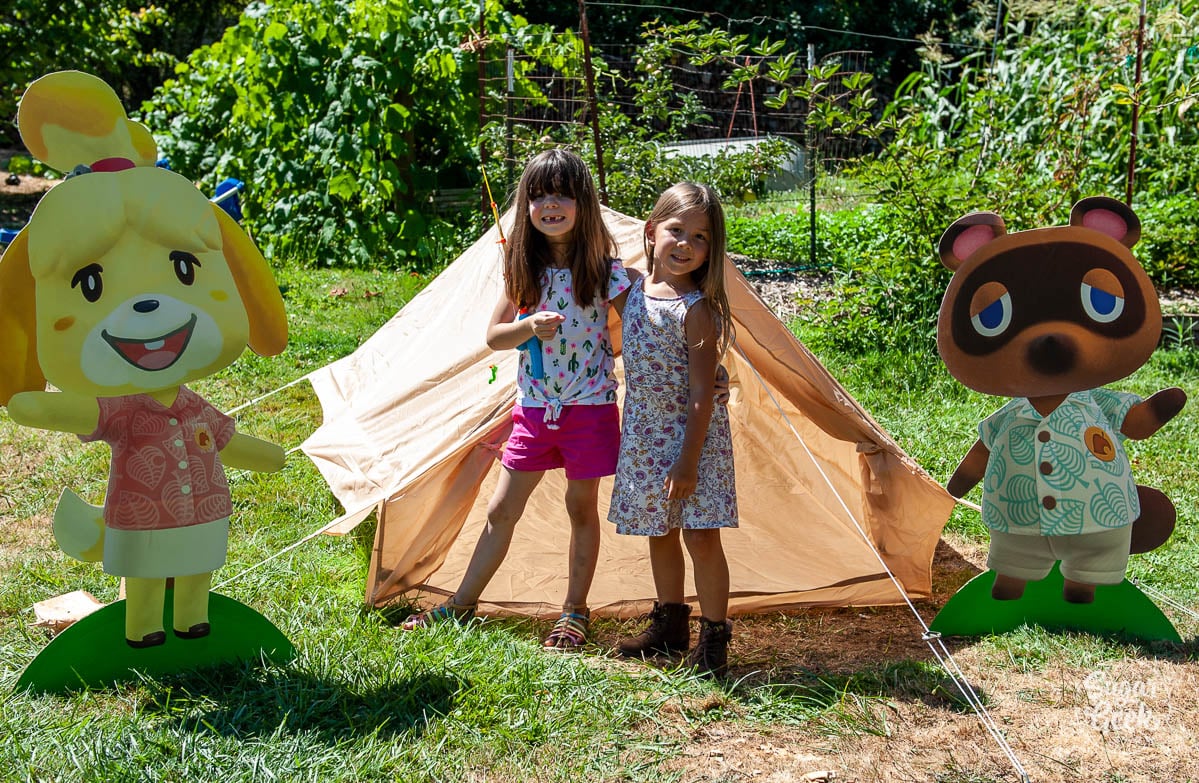 Originally I had wanted to make a cute little play tent to use as decoration but I couldn't find the right supplies. I ended up buying this A-frame style tent and the kids got to camp in it together for the night! It was Avalon's first time camping outside like that and I worried she wouldn't sleep well but she slept just fine thankfully!
Dan (my husband) decided to take on the task of making a mailbox out of posterboard so that Avalon's friends could mail her cards. She loved opening all the cards from friends near and far. It was a really fun way to involve friends who could not be there. Darn you 2020!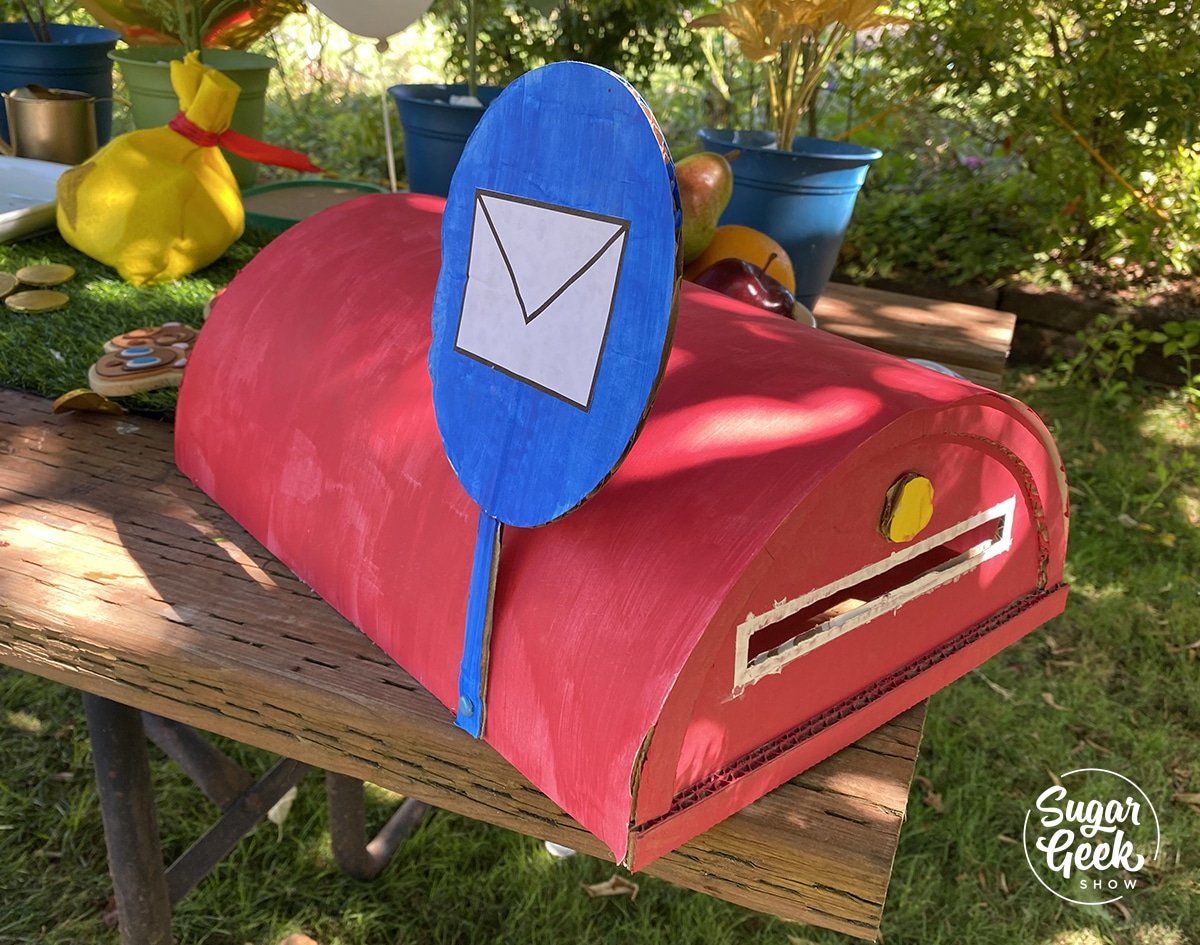 We used this paper mailbox template but modified the flag to look more like the one from the game. I used a 6" cake board and a piece of cardboard for the handle with a cake pop stick inside to make it rigid.
Party Games
I found this fun magnetic fishing game on Amazon and couldn't resist it. Since a lot of Avalon's cousins are younger, this was the perfect game for everyone to play. Everyone had one minute to catch as many fish as they could, whoever caught the most fish wins!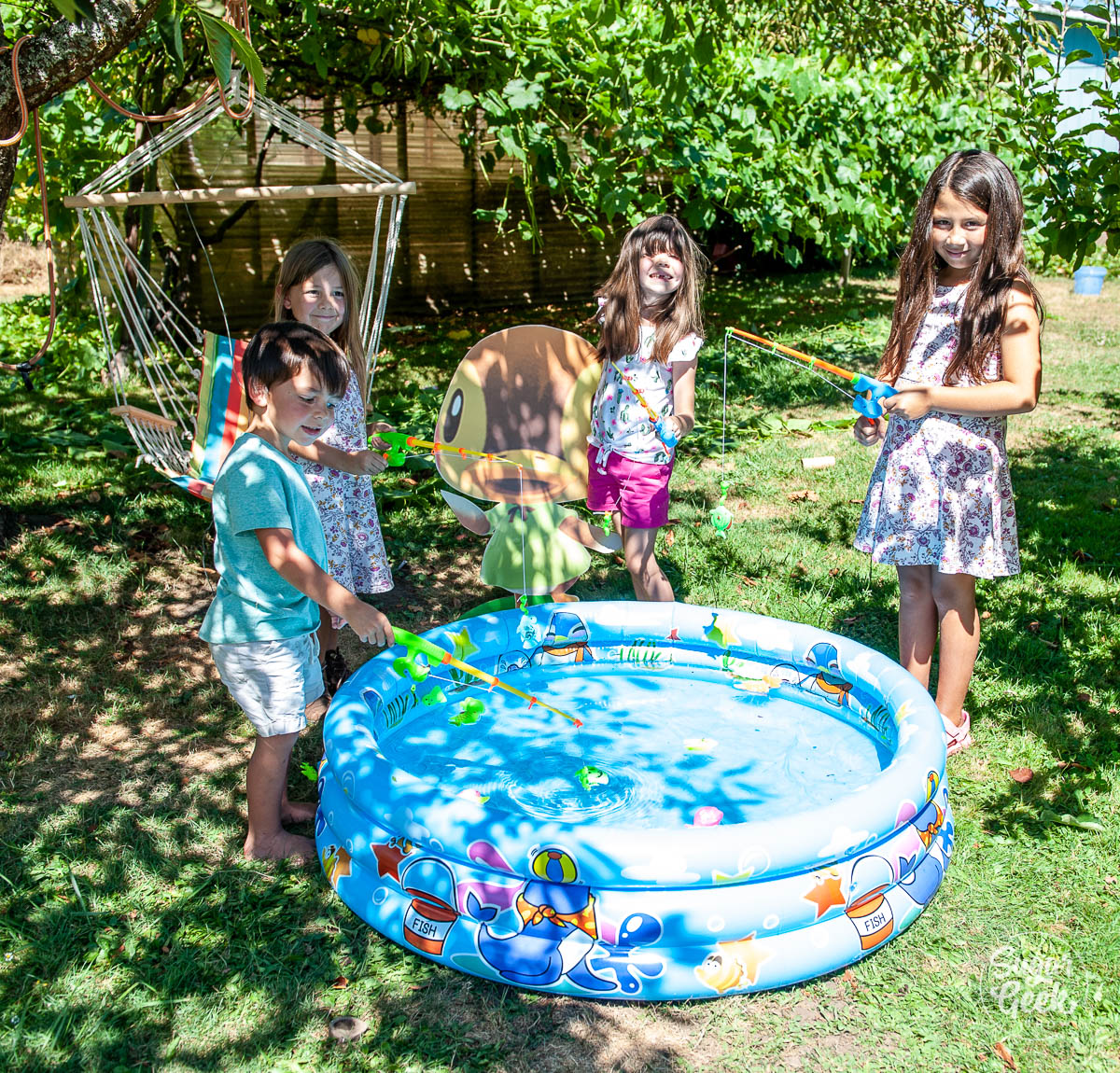 We also had the kids take turns using the slingshots to hit the prize balloons. This was a fun way to give little presents to the kiddos and it kept them busy for quite a while. The pellets were made of this soft paper so even if you got hit with one, it didn't hurt at all.
What Animal Crossing party would be complete without some bug hunting! My sister and I hid a bunch of toy bugs all around the yard and the kids had to find as many as they could in three minutes. So cute! It was like an Easter egg hunt but with bugs lol.
The kids had such a great time at this party! Even though it was a ton of work, it really was worth it to see how much fun everyone had.
Check out this video I made showing all the little details from Avalons Animal Crossing Birthday party.