Skill level: Intermediate
Liz Marek creates a fantasy-inspired portrait of the Virgo sign. Learn how to sculpt and detail the Virgo's face using edible materials like modeling chocolate and fondant, without having to use a chocolate skull mold. Liz breaks down how to create the facial features (please note: you will need to pour isomalt eyes using a mold if you want the eyes to be edible) including the nose, cheeks, eye lids, ears and lips.
Liz showcases how to make edible flowers from wafer paper and how to arrange them into a beautiful flower laurel for the portrait.
There's a lot to cover in this tutorial, so let's get our tools together and let's get started!
1:30:34 Minutes of Instruction
What You Will Learn
How to create a fantasy-inspired portrait from edible materials, no skull molds required
Learn how to sculpt the facial features including the nose, cheeks, lips, and ears
How to create realistic hair
Learn how to create the edible flower arrangements and wooden bark
How to paint makeup onto the Virgo's face with petal dust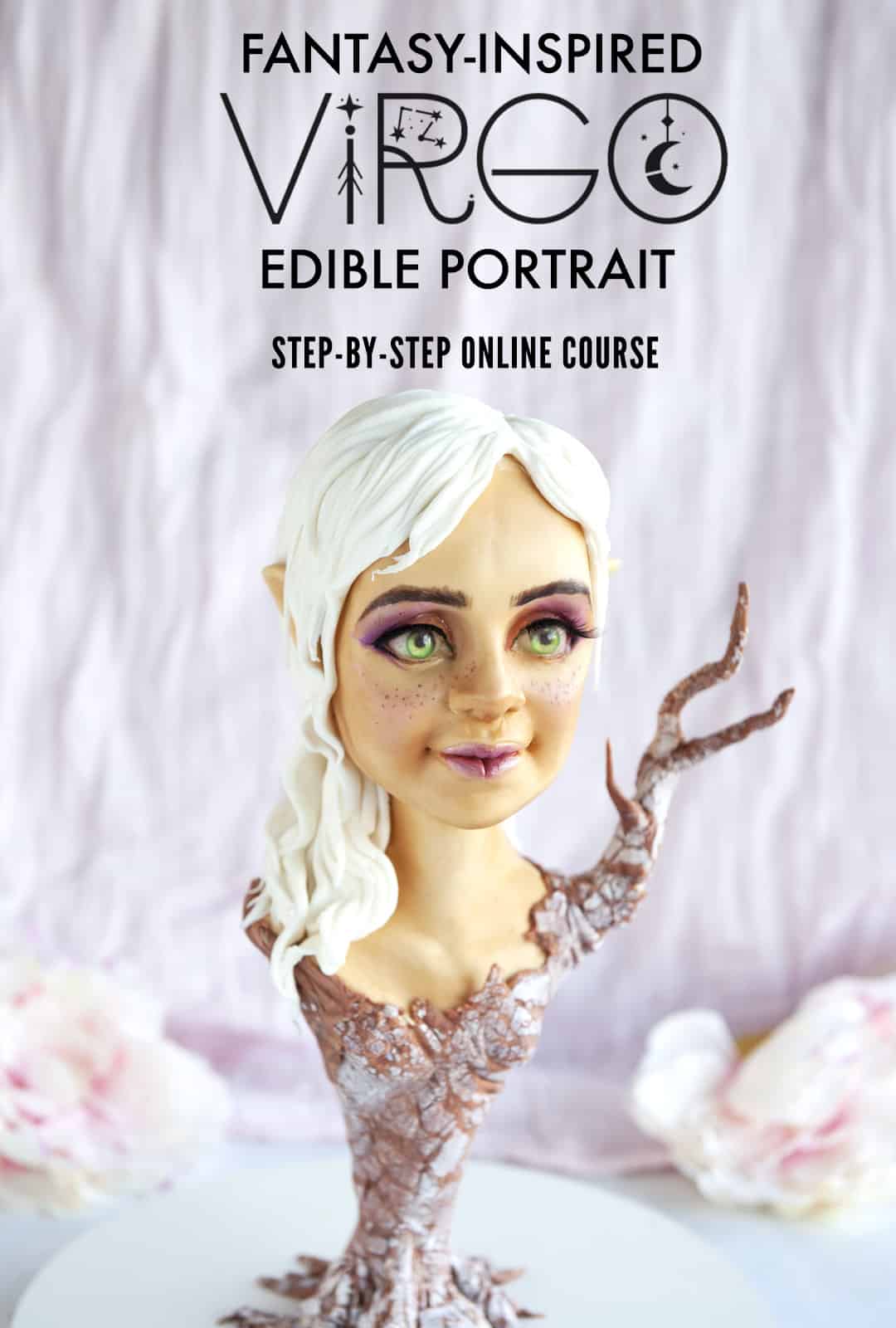 Tutorial Chapters
Building The Structure
Adding Bulk To The Head
Adding Bulk To The Chin
Measuring The Face
Sculpting The Eye Socket And Face
Sculpting The Chin
Adding The Eyes
Sculpting The Mouth
Sculpting The Nose And Detailing
Defining The Jaw & Skull
Adding & Shaping The Ears
Building Up The Body & Neck
Coloring & Rolling The Fondant
Adding The Fondant
Detailing The Fondant
Covering The Neck In Fondant
Adding The Tree Texture
Detailing The Eyes And Face
Contouring The Face
Adding The Eyelashes And Details
Adding The Hair
Making The Leaves And Flowers
Making The Flower Crown
Adding The Flower Crown