Skill level: Intermediate
Liz Marek returns to teach her award-winning giant sculpted crab cake tutorial. This gravity-defying piece stands over a beach and showcases realistic textures and details. Learn how to create a jaw-dropping piece from start to finish.
Please note: the final competition piece had a cake topper figurine that is not featured in this tutorial.
1:40:16 Minutes of Instruction
What You Will Learn
Learn how to create a realistic giant sculpted crab cake
How to make a gravity-defying cake structure
Learn how to sculpt modeling chocolate into highly detailed crab legs
Several tips and tricks for airbrushing cocoa butter colors
Learn how to create a realistic beach branch and ocean water from sugar
Tutorial Chapters
Making the cake structure
Bending threaded rod
Assembling structure
Adding armature wire
Making the crab legs
Adding the cake to crab
Defining top of crab
Ganache crumb coat
Covering cake in fondant
Defining the eye sockets
Carving the beach
More crab details
Adding the sand
Airbrushing the crab indentations
Adding carapace texture
Airbrushing crab blue
Edge highlighting
Airbrushing highlights
Cleaning your airbrush
Making textured fondant
Making Rocks
Covering cake in fondant
Adding beach water
Airbrushing beach
Adding shine to water
Adding beach wood supports
Making beach wood branch
Adding texture onto branch
Making crab eyes
Adding shine to crab
Adding crab armor (timelapse)
Finishing the eyes
Sculpted Crab Cake Tutorial
This sculpted crab cake tutorial is an award-winning cake design. It was entered into the sculpted cake category at SoFlo cake and candy expo and won first place. The sculpted crab cake also won Liz a chance to compete in the FIPGC competition later this year in Atlanta. If Liz qualifies, she'll be traveling to Italy to represent the USA in the world pastry championships.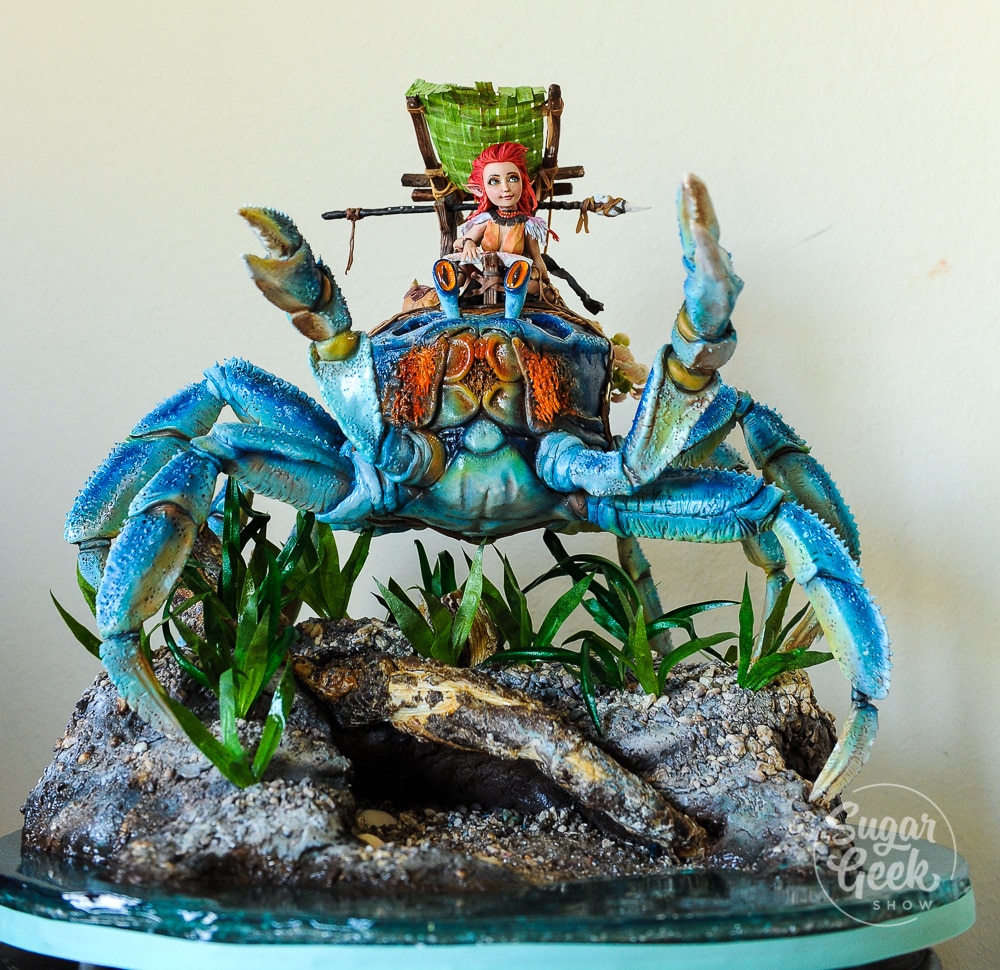 Sculpted Crab Cake Structure
Liz teaches us how she created her amazing structure for this sculpted crab cake. You might not be able to tell but the crabs legs are only attached to the cake in two spots. Each leg was individually sculpted and detailed for a super realistic look. The land the sculpted crab cake is sitting on is all made of cake as well and textured to look like super realistic rocks.
Some of the techniques Liz covers in this tutorial is creating realistic rock textures, wood textures, realistic sand, isomalt water effects and of course the crab.