Skill level: Intermediate
Unicorn cakes are super trendy right now, and what better way to embrace this trend than to innovate on it. Liz Marek returns for her take on the unicorn trend, with a realistic, 80s-tastic neon unicorn bust cake.
This cake features real horse anatomy, a glowing isomalt (or Jolly Rancher) unicorn horn, beautiful sparkly eyes and a neon-rainbow unicorn mane.
Wow your clients and up your cake game with this stunning cake design, sure to be a show-stopper at your next event.
1:19:09 Minutes of Instruction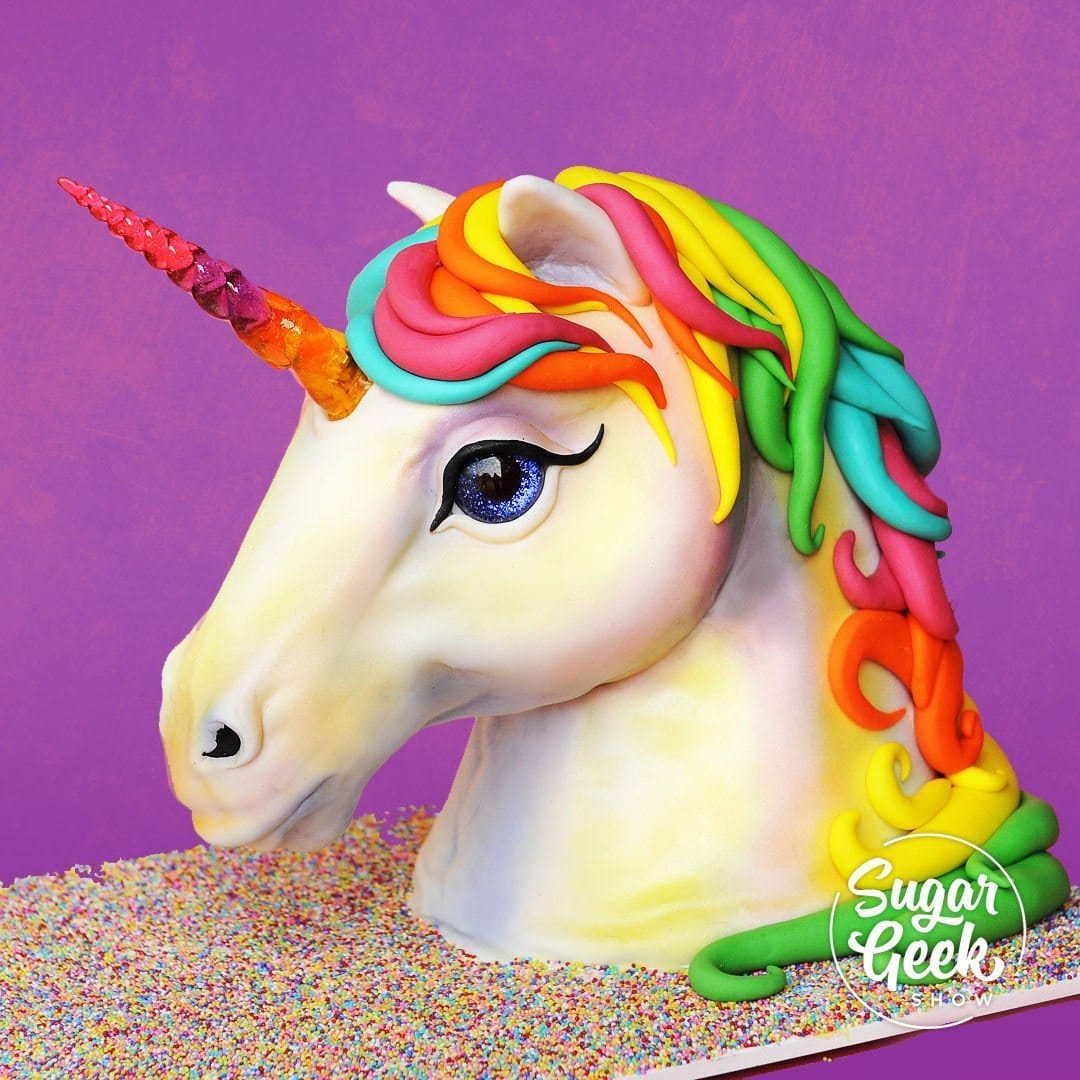 What You Will Learn
How to sculpt a realistic unicorn bust out of cake
Learn how to create a gravity-defying cake structure
How to get bright, neon colors that work together
Learn how to airbrush a pearlescent color onto the unicorn
How to save time by using simple techniques to achieve beautiful results
Tutorial Chapters
Scaling images for cake decorating
Making the structure
Cutting foam board
Stacking the cakes
Adding bottom of mouth
Carving down the cake
Refining the face
Adding cake clay
Adding the crumb coat
Making the ears
Adding ganache
Smoothing out ganache
Covering the cake in fondant
Making the nostrils & mouth
Placing the ears
Making the unicorn horn
Making the eyes
Placing the eyes, eyelids, & eyelashes
Airbrushing
Placing the horn
Decorating the cake board
Adding the mane
Sculpted Unicorn Cake Tutorial
Something I've been wanting to do for a while now was a sculpted horse head cake. I love horses and one aspect of anatomy that every great artist can achieve is (A) sculpting human anatomy and (B) sculpting horses!
When the unicorn cake trend started, I had a feeling it was going to be here to stay, and while the simple unicorn cake style is right up my alley, I felt like I could innovate on this by taking it a step further and making a realistic horse head. I hope you like this design and draw a lot of inspiration from it, as well as learning the anatomy of a horse head.