Skill level: Intermediate
Liz's latest tutorial is here and it's full of cute! Liz made this adorable sculpted mermaid cake for her best friends daughter's 5th birthday! In this tutorial you'll learn how to a make a gravity-defying structure, how to sculpt those adorable proportions, make flexible gelatin mermaid tail, hand-painted details and more!
1:07:40 Minutes of Instruction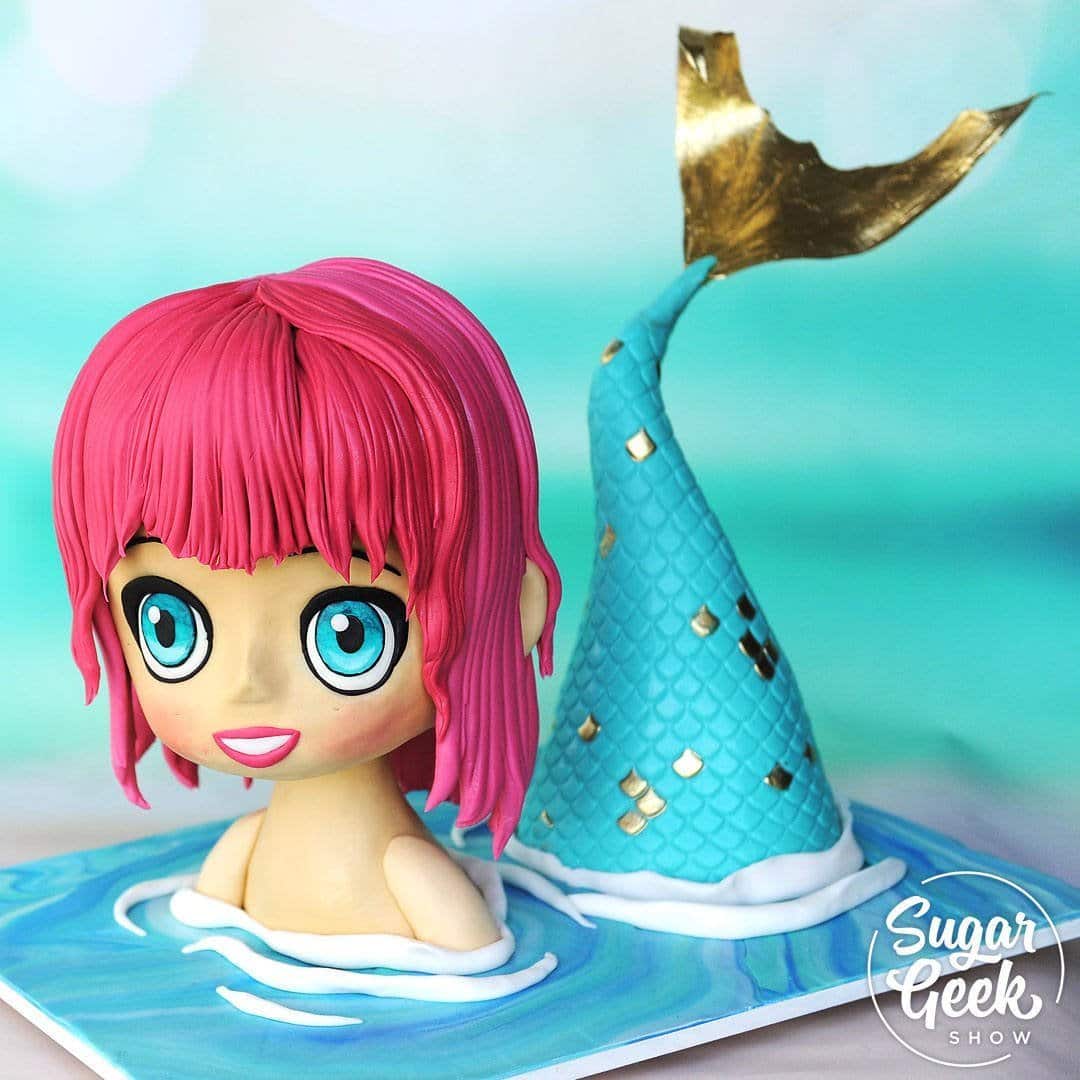 What You Will Learn
Learn how to create a cut stylized mermaid cake dipping out of the water
How to make a gravity-defying cake structure
Learn how to sculpt a posable mermaid tail
How to make cute styled eyes, nose and mouth
Liz Marek's tips and tricks for making beautiful hair easily
Tutorial Chapters
Making the cake structure
Making the bottom of chin
Assembling cake structure
Stacking the cakes
Carving the head
Making the top of head
Crumbcoating the head
Stacking the tail
Carving the tail
Making the tail tip
Adding the nose
Building up the shoulders
Making the tail flipper
Making skin-toned fondant
Smoothing out the body
Creating the eyes
Adding the eyebrows
Adding the mouth
Paneling the tail in fondant
Finishing the tail fins
Painting the scales
Adding the hair
Making the water
Adding the arms
Sculpted Mermaid Cake Tutorial
I grew up watching The Little Mermaid and loved it. It was my favorite Disney movie by far. Little did I know at the time, mermaids would become a trend, far into the future with no end in sight. Mermaids are EVERYWHERE right now, on the toy shelves, in the fashion department (I can't tell you how many "I am a mermaid" shirts I've seen lately) and online in my facebook feed every time I scroll through.
What better way to meet the trend than with a cutesy birthday cake?!