Skill level: Advanced
It's not every day you get asked to make a Candy Crush cake… by Candy Crush! This piece was created for their social media channels, based on the concept "Candy on my mind."
After collaborating with their team, we settled on a design featuring a bust cake, filled with candy that would spill out when cutting into the hair, revealing layers of cake and candy pieces.
In this tutorial, you will learn how to create a bust cake, featuring an African American bust, ganache hair, molded candies from isomalt, how to make an edible smart phone, how to make the bust and edible clothing and finishing off the design with a decorated cake board.
There's a lot to cover in this tutorial, so let's get our tools together and let's get started!
2:05:18 Minutes of Instruction
What You Will Learn
Learn how to create a realistic bust cake
How to make the structure to hold up this complicated project
Learn how to add candy to the inside of your cake that spills out when cut into
How to sculpt and position the facial features, the hands and the arms and shoulders
Learn how to add airbrush the skin tones and makeup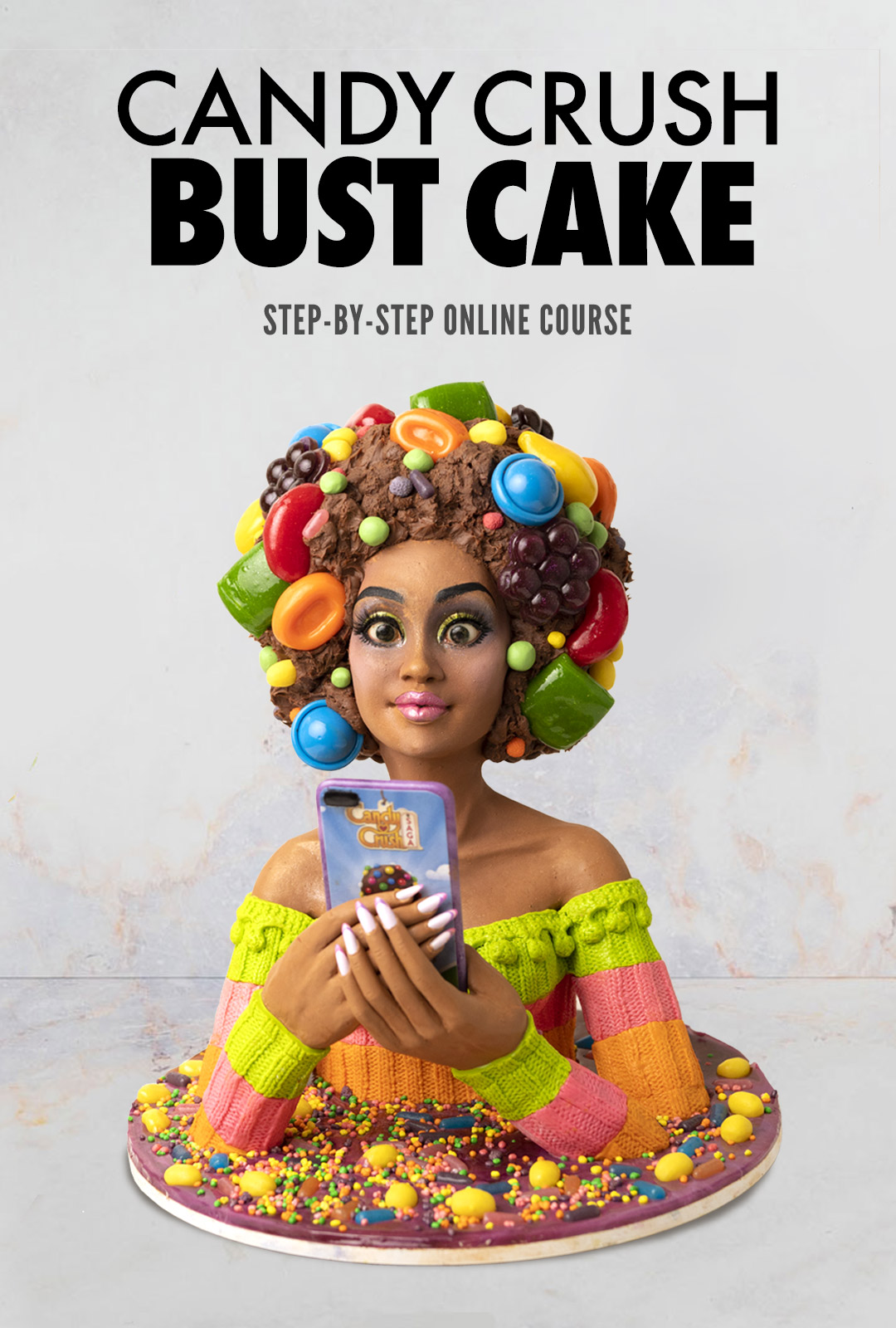 Tutorial Chapters
Adding The Eyes
Adding The Chin
Making The Lips
Adding & Detailing The Lips
Making The Candies
Adding The Nose
Sculpting The Cheeks
Sculpting The Eyes & Forehead
Sculpting The Eyebrows
Making The Hair Structure
Stacking The Cakes
Making The Phone
Adding The Candy To The Head
Shaping The Torso And Hair
Covering The Body In Chocolate
Adding The Arms Pt.1
Adding The Clavicles
Airbrushing & Detailing The Face
Adding The Sweater
Adding The Arms Pt.2
Adding The Final Details