Skill level: Intermediate
Guest instructor Sara Weber returns for not one, not two, but three awesome, realistic cactus cakes in edible pots.
Each cactus is unique and features a host of tips and tricks, as Sara walks you through the process step-by-step. Learn to make three different realistic cacti, edible flower blossoms for each, and three different decorated pots, featuring a dipped pot, an intricately carved pattern on a pot, and a terrazzo tile pattern that's sure to be one of those "how did they make that?!" moments for your guests at the special occasion.
Sara showcases how to make the structure for the prickly pear, and how to protect and cover your structure in a food-safe way. There's tons of tricks and tips in this tutorial, so let's get our tools together and let's get started!
3:54:57 Minutes of Instruction
What You Will Learn
Learn how to create three different realistic cactus cakes in plant pots
How to plan out and structure these cakes using wooden dowels
Learn how to create a tall, ball and prickly pear cactus from edible materials
How to make edible soil
Learn how to make three different decorations for edible plant pots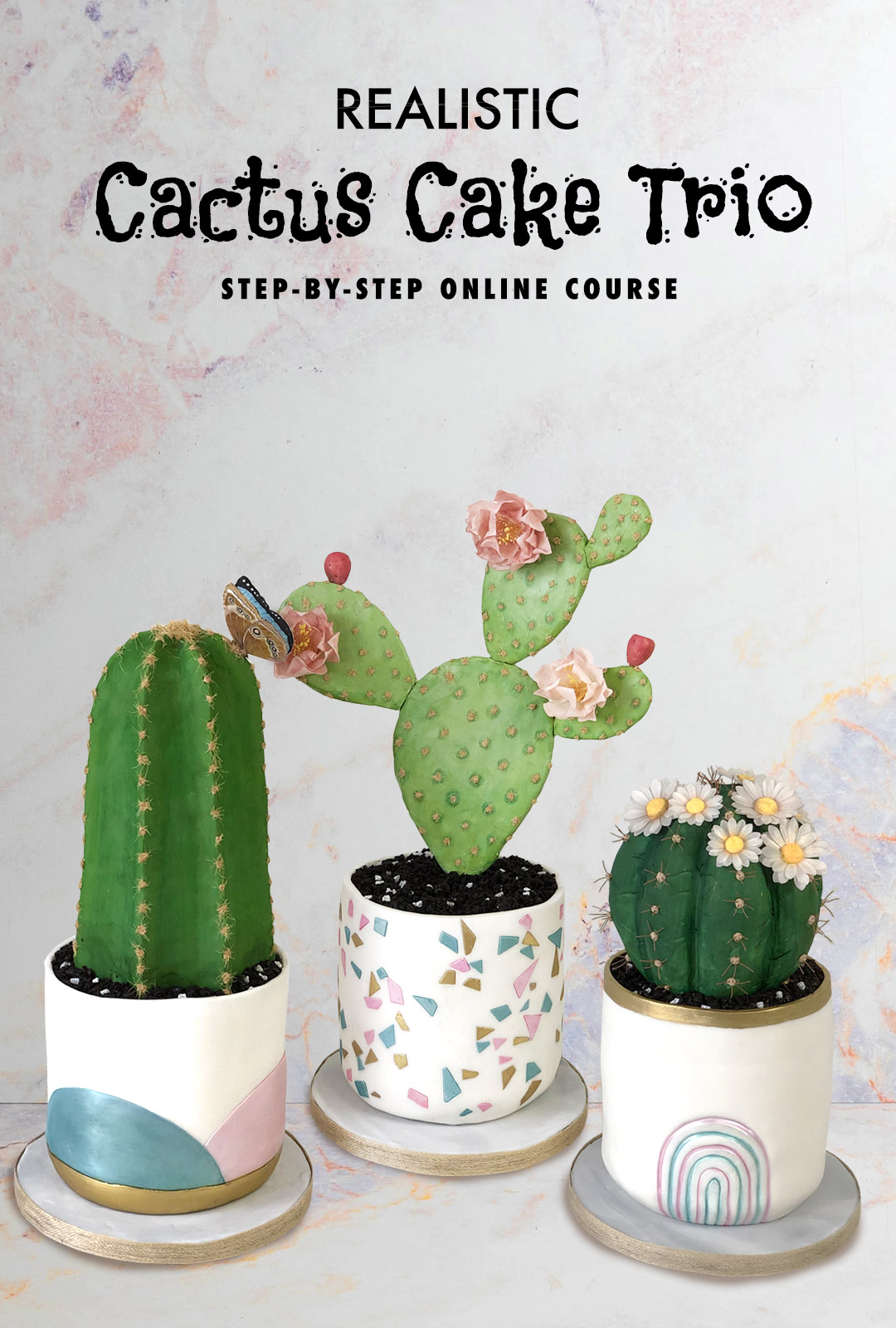 Tutorial Chapters
Overview of the structure
Measuring the pots
Cutting the dowel rods
Covering the dowel rods
Finding the cake board center
Adding the dowel rods
Cutting the thick dowel rods
Carving and crumb coating the cakes
Putting the cakes on the boards
Adding the ganache
Paneling the cakes with fondant
Coloring the fondant terrazzo tiles
Coloring the modeling chocolate
Making the fondant terrazzo tiles
Paneling the terrazzo pot
Decorating the dipped pot
Decorating the carved pot
Making the marble bases
Making rice treat cactus toppers
Carving the rice treat base
Making the chocolate ridges
Covering the tall cactus in fondant
Covering the ball cactus in fondant
Making the prickly pear cactus topper
Shading the cacti
Making the cactus spines
Making the spines for the ball cactus
Decorating the tall cactus
Adding the prickly pear spines
Making the flower toppers
Decorating the ball cactus
Finalizing the prickly pear cactus
Making and adding the soil